Right now we're on top of Ritsuunkyo Mountain. What a gorgeous view. You can see the town below, streets, cars, and more. But there's an amazing sight hiding right in front of your eyes. Can you see it? Try hard to find it.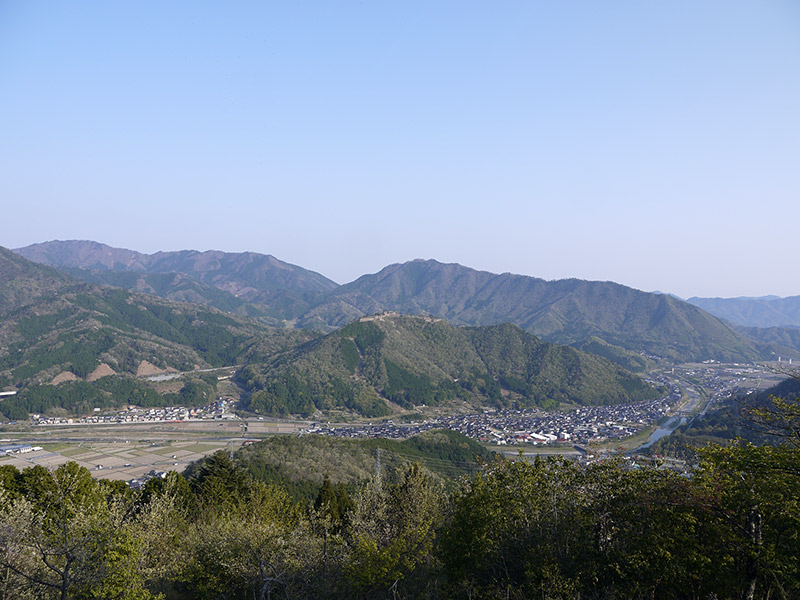 On top of that mountain in the distance are the ruins of Takeda castle. Maybe you can't see it from this distance.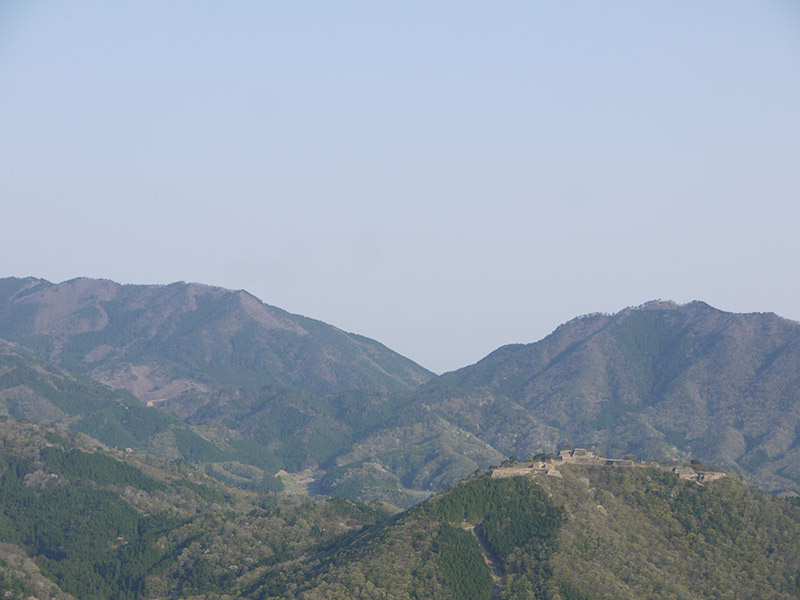 Now can you see the ruins? They're the brownish jagged things amongst the green, leafy jagged things.
Hmmmm…maybe they're still too hard to distinguish. Let's get closer still.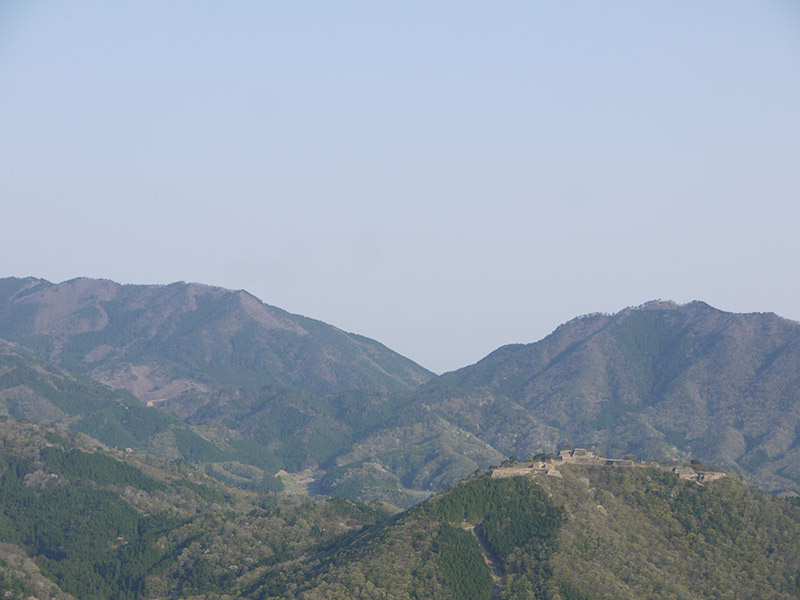 Okay, that's as close as I can get with this camera. Now can you see it? To see the castle from this angle, I hiked Ritsuunkyo Mountain for 30 minutes to get to the top. This is a nice view of the ruins, but I bet you want to see them up close and personal. Like you could shake hands with the ruins if they had hands.
Well all right, then! Let's meet the actual ruins.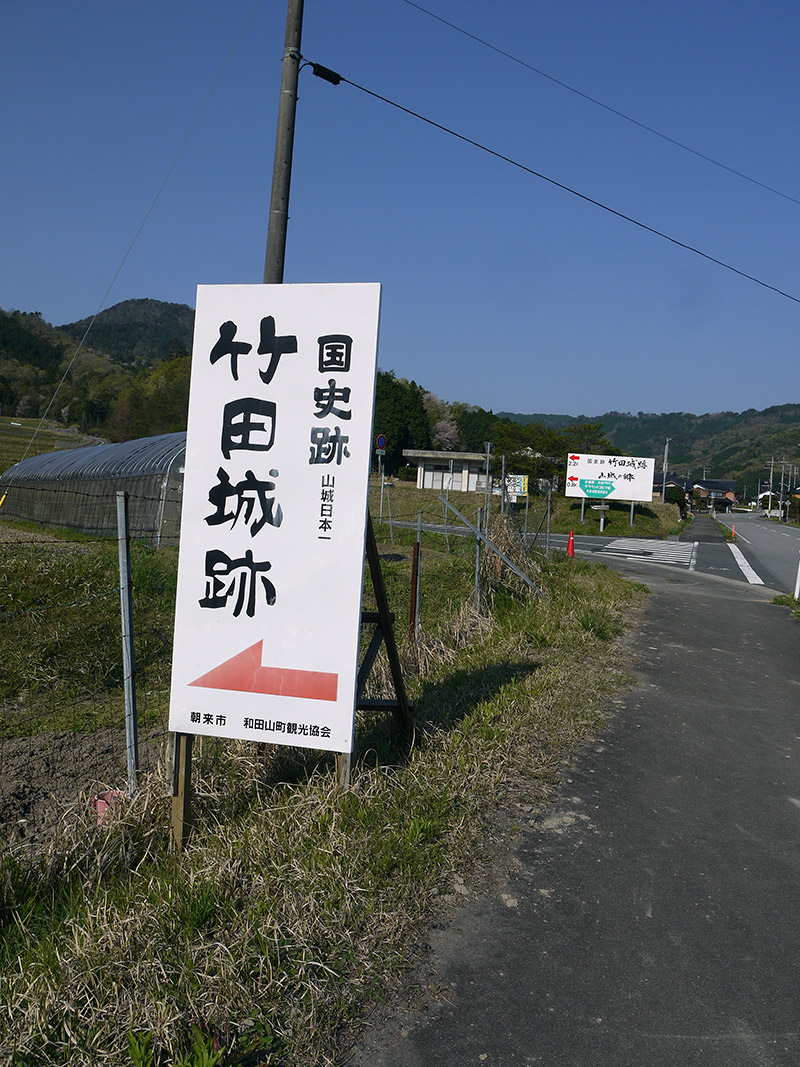 Getting to the Takeda castle ruins can be a little tricky. It's not near any trains stations so no trains go near it (it is on the top of a mountain after all).
If you are driving, just follow the signs, and continue to ascend the mountain until Yamashiro-no-sato. You can get there by bus, too. Or have your friend drive your car. It's like a free, smaller bus.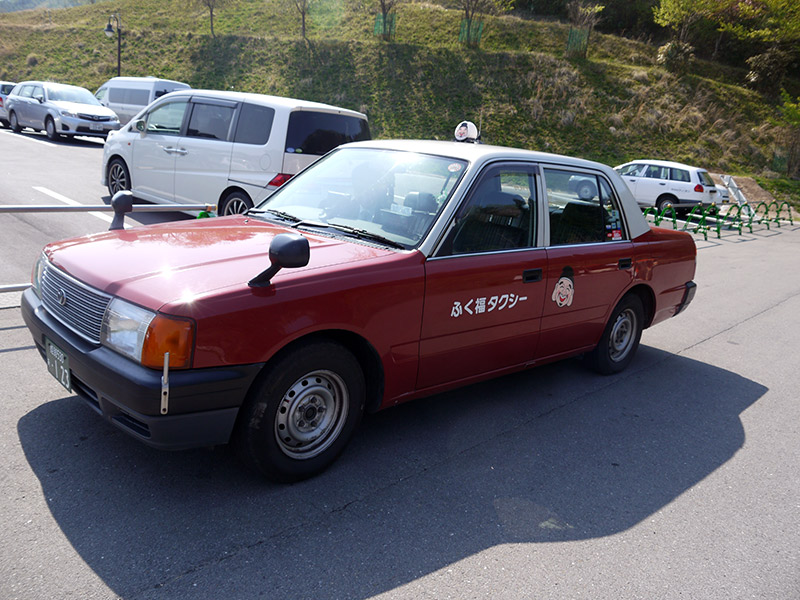 Once you get to Yamashiro-no-sato, it's about a 40-minute walk to get to the castle. Or there is another more tempting option: a taxi and a 20-minute walk. Sorry, this is a mountain. There's no away around the walking.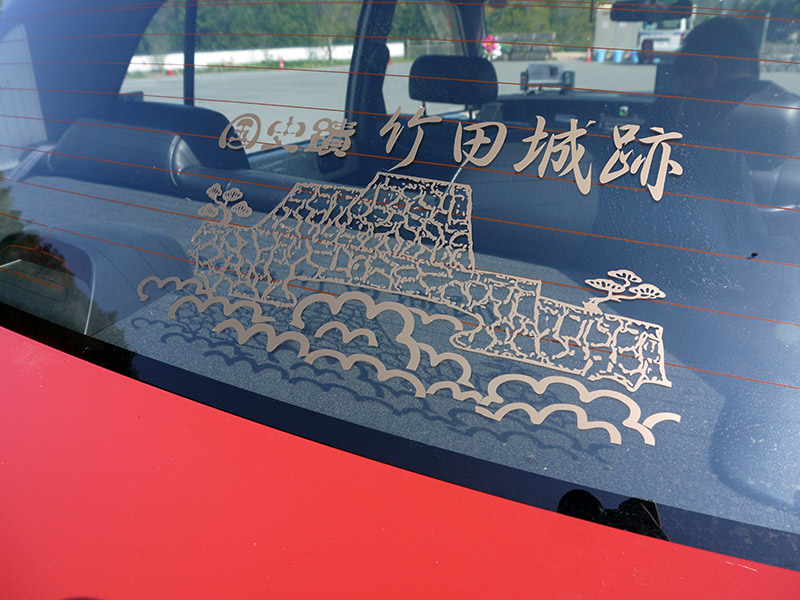 I had just hiked to the top of Ritsuunkyo Mountain and the thought of hiking another one exhausted me, so I decided to take the taxi.
The taxi driver told me that the Japanese actor Junichi Okada used his taxi for a scene in one of his dramas and I was sitting in the exact seat that he had. Not surprisingly, I haven't washed my butt since.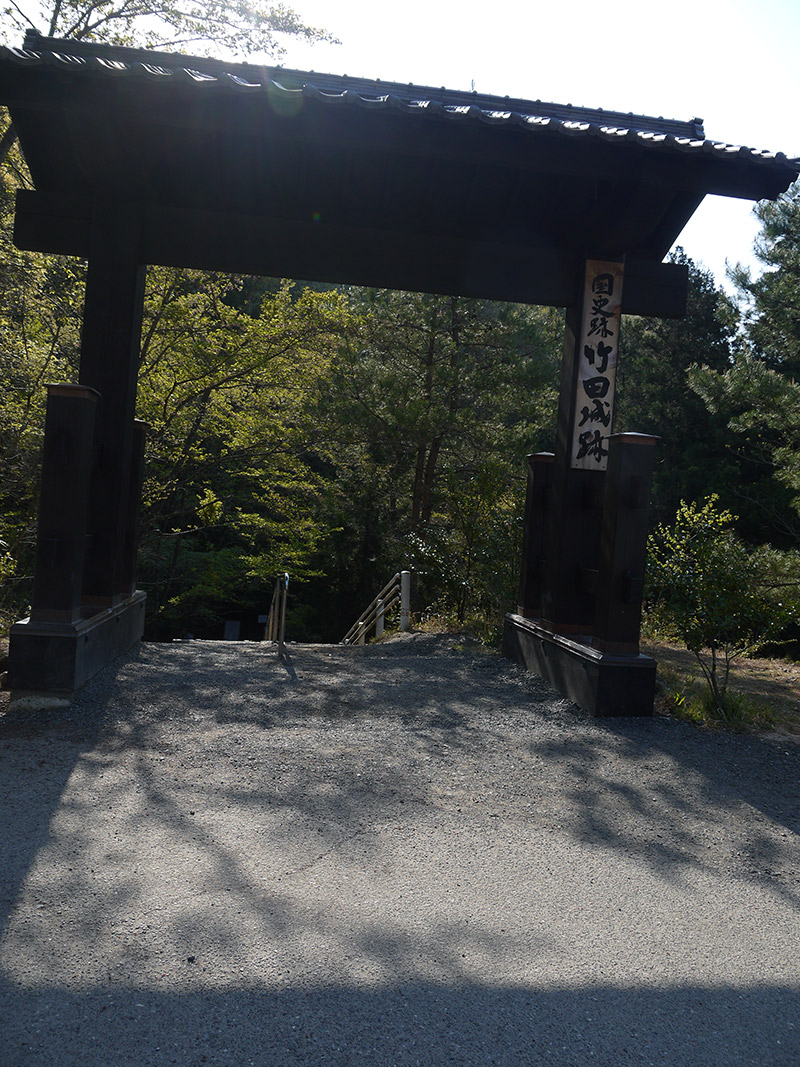 "Sorry. This is as far as I go," the taxi driver will say to you. But it's not because there is anything ominous ahead. It's because the taxi can't physically go any farther without crashing into a ravine. On second thought, crashing into a ravine is kind of ominous.
The taxi will bring you as far as this gate, which goes by the name Otemon.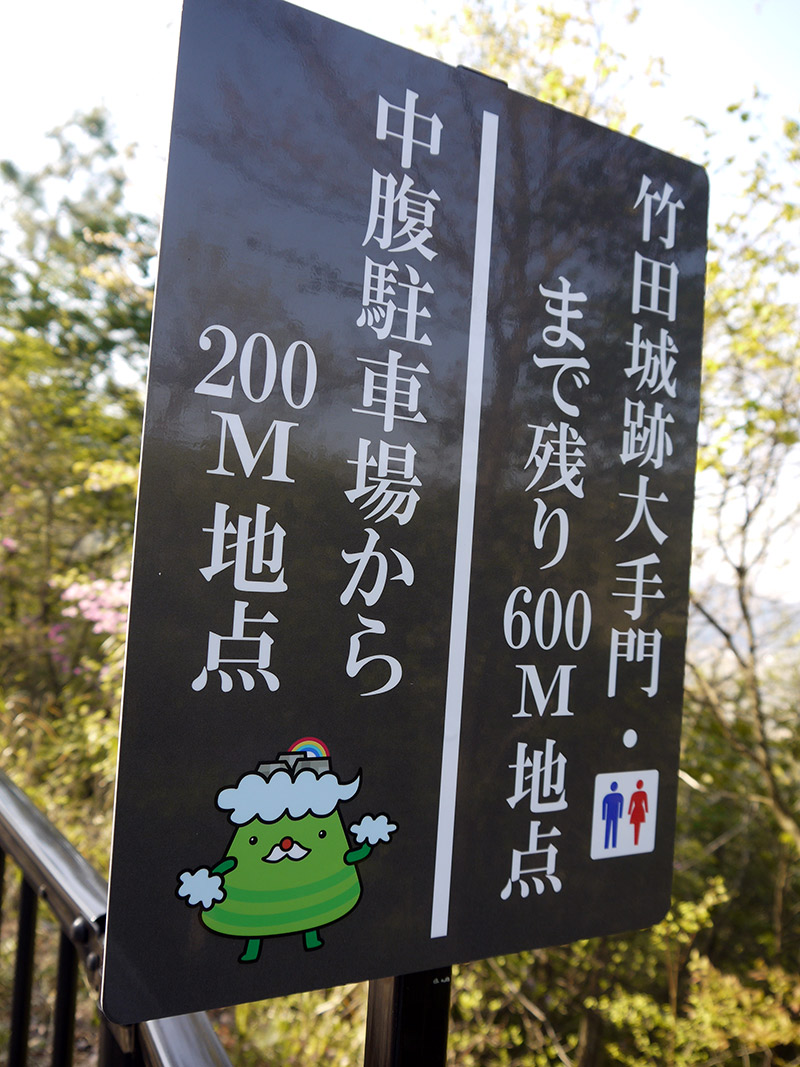 While walking, I found this cute mountain character. Every place in Japan seems to have one of these mascot characters. His name is Takejii たけじぃ, and this name was actually decided on by an elementary school kid in Asago City in Februray 2014. He has a mustache made of clouds, so I guess the kid combined "Takeda castle" and "Jiisan" (grandpa). Since he is a grandpa, his distinctive feature is "to get tired easily" and he loves Japanese sake and the local Iwatsu green onion. Unfortunately, that's about all there is to know about Takejii. (If you want to keep your eye on Takejii, he has his own Facebook page, too.)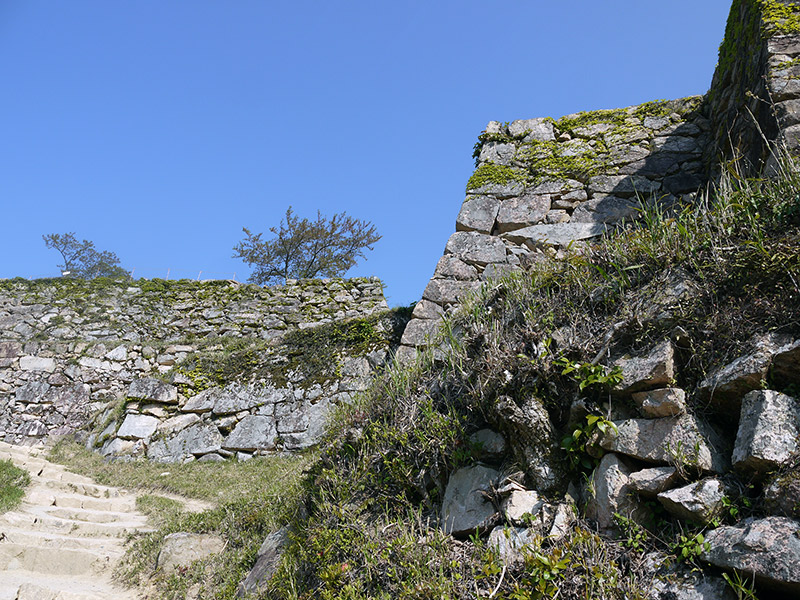 And ta-da! Here we are.
The castle was built in 1441 and was conquered in 1577 by none other than famed warlord Toyotomi Hideyoshi. He already had a castle so he gave this one to his brother Toyotomi Hidenaga. The last lord of the castle was accused of arson, so he committed suicide and the castle was abandoned. And that's how ruins are made.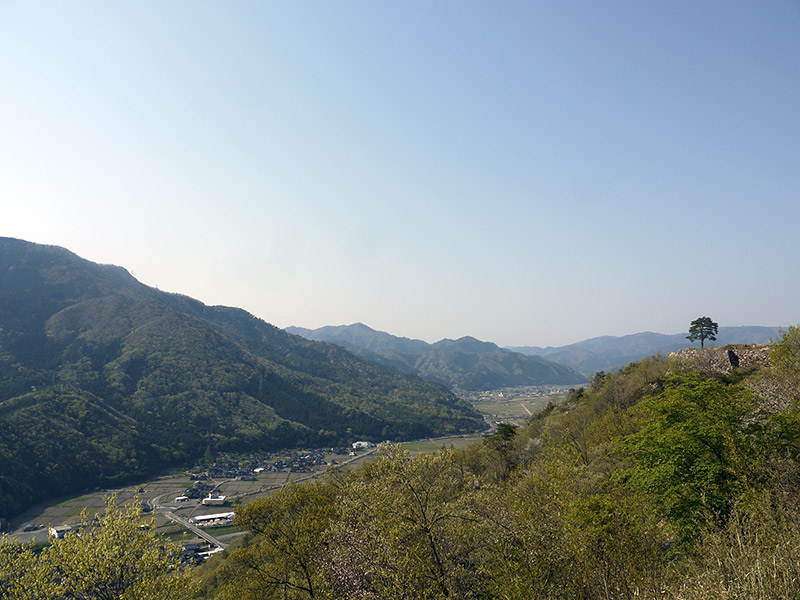 Even though the full castle isn't here, the view makes this totally worth the trip. Pictures don't do it justice.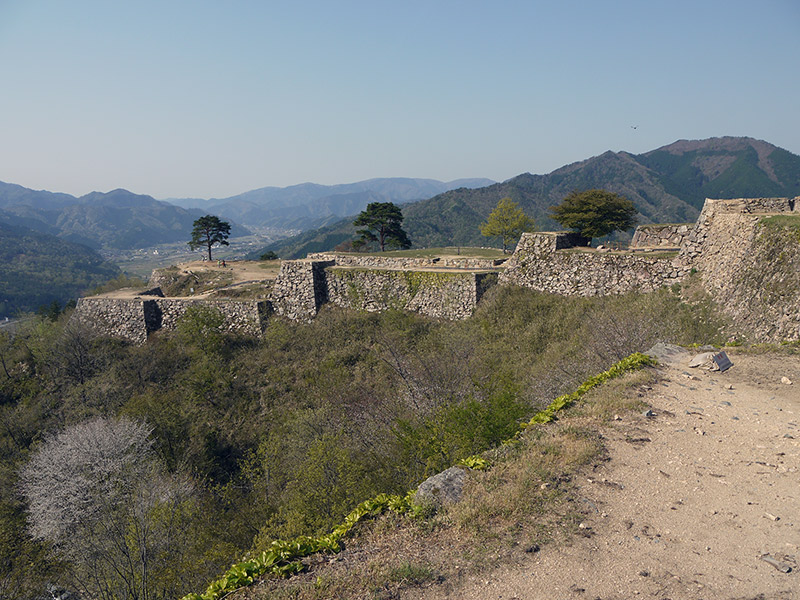 This place is commonly referred to as the Japanese Machu Picchu. Clouds often surround the mountain, making it look like a castle in the sky (more on that later). Thankfully, even if you come here on a clear day, like I did, it's still magnificent.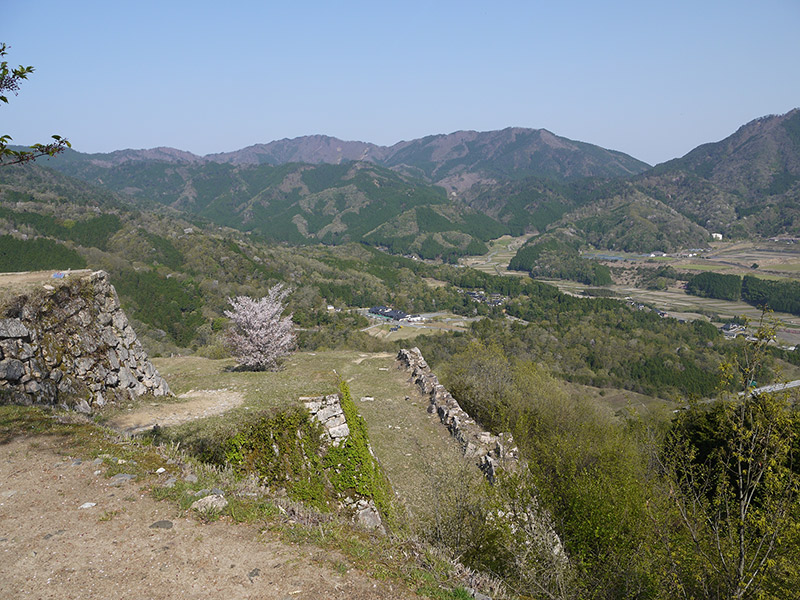 During the cherry blossom season when all the blossoms are in bloom, in the fall when all the leaves change color and in the winter when the snow blankets the area, the beauty of the Takeda castle evolves to something wondrous. The changing seasons give you a reason to come back here again and again.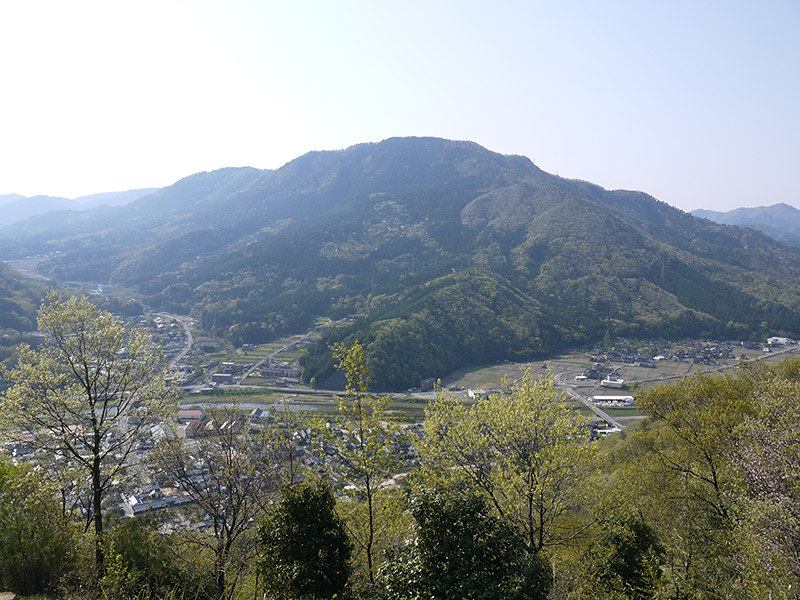 Hey look! It's the mountain we were just on at the beginning of the article, Ritsuunkyo Mountain.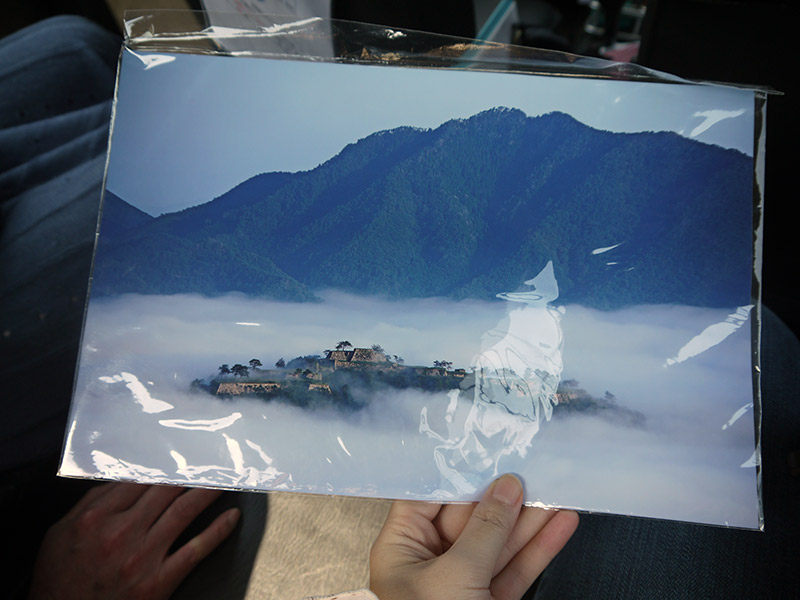 As I mentioned just a while ago, this castle is often surrounded by waves of clouds and it looks as though it is floating in the sky, much like Machu Picchu.
I went near the end of April, so I wasn't able to witness this whimsical scene. Your chance of seeing the clouds increases from the end of September to the beginning of April. Apparently, visiting on a sunny day following a rainy night, preferably during the early morning to about 8 a.m., drastically improves your chances.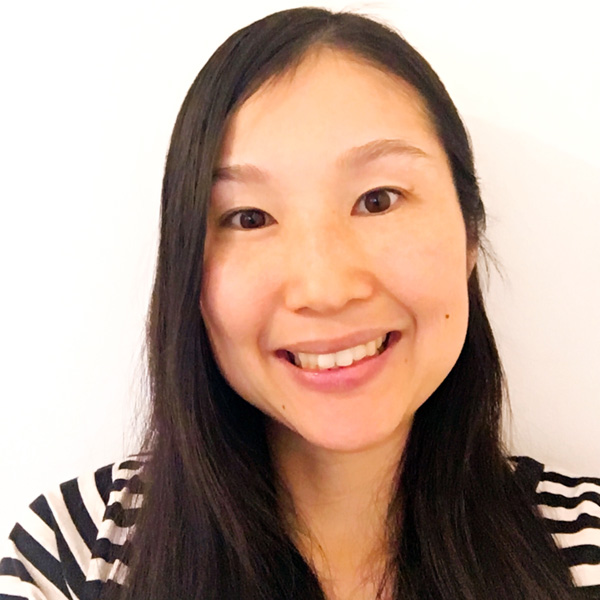 Mami's Review
I enjoyed the hike and the beautiful view from Takeda castle. I just wish I was able to see the most famous scene when clouds cover most of the mountain except for the mountain top, and it looks like castle ruins in the heaven above the clouds.
Takeda Castle
Additional Information
169 Wadayamacho Takeda
Asago, Hyogo Prefecture 669-5252
Japan
View on map