As you may know, our main product is a kanji learning platform called WaniKani, and our mascot is a mystical creature comprised of two animals: wani (aligator) and kani (crab). Not only does this explain the obsession with alligators and crabs some members of my company have, but now you know that these animals mean something special to us. For this reason, we're often on the lookout for alligator or crab themed places, like Atagawa Banana Alligator Park.
Last summer during our Hokkaido trip, we drove a couple hours for an extra stop just to see a gigantic crab claw sticking out from the ground, a.k.a カニの 爪 オブジェ (crab claw statue). Would I recommend you to do the same? Maybe… if you share in our obsession with the Crabigator. If not, keep reading to find out whether it it's worth a visit for you.
History of Crab Claw Statue in Monbetsu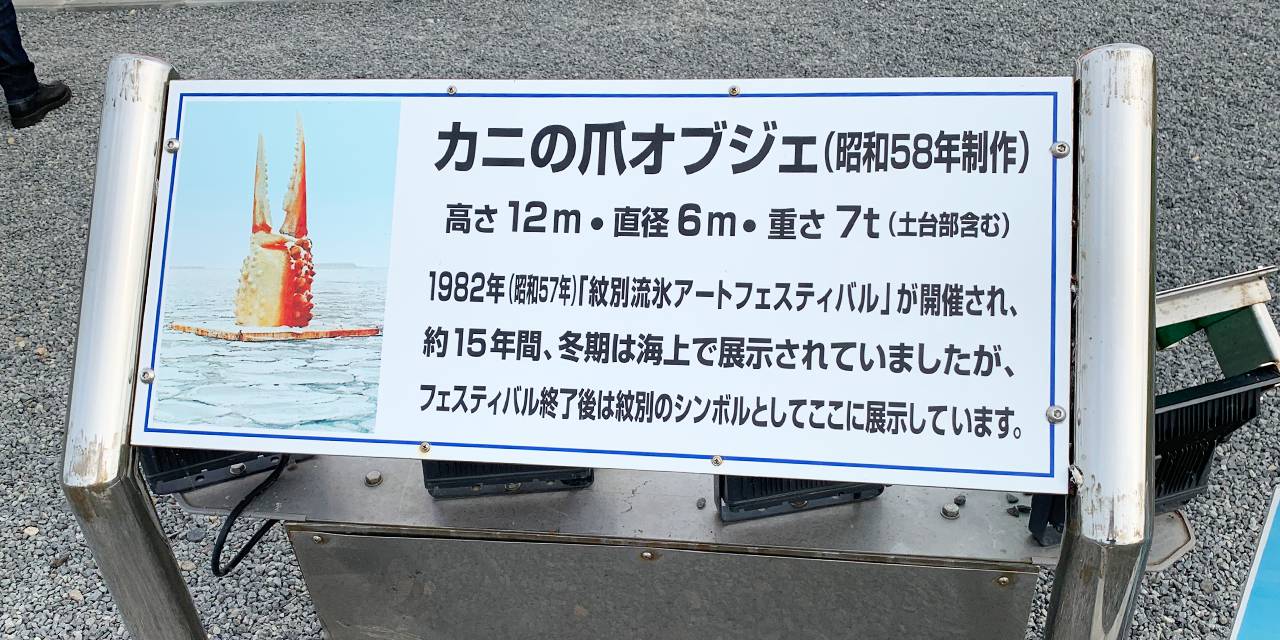 You might be wondering, "Why a crab claw and why in Monbetsu?" Well, that was my original question, too.
The crab claw statue was created as a part of 流氷 アートフェスティバル (Drift Ice Art Festival), an art festival that took a place in Monbetsu City in 1983, by a sculpture artist, Toshi Nagasaki, and constructed with the help of Monbetsu residents. The 12-meter-tall, 7-ton statue used to float atop a piece of drift ice during the winter, but after fifteen years, it's been permanently relocated to the shores of the Sea of Okhotsk.
That's cool and everything, but the question still remains—why a crab claw? Apparently, the concept behind the art was to express the essence of Monbetsu City, known for its endless blue sky and the snowy white landscapes. Unfortunately, the day we went was not the sunniest day and there was no snow or drift ice (because it was summer), but the color contrast of this bright orange crab against the coastal scenery was still pretty. I can see this being adored by visitors as an Instagrammable spot.
Monbetsu is also famous for crabs, especially the hairy kind. This crab claw statue doesn't quite look like a hairy one (it is probably modeled after the red king crab), but I can imagine how making a statue with hair would be difficult to pull off from a technical perspective. Although we don't know the exact reason why it is a crab claw (and not even the hairy kind), this statue has become an iconic landmark in Monbetsu.
Visiting the Crab Claw Statue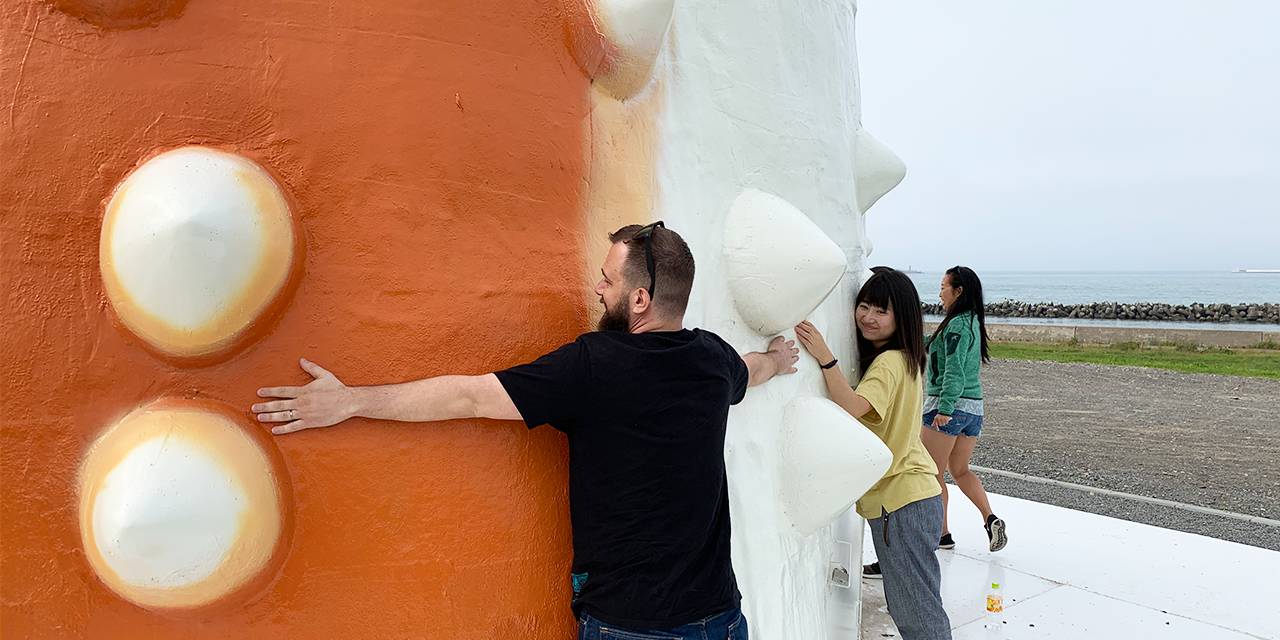 Since Hokkaido is quite large, traveling between cities requires lots of driving. After leaving Ezura farm, where we were staying for the week, we made our first stop of the day, Abashiri Prison Museum. We were also interested in the Hokkaido Museum of Northern People in Abashiri, but we had to skip it so we could visit this crab claw statue in Monbetsu.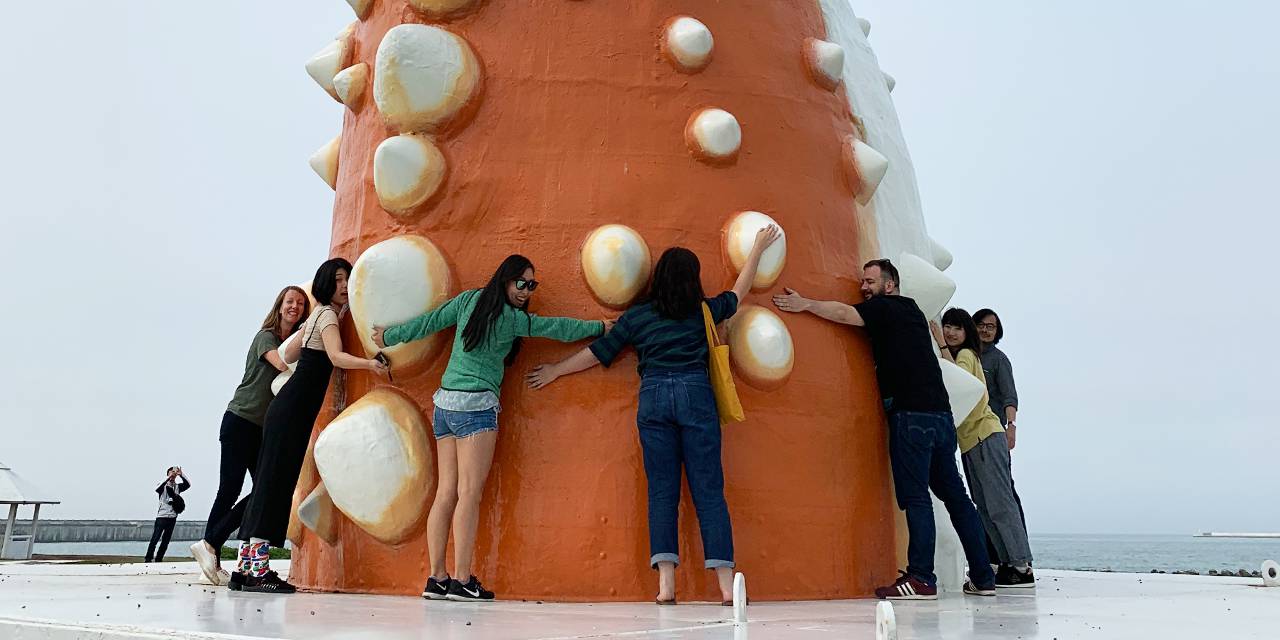 In spite of the lengthy travel time, we only spent less than ten minutes with the statue, taking pictures, touching and hugging it, etc. There wasn't much we could do there, so ten minutes was enough for us, and it probably will be for you as well. (I mean, what other kinds of crab claw statue-related activities could we have done? 🤷🏻‍♀️)
The saviour of the trip was 出塚水産 (Dezuka Suisan), which is just a short drive from the statue. This place was recommended by the Ezura family, a local Hokkaido family we stayed with. They mainly sell different types of fish cakes, and most importantly, they deep-fry them right in front of you and you can enjoy them hot and fresh! It was a perk (or the highlight to me) of the crab claw pilgrimage.
Was The Crab Claw Statue Worth The Hype?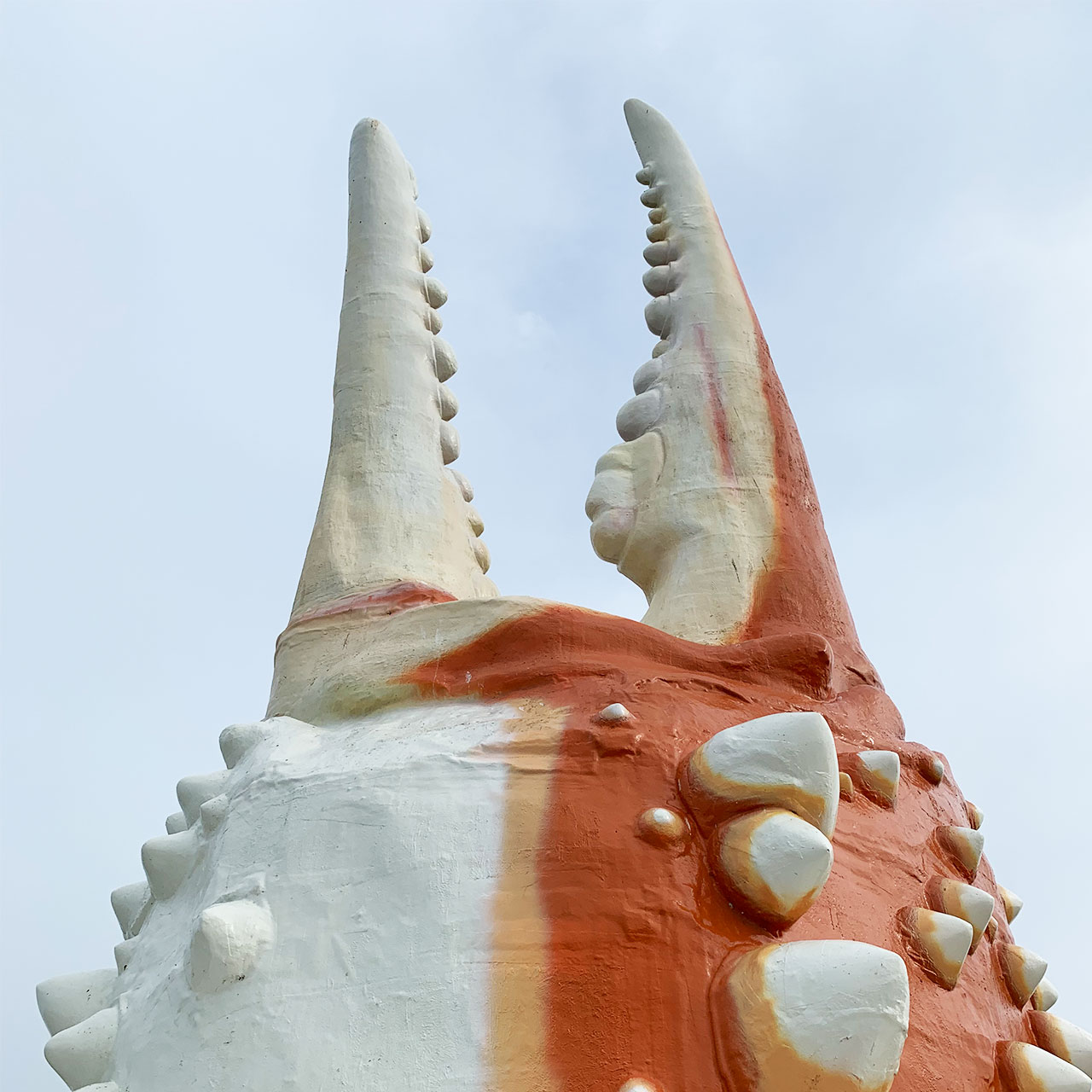 Going back to the original subject (the crab claw statue), even though you can see signs of deterioration up close, the statue is a cool outdoor work of art, which kind of reminded me of the famous dotted pumpkin statue by Yayoi Kusama on Naoshima island. If you are an art lover or a photographer, it might be worth a visit, but just don't set the bar too high. It looks like what you've just seen in these photos, and that's pretty much it.
We visited Monbetsu during summer, so there wasn't much going on in the area. However, if you get a chance to go during winter, it may be a whole different experience, with drift ice and all kinds of cool wintery Hokkaido things you can do in addition to crab claw statue photo sessions.
Like I said earlier, crabs and alligators hold a special place in our hearts because of WaniKani. They are meaningful symbols for us. In that sense, the majestic crab claw statue at the northern end of Hokkaido felt very sacred to me. I am not sure if you, or anyone else in the world would enjoy this pilgrimage to the giant crab claw as much as us, or more specifically our president, Koichi. However, if you are ever in the area, why not visit this gigantic crab claw? I didn't fact-check or anything, but I am pretty sure it is the biggest crab claw statue on earth.
If you ever find yourself in front of the crab claw statue, please snap some pictures and send it to our WaniKani Twitter account! 🦀 That might just make you a favorite child of the Crabigator's.
Crab Claw Statue
Additional Information
Minatocho-5-3-23
Mombetsu, Hokkaido 094-0023
Japan
View on map