Want to experience something different on your next trip to Japan? If "farmstay in Hokkaido" sounds like your cup of tea, I have the perfect destination for you.
I wrote a little bit about it in this news post, but last summer, we (Tofugu) took a trip to Hokkaido, the northern island of Japan, to stay at Ezura Farm.
As they accept different sizes of groups, and even individual visitors, Ezura Farm is a destination I highly recommend whether you are planning a group or solo trip. The experience we had at Ezura Farm was excellent, and I'd like to share it in this article.
Naturally, I'll be writing based on our experience of staying there as a company, and a large group. But hopefully this article will be helpful for anyone who is intrigued by the idea of a "farmstay in Hokkaido."
About "Ezura Farm"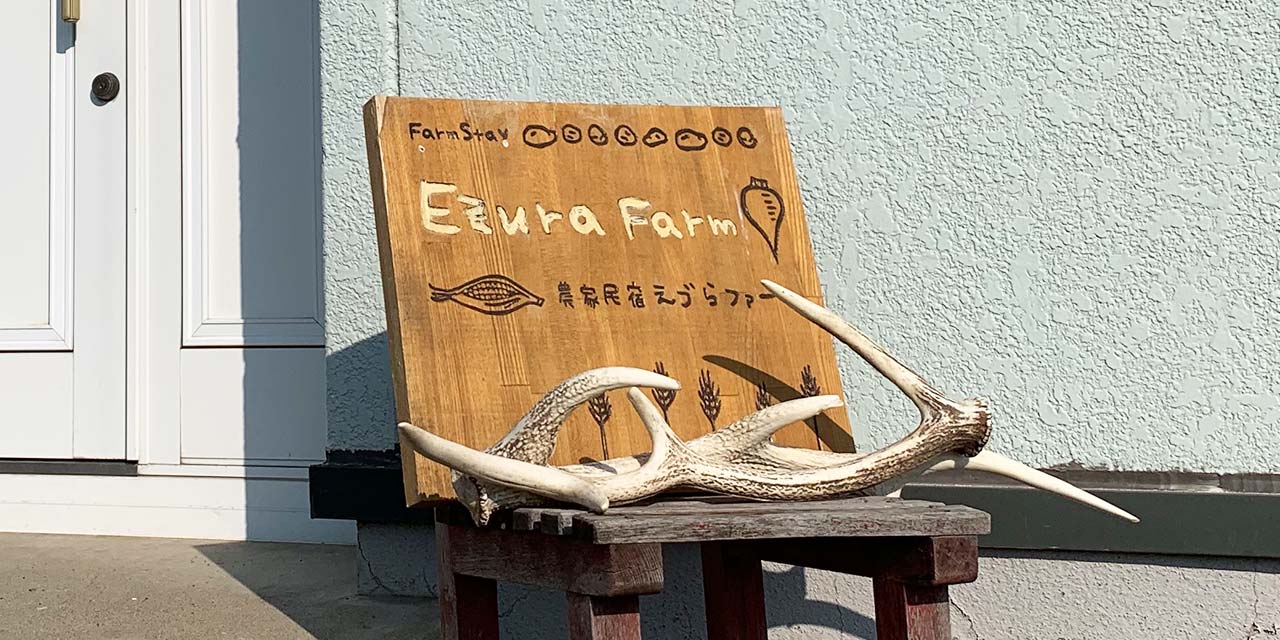 Ezura Farm is a 農家民宿, meaning "farmstay inn," run by a husband-and-wife team (and their adorable first-grader daughter) with the help of live-in volunteers and staff. The couple were originally living their busy lives in Tokyo, working as a salaryman and an OL1, when they decided to quit their jobs, move to Hokkaido and start a completely new life as farmers about ten years ago.
The farm grows mainly potatoes, sweet corn, winter wheat and sugar beets. In addition to that, they host people and provide a farmstay experience. There are a couple basic options they offer. One is to be a volunteer, who is expected to work in the same way as their regular staff and gets to stay on-site and have meals for free. The other option is to be a guest, and pay for your stay, while getting as much—or as little—farming experience as you want. They also seemed somewhat flexible about guests' needs. For example, they let us volunteer half-days and provided us with meals in return. If you have physical restrictions or specific needs, maybe you can consult with them to see what they can do too.
農家民宿 (のうかみんしゅく)

a farmstay inn: a working farm providing accommodation, meals and farming experience
The farm is located in the Shirataki area, which is between Asahikawa and Abashiri. That basically means it is in the middle of nowhere, surrounded by beautiful mountain scenery. As for the access, we flew in to Asahikawa Airport and hopped into a chartered van to Ezura Farm. For big groups like us, driving or chartering a car is probably the most convenient option, but the hosts would come pick you up at the closest station if needed. There are public transportation links from major stations like Sapporo and Asahikawa, so it shouldn't be too inconvenient to get there even if you decide to go carless.
Why Did Tofugu Pick Ezura Farm?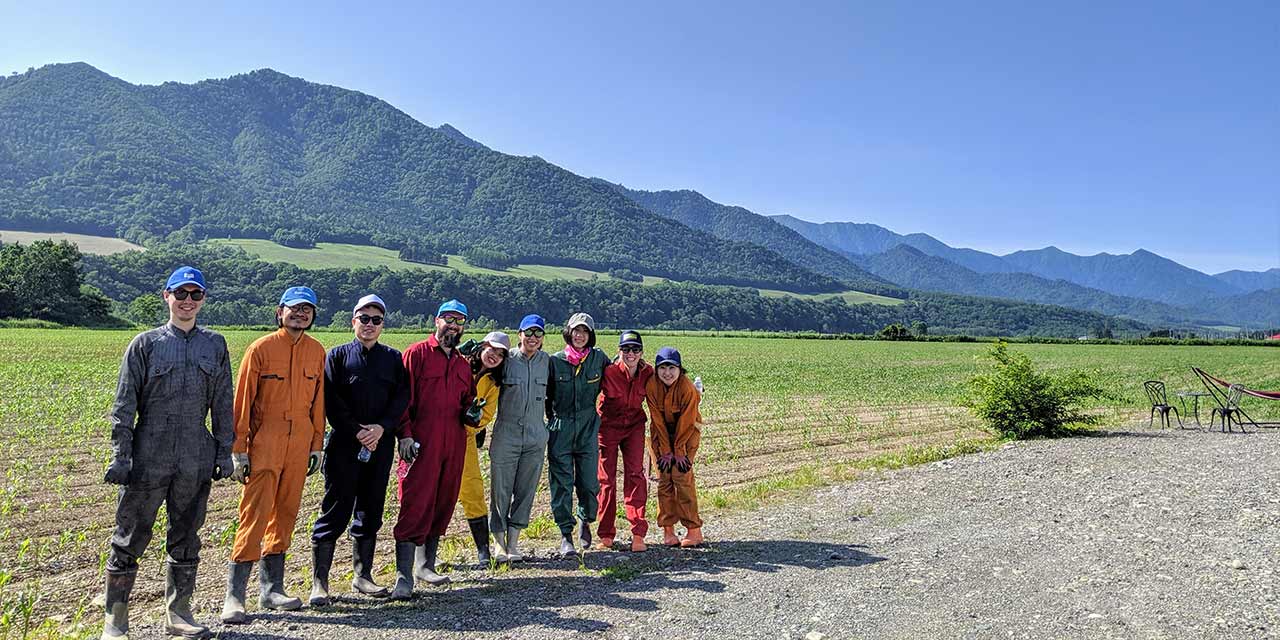 The main purpose of our trip was a get-together. Since half our company works remotely, having an occasional trip together is a very important event for us. This time, we intentionally chose a countryside area, an isolated place so that we could spend more time enjoying each others' company without too much distraction around.
After narrowing down the destination to Hokkaido and the activity to farming, we had a few farm-stay inn options. However, the fact that Ezura Farm has hosted many non Japanese-speaking guests and some companies in the past was a key factor for us.
They were also flexible about what we wanted to do—half-day farming and half-day regular computer work. We stayed at Ezura Farm for five nights in total, did three half-days farming and spent the other two days visiting Asahikawa and Monbetsu/Abashiri area for sight-seeing.
The email communication with them was very attentive, informative, and smooth. Our communication was in Japanese, but their website is also available in English, and the family speaks some English. Even though our staff have different levels of Japanese proficiency, we didn't really have trouble communicating with them.
Renting A Whole Cottage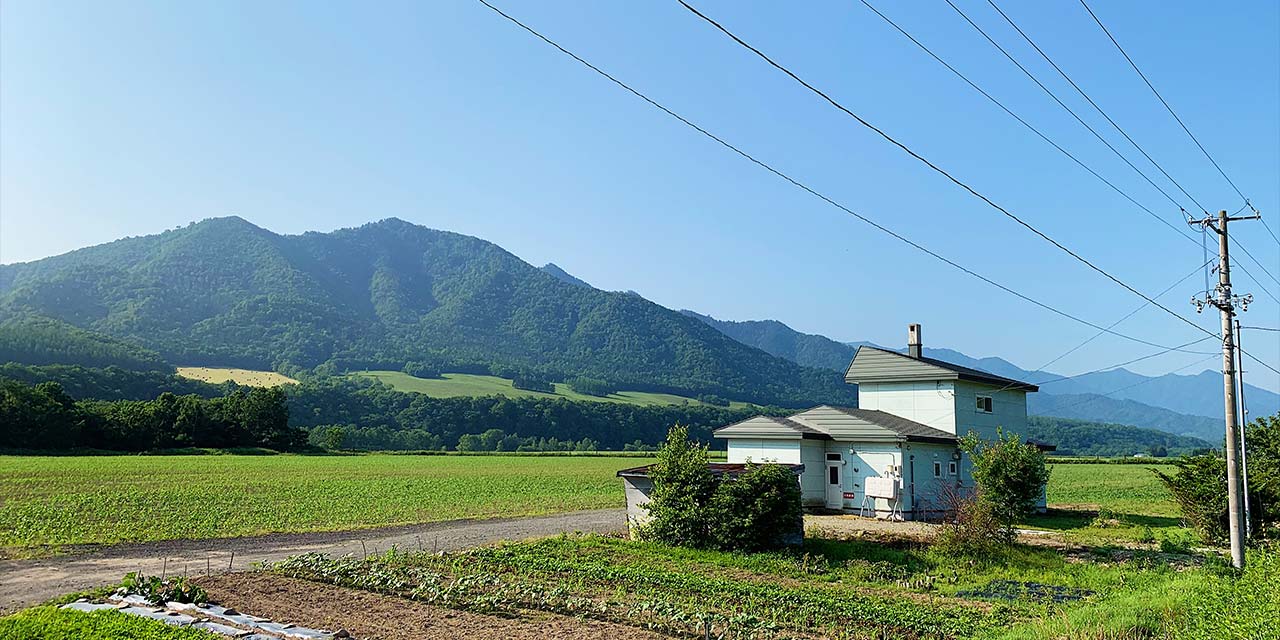 At Ezura Farm, there are two accommodation options: homestay or renting a whole cottage. Homestay, where you stay under the same roof with the Ezura Family, but in your own private room, is perfect for a solo visitor or a small group. If you prefer to have more privacy or stay as a big group, you can rent a whole cottage next door… which means, in this area, a five-minute walk away from their main house. The cottage is right in front of their corn field, and it certainly made our commute very easy.
Since nine of us were staying, we rented the cottage. The cottage is a typical Japanese house, and it accommodates up to fifteen people with two twin bedrooms upstairs, and two tatami rooms downstairs (with eleven futon sets stored in closets). It also has a living room and a dining room/kitchen.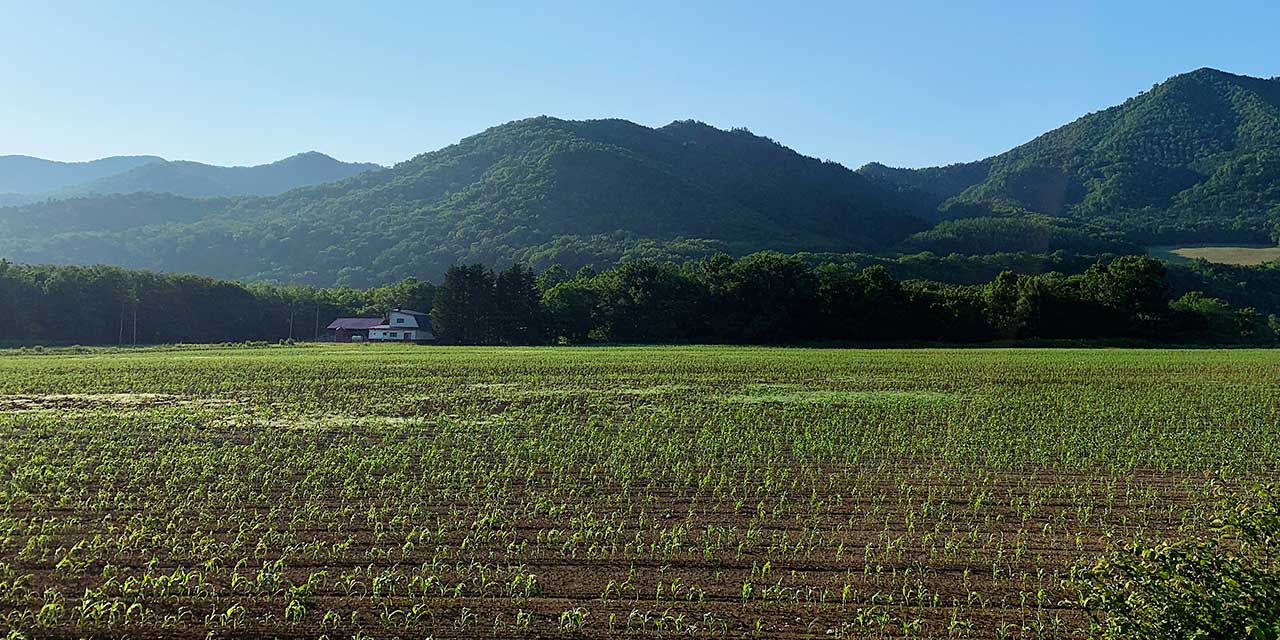 My favorite part of the house was a big window with a beautiful view of the cornfield and mountains. We sometimes got to see some sheep hanging out far on the mountain across the cornfield, and just watching them was dreamy. (Not that I counted them, but it felt so peaceful!)
Like other typical Japanese houses, the cottage has a shower room with a bath tub, and a separate bathroom. They have pretty much everything guests would need for their stay: toothbrushes, towels, shampoo, body soap and so on. For nine of us, one more bathroom would have been a nice-to-have, but we managed fine without it. Everything was clean and comfortable. The hot water wasn't running properly at first, but whenever we called our hosts, they were able to come take care of things quickly.
Since it is common in regular Japanese households to hang laundry up to dry, there is no dryer, but there is a laundry machine and a big clothes hanger rack. Summer in Hokkaido is usually pretty dry, so it wasn't a problem for us at all.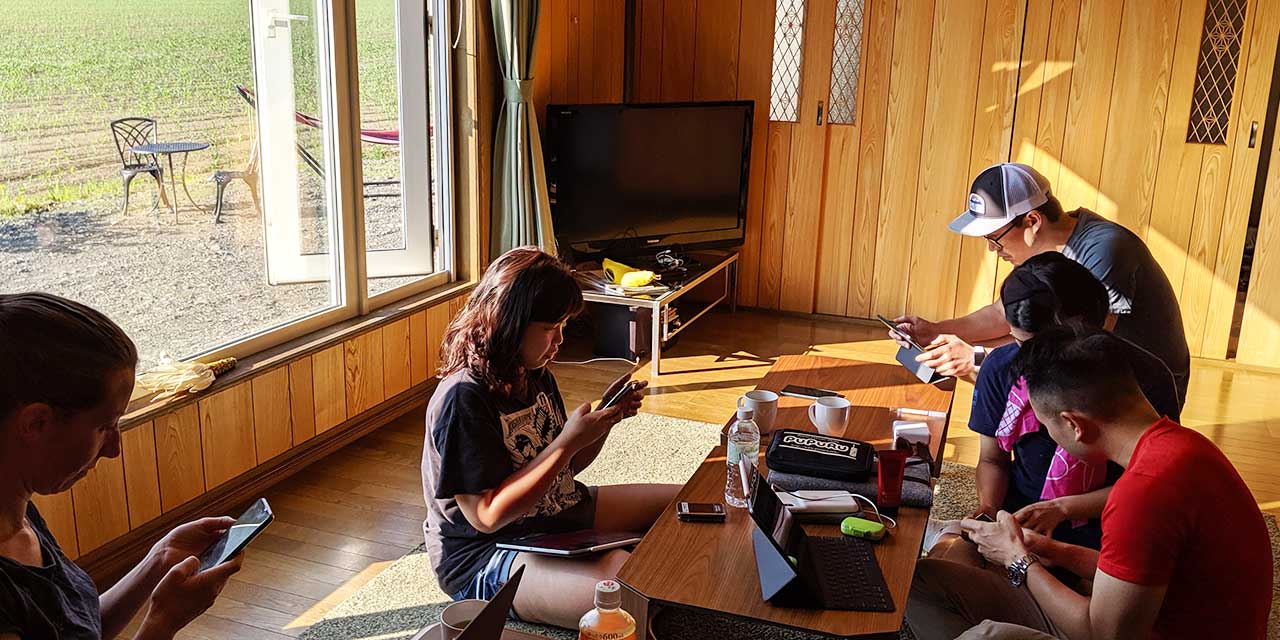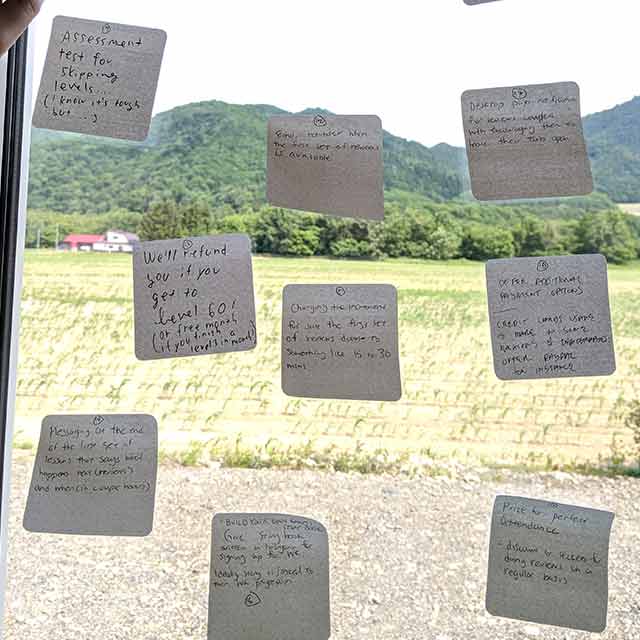 As a working environment, personally I found it inspiring, and it made me feel productive. It was nice to work in a completely different setting from my regular work environment, especially with the views of beautiful farmland and mountains. Our hosts also brought us a few extra tables so that we could do computer work and play Bananagrams in the afternoons and evenings. There's also a couch and a few chairs for those who can't stand sitting on the floor for a long time.
They have a Wi-Fi hotspot available at the house. We picked up a hotspot for each of us at the airport, so we didn't end up using the one at the cottage. However, despite being in a countryside, the Internet connection wasn't bad at all. We were able to do occasional online audio-only conferences with our staff who didn't make it on the trip, or stream YouTube videos for fun without a problem or it being too slow.
Farming at Ezura Farm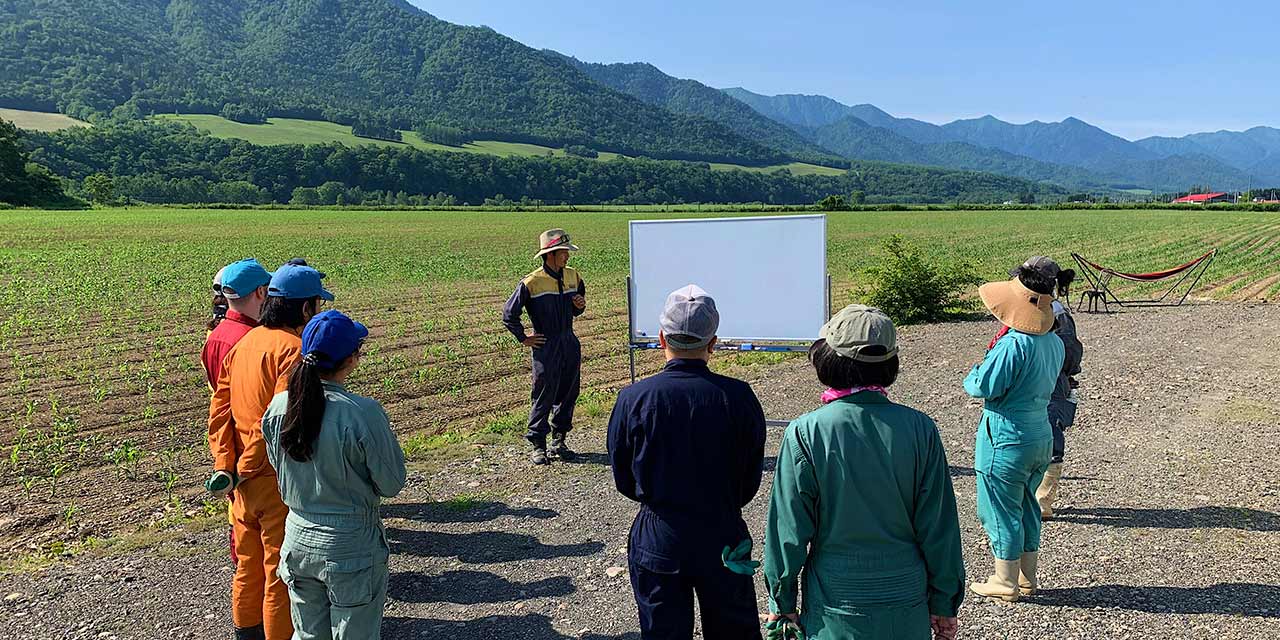 At Ezura Farm, pretty much everything you need for farming is provided. Overalls, boots, gloves and hats, etc. It was nice that we didn't have to worry about bringing farming gear from overseas.
What kind of farming jobs you actually get to do depends on the timing of your stay, but it seems like common tasks include pulling weeds and chopping wood. We visited in early July, and we were mainly pulling weeds and thinning out corn stalks. Doesn't sound so exciting? Well, that's what I thought at first too. But, trust me, it was actually more fun and rewarding that I ever expected.
Before we started the actual farming, the husband Akito-san gave us a quick lecture on how to thin out corn stalks, how they want it to be efficient and less wasteful to maximize their profits. Once we got the gist of it, we started actually working on the farm. Their staff were very helpful giving us advice when we were not sure what we were doing.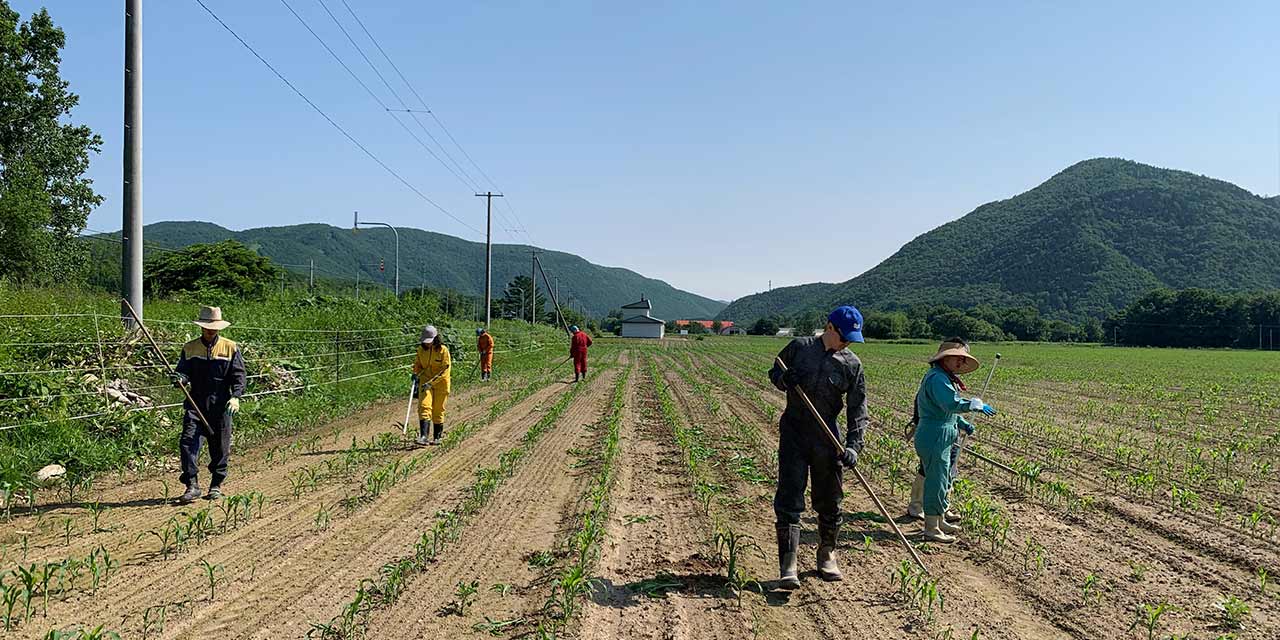 Besides thinning out corn stalks, we also spent one of the three half-days of farming pulling weeds in their sugar beet fields. The weeds were actually baby potatoes from the previous year, so it felt a little bit like harvesting, and it was the most fun "pulling weeds" that I've ever had.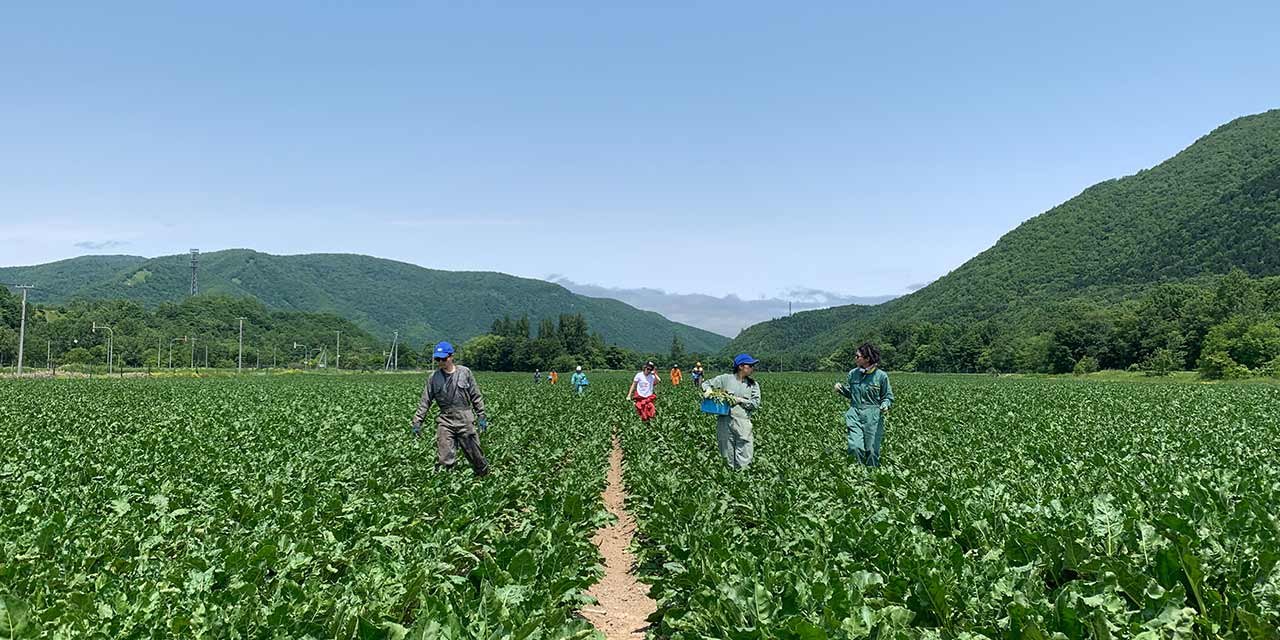 Agricultural work is surely labor intensive and hard. I won't sugarcoat that. The farm is huge and you have to keep walking as you work. However, for those of us who spend most of our regular work ours facing our screens, it was refreshing to do physical work while surrounded by nature. We also got to talk and learn more about each other while working. (Of course, we kept our hands moving constantly, not only our mouths!)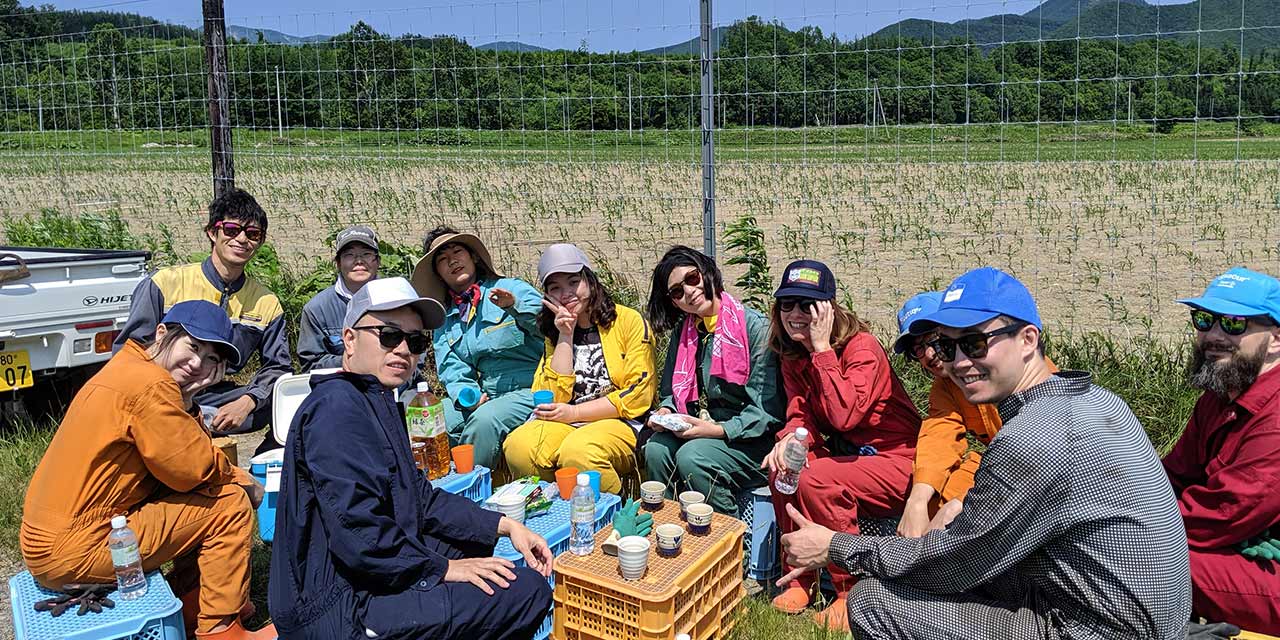 We were expected to work from 8 a.m. to noon. In between, there was a break where we got to drink some tea and eat snacks, sitting on milk crates, chatting and relaxing.
I wasn't sure how much help we actually could be, but for the three half-days we worked, we were able to get a lot done (we thinned out corn stalks for all their fields) and we felt proud of the tangible result of our teamwork.
Delicious Meals, True Rewards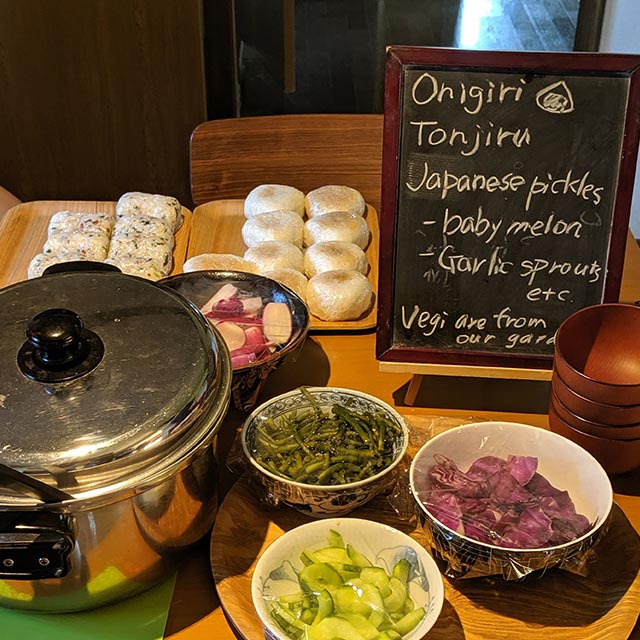 Food was one of my many favorite things about Ezura Farm. Usually I am not a big breakfast person, but during the stay I woke up feeling excited about what I got to eat in the morning. The food is simple home-cooking style, but the wife Yoko-san is a great cook. Even besides breakfast, I don't usually get hungry often, but before and after all the hard work of farming and regular work, I was starving. I accidentally said "microwave" when I meant "screenshot" in one of our brainstorming meetings, I got that hungry. Every single meal felt like a true reward and a source of energy.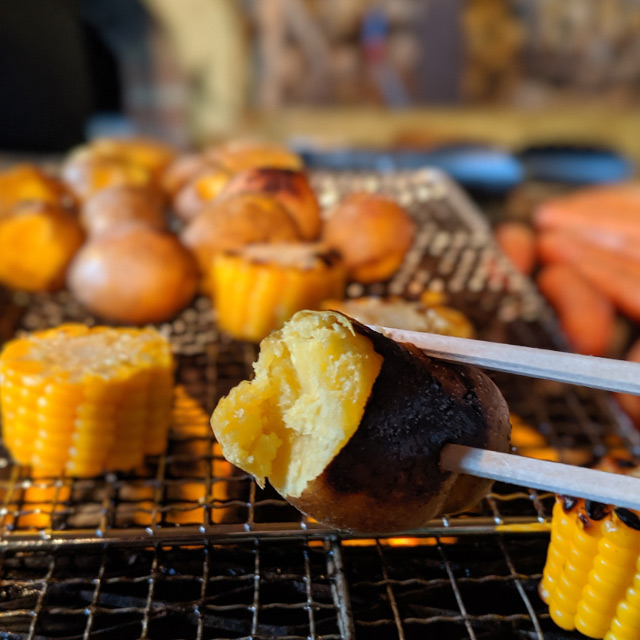 Getting to eat food using the vegetables they grow and local ingredients was something else special about our food experience at Ezura Farm. Surprisingly starchy and flavorful potatoes, the sweetest corns, umeboshi-style salt-cured haskap (Hokkaido's famous berry), vegetables straight from their garden, etc. Farmers truly know the best way to cook and eat their produce!
Every meal was brought to the cottage, but they invited us over for a BBQ on the last night of our stay. We all got to hang out, talk about our lifestyles and have a good time.
On a side note, a few of us have dietary restrictions, but Ezura Farm let us know far in advance what they would be serving during our stay. It certainly gave us the ability to plan ahead and be prepared. The kitchen was equipped with pretty much everything we needed to prepare our own food and emergency snacks.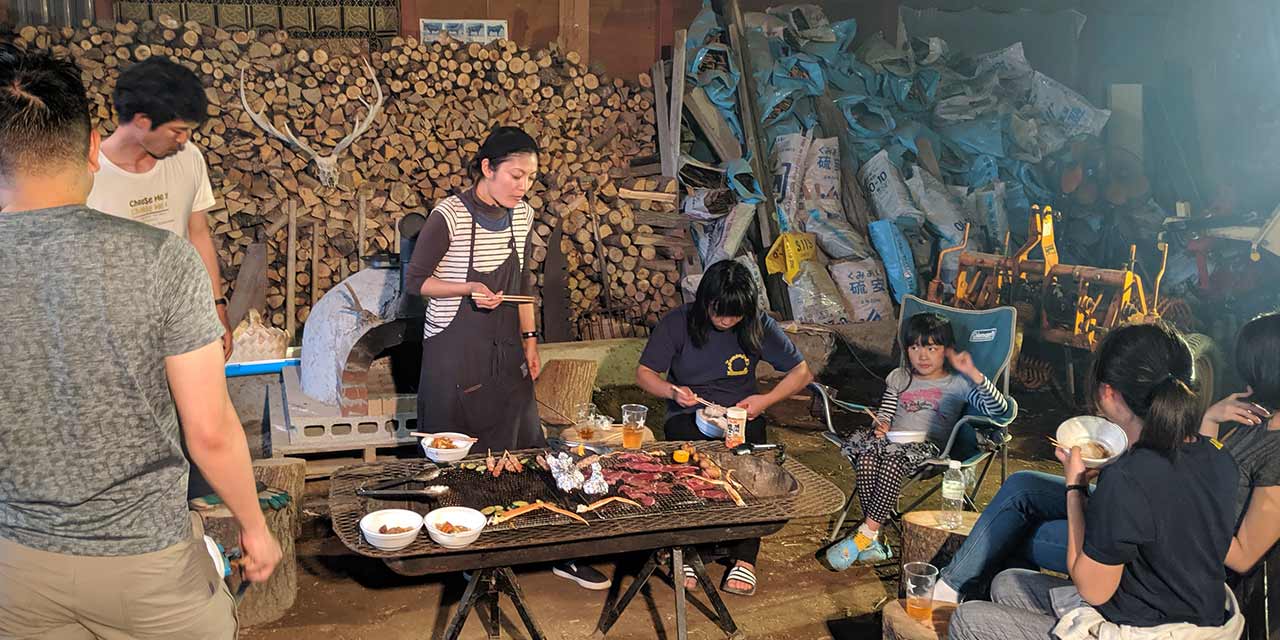 Travel Like A Local… Farmer!
Our farmstay at Ezura Farm was the most unforgettable experience from our last trip to Hokkaido. We left Ezura Farm feeling recharged, inspired and bonded. It was so great that some of us (including myself) are considering going back sometime in the future.
If you've been to all the major tourist destinations in Japan, and are looking for something new and unique, what about farmstay in Hokkaido? Ezura Farm would be the perfect place for you.
Tofugu had the honor of being their first guest from outside of Japan that was a company, and the Ezura-san famiy is looking forward to hosting more. Happy farmstay-ing🌽
An abbreviation of "Office Lady," a Japanese term for a female office worker. ↩
Ezura Farm
Additional Information
152-3 Shiratakikitashiyubetsu, 遠軽町 Engaru
Monbetsu District, Hokkaido 099-0121
Japan
View on map