When the Tofugu team took a trip to Hokkaido last summer, we made a stop at Aoi Ike Pond. The pond has turned the small town of Biei, which is located between Asahikawa and Furanointo, into a tourism hot-spot.
If you know some Japanese, you may already know what 青い池 aoi ike means. It literally means "blue pond." The turquoise blue of the water against the white of the dead birch trees create a beautiful scene that almost feels as if a Bob Ross painting has come to life.
What Is Aoi Ike Pond and Why Is It so Blue?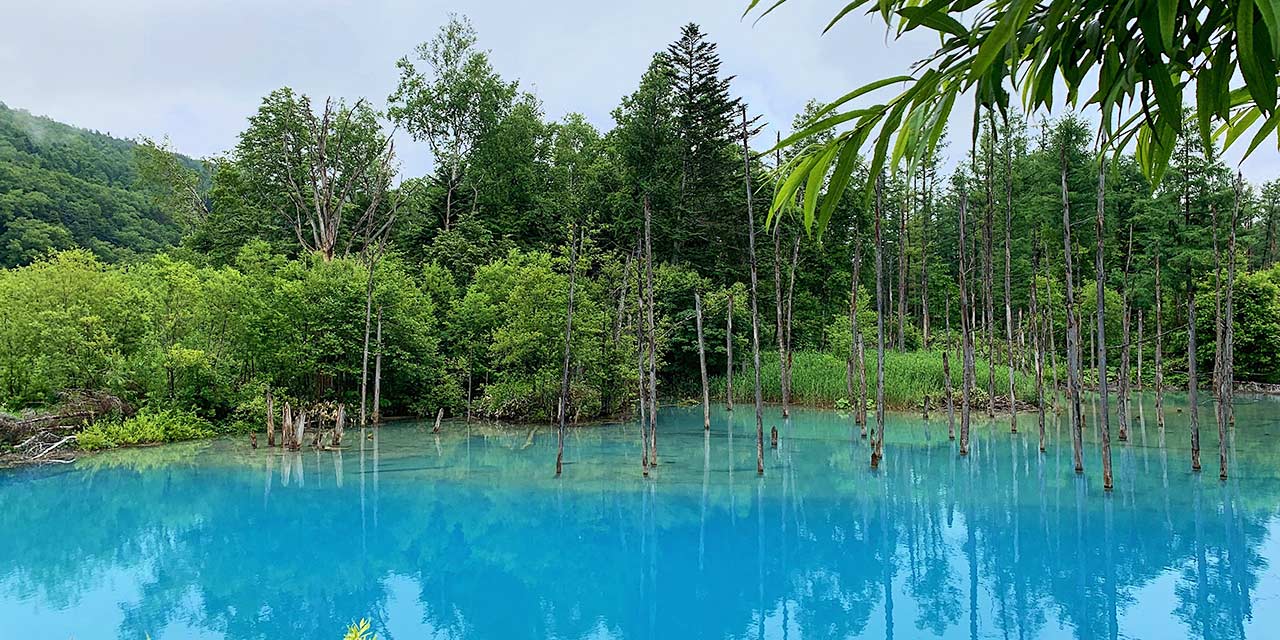 The discovery of Aoi Ike Pond is relatively recent. It was found by a Japanese photographer in 1997. A photobook that features the pond was published the following year, and it immediately started attracting the attention of tourists and photographers from around the world. It has even been used as an Apple wallpaper photo!
Since the nature of Hokkaido is more "untouched" than the rest of Japan, I initially assumed the pond is a creation of nature. However, I was surprised to find that it's actually a human-made pond! This begs the question — if it's human-made, how was it made so blue? It looks as though it's full of Blue Hawaiian shaved ice syrup. Or perhaps it's the same Lush bath salt that you got for your birthday? Not even close.
The truth is, this pond is unintentionally human-made. It began as a dam to prevent mudflow from the nearby Mt. Tokachi, but it started accumulating water, and it accidentally became a pond. Even though it was not the plan, now it is the main tourism resource of the city. This must have been a pretty happy accident for Biei.
But why so blue? Although it has not officially been confirmed, they say that aluminum from Shirogane Onsen and water from Biei River accumulate in the pond and produce a chemical phenomenon called a "colloid mixture." The reflection of sunlight on this colloid is what makes the water look so blue. Sounds kind of complicated, but it makes sense considering the surrounding environment (Mt. Tokachi and Shirogane Onsen).
What Was "Aoi Ike Pond" Really Like?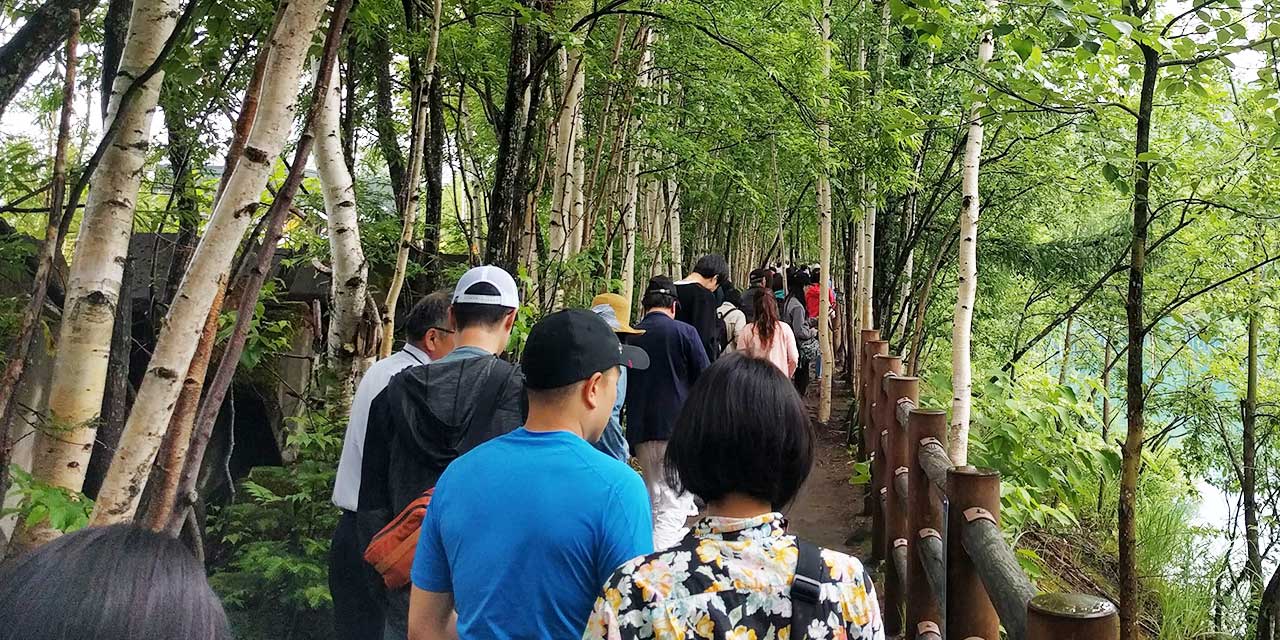 We stopped by Aoi Ike Pond on our road trip from Ezura Farm to Tomamu. We tried to get there as early as possible because it was a long weekend in July, and our local driver warned that it would be very crowded otherwise. We arrived there at around 10 a.m., and the driver was right! There were already quite a few people. However, they recently expanded their parking capacity and now they have two parking lots that accommodate nearly 300 cars, so we found a parking spot easily. The pond is very close to the parking lots, and following the flow of the crowd, it only took us a couple minutes to get there.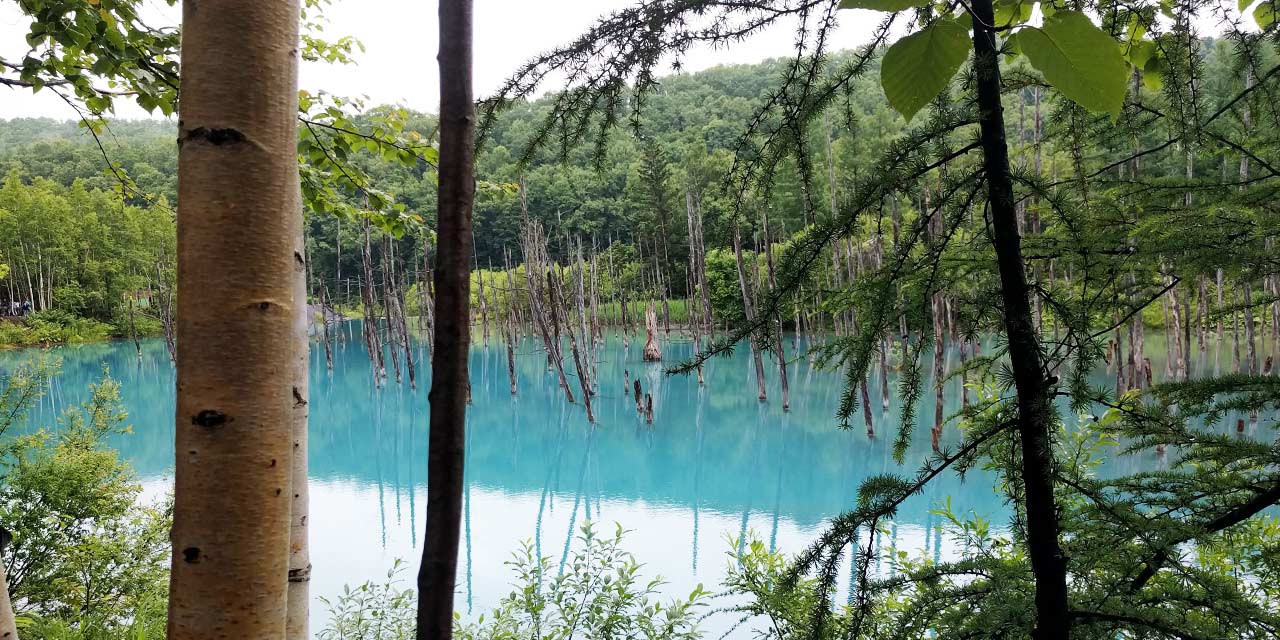 When we first saw the pond, we were all surprised to see how blue the water was. Even though the sky was gray on the day of our visit, the water still looked pretty blue and was beautiful!
You can enjoy the gleaming blue by walking the path that runs alongside the pond. This path allows you to enjoy the view from different angles, without other people in your way, even when it's crowded. There are some better photo spots towards the end of the path where you can take pictures without bushes in the way. Depending on how busy it is, you may have to wait for others to be done taking pictures, but otherwise, the crowd didn't bother us.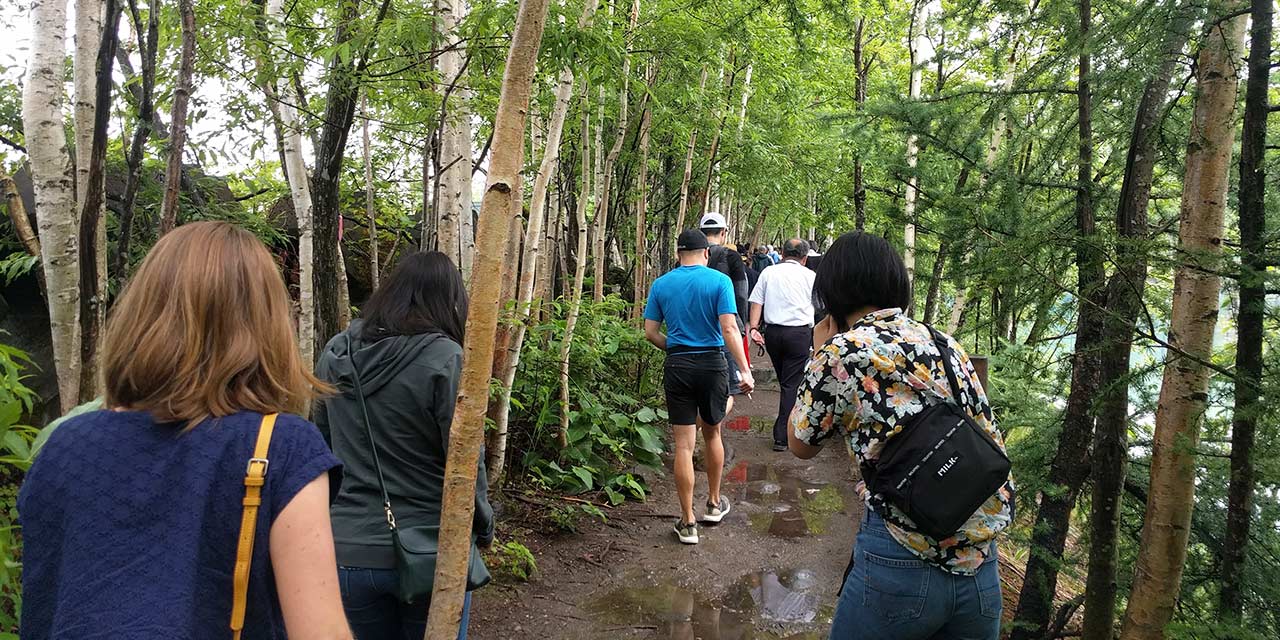 It is a nice, easy walk with a fantastic view of the blue pond, but be aware that it's a dirt path! I recommend wearing a pair of shoes rather than sandals or flip flops because there could be some puddles if you go after it rains. It was a bit muddy when we were there too. Other than puddles and mud, the path was fairly flat, and not that hard to walk on.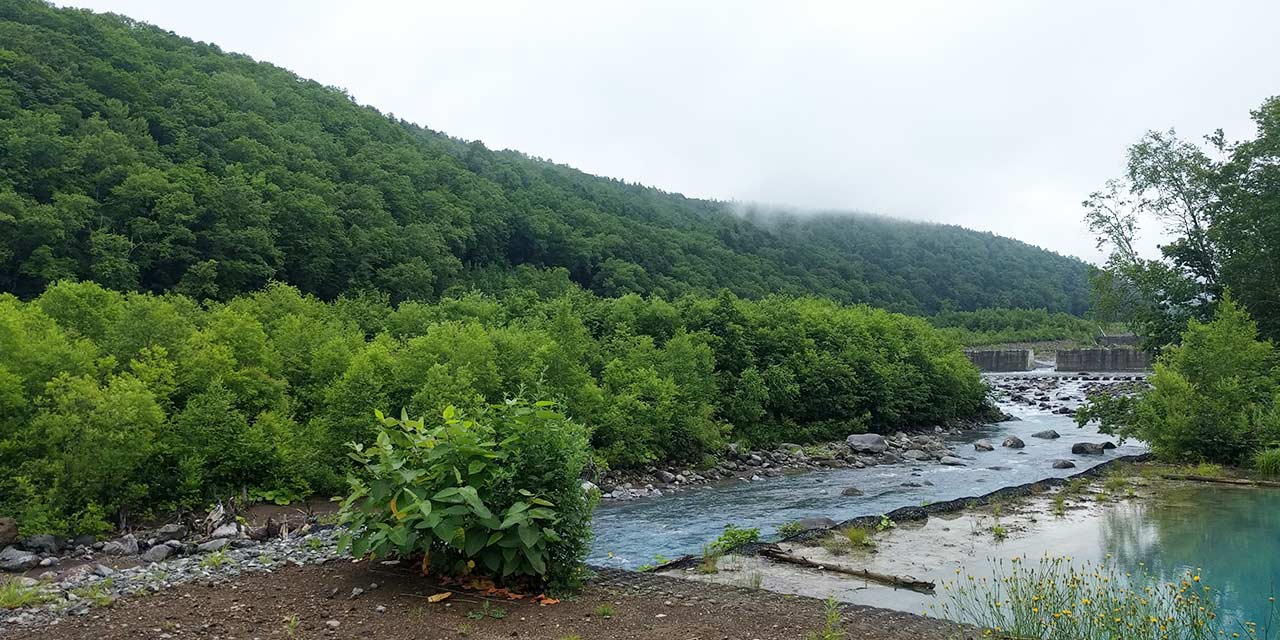 We meandered along, viewing the scenery and taking group pictures with the gorgeous background, and soon came to the end of the pond. That's where you can see the source of the water, Biei River. It was interesting to see that the water of the river was not as blue as the pond, and this made Aoi Ike Pond feel very special, almost like a miracle that was created by a happy coincidence.
Is It Worth Visiting "Aoi Ike Pond"?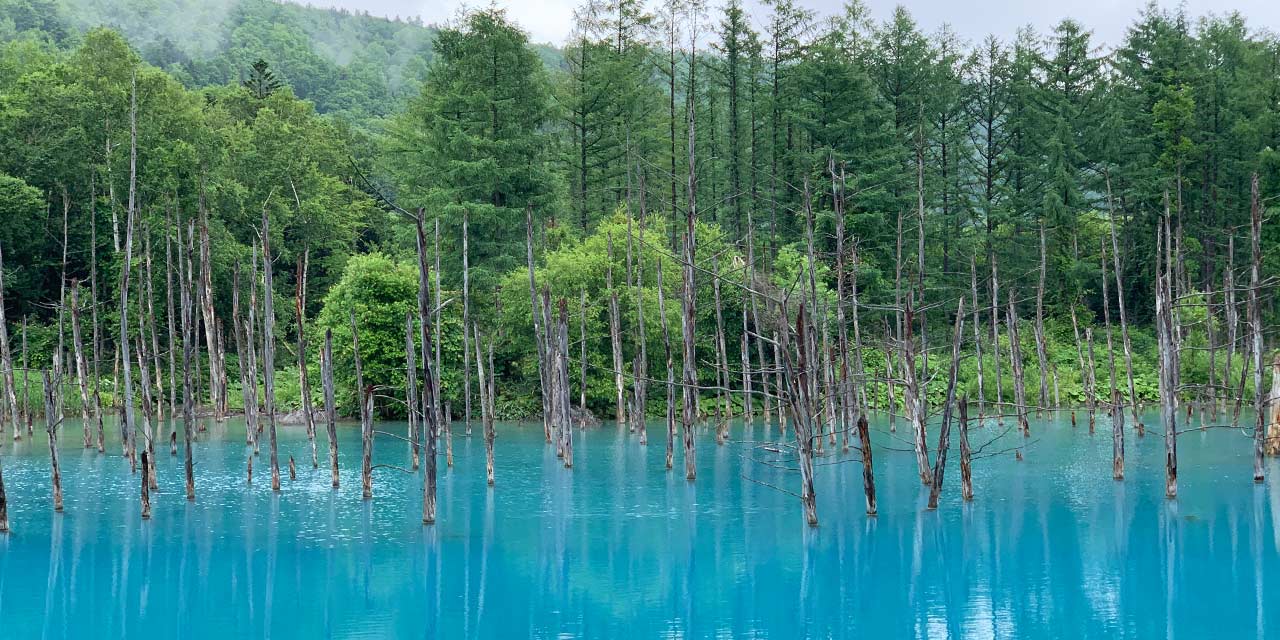 If you ever get a chance to visit Asahikawa/Furano area, and you enjoy the nature of Hokkaido (especially taking pictures of it), it's worth visiting Aoi Ike Pond. We visited during summer and enjoyed the contrast of the blue water and green from the trees in the background. It wasn't the sunniest day and the sky wasn't perfect blue, but the water was still incredibly blue and gorgeous.
The scenery and color of the water looks different depending on the time of day, the season, or the weather conditions. However, you can still enjoy the view at any time, just in a different way. From what I've seen on other visitors' blogs, it looks pretty with autumn leaves in the fall, too. Don't forget that the blue pond will be covered in a blanket of snow or ice in the cold Hokkaido winter, but even so, the pond is illuminated at night, so likely still very beautiful.
Although I knew Aoi Ike Pond was a popular spot, I pictured it to be a more isolated and undeveloped spot. However, it was a lot more accessible and tourist-friendly than I expected.
We didn't have time to explore things besides the pond, but on our way back to the parking lot, we saw a brand new gift shop where you can get special Aoi Ike themed sweets (of course, they are all blue). It also had a brand new public bathroom next to it — good for the road trippers out there! We also saw a burger shop as we were leaving, and our driver told us that they use local ingredients and sell cool merch! Although I knew Aoi Ike Pond was a popular spot, I pictured it to be more isolated and undeveloped. However, it was a lot more accessible and tourist-friendly than I expected. We couldn't stay in the area for long, but Shirogane Onsen and Shirohige Waterfall nearby looked like great places to check out too.
For access, we chartered a jumbo taxi (a van with a driver). Driving by yourself or using a bus tour is probably the easiest, but there is a public bus available between Biei Station and Aoi Ike Pond, if you want to go that route. Just make sure to check the schedule and plan in advance, since service is not very frequent.
Is visiting Hokkaido in your bucket list? If you ever make it happen, consider adding Biei's happy little accident to your itinerary!
青い池 (Aoi Ike Pond)
Additional Information