焼肉(やきにく)

Yakiniku; Japanese dish of grilled meat with roots in Korean barbecue​
During our company trip to Japan this year, the Tofugu team enjoyed some fantastic meals. Some were cooked at restaurants founded by former Iron Chefs, but of all the gourmet meals we ate, one item at one restaurant near Shinjuku stood above the rest: cow intestines.
Wait! Before you hit that back button… Yakiniku Meimon serves more than just entrails (though passing on the guts is a huge mistake). It's also known for a star-studded clientéle and one-of-a-kind service, courtesy of Yakki-san, its floor manager, who delighted us with everything from an original song to some excellent Japanese puns. But I'm getting ahead of myself.
About Yakiniku Meimon
Two things make Yakiniku Meimon truly meimon 名門 (literally: a prestigious business). The first are the horumon ホルモン (organ meats) featured on its menu. Like hundreds of other Japanese yakiniku-ya, Yakiniku Meimon serves (what else?) yakiniku 焼肉—meat cooked Korean-BBQ-style on a grill in the center of your table. You can cook the meat yourself, or you can leave the grilling to the waitstaff, who will sear it to perfection. And what they grill is unforgettable.
Yakiniku Meimon's second attraction is the many Japanese celebrities who frequent the place: TV and sports personalities who pass row after row of yakiniku-ya in Yotsuya-Sanchōme 四谷三丁目—which locals refer to as a yakiniku gekisenku 激戦区 (battleground)—in order to claim their spot at this one.
Our Experience at Meimon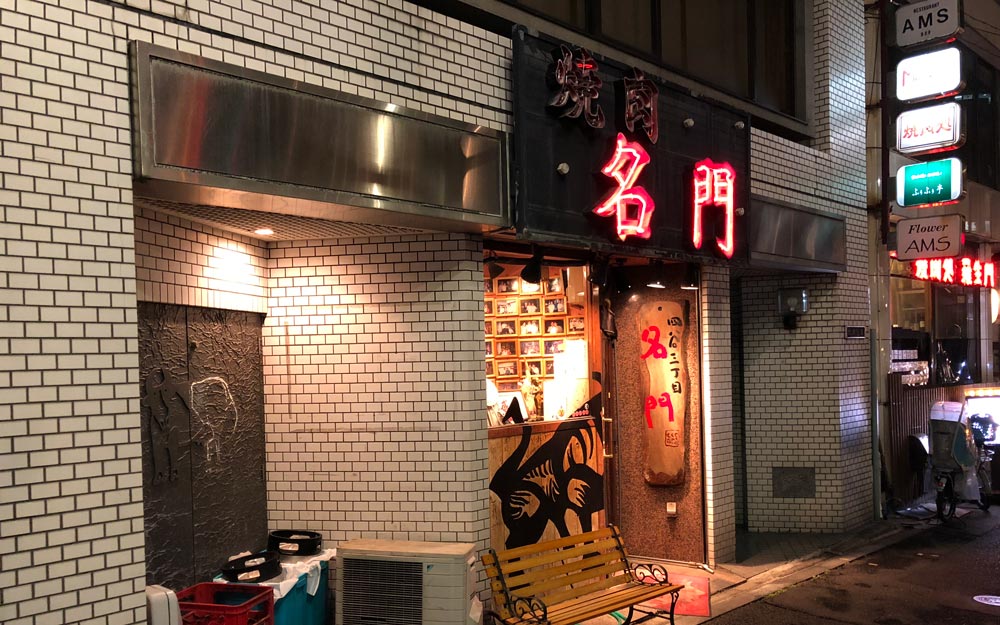 From the street, there's nothing special about Yakiniku Meimon. (The same is true of some of Japan's most delicious restaurants, like this one and this one.) But step inside, and the first thing you'll notice is its massive "celebrity wall."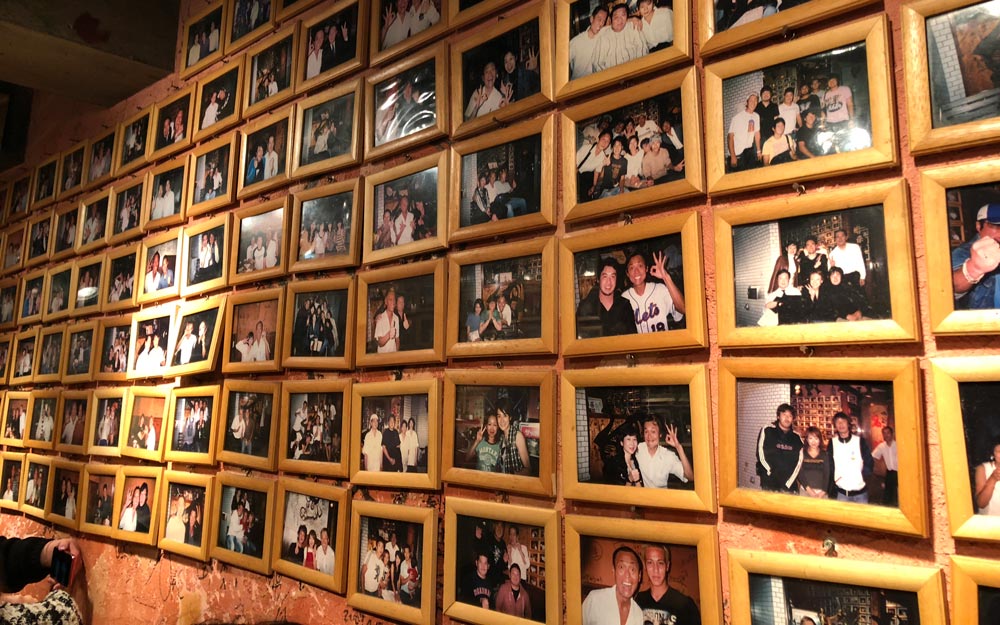 Crammed with photos and autographs from famous comedians, musicians, actors, athletes, idols, and politicians, the wall reflects the fact that years ago, the Yotsuya-Sanchōme neighborhood was home to several TV and radio stations, which provided a regular flow of rich customers with sophisticated tastes. Though the media companies moved on, Yakiniku Meimon has retained its reputation as a restaurant that draws the stars.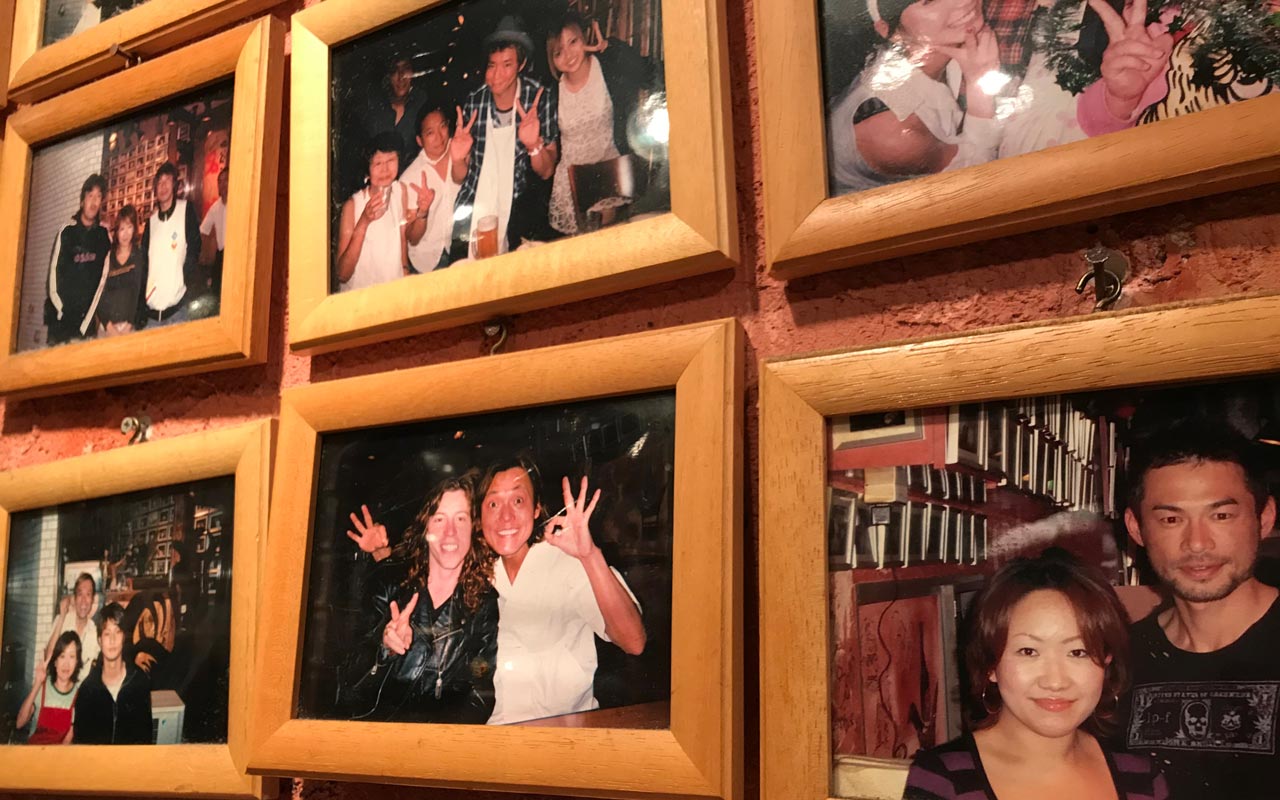 Proof of this, next to our table were smiling photos of Ichiro Suzuki and Shaun White. Our visit was only one day after Shaun had won his third gold medal at the Winter Olympics in Pyeongchang, and the staff had hung his picture, along with Ichiro, of Seattle Mariners' fame, next to our table because we were visiting from the US. It was a sweet gesture.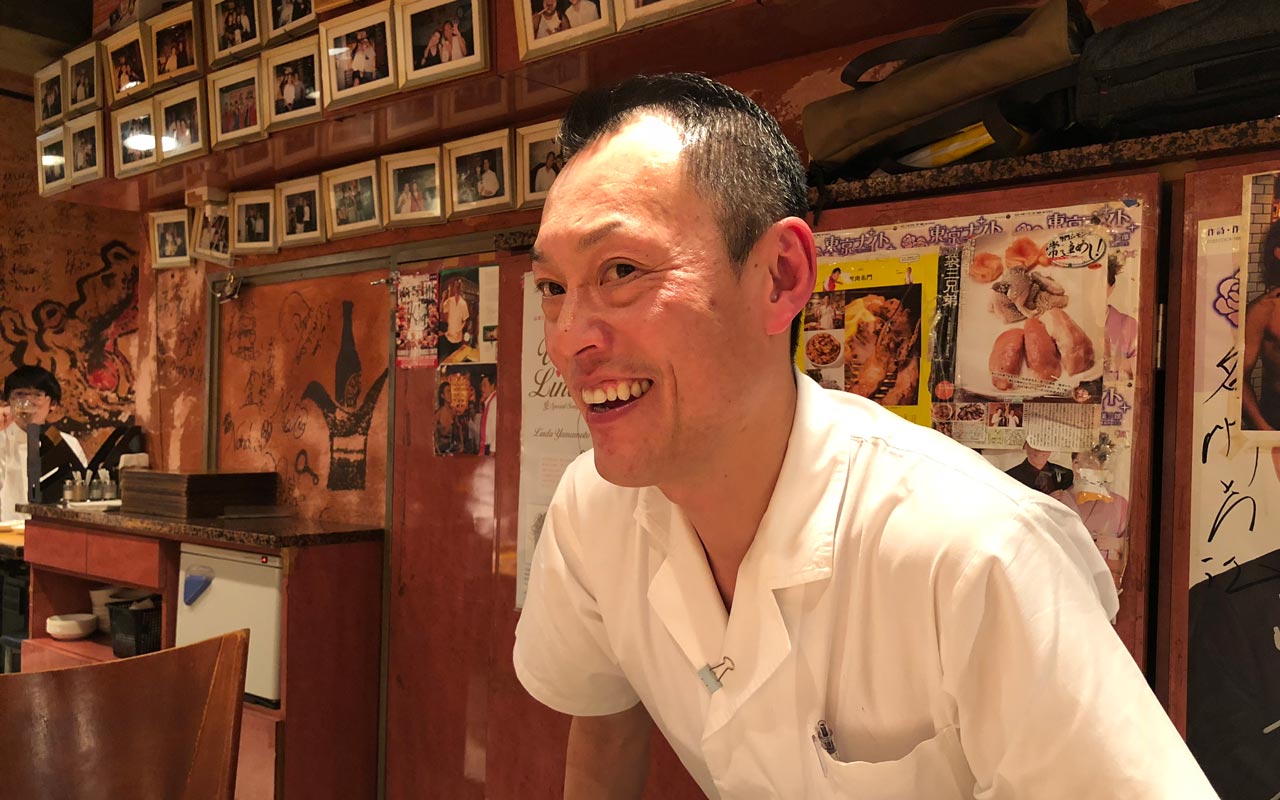 You can cook the meat yourself, or you can leave the grilling to the waitstaff, who will sear it to perfection.
After our kanpai, a familiar face arrived. It was Nakamura Masatoshi, a.k.a. Yakki (ヤッキー), the 名物店長 (mascot manager) for Yakiniku Meimon. We recognized him from the Instagram post that had first introduced us to the restaurant. Yakki was as genki as he seemed online, welcoming us warmly before taking our order.
Fantastic as its menu is, at a place as famous as Meimon, it's a guaranteed life-changing meal if you order omakase お任せ, or chef's choice. It's what we chose, and we never regretted it.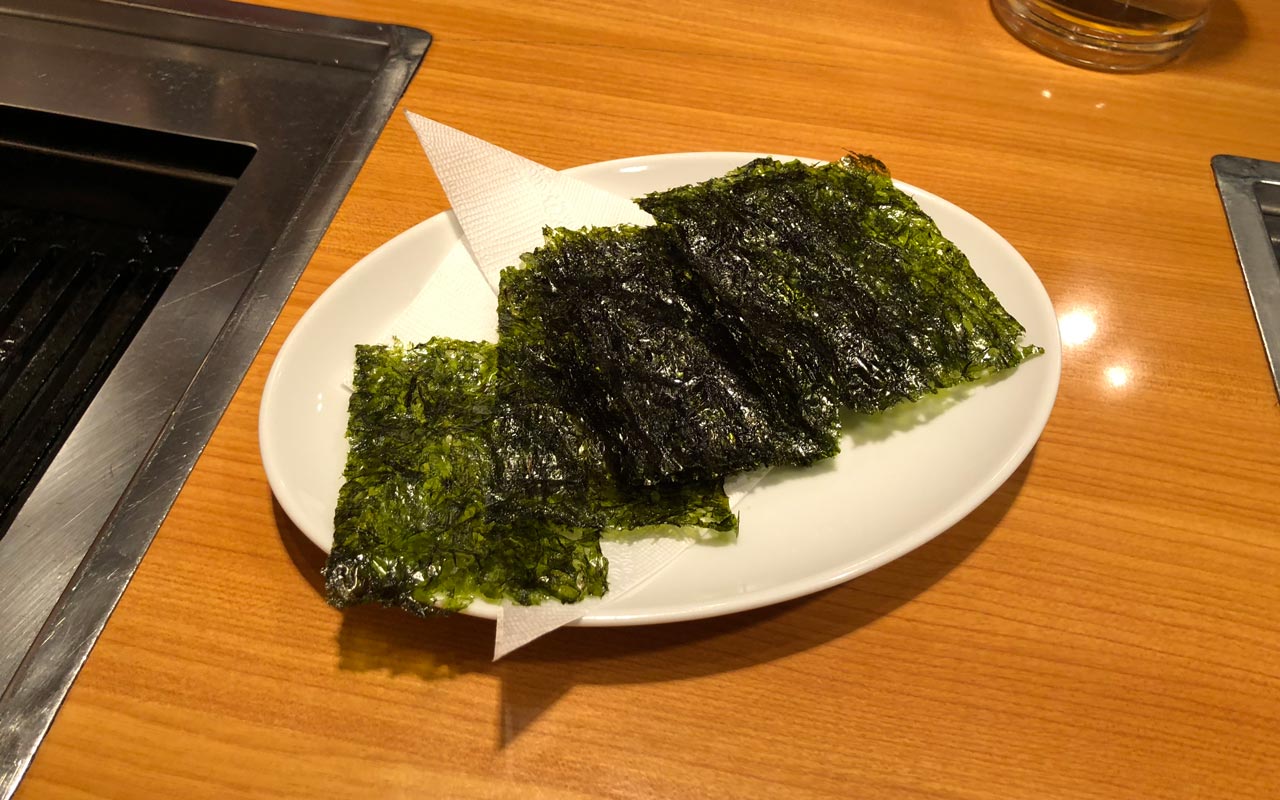 It wasn't long before Yakki returned with our first appetizer: roasted Korean seaweed, which he paired with an oyaji gyagu 親父ギャグ (dad pun).
海苔でノリノリ~!
Live it up with seaweed!
ノリノリ is Japanese onomatopoeia for being in high spirits, and 海苔 (pronounced "nori") is seaweed. Thus a rough translation is "Live it up with seaweed!"—when you say it in Japanese, it comes out "nori de norinori."
With a gracious "itadakimasu," we dug into the appetizer with our chopsticks, slowly revealing a message hiding on the plate underneath.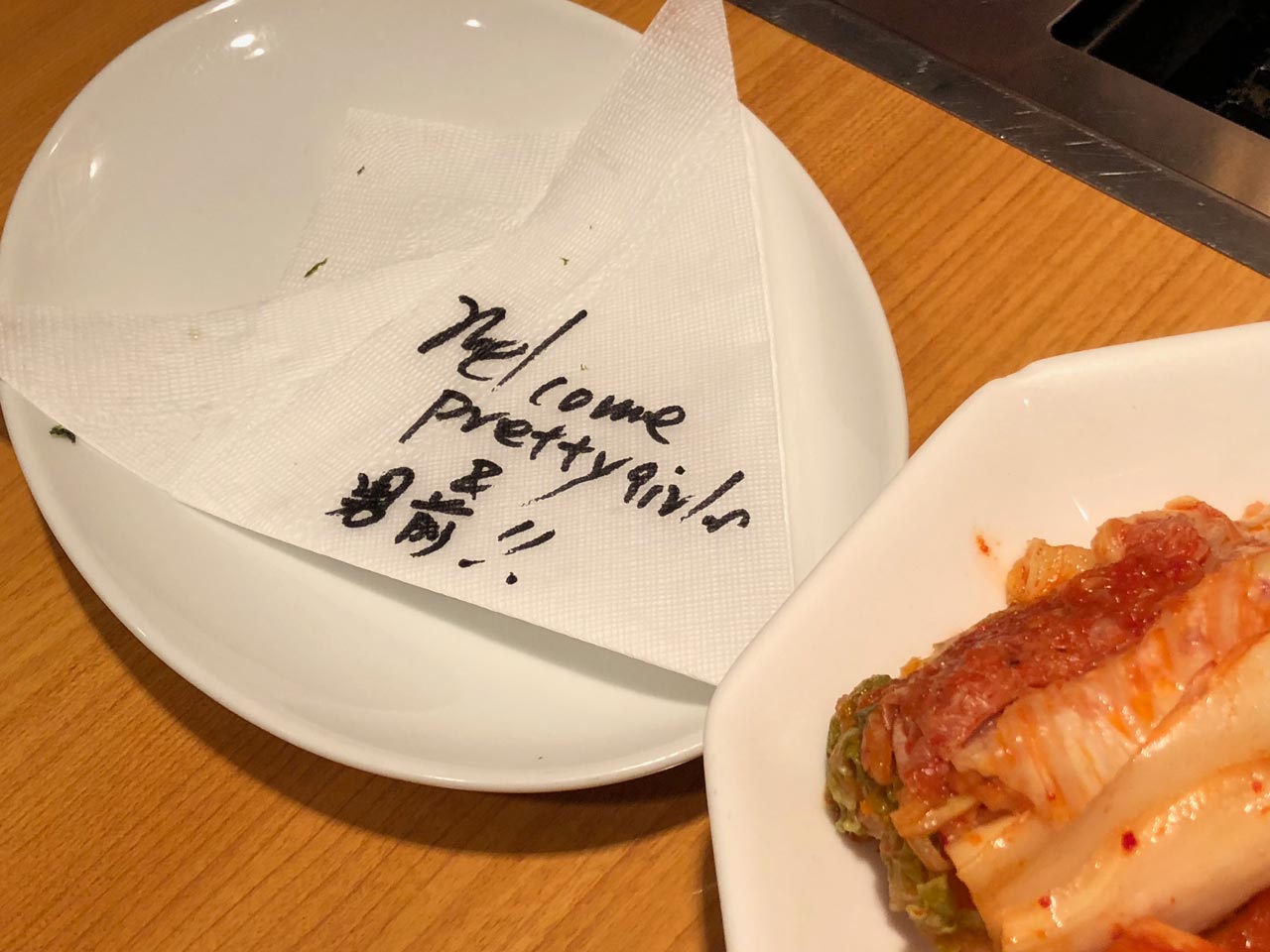 男前 means "handsome." This was a nice surprise from Yakki, which made me say, "Awwww…♡."
The next appetizers to arrive were kimchi and namul, which left no particular impression, merely whetting our appetites for what was to come.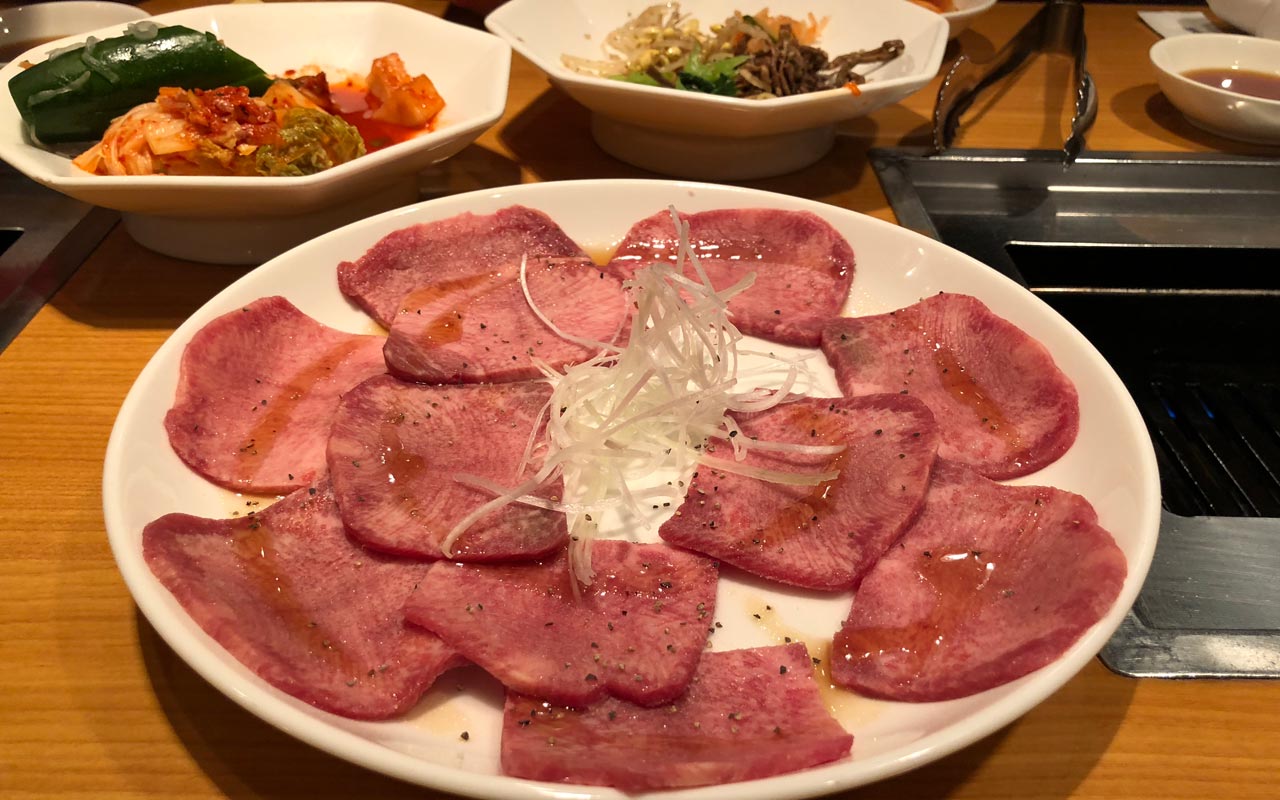 The parade of meat began at last. The first to arrive was gyūtan 牛タン (beef tongue) seasoned with salt, which is called tanshio タン塩 in Japanese.
Gyūtan is a standard menu item at yakiniku restaurants and the perfect dish to kick off your meat-feast. Beef tongue has a subtle flavor, so a fresh palate helps to really appreciate it. After eating a lot of fatty, flavorful meat, for example, the nuance of gyūtan would be lost.
After some light grilling, the thin slices of gyūtan crisped up quickly, and the tanshio started to sweat. With a squeeze of lemon, the first bite was refreshing and really hit the spot. Whereas other restaurants would season their tongue more, Meimon's minimal seasoning showed their confidence in the quality of their meat. I was happy to eat something substantial, and it was a good indication of things to come!
Our next featured meat was shōniku 正肉, an umbrella term for non-horumonyaki. We got two kinds at once: karubi カルビ (galbi ribs) and rōsu ロース (sirloin). I always order one or both of these before eating horumon.
Take a look at the fat-marbling of the karubi in this photo. It's so beautiful, it's almost NSFW. To our delight, it tasted as good as it looked, with a well balanced meat-to-fat ratio. The rōsu was leaner, but the soy-sauce-based seasoning complemented it perfectly.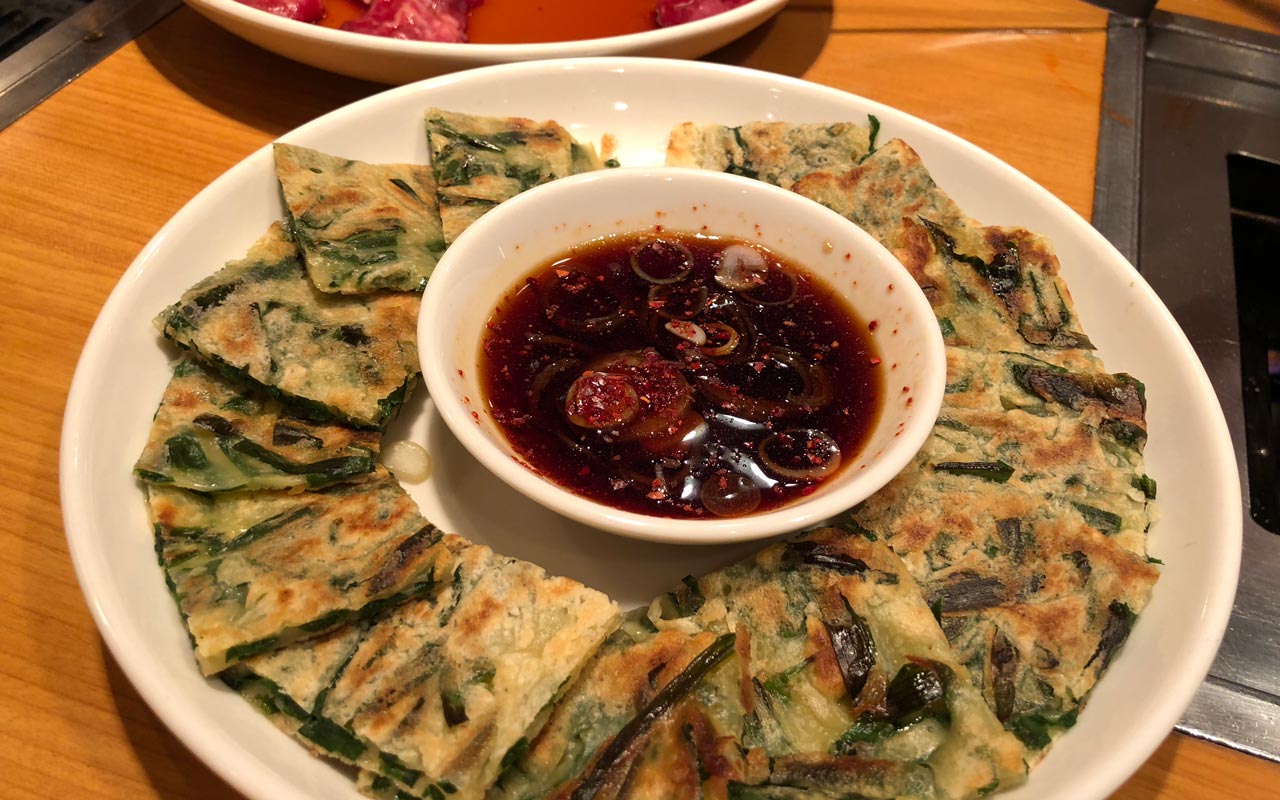 Intermission was chijimi チヂミ, a Korean scallion pancake. A little break from the meat parade, the chijimi's outside had a perfectly crunchy texture. As soon as we were finished, though, we were eager for the main course.
The harami was seasoned with ground garlic and wasabi, but Yakki had one more addition before the dish was served: "The Song of Wasabi."
At last we had gotten into the "meat" of the meal. (How was my dad pun?) Harami ハラミ, or skirt steak, is the cow's diaphragm. (This is where hiccups are born, though I'm not sure if cows get hiccups.) Although the diaphragm is technically a muscle, Japan's meat industry considers it an organ; it looks and tastes like regular shōniku.
Ten years ago, you couldn't find harami on a yakiniku-ya menu, but it has become very popular. In Japan, you're more likely to find imported harami, but Meimon serves the rare and expensive wagyū harami. Wagyū beef comes from domestic Japanese cows known for their increased marbling and higher percentage of fatty acids. Bottom line: Japanese cows are friggin' delicious, and this harami proved to be delicious, too.
For a treat this decadent, Yakki came to our table and grilled it himself. As the beef sizzled, Yakki explained how Meimon cooks its harami differently than other places, cutting it into a block in order to sear the outside in the same way a sushi chef sears katsuo no tataki. This allows the meat to retain its juices and gives it a fuller flavor.
Once the outside had turned brown, Yakki sliced the harami for serving. His carving technique was also unique to Meimon: normally the meat is cut along the muscle fiber, but Yakki did the opposite, ensuring it would hold its shape and making it easier to chew.
The harami was seasoned with ground garlic and wasabi, but Yakki had one more addition before the dish was served: "The Song of Wasabi."
Yakki's original song, which he called 日本古来の伝統演芸—ancient Japanese traditional performance—was a J-pop medley that replaced each instance of "watashi" (I, me) with "wasabi." You'd need to know a lot of Japanese pop songs to totally appreciate all the references, but Yakki's voice alone made the performance memorable.
Clever seasoning songs aside, the lean muscle meat paired perfectly with the wasabi: every bite was priceless.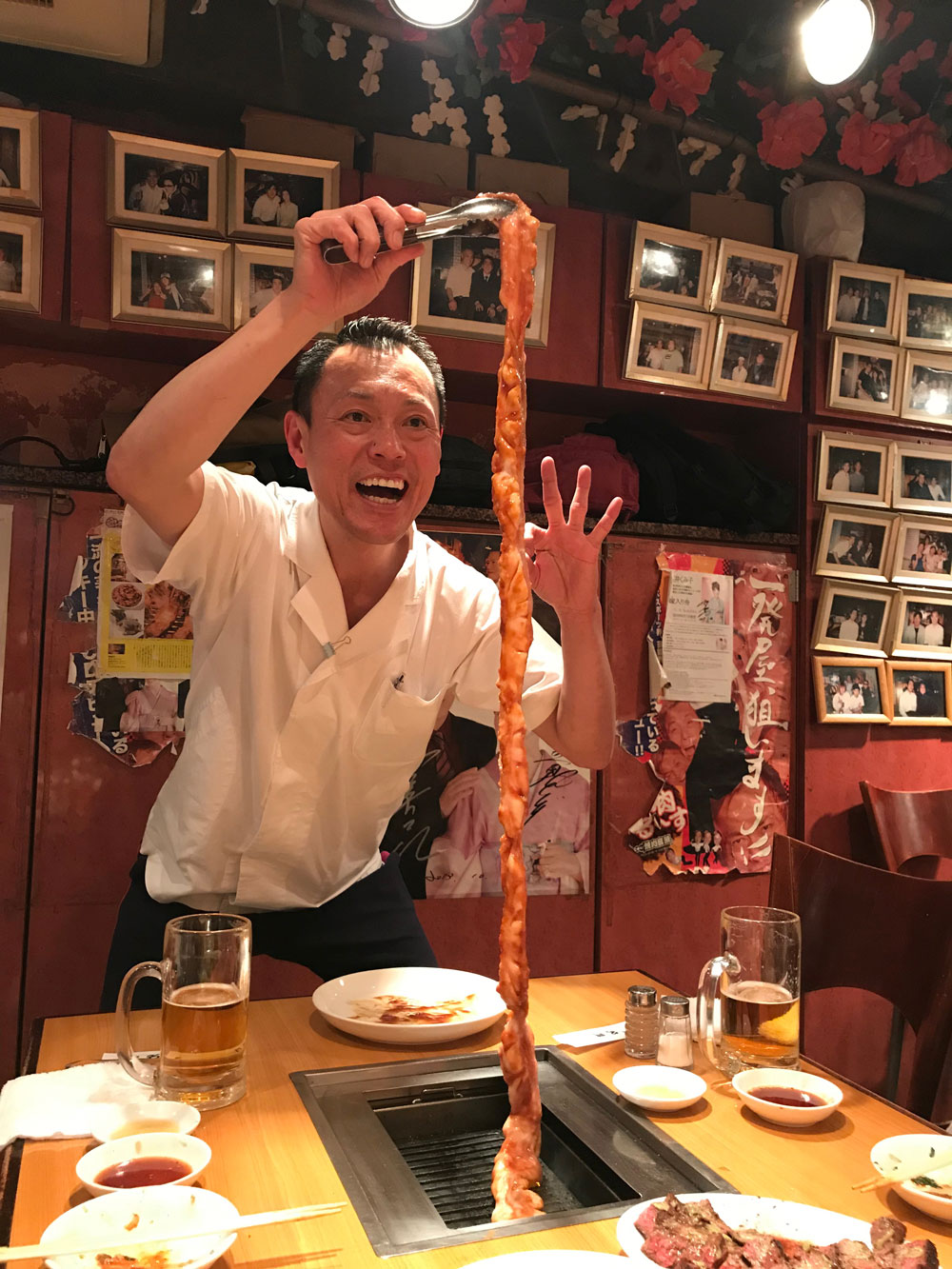 We had finally arrived at the most exciting dish of all: sūpā horumon スーパーホルモン, a meter-long cow intestine. Even though it's considered the cow's short intestine (a.k.a. maruchō マルチョウ), it's still impressively long, and Yakki-san showed it off before placing it on the grill. While some may find it unappetizing to look at, after one taste, they're likely to become life-long horumon converts.
The cow's short intestine (a.k.a. maruchō マルチョウ) is quintessential horumon fare, so much so that if a yakiniku restaurant lists ホルモン on its menu without specifying the organ, you can bet it's maruchō. Maruchō consists of a thin casing on the outside and thick, delicious fat on the inside. Most restaurants serve you small pieces of it, but Meimon knows this is a mistake. Yakki explained that more surface area gets more air, and makes the meat harder. This means that more fat gets in your mouth because less of it drips away into the fire under the grill.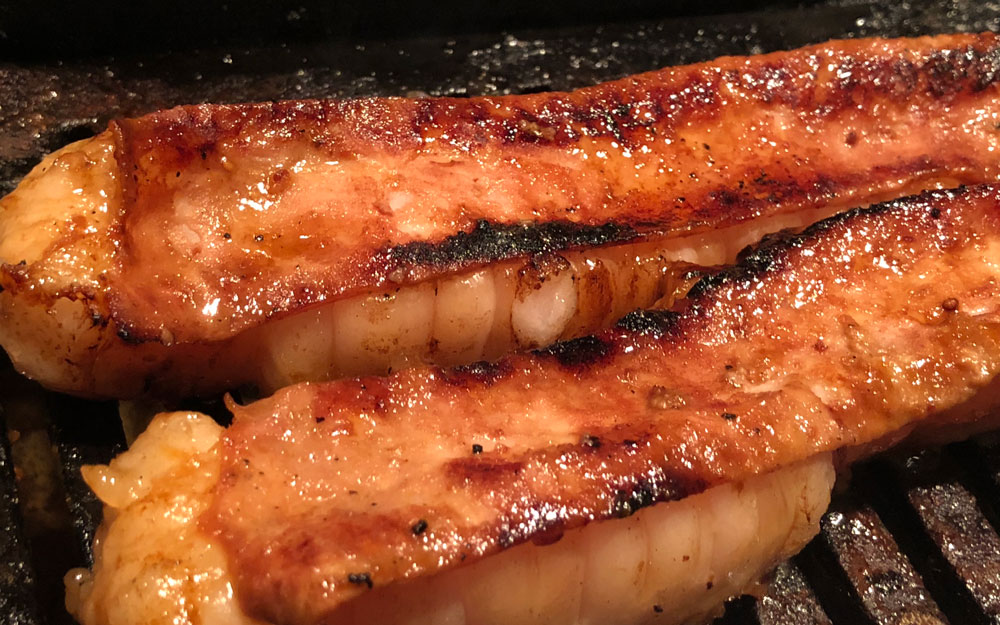 Meimon offers two sauces for the maruchō: a sesame oil garlic and a miso. Both were delicious; I started with the lighter garlic and finished with the heavier miso. The combination was perfection! I also put several pieces of juicy horumon on top of rice, leaving it there long enough for the fat and sauce to soak in.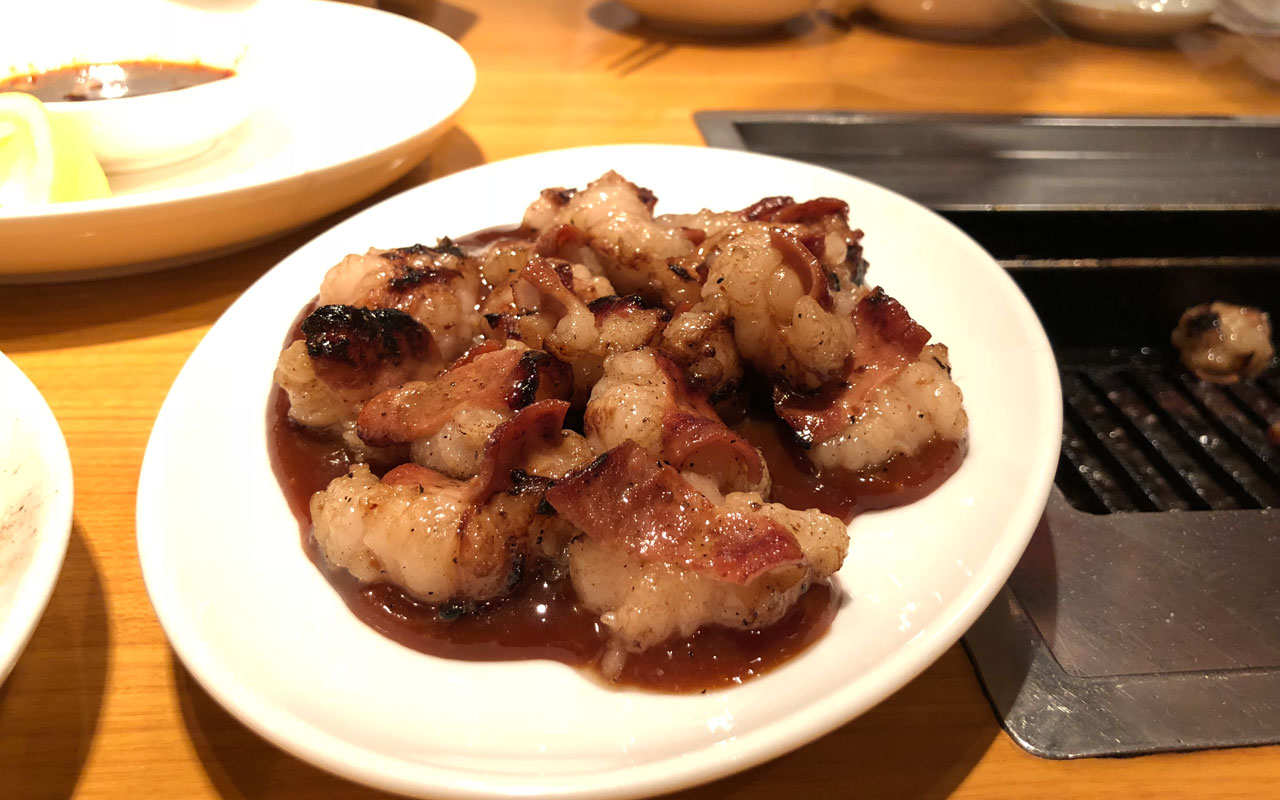 Whoever first discovered cow intestines were so flavorful was a genius. It's a miracle that a cow's gut holds such a perfect combination of skin and fat, which results in a harmony of texture and flavor. Grilled properly, the outside becomes crispy, almost like bacon; the fat is chewy and salty and rich. If it seems like I'm going overboard… I'm not. It was just. So. Perfect!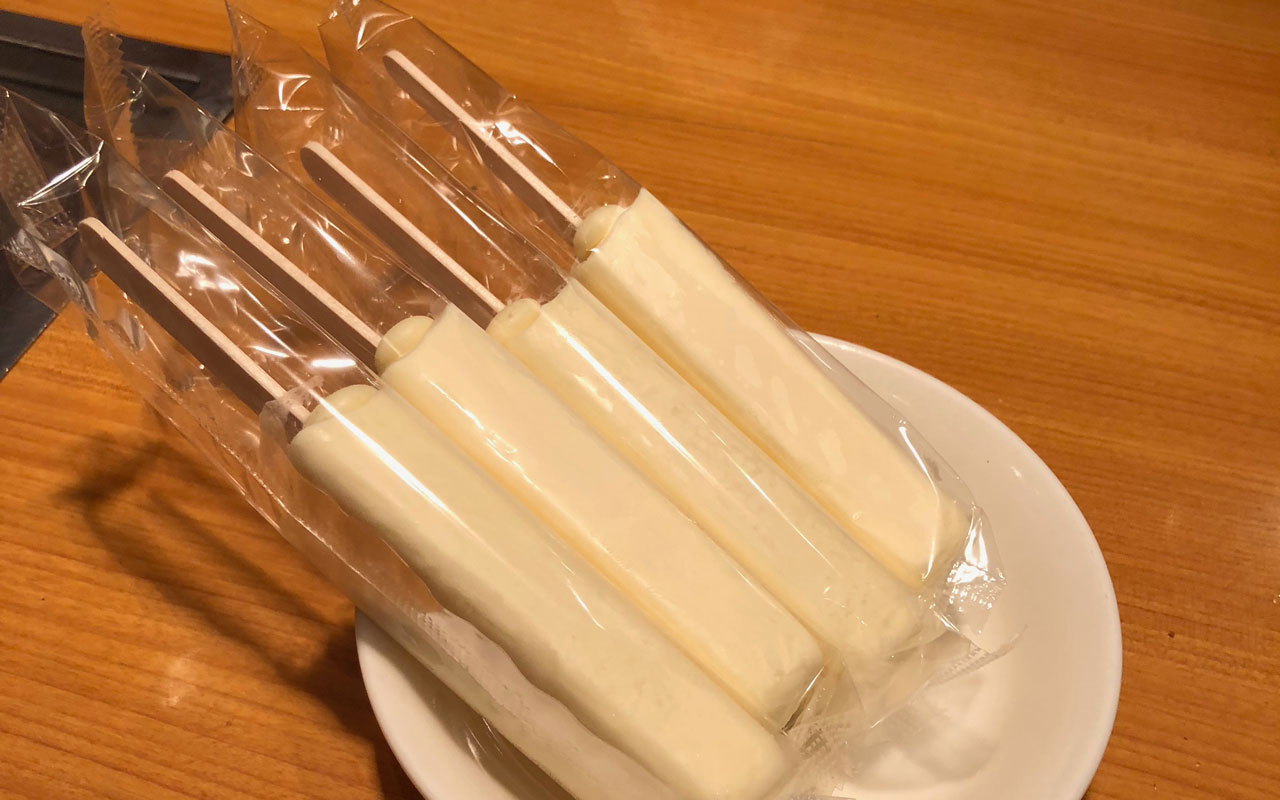 After that fantastic finale, Yakki-san arrived with dessert he called 高級イタリアンジェラート, or "fancy Italian gelato." He was joking, of course. "Fancy Italian gelato" turned out to be basic, off-brand popsicles you buy in bulk at the grocery store. Still, they were light and refreshing after our heavy horumon feast.
Hello from Cow Intestine Heaven
As much as the meat, Yakki is Meimon's biggest selling point, with his amazing cooking skills and ability to keep his tables amused while he does. You'll have a great experience with any waiter, but with Yakki-san, it's extra-special.
Overall, Yakiniku Meimon was fantastic, but Yuji in Shibuya is still my number-one place for horumon-focused yakiniku—the way they clean, cut, and season meat is unbeatable, and special menu items include raw beef cheek which, at Meimon, is only offered to regular customers. It can also be hard to get a seat at Yuji, which has a "Soup Nazi" kind of reputation. Meimon is definitely the way to go if you're looking for great food, a carefree dining experience, and a quickly available seat.
Despite the outstanding quality and service at Meimon, it currently holds a 3.6 rating on Tabelog, which seems low. Complaints reference preferential treatment for regulars; I understand being jealous when the table next to you gets a special dish or extra attention from the owner. But giving regulars special service is common at yakiniku restaurants, and Meimon's regular menu is nigh infallible.
From what I could see, Meimon's waitstaff gave their tables the same kind of attention Yakki-san gave us. Yet clearly Yakki is a cut above the rest: he's accrued thirty-one years of experience and has even been a "yakiniku expert" on TV, where he dispenses advice on how to cut and grill meat properly.
As much as the meat, Yakki is Meimon's major selling point, with his amazing cooking skills and ability to keep his tables amused in the process. You'll have a great experience with any waiter, but with Yakki-san, it's extra-special.
You may end up paying more than at other yakiniku restaurants, but considering the quality of the meat, the skill of the preparation, and the chance to see someone famous, it's worth every yen. For me, the sūpā horumon was a life-changing culinary experience. I understand if you're hesitant. Yet if you eat at Yakiniku Meimon and pass up the sūpā horumon, you're doing yourself a disservice.
Even if you're scared, once you eat horumon, you'll have the "guts" to try it again. Oh no! Yakki-san's 親父ギャグ rubbed off on me! 🤦🏻😲