This article is part of a series where the Tofugu team visits Iron Chef restaurants, pitting them against each other in some kind of Iron Chef sequel. Come back and see new Iron Chef restaurant reviews, and (coming soon) a final ranking of them all!
---
Kōbe Masahiko, the Iron Chef Italian, grew up in Yamanashi Prefecture. As a young boy, he baked cookies and other sweets to get attention from girls in his class. In university, his love for cooking grew as he worked at a Japanese restaurant.
But everything changed when he backpacked across America, Southeast Asia, and Europe. It was during these travels that he became fascinated with Italian cuisine.
After Iron Chef ended, Kōbe Masahiko was the only Iron Chef without his own restaurant. So he went about fixing that, opening the Italian restaurant, Ristorante Massa.
Kōbe began training at the popular Italian restaurant, Al Porto, in Japan. In February 1994, he trained at a hotel cooking school in Turin, Italy, after which he worked at the three-star Italian restaurant, Enoteca Pinchiorri in Firenze. It was here he solidified his skills as an Italian chef for three years.
While working at Enoteca Pinchiorri, Kōbe received a fateful call. It was from the competitive cooking TV show Iron Chef. He thought they wanted him to be a challenger. But no. They wanted him to be the Iron Chef Italian.
So on June 13, 1997, Kōbe Masahiko ascended to the throne as "The Prince of Pasta."
After the TV series ended, Kōbe Masahiko was the only Iron Chef without his own restaurant. So he went about fixing that, opening the Italian restaurant, Ristorante Massa.
Viet and I went to Ebisu, Tokyo to see how it compared to the other Iron Chef restaurants in Japan. Will Massa's cuisine reign supreme? Let's find out.
Arriving at Ristorante Massa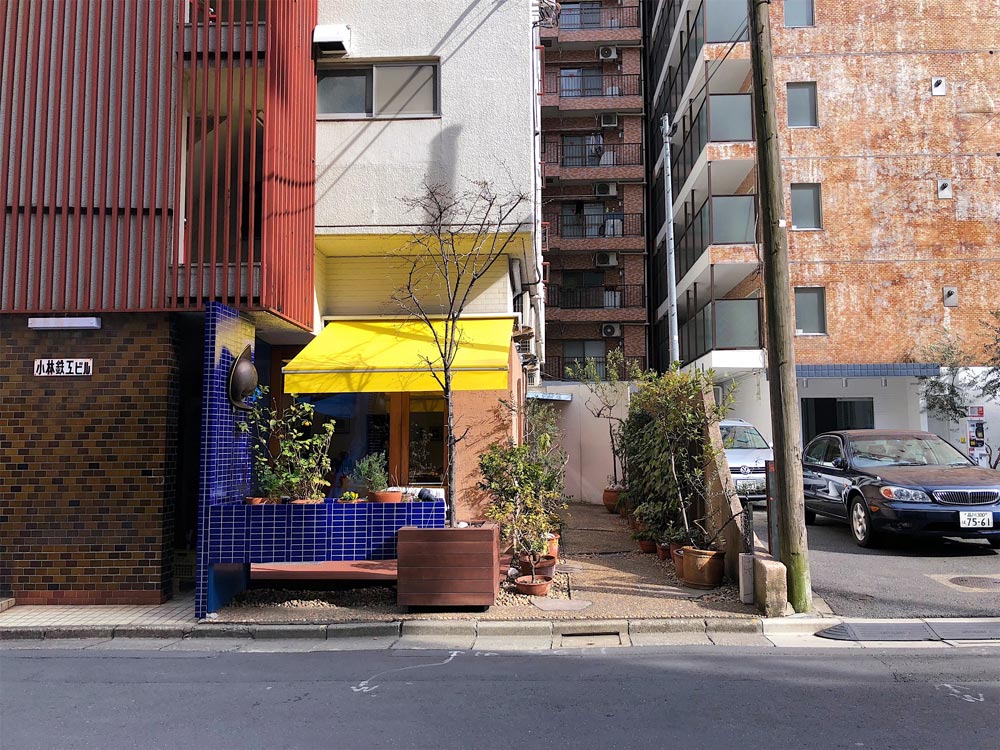 Ristorante Massa is a short, easy walk from Ebisu Station. Nearby, there was a disproportionately large number of Italian restaurants, making us wonder if this was on purpose. There was even a restaurant called Masa's Kitchen, which we can only assume was named to trick tourists into thinking that it was the real Iron Chef restaurant.
Ristorante Massa itself is low key—so much so that we walked right past it. Even the sign isn't that obvious. I suppose if you're an Iron Chef, people seek you out, so you don't need to scream for attention.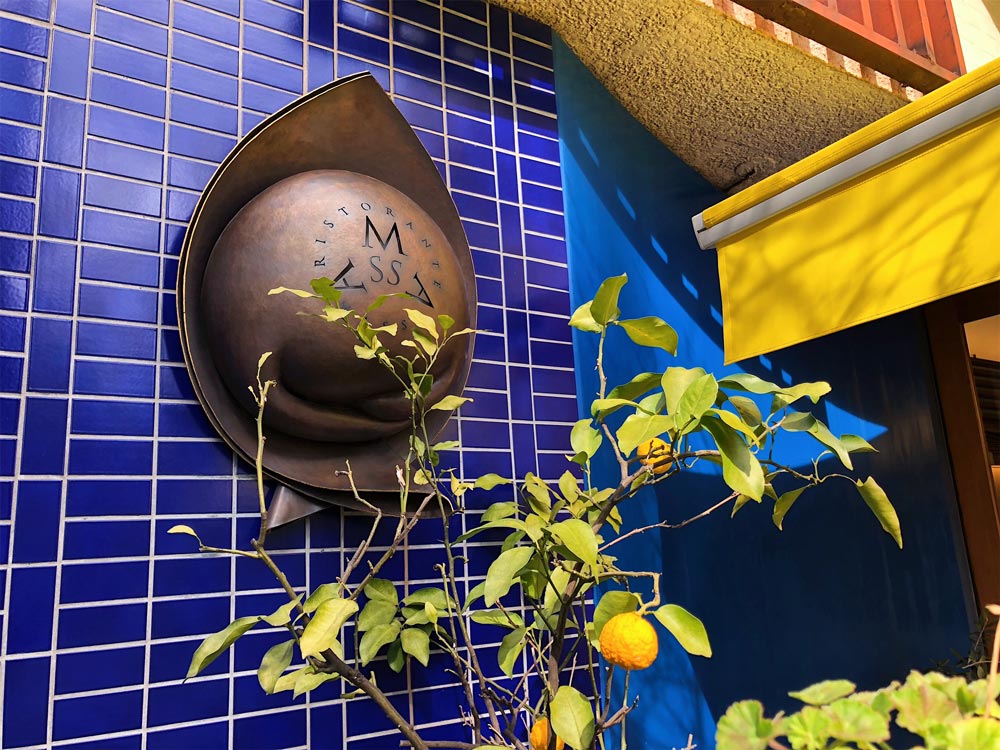 Also, the sign looks like it says "ASS," so that's pretty cool.
After finding Kōbe Masahiko's restaurant, we walked down the little path leading to the entrance. Being a fancy restaurant, someone was waiting to greet us. They even knew who we were, probably since we made a reservation for 11:00 a.m. and nobody else was there.
We were guided to our seats, where we sat down and ordered some fancy sparkly water and glasses of wine.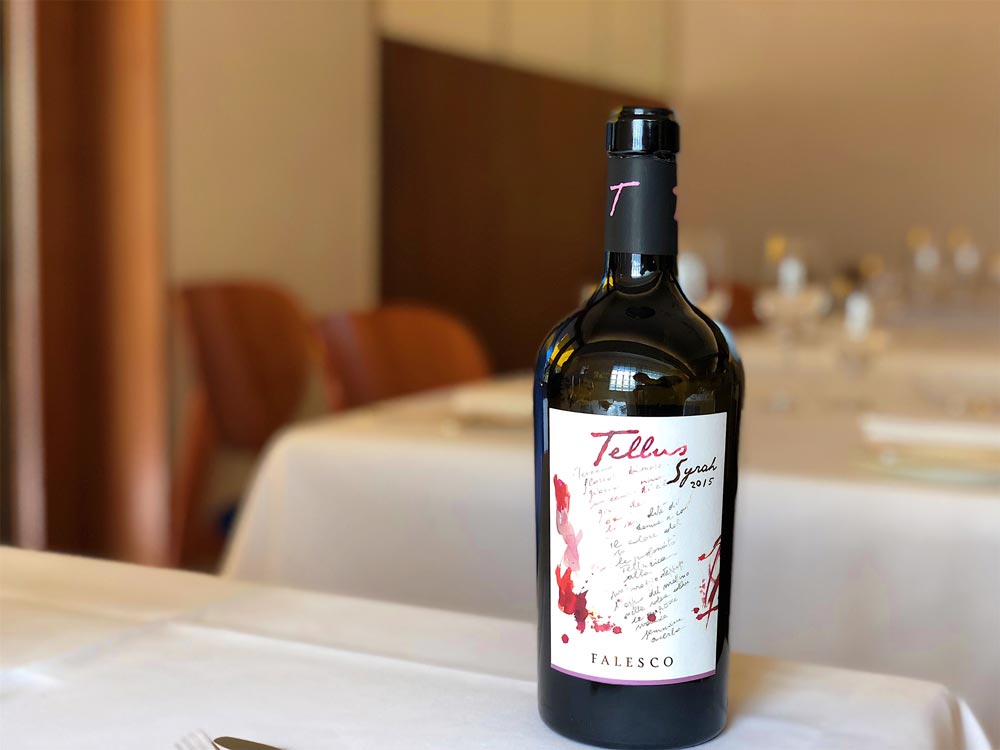 The inside of the restaurant wasn't one of those "looks deceptively small from the outside but big on the inside" places. Instead, it was more "looks small from the outside and is actually small on the inside too."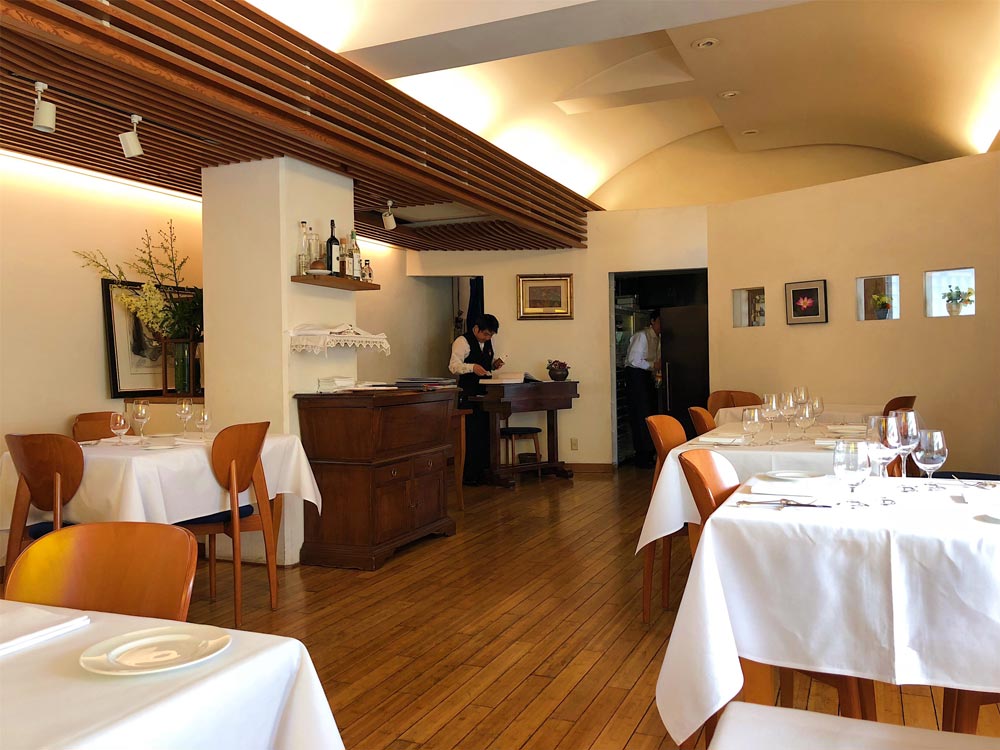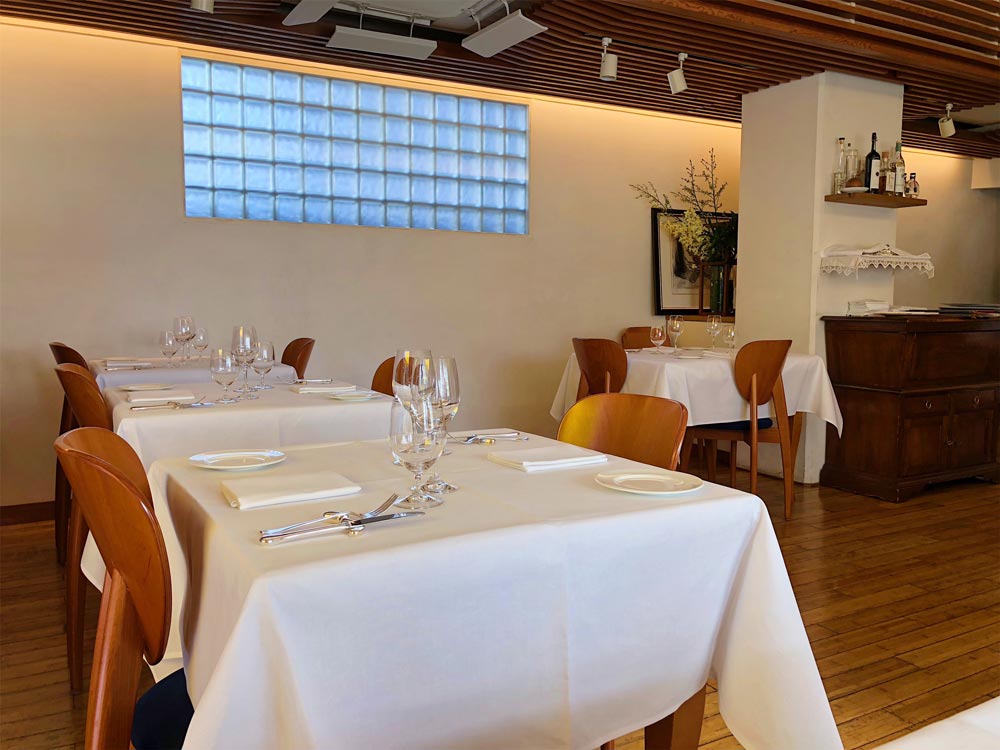 But I'm not bringing up the size to be critical. It felt cozy and it was easier for the staff to be attentive (and they were). Even when I got up to use the bathroom, someone always made a point to open the door for me, which was awkward, but appreciated.
The Food of Ristorante Massa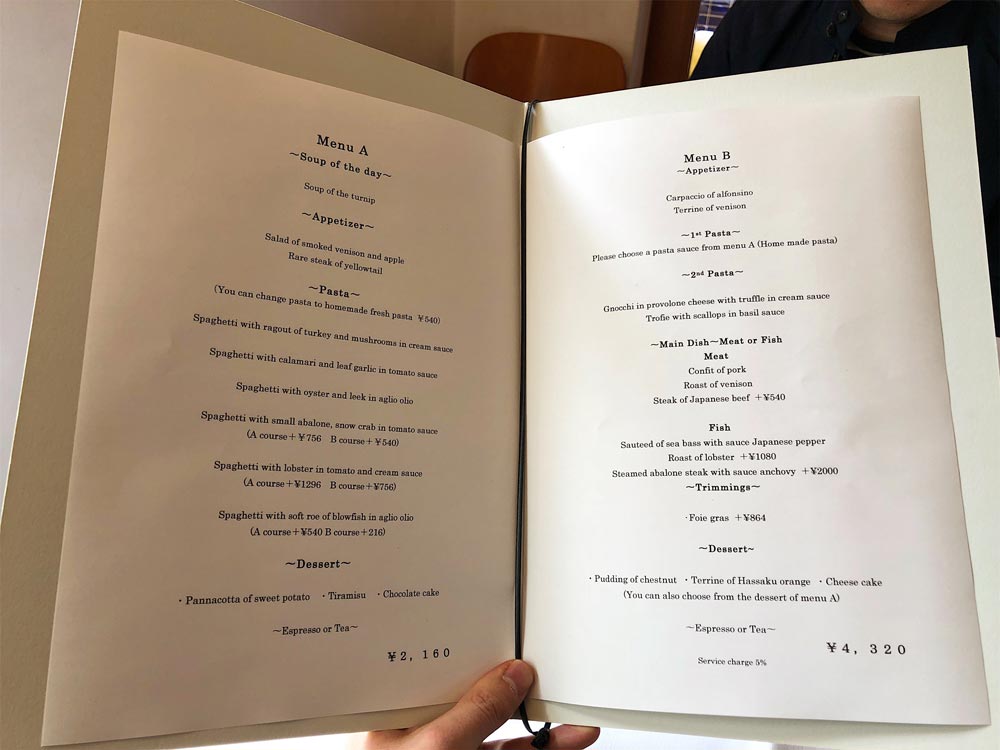 After our wine arrived, we got our menus. Trying to keep things as consistent as we can for our Iron Chef Restaurant Battle Royale, we ordered the middle course meal. As is the case with most fancy places in Japan, lunch prices were surprisingly reasonable. It's usually 30–50% of the dinner price and minus one or two items.
Anyway, we got Menu B.
Although it's not on the menu, the first thing to come out was a yuzu umeshu cream cheese on bread.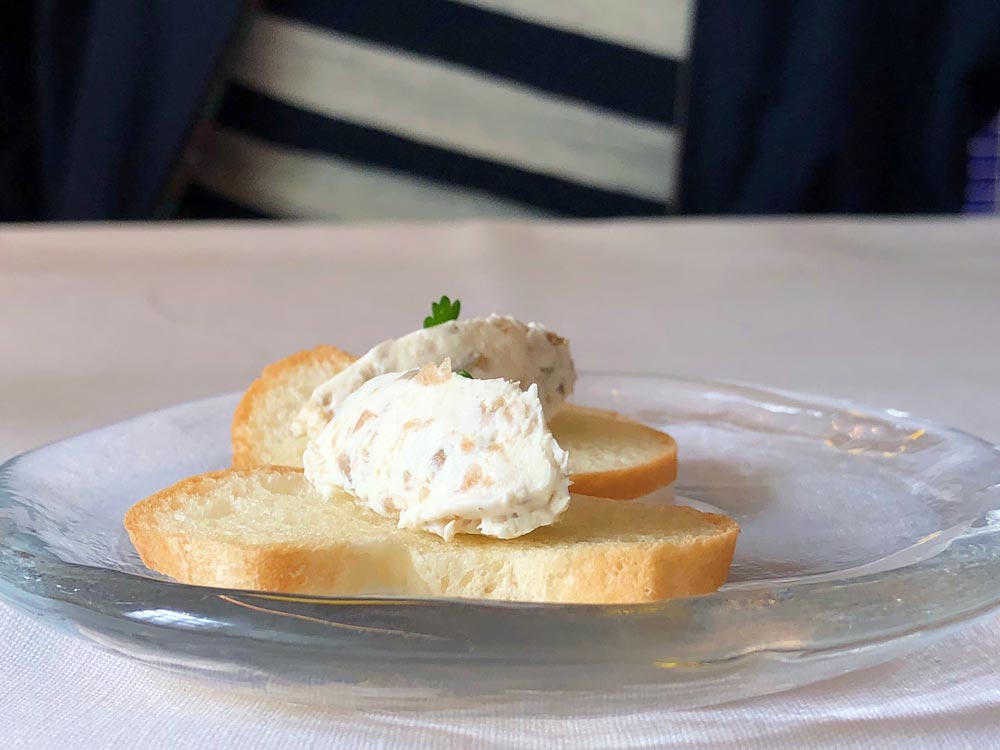 As is the case with most fancy places in Japan, lunch prices were surprisingly reasonable. It's usually 30–50% of the dinner price and minus one or two items.
Right off the bat, I was excited. Umeshu is a flavor I enjoy and what kind of monster doesn't just love dollops of cream cheese?
Unfortunately, it ended up being more of a yuzu alcohol flavor, with the umeshu coming in too strongly. It was a shame, because a more subtle umeshu would have been enjoyable (something for me to try when I open my bowls of cream cheese by the ounce store).
Now on to the regular menu. First up was carpaccio of alfonsino.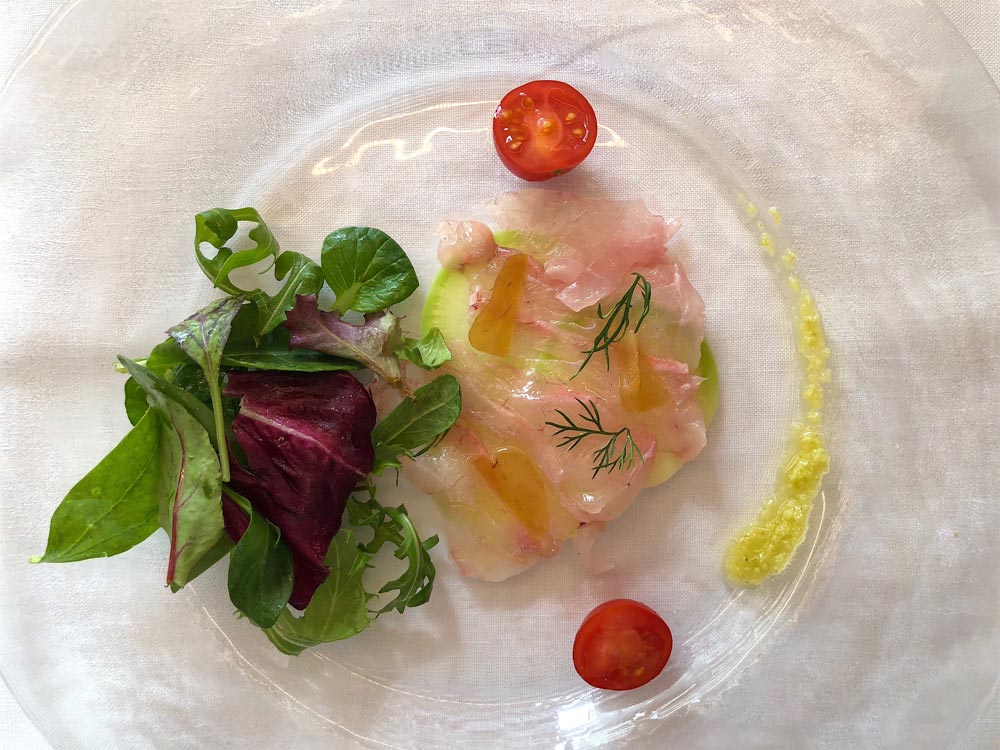 It was fresh, light, and a nice way to start things off. It definitely got my stomach hungry for more.
Second was the terrine of venison.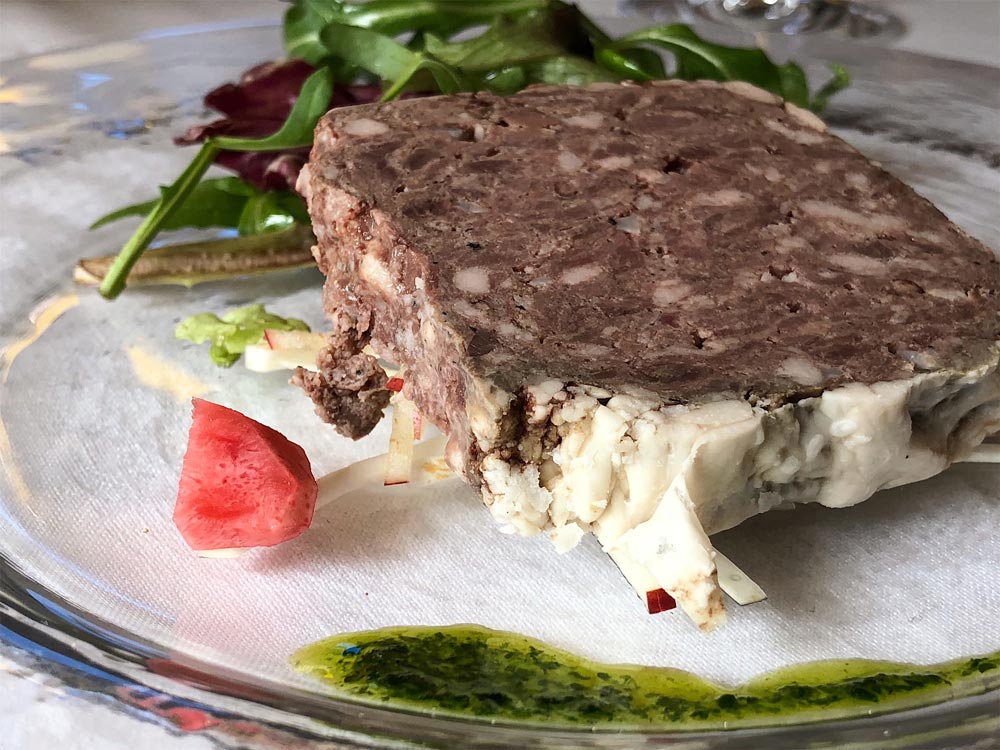 It was, of course, quite a bit heavier, but had a rich flavor that wasn't overly gamey.
At this point, the bread arrived. Nearly perfect spheres of carbohydrates for us to reset our taste buds.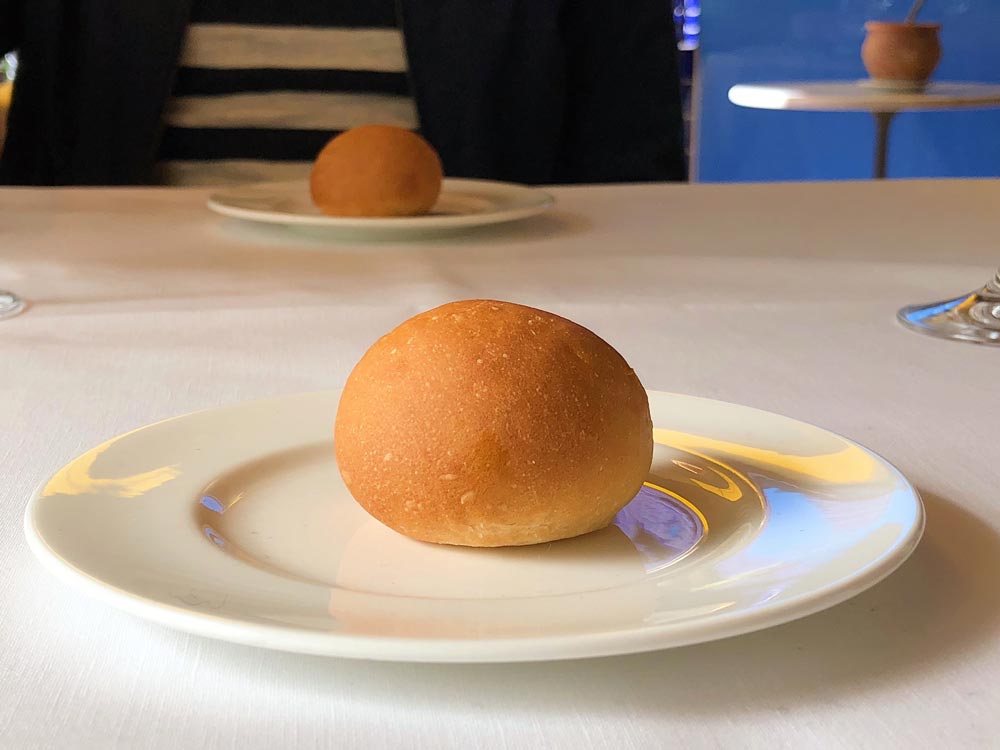 I'm not sure what to say about it other than it seemed like fresh bread which was good, though I can't claim to be a bread connoisseur. And just like Olive Garden, where I am family, they would offer you more bread if you finished it.
For the first pasta, you could choose one pasta item from "Menu A." Although it cost a little extra, I sprung for the spaghetti of blowfish soft roe in aglio olio.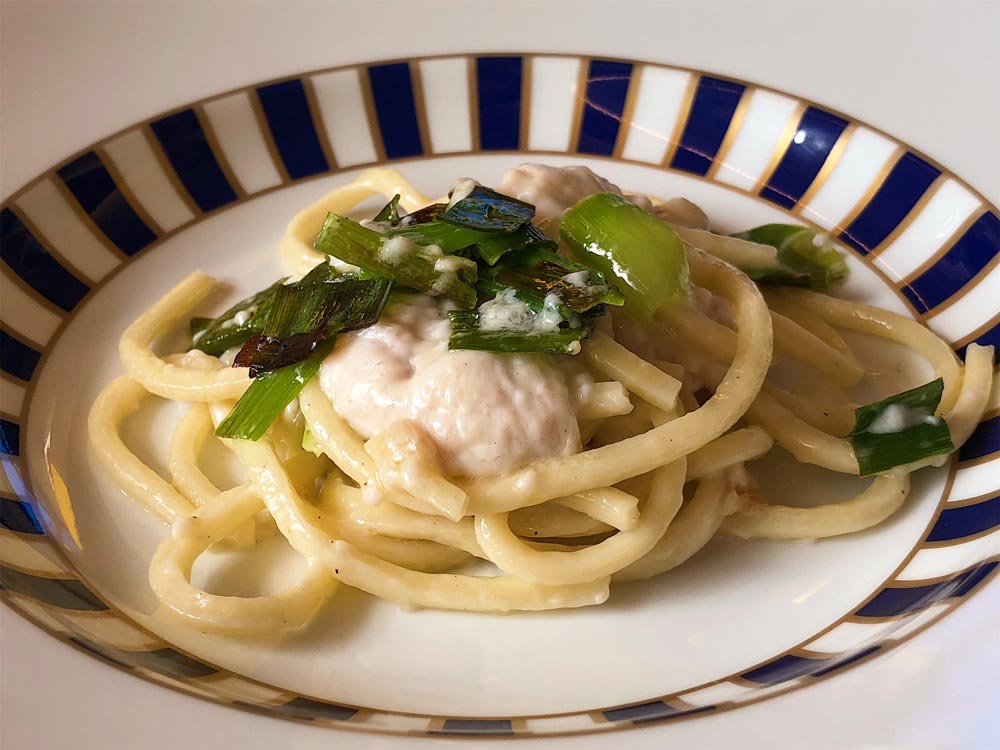 I don't think I had ever had blowfish soft roe before, so I was curious. It was, indeed, incredibly soft. It wasn't fishy and had a creamy texture and taste. This was probably one of my favorite dishes of the meal.
Also, in case you don't know, soft roe is semen. I just learned that as I was writing this article, but I regret nothing.
Since we had a choice on the pasta, Viet got something else. He ordered the spaghetti with lobster in a tomato and cream sauce.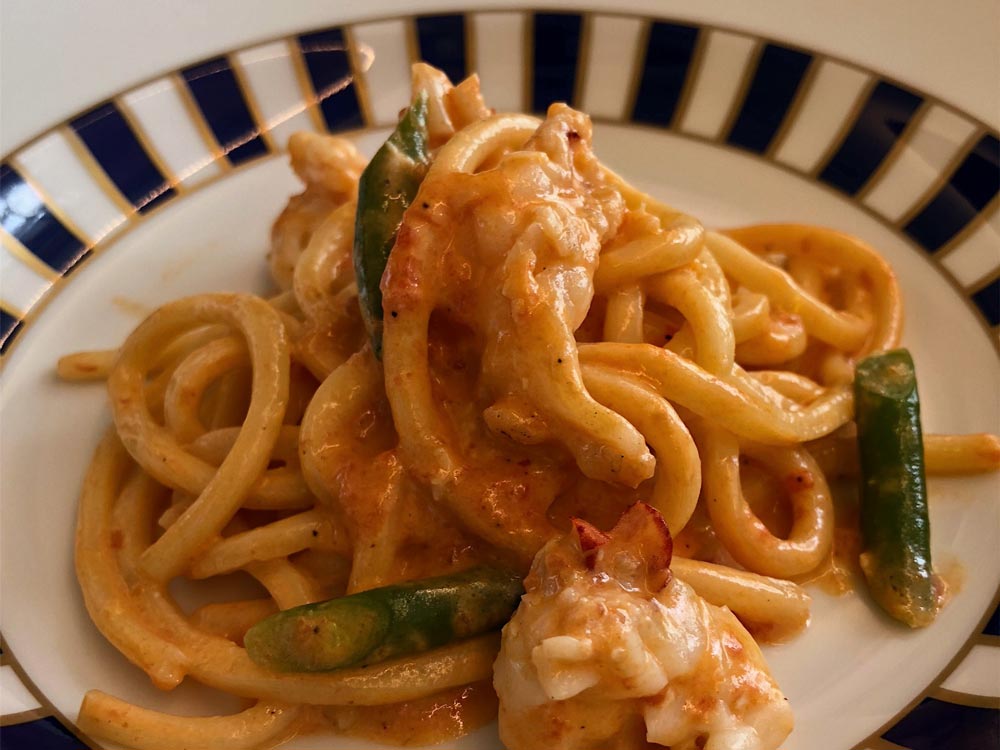 It, too, was very good. The lobster was soft and the noodles were clearly made fresh. Though, I still liked my fugu soft roe pasta more.
For our second pasta, we could choose from two items in Menu B. Viet got the gnocchi in provolone cheese with truffle in cream sauce.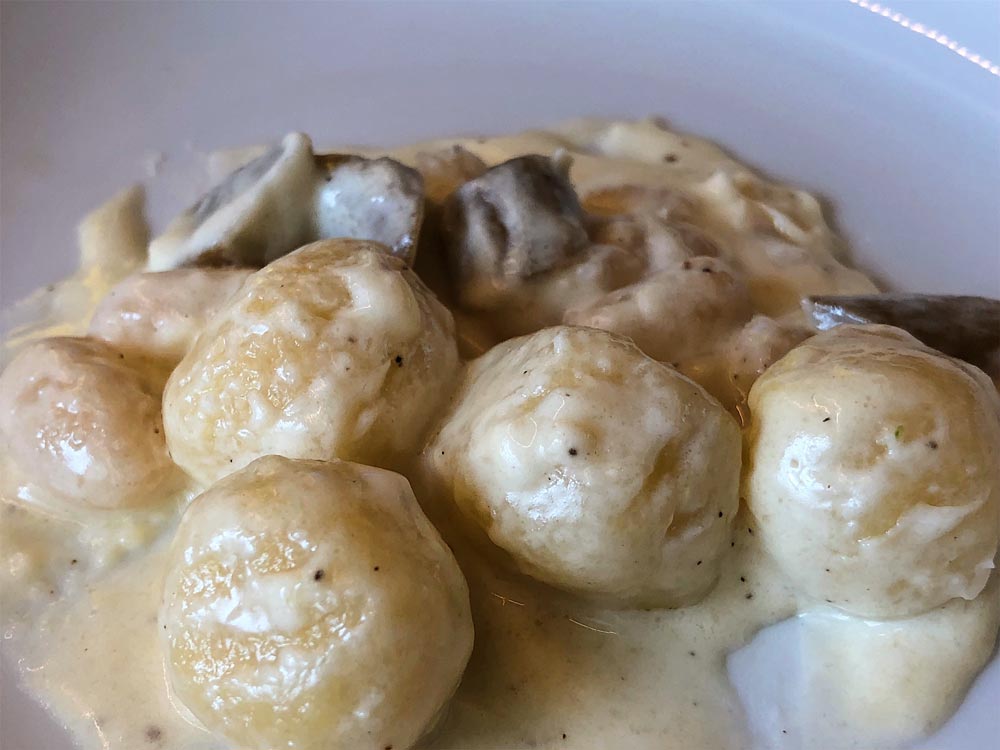 For me, it was one of the tastiest gnocchi I've ever had, though I'll be the first to admit I don't have a lot of experience eating gnocchi. The truffle flavoring wasn't too overpowering and it didn't feel heavy.
I got the trofie with scallops in basil sauce. I was overly excited and started eating before I took a picture. Ristorante Massa's plating was very nice and the ugly pasta picture below is my own fault.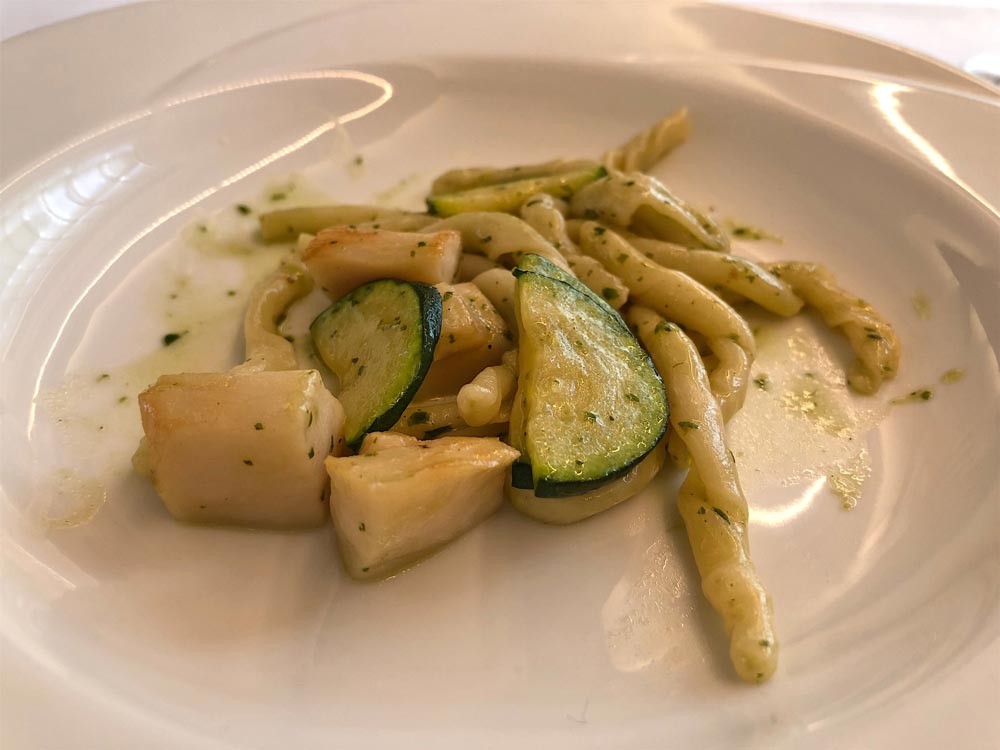 Once again, fresh noodles make all the difference when it comes to pasta. High quality ingredients lend a hand too.
Next was "meat." We got confit of pork and a roast of venison. We didn't opt for the steak of Japanese beef for some reason, though now I wish we did. Still, the meat was tender, tasty, and clearly high quality.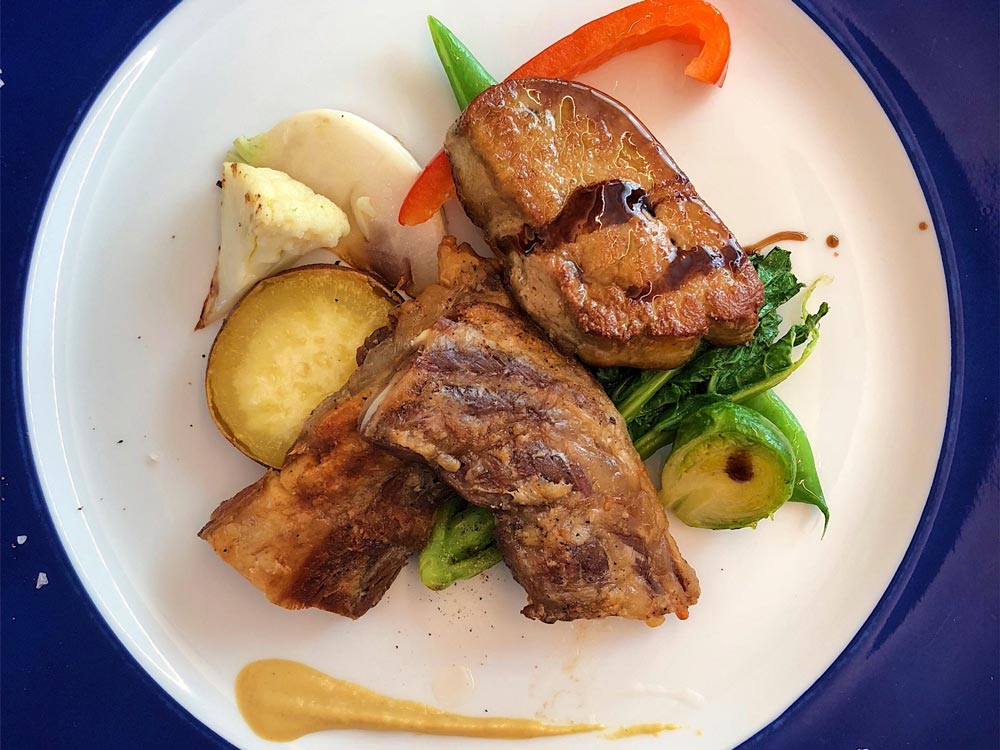 After finishing our land meat, it was time for the sea version: a sautéed sea bass with Japanese peppers.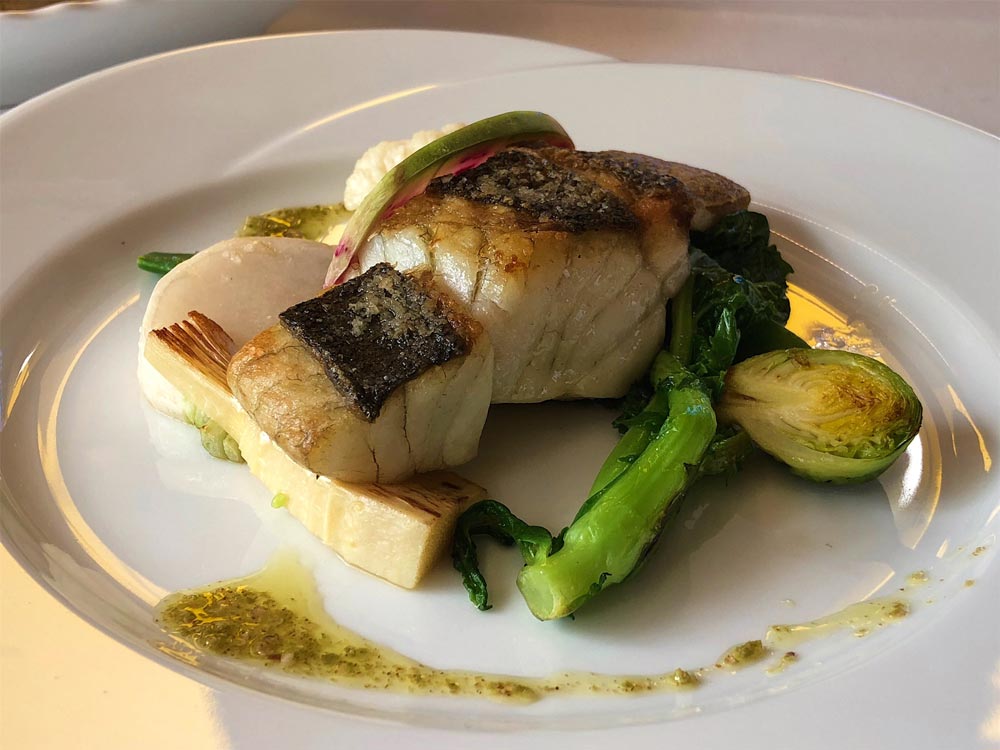 Both the vegetables and the fish went well with the sanshō pepper sauce. There wasn't a lot of it circling the dish, which meant we had to ration. But I think this was good, because a little bit went a long way. We had exactly the right amount to finish every bite with a little dab of peppery goodness.
After the fish, came the foie gras. I've never had foie gras in my life and the moral quandaries behind it make me feel a bit guilty. But I wanted to try it at least once and at a really fancy m(ASS)a place.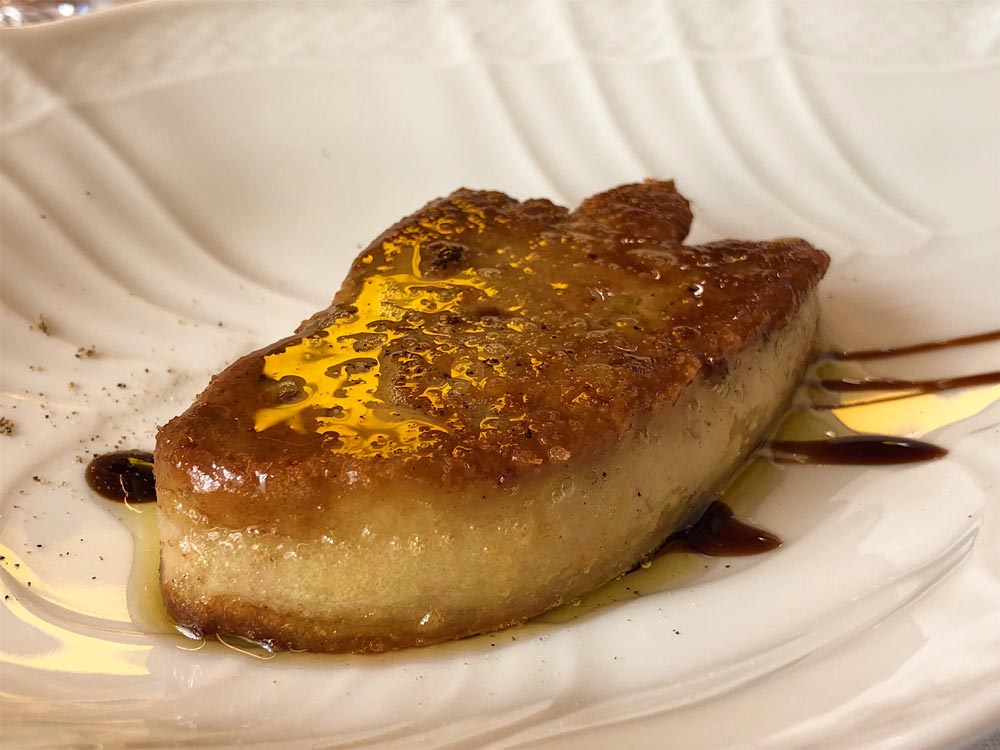 I feel bad saying this, but it was definitely the height of this course meal. I don't know the price of foie gras, but an extra ¥864 seemed like a steal.
Although I don't plan to eat foie gras in the future, I will say it was one of the most delicious things I have ever eaten. It was like eating a steak of pure fat, but way softer and with a much greater depth of flavor.
I feel bad saying this, but it was definitely the height of this course meal. I don't know the price of foie gras, but an extra ¥864 seemed like a steal.
After eating such an oily thing, it was time for dessert. We had a choice and Viet got the chestnut pudding.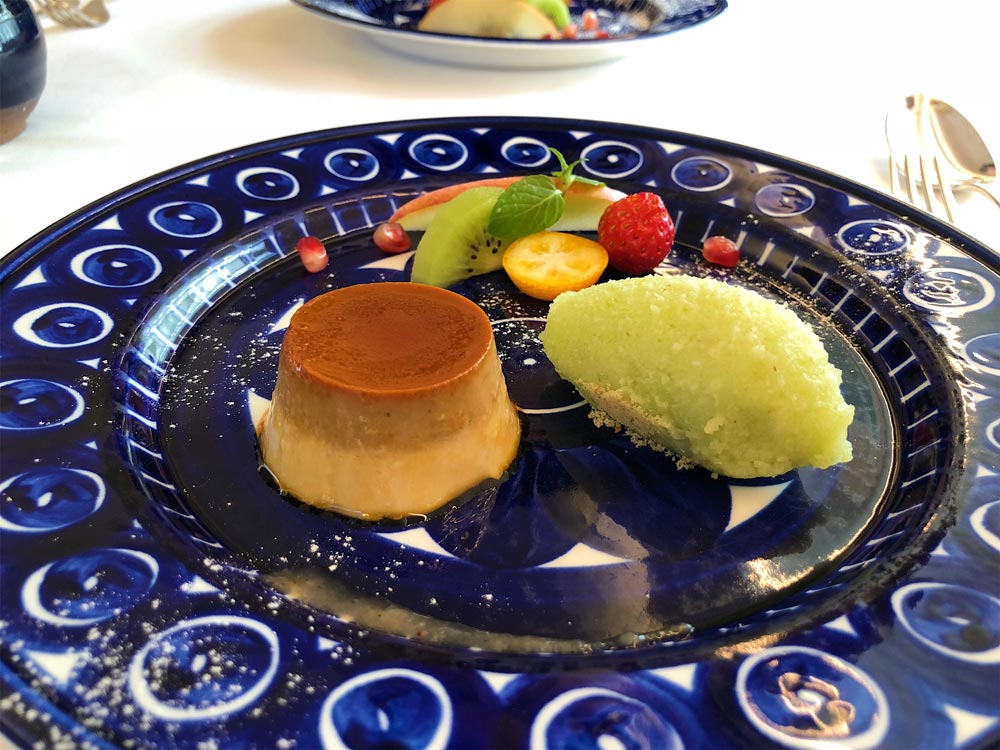 This was a flan style "purin" and on the side was a fresh green apple sorbet with some assorted fruit. I only got a tiny bite, but the green apple sorbet was probably the best dessert between us. I loved feeling the texture of the green apple's fibers as it melted in my mouth.
My dessert was a terrine of hassaku orange, which I can only assume is a type of orange.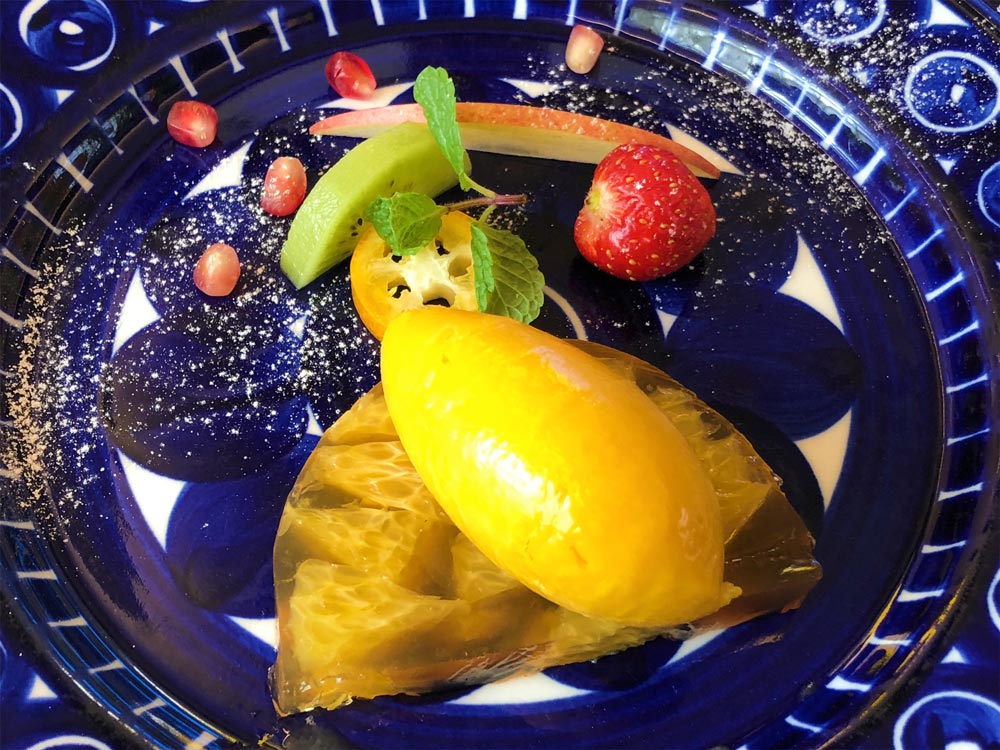 On top of the terrine was mango sorbet with fruit on the side. They were both good, but I regretted not getting the apple sorbet.
And finally, like any good European restaurant, we had coffee.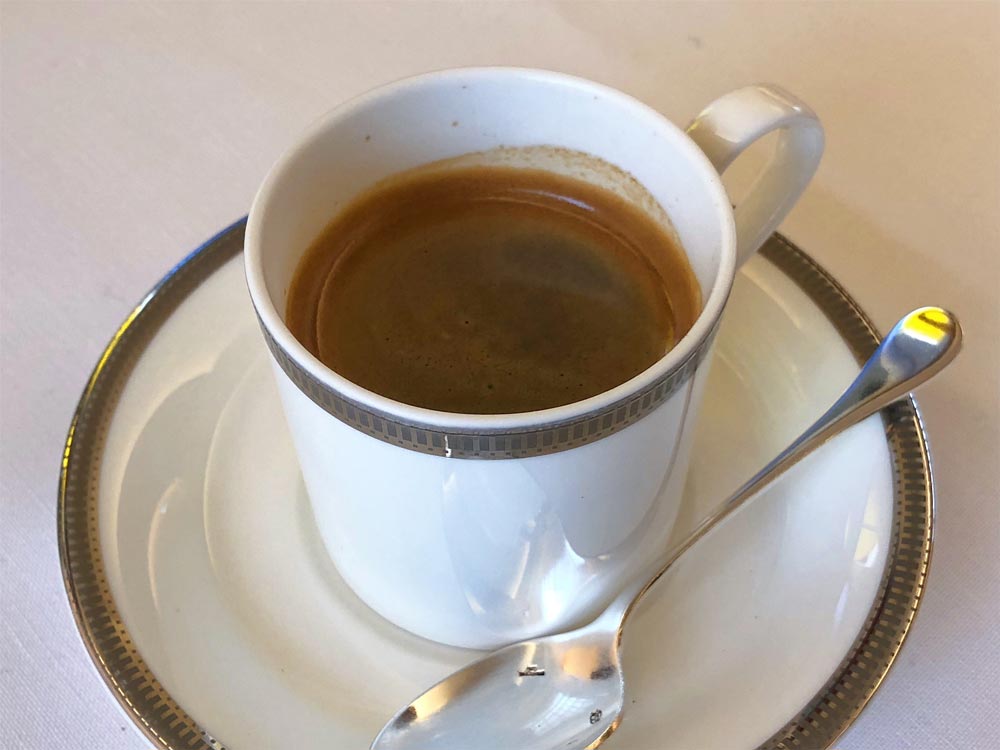 Of course, it came with sugar, but why would you ruin perfectly good coffee like that?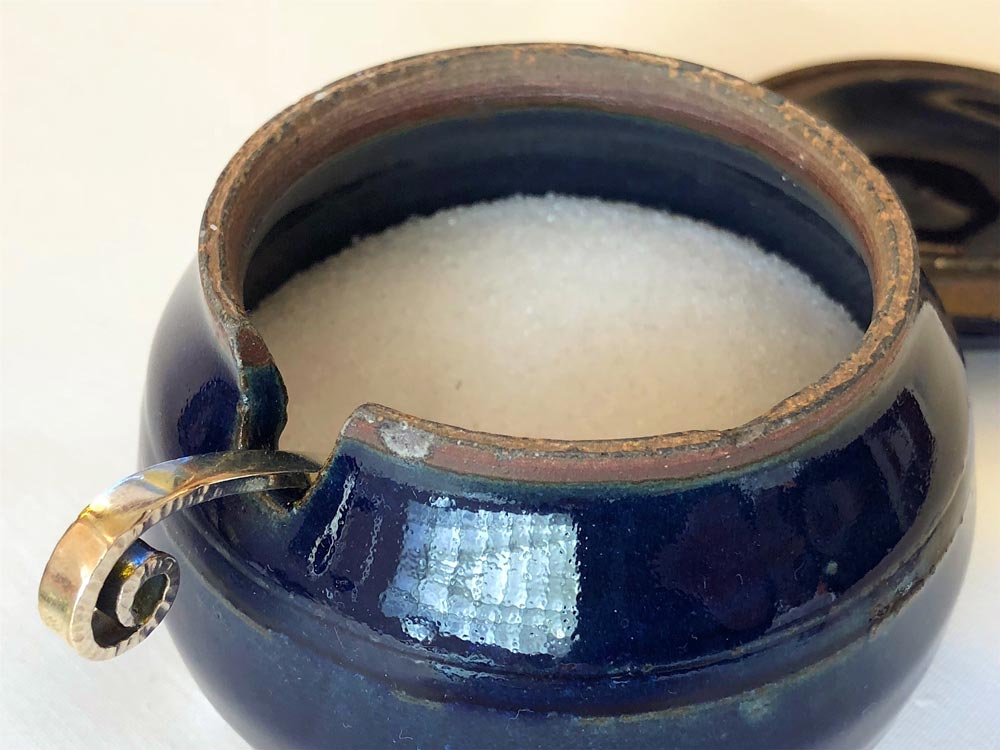 We paid our bill, which was incredibly reasonable all things considered, and then headed out. We had more Iron Chef restaurants to eat at.
Whose Cuisine Reigned Supreme?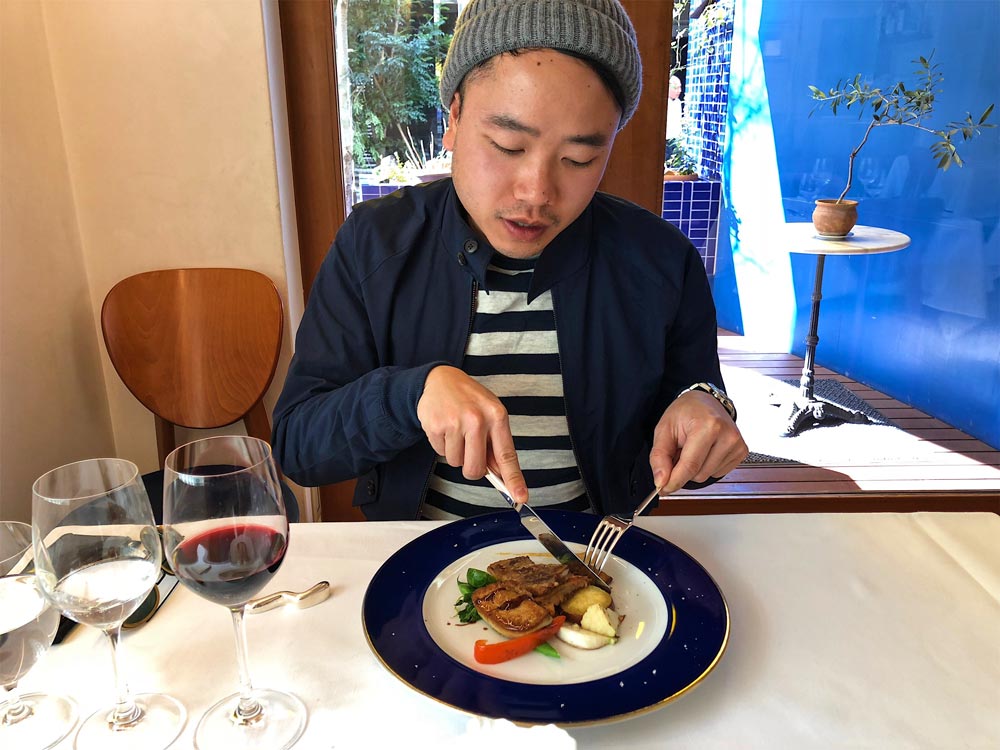 The meal we had at Ristorante Massa was good. There were parts of it that were memorable and amazing. Before going through the photos, I could only recall a few things: the blowfish roe pasta, the foie gras, and the green apple sorbet.
All that plus one important thing: I wasn't stuffed at the end. It feels like Western "course meals" come at you with the goal of rupturing your stomach lining. But at Massa, we came away feeling like we had eaten enough. Could I have eaten more? Of course. But should I have? Probably not.
It really is a skill to give someone just the right amount of food, while making them feel like they still got their money's worth.
Koichi's Review
At least when it comes to lunch, Ristorante Massa is easy to recommend. Was it the best of the Iron Chef restaurants? You'll have to wait and see when I rank them against each other. But if you're in Japan and in the mood for Italian cuisine, you'll have a good experience here, without breaking the bank. I'm not sure if I'd seek this place out next time I'm in Tokyo, but if someone wanted Italian, this is probably where I'd take them.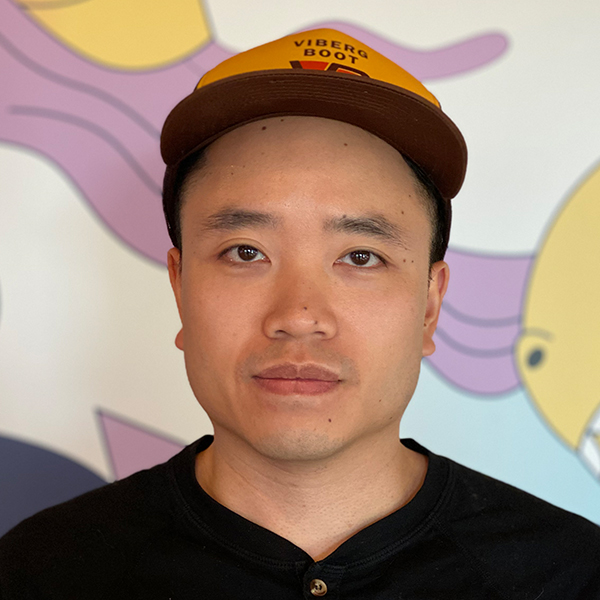 Viet's Review
Very solid lunch. The meal was very balanced, not heavy, and reasonably priced. The service we received was very attentive. Kobe is my least favorite of the Iron Chefs, but his restaurant definitely isn't last on my list. I honestly don't have anything negative to say about the restaurant.
Ristorante Massa
Additional Information
1 Chome-23-22 Ebisu
Shibuya, Tokyo 150-0013
Japan
View on map