Getting a haircut in a foreign country can be a nightmare, especially when you don't speak the language well enough. Even in your own country, it can be difficult to find a good hairdresser that matches your personality and style.
For example, when I tried to get a haircut here in Canada, I asked for a sexy bob hairstyle, but instead I ended up looking like Kintarō.
But don't let that keep you from getting a haircut in the fashion capital of the world: Tokyo. According to the February issue of Biyokai Magazine 美容界 (meaning "Beauty Industry"), there are over 240,000 hair salons and 500,000 hairdressers in Japan.
Tokyo hair salons are especially well renowned. The Omotesando, Harajuku, and Shibuya areas boast the most famous and popular, attracting celebrities and fashion icons from all over.
To put it in perspective, think of it this way: if you've ever been to Japan, you've probably noticed how many convenience stores there are—they're everywhere! But there's actually only around 50,000 total.
There are five times as many hair salons as there are konbini in Japan. This means competition is tough and the skill of Japanese stylists is generally quite high.
Tokyo hair salons are especially well renowned. The Omotesando, Harajuku, and Shibuya areas boast the most famous and popular, attracting celebrities and fashion icons from all over.
We went to one such salon in Omotesando that just happens to be very foreigner friendly. We're talking about the salon in the title, of course: Hair Salon Nalu & 76 Cafe.
Visiting Hair Salon Nalu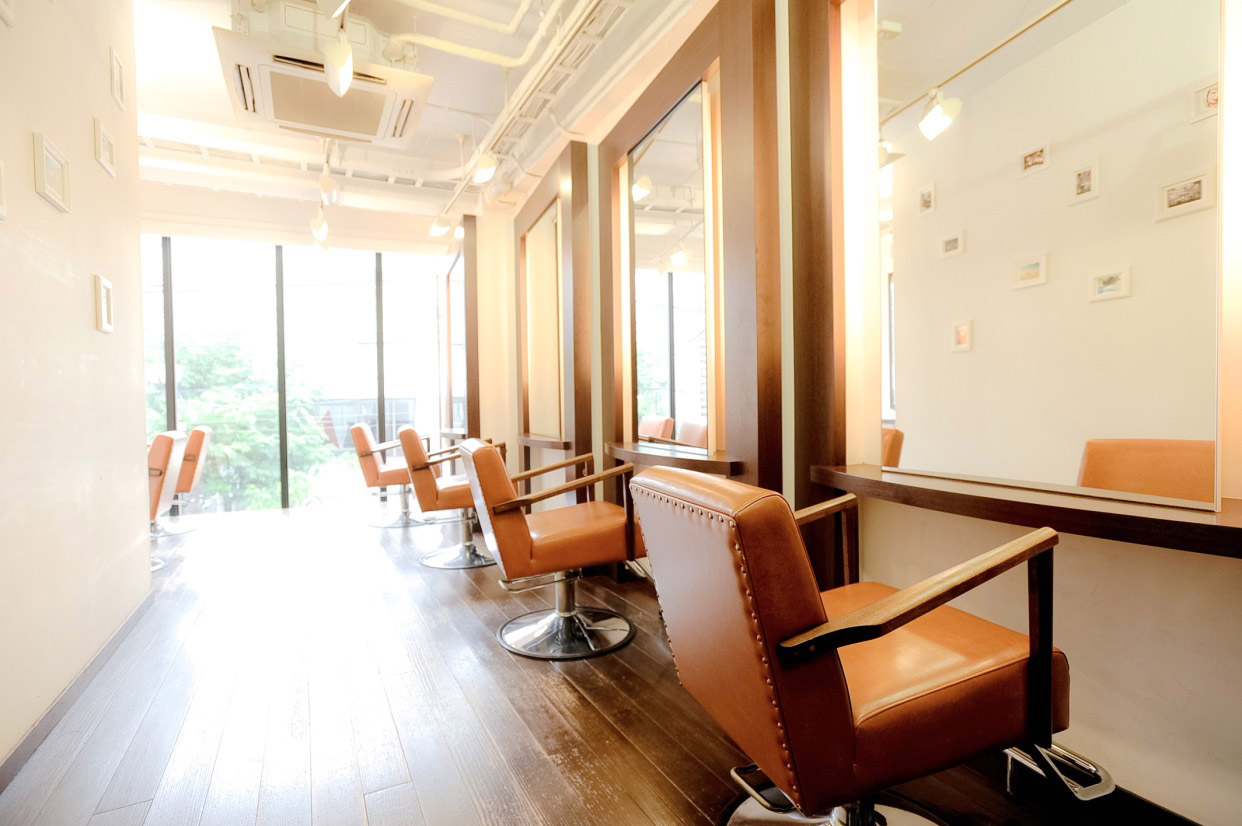 Nalu was started in Tokyo in 2001 by founder Hamaguchi Daisuke. His idea was to build a Tokyo hair salon with the concept of a style shop, where customers could change hairstyles as easily as they could change fashion accessories.
Soon after, 76 Cafe was built downstairs. This way you could get a haircut and a bite to eat all in one go. There are also four other Nalu locations in Kuala Lumpur, Malaysia, and Singapore.
We originally came across Hair Salon Nalu by chance. They emailed us to ask if we were interested in checking out their shop. It was great timing, because we were headed to Japan to do a series of interviews—and Koichi and I had too much hair.
At the time, we had no idea if this place was good or not.

Spoiler alert: It turned out pretty great.
At the time, we had no idea if this place was good or not, but we figured if it was bad we could just shave our heads. Well, maybe Koichi could shave his head. I would wear a hat.
Spoiler alert: It turned out pretty great.
When we arrived, our hair was a mess. They greeted us nicely, and we talked to the president Mr. Hamaguchi, the salon manager Yoshitada Dejima (who cut my hair), Sunada Eriko (who cut Koichi's hair), and a few other assistant stylists. Because we were scheduled to arrive an hour before the salon opened, there were no other customers yet.
Since many of our readers can't speak Japanese (yet), we started by asking them if they could speak English. Dejima said:
We welcome all people and are very confident that we will give you the hairstyle you want. So when you come, please come with high expectations. As for language and communication, I can speak a bit of English and all the other staff members will try their best to communicate with everyone too. We won't move forward with things until we are certain we understand each other, so please come here without worry.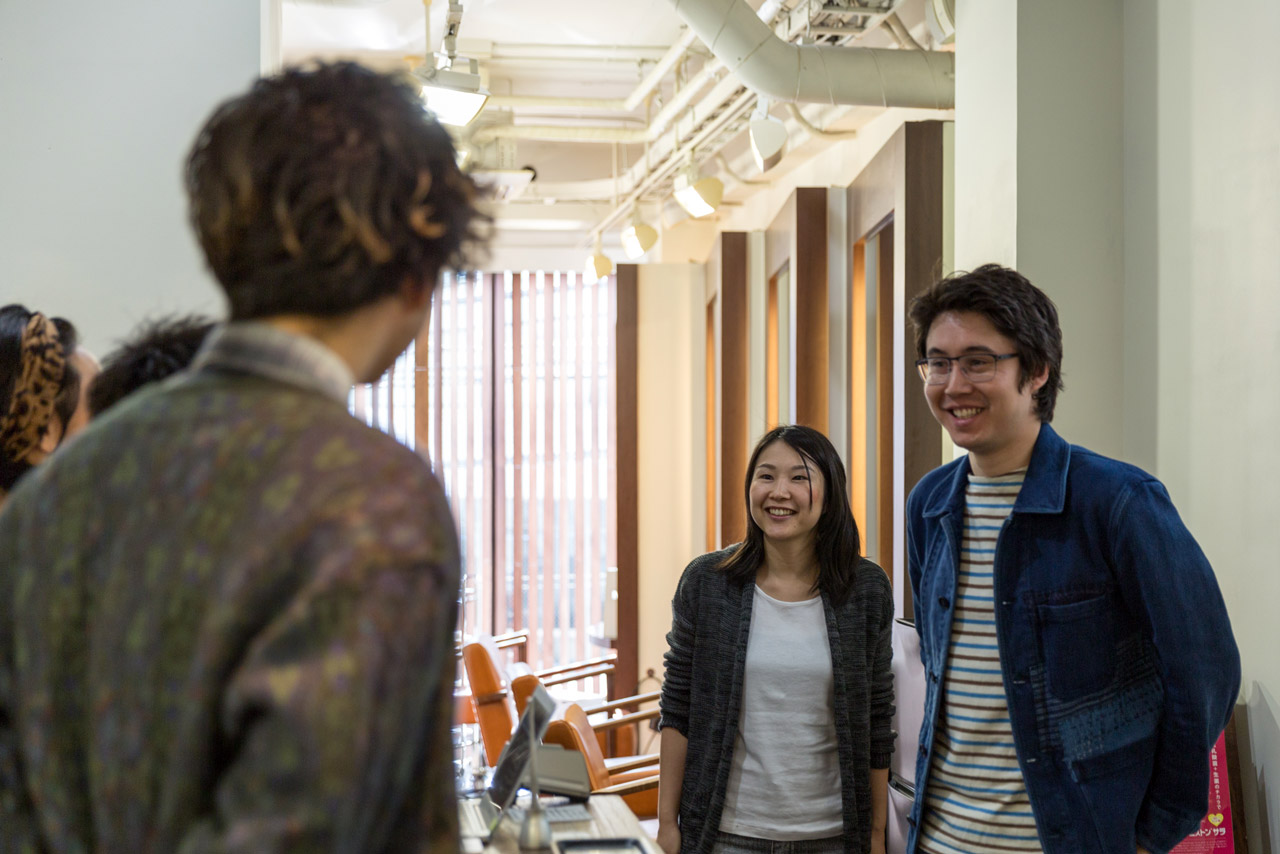 But this is the 21st century! You probably have a smartphone. Most customers, even Japanese speaking ones, will show the stylist a picture from the Internet. The stylists here are highly skilled, and can probably replicate whatever you show them. Or, if they think it won't be good for you, they might offer other suggestions.
Neither Koichi nor myself had any particular haircuts in mind, so we just decided to go with their recommendations. They showed us magazine and smartphone pictures of what they thought would look good, and it was all easy to understand. That said, it would be easier if you spoke some Japanese, but it's also doable if you don't.
During my haircut, Dejima checked in with me and asked questions. For example, he asked if I normally wear makeup. I told him I don't, so he suggested some simple, natural coloring to match that preference.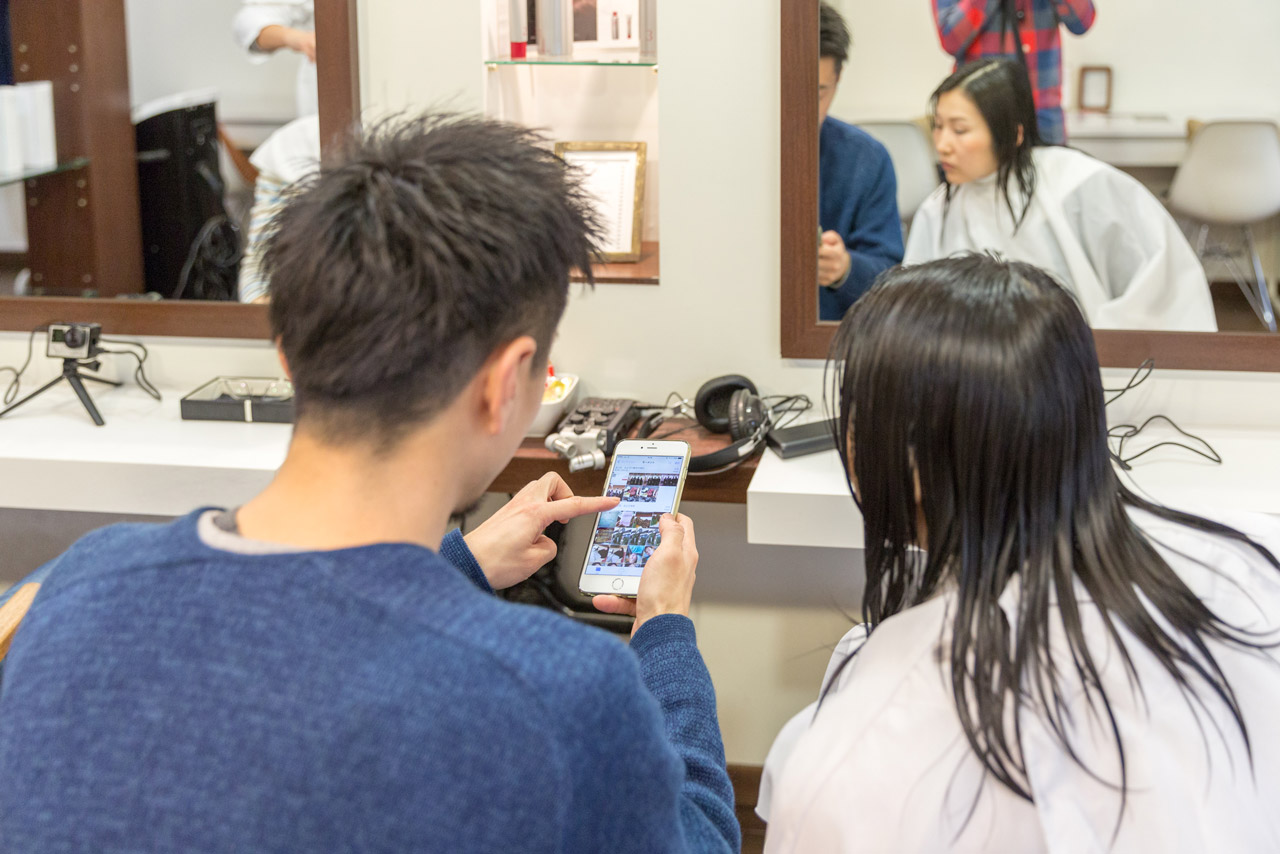 With Koichi, they asked similar questions. Sunada asked if he normally wears glasses. He said he does, so she recommended doing something slightly different based on that.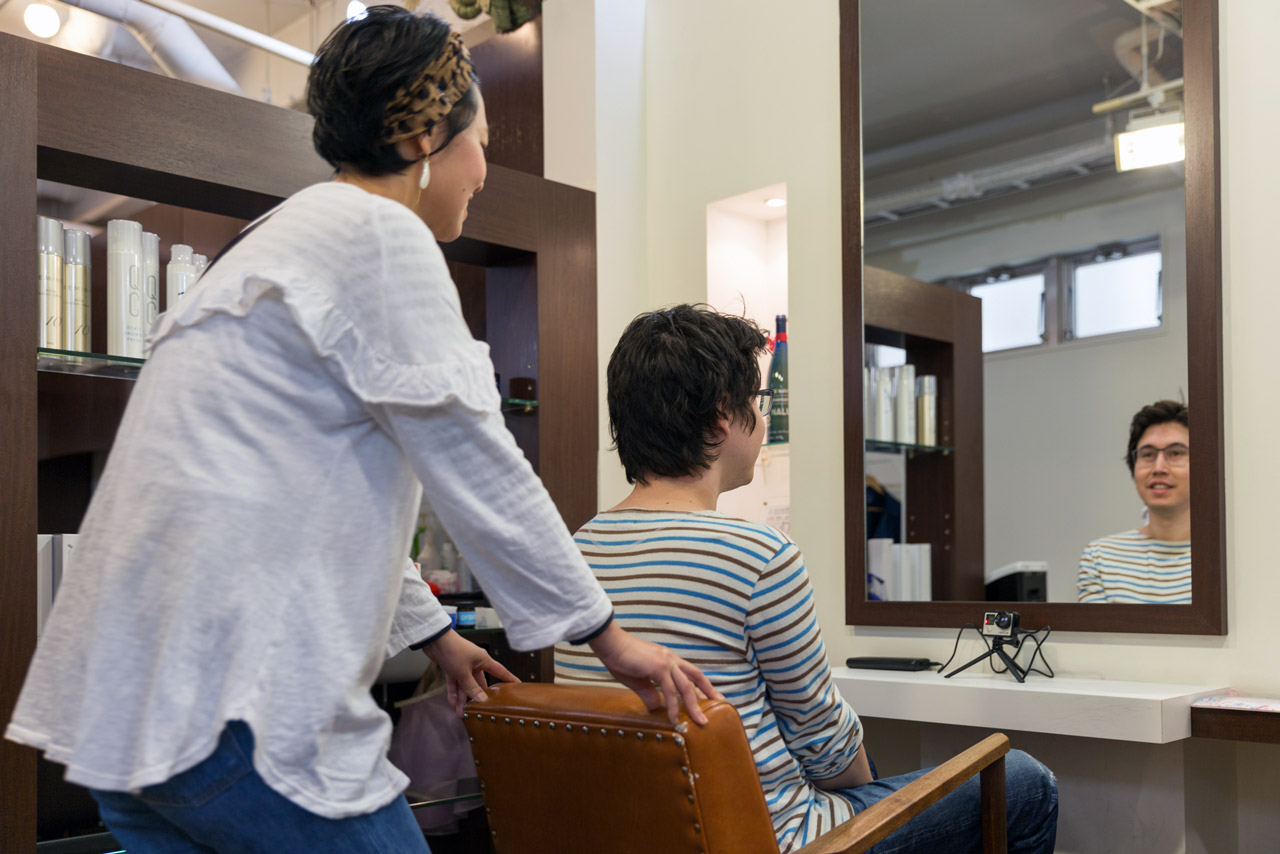 I feel like they put a lot of thought into their work and want to make sure you're happy with your style.
Getting Our Hair Cut in Tokyo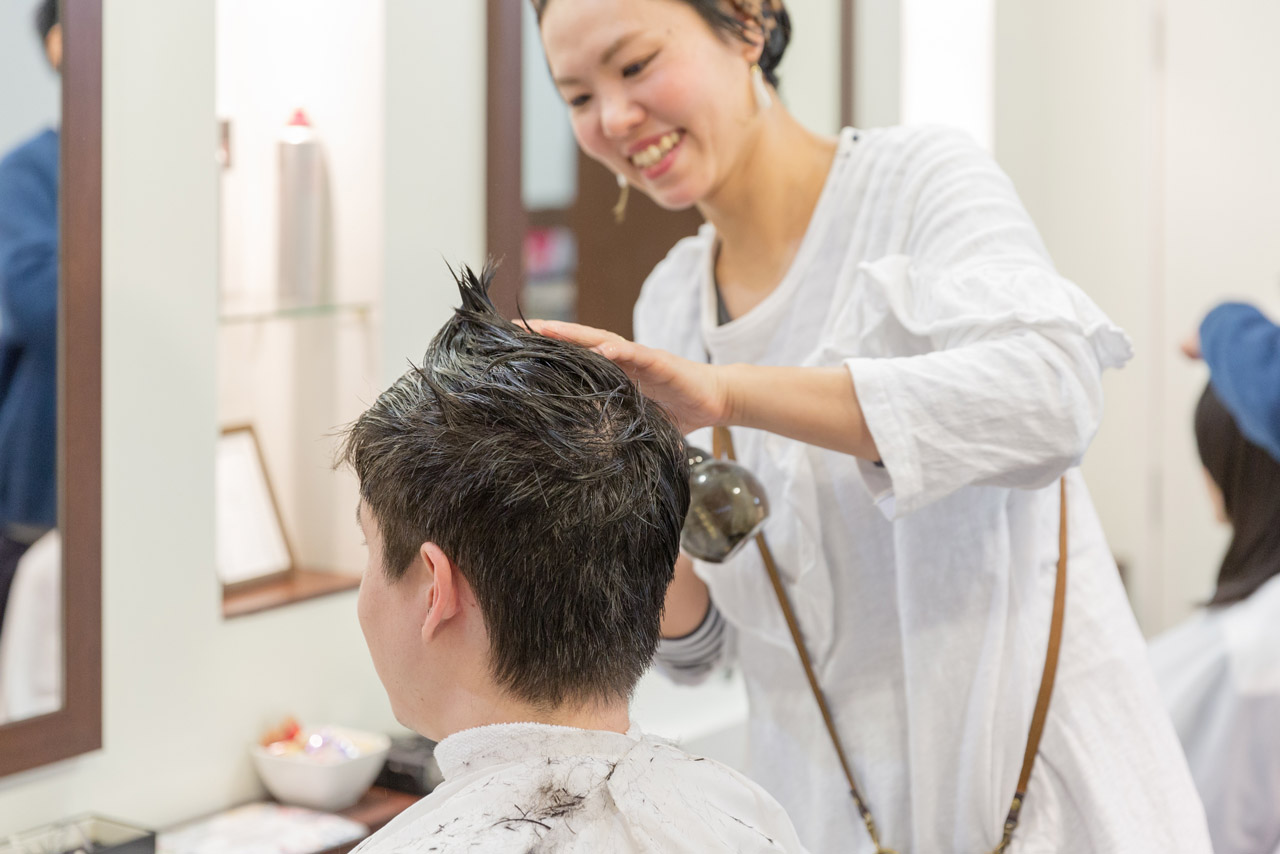 Our visit, of course, resulted in Koichi and I getting our hair cut. I went an extra step further and got my hair bleached and partially dyed purple. They call this style of coloring "inner color."
Nalu actually has more color options than most hair salons.
The good thing about inner color is that you don't have to take care of it too often because the roots are covered by the rest of your hair. It's also easy to change your color of choice. Remember how the idea behind the Nalu hair salon is to "change your hairstyle like you would any other fashion item?"
Well, Nalu actually has more color options than most hair salons. Because they operate in three different countries, they've been forced to create new colors of their own in order to keep up with trends in different places. While they can't exchange all the dyes between countries because of various laws, they have learned a lot about mixing colors and they share that information between their locations.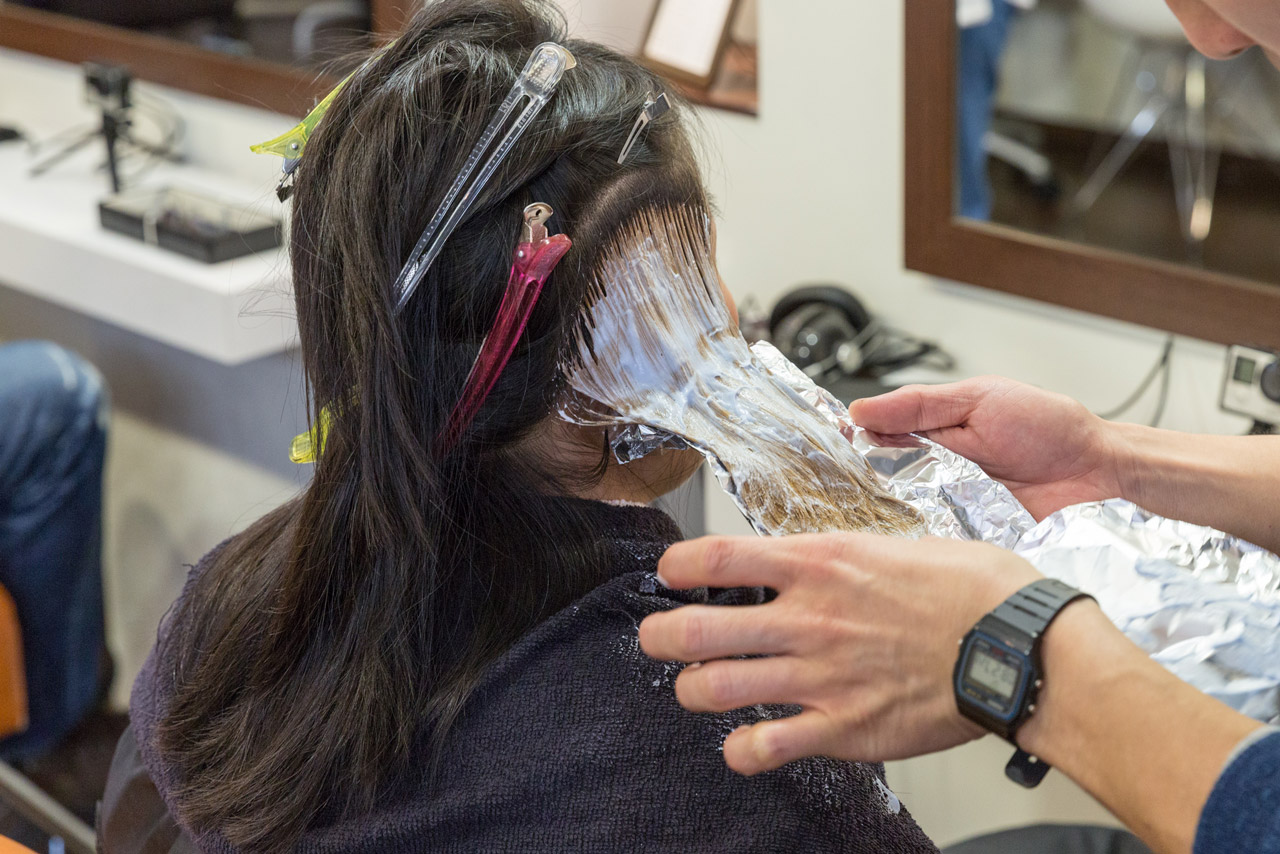 That said, there are limitations. When we asked them about specific hair types, Dejima said he often refuses to color Caucasian hair because the salon doesn't have much experience with it. They don't want to "experiment" on unfamiliar hair—it just wouldn't be fair to a paying customer.
They are, of course, very good at Asian hair though, especially when it comes to coloring and perming. Dyes will work differently with different consistencies and colors of hair, they said. However, they are more than happy to cut and style anybody's hair.
The stylists at Nalu were great at smalltalk too. It never felt awkward, even when they were concentrating and not talking. We learned a lot about the salon. For example, their name, "Nalu," was chosen because the owner Hamaguchi hoped it would create a "new wave between Japan and the rest of the world."
The word "nalu" means "wave" in Hawaiian. Also, Hamaguchi and much of the staff enjoy surfing, so it seems appropriate.
Cafe 76 came from this, too (sort of). In Japanese, numbers can be used to make words in a type of wordplay called goroawase. For the cafe, they wanted a number similar to "Nalu," to reference the salon. The number seven is pronounced nana and six is pronounced roku. If you take the first kana of each word and merge them together you get "naro." "Naro" is close to "nalu," and to Japanese people "naru" and "nalu" sound basically the same. Hence the cafe was named "Cafe 76."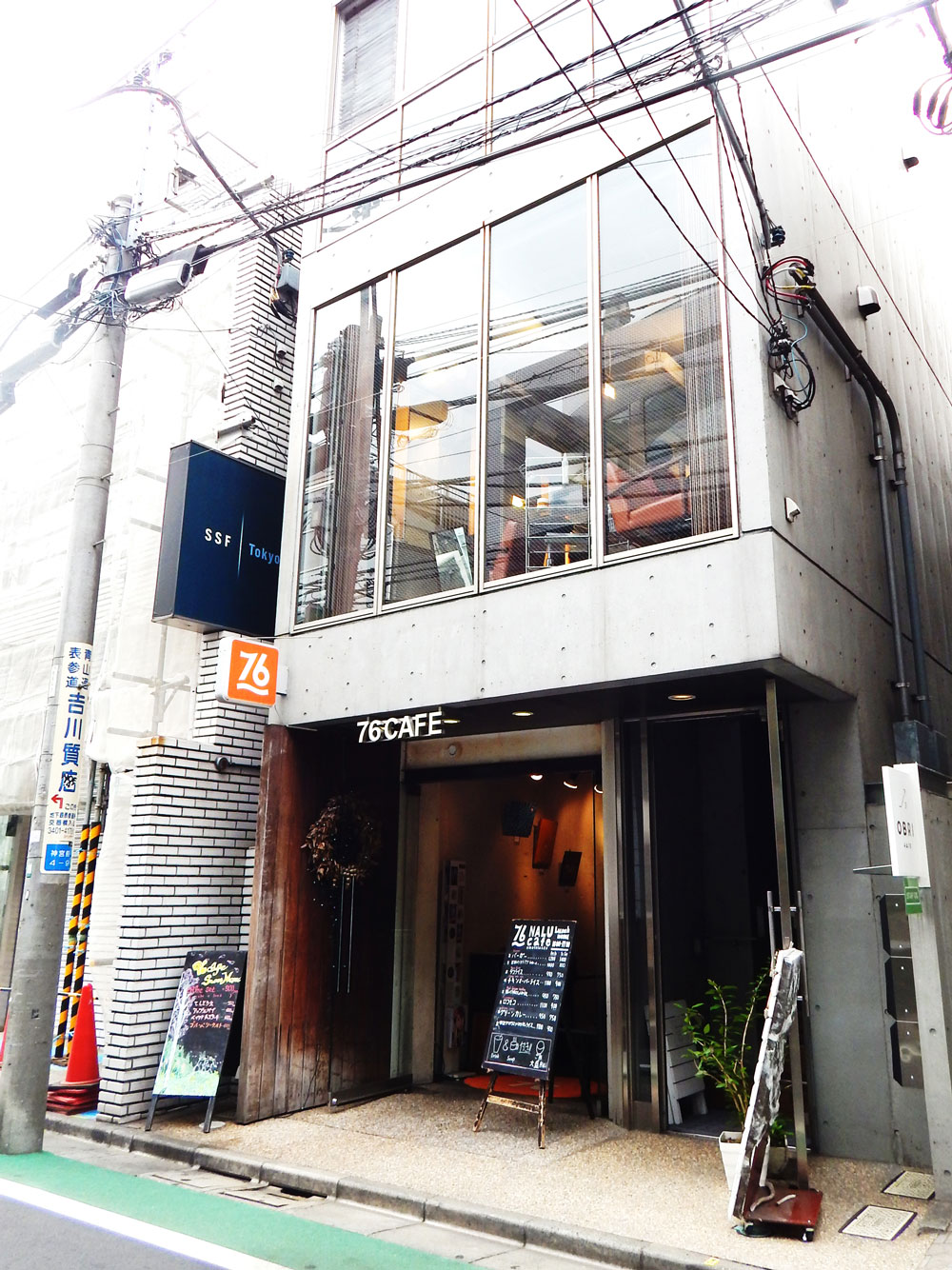 When they shampooed us, they asked:
痒いとこないですか?
Are you itchy anywhere?
I've never gotten this question in Canada, and Koichi said he's never got this question in the US either. As it turns out, this is a way for hair stylists in Japan to ask the customer if there is any place they feel isn't washed enough. People in the service industry don't like to use the word monotarinai 物足りない (insufficient), so asking if the customer is "itchy" anywhere is a roundabout way of getting this answer.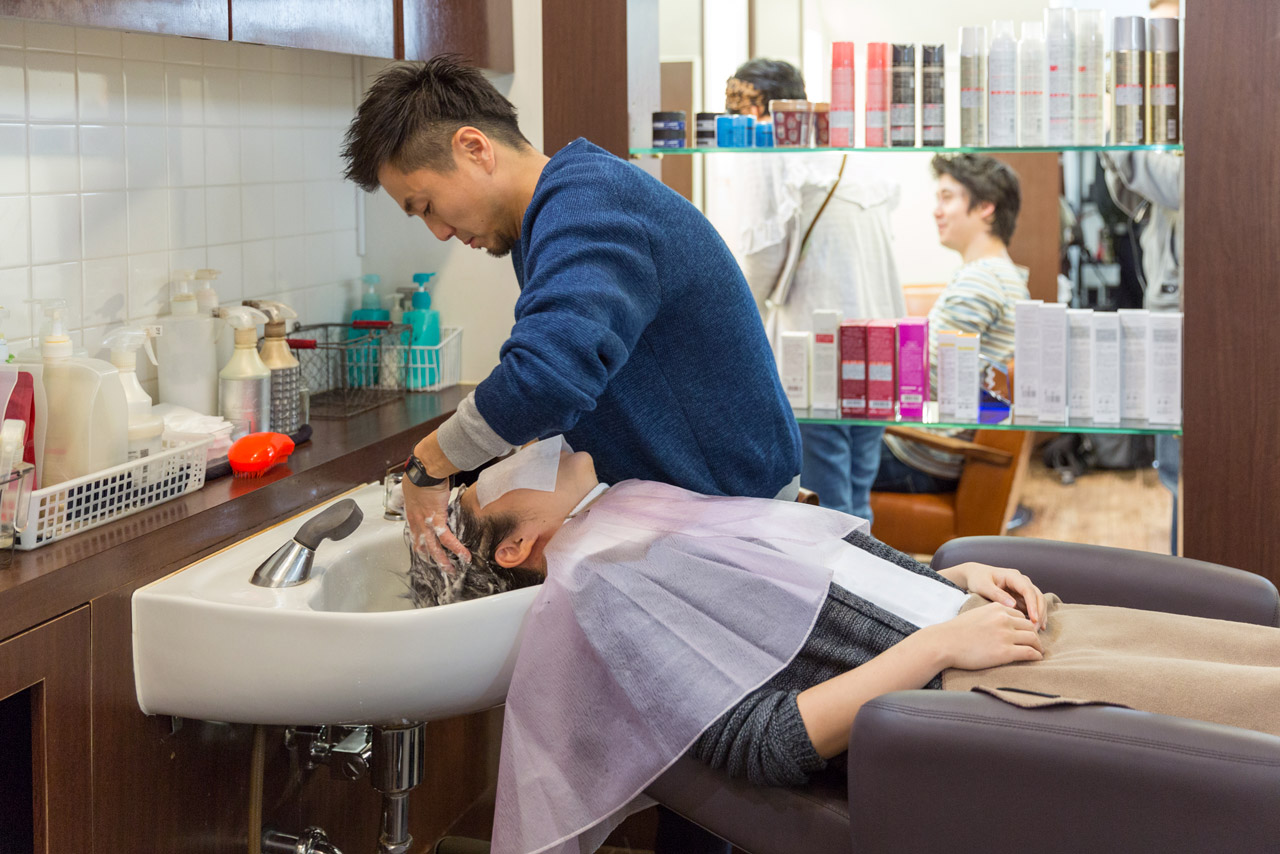 After the wash, they started cutting off our precious hair, so I ordered a Corona off the menu and they brought it up from Cafe 76.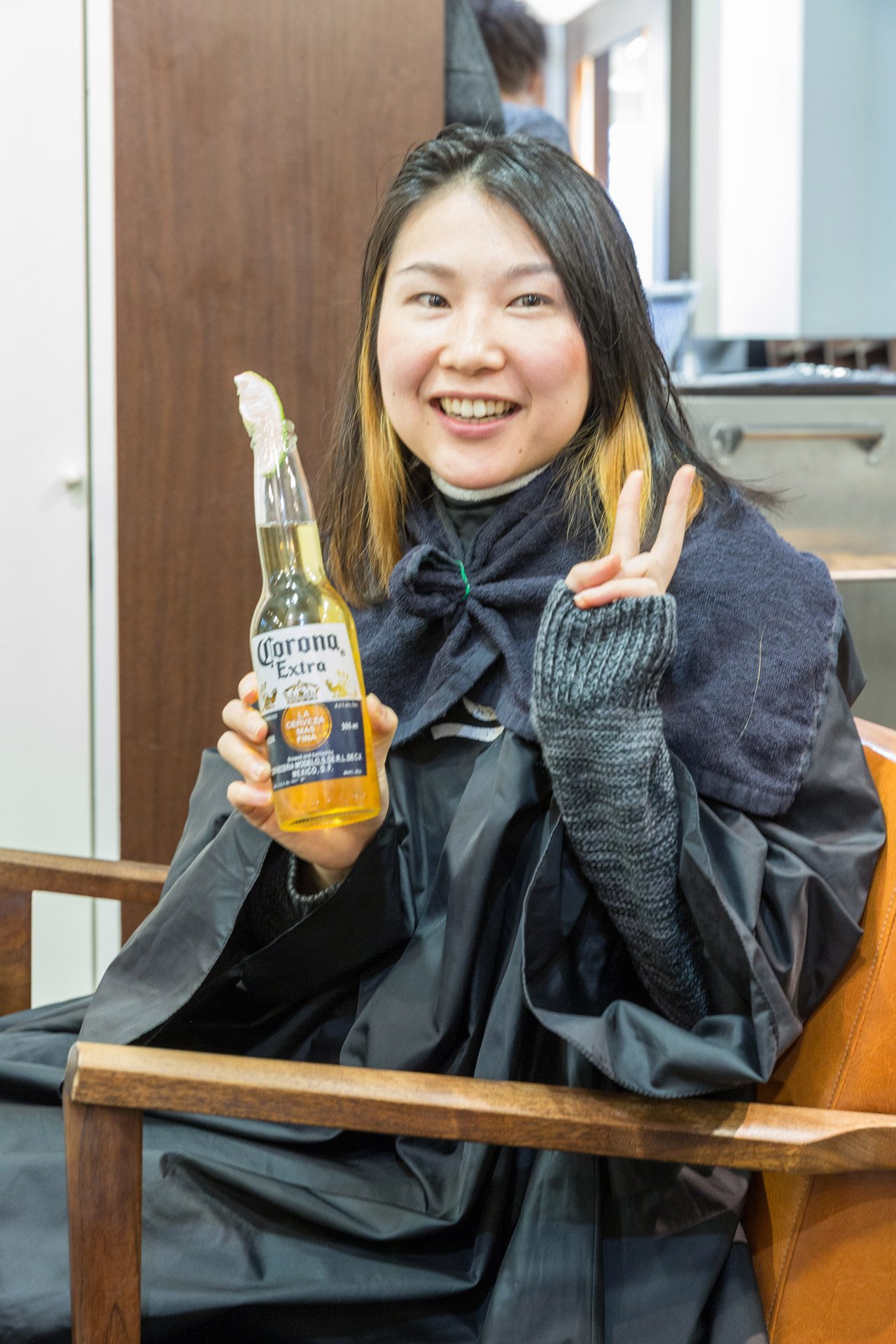 In Japan it's become the norm to get a drink during a haircut, dye, or perm. It was early in the day, but I thought having a drink would make the experience more fun, and I was right. Even though you can technically order food too, no customer has ever done that. Nobody wants to season their food with hair, after all.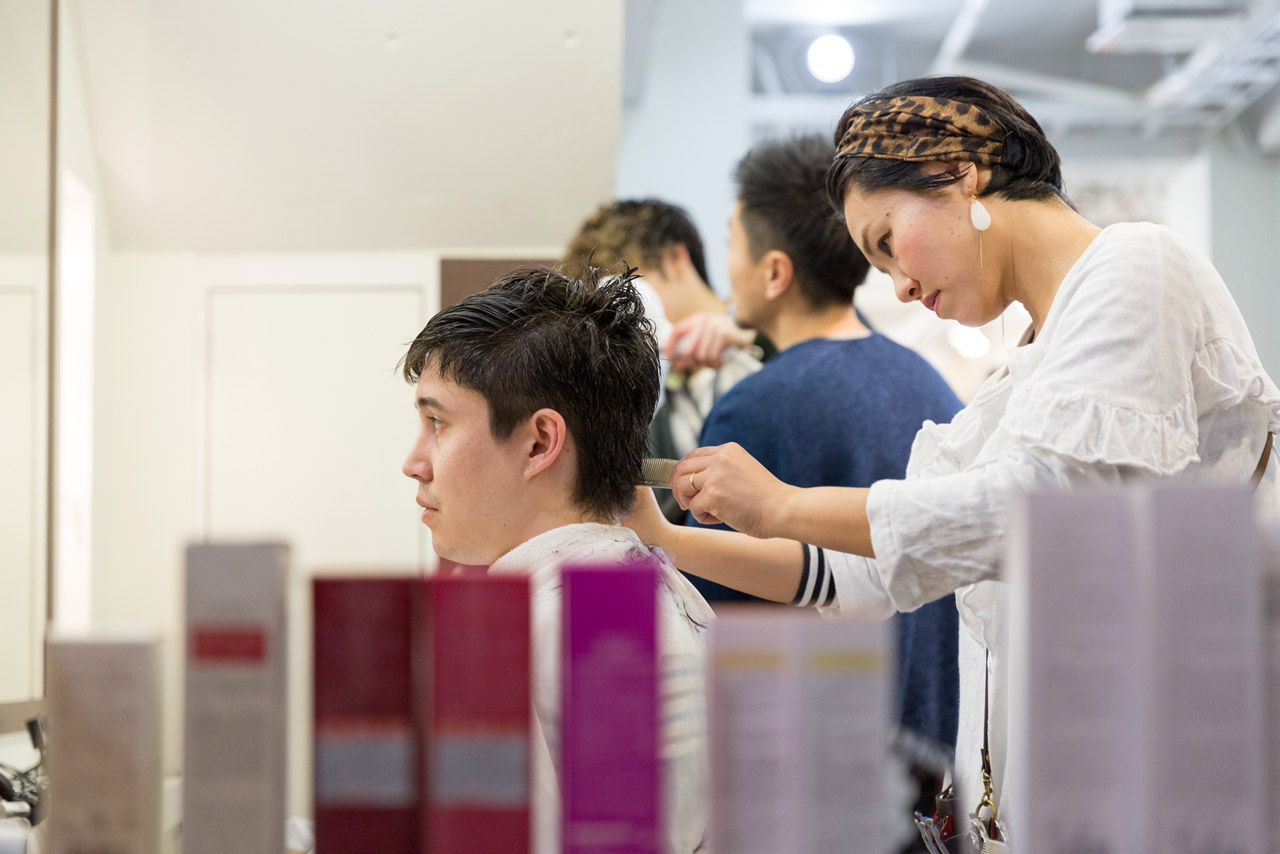 "The most thorough, wonderful head massage I've ever gotten, by far"

— Koichi
After the cut, they gave us both head massages. Koichi said his was heavenly. "The most thorough, wonderful head massage I've ever gotten, by far," he said. This is also common in Japanese hair salons, and the staff at Nalu were really good at it.
Near the end of our haircuts, customers began filing in. It got busy really quickly. One person brought a toddler in, and Dejima said kids four years old or younger get free haircuts. Some people even bring their babies in for their first haircut.
We asked the Nalu staff if they accept walk-ins, and they said they do. But usually they have to ask walk-in customers to come back later in the day or even the next day. From what we saw, it's a popular place and the stylists stay busy. They recommend calling ahead to make a reservation if you can.
Down to 76 Cafe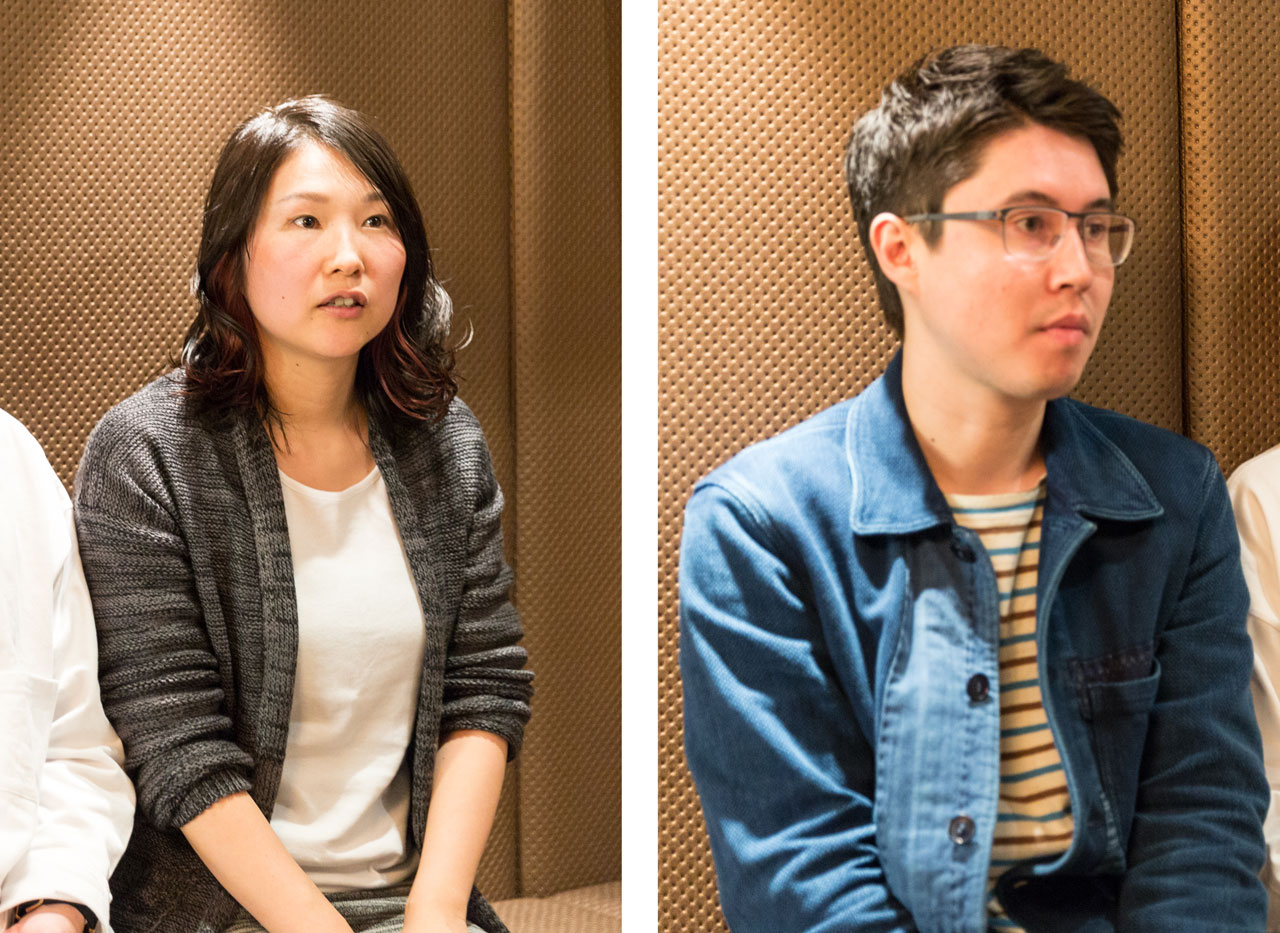 With our hair done, we moved downstairs to eat lunch at Cafe 76. It was a simple, cozy cafe with free wifi and a lot of electrical outlets. It's a good place to come if you need a haircut and to get some work done after.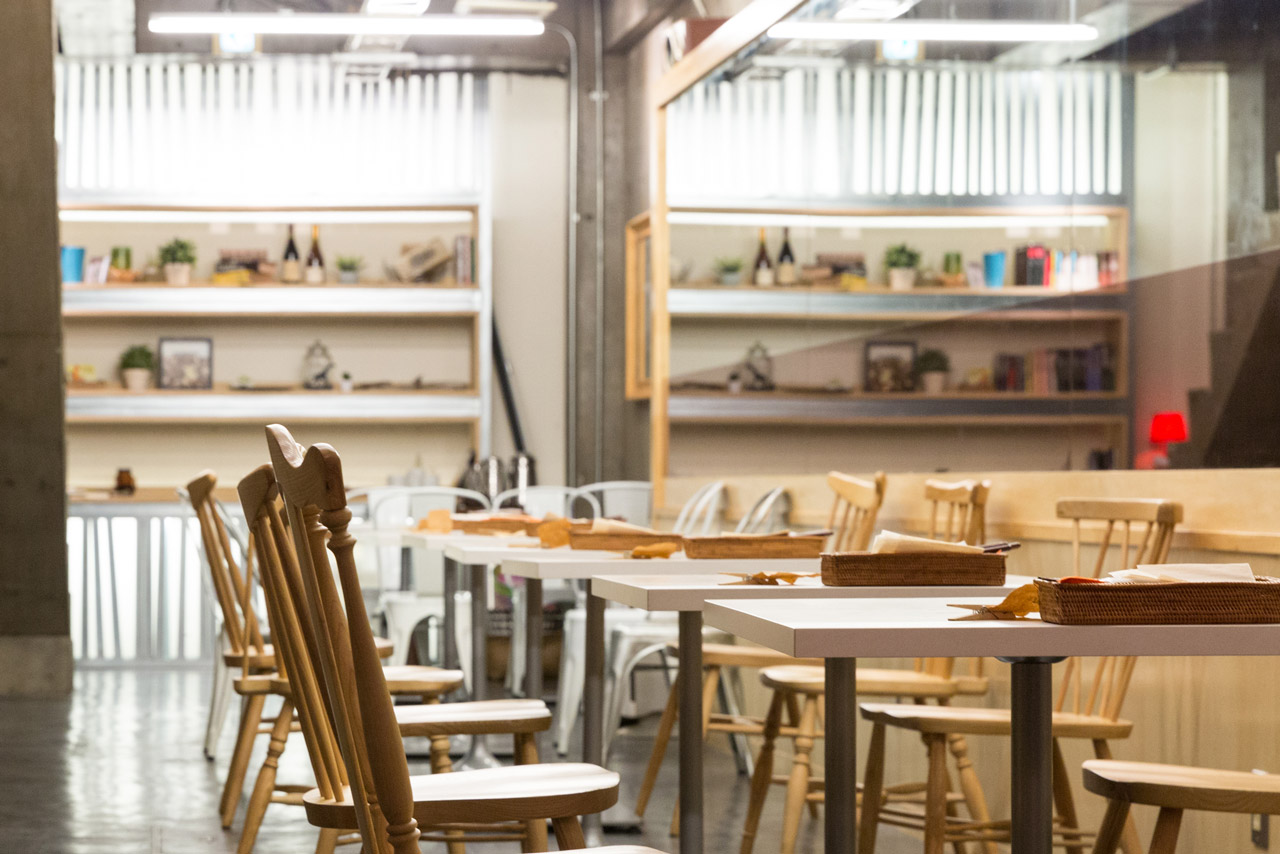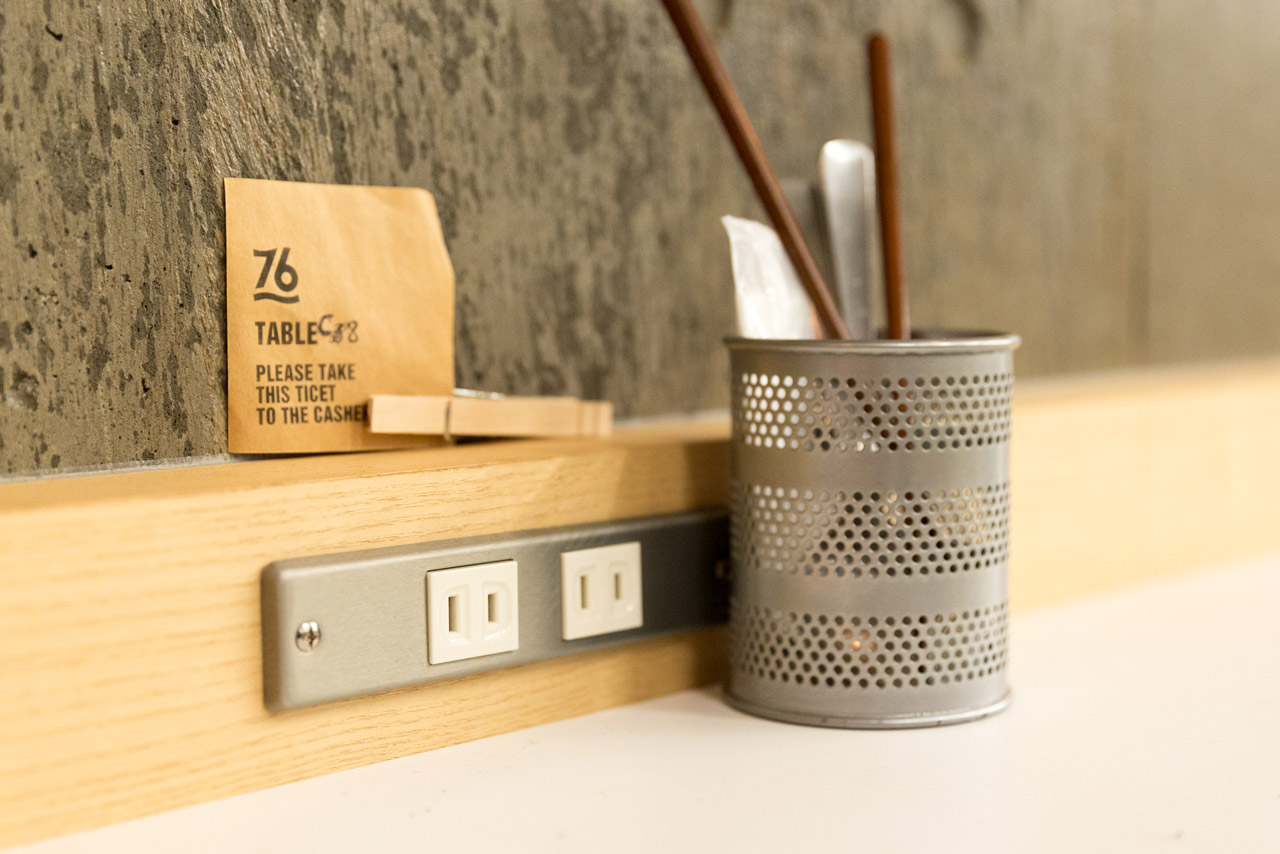 It was here that we spoke to the owner, Hamaguchi, some more. He told us their menu was based on the most popular bento (lunch box) meals among elementary and junior high school kids. They served karaage, curry, shogayaki, and more.
These were definitely some of my favorite foods when I was younger; truly the comfort foods of Japan. Hamaguchi said he wants people to be able to change their hairstyle, relax, and feel comfortable. We definitely got all three.
The Tofugu team ordered a karaage rice bowl, Hawaiian loco moco, taco rice, strawberry banana latte, mango and banana yogurt, and a ladybug cake. They were all really great, and way more stylish than the bento boxes I had as a kid. The price was a little higher than I expected, but this is in Omotesando, so odds are the prices are actually quite normal.
And just in case you're wondering if the cafe stands on its own, even without the accompanying haircut—it does. Plus it's a great place to relax and recharge yourself (and your cell phone).
The location is convenient too. Only a three minute walk from Tokyo Metro Omotesando Station, and a ten minute walk from the 2020 Tokyo Olympic main stadium. Who knows, maybe you'll want to get a haircut after watching a soccer match during the upcoming Summer Olympics.
Koichi's Review
Best head massage ever, and my stylist had cutting skills that I don't think exist in America. I've been to a few Japanese stylists, and I've felt almost the same way. So either Japanese stylists are just really good, or American stylists think they're good, but have never seen anyone go super saiyan. Loved this place.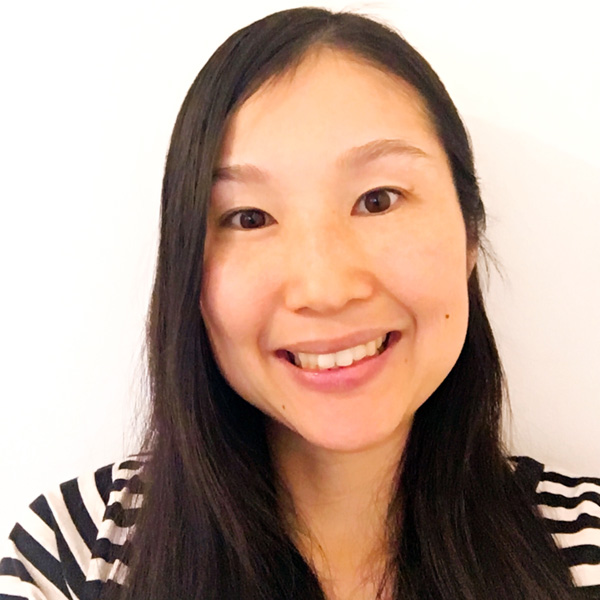 Mami's Review
Stuff was friendly and nice. I liked their cafe. The food was cute and delicious. Everything was clean and neat, and the interior design was modern and spacious too. And most importantly, I liked the hairdo they gave me. Thank you 76!
Nalu and 76 Cafe
Additional Information
4-9-2 Jingumae
Shibuya, Tokyo 150-0001
Japan
View on map