Well, this is awkward. Recently, Koichi and I went to the bar "84" (pronounced hashi), a bar known in some circles as "the Mecca of Nintendo fans." People search for years trying to find this place, almost always with no success, but we were lucky. And, when we thought about our Nintendo mega-fan co-worker Michael, we felt even more like we didn't deserve going here. Oh well!
But, for Michael, and for all of you who would love being here: we documented our conversations with the owner, and experienced as much of this magical place as we could, so we could share that all with you, the real Nintendo fans out there. I can (and will) tell you everything except where this bar is.
I'm not allowed to tell you where this bar is.
That last bit is really important. It was stressed so many times, and we had to swear on little Mario bibles that we wouldn't talk. No matter how much of a Nintendo otaku you are or how much you want to go, we won't tell you anything. Snitches get stitches, after all.
The only reason we got in was thanks to a lucky connection. Earlier this year, we interviewed Nintendo Collection Master Isao Yamazaki, a (literally) card-carrying member of 84. He offered to take us, and although I expected to be thrown in a windowless van with bags over our heads, it wasn't quite that serious.
A "Mecca for Nintendo Fans"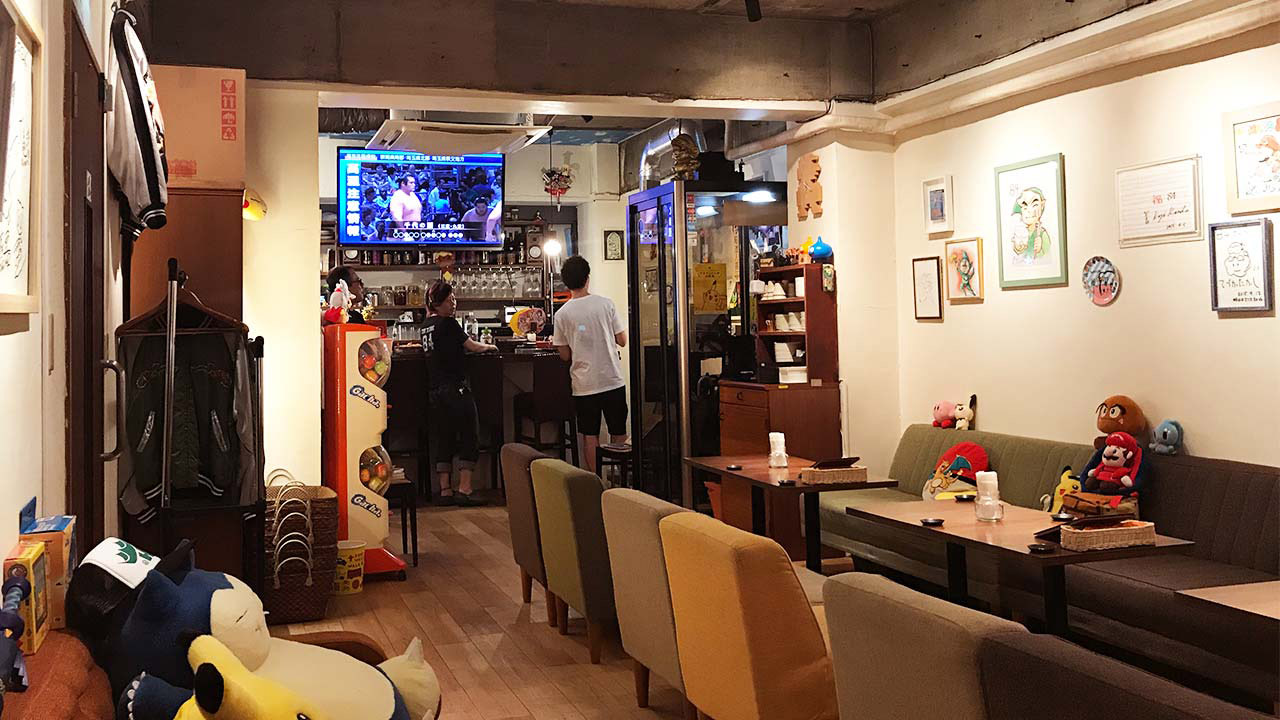 From the outside, 84 doesn't look like anything special. Just another door (I'd like to point out that there are a lot of doors in Japan). But when you open that door, a little bit of magic happens.
When we stepped inside, we were greeted by the owner. He introduced himself as Hashimoto. The bar's name, 84, comes from this. The "Hashi" portion of his name can be written as "84" if you're doing Goroawase (Japanese number play). But he told us nobody calls him Hashimoto. Instead, people called him by his nickname, Chōkan (長官), which means "chief" in Japanese.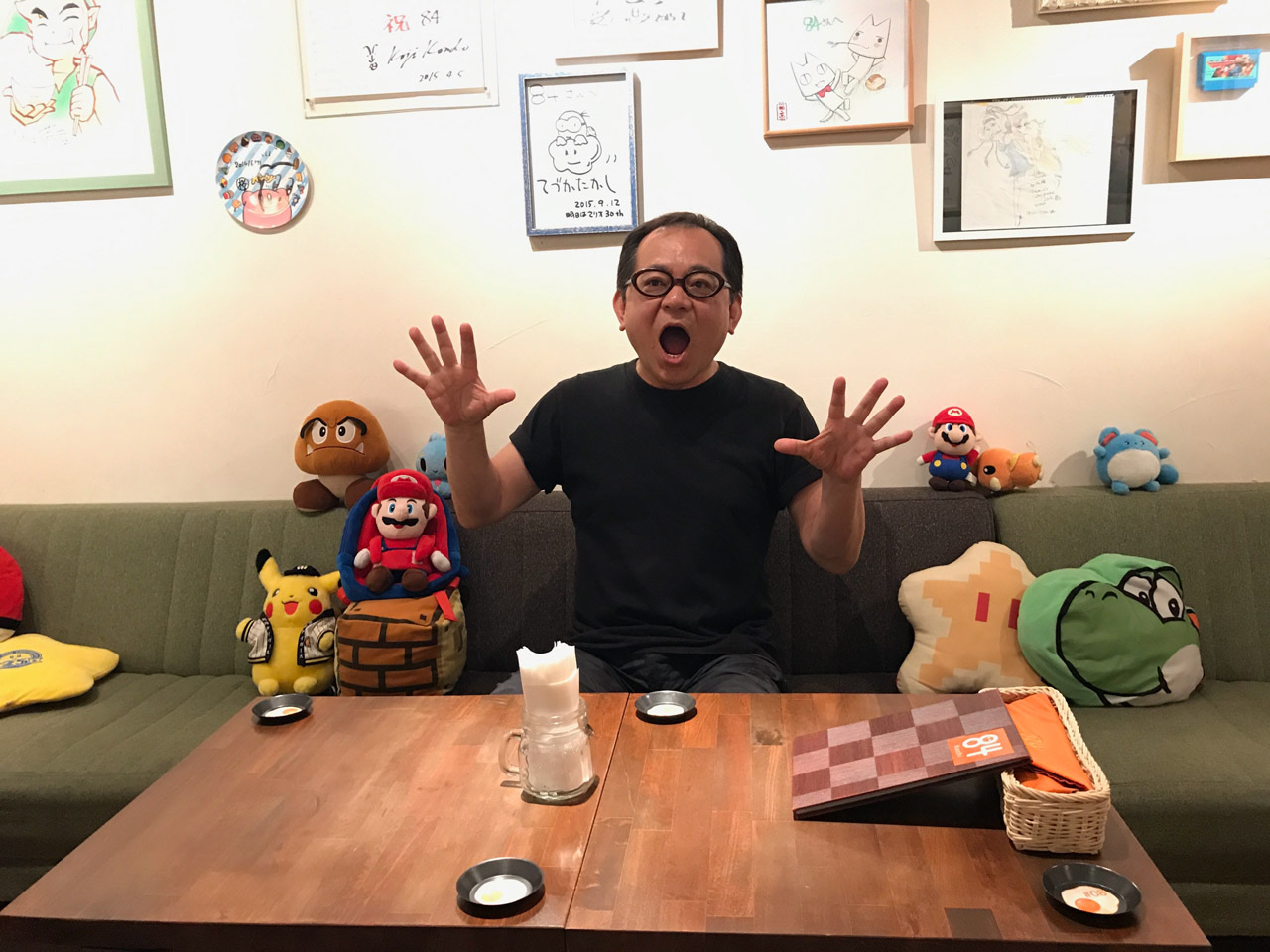 長官(ちょうかん)

Chief
Since we were meeting Chōkan for the first time, we said our hellos and exchanged business cards. When Chōkan handed me his card, he said "only people with pure hearts can see my extra personal information."
I was confused for a moment, but understood what he meant a few seconds later when the light hit the card juuuuust right. I could see his birthday, hometown, blood type, and more. Koichi took a lot longer to figure this out, which proves my heart is purer than his.
Then Chōkan told me to put my hands in the air "just so."
"What do you mean?" I asked.
"Stand over there, and put your hands in the air. Perfect, just like that. Now give me your camera."
After taking the picture and giving my camera back to me I looked at the photo and said "Oh, I get it now!"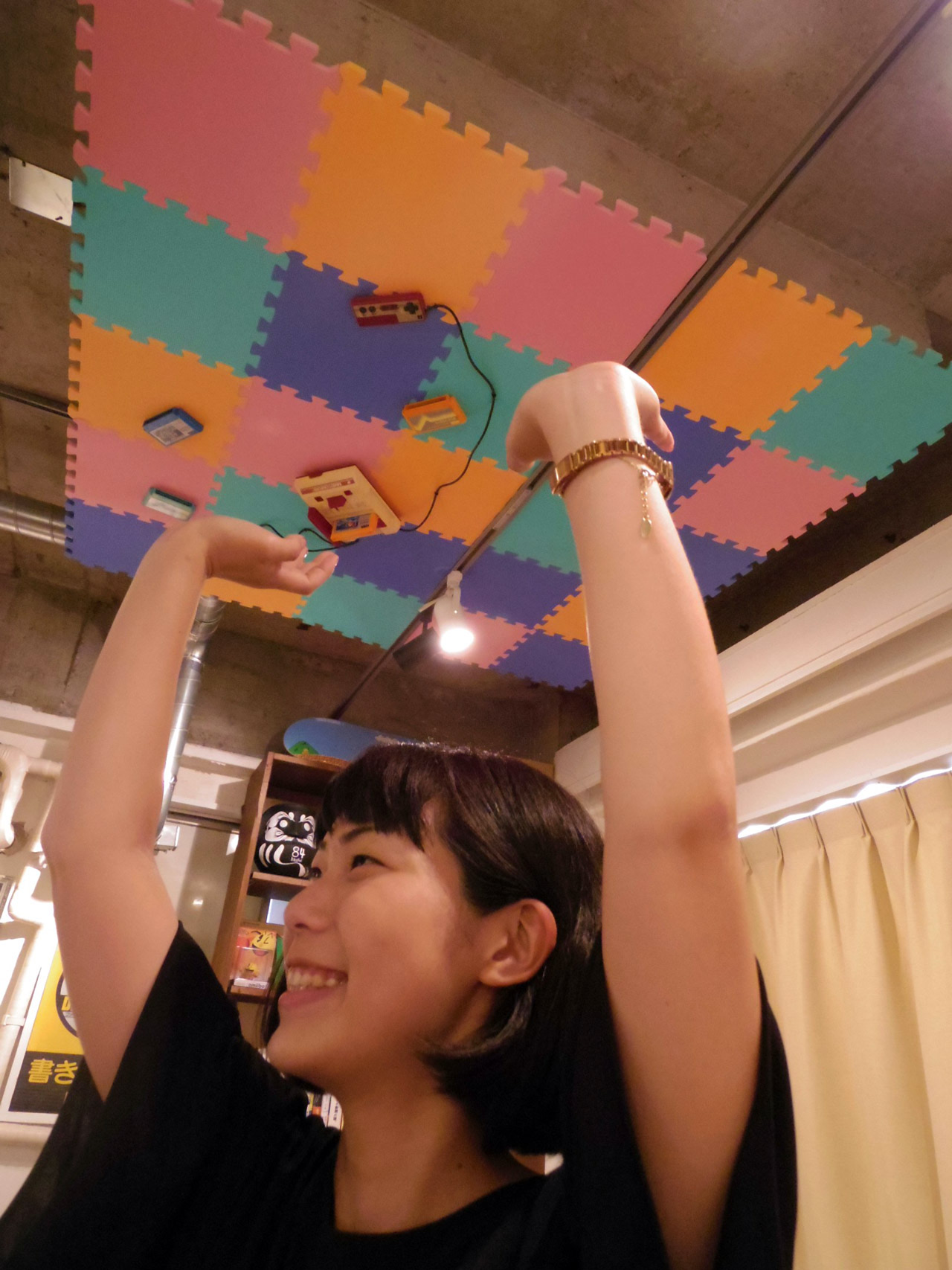 After introductions and smalltalk, we took in our surroundings. At first glance, nothing stood out. It looked kind of like a Nintendo fan's room with extra tables and a bar. But once we started looking closely (sometimes with guidance from Chōkan), we were amazed at the treasures we found.
For example, this drawing of Pikachu: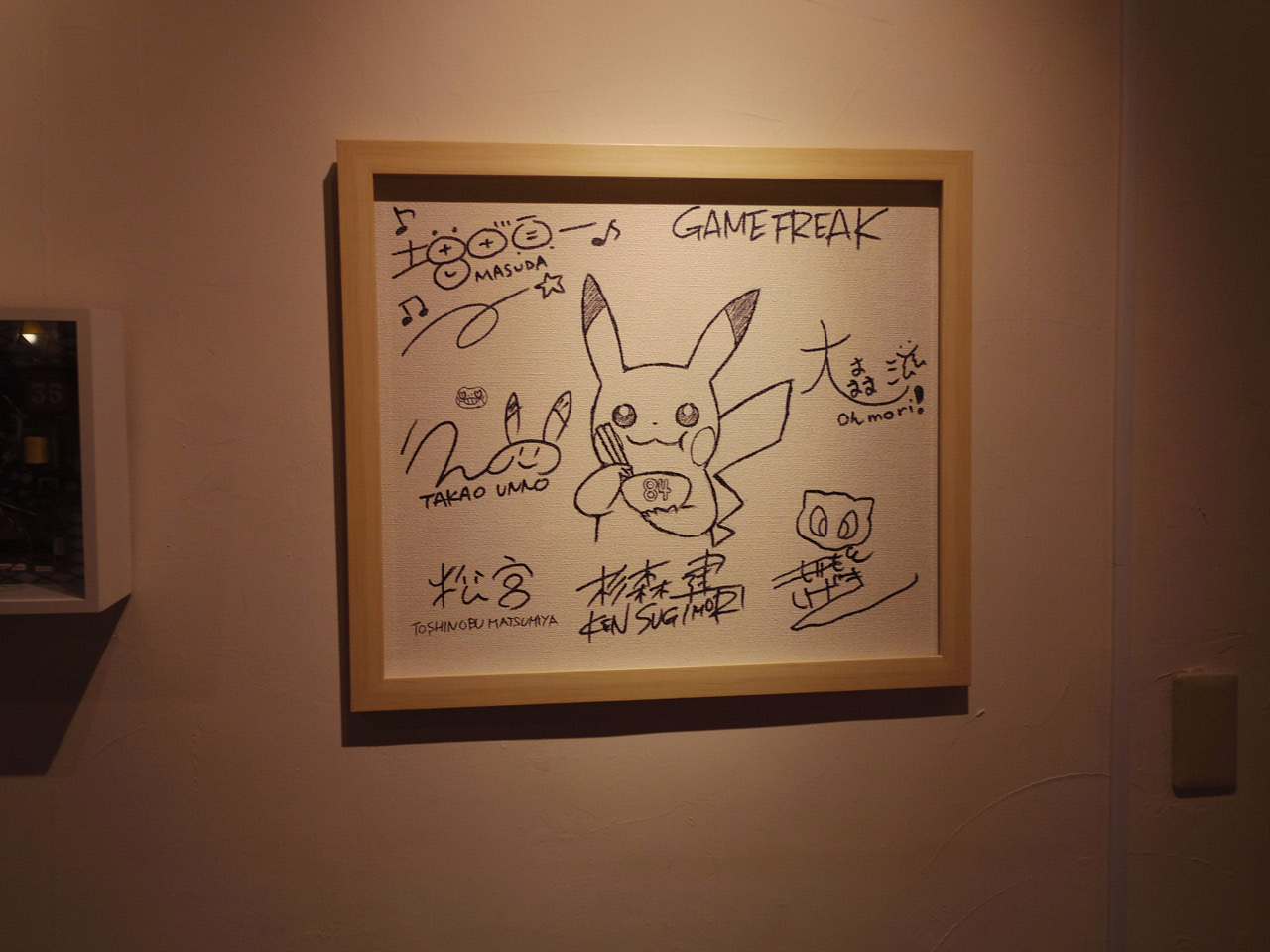 It looks like any other illustration of Pikachu, but upon closer inspection we realized all the signatures were from creators at Game Freak, the folks who made Pokemon. Ken Sugimori, the guy who designed Pikachu, drew this illustration. And he drew Pikachu using chopsticks because "Hashi" (84) sounds like "chopsticks" (also "hashi") in Japanese.
The rest of the wall was covered in more framed drawings signed by big name after big name. I won't go through them all, but here are the ones that caught my eye: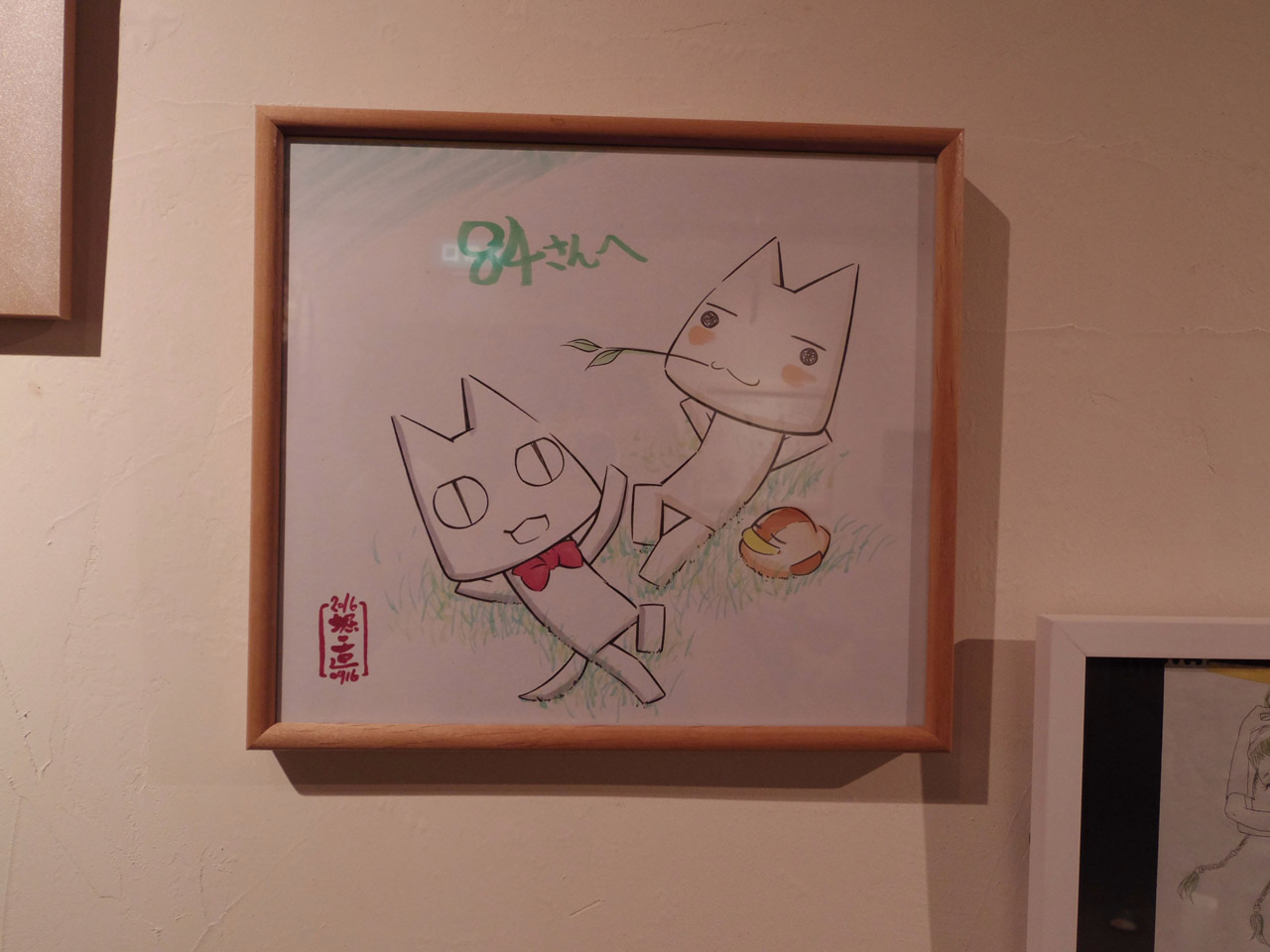 An illustration of my favorite cat ever, Toro from Doko Demo Issho, a Playstation game. It's drawn by Horiguchi Naoshi who designed the character.
This might be good opportunity to point out that even though 84 is known for its Nintendo "theme," it's not actually Nintendo-themed. It just has mostly Nintendo stuff. Anyway, let's keep going.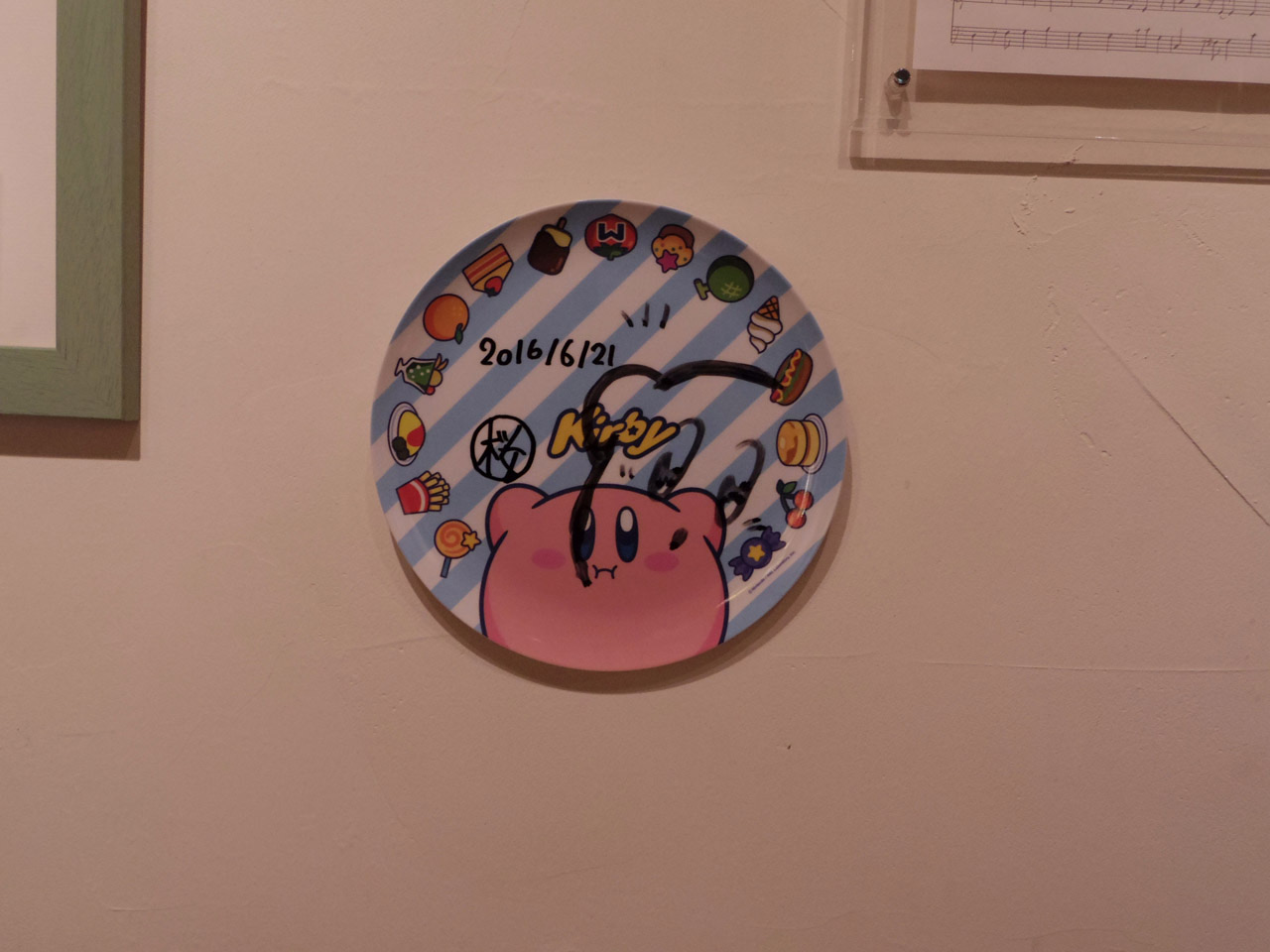 Here is a plate with Kirby on it. You can see an illustration of Kirby drawn on top of the Kirby on the plate, along with a signature by Masahiro Sakurai. Um, that's the guy who created Kirby and Super Smash Bros!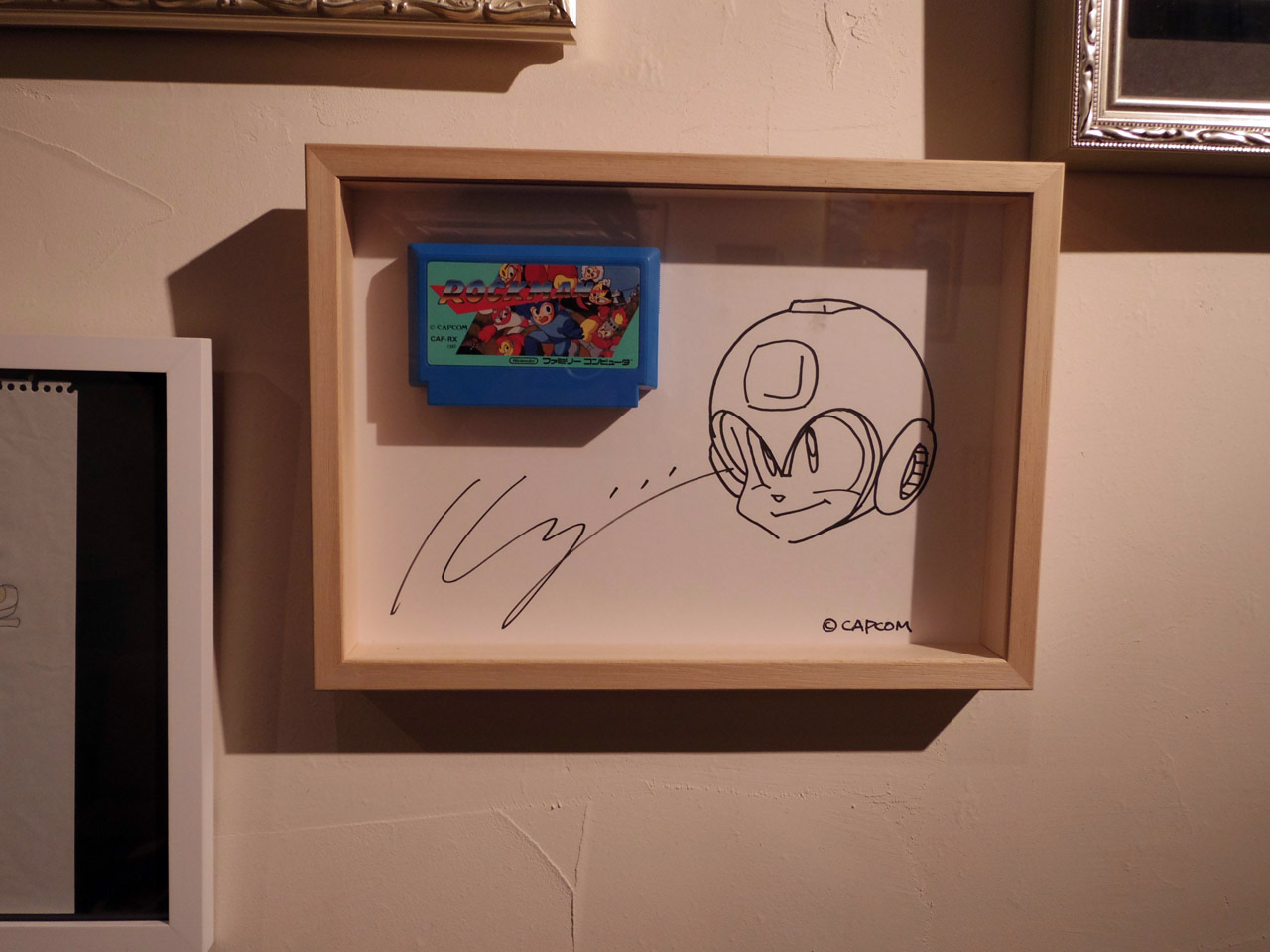 Here's a Rockman Famicom cartridge (Mega Man in English) and a signature by Rockman creator, Keiji Inafune.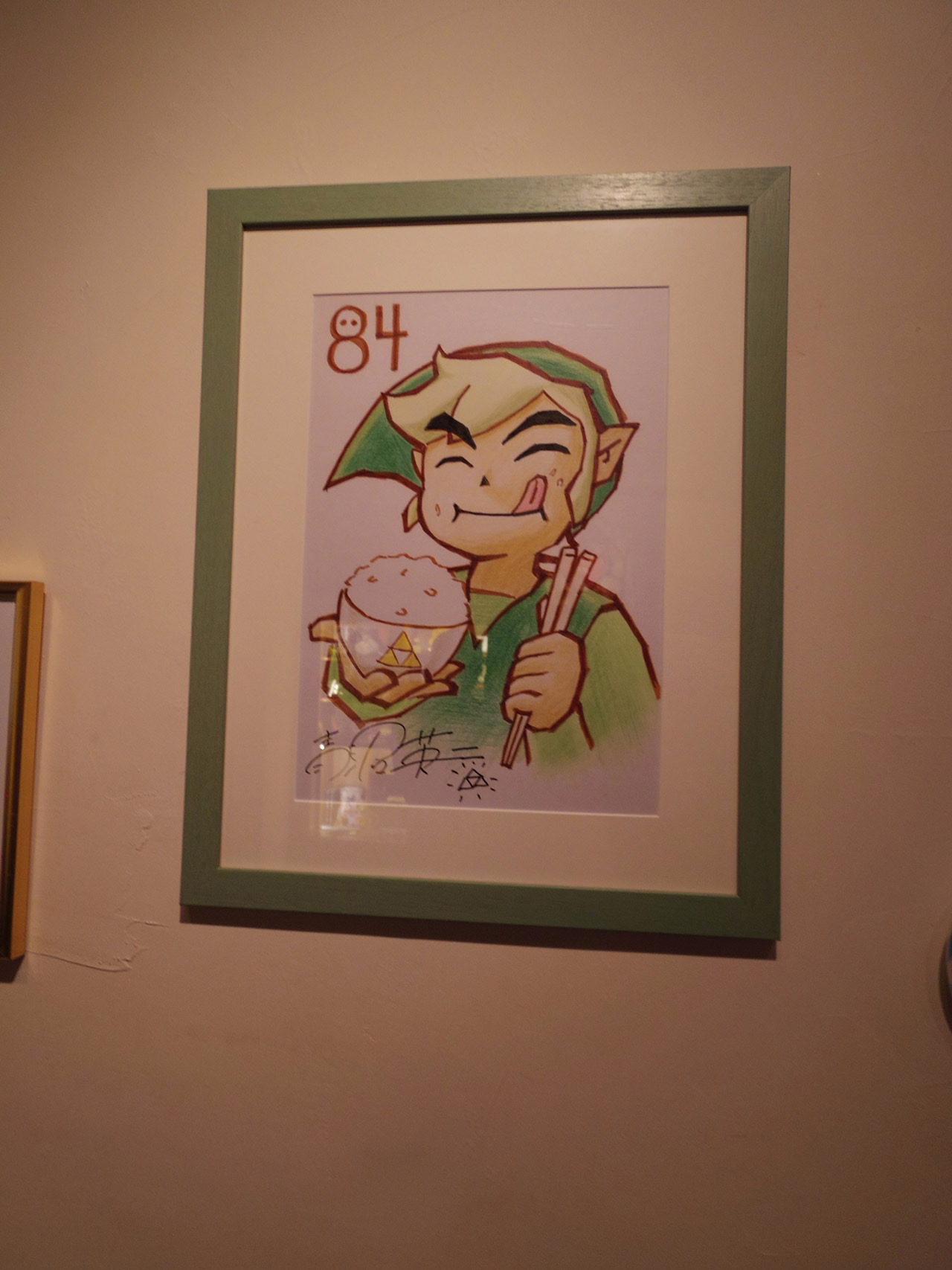 The Legend of Zelda series executive producer Eiji Aonuma drew Link using chopsticks. Aonuma has been in charge of Link and his adventures since Majora's Mask.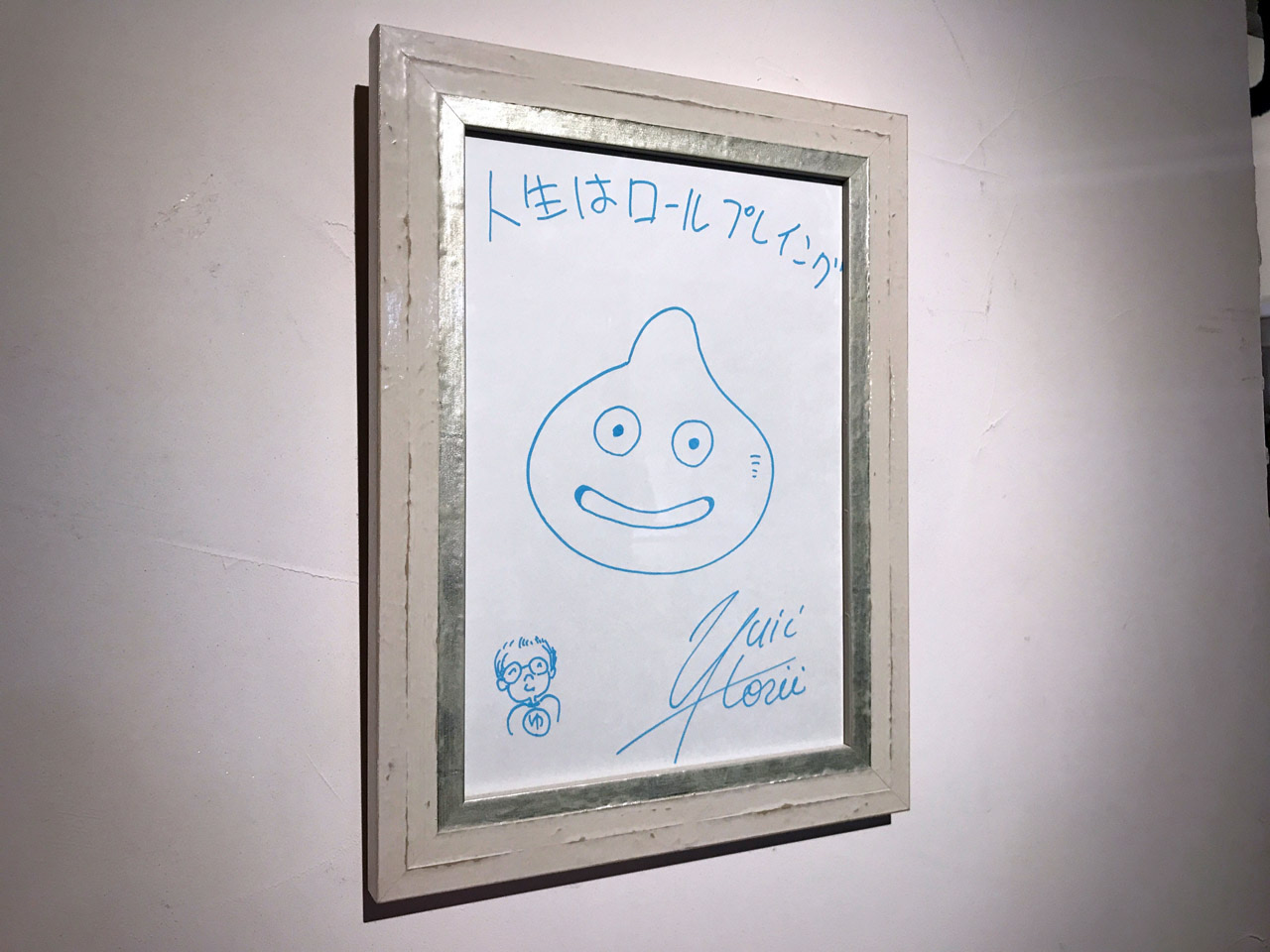 Here's the signature of Yuji Horii, the creator of Dragon Quest, along with the series' mascot, the Slime. Horii has been the main scenario writer for Dragon Quest since the beginning and he's still leading the charge. He also wrote the legendary Chrono Trigger.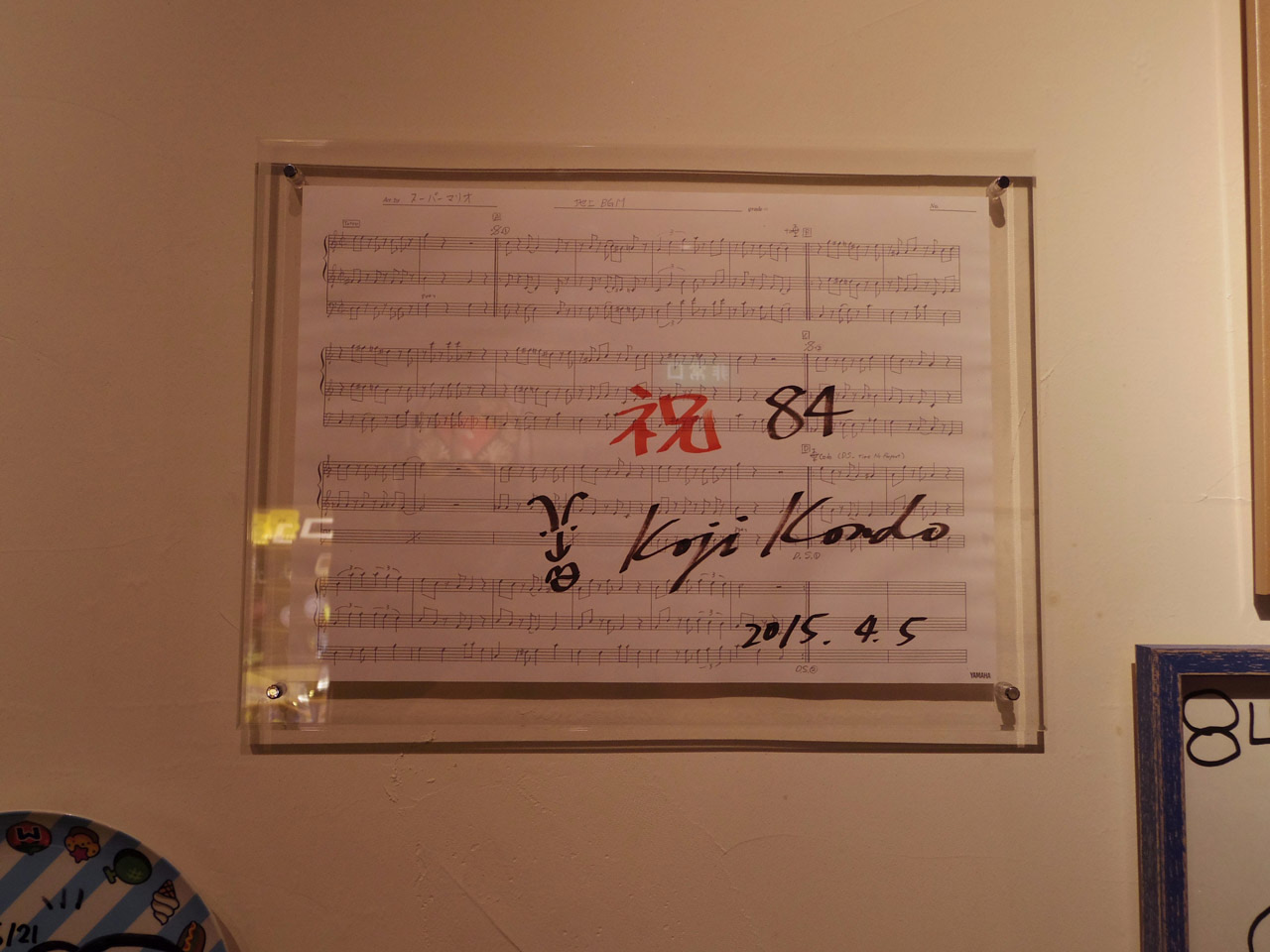 Even if you can't read music, you know this song. It's the overworld music from the original Super Mario Bros. on the Famicom. The game's composer, Koji Kondo, signed this sheet music just for 84.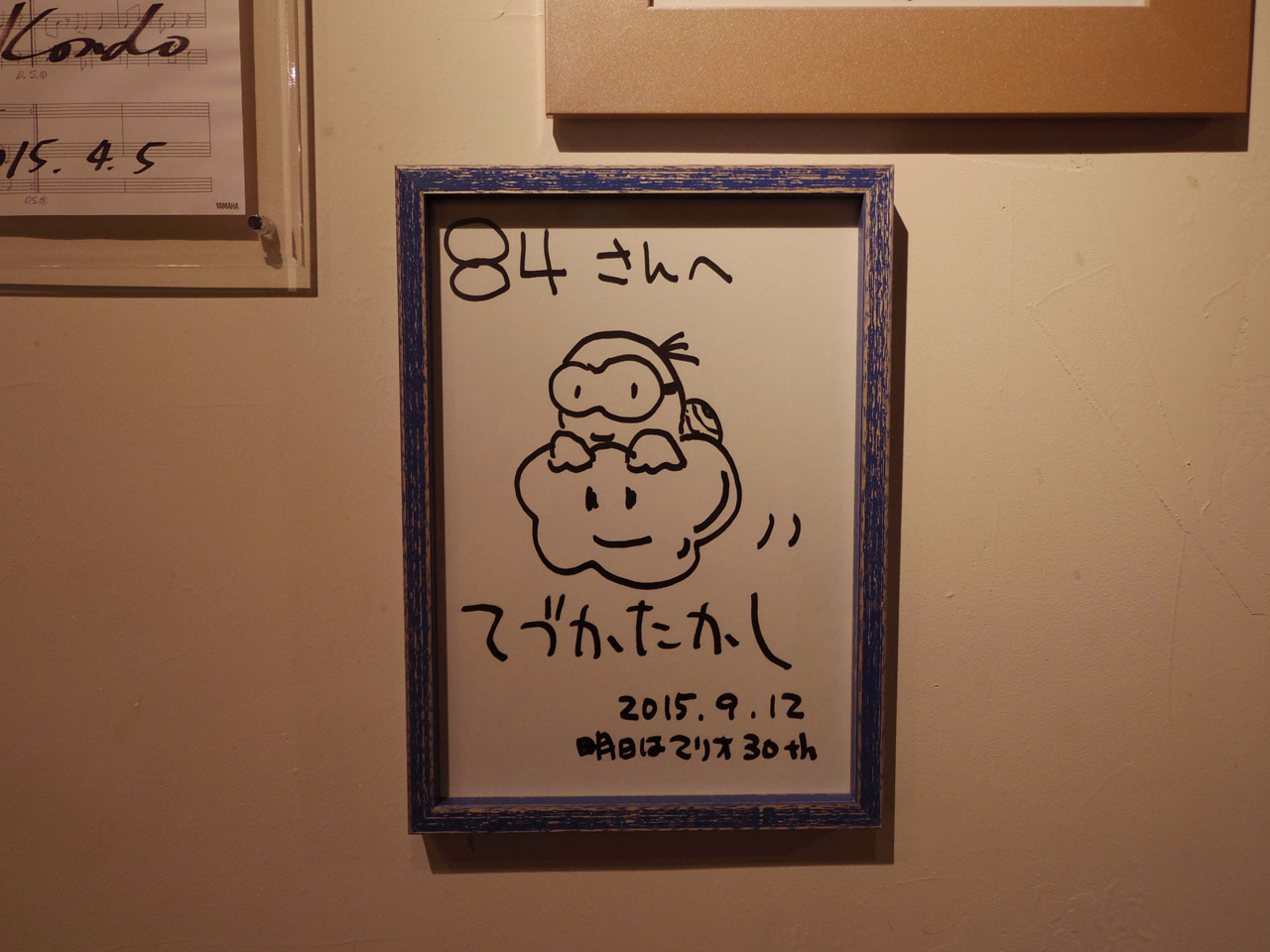 If you enjoyed playing any Mario or Zelda game from the 90s, Takashi Tezuka directed most all of them. And he's had a hand in nearly every major Nintendo video game since then, either as a producer or supervisor. He's OG.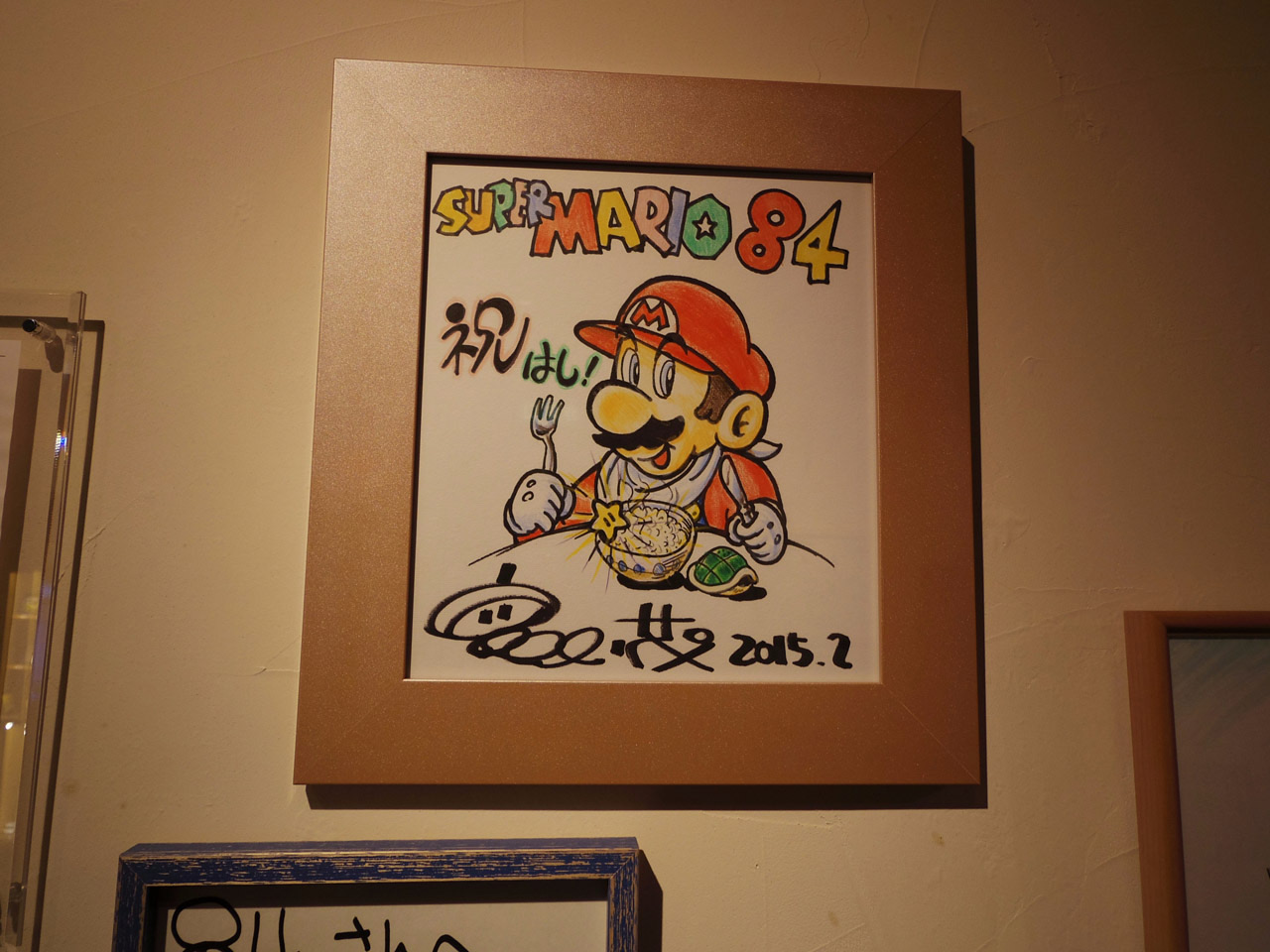 This may be the biggest name of all: Nintendo's very own Shigeru Miyamoto, the creator of Super Mario Brothers, The Legend of Zelda, Donkey Kong, Star Fox, F-Zero, and Pikmin (to name a few). Maybe you've heard of him?
In the illustration, Mario is eating rice with a fork and a knife. According to the owner of 84, Miyamoto refused to let Mario use chopsticks, so he drew it this way.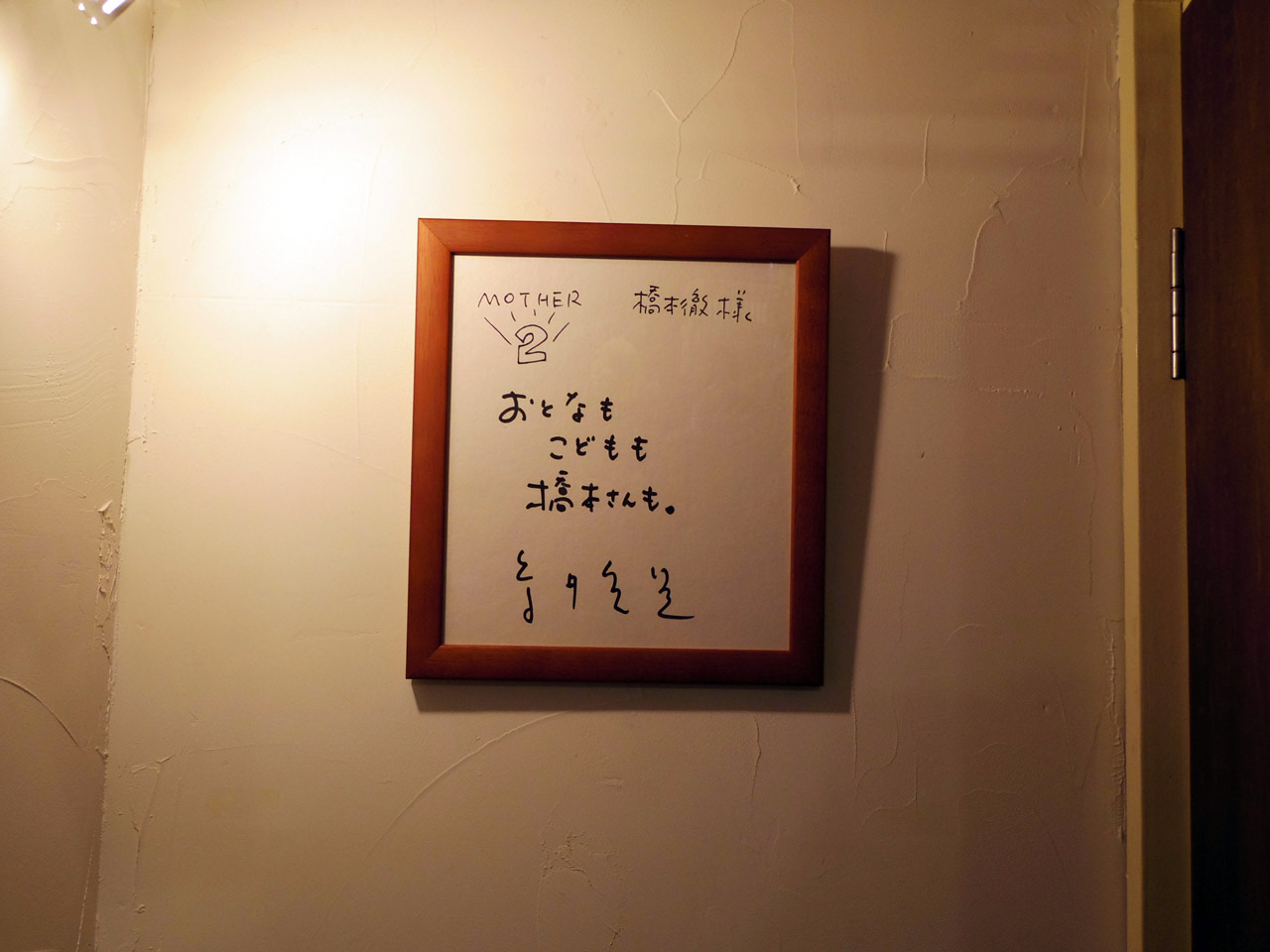 Near the bathroom, there was another big-name frame with a message from Shigesato Itoi, a Japanese essayist best known to video game fans for creating Mother 2 (EarthBound outside Japan). He is also the creator of the Hobonichi Planner, was a voice actor in My Neighbor Totoro (he was the dad), and made a bass fishing game, for some reason. That's a lot of things for one dude.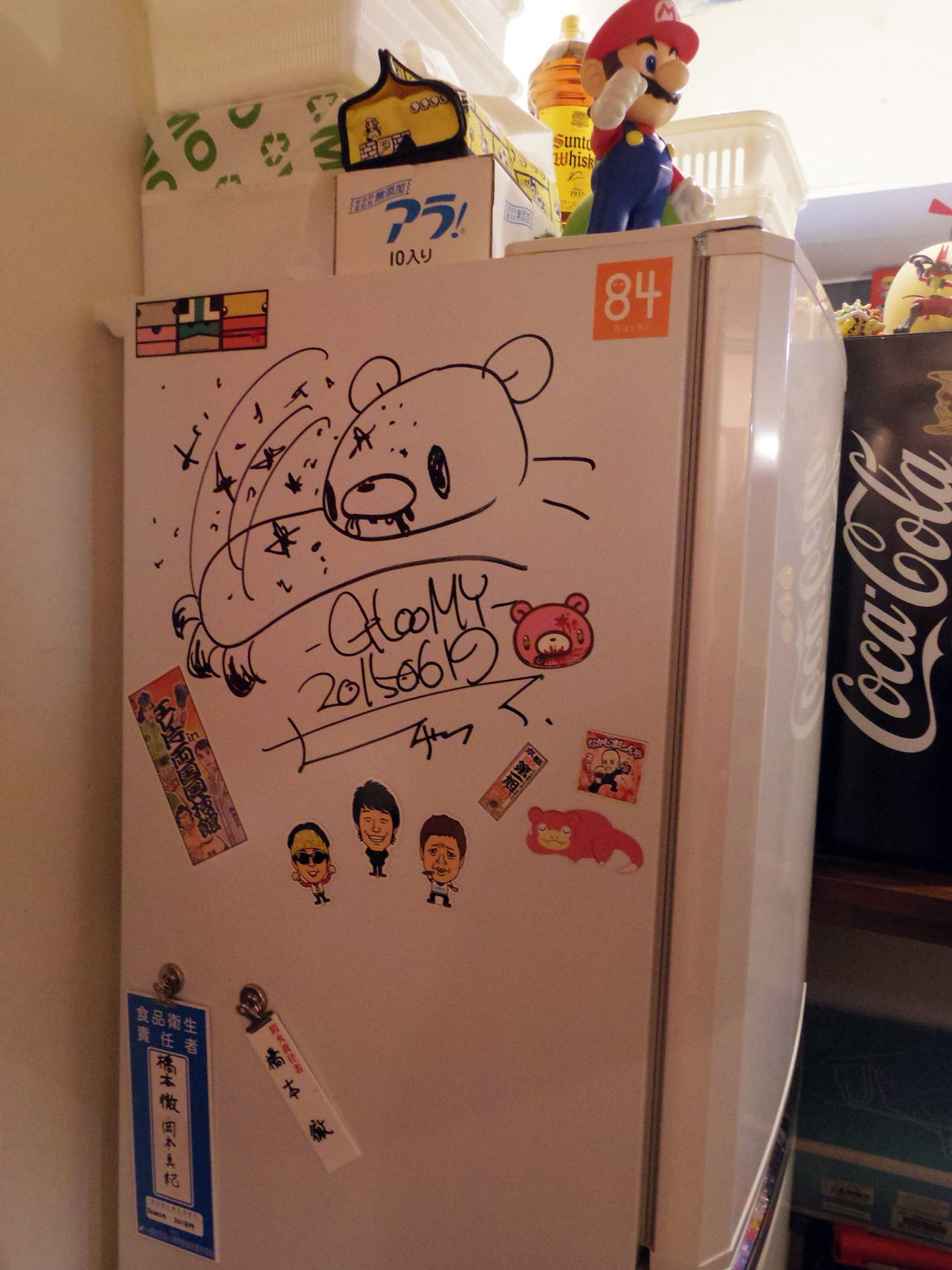 Chōkan told us approximately half of his customers are game creators. The other half are comedians, musicians, manga artists, pro-wrestlers, and, from time to time, normal people like you and me.
And, finally, this piece of art was drawn directly on the side of the refrigerator along with a signature by Mori Chack, the artist behind Gloomy, a violent, pink bear that eats and maims humans.
If the celebrity signatures and illustrations are any indication, 84 is a really exclusive place with really interesting customers!
When we asked Chōkan what kind of people come to his bar, he told us approximately half of his customers are game creators (most recently the developers of Animal Crossing: Pocket Camp had their launch party here).
The other half are comedians, musicians, manga artists, pro-wrestlers, and, from time to time, normal people like you and me.
Despite the "celebrity" customer base, 84 is an extremely chill place. Many of Chōkan's original customers were his friends, so from the start, he never had a ミーハー (miihaa), i.e. "fanboy," vibe at his restaurant from the start. That's not his personality anyway.
The chill atmosphere is an important part of 84. Chōkan wanted to create a safe and relaxing place for everyone and wants to hang out with interesting people, famous or not. In fact, the only times he's had to reject someone from membership was when they got too excited about a celebrity; asking for signatures, wanting to talk to them, etc. So if you ever do find your way into 84, please try to remember that one important fact: just be cool, man, be cool.
Who is Chōkan and How Did He Start 84?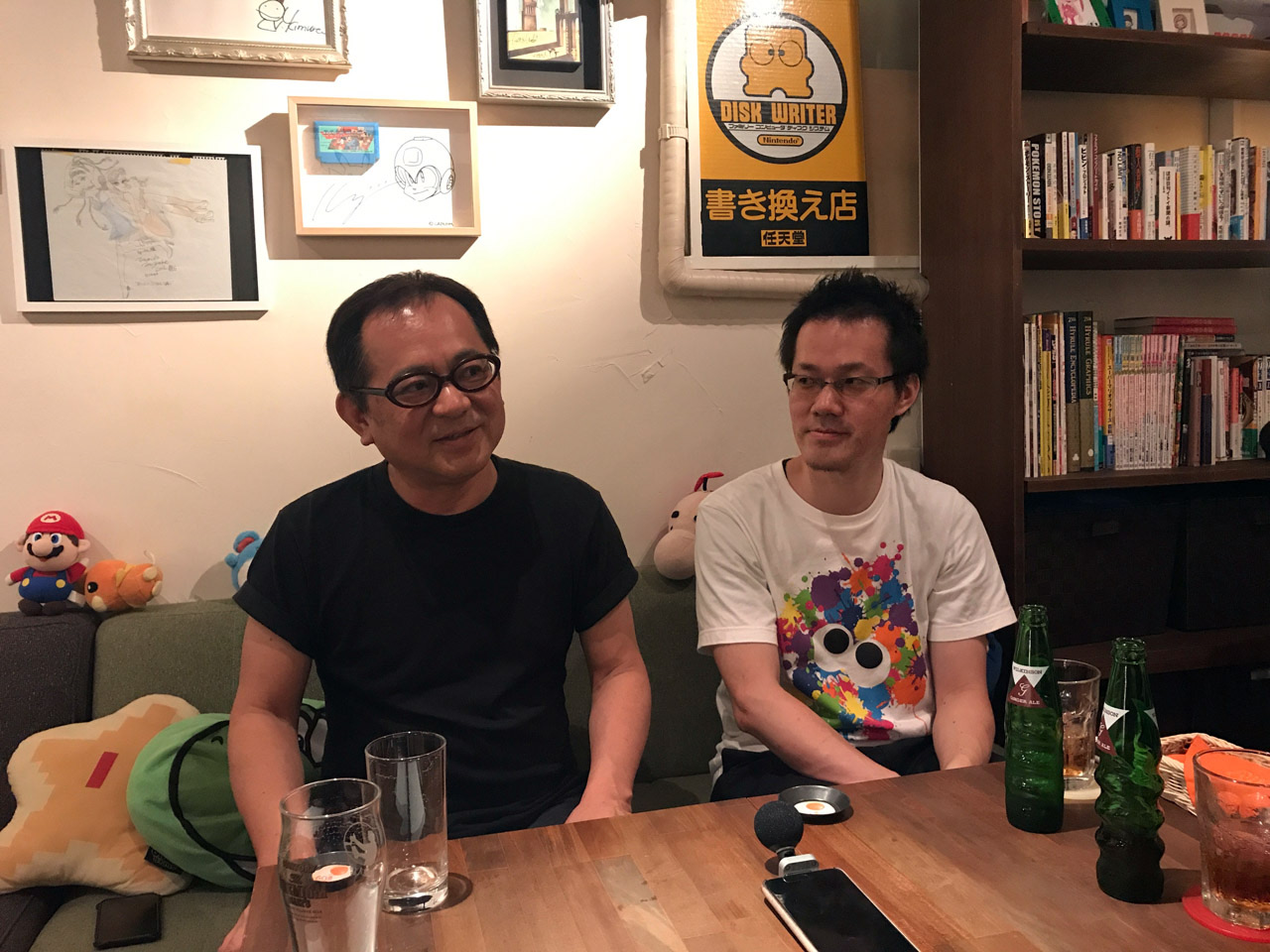 "How did you come up with the idea for 84?" I asked at the beginning of our interview. We were also sitting with Yamazaki Isao, who was our ticket into 84.
"It was a message from God!" he told us. "'Why don't you open a restaurant?' God said. I guess one day it suddenly came to me. I'd never thought of opening a restaurant even once before, but at that moment I just decided to do it."
"Really?"
"Well, I used to organize a private party called 'Salon de Sarugaku' once every six months when I was still working at Sarugakucho. I rented a place and would invite over a hundred people. We had booths for video games, analog games, fortune telling, and things like that. People gathered, mingled, and connected. It was really fun. So when I decided to open 84, I thought it could be like doing 'Salon de Sarugaku' every day. In fact, we sometimes have similar events here at 84. We just did a board game party yesterday."
As I mentioned before, 84 started with a lot of Chōkan's friends becoming customers. But it's grown a lot since then. How do new customers find 84? How do they become members and repeat customers?
"My first connections were able to become official members, right from the start. Official members can bring their friends. Those friends get a stamp card, and become 'associate members.' From then on, they are able to come by themselves or with other members and can collect stamps."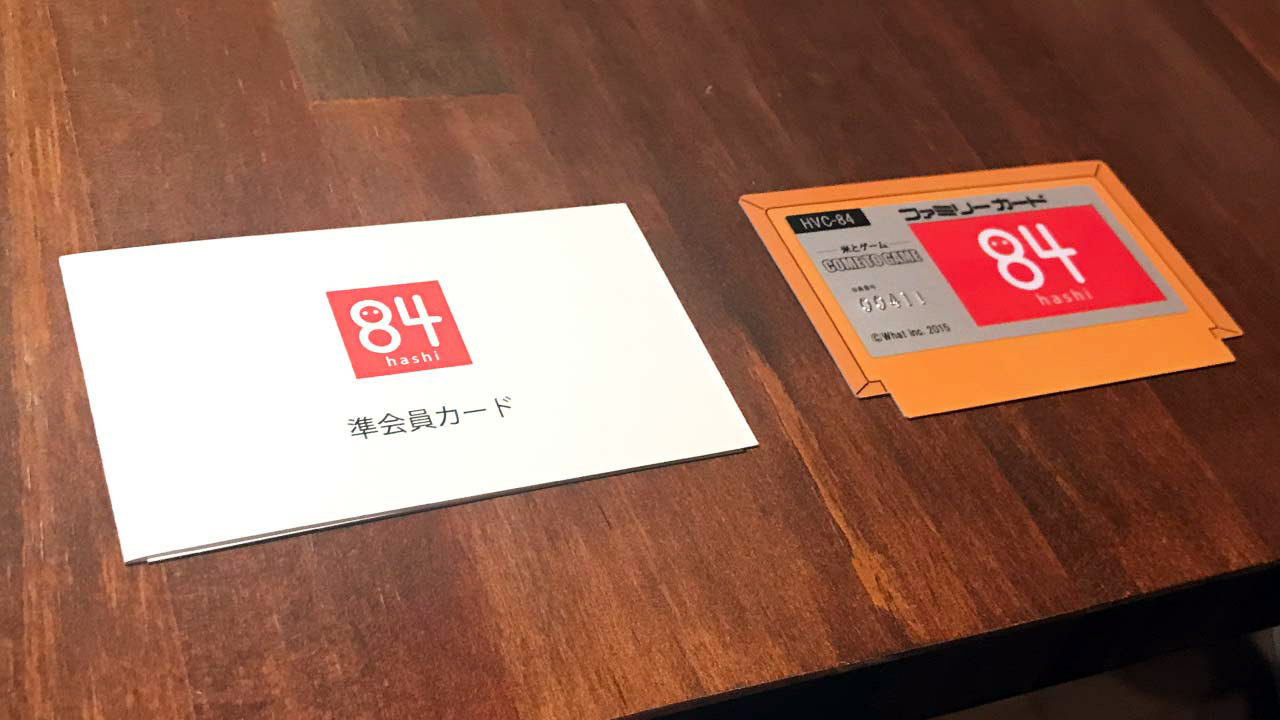 "I guess one day it suddenly came to me. I'd never thought of opening a restaurant even once before, but at that moment I just decided to do it."

— Chōkan
"To become an official member, associate members are required to come to 84 five times as well as do two "meetings." By that I mean chat and drink with me and another official member. I just want to get to know them. Then, they can become official members and get an official member card. See, they're shaped like Famicom cartridges!"
"Do people ever accidentally find this place?"
"Our old location was easier to find, and easier to accidentally walk into. Once or twice a month someone would poke their head in and say, 'what is this place?' But with this location nobody has accidentally come in yet."
"What are your customers' favorite dishes?" I asked. I was starting to get a little hungry.
"Actually, we don't serve food anymore. Our chef quit, so we decided to stop serving foods last July. Instead, people buy food from outside and bring it in. Then they order drinks here. Sometimes we're packed, other days nobody shows up, so this way we don't waste any food. Now we just ask for ¥2,000 (around $20.00 USD) per customer as a table charge."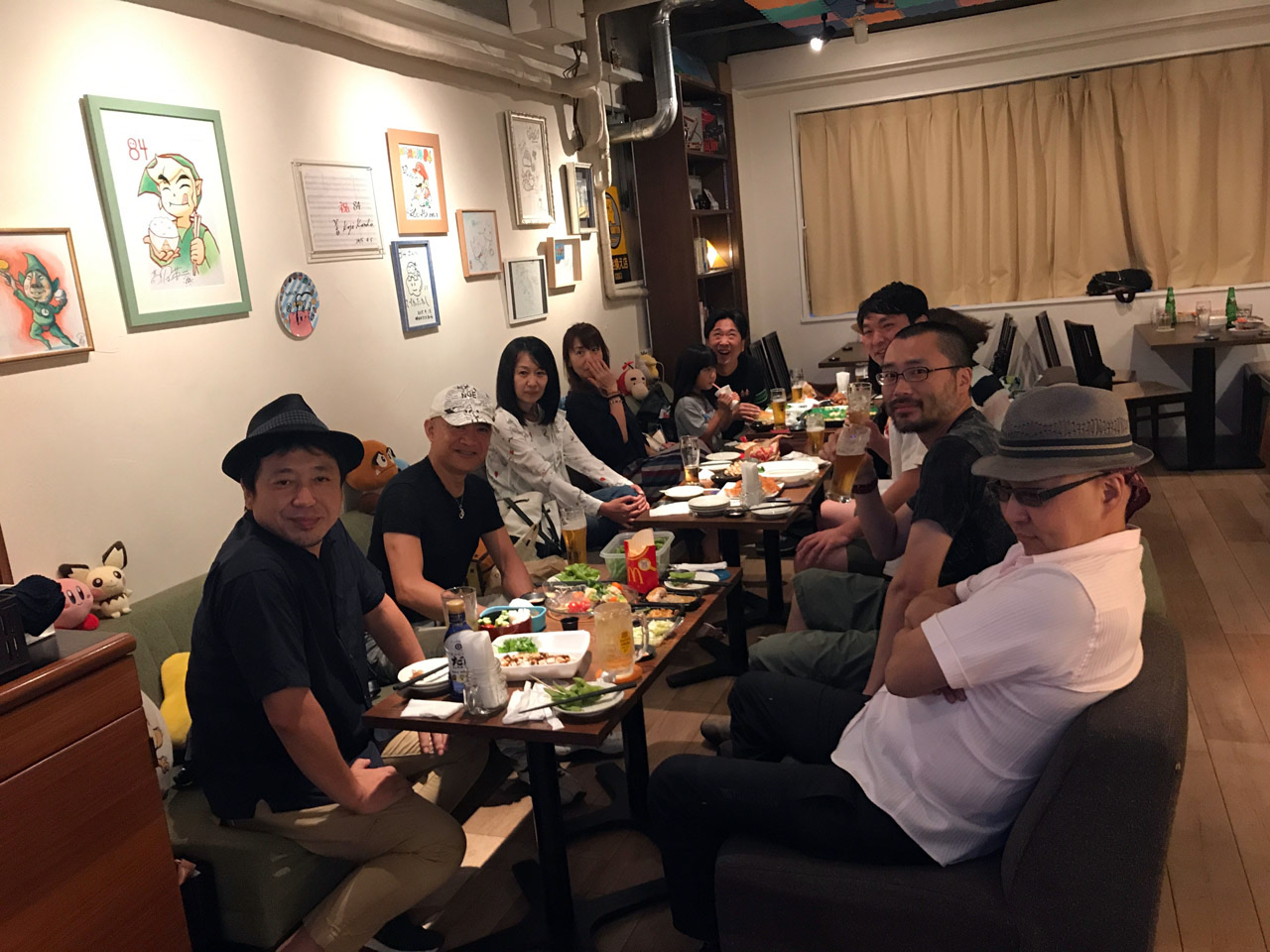 "Before, when we did serve food, my favorite was the nikujaga with ground pork. Oh, actually, we do still serve food, but only on Thursdays. That's our "Dai 1/2 Asahi Ramen," which is the recipe from Daiichi Asahi Ramen, a popular ramen shop in Kyoto. They have long lines even in the middle of the night! I went there for thirty-eight years when I was working at Nintendo headquarters. I asked for permission to use their recipe and they said yes, so now you can get it here."
Koichi and I decided we should come back on a Thursday, sometime in the future.
"So because we came here with the expectation that 84 is a Nintendo-themed bar… I know now it's not really that, but I still have to ask: what are your favorite games?" Koichi asked.
Chōkan answered immediately: "Mother 2 and The Legend of Zelda: Link's Awakening. And Revenge of the 'Gator is a lot of fun too."
His answer made me think about how much I wanted that Mother 2 jacket hanging next to the door.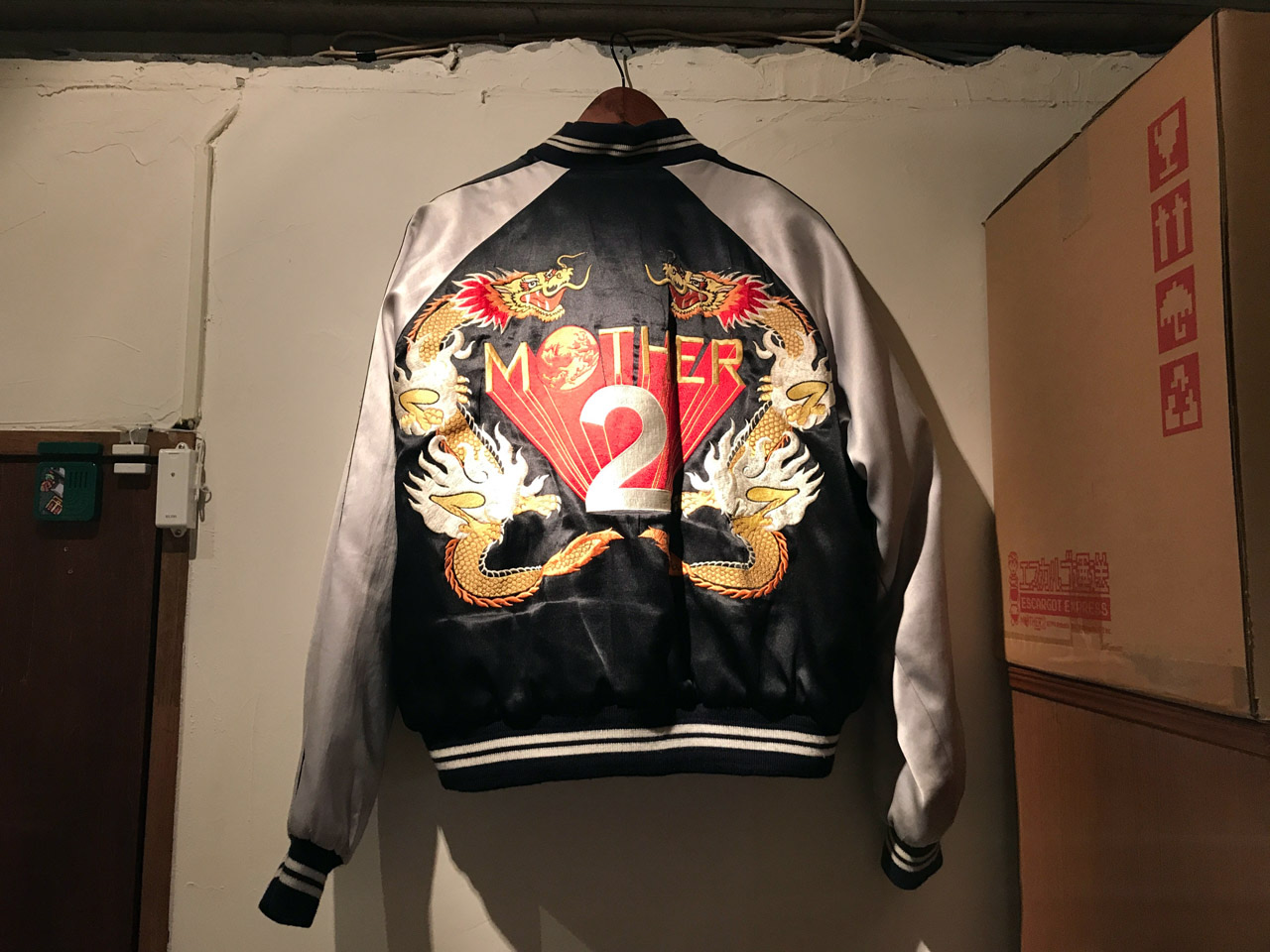 "Do you play anything besides Nintendo games? It's starting to sound a little Nintendo-themed again to me…"
"I'm a big fan of Ico, which I experienced before I ever played Zelda. One of my favorite games is Shadow of the Colossus, and I also like REZ since I was involved in that project."
"What are you playing right now?" Koichi asked.
"I want to play the new Splatoon, but haven't started yet. Right now I'm playing Zelda on the Switch, and I've been playing for 350 hours so far."
Damn. That's dedication.
Exploring the Video Game-themed Bar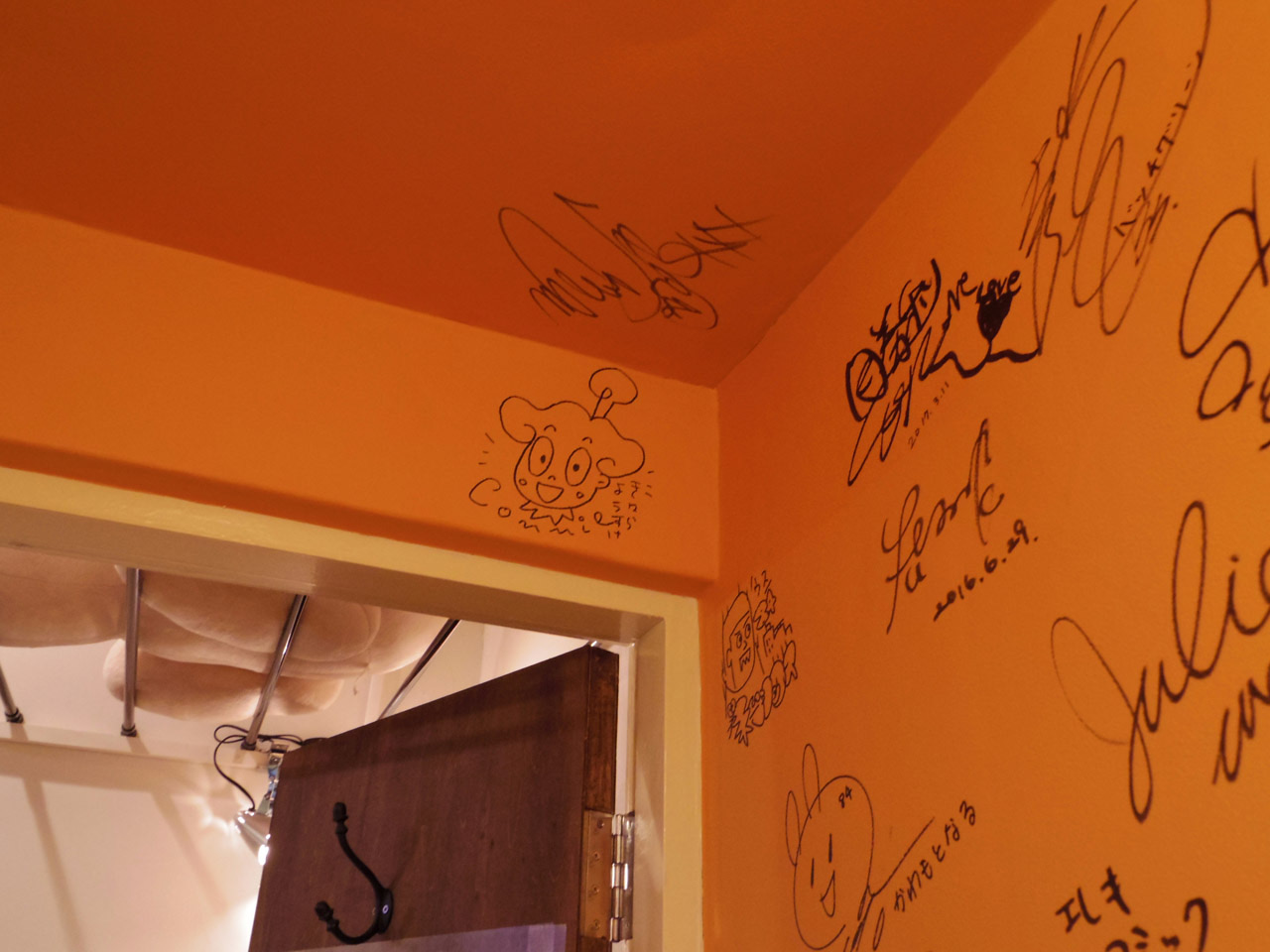 Although hanging out and talking with Chōkan and the other guests would have been plenty, there were many other hidden treasures to be found all over 84. First let's start with the bathroom, which was covered in signatures and illustrations.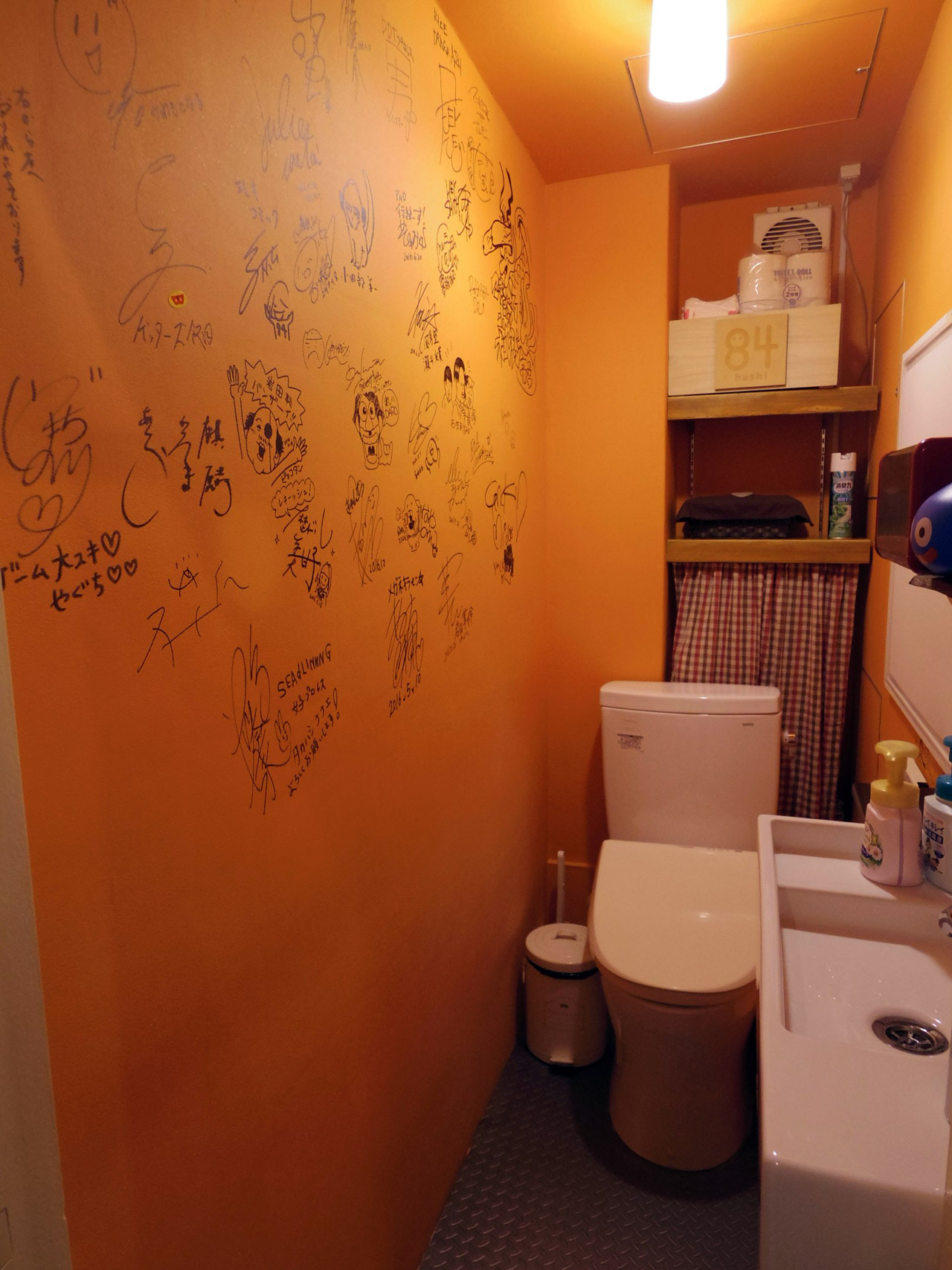 I didn't recognize them all, but I was told that all kinds of people left their mark here. Some famous, some not.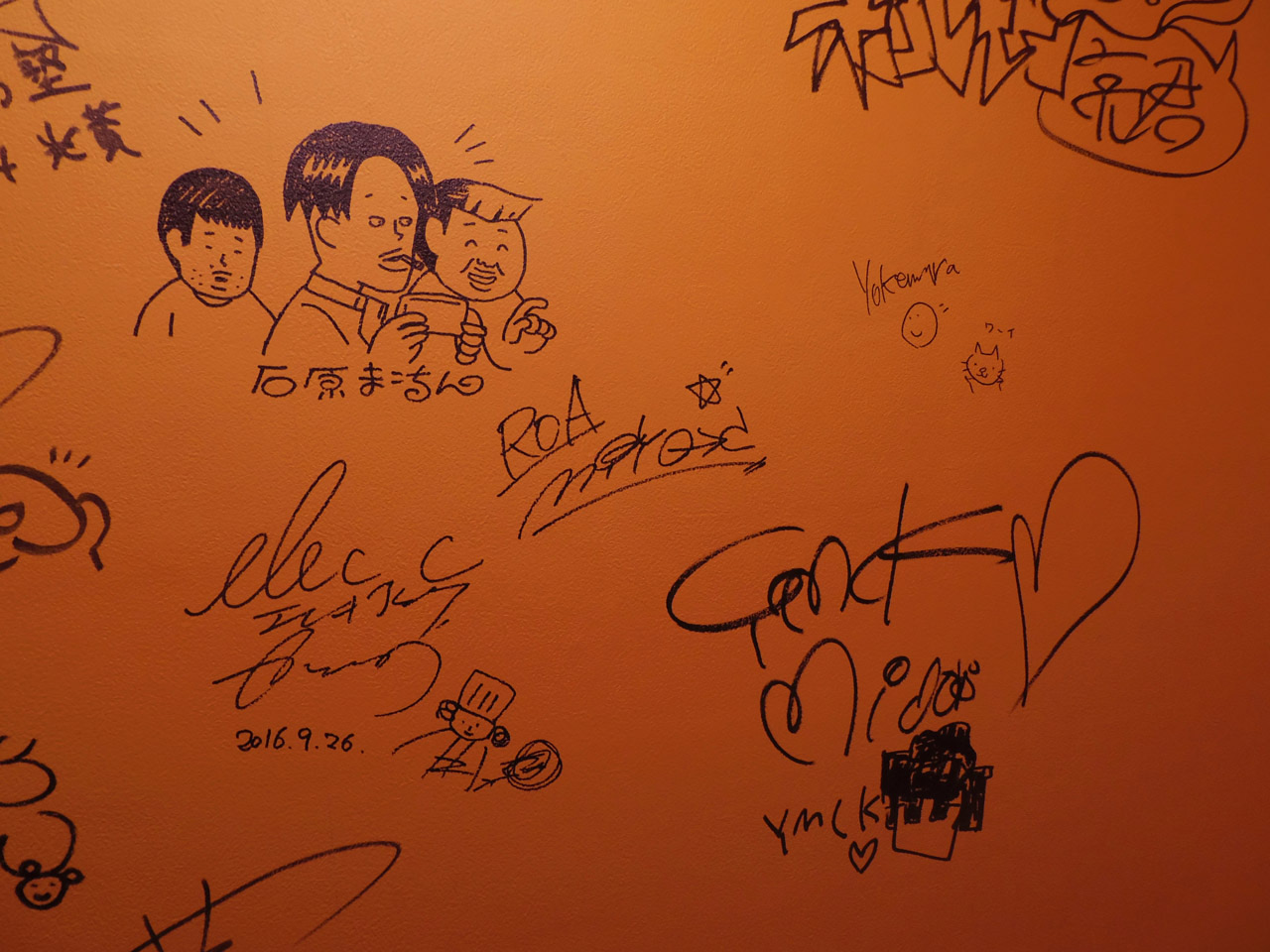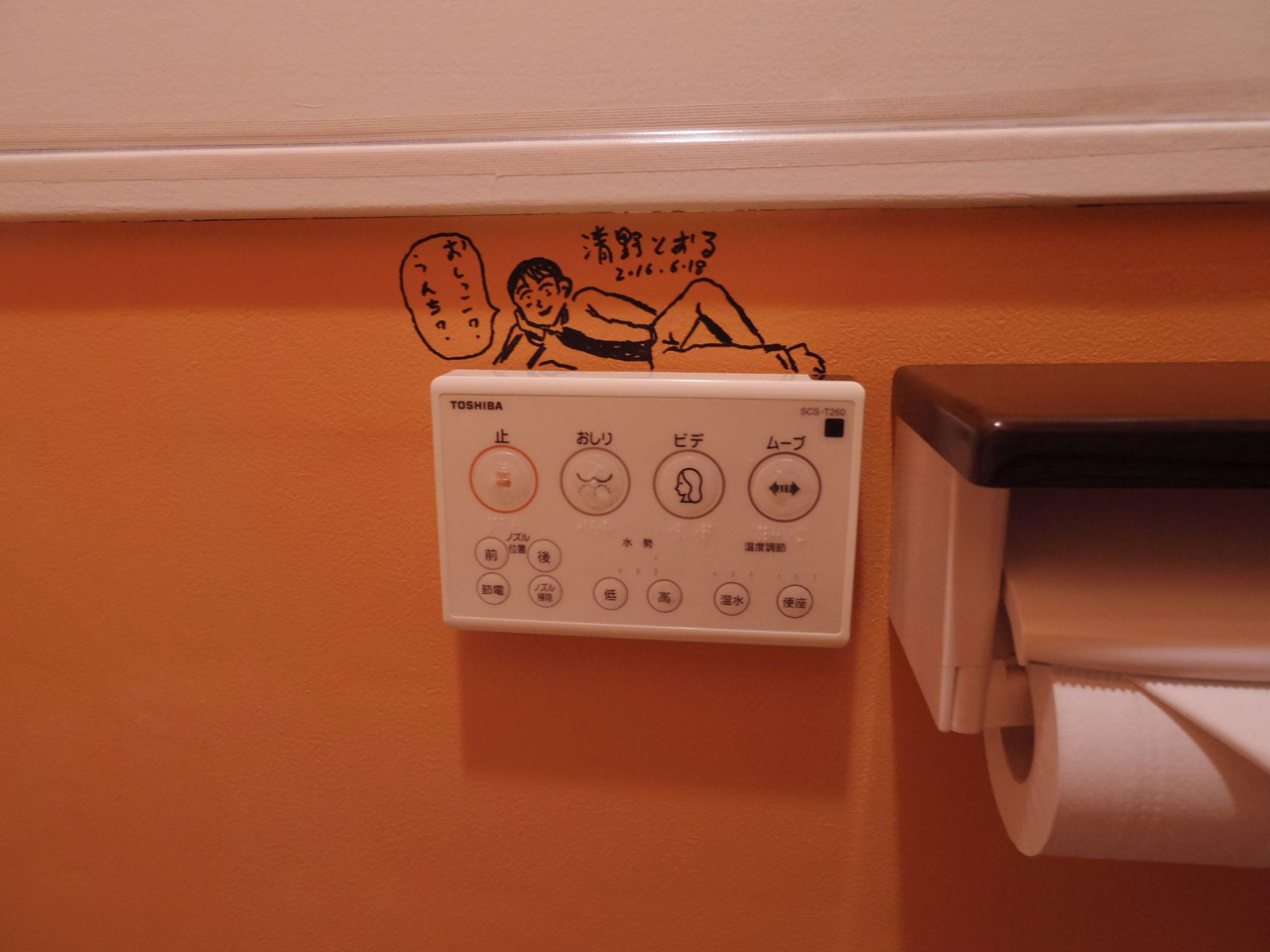 This last one is my favorite. Above the toilet controller (in case you don't know, Japan is highly advanced when it comes to butt cleansing) is a signature and illustration by Seino Toru, a manga artist known for making Akabane, an area in Tokyo, an interesting spot thanks to his manga Tokyo-to, Kita-ku, Akabane 東京都北区赤羽. He also pens a food manga and 84 was written about in one of the chapters.
Okay, let's get out of the bathroom now.
Right across from the bathroom was a phone booth. It's used as a smoking area in 84, but it's also legit hardware, though it doesn't work the way you might expect.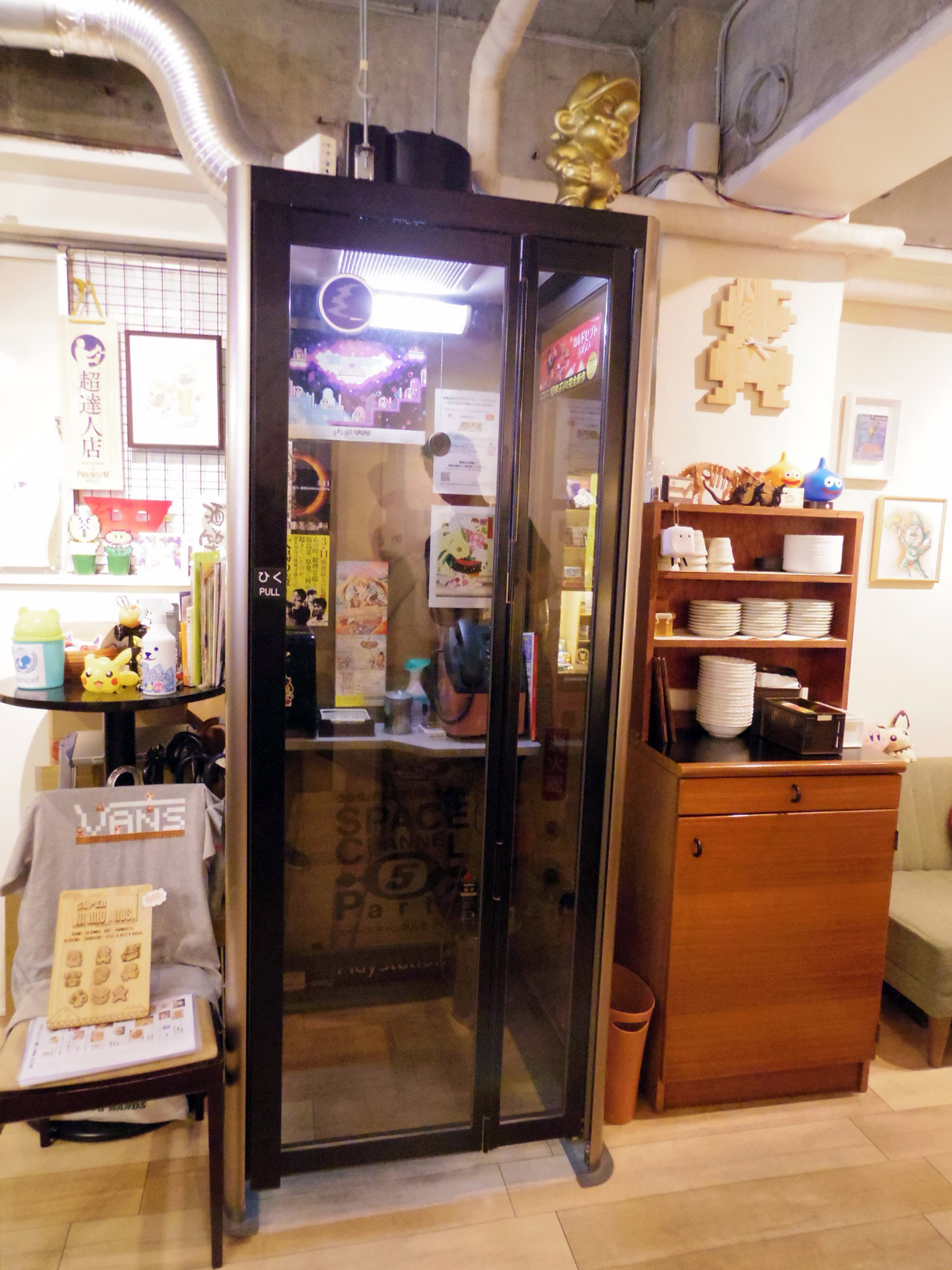 You can't call anyone, but you can make little donations. Your reward? Check out the video:
When you insert a ¥10 coin, it will make the coin sound from Super Mario Bros. If you put ¥100, you'll hear the sound ten times in a row. If you put ten ¥100 yen coins in, it'll make Mario's 1-up sound (you know the one).
When you insert a ¥10 coin (about ten cents USD) it will make the coin sound from Super Mario Bros. If you put ¥100 (about $1.00 USD) you'll hear the sound ten times in a row. We didn't try this, but if you put ten ¥100 yen coins in, it'll make Mario's 1-up sound (you know the one).
It was so fun that I almost put all my money in there but Koichi stopped me because he said he didn't want Tofugu to go bankrupt.
When I asked Chōkan how he made this phone, he said he just asked someone to do it, like it was no big deal. I would have no idea how to do something like that.
Also nearby was another contraption, a gachapon machine! You see, when we sat down, originally, we were given the opportunity to choose a colored coaster. Koichi picked blue and I picked red.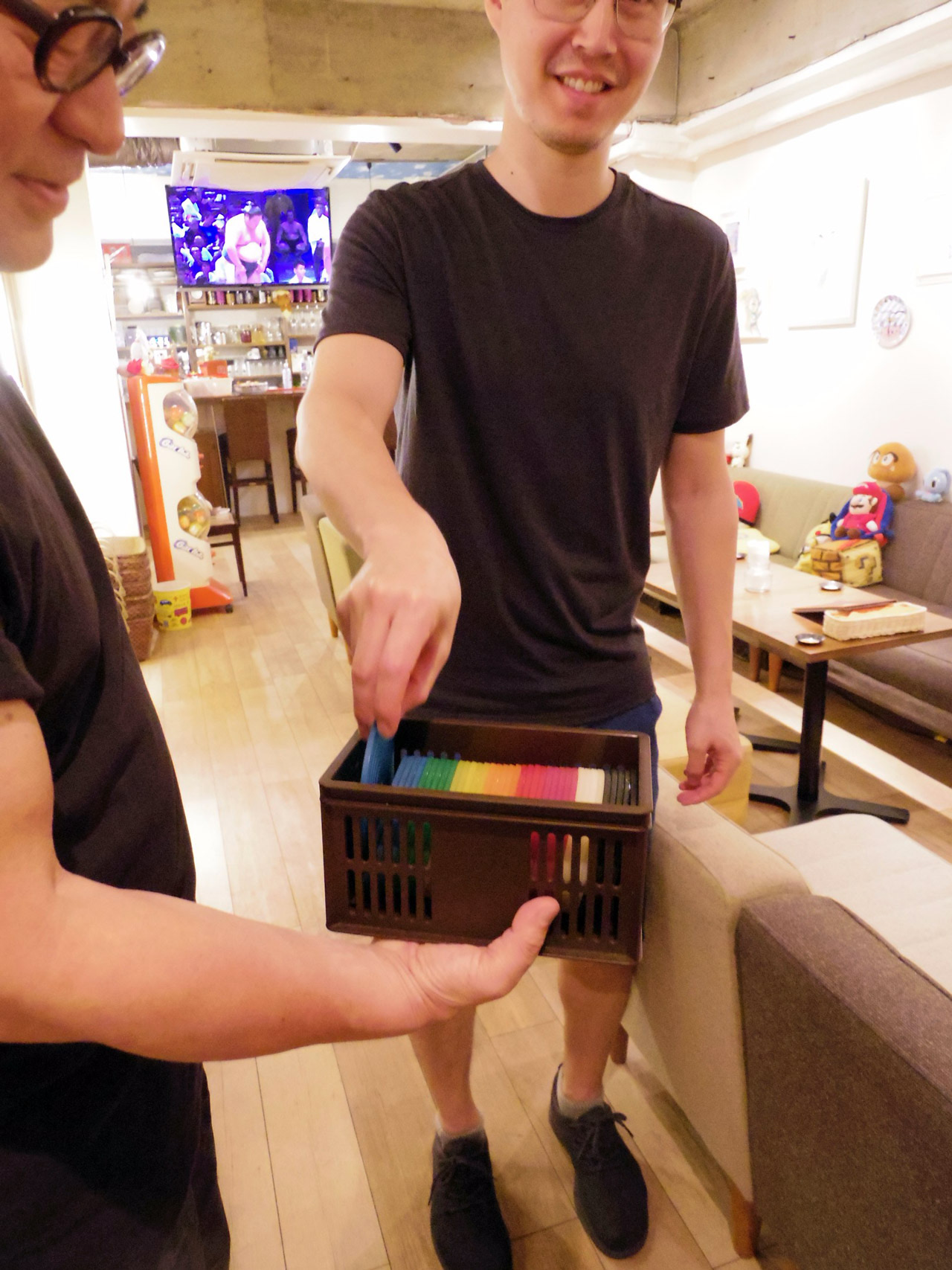 He then guided us to this 84 gachapon machine. Koichi inserted ¥200 and turned the lever.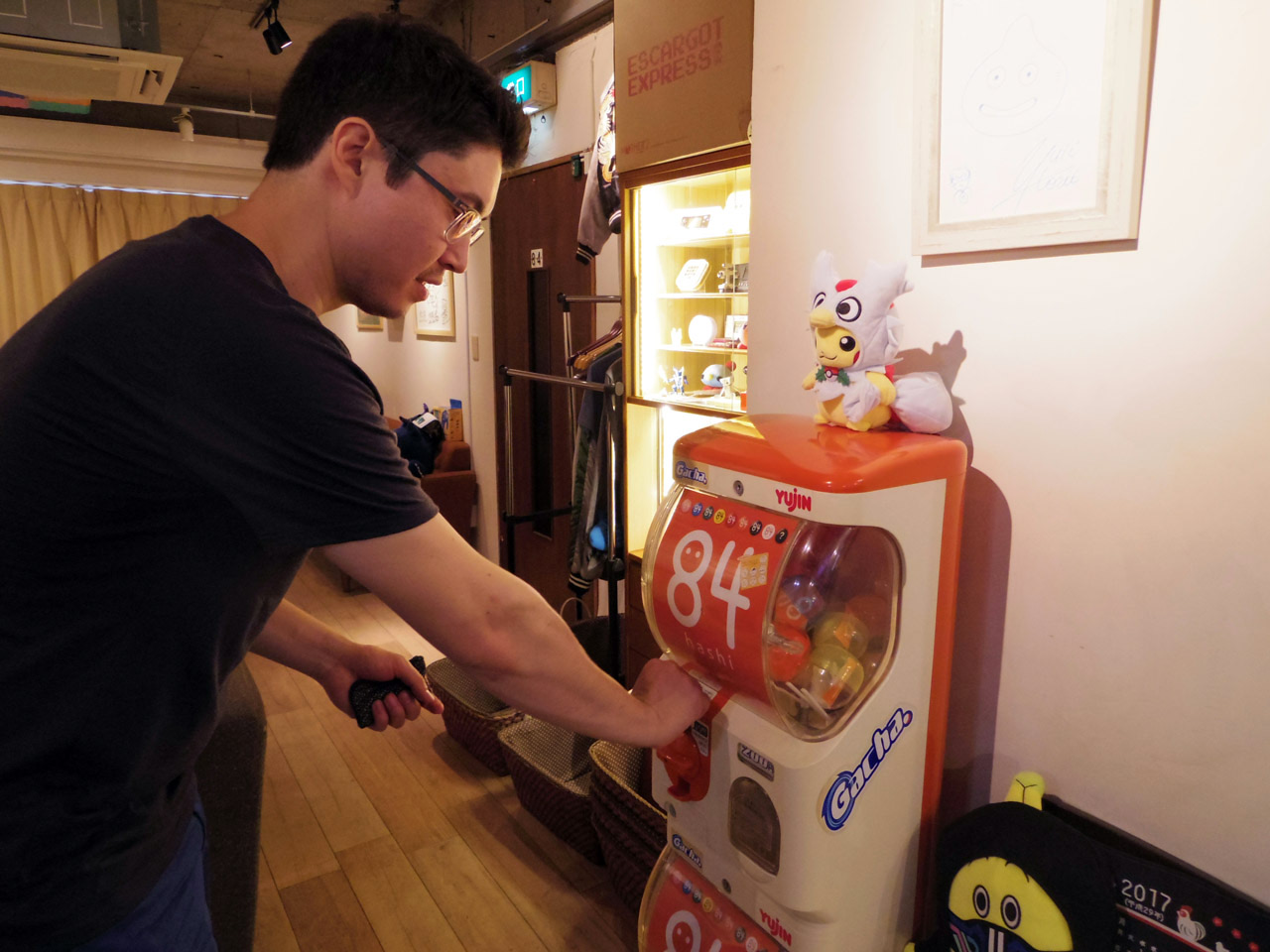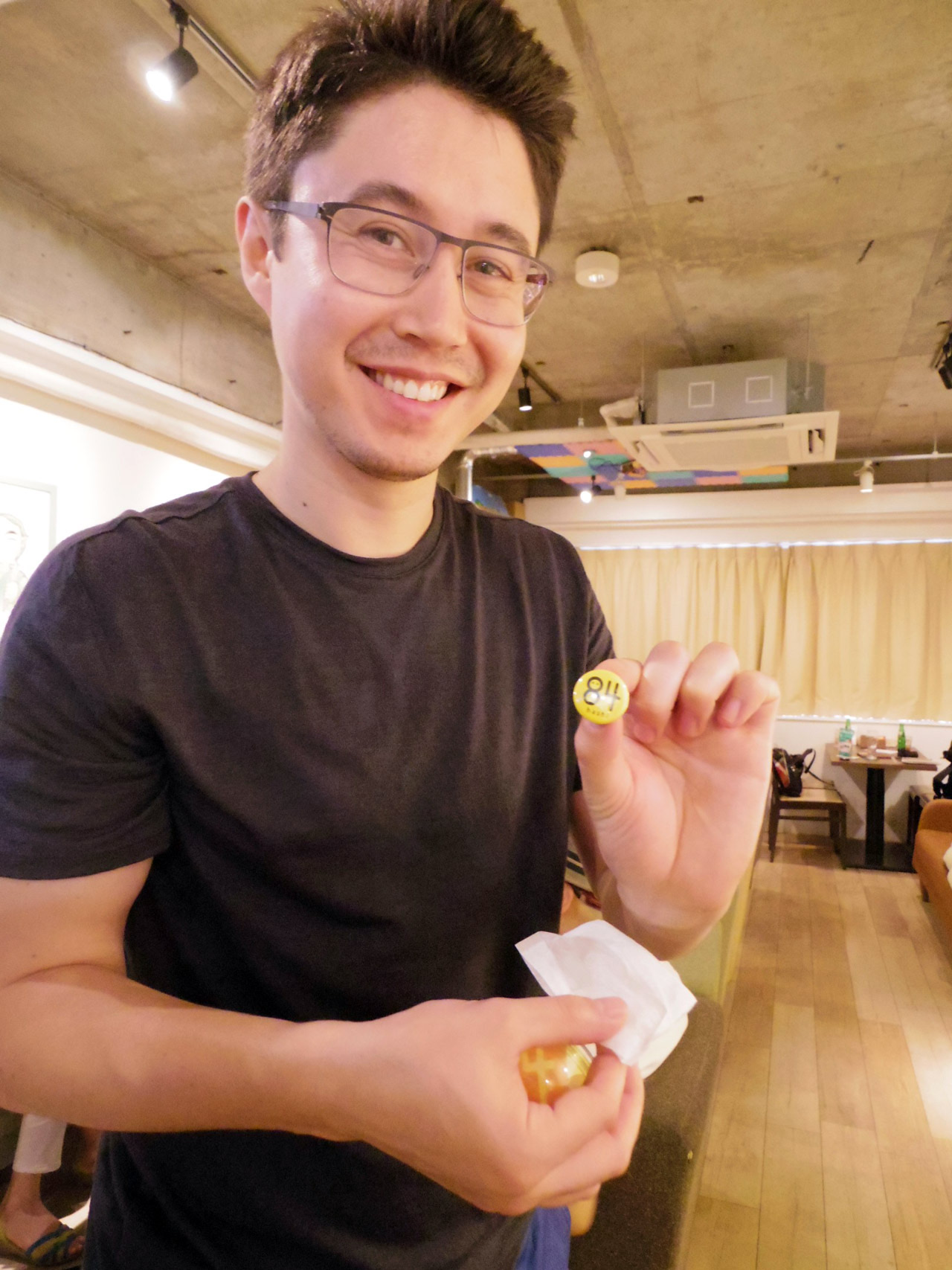 Yellow! Whoops, that didn't match his coaster's color. It's a cool badge, but unfortunately Koichi didn't win. What a loser.
If the color of your pin matches the color of your coaster, you get a free drink! We almost spent all our coins (again), but then decided to stop after we heard someone spent more than ¥2,000 trying to win once. Those tricks at 84 are so fun, but so dangerous!
Finally, there was the display case. If you're a fan of video game history, you'll appreciate this. Sure, all around on the couches were various stuffed toys, but here is where the really rare items are kept.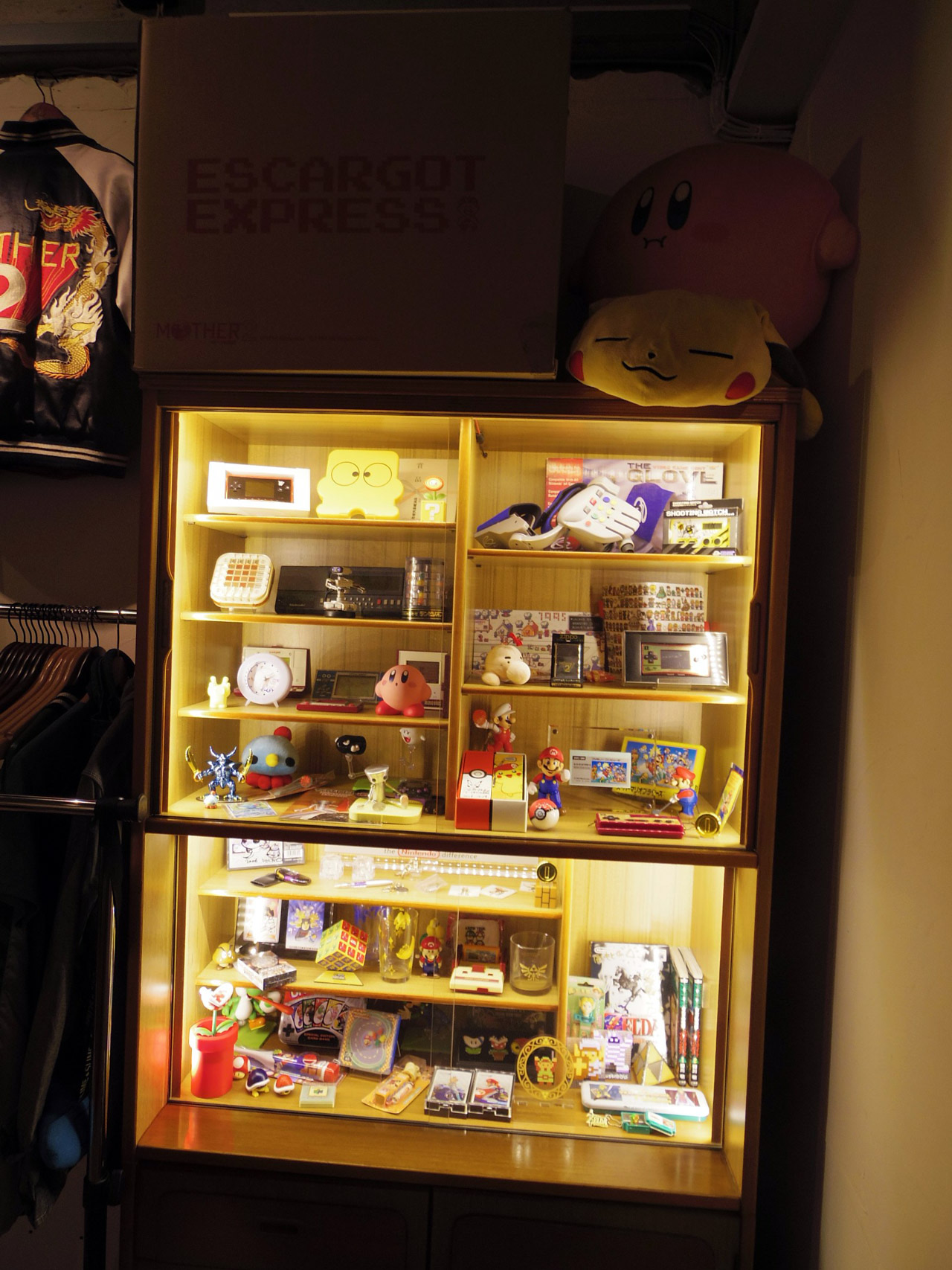 Some of these had signatures, some were prizes from a game company's private party, and others were gifts.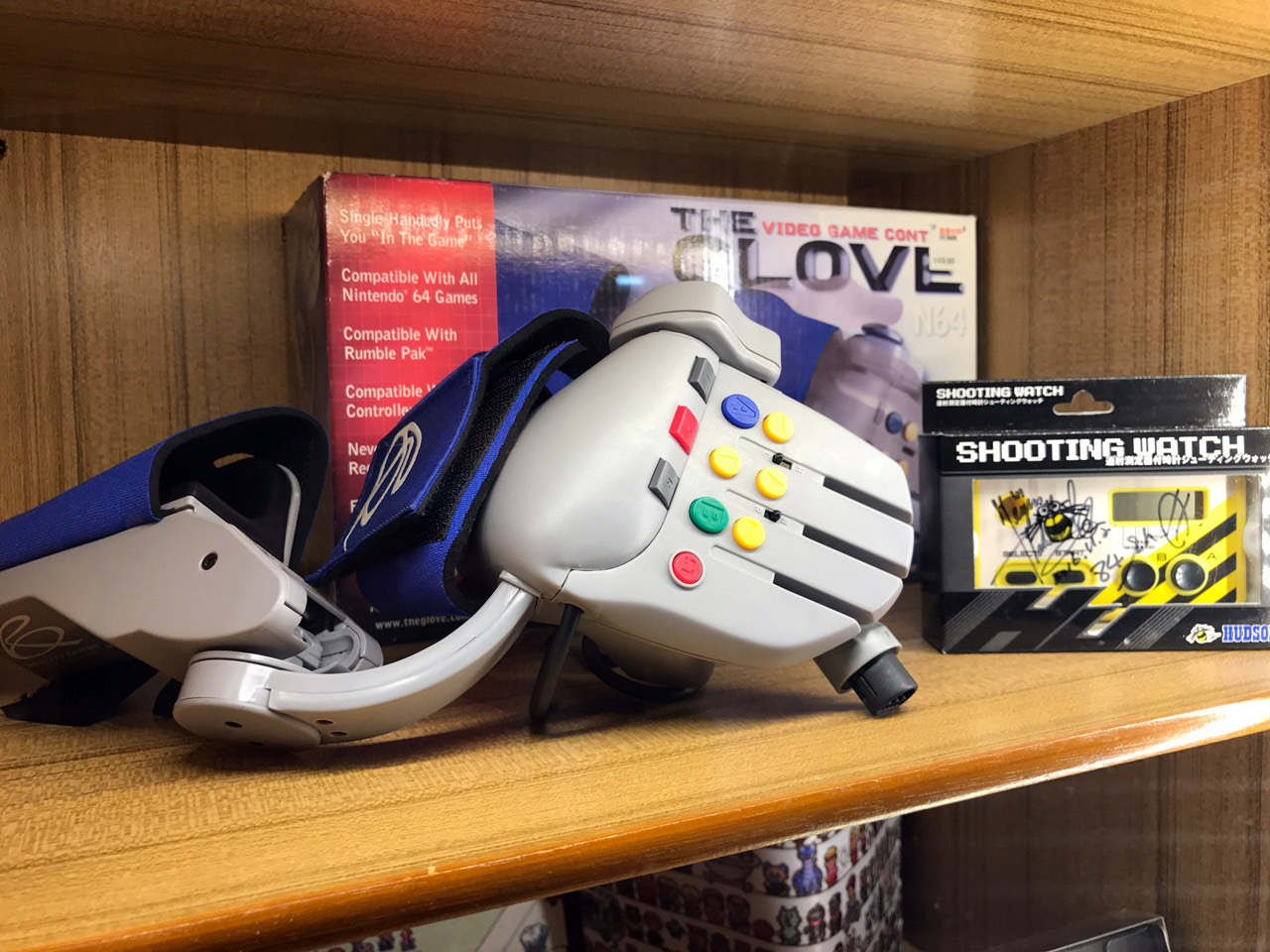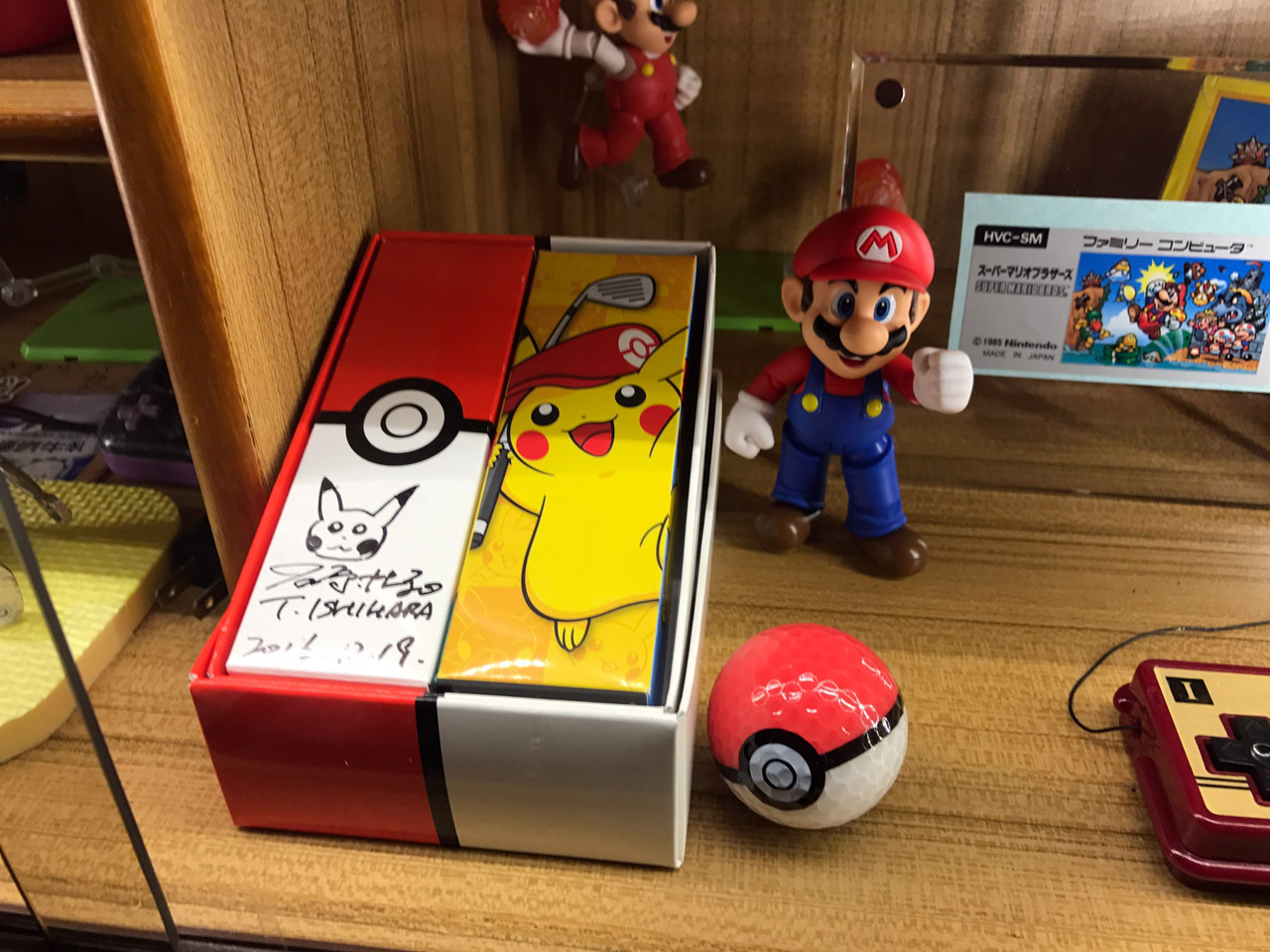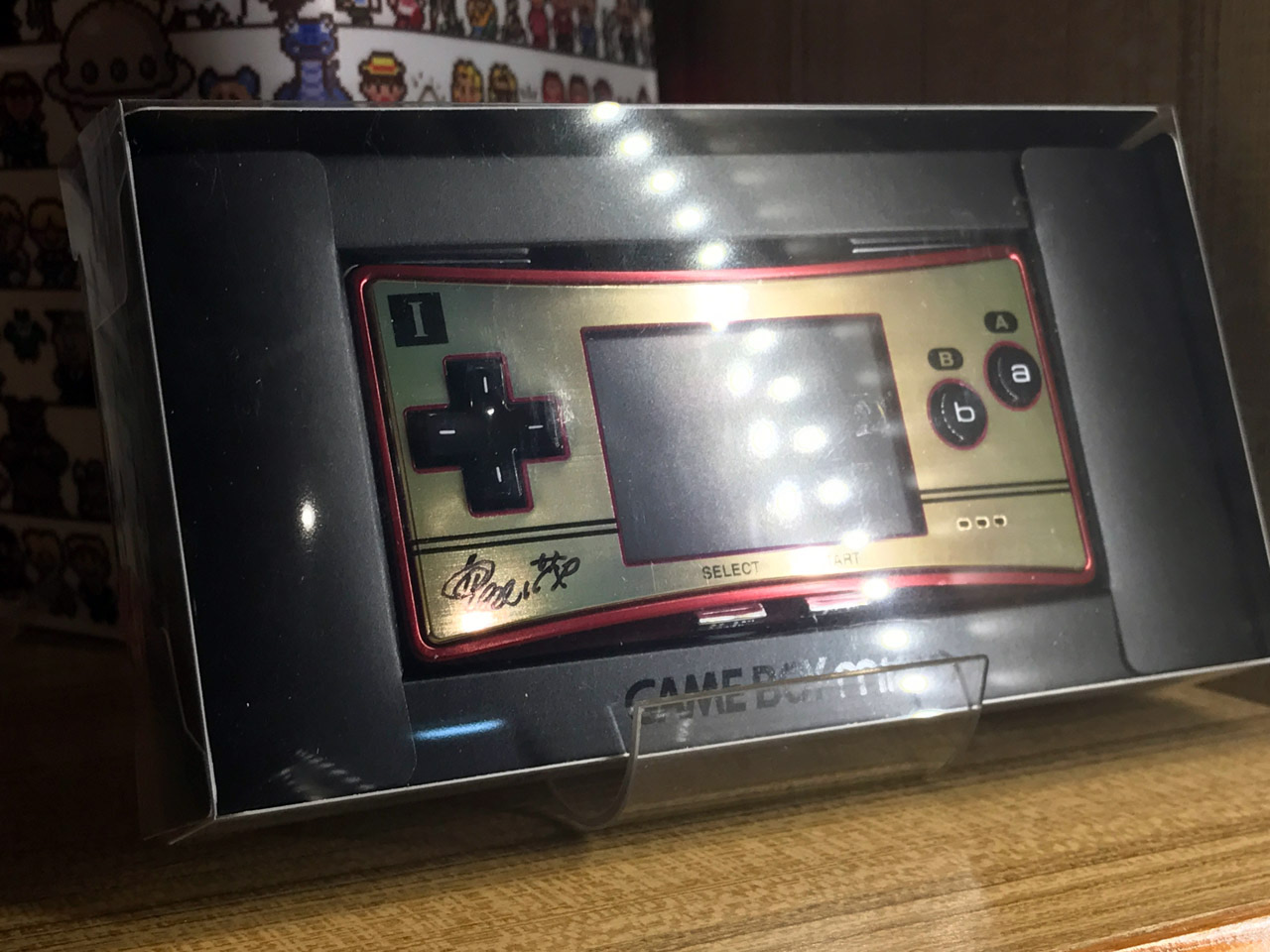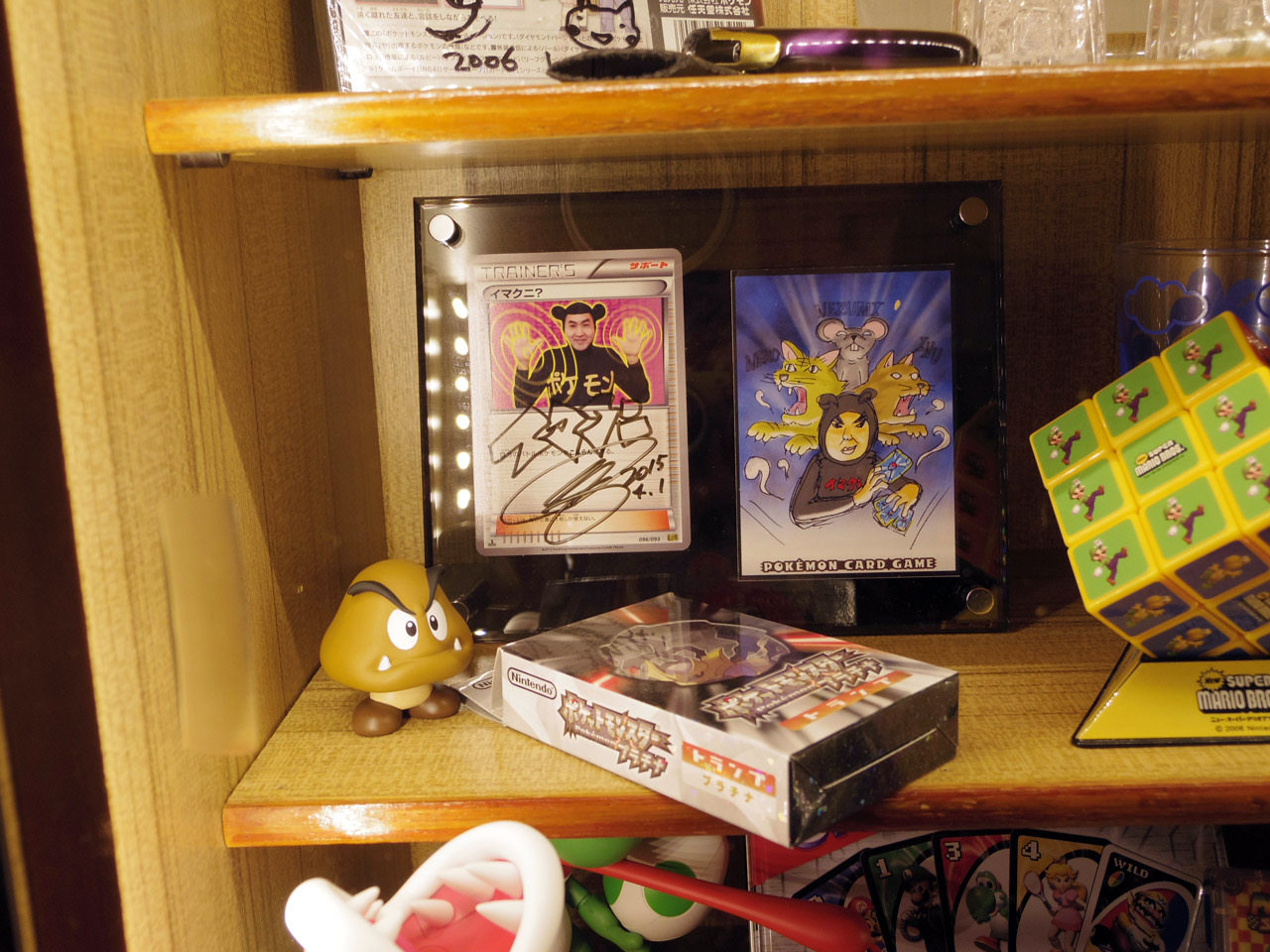 The most amazing thing to me was this Pokemon Card of Imakuni with his signature. Imakuni is the rapper from the Japanese PokeRap, but he was also an illustrator of Pokemon Cards (I only knew him as the rapper until I looked up his information just now).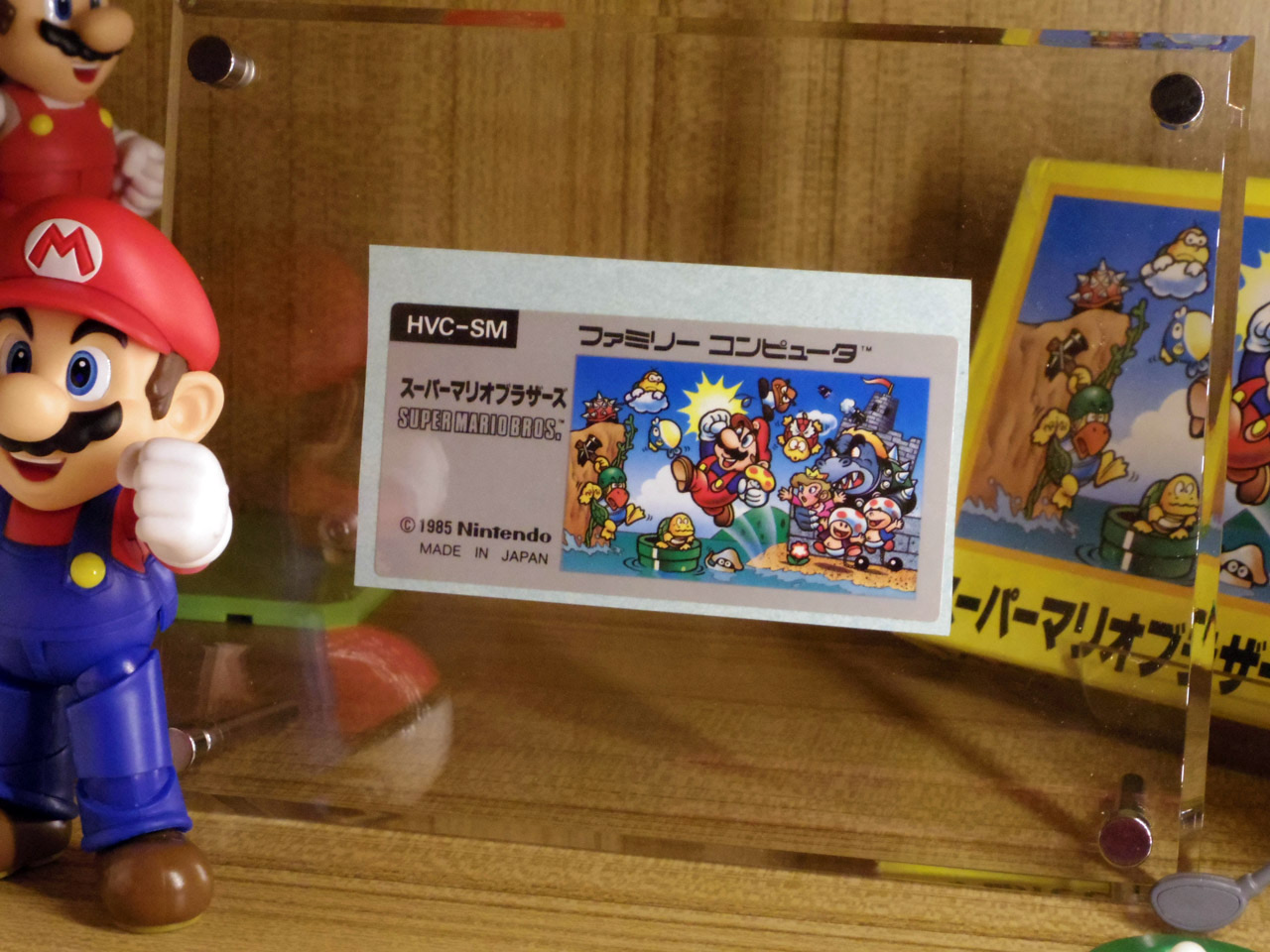 According to Chōkan, this is the most rare item, his most prized possession at 84: a cartridge label for the original Super Mario Brothers Famicom cartridge. You could only find these at the factory back in the 80s, and even back then it was hard for employees at Nintendo to get their hands on them. Apparently, one of his game creator friends just sliced one of these off a roll for him, no problem.
Joining the Secret Nintendo Bar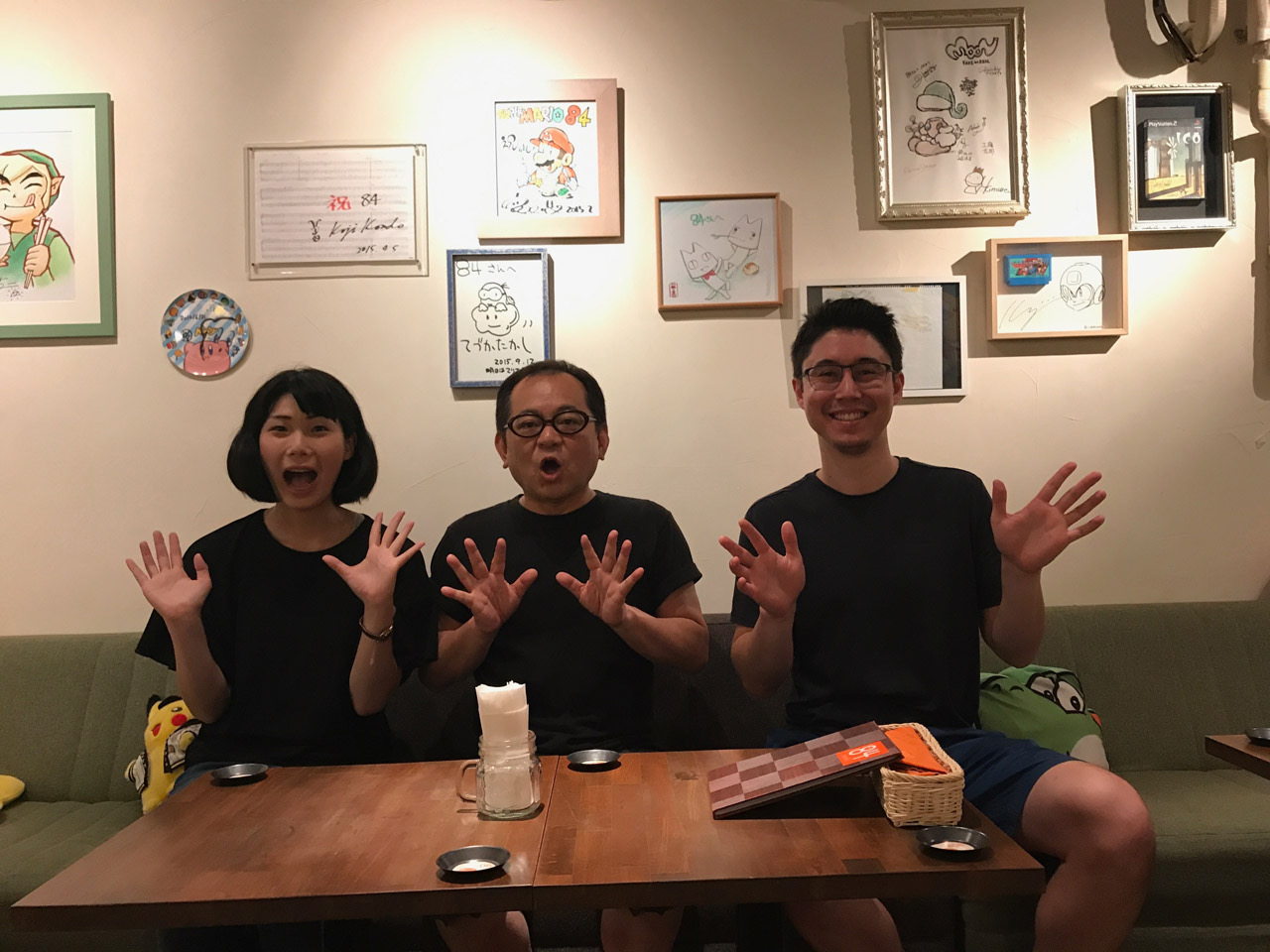 Before we left 84, we had one last question and it was an important one: "How can we become members?"
"Oh, no problem!" Chōkan said. "You can become associate members right now."
He brought us cards and added stamps for one visit and one interview. Now all we need to do is go back four more times and talk to him and another official member one more time, and we'll be in officially! Watch out, world.
If you want to visit 84… well, tough luck. The only thing I can recommend is to talk about this article and this mystical place really loudly. Maybe if you talk to enough people, you'll eventually meet someone with a membership card. And hopefully you'll become good enough friends with them that they'll take you there. Just don't get kicked out for being overly excited about all the famous customers.
Koichi's Review
I love this place for the chill atmosphere. The food is nearly nonexistent, and there's only one kind of beer. But, just the ability to hang out and talk to folks is more than enough for me. I've been back a couple times, and Chōkan even gave me some good life advice. I can't wait until I'm a full-fledged member so I can continue to not invite people.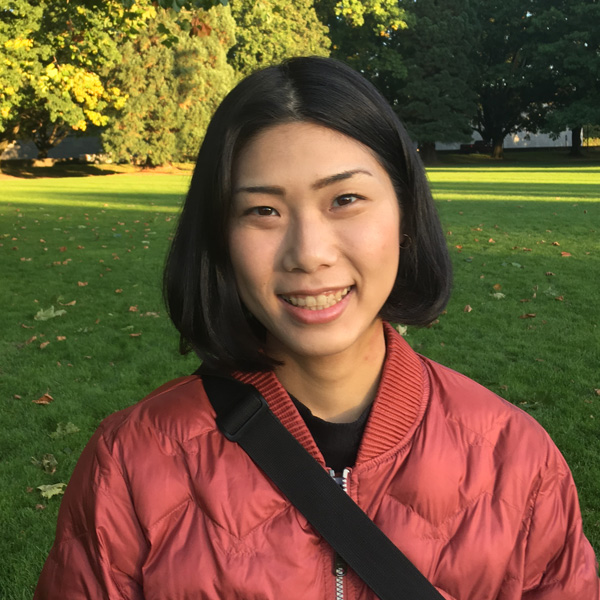 Kanae's Review
I like Nintendo games, but honestly I wasn't too crazy about them when I went to 84. A few months after our visit, the Animal Crossing app was released and I got very into it. I saw Chōkan's Facebook post where he was hanging out with the creators of it at 84, and I finally realized how cool the place is, in a real sense. Also, seems like this year (2018), they have a new chef and started serving food again. I can't wait to go back and eat their food (I hear their food is one of their main attractions)!