Where do you think this is?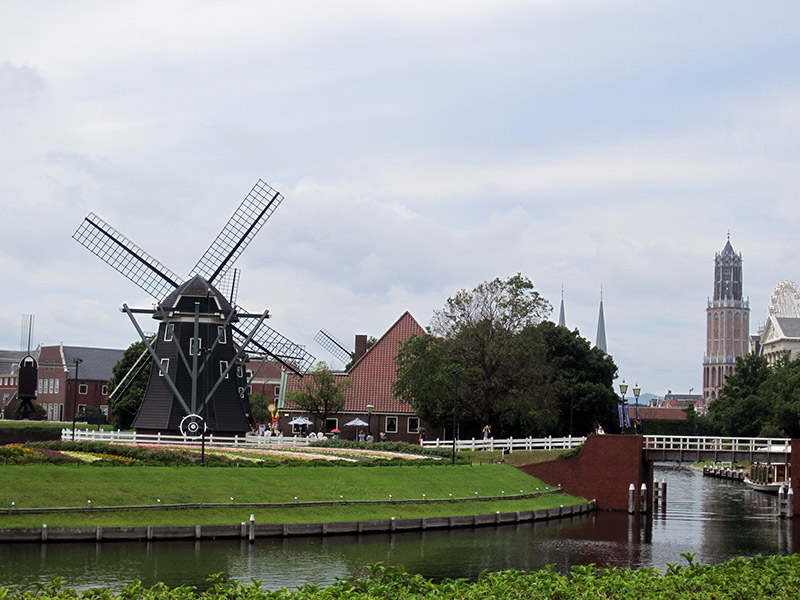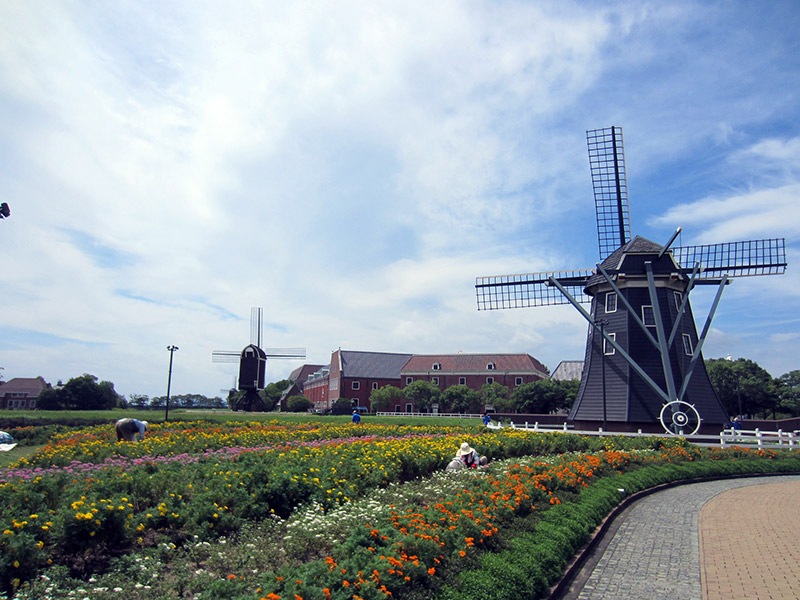 Look at these lovely windmills and beautiful flowers. There's only one place this can be.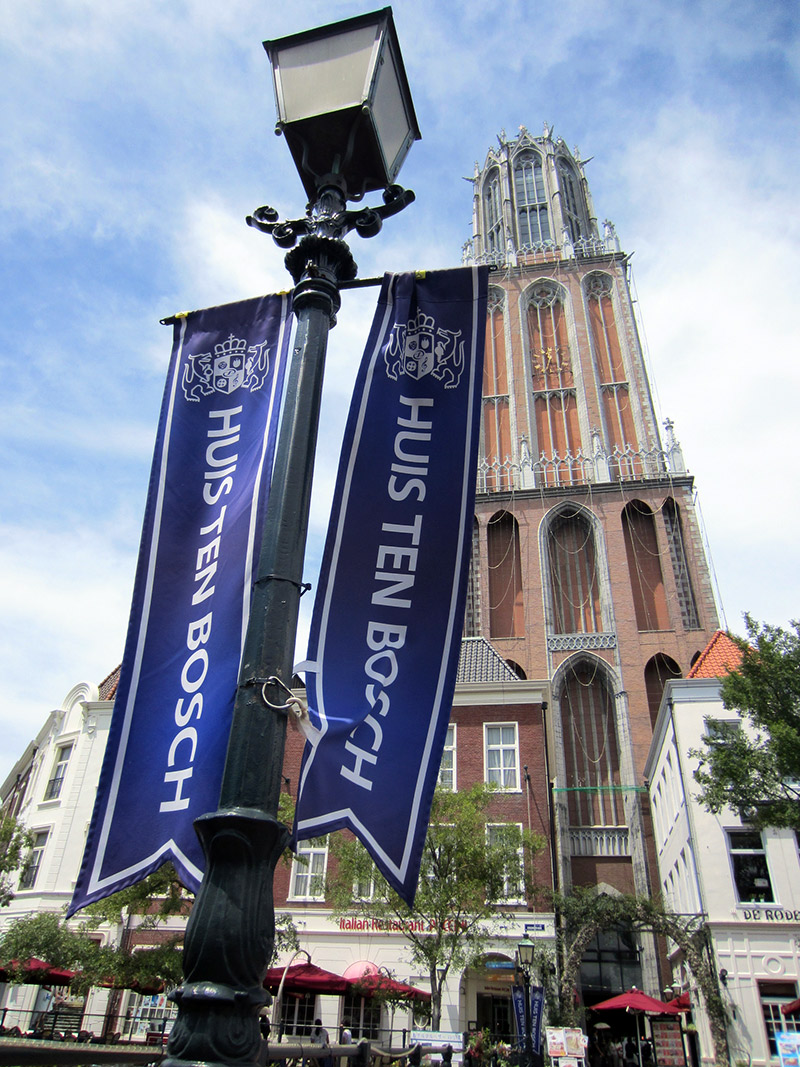 Yes, you guessed it. It's Japan! (This is Tofugu after all.) Welcome to Huis Ten Bosch, the Dutch themed theme park. It's not in the Netherlands, but in Sasebo, Nagasaki.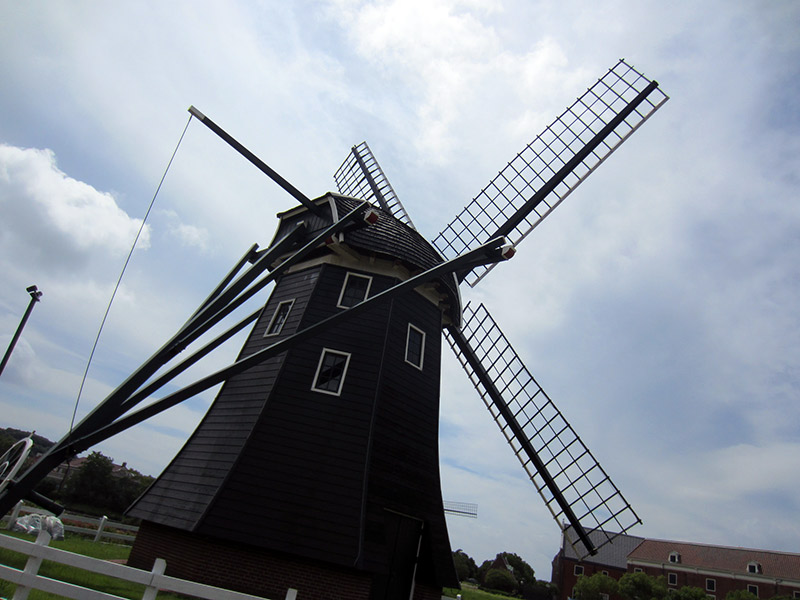 I had heard about the Dutch theme park in Japan long before I moved to the country and made it a goal to visit. This was driven by three factors.
First that I have family in Holland and second my bizarre childhood obsession with windmills (I still want to be a windmill keeper when I grow up).
Finally, I thought it would be an interesting experience. I was not disappointed. Huis Ten Bosch was easily the weirdest place I have ever been to in Japan, and I've seen some pretty weird stuff in my time.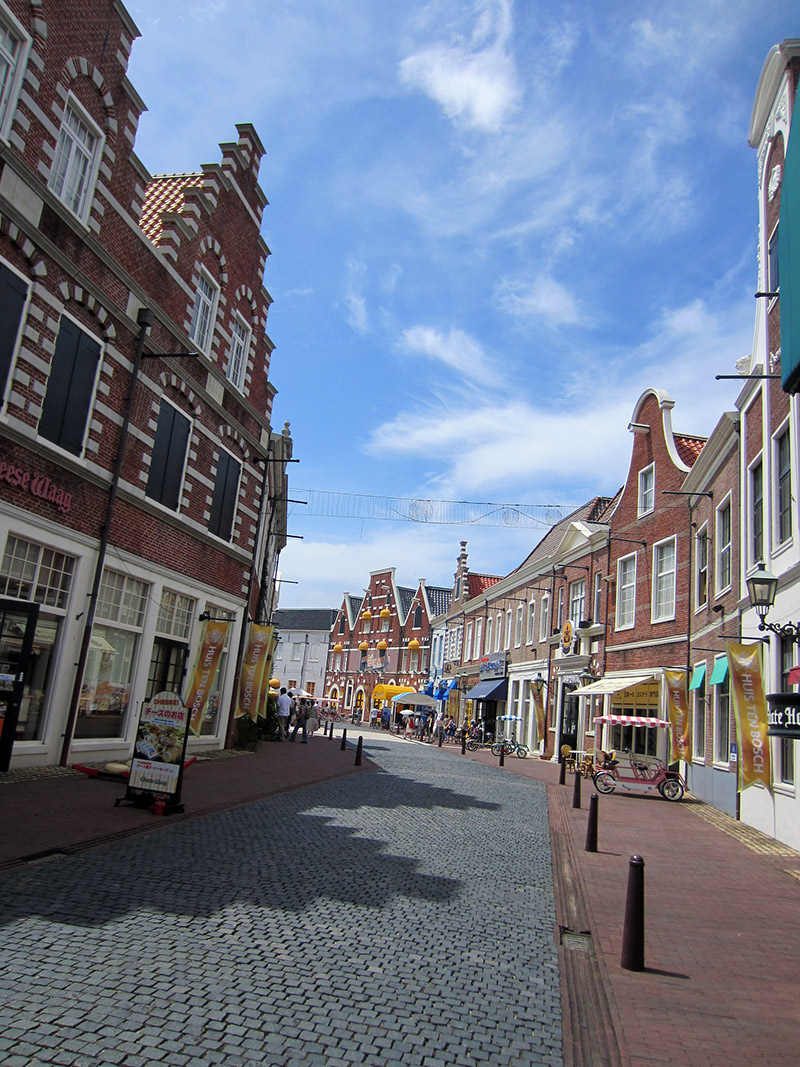 Huis Ten Bosch is a recreation of a Dutch town. A lot of care and attention clearly went into the architectural accuracy. Much less went into the attractions inside the buildings.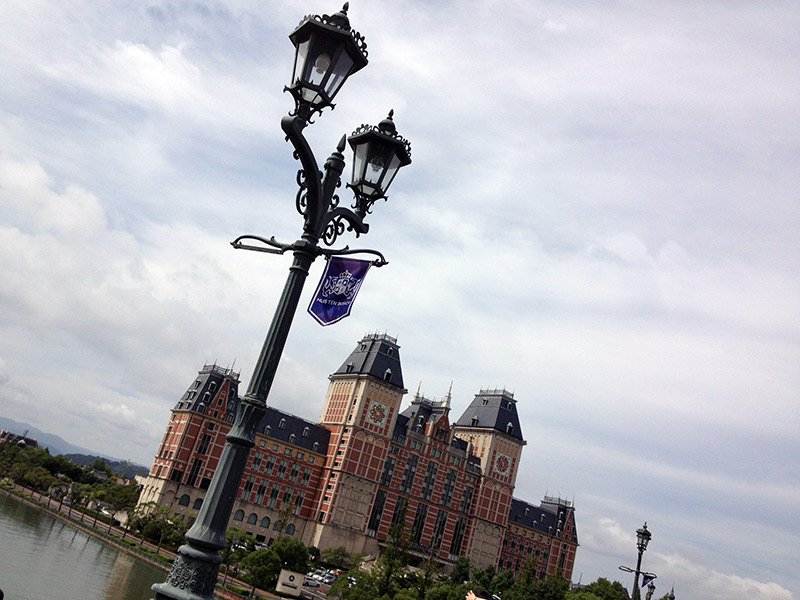 This is the hotel that's just outside the park. It makes a big impression as you walk from the train station towards the park entrance.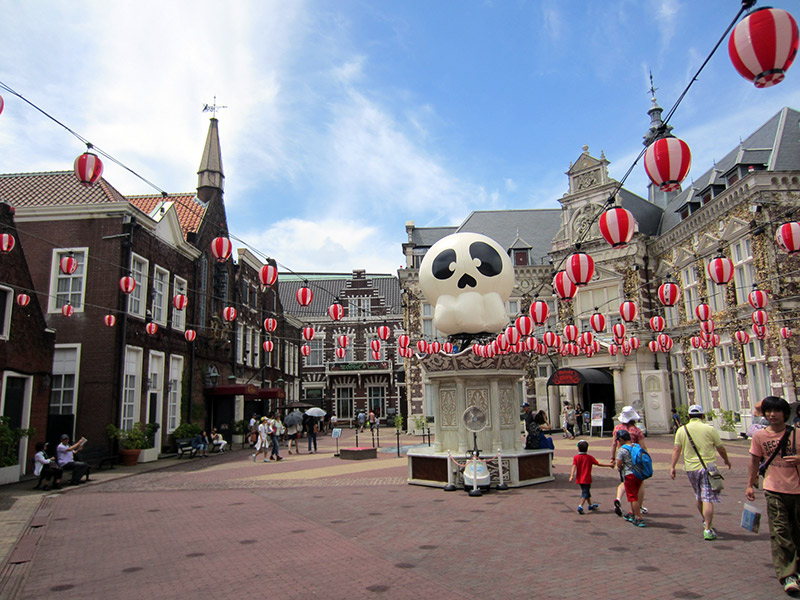 The park is divided into different zones. This is Thriller City. Each zone has different attractions, ranging from museums to mirror mazes to ghost houses. They aren't really rides as such and you won't find any roller coasters. You can also buy a ticket that doesn't get you access to these attractions, but does let you wander around the shops and restaurants in the park.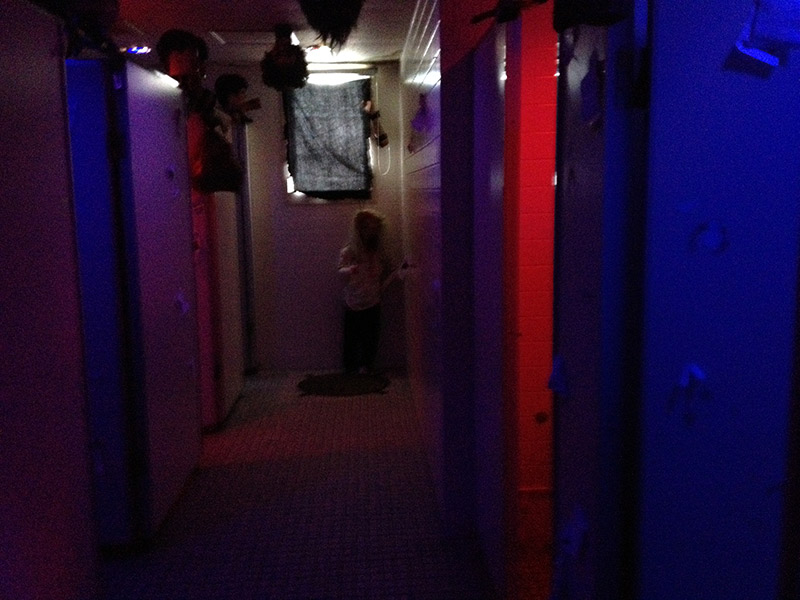 There is a haunted toilet. This is pure Japan right here. The horror here is the same you might find in any Japanese haunted house or horror movie.
Apart from the obvious horror aspect, it is also downright disconcerting to have Japanese horror tropes juxtaposed with cutesy Dutch canals and bridges.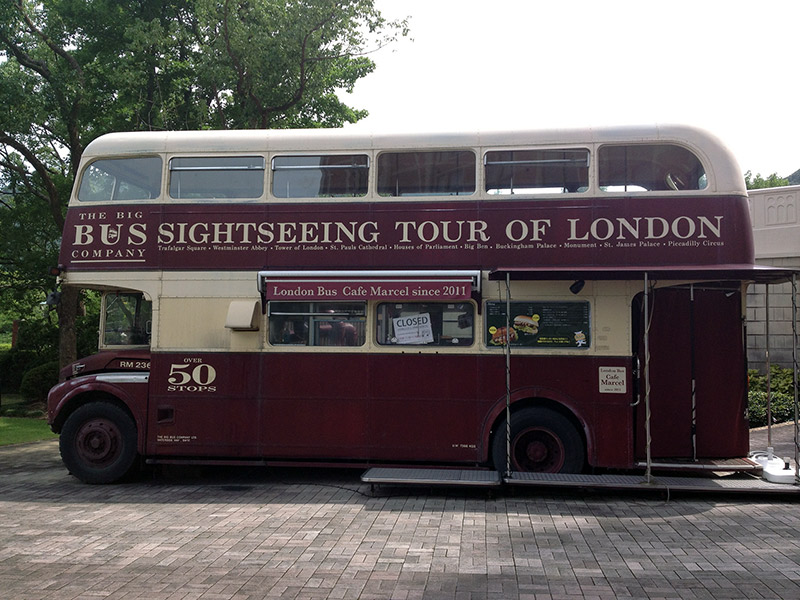 The cultural influences are a bit confused. While Huis Ten Bosch is mostly Dutch themed, it also incorporates plenty of other cultures in both the attractions and the food.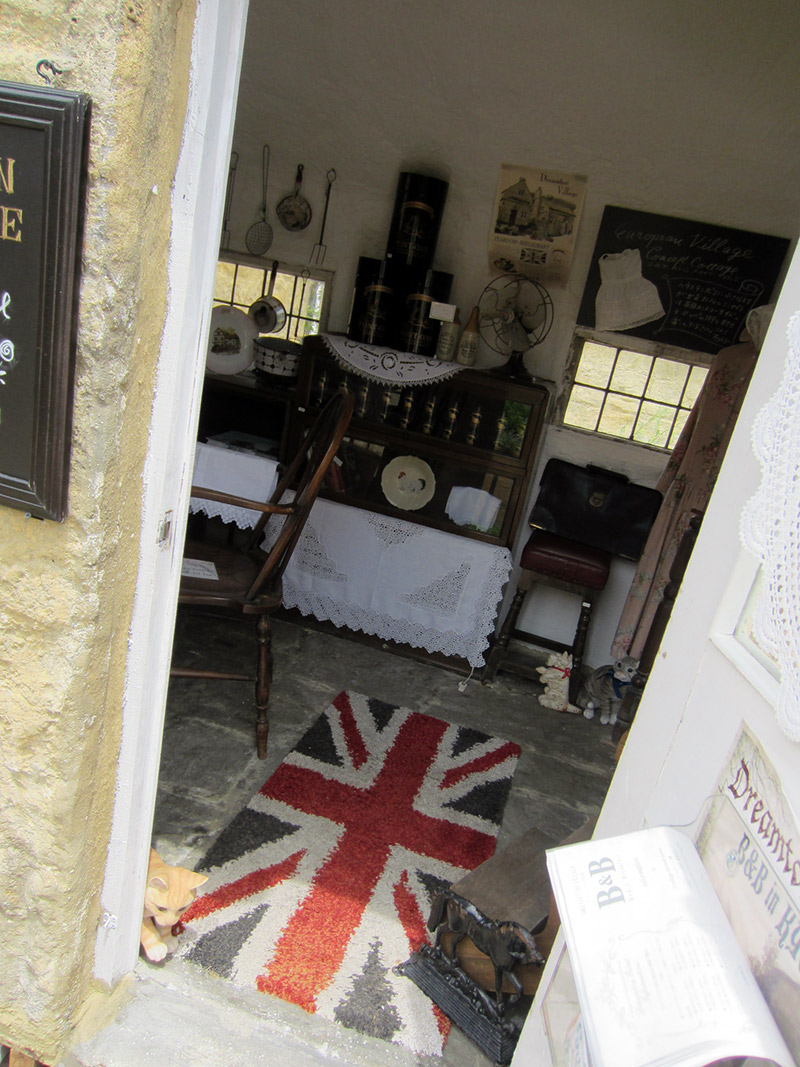 I got the impression that most visitors think of this park as gaikoku 外国 (foreign country) themed, rather than expecting accuracy. The UK was well represented in the decor. There were also Italian and French restaurants. I was particularly disappointed by the food. I was looking forward to trying some Dutch delicacies, but all I could find were typical Japanese interpretations of western food, like hot dogs and sandwiches.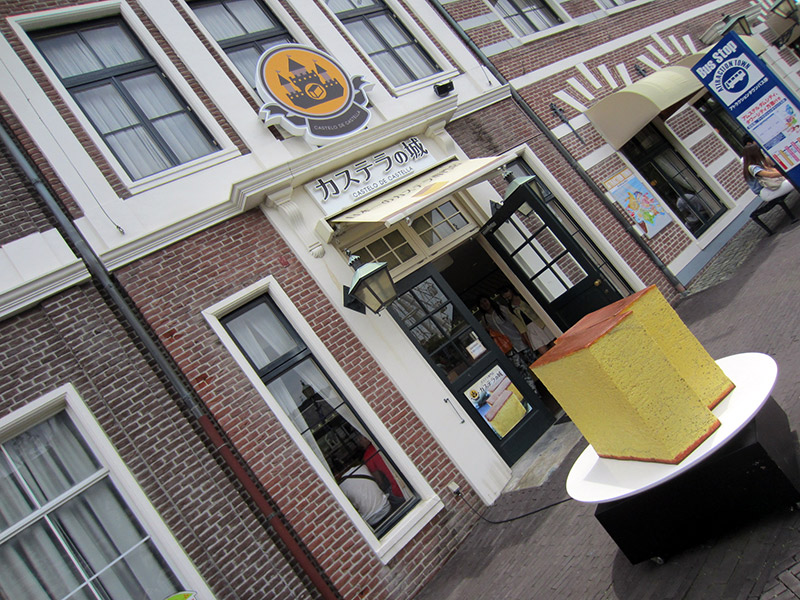 The one food that was sort of authentic was the castella. Castella is one of the earliest Japanese interpretations of a western food. It was brought to Japan by the Portuguese traders. It's very popular in Nagasaki, where both Dutch and Portuguese traders lived. And of course there is a castella shop in the theme park. The connection between the Dutch and Nagasaki is the reason behind this theme park. While the Dutch theme is by no means random, it makes a strange juxtaposition with the Dejima Museum in Nagasaki, which preserves the island that foreign traders were restricted to during the 17th Century.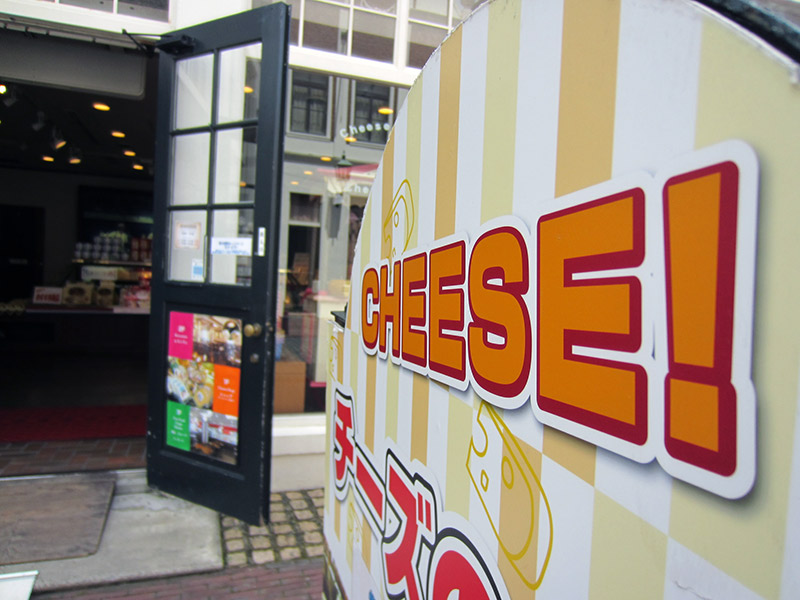 When I saw this sign my heart leapt. One of the toughest things for me in Japan was finding good, strong cheese.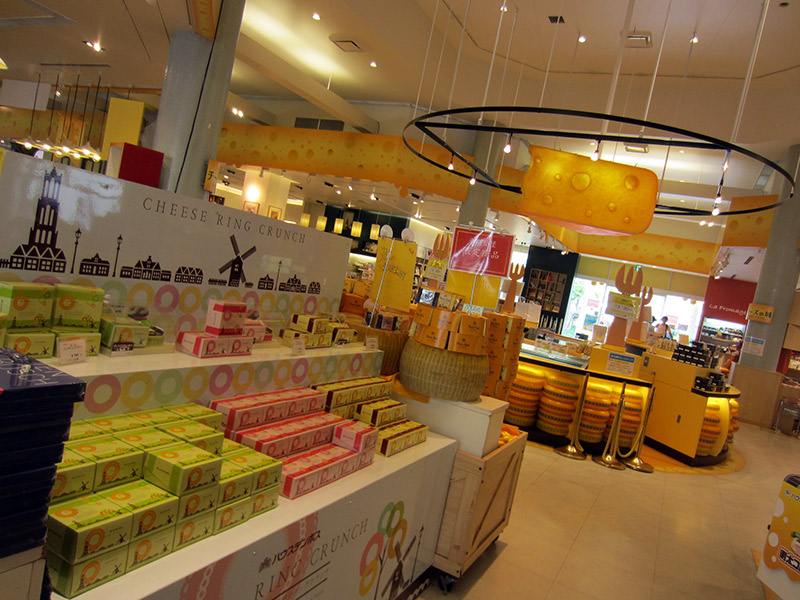 Inside the store there was a good selection of cheeses, mostly European style. Some were imported, and it showed in the price tag. I browsed, but didn't buy anything. Even my love of cheese was not enough to get over imported + theme park price markup.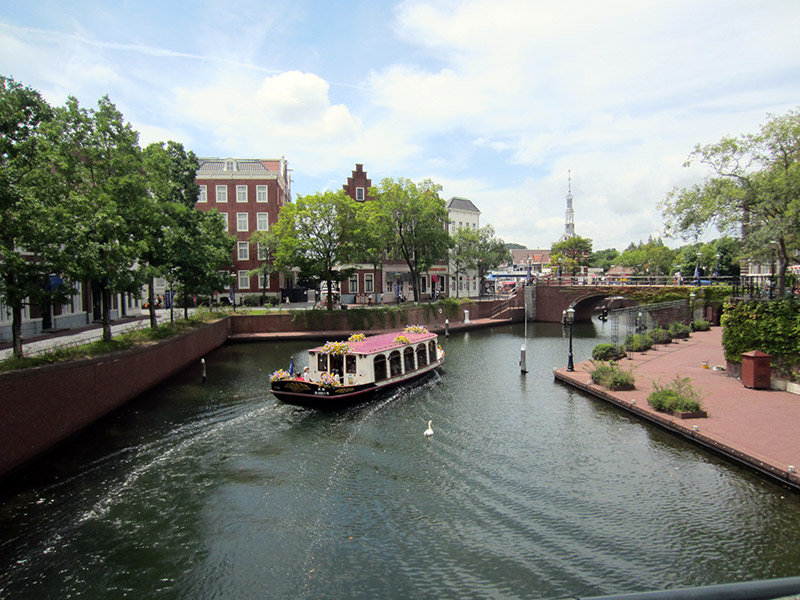 The Netherlands is famous for its canals. Of course Huis Ten Bosch recreates those too. You can take a river cruise through the park.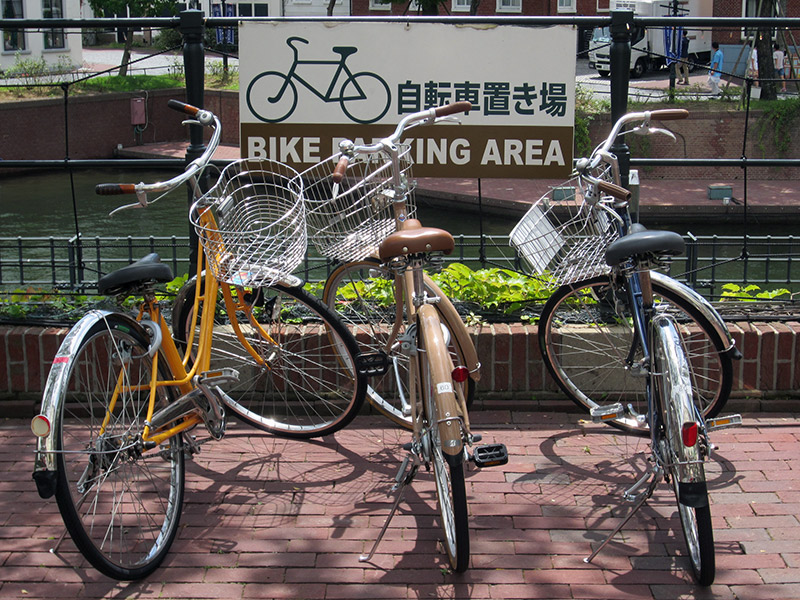 You can rent a variety of bikes, including tandems to get that Dutch cycling experience. There are more than twice as many bikes in the Netherlands as cars, so at least this aspect of Huis Ten Bosch is true to life. Bike rental is not included in the cost of your admission.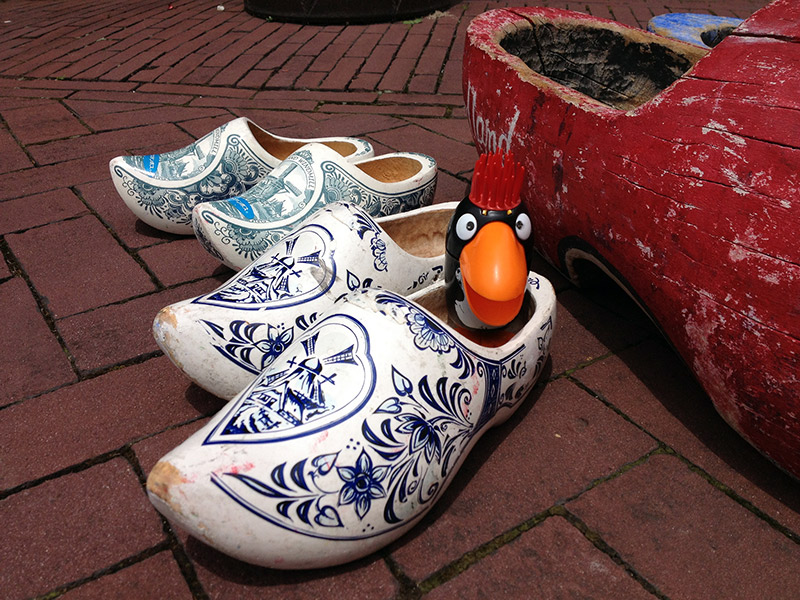 Apart from food, you can find most of the things you would expect at a Dutch themed theme park. There are clogs. Big clogs, small clogs…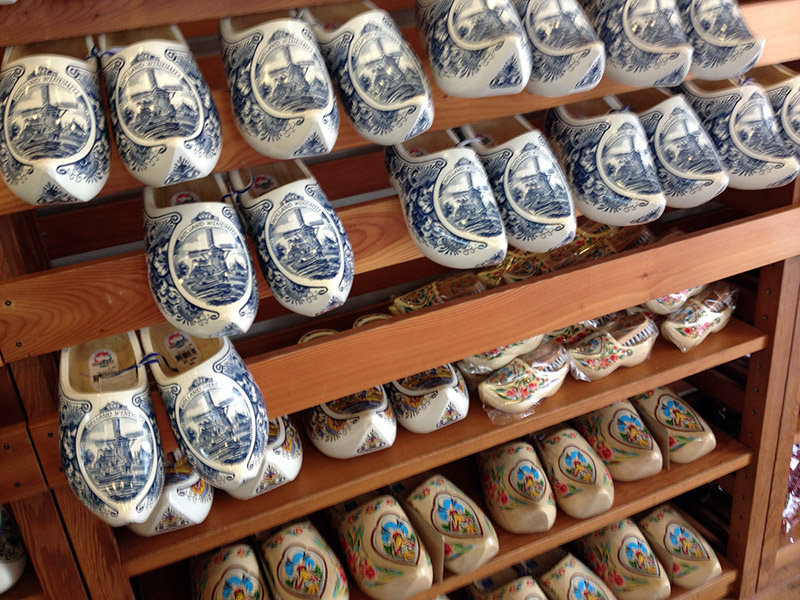 …and clogs for sale. You can even paint your own clogs.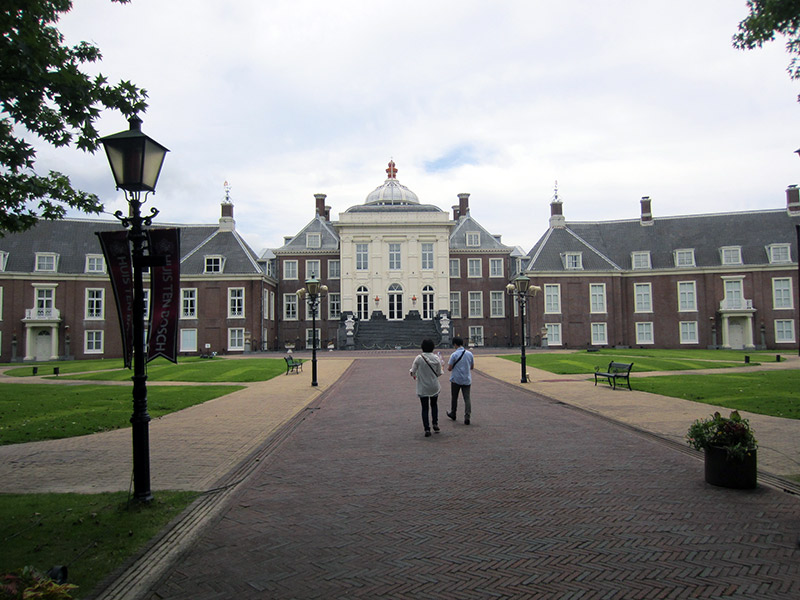 I thought the most impressive thing was the recreation of the Huis Ten Bosch Palace, the place that gives the park its name. The original Huis Ten Bosch (House in the Woods) is a royal palace in the Hague, one of the three official residences of the Dutch Royal Family. From the outside, the Japanese reproduction is a brick for brick exact copy.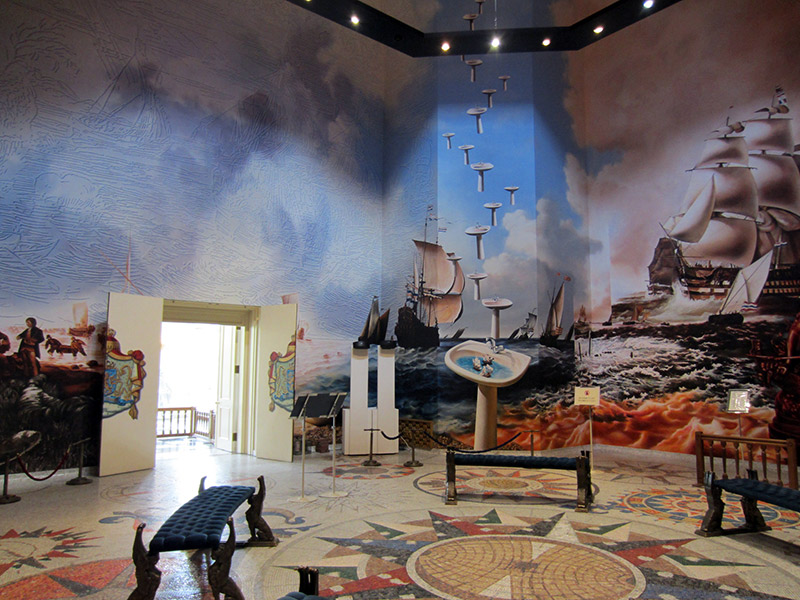 When you go inside however, things are a little different…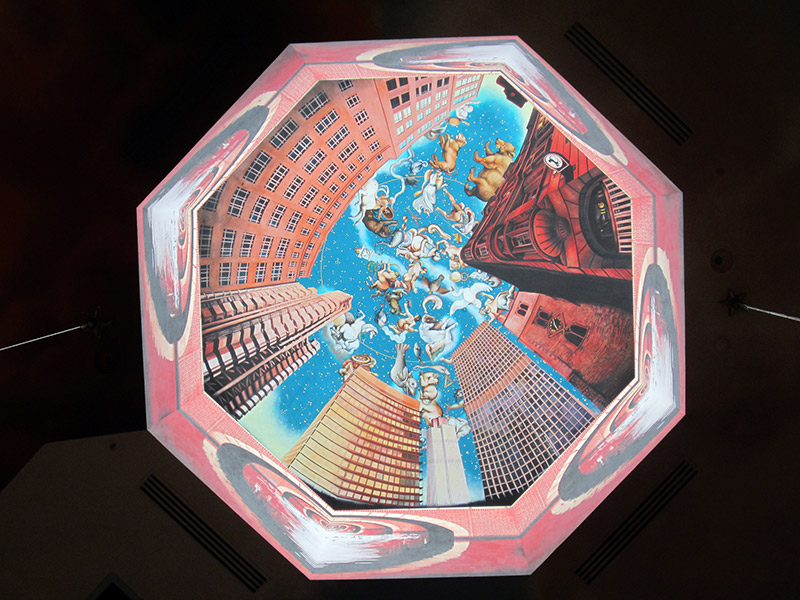 The interior of the palace is recreated too, though the decor certainly isn't. The Orange Hall of the original Huis Ten Bosch is covered with murals dating from the 17th Century depicting scenes intended to glorify the late Prince Frederick Henry.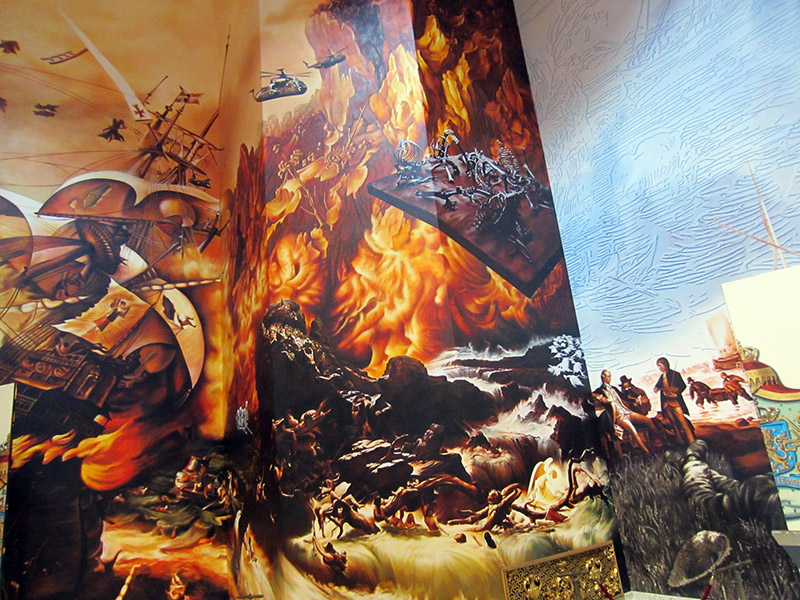 The Japanese Huis Ten Bosch has murals too, of a very different kind. The hall is filled with bizarre imagery, much of if referencing colonisation around the world. It's a pretty intense space, combining 17th Century architecture and modern art.
When you go upstairs there is an exhibit on 17th Century Dutch life. The most impressive part is this 17th Century automated music machine. It uses punched rolls of paper to play the piano and four violins. There are several showings a day and unlike the rest of the exhibit, photography is allowed.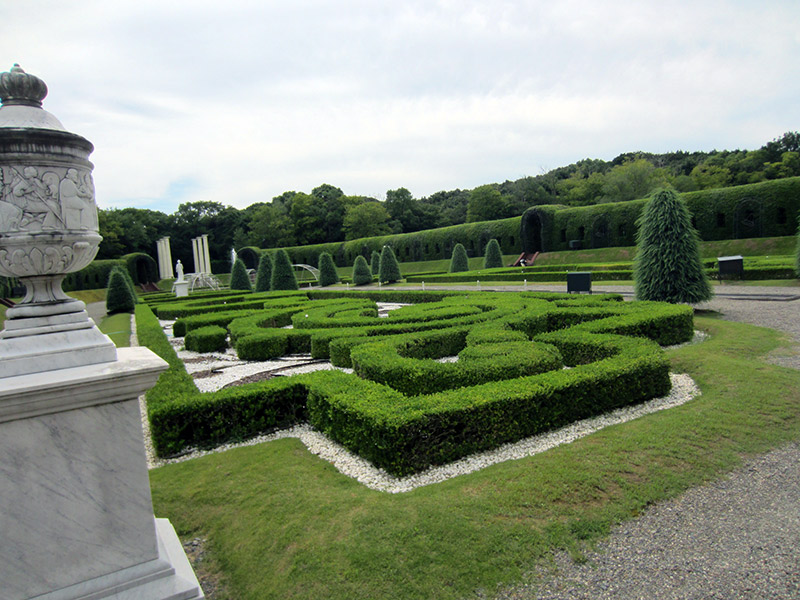 When you leave the palace, you find yourself in the gardens.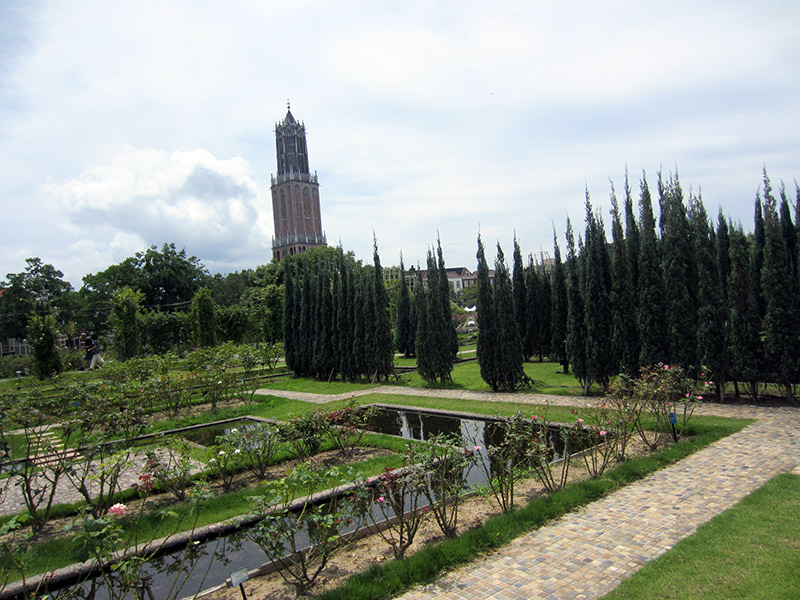 Huis Ten Bosch devotes much of its space to flower gardens. In May and June it holds a Festival of Roses, with 1,500 varieties and 1,110,000 roses. However, I was visiting in August, the height of summer. The flowers were not very happy in the Nagasaki heat. To me the flower gardens seemed rather strange and sad. Japan has many wonderful gardens. Those succeed because the planting works in harmony with the growing conditions. The gardens of Huis Ten Bosch are transplanted from an entirely different climate and it shows.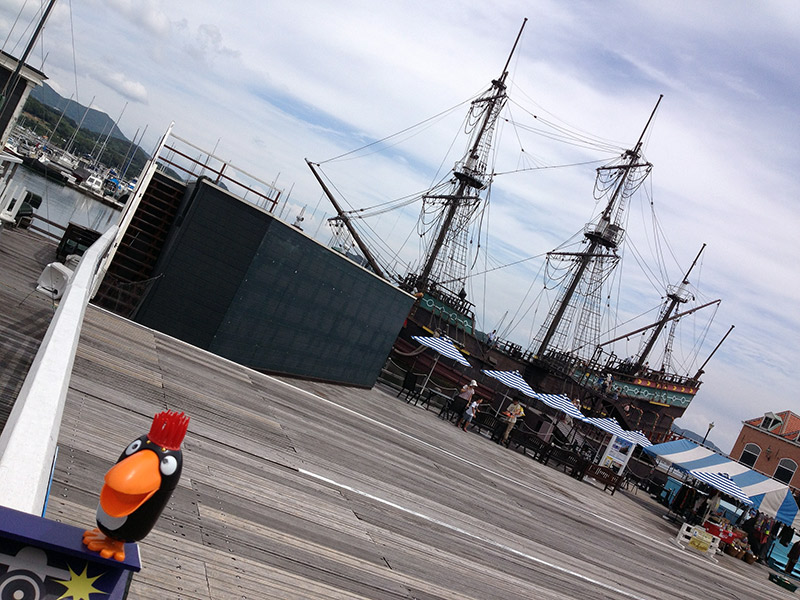 About a third of the park is free to enter. This includes the port area where you can see a recreation of the kind of ship Dutch traders used to sail to Japan. The park has been clawing its way back from its bankruptcy in 2003. It was taken over by the HIS group which made some major changes, such as making part of the park free to enter. The latest change is a new hotel that is staffed by robots. Huis Ten Bosch is only set to get stranger.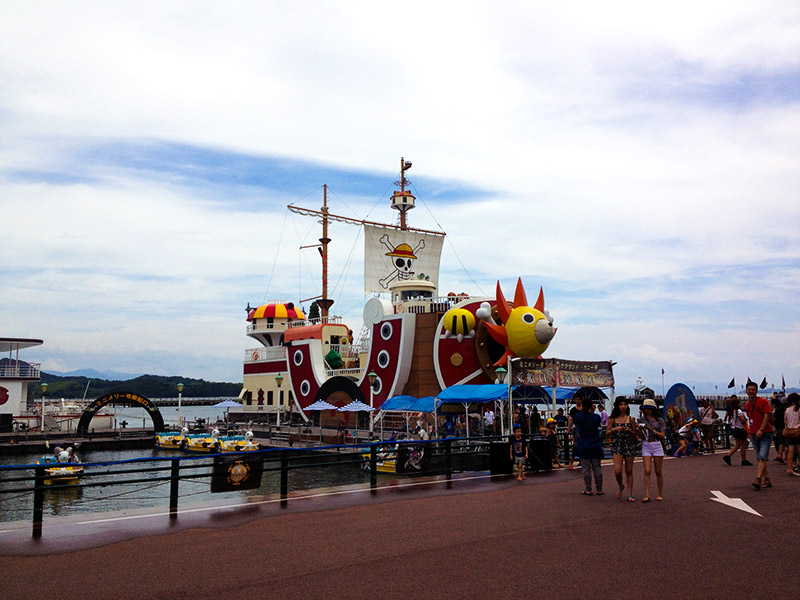 And anchored nearby is a recreation of the ship from One Piece. Can you see why I thought this place was so odd? Both ships make perfect sense by themselves, but put them next to each other and you begin to wonder if the boundaries between realities are blurring.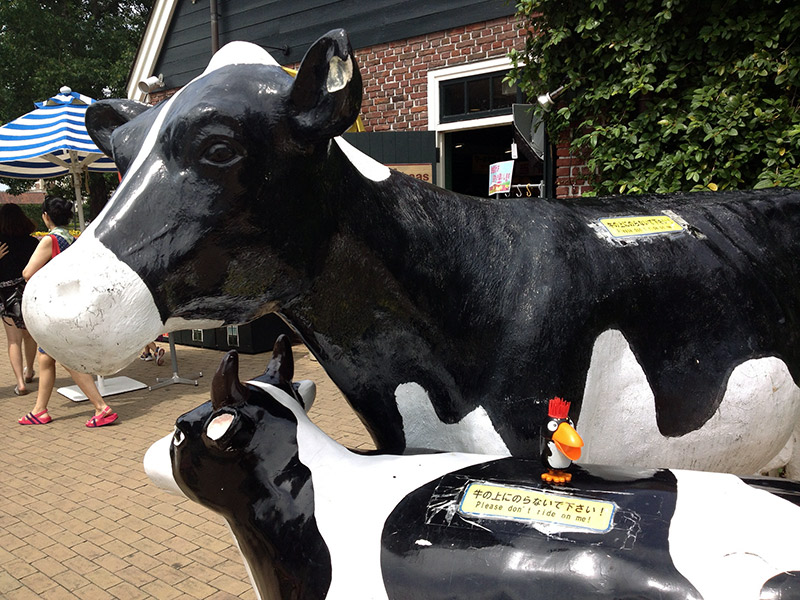 Overall Huis Ten Bosch was a very disconcerting place to visit. Although I am not Dutch, I am European and it was strange to see a mishmash of European culture being presented as entertainment, divorced from any context. It was like the World Showcase at Epcot gone wild. Huis Ten Bosch is designed for Japanese tourists. You won't find much English (or even Dutch) signage or assistance. I felt more like an outsider in Huis Ten Bosch than I ever had at any other tourist destination.
Once I got over my initial misgivings, I did enjoy myself though. I think it is good to take a look at how others view your culture sometimes. By looking at Japanese people looking at Dutch culture, I learned something about Japan, the Netherlands, and myself. The longer I was there, the more amusing I found it. I wouldn't recommend it as a place for people who are only visiting Japan for a short time. But if you have been in Japan for a while, it might be worth a trip, especially if you like windmills as much as I do. You can find a guide to the ticket prices here.
Huis Ten Bosch
Additional Information
1-1 Huis Ten Bosch Machi
Sasebo, Nagasaki Prefecture 859-3292
Japan
View on map