It probably comes as no surprise that Japan is a nation of cyclists. Everyone competes for sidewalk space with commuters and tourists in every major city.
But take the cycles off the sidewalk and onto the open road. There, you may get swept up in the fast growing supōtsubaiku スポーツバイク (sportsbike) trend. Sports cycling and road biking are gaining a wider following in Japan. My small city in the Tohoku region has countless small cycle shops. At least seven of them carry high-quality cycles. Also, a regular cycling group in my area meets on weekends for longer rides.
Japan is well-suited for these long rides. There are well-kept roads, mountain passes meant not to strain engines, and plenty of konbinis and rest stops. Not to mention you get to eat your way through a cycling tour, using bowls of ramen instead of liters of gas to keep you going.
Sound like a good time? You don't have to be an expert to join in. I've been on dozens of these rides, and below I explain how to plan a cycling trip in Japan. Let's ride!
Step 1: Plan Where to Cycle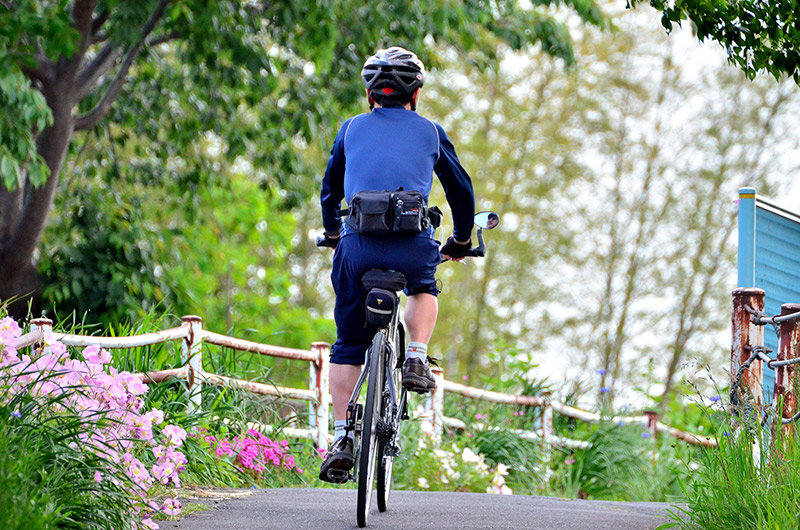 When planning a trip, there are lots of places to go. Cycling shops in Japan often have knowledge of local roads and share routes in the area (gratis or for a fee). There are also many blogs by resident cyclists which chronicle their journeys.
The first thing to figure out is how far you should go in a day. Just because you can cycle 100 miles in a day, doesn't mean you should. Or if you've never pushed beyond a few miles before, why not start now? It all depends on your goals and preferences.
Take the climate into consideration. Think about what would make the trip most pleasant for you. Consider your heat/cold tolerance and where you'd like to sleep at night. Japan has the benefit of four seasons- but the winters in the north are notoriously long and hellish. Like most other outdoor activities, aiming for any season but winter is best.
If you choose to cycle in northern Japan, you'll more easily beat the summer heat. You'll avoid the dangerous traffic of major cities as well. You can travel relatively far by bike along rivers, past orchards of apples, pears, peaches and cherries, and endless rows of rice paddies.
Nihon isshu, the name used by cyclists for the journey along the length of Japan by bike, takes many routes and has no set pit stops. A journey from Aomori to the southern tip of Honshu takes about a month to a month and a half. Add two weeks to that estimate if you plan to include Hokkaido. And you won't be alone. Depending on the season (spring and fall are best), hundreds of touring cyclists ride the north-south route every year.
My Personal Recommendation
If you have less time, I recommend venturing into the north country, away from the bustling cities of the south. I've cycled north, south, and west. Tohoku is by far my favorite place to cycle (though Hokkaido is a close second).
Northern Japan is often overlooked by tourists, who focus on the cultural centers and specific food areas. But I've gotta plug the north, where I live and love to cycle. Fewer crowds, a different lilt to the language, and locally sourced foods. Also, the country folk here tend to be friendlier, which is pleasant for a foreigner rolling through on a bike.
Make sure that your bike is well equipped with lights and reflectors. Any long cycle up north will mean a trip through a mountain tunnel.
Step 2: Map it Out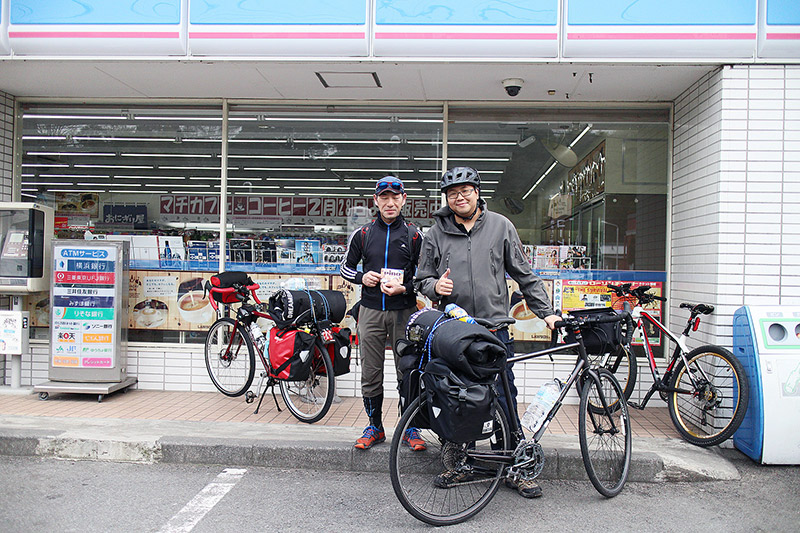 Next you'll need to get out a good old fashioned map and plan a route. As far as cycling routes go, you can get as creative as you like. All roads outside of major highways accommodate cyclists. With a little planning you can easily plot out days of 50-150k. Nights can be spent in hotels, traditional Japanese home stays, or camping at rest stops along the roads. Sleeping on the ground may be less glamorous, but there are plenty of public restrooms and onsen, so you'll rarely feel like you're roughing it.
You'll be hitting the conbini on a semi-daily basis. Since you'll be running into one every 20km or so, you don't have to weigh your bike down with days worth of food. A long cycle between prefectures means that you can eat anything from kenoshiru 1 to Shizuoka oden 2 and never feel stuffed. You may need to consume as much as 8,000 calories per day on a long tour, so eat up!
Google maps in Japan often doesn't offer a biking option between points. While it's a helpful tool to gauge distances and approximate travel time, I recommend carrying a paper map with you. Also check your planned route with someone who knows the area. Any friendly local with some time on their hands will do. Although a fellow cyclist or bike shop is preferable. It's a good excuse to start a conversation, and will give you ample warning of any construction, impassable bridges, or dangerous sites coming up on the road.
Step 3: Decide What to Take with You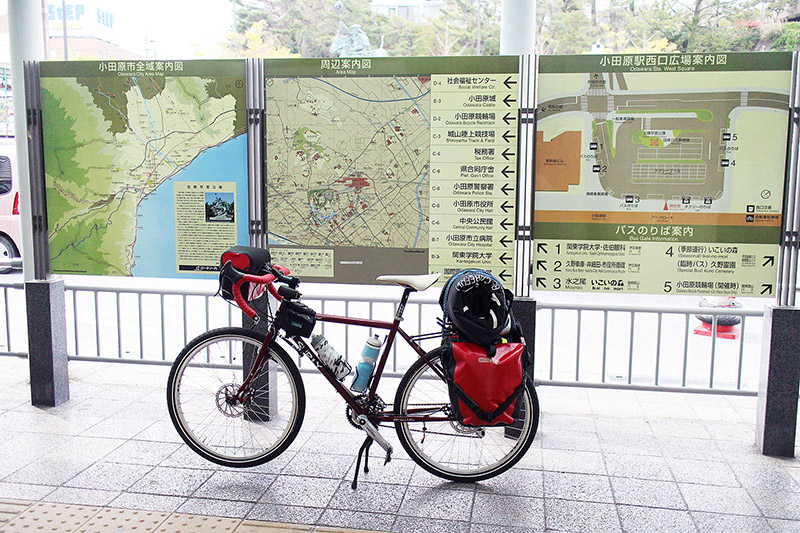 If you decide on camping and carrying your things with you, panniers and other cycling bags are available in Japan at certain stores. But they can be pricey. If you're traveling here from outside the country, try to get the major purchases taken care of first. Smaller things like tubes, toolkits, and pumps you can find here.
A Packing List
To get an idea of what you may or may not want to take with you, I've provided a sample packing list. These are things that are usually a good idea to have with you. But some of them are optional depending upon whether or not you want to carry them and how heavy they are. Legs don't fail me now!
Always/Day trip
Water bottles (2)
Maps
Spare tube
Multitool
Patch kit
Pump
Duct tape (not the whole roll, wrap it around your water bottle a few times and ta-da! Instagrip and emergency duct tape.)
Bike bag (for trains)
Sunglasses
Headphones (the jury is out on this one, as far as safety is concerned. But one earbud and an audiobook will save your sanity on a long day.)
Helmet!
Overnight
Camping/Cooking accessories are optional depending on where you're staying, but make sure you go lightweight. You're in panniers territory here if you're camping. Try to resist the urge to fill them to the brim just because you can! My first overnight camping trip I had four books packed with me. I ended up shipping them home. Do some practice rides all filled up just to see how it feels and see what items you're willing to leave behind.
If you're looking to save money, a camping stove, lightweight pot, and lighter will go a long way. Instant ramen is ¥20 compared to a bowl at a ramen shop that costs about ¥680. But quality-wise? No comparison.
Toiletries
First aid kit
Cell phone/camera charger
Clothing (for overnight trips)
Pants (one for wearing, one backup waterproof pair)
Shirt (one for wearing, one to change into on downtime)
Base layer (optional but a good idea if you're camping out, depending on the season)
Raincoat (with Gore-Tex)
3 pairs of underwear/socks
Bandana (or tenugui)
Gloves
Flip flops (or other lightweight shoes for off the bike)
Packing for Train Rides
You'll also likely need to take a train at some point, unless you're planning on doing an out-and-back trip by bike. To carry a bike on the train, you'll need to buy a rinko fukuro, or a bike carry bag, and take one or both wheels off. The bags run about ¥3000 and are available at most bike shops but not at train stations. Bikes can be a pain to carry, especially on a busy train. But it doesn't cost extra to carry with you and makes for more flexible travel.
Pro tip: On the shinkansen make sure to get on near the back of the car. This way you can stash your bike behind the last seats in the compartment, the only available space.
If you're looking for more information on planning a biking trip in Japan, check out the cycling-friendly hosting site Warm Showers. If your language level is up to it, cycling magazines like BikeNavi, Cycle Sports, or Bicycle Club are great resources. Japan Cycling is a bit dated but super helpful, and has lots of other riders reports that give you a pretty in depth insight into what a long distance touring journey is like here in Japan.
Step 4: Hit the Road!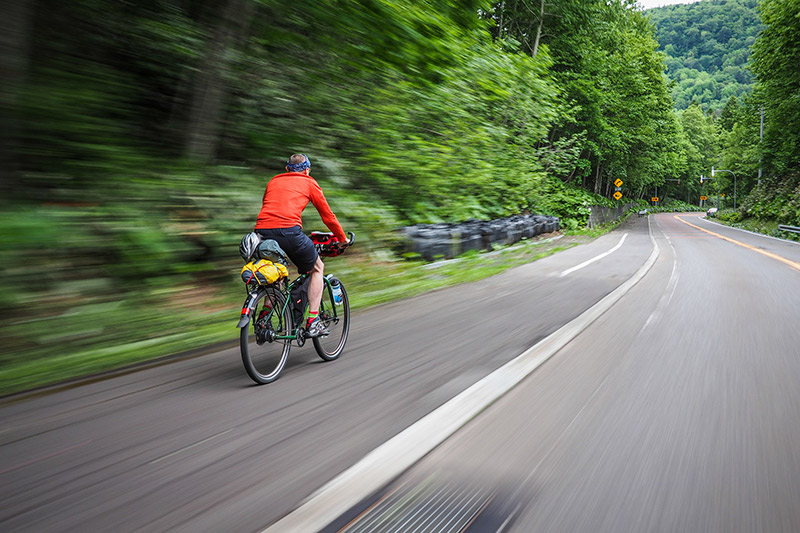 No matter what your cycling level or where you're located, start looking around at bike shops and online for cycling groups. Some areas are lucky enough to have rails to trails, group rides, or other local cycling/outdoor advocacy groups that coordinate rides or can connect you with those who do.
If you're seriously considering touring, it helps to get to know a bike mechanic who will be able to help you set up your current bike, or steer you towards a new one with a frame that is durable and sturdy enough to carry weight.
If you're not sure what you want to do, try going for rides and getting into it. In the early summer mornings, Japan's roads are ready and waiting to be rode on!
Kenoshiru is a soup similar to miso and consists of carrots, daikon radish, burdock and a variety of edible wild plants and deep-fried tofu. ↩