When Tofugu stayed at Ezura Farm in Hokkaido, we decided to take a day trip to Abashiri and Monbetsu. As one of the trip's planners, I was searching for places we could visit in the area. After a few Google searches, I came across Abashiri Prison Museum, along with eye-catching keywords like "the most inescapable prison in Japan" and "a place where you can eat prisoners' food." As Tofugu has a tradition of visiting quirky places on our trips to Japan, it totally sounded like our kind of place. Without any further thought, I added it to our itinerary.
However, upon our actual visit, I found out that Abashiri Prison Museum was quite different from what I had originally expected. I even feel a little ashamed that I picked out this place so casually, almost as if we were going to some prison-themed izakaya or something. Abashiri Prison Museum turned out to be steeped in history, and very educational, and the visit to the museum even changed my perception of Hokkaido.
Hokkaido has long been a popular destination for tourists, but not many people know about the history of the infrastructure development and the contribution that prisoners made to it. Growing up in Japan, this was not something that I learned in my history class. The history is filled with pain and sadness, but I am glad that we got a chance to learn about it at the museum. It certainly added special value to our Hokkaido trip.
The History of Hokkaido and Its Prisoners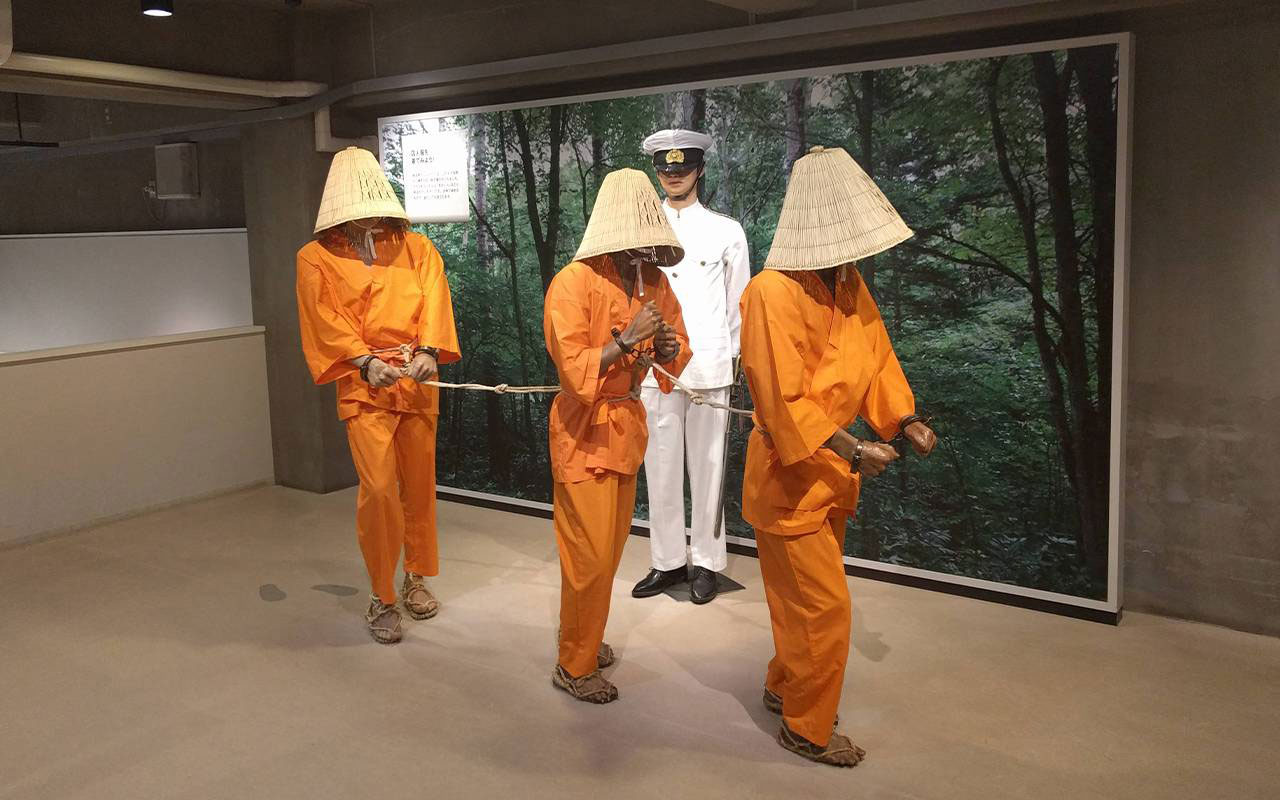 Before jumping into our experience at the museum, let me briefly explain the history. As you may know, Hokkaido became part of Japan later than most of rest of the country. It was only about 150 years ago that Japan named the northern island Hokkaido, and started getting their hands on the undeveloped land. That was a couple years after the Meiji Restoration, which had caused a lot of liberal rights movements. These movements generated a lot of political crime and led to over-incarceration all over Japan. At the same time, Japan had fears that the Russian empire would try to expand southward. To protect Hokkaido, Japan wanted to develop the land as quickly as possible.
That's when the idea of "killing two birds with one stone" was born—sending prisoners to Hokkaido, and using them as labor. This plan resulted in an extremely dehumanizing, torturous working environment, and it killed thousands of prisoners.
You can learn a whole range of things related to the prison—from the old days to today—at the museum. Above all, though, Abashiri Prison Museum takes on the important task of telling people about the contribution of the prisoners, who risked their lives for what Hokkaido is today, and especially for the construction of Hokkaido's main road, now also known as 囚人道路—"prisoners' road".
Visiting Abashiri Prison Museum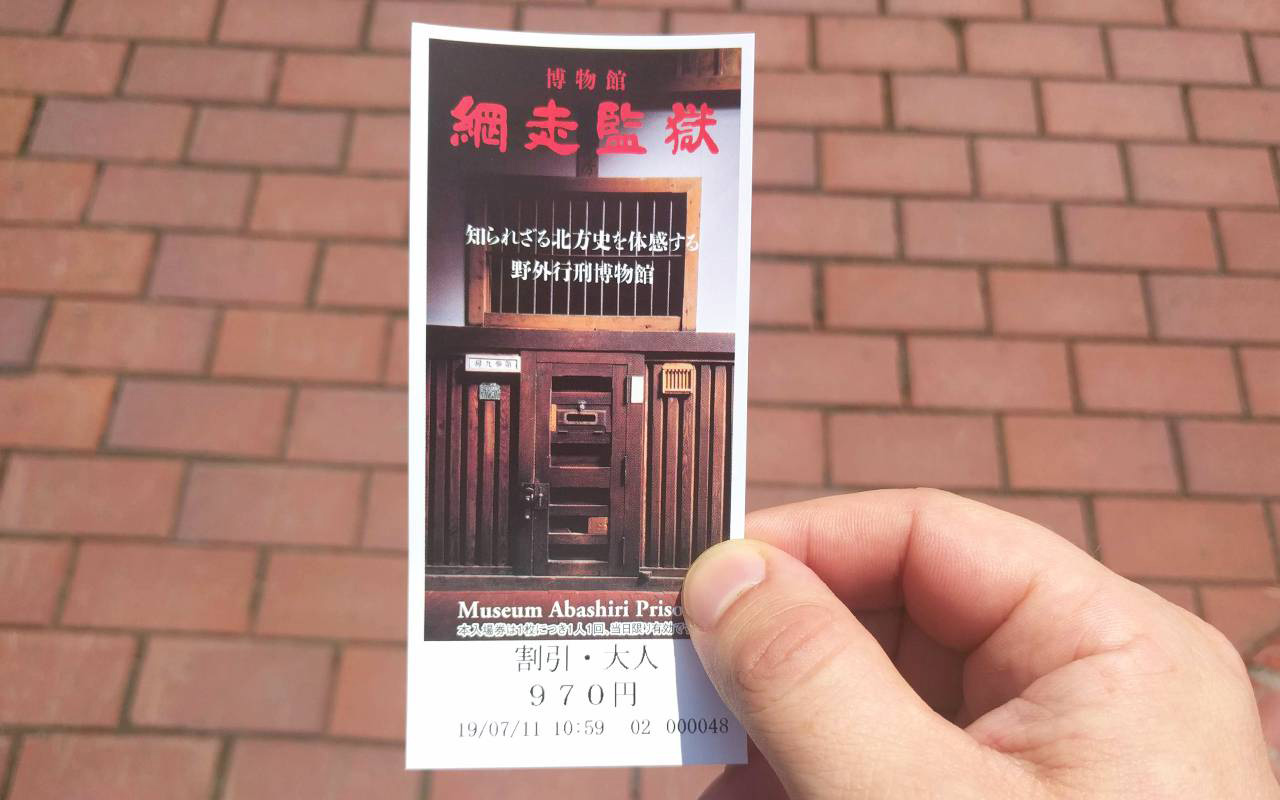 Abashiri Prison Museum is an open-air museum, and their main exhibitions are buildings, including ones that were actually used at Abashiri Prison and have been relocated. (Abashiri Prison still exists as a working prison and it is located only a few minutes' drive away from the museum.) Some of the old buildings are nationally designated as important cultural properties, and many are from the Meiji era. You can see the unique mixture of Japanese traditional style and western influences from that time.
Since it is an outdoor museum, the whole museum is very big. Walking around, exploring different types of buildings, and the exhibitions inside, the whole museum felt like a little village. Because of our tight schedule, we only had two hours, including lunch. Though we had time to look at most of the exhibitions, it felt a little rushed. There are also quite a few informational panels (many are available in English), which we didn't have time to read all the way through. If you want to take everything in, you should plan to spend at least a few hours there, or maybe a whole day.
What I will be introducing below is just the highlights of the Abashiri Prison Museum. If you are interested, please go check it out with your own eyes!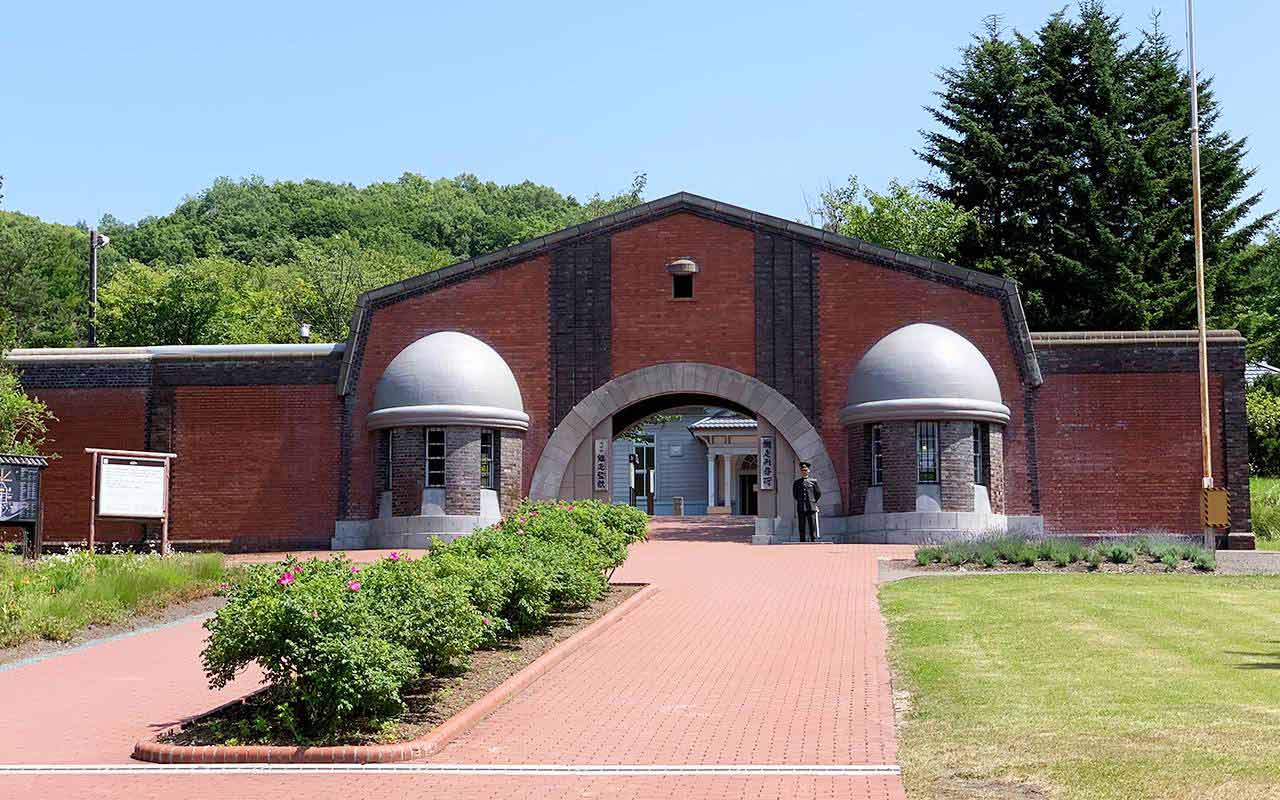 The first building we saw after going through the ticket gate was a reproduction of the original entrance gate of Abashiri Prison. The thick, severe-looking, redbrick gate feels suitable for a prison gate.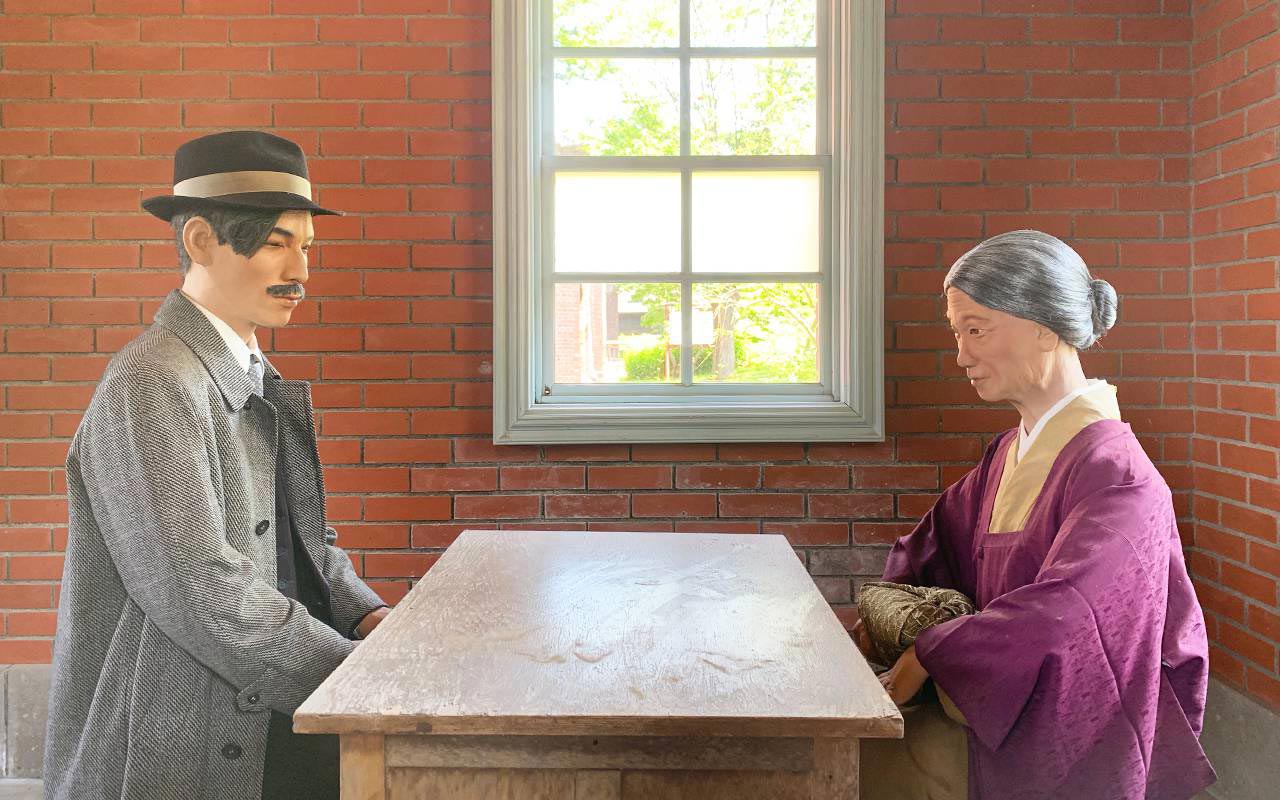 There is a room inside the gate, which you can take a peek at. Can you guess who those people are? They are visitors coming to see the prisoners, and this is a waiting room for them. There were strict rules about visits, seeing the person they hoped to see wasn't always guaranteed. Maybe that's why they don't look too excited🤔?
Their guide map recommends going to the administration building before visiting the rest. This is where you can learn the basic history of the development of Hokkaido. There are some panels that give information about four other prisons across Hokkaido, also built in the Meiji era for the same purpose of exploiting prison labor, as well as details of the infrastructure development projects and their victims.
Besides its sad history, another thing Abashiri Prison is known for is that they had the most successful prison farm in Japan. You get to see many farming-related things such as the tools they used, and you can learn about how they applied western agricultural methods at that time.
An interesting (and slightly random) fact is that Abashiri Prison started raising wagyu beef in 1997 and selling it under the brand "Abashiri Prison Wagyu." Some of their beef has been awarded the highest grade of quality, A5! So maybe they've held onto their reputation and expertise for farming.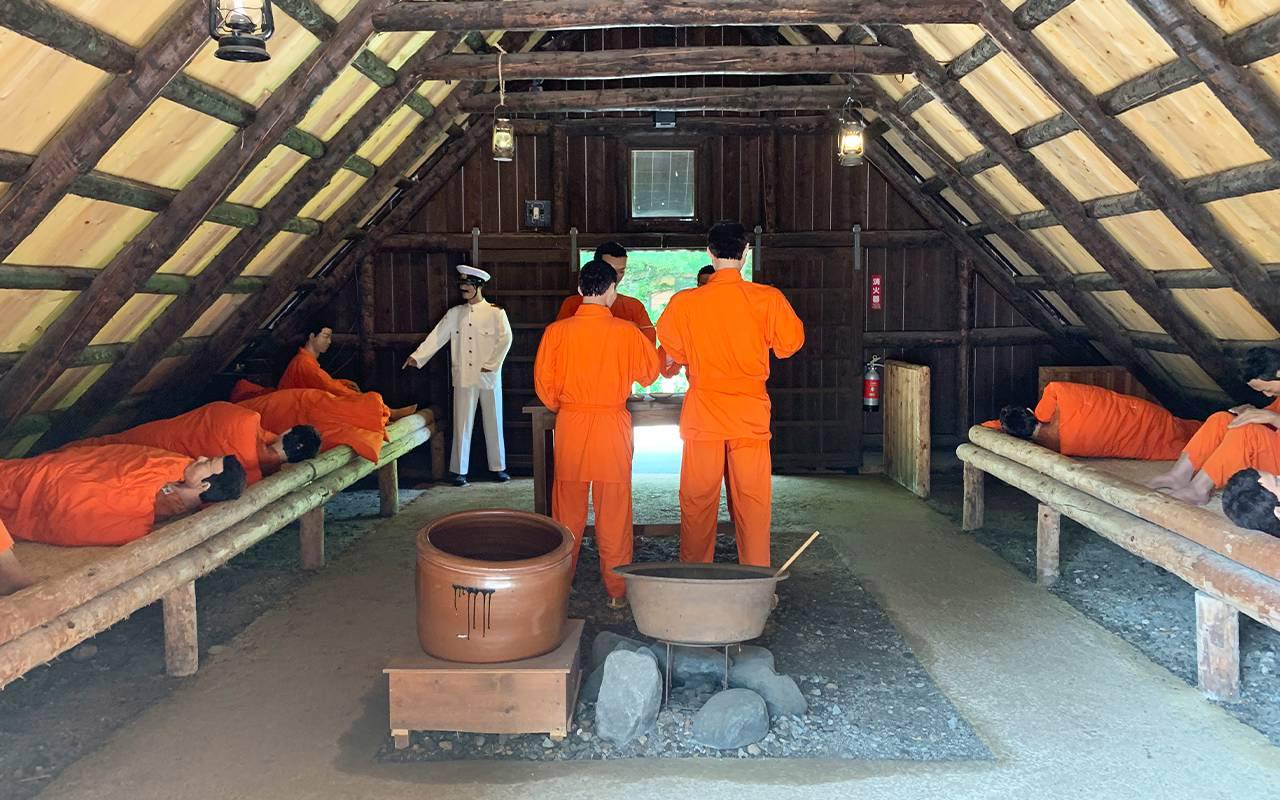 One of the buildings I found the most interesting was the "temporary quarters," aka the "mobile prison cell." As I touched on earlier, the biggest Hokkaido development project involving prisoners was building the road that runs from Sapporo all the way to Abashiri, known today as the "prisoners' road." Abashiri prisoners mainly worked on the northern part, and completed a 100-mile-long road in eight months. (And this was actually the exact road we used to visit this museum!) Since there was a lot of travel involved for this work, they built temporary houses as they moved forward.
Needless to say, working in a completely undeveloped area was challenging. The further you go, the harder it becomes to get food and other resources. Deep in the forest, there were also many wild predators such as Higuma bears. On top of that, their temporary houses were far from comfortable. As you can see in the picture above, their head rest was made of a big piece of wood. That's for the convenience of waking everyone up at once by beating the wood, after they have had just four to five hours of sleep. As a result of these harrowing working and living conditions, over 200 prisoners out of 1100 lost their lives on this project.
Abashiri Prison Museum also exhibits a court building. This was relocated from courts in Abashiri when they were renewing their buildings. Unlike the other buildings from the Meiji era, this one reproduces situations related to laws and crimes from the Showa era. There are also panels and documents related to the Japanese legal system and crimes, which you can check out in the buildings.
We probably spent most of our visit at their penological museum. Inside, you get to learn about what prison life is like in Japan today, as well as the history of the "prisoners' road" construction.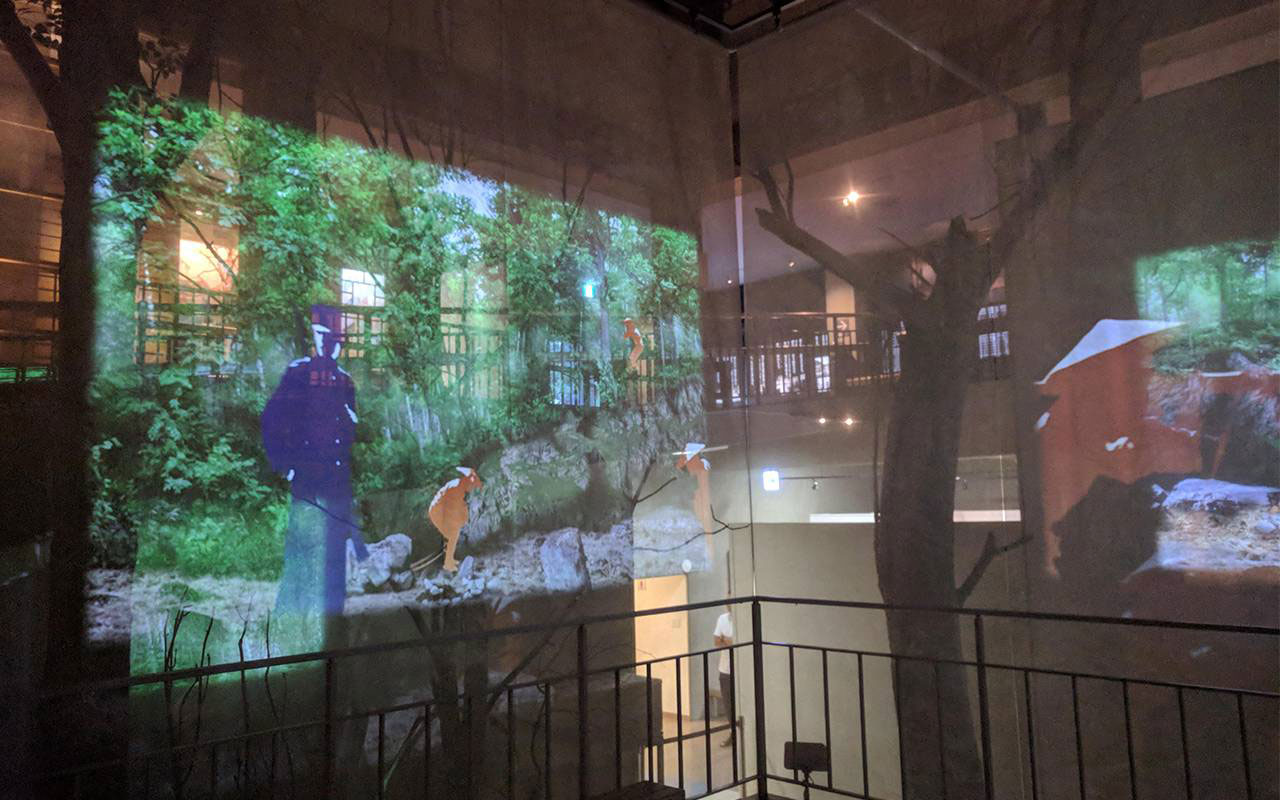 The main exhibition in the building is a section where a short movie about the "prisoners' road" is projected onto the walls around you. Being surrounded by the images and sound was a different experience from just reading about the history.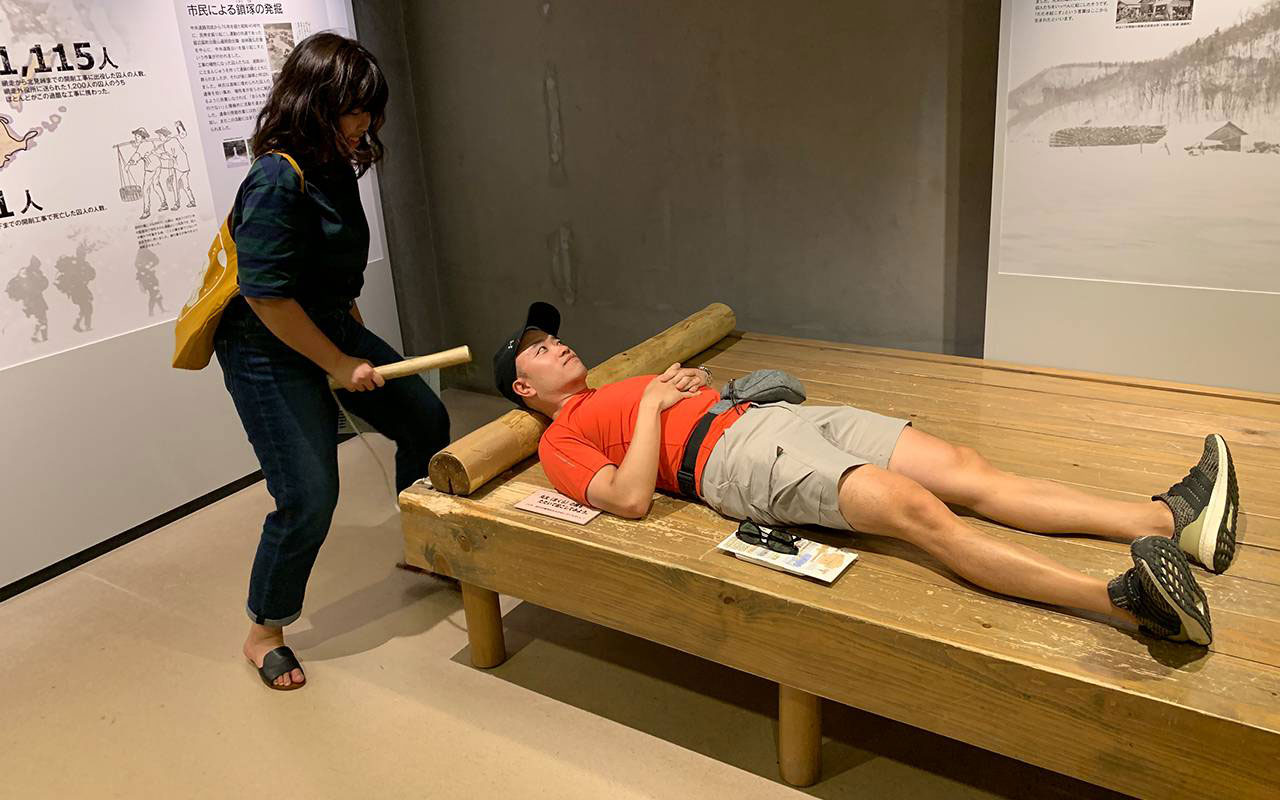 We also got to experience what it is like to be woken up by the wooden pillow that we saw in the temporary quarters. As you can imagine, it wasn't nearly as comfortable as waking up to your morning alarm. We also learned that this style of headrest is the origin of the Japanese expression 叩き 起こす, which literally means "beating to wake (someone) up," and has come to mean waking someone up somewhat forcefully, perhaps by banging on their door.
There is a booth where you can wear a nine-pound metal ball that was used for preventing prisoners' from escaping. Today, you can find some stone monuments along the prisoners' road in memory of those who lost their lives during the road's construction. Bodies were left and buried with the metal chain on them, and the spots are known as 鎖塚, "mounds of chains."
My personal favorite amongst all the examples of architecture at the museum was the "prison house and central guard house" because of its retro, east-meets-west, Meiji era feel, and its unique shape. What's more, it is the original building (it's not a recontstruction), and is both the biggest and the oldest wooden prison in existance in the world today. Modeled after a prison in Belgium, the building was built with five long wings. Lined with cells, these wings radiate from a central guard house, which made it easy for guards to monitor the many prisoners.
In the building, you can find more interesting details of the architecture that made it harder for prisoners to escape, and made the guards' jobs more efficient. You can also learn the story of Showa's legendary prison escapee, Yoshie Shiratori. He escaped four times in total, and one of his escapes was from this building.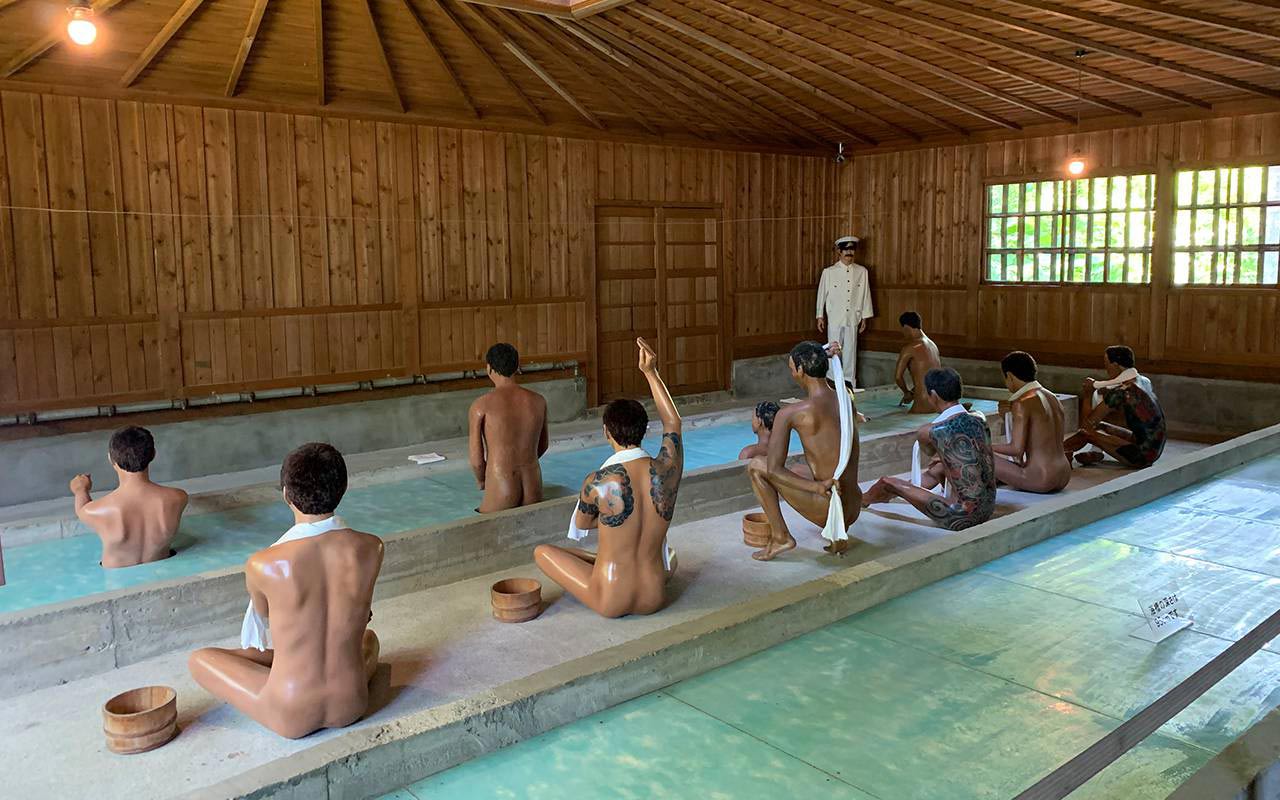 Towards the end of our visit, we got to see the bathhouse. It was interesting to find out about the rules and minute-by-minute steps designed to make the flow as efficient as possible (they had to bathe 200 prisoners a day). Even though the prisoners had only fifteen minutes for the entire process—taking off their clothing, taking a bath, and getting dressed again—I could imagine it was the best luxury availalbe to prisoners at the time. I had seen some quotes from prisoners earlier, and they all mentioned that the hardest part of being in the Abashiri Prison was the "achingly cold" Hokkaido weather.
Finally, we went to the 監獄食堂, the "prison cafeteria," for our lunch. Their 監獄食 lunch sets with grilled fish use the same menu as actual meals provided for prisoners at Abashiri Prison. It is simple and modest. However, there are no exceptions for Hokkaido's delicious food even in prison—it was pretty tasty, and reasonably priced.
Oh, wait up. Before you leave the museum, don't forget to check out the gift shop for some cool merch. This is another reason I recommend you buffer some time for your visit. Some items are actually handmade by prisoners, and I am sure you can find the perfect omiyage here.
My First Time in Prison
I think you would enjoy Abashiri Prison Museum if you are interested in any of these keywords: prison, architecture, history or even Hokkaido in general.
As a fan of prison-related shows and true crime podcasts and documentaries, visiting a prison museum was a very exciting experience, and it was fun to learn about the Japanese legal system, and crime in general. The architecture was beautiful and interesting, and all the historical/educational content seemed well-curated. The quantity of content came off as a bit overwhelming for a couple-hour-long visit, and I just wish that we'd had more time.
Most importantly, learning about the history of the "prisoners' road" changed my experience in Hokkaido quite a bit. If we hadn't visited the museum, I wouldn't have known that the road that we used for almost our entire Hokkaido trip was built by prisoners, and that many of them lost their lives because of it. I think visiting the museum made me embrace my experience in Hokkaido more than anything else could. If you ever get a chance to travel to the Abashiri area, the prison museum is worth a visit.
Warning: Don't even think of committing a crime just because the prisoner's meals are too tasty! ⚠️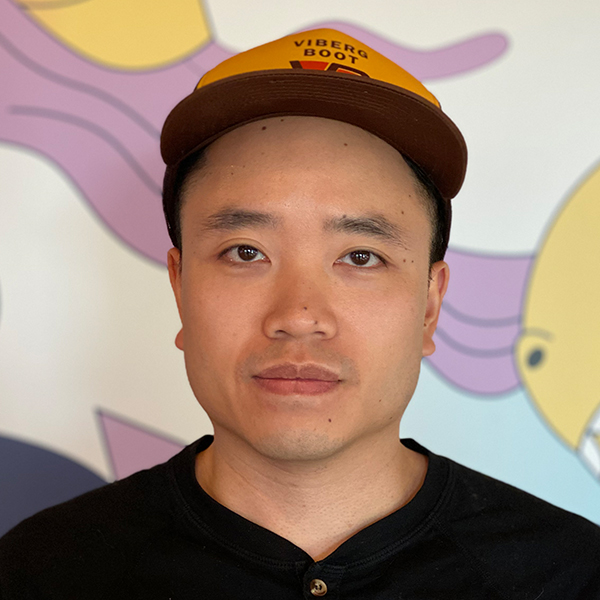 Viet's Review
If you happen to be nearby, the Abashiri Prison Museum is a good place to visit if you are looking to be educated in some Hokkaido history. It is also interesting to learn some of the design decisions made in building these prisons. Be sure to make some time for lunch (order the prison meal!).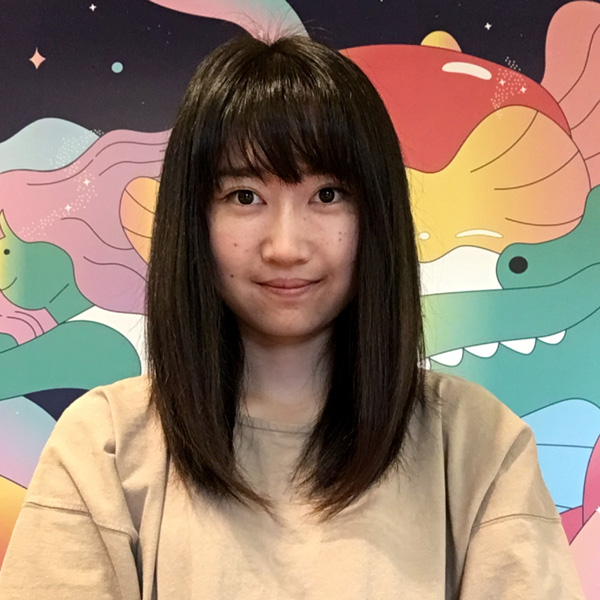 Moeko's Review
Abashiri Prison Museum is a great place to learn about different aspects of prisoners' lives and the history of Hokkaido. Their exhibits are very informative and unique. I especially enjoyed learning about prisoners who worked to develop the infrastructure in Hokkaido. There is also a restaurant that serves prison-style lunches. Their food was really good. You must try it if you visit the museum.
Aya's Review
Abashiri Prison Museum is a great and informative open air museum. There is a lot to learn about prison life in the past (and how it is right now), their daily lives, their living conditions, and pieces of Hokkaido history in a quiet and somber walk around the grounds. You can try the local dishes and the prison meal for a reasonable price. It is worth the trip, if you're ever in the area.