For the past half year, a pile of bright red boxes sat in the corner of our office, growing by one box per month. Inside each box was Japanese candy, snacks, drinks, and (sometimes) toys. Our plan was to review the Japan Crate Japanese snack box subscription service.
It all started a year earlier, with our Japanese Candy Box Battle Royale. We reviewed seven different Japanese candy subscription services, but only considered a single month's box with each. We wondered: what if a box got way better the next month? Or way worse? By reviewing only one month, there was no way to put together a fair or accurate review.
So we decided to put one of these companies to the test. We chose our favorite at the time, Japan Crate, and let the subscription run for six months. Then we unboxed, catalogued, sampled, recorded, researched, and judged. This review is the result of all our gorging.
Note to the reader: Tofugu was not paid to do a Japan Crate review. In fact, we paid for these boxes ourselves, because we wanted to be sure Japan Crate wasn't sending us "special" boxes to help their chances.
What is Japan Crate?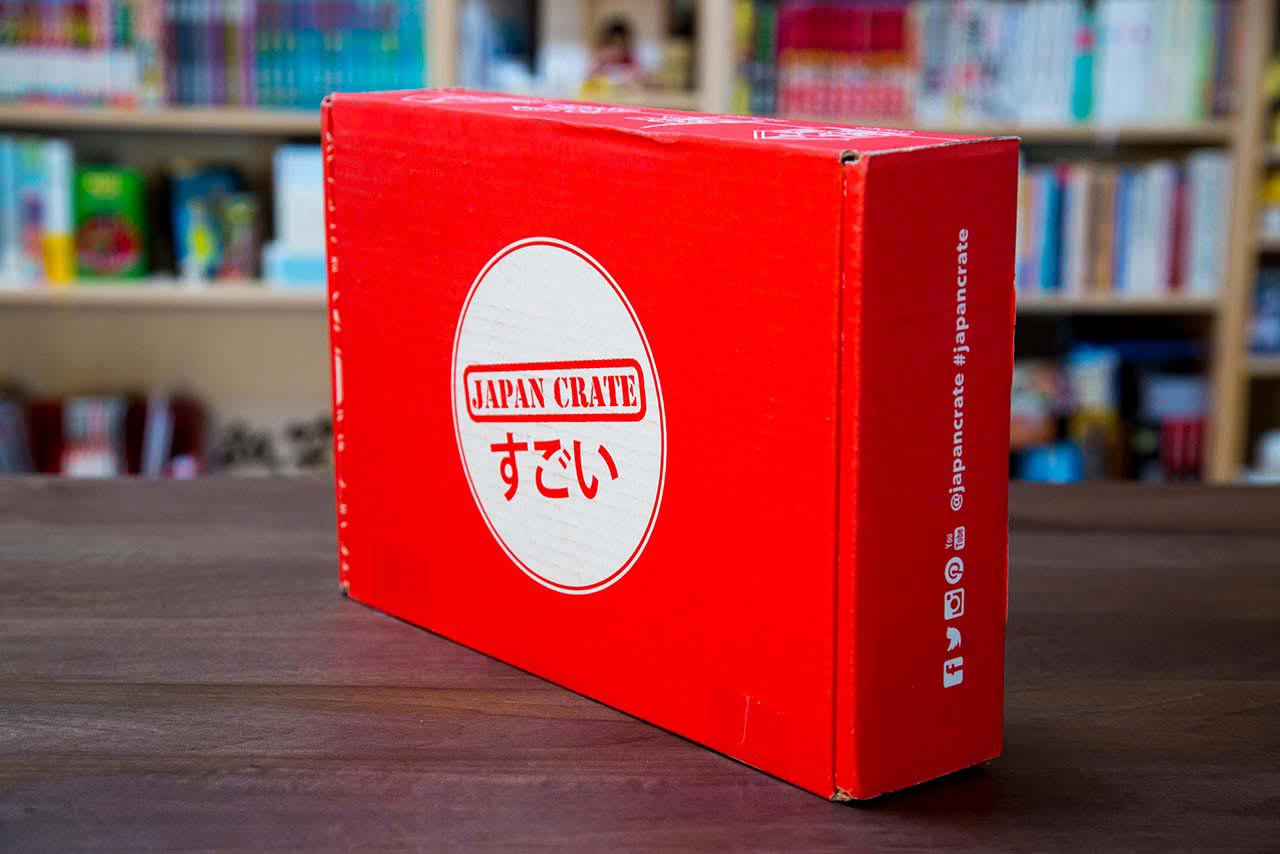 Japan Crate is a subscription box. You pay a monthly fee to have packages of Japanese snacks sent to your doorstep. You don't have any control over what Japanese snacks you'll get, but you can control the crate size you subscribe to. For our review, we subscribed to the "Premium" size, but you can subscribe to the "Mini" and "Original" versions as well.
Mini
Original

$25/mo
1 pound
1 DIY Kit guaranteed
8-10 items

Premium

$30/mo
2+ pounds
Includes drink
1 DIY Kit guaranteed
A "revolving bonus item"
12-14 items
"These would be great with tea!"

Kristen's thoughts on Hachimitsu 100%
When choosing a subscription, there are 1, 3, 6, and 12 month plans. Prices get cheaper as the plans get longer. But only by a little. Be aware there are no refunds, and these charges do automatically recur (cancel after subscribing to stop this). Otherwise, the terms are ordinary and straightforward.
Japan Crate ships everywhere in the U.S. for free, even non-contiguous states and territories. They'll ship almost anywhere else in the world too (for an extra shipping fee). But note there are sixteen exceptions they won't ship to.
Japan Crate is one of the most successful and popular Japanese snack subscription services out there. But, are they deserving of their position? And more importantly, is their box worth your money? Get ready to feast your eyes on 10+ lbs of Japanese snacks, followed by our thoughts and a final verdict.
Box 1 - December 2015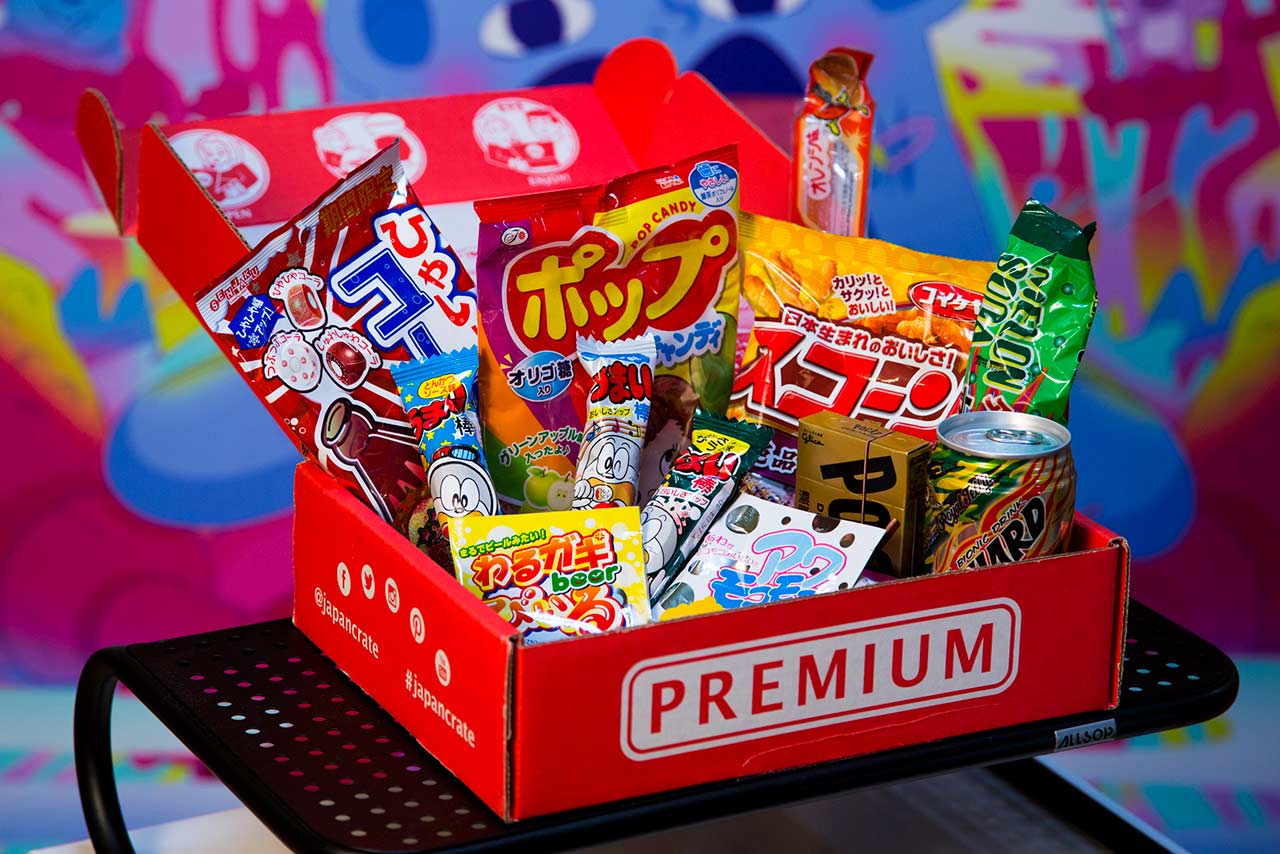 Estimated Value: $14.07

Weight: 2.26 lbs
As far as the boxes go, this one was a great start. Two large bags of candy (Fujiya Lollipops and Hiya Shuwa Cola) plus unique items like the drink mixes and Black Bean & Soy Sauce Scones. Even though one of the drink mixes tasted like death, it didn't hurt the overall enjoyment of this box.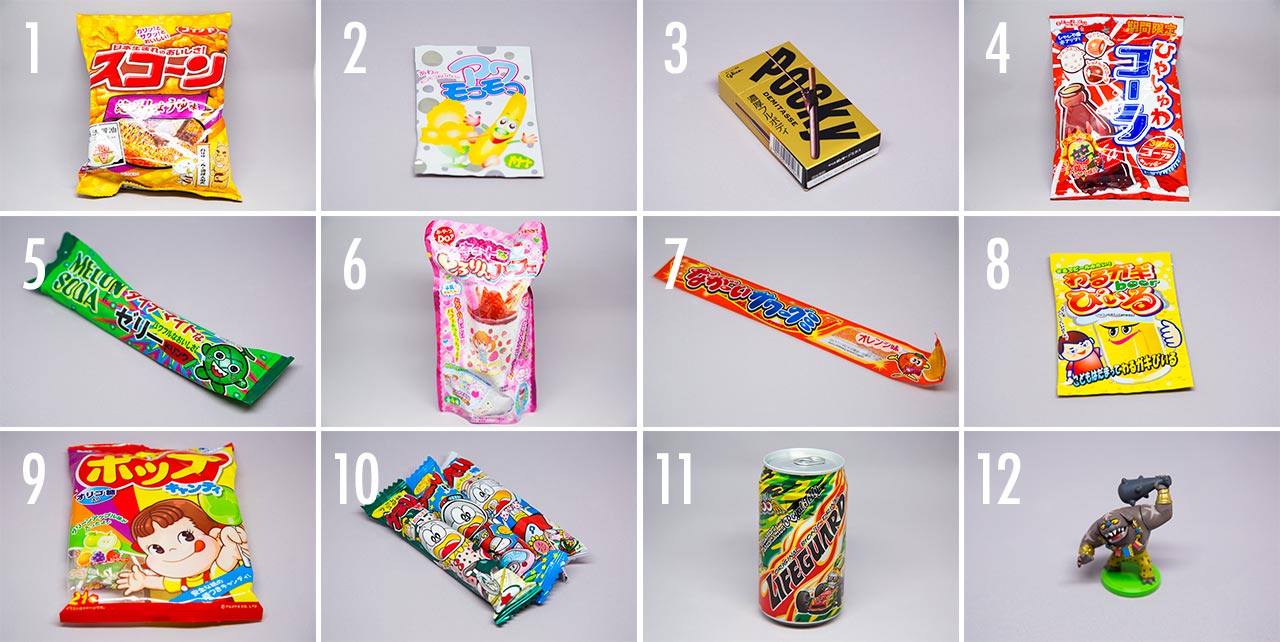 "A lot of goo, not a lot of melon. But unique!"

Kristen's thoughts on Pachishuwa Dynamite Melon Soda
Black Bean & Soy Sauce Scones
Don't let the word "scone" throw you. The brand スコーン is more like Cheetos. In fact, it's exactly Cheetos, shape and all. The main difference is the various flavors. This one is is black bean soy sauce and corn.
Awa Moco Moco
This is a drink mix, like a Kool-Aid with foam at the top. It tastes like a chemical nightmare.
Pocky Demitasse
A box of Pocky for all you otaku. But it's a more grown-up dark chocolate variety, meant to mature your palate and make you more sophisticated.
Hiya Shuwa Cola
A big bag of cola flavored hard candies. They taste exactly like a super sweet cola (minus the carbonation).
Pachishuwa Dynamite Melon Soda
This is a tube of sweet green goo. It's hard to eat/drink in one sitting.
Cute Tororin Parfait DIY
A powder that mixes with milk. You chill the mixture for 5 minutes and add toppings. Makes an interesting pudding type dessert.
Naga-i Sawagumi Orange
Delicious sour gummy rope. Like someone made a human centipede out of orange Sour Patch Kids.
Bad Kid Beer
This powder mixes into a beer-like drink so kids can pretend they're alcoholics. Just like daddy!
Fujiya Lollipop Bag
A big bag of basic lollipops. Flavors are grape, apple, strawberry, and orange. It's a large bag, but not particularly special or unique in any way.
Cheese, Veggie, and Tonkatsu Umaibo
Umaibo is a giant Cheeto tube that comes in various flavors. I always like the knock-off Doraemon art on the packaging, but their taste is inconsistent. These sticks cost 10-20 cents each, so they are filler by definition.
Lifeguard
Lifeguard is a Japanese energy drink with a cool refreshing taste. It's green, goopy, and tasty.
Zelda Figure
This is from a series of capsule toys based on "The Legend of Zelda: Spirit Tracks." We got a moblin. It's well molded and painted. I claimed it for my desk.
Box 2 - January 2016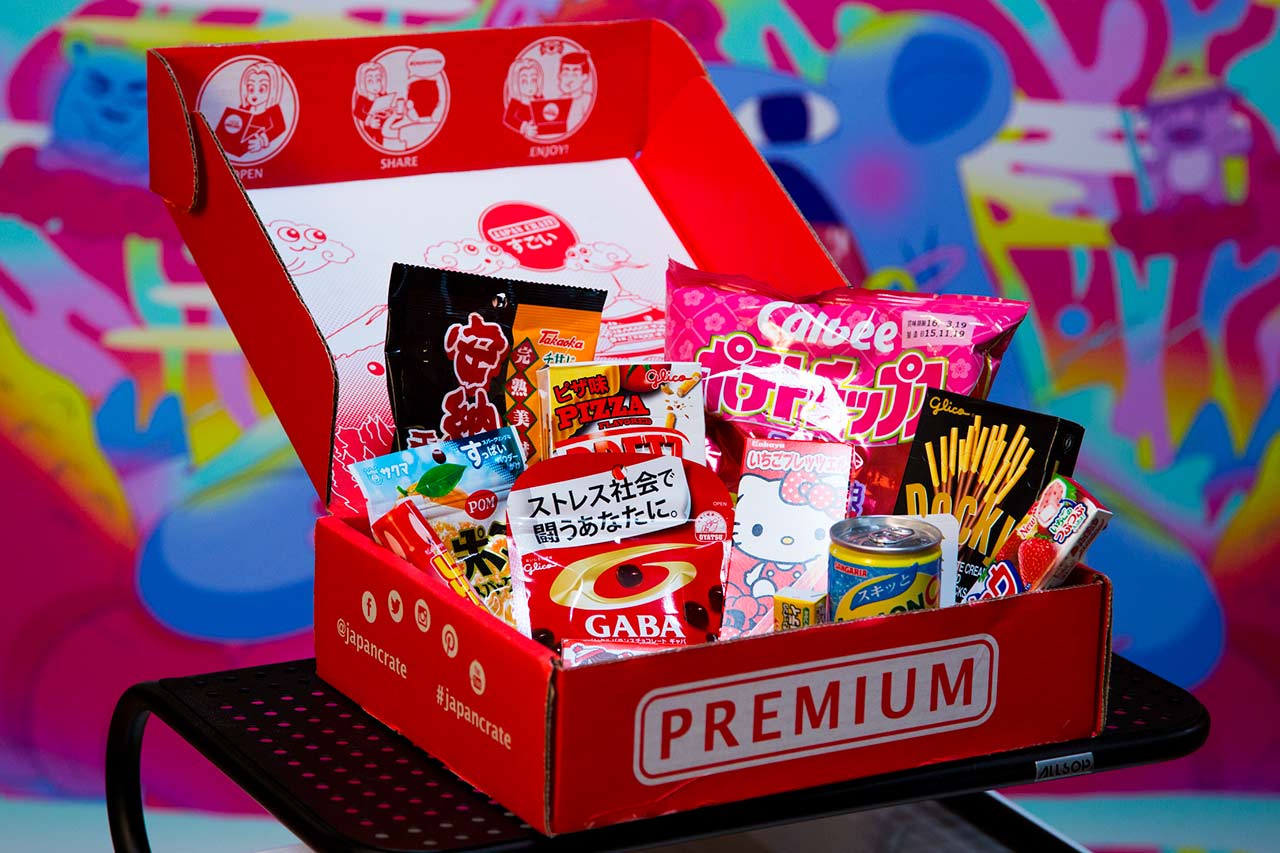 Estimated Value: $14.07

Weight: 1.71 lbs
Sometimes the packaging can be just as exciting as the candy itself. And this month we got Hello Kitty, Waldo, and Pokemon on three of our candies. Seeing beloved characters should make the kids smile. There was supposed to be a Gudetama DIY kit in this box, but the shipment got destroyed on its way to the Japan Crate warehouse. Even though Japan Crate had no control over the situation, they still added consolation candy to this box and promised make-up items in the next one.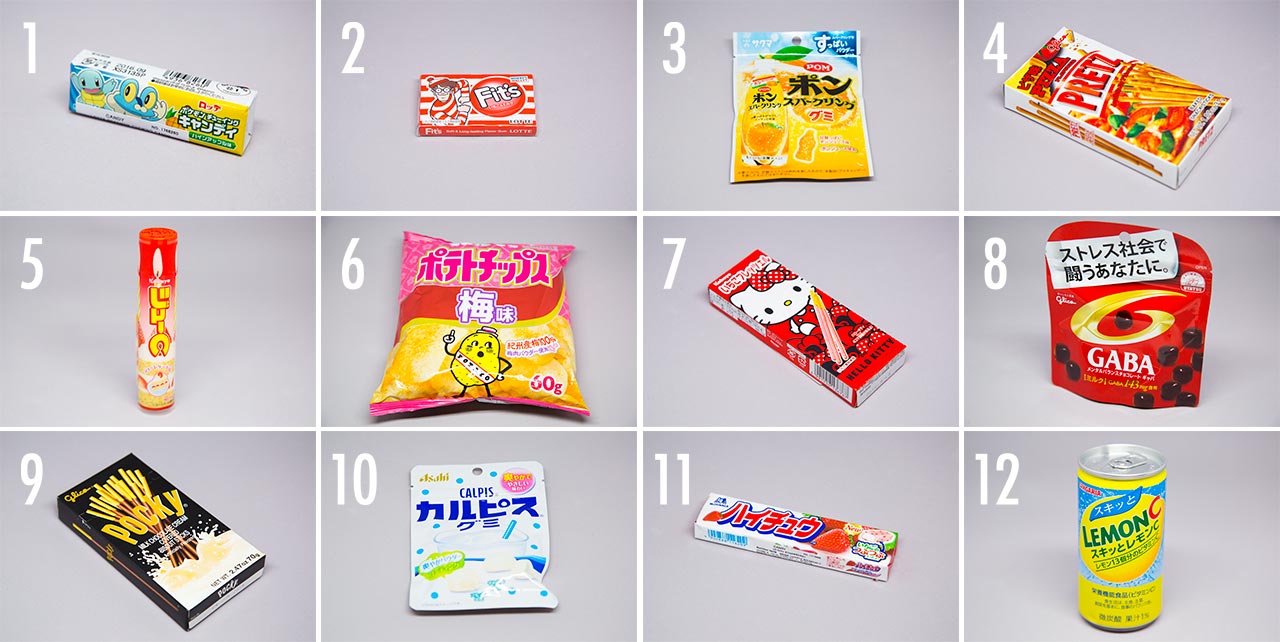 "Nice texture, semi-sweet. Trusting that I got some GABA."

Michael's thoughts on GABA Infused Chocolate
Pokemon Pineapple Candy
This candy chews like gum, but dissolves after a while. Also Squirtle is on the package, which enhances the flavor.
Fit's Strawberry & Cream Gum feat. Waldo
The Waldo on this package is really easy to find. Also, the gum is strawberry flavor.
Sparkling Orange Gummy
Orange gummies with a sugar coating. Generic, but tasty.
Pizza Pretz
Pretz are delicious, period. Light, crunchy, and salty. These are "pizza flavor," which tasted to me like a collection of herbs.
JU-C Short Cake
These are like Bottle Caps or Sweet Tarts. But instead of a flavor variety, you get one. This one tastes like cake. Aren't there cake pellets in Fallout? There oughta be.
Ume Potato Chips
Ume is a Japanese pickled plum, a perfect blend of sour and sweet. Adding it to potato chips is a great choice. You can definitely taste the sourness on these.
Hello Kitty Strawberry Pretzel
If you've had strawberry Pocky, you've had this. The only difference is the Hello Kitty on the package.
GABA Infused Chocolate
GABA is an amino acid that relieves stress. These chocolates are infused with GABA. It's not like anyone already eats chocolate to help with stress, right?
Milk Chocolate Pocky
Chocolate Pocky is common in most grocery stores. But this is milk chocolate, so it's richer than the regular waxy stuff.
Asahi Calpis Gummy
Calpis the drink is basically liquid candy. So turning it into a gummy is a natural move. If you like Calpis, you'll like these.
Strawberry Hi-Chew
There are a ton of Hi-Chew varieties available only in Japan. This is a special 苺のつぶつぶ variety. It has little granules of strawberry in it.
Sukitto Lemon C Drink
Carbonation. Lemon. Put them together and you get this drink. Sour, bubbly, and full of vitamin C. But I'm sure the sugar outweighs the health benefits.
Yam White Chocolates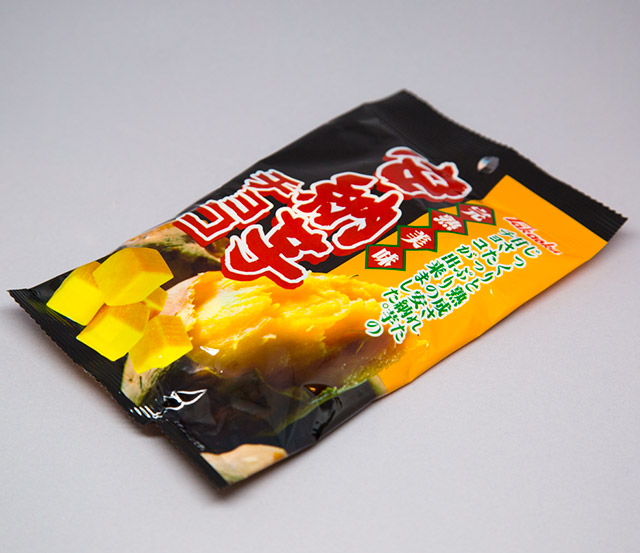 This is the kind of thing everyone wants to try, but isn't brave enough to buy for themselves. Uniqueness and intrigue, all rolled into yammy chocolatey squares.
The candies themselves are brownish and waxy. White chocolate is the prominent flavor. You don't taste the yam until the end. But the balance is just right.
Box 3 - February 2016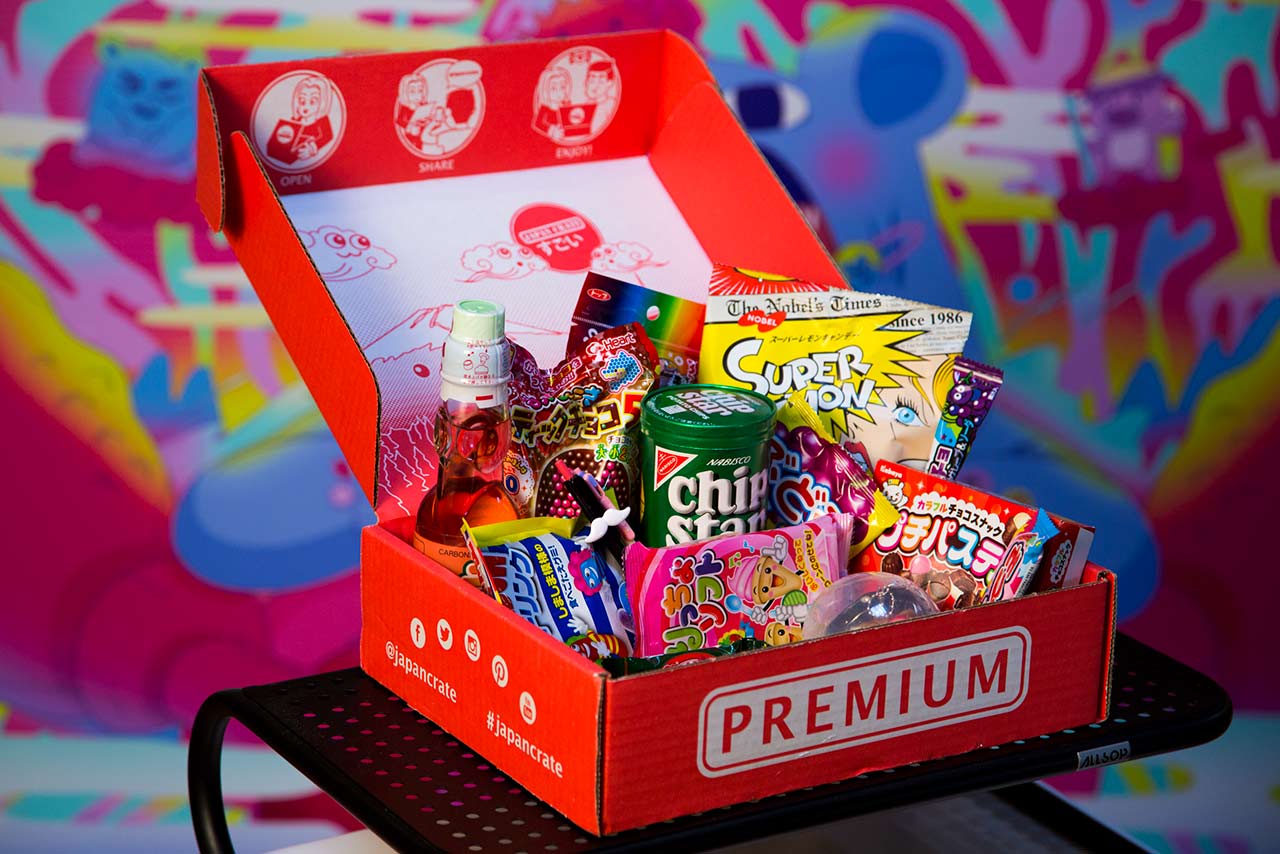 Estimated Value: $13.35

Weight: 2.07 lbs
As promised, the make-up items are here. Two DIY kits (instead of the usual one), a toy keychain, two pens, and three matcha Kit Kats. Good on Japan Crate for going the extra mile to make things right, even though the lost item from last month's crate wasn't their fault.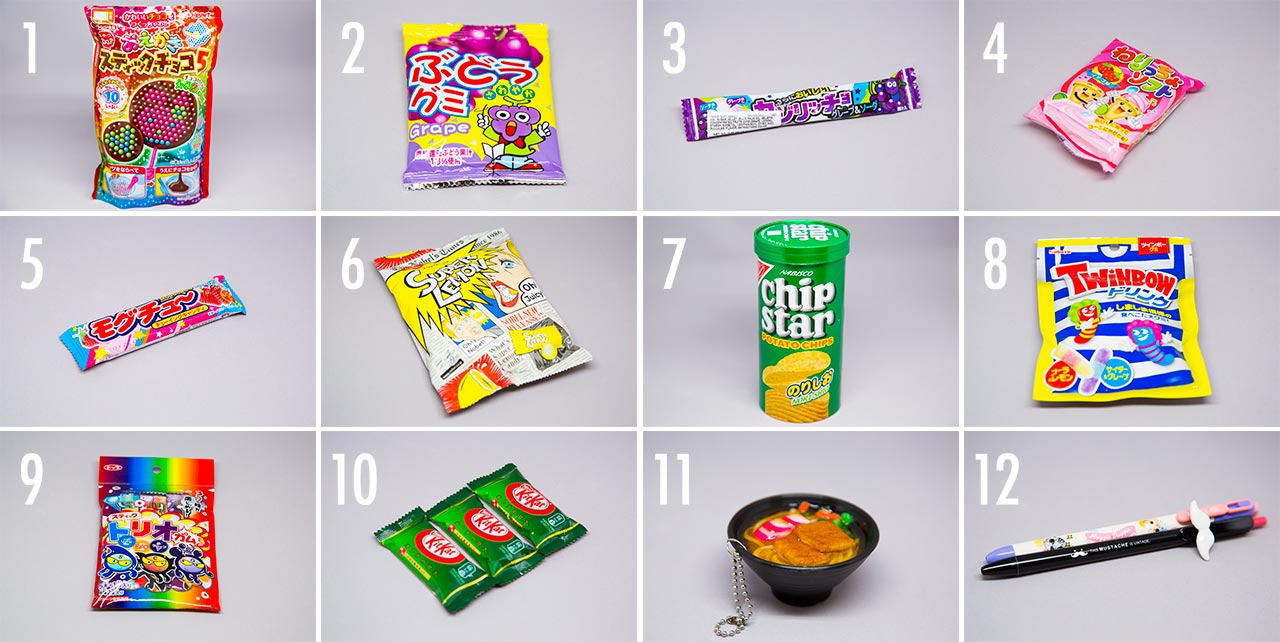 "Oh God! So sour!"

Michael's thoughts on Super Lemon
Heart LTD Oekaki Choco DIY
This kit requires you to make shapes with candied beads, crush chocolate pieces, melt chocolate pieces, pour melted chocolate on your bead design, place a stick in the melted chocolate, and cool it all in the fridge. Or you can eat the chocolate pieces and candy beads right out of the bag.
Yaokin Budou Grape Gummy
Gummy candy with grape flavor. The texture is a bit softer than other gummies. It's a bit better than the average gummy too.
Coris Grape and Soda Kajirittyo
This is a stick of ramune flavored taffy wrapped in a layer of grape flavored taffy. Interesting combination of flavors and texture.
Nericcho Soft Cones DIY
This kit is a powder mix you blend with water. Scoop the solidified result into the cone and eat.
Yaokin Moguchuu Strawberry
These looks similar to Hi-Chew, but they're not quite as good. The flavor was fine, but they were hard to chew.
Super Lemon
Lemon hard candy, but incredibly sour. It was like two Warheads in one.
Nori Shio Chip Star
Beside the novelty of being a different kind of Pringle, these Chip Star are norishio のり塩. Nori Shio is by far the best Japanese chip flavor.
Twinbo Drink Gummy
These are sour gummy worms, but minus the worm element. There are four flavors total, and two flavors on each non-worm worm. Some of these tasted good, others tasted like chemicals.
Toppo Trio Stick Gum
Six sticks of gum in three flavors: cola, cider, and grape.
Matcha Kit Kat
Matcha Kit Kats have become common in the U.S. in recent years. But that doesn't mean they're not wanted. Matcha Kit Kats are amazing. We got three in this box.
Mini Ramen Bowl
You can't eat this, but you'll wish you could. If you're into Japanese sampuru (plastic display foods), then you'll want to keep this on your key ring.
Deco Pen
Two cute pens. Great if you like cute pens. One has a mustache.
Petit Pastel Ice Cream Cookies and Chocolate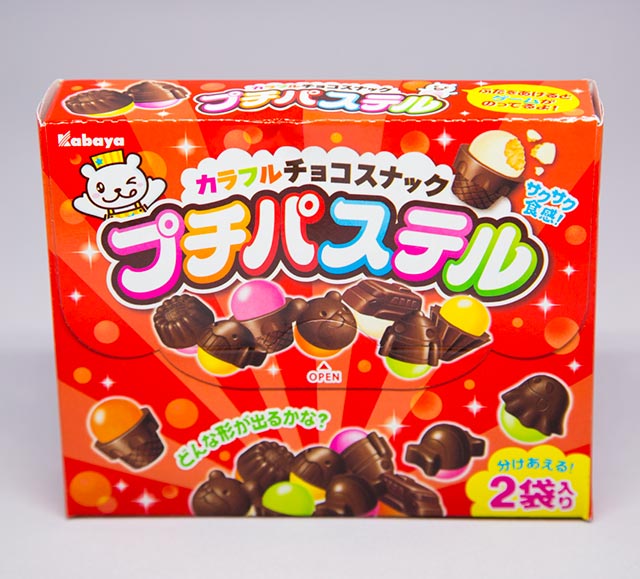 These are a cool twist on the Koala's March cookie formula. Petit Pastel are chocolate molded around a wafer center. And it's shaped like ice cream.
The smell and flavor remind me of Cadbury Creme Eggs. But it's closest comparison is a candy from Japan, Takenoko No Sato. The main difference here is Petit Pastel are much softer and creamier. The flavor and fun shape made these an office favorite, and they didn't last long.
Watermelon Ramune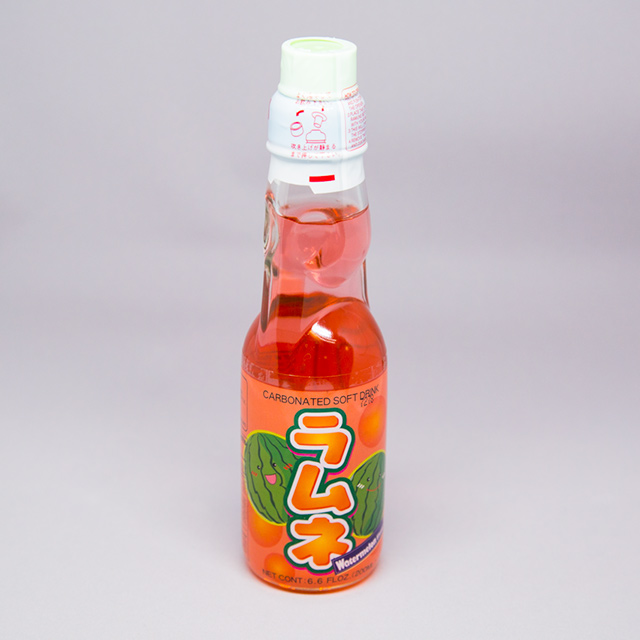 Ramune is always welcome at the Tofugu office. We've had plenty of green melon ramune (and loved it!), but never watermelon.
The flavor isn't overly sweet, like the watermelon Jolly Rancher soda. Instead, the taste was subtler and reminded Koichi of the transition between a watermelon's rind and fruit. Not a particularly bad taste, but if you're the type of person who doesn't eat down to the rind, you might not enjoy it.
Box 4 - March 2016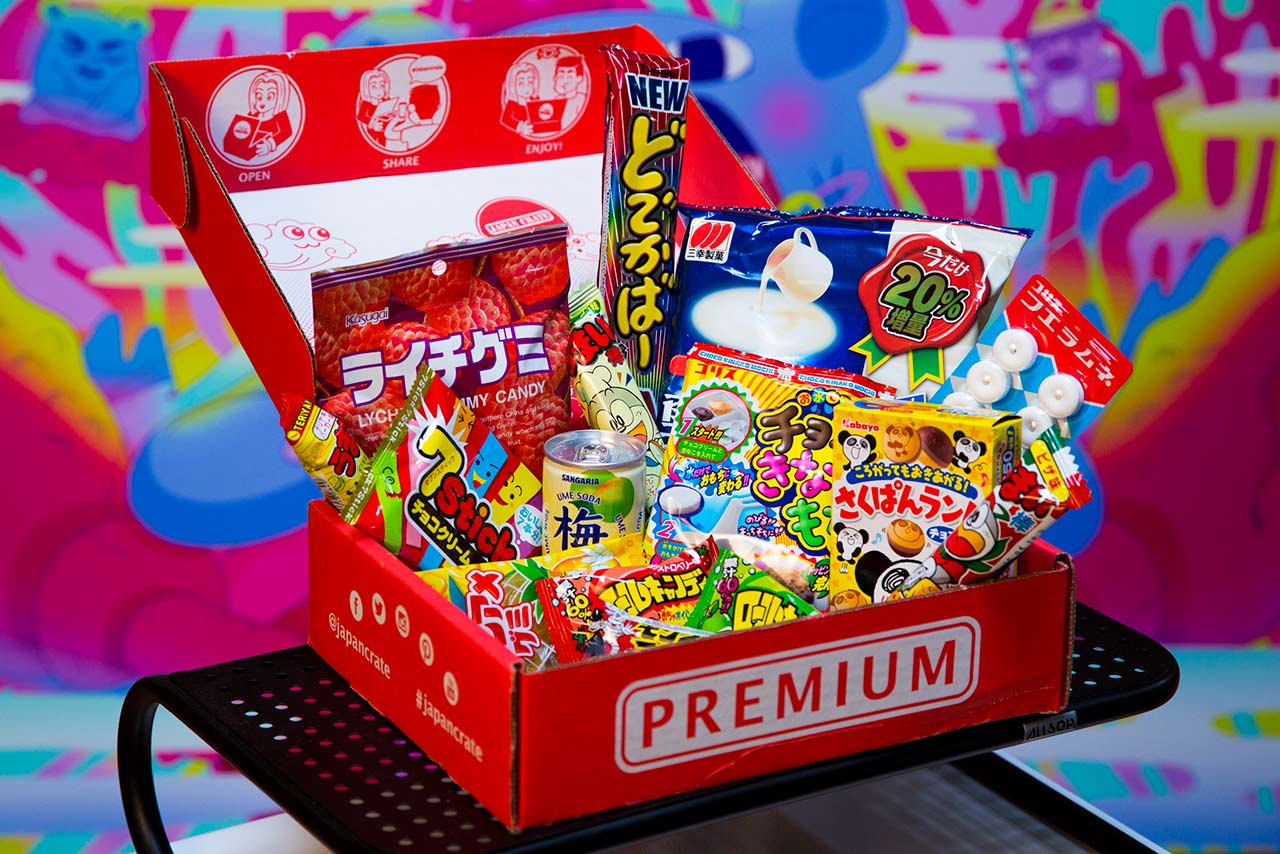 Estimated Value: $10.85

Weight: 1.51 lbs
This box had a lot of favorites for the Tofugu office. The Yuki no Yado chips were one of the best snacks of all six boxes. Unfortunately this was the only senbei we got. Senbei are an important part of Japanese snack culture. Since the motto printed on the box is "Experience Japan through candy!" I had hoped to find more traditional Japanese snacks, versus "snacks with Japanese flavoring."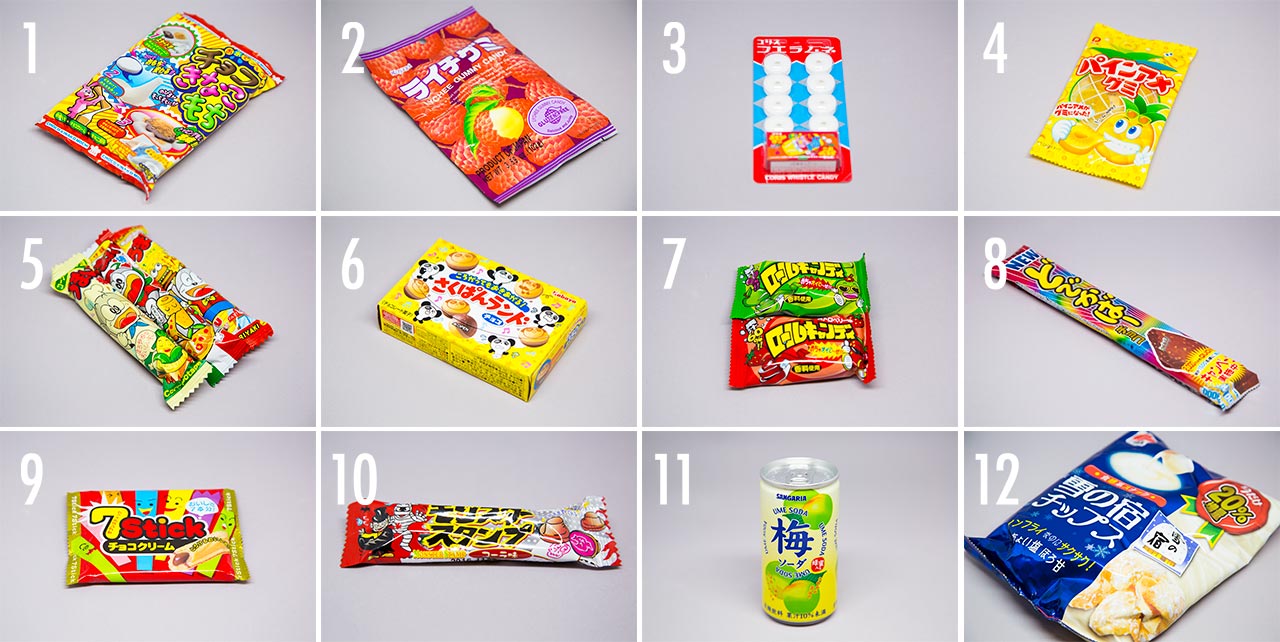 "Tastes like sweet and salty pop chips."

Viet's thoughts on Yuki No Yado Chips
Choco Kinako DIY
Kinako is roasted soybean powder used in a lot of Japanese sweets. Add the chocolate and mochi and you can't go wrong.
Kasugai Gummy
Kasugai gummies are a mainstay of Asian grocery stores in the U.S. Of the four flavors sent out, we got lychee.
Fue Ramune
These are a traditional kind of Japanese sweet called Fue Ramune. You can put it to your lips and use it as a whistle. It makes a high pitched fweet fweet! It also comes with a toy.
Pine-Ame Gummy
A tray with six gummy rings. A big package for so little candy.
Teriyaki Burger, Corn Potage, and Pizza Umaibo
Umaibo again. The Corn Potage flavor was unique. Good thing the package art is always cool to look at, because these are hit or miss (mostly miss).
Sakupan Land
Round cookie balls! The perfect amount of cookie crunch and a generous amount of chocolate.
Yaokin Strawberry & Green Apple Roll Candy
This is basically Fruit by the Foot. Too generic for a Japanese subscription box.
Furuta Dodeka Bar
This is a reverse wafer cookie, chocolate on the outside and wafer on the inside. But the wafer is corn. It's like a 10 inch corn flake covered in chocolate.
7 Stick Choco Cream
7 wafer sticks filled with chocolate. Fun package art too.
Monster Stamp Candy
This is a piece of candy shaped like a stamp. You lick the stamp side, and stamp it on paper. After you're done repeatedly licking your candy and pressing it on filthy paper, you eat it. Gross.
Sangaria Ume Soda
I'm glad Japan Crate takes some risks with the flavors they send out. Since ume is an acquired taste, sending out an ume soda might help people acquire it. This drink is from Sangaria, a Japanese drink exporter.
Yuki no Yado Chips
Senbei are a big (and delicious) part of Japanese food culture. These are coated with a dash of sugar on top. Sweet and salty, they're the perfect Japanese snack.
Box 5 - April 2016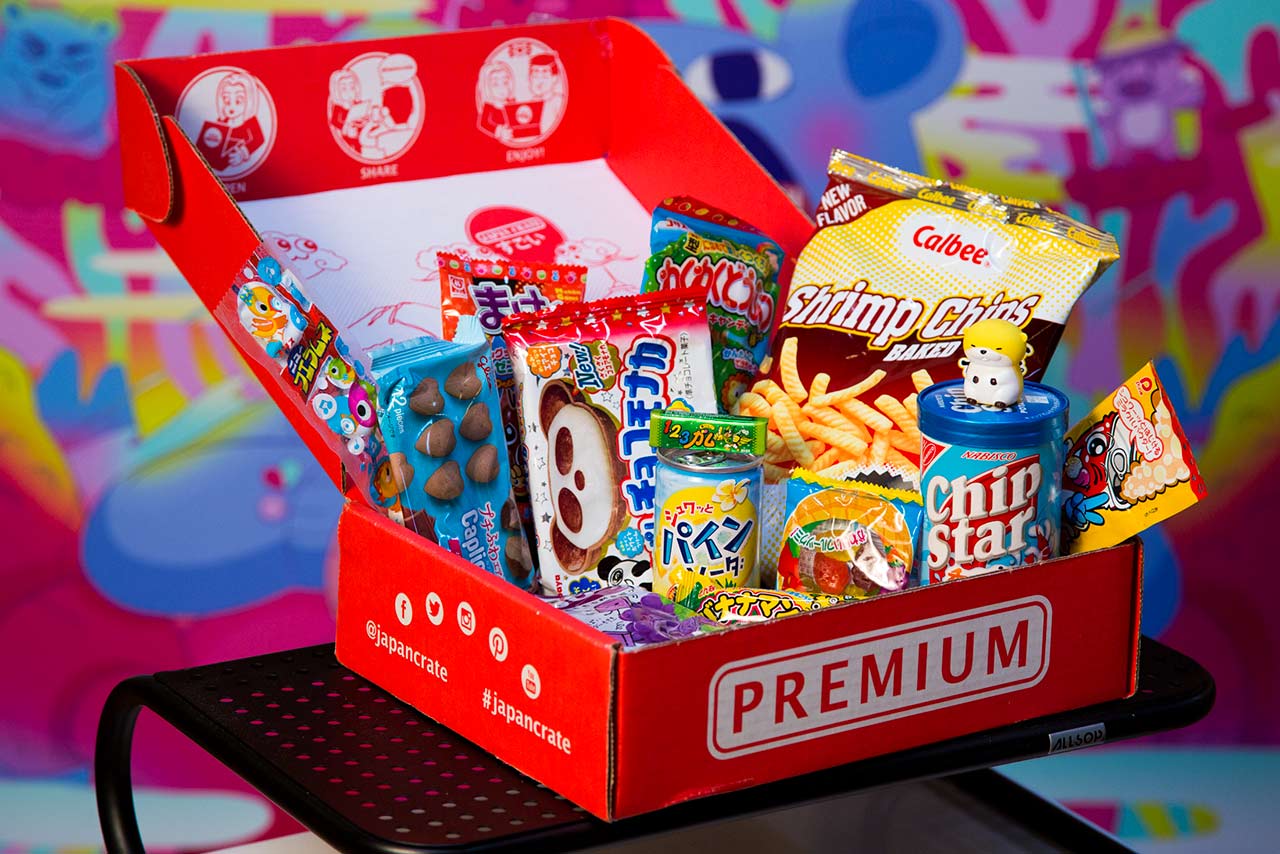 Estimated Value: $12.28

Weight: 1.39 lbs
This is the most colorful and interesting collection of packages in our six month run. A lot of wacky characters, primary colors, and bold lines. Of course the candy was great. But the packaging primes those taste buds before you even start eating.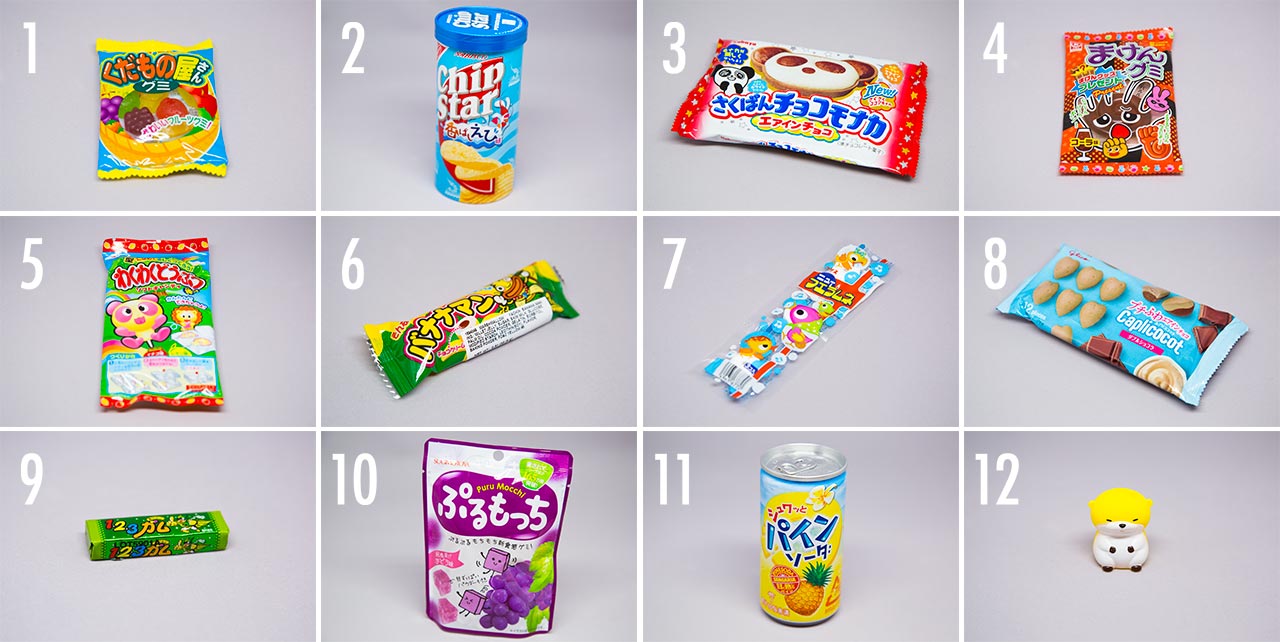 "Nice ancient banana flavor. Tastes like Mike & Ike and Twinkie had a baby."

Koichi's thoughts on Wow!? Such Banana!
Fruit Shop Gummy
A package of fruit gummies shaped like fruit. In case you forget what fruit looks like because you've been eating only candy for five straight months.
Chip Star Ebikoubashi
This Chip Star is shrimp flavor. Normally Chip Star tastes generic. But the shrimpiness of this can makes it special.
Sakupan Giant Wafer
Light and flaky with bits of chocolate cream. Again, more packaging than is necessary, but that's a bit of Japanese culture in itself.
Maken Gummy
This is a gummy hand in either rock, paper, or scissors formation. Use it to play janken じゃんけん with yourself. Once.
Waku Waku Zoo Animal DIY
These are neat molds with sticks for making candy lollipops. Put the candy gunk in the molds, insert the stick, and clamp down. Just like that, you have cute animals to devour!
Wow!? Such Banana!
A banana flavored with marshmallow cream filling. Koichi described it as a mix between Mike & Ike and a Twinkie.
Fue Ramune
More whistle candy. But this time there's no toy included.
Caplicocot
Solid chocolate in heart shapes.
123 Green Apple Gum
I like the packaging on this one. Plus it's "old timey," which is cool. Otherwise, it's just apple gum.
Puru Mocchi Grape
Grape flavored gummies. These have the advantage of being extra フワフワ. These were a Tofugu office favorite.
Pineapple Soda
Pineapple flavored soda. Sorry, there's no more to it than that.
Kawauso No Kotsume
A little plastic otter. He's quite cute. But know his purpose is to tempt you into ordering a Doki Doki Crate.
Sherbert Pero Cola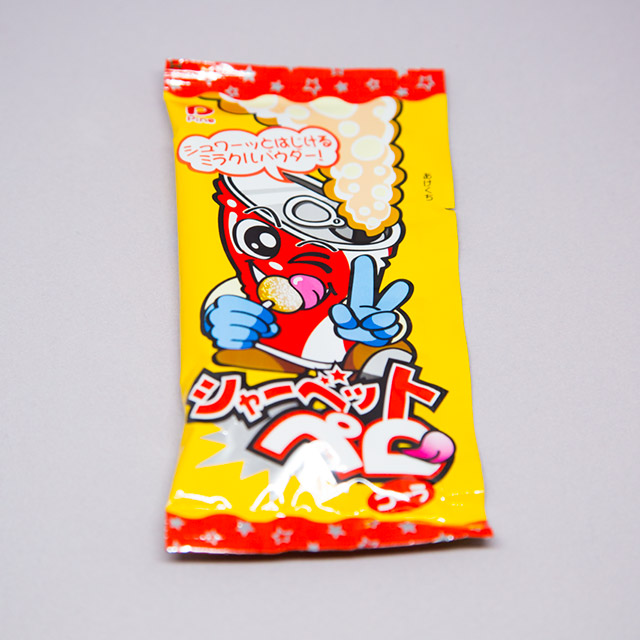 This is another shining star for the uniqueness category. It's a cola flavored lollipop with Pop Rocks style dipping powder. So you're getting cola flavor with an extra fizzy punch.
It's super sweet, so keep it on hand when you're in the mood for a sugar rush.
By the way, your Japanese onomatopoeia of the day is peropero ペロペロ because of this candy and this video.
Calbee Shrimp Chips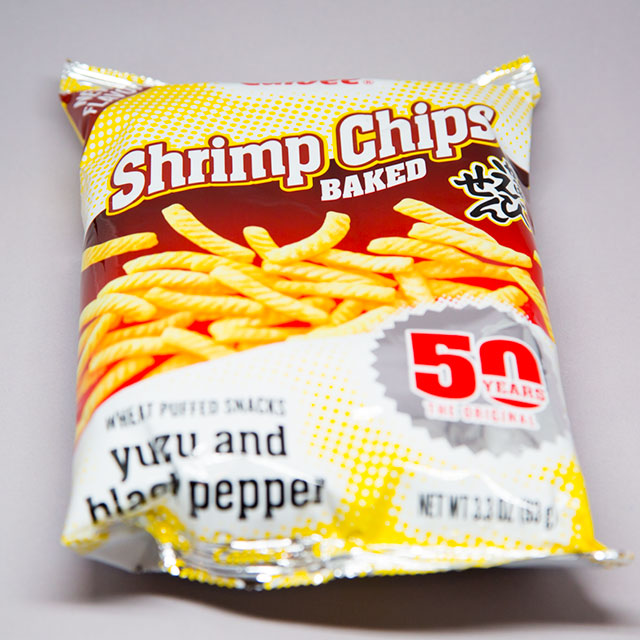 The big bag for this box is Calbee Shrimp Chips. These are a staple of Japanese snackery. They've got a hard crunch and a strong shrimp flavor. It may throw you at first, because the texture isn't what your brain associates with shrimp flavor. But keep eating. They're worth it.
I wonder if this and the Shrimp Chip Star are too much shrimpiness for one box though. I like shrimp a lot, but I imagine two shrimp flavored items in one box might be too much for some people.
But seriously, if you hate shrimp chips you need to broaden your horizons.
Box 6 - May 2016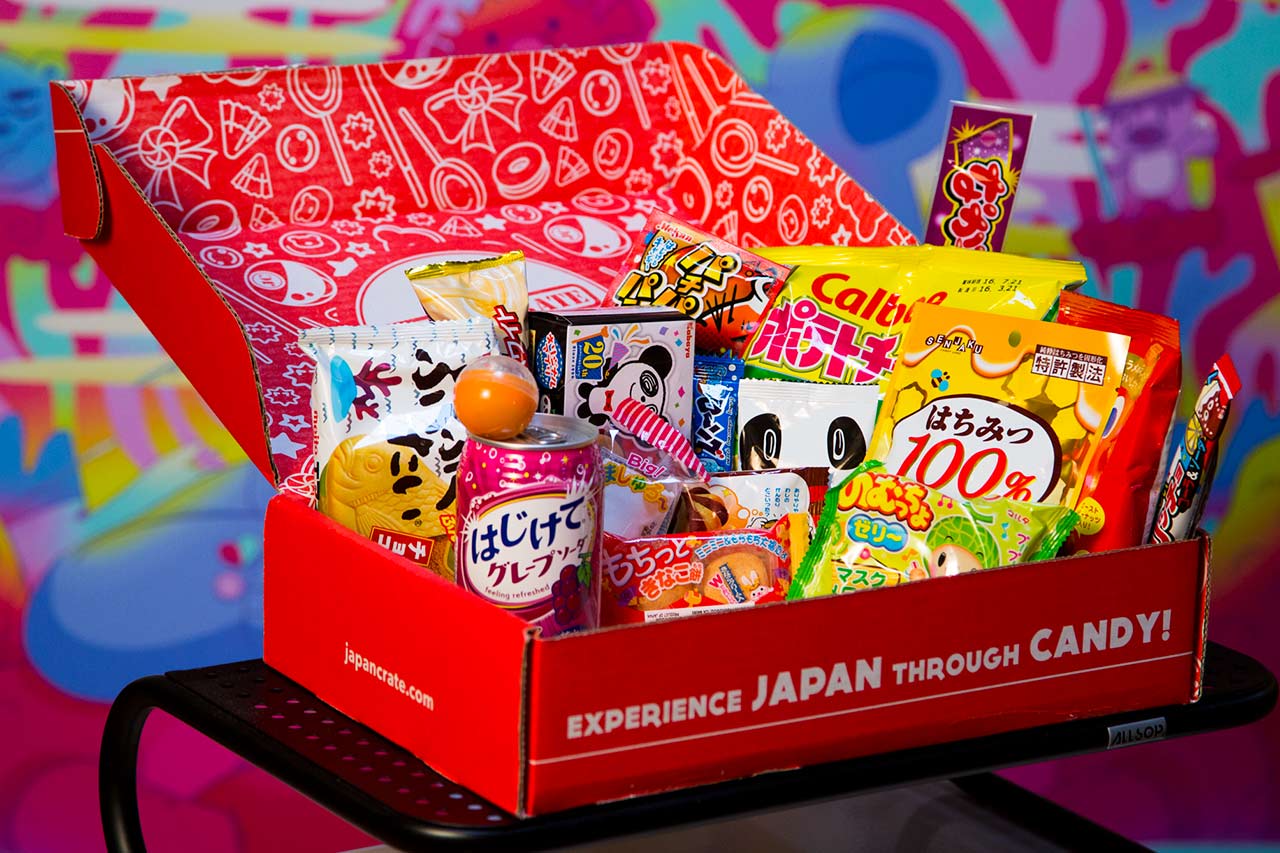 Estimated Value: 9.82

Weight: 1.64 lbs
This is my favorite box, as far as items included is concerned. Almost every item was a favorite to someone in the office. A close second in most interesting packaging too. And though I lamented the lack of senbei and other traditional snacks across these six boxes, the inclusion of kinako mochi does a little to make up for it.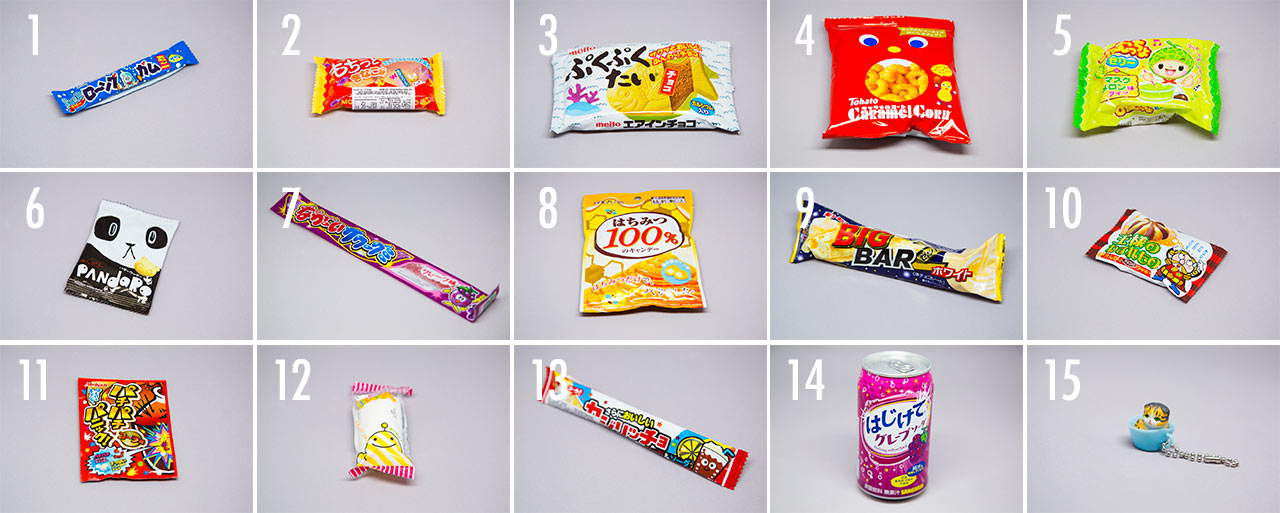 "Tasted good but lost flavor quick."

Michael's thoughts on Sour Cider Gum
Sour Cider Gum
A ramune flavored gum with a sour kick. I like the ramune bottle man on the package too.
Mochitto Kinako Mochi
This is a great example of wagashi 和菓子, and I hope to see more things like this in future boxes. Kinako is wonderful.
Puku Puku Taichoco
This is a flaky wafer cookie surrounding whipped chocolate. It's in the shape of taiyaki, which makes it better.
Caramel Corn
Not the same as American caramel corn. These are corn puffs covered in caramel. If you've ever had the snack カール, this is the same thing with caramel instead of flavored powder.
Nomuccho Jelly DIY
This DIY kit is another powder mixture. Dump the powder into water and stir. It gets thicker the longer you wait.
Pandaro Cookies
These are simple butter cookies in panda shapes. The selling point is the packaging. There are 5 different package designs.
Naga-i Sour Gummy Rope
The sour gummy rope returns. We saw this in January's box. It's a long gummy rope with sour sprinklin's.
Hachimitsu 100%
Honey candy made with 100% honey. These are not overly sweet and have a subtle flavor.
Big Bar Z White Choco
A gigantic cookie bar covered in white chocolate.
King's Lost Crown
The king lost his crown and it turned into a cookie. Or he wore a cookie on his head as a sign of authority. Either way, he lost it and you get to eat it.
Pachipachi Panic Cola
Awesome packaging and a unique idea. These are Pop Rocks style candy fragments flavored with cola and lemon.
Big Mashuro
This is just a big marshmallow. But who doesn't like marshmallows? Besides, the character on the package is neat.
Kajirittyo Cola Candy
A chewy cola flavored taffy wrapped in ramune flavored taffy. Two taffies in one!
Hajikete Grape Cider
Grape flavored soda. Sorry, Japan Crate. This isn't all that special.
Kitty Cup
This little toy is adorable. It's kitty in a teacup. What's not to love?
Sakusaku Panda Cookie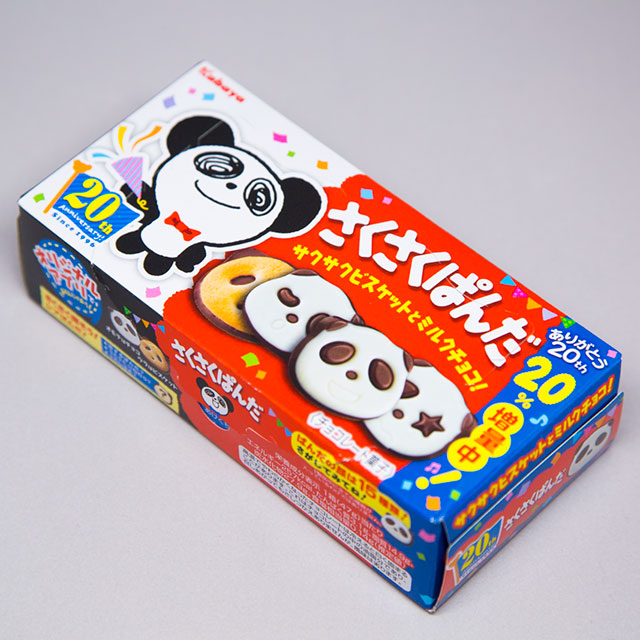 Sakusaku Panda cookies are great in whatever form they take. These might be the best. They're semi-soft butter cookie topped with white and milk chocolate. The chocolate is formed into a panda face.
Each cookies has a different facial expression, so the experience is one you'll want to savor rather than wolfing through. Like Koala's March, you'll spend a few seconds to a minute examining each unique character before you eat it. Or you might not be able to eat it at all.
Nori Shio Potato Chips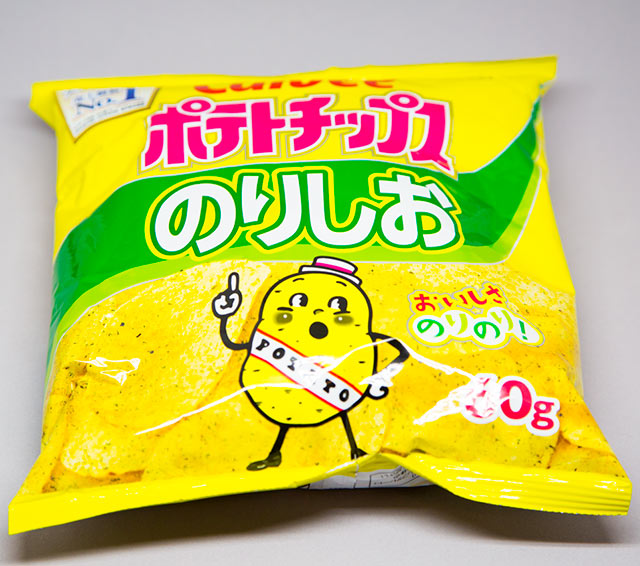 Calbee Nori Shio potato chips are my favorite Japanese chip, hands down. Tangy seaweed mixed with salt. Such a beautiful combo. These are easily found at any Asian grocery store. But that doesn't mean they don't belong in this box. They do. Their availability doesn't decrease their value.
Also, I should mention the potato character. At first glance, he seems like a mayor with his sash and William Jennings Bryan hat. But upon closer inspection, you'll notice his sash simply reads "potato." He's just an ordinary potato, but understands a little thing called showmanship.
I love you, Calbee Potato.
Japan Crate Judgment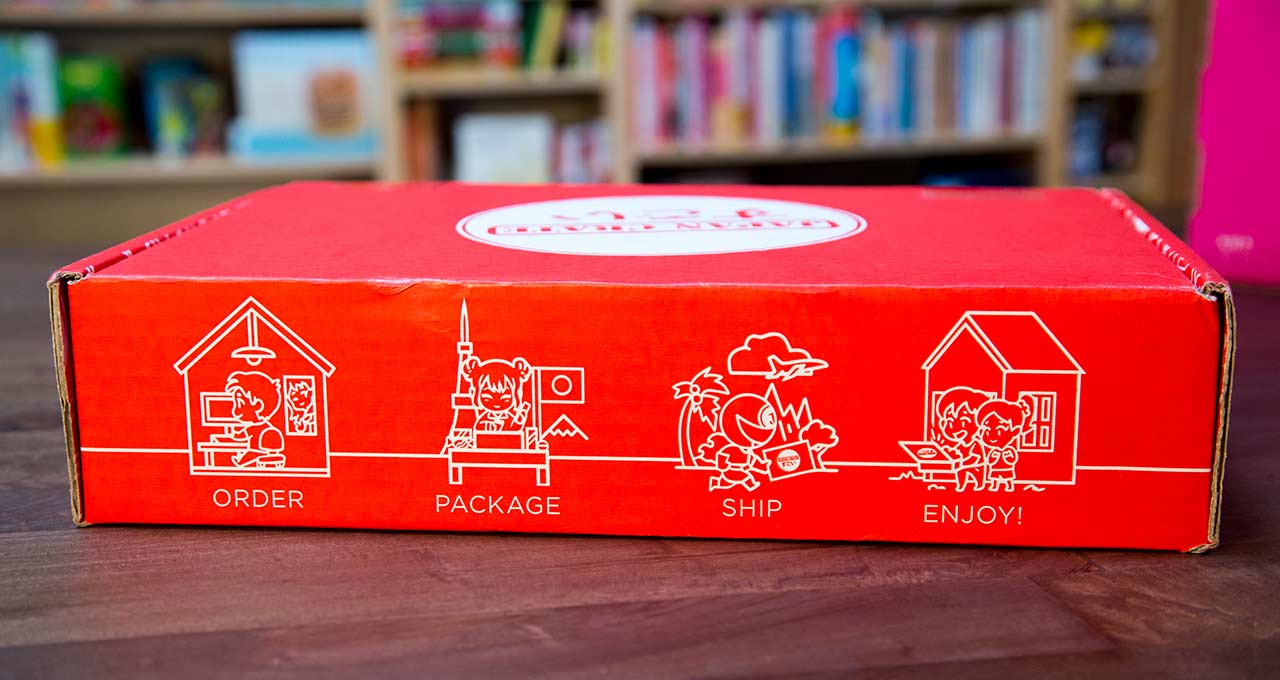 Finally, it's judgement time. We think subscribing for six months allowed us a more macro view. "See the distant mountains," as the proverb goes.
"The Best lychee gummy ever"

Viet's thoughts on Kasugai Lychee Gummy
If we hadn't done this, we wouldn't have experienced the disappointment of missing the Gudetama DIY kit coupled with the joy of getting consolation items in the next box. We also wouldn't have seen the repeating patterns. Experiencing the subscription as a long term customer was important for the broad scope of this review.
That said, we also zoomed in to the micro level. Each box was catalogued, item by item. We estimated the price of each snack, measured the weight of each box, and took a lot of photos.
With all this data at our disposal, we chose six criteria to judge the Japan Crate service:
Variety
Uniqueness
Presentation
Quality
Value
Customer Service
Let's start with Variety.
Variety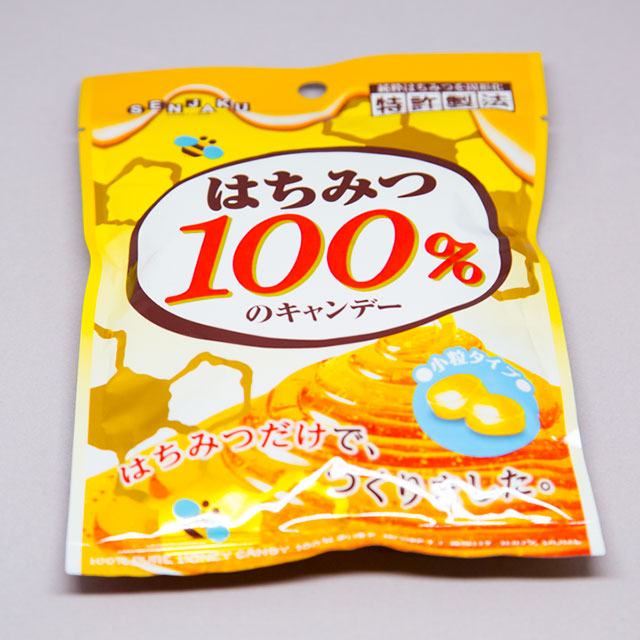 Though Japan Crate is like Japanese candy gambling (you never know what you're gonna get!), it never felt random. There was a preciseness to the selection in each box. Over the months we started noticing patterns.
Besides the advertised drink and DIY kit in every box, all six crates had at least one savory snack, chocolate/cookie snack, and gummy. Four out of six boxes had gum and toys. And half of the boxes had hard candy, tablet candy, and taffy.
This gave each box a sense of consistency and variety, two things that are tough to have together. The crates all felt curated with something for everyone. Each candy was as different from the others as it could be. Good variety and selection all around.
The only qualm I have is with salty/sweet ratio. The selection leans heavily to sweet. There were always one or two salty options in each box we received, but that was it. If you're hoping Japan Crate will deliver the savory, look elsewhere. But the types of sweets covered a wide range. Some types we encountered often were:
Lollipops
Hard candies
Chocolate
Cookies
Gummies
Sours
Goo Tubes
Drink mixes
Taffies
Gum
Tablet Candies
Marshmallows
Mochi
"Delicious!"

Kristen's thoughts on Sangaria Ume Soda
There were a lot of orange, grape, cola, ramune, and lemon flavored items spread across the six boxes. Personally, I always love cola or ramune anything, but I got sick of the grape and lemon candies by the end. Be aware certain flavors will show up repeatedly. You'll be happy to see some, others not so much.
In contrast, rare flavors were standouts. Everyone enjoyed the honey candy. Not because honey is amazing, but because it was such a departure from the cycle of "normal" flavors. Other "rare" flavors were kinako, yam, ume, and banana.
Uniqueness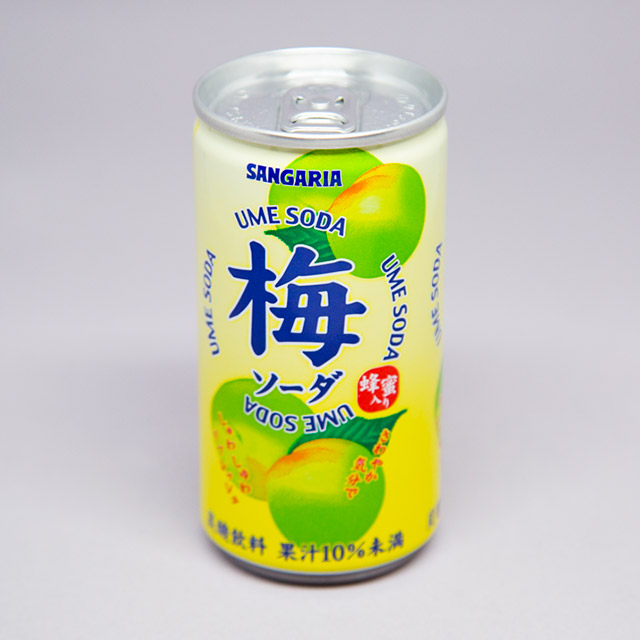 In our internet age, "uniqueness" is tough to judge. Everything is available online. The question is, would you know to look for something if you didn't know it existed?
Japan Crate isn't sending anything you can't find yourself. But they're taking away the search burden, and giving you surprise in exchange. If you buy these items for yourself, you don't get the joy of having Japanese candy Santa give you a gift box every month. Also you're free of the work, research, and effort to handpick Japanese candy for yourself.
Each crate includes at least something we'd deem "unique," but not every item could be categorized as a holy grail. They're more like are hidden gems. Think of Japan Crate as a friend who's a Japanese candy hipster, introducing you to the underground candy only cool kids know about.
Presentation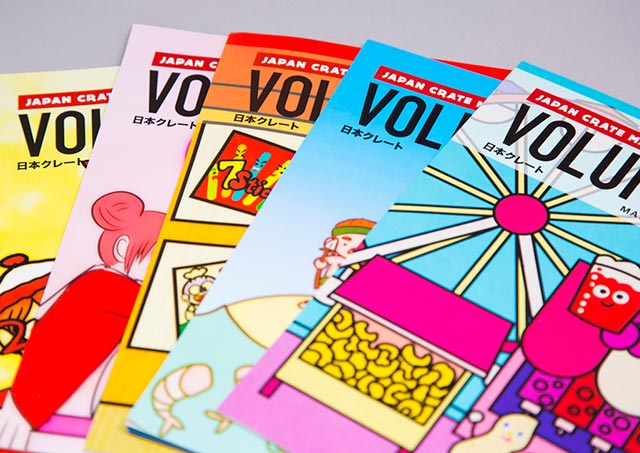 Each box's presentation is good, perhaps unnecessarily so. There is tissue paper inside each crate. The candy and snacks are packed well, with no one box ever feeling over (or under) stuffed. In our six months subscribing to Japan Crate, nothing ever arrived damaged.
The shining star in the Presentation category is the box itself. It's bright red with custom custom artwork printed in white on both the inside and out, giving it a special kouhaku 紅白 feeling. You'll know your Japan Crate was delivered from a thousand feet away. It's not your standard brown cardboard package.
Another component to the presentation is the inserts. The boxes have booklets that describe the items in the box, advertise the "Sugoi Crates" (one box every month containing large prizes subscribers can win), show off subscriber fan pictures, as well as a Japan Crate manga series.
The zine never outshines the candy, but it makes you feel like they're trying.
Quality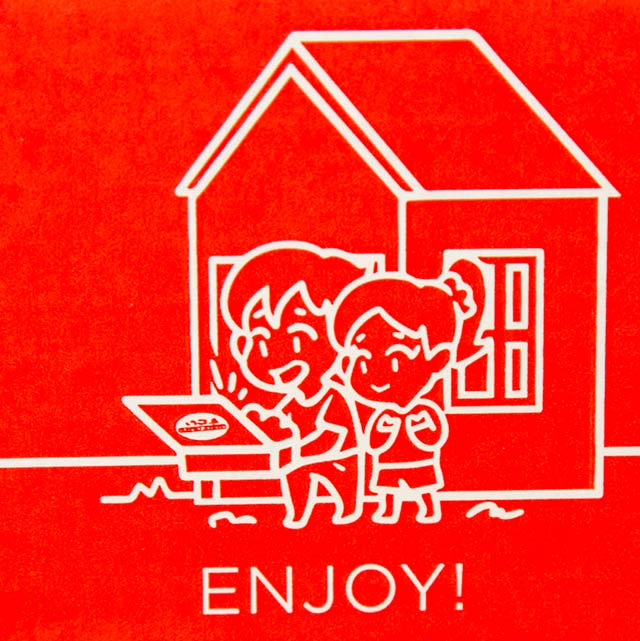 The quality of Japan Crate's candy is generally high. For candy. There's no handcrafted artisanal sweets, of course. These are compressed and molded pieces of sugar, chocolate, and other relatively inexpensive ingredients. That said, they're mostly all products from well-known Japanese confectioners like Glico, Fujiya, Calbee, and Morinaga. You never feel like you're being ripped off with knock-off brand sweets.
There is filler, of course. You'll run across a lot of Umaibo, for example. It helps to think of Umaibo as (barely) edible packing peanuts. But with the amount of decent-to-good candy included, this is forgivable.
Value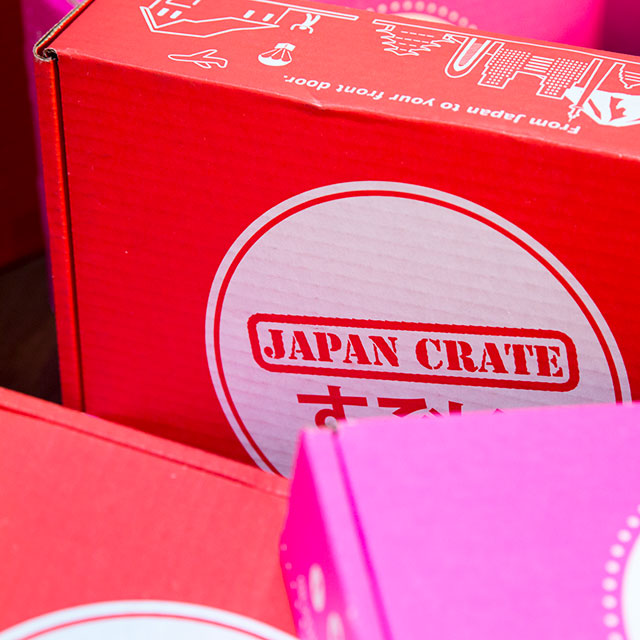 In the end, it all comes down to money. How much are these boxes worth? You pay $30 a month. Are you getting what you pay for? Here's how we decided:
First, we weighed the candy from each box to get their average weight. Then, we estimated the value of each individual item, added them together to get an approximate value for each box, and added those together to get an average dollar value estimate.
Please note that estimating the value of these pieces isn't easy, and maybe not entirely accurate. A lot of the candy is part of a larger bulk package. We also don't know if Japan Crate is getting special deals from manufacturers, distributors, etc., and we're not including taxes or shipping. Still, our numbers should give you a general idea of the value you're receiving.
First, the averages per box:
Average Candy Weight Per Box: 1.76 lbs (0.8 kg)
Average Dollar Value Estimate Per Box: $12.41 (USD)
At first glance, this doesn't seem like a lot. The premium boxes are $30 each, for $12.41 worth of candy. But consider this: If you bought this candy outside Japan, it would cost more than our estimates.
"Nice, resealable packaging."

Kristen's thoughts on Caplicocot
Also you have to consider shipping and taxes. When all is said and done, the price Japan Crate pays to send you this candy is probably somewhat higher than our average.
But is the cost of Japan Crate worth it for you? That depends. If you don't have easy access to a large variety of Japanese snacks in your area, we think it is. Add the cost of your time, and this subscription box starts to make more sense. Plus, let's not forget the surprise element. Buying yourself a Japanese snack present at the store isn't the same as getting one sealed in a box of mystery.
Customer Service
Great candy at a great price is great. If it arrives. Or if it's intact. Or if it's not melted, crushed, punched, or stolen off your doorstep.
Though we didn't experience any problems, I'm sure it happens. If it does, how will Japan Crate's customer service deal with it?
To find out, I created new email, Facebook, and Twitter accounts. Then I sent them poorly written and annoying questions.
Here's my Facebook question: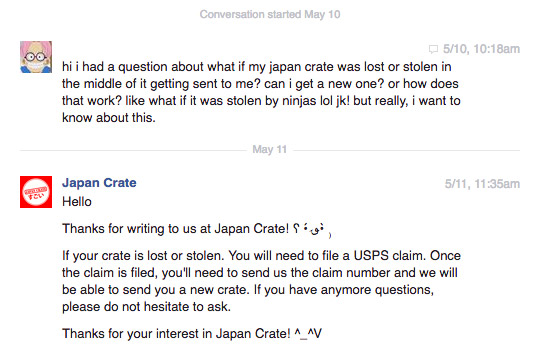 My Twitter question: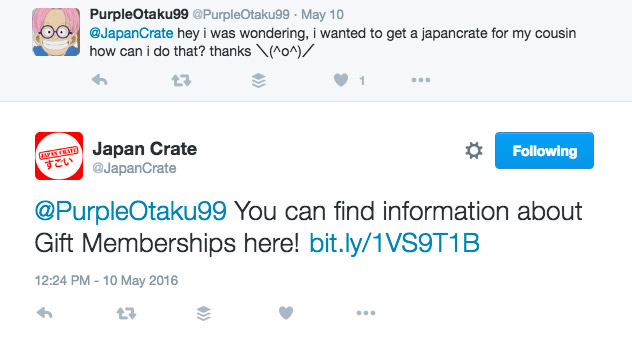 And my email: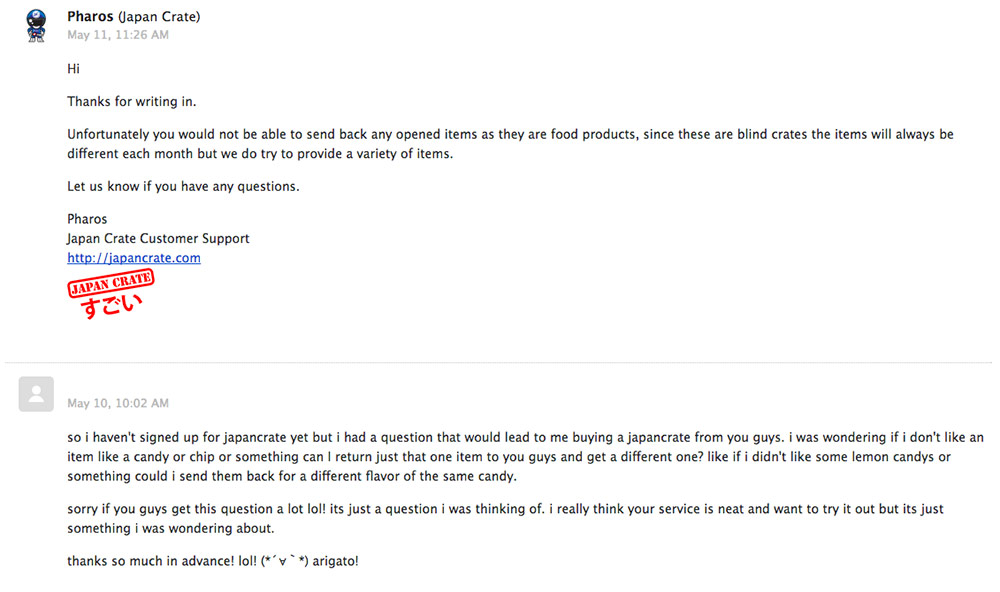 Japan Crate responded to all three questions within 24 hours. Plus the responses were friendly and informative, despite my noob phrasing.
I was also impressed with their missing or damaged items policy. Japan Crate could easily issue a credit and call it even. But if an item is missing or crushinated, they'll resend it or find a replacement. If neither of those avenues work, they'll issue a credit as a last resort.
Within these limited interactions, Japan Crate customer service got an A+.
Japan Crate Review Verdict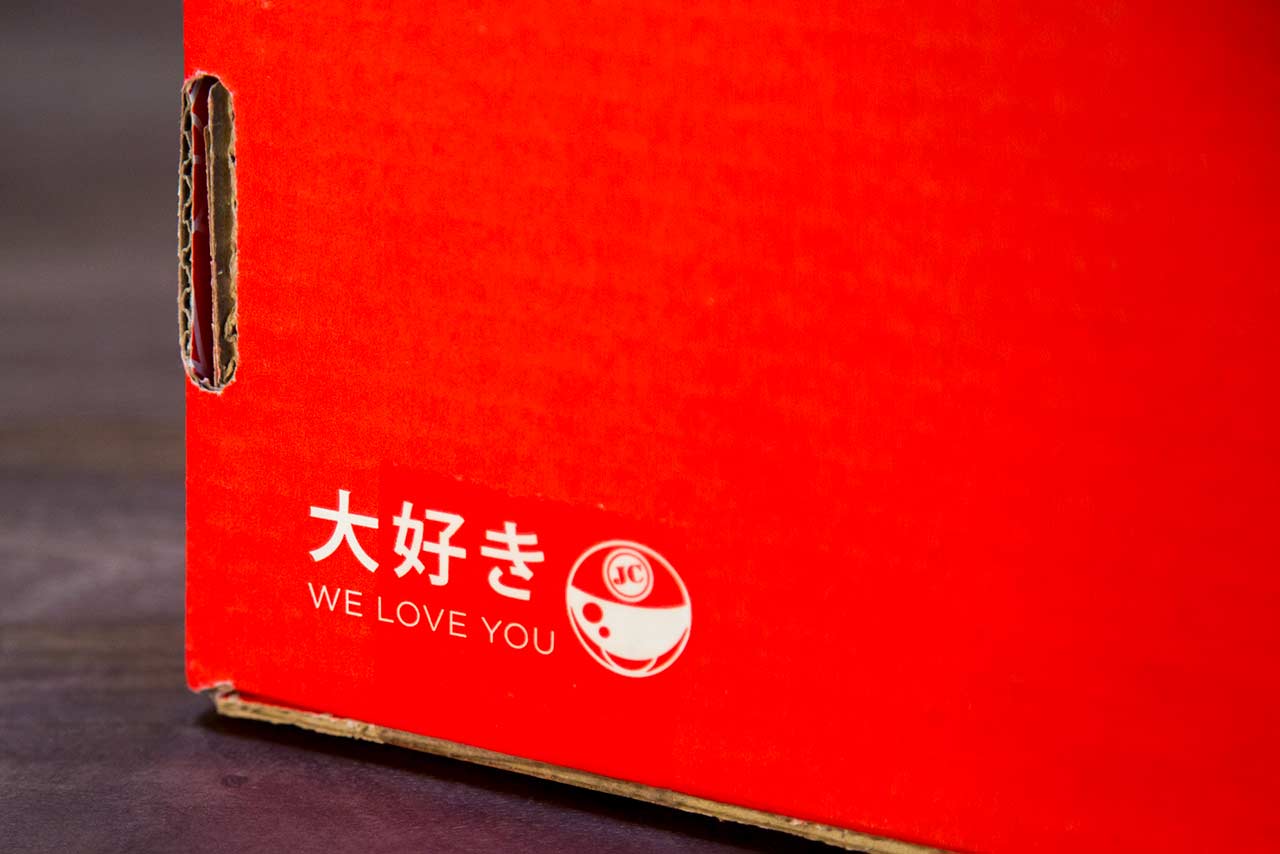 When it comes down to it, subscription boxes are as much about the surprise as they are the contents. You could search online and find most of these items yourself. But that destroys the fun. Getting a mystery box full of goodies each month is a delight.
The boxes we received always felt curated, with a good variety of flavors (especially if you prefer the sweets). Boxes looked good (if you care about that sort of thing). And, when you consider your time, shipping, and availability, the value comes down to being a reasonable deal. All in all, a lot of points in Japan Crate's favor.
The bottom line? We give Japan Crate the ol' "recommend" stamp. Positives outshine whatever minor flaws you may encounter. Of all the Japanese candy subscription boxes (there are a lot out there), Japan Crate is one of the best. Even after finishing this review, we continued our subscription. I think that says more than anything we've written to this point. Give it a try, we think you'll like how it tastes.
Japan Crate
by

Japan Crate
Additional Information