Back when we started our review of the Japan Crate candy box, we saw the same company was launching a sister box called Doki Doki Crate. This new subscription box promised monthly deliveries of "kawaii items." But what do they mean by "items?" A candy box is self-explanatory. "Items" can be almost anything!
To find out, we hit subscribe and let the pink boxes roll in for six months. We unboxed them all at once, examined each item, and started our mega-review of the Doki Doki Crate service. We're going to show you exactly what came in each box and tell you if it's worth your hard-earned money.
Note to the reader: Tofugu was not paid to do this Doki Doki Crate review. Nor were we given free boxes. We paid for these boxes using our own money and your WaniKani subscription payments. This way we could be sure we were getting the same service as everybody else.
What is Doki Doki Crate?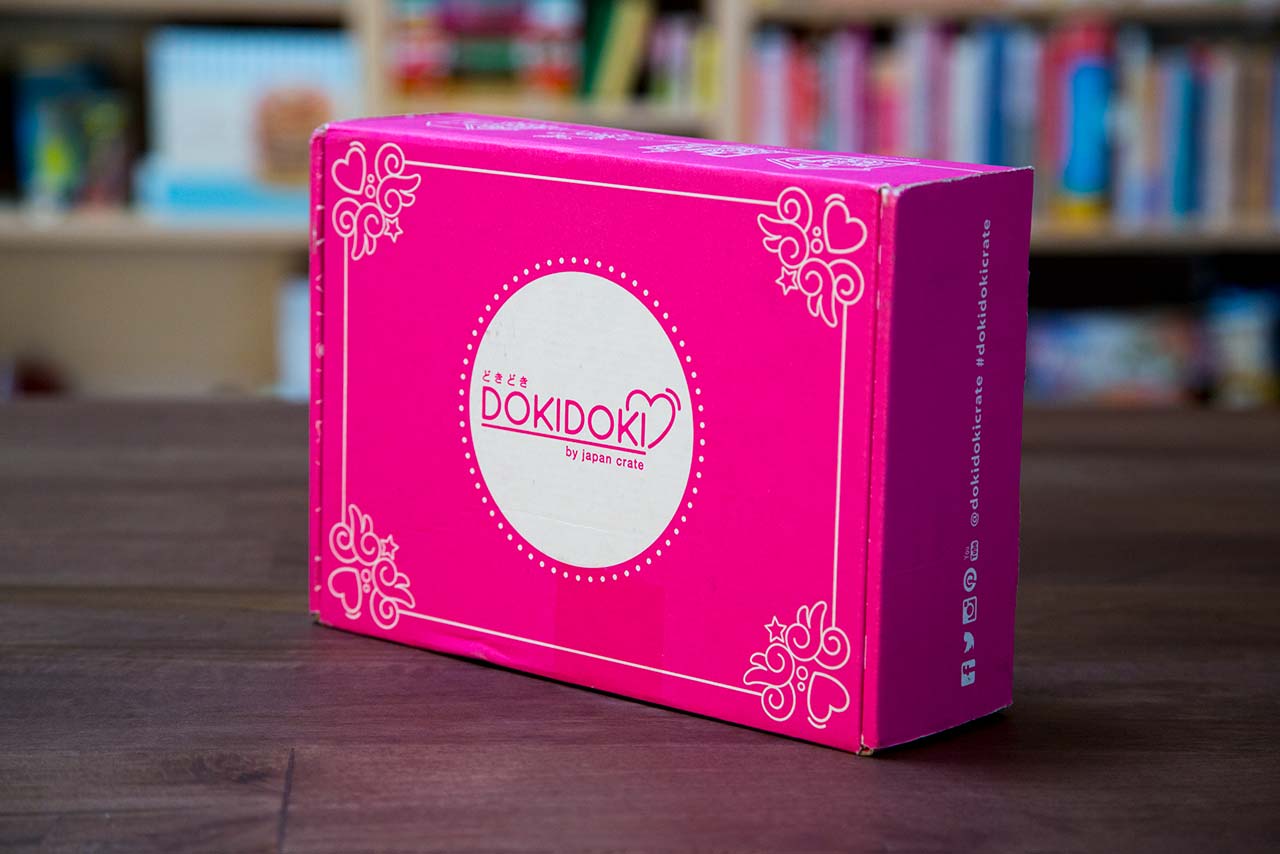 Doki Doki Crate is a monthly subscription box of kawaii toys, items, and accessories. You pay a fee to have packages of curated items sent to you. Right now, there is only one size and purchase option:
$30/mo
½ pound
8-10 items
Aside from these three points, nothing is guaranteed. Items can be anything "kawaii," from plushes to keychains to kitchen utensils. If the box curators consider it cute, it could be sent out in a Doki Doki box.
If you haven't guessed by now, the target audience for this box is fans of Japan's kawaii culture. Though "otaku" goods may occasionally be included, don't count on many Naruto figures.
Payment options can be monthly or prepaid in 3, 6, or 12-month installments. The price per box drops slightly the longer your subscription term.
As I said in our Japan Crate review, shipping with this service is free anywhere in the U.S., including territories. Shipping outside the U.S. is extra. If you live in one of the sixteen countries they don't ship to, you can stop reading now.
Besides the kawaii items you paid for, you also get an interesting perk (if you can call it that). All Doki Doki Crate subscribers are entered to win a "Suteki Crate" each month. It's a mega box filled with premium items like blankets, wallets, purses, game consoles, folders, make-up kits, robes, big plushes, and deluxe figures.
In less than a year, Doki Doki Crate has managed to become one of the top kawaii subscription boxes on the market.
Your chances of winning one of these is like winning the lottery. So what they're offering is more like a monthly sense of longing and jealousy. But it's a nice actual perk if you're ever lucky enough to win.
During its short life, Doki Doki Crate has already managed to become one of the top kawaii subscription boxes out there (there are about 20 others on the market as of this writing). But does Doki Doki deserve this success, or is it just beginner's luck? Get ready to feast your eyes on six piles of cuteness, followed by our thoughts and final verdict.
Box 1 - December 2015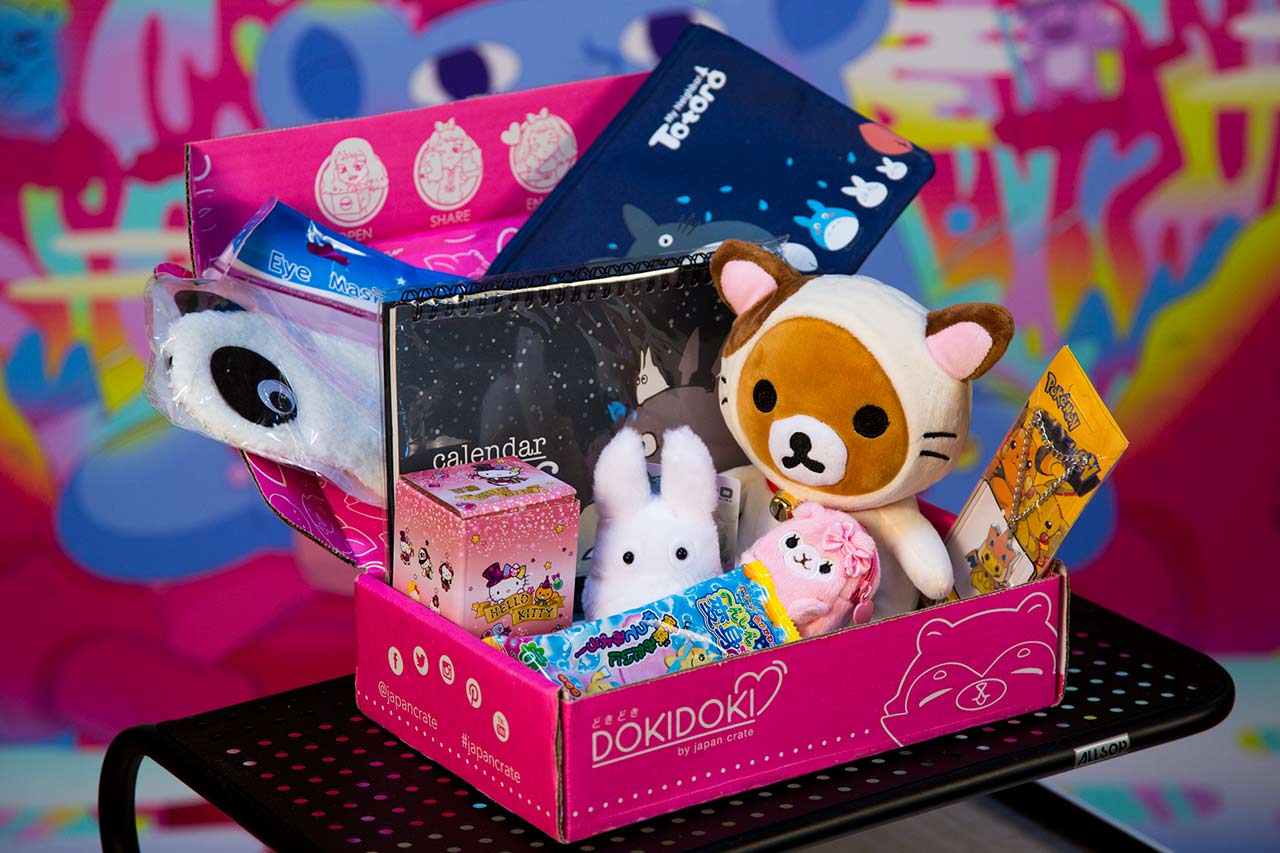 Estimated Value: $12.67

Weight: 1.24lb
When we first unboxed this crate, we were excited by how many character goods were in it. But on closer inspection, it was evident how Japan Crate was able to afford so many items with popular characters: they're all bootlegs.

"A necklace of Pikachu wishing he was a different Pokemon."

Thoughts on Charizard Pikachu Necklace
Nya-Kuma Plush
A plush of a Rilakkuma-esque bear dressed as a neko.
Charizard Pikachu Necklace
A necklace of Pikachu wishing he was a different Pokemon.
Chibi Totoro Plush
A plush of the small white Totoro. Y'know, from that one movie.
Totoro Zipper Pouch
A zip pouch featuring Totoro and his minions (not The Minions. That would be awful.)
Totoro Desk Calendar
A full desk calendar featuring images from My Neighbor Totoro.
Alpacasso Coin Purse
A hollowed-out plush you can stuff money into. Looks like an alpaca.
Panda Sleep Mask
A cheapie sleep mask that makes you look like an awake panda.
Henshin Awa Jelly DIY Kit
A powder mix that foams into a dessert. Top with syrup.
Hello Kitty Blind Box: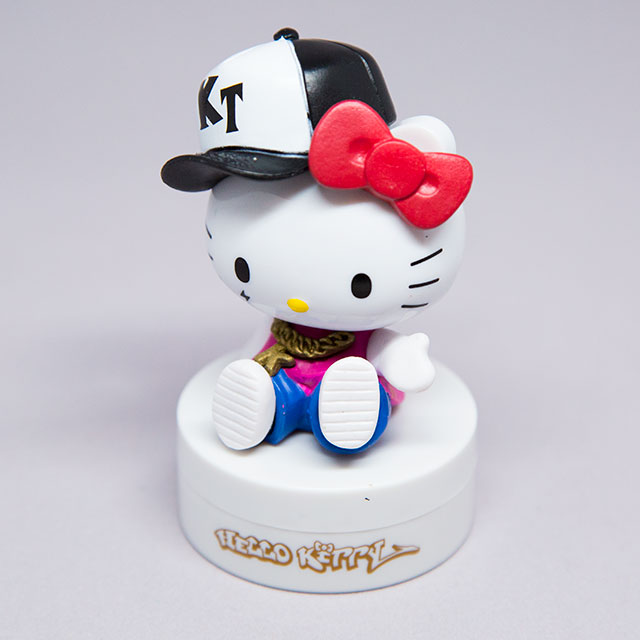 This is a nice figurine. Nice, but not outstanding. Like the other character goods in the December box, this is not an official product.
This figure is good for a knock-off. The sculpt is accurate. None of the features are out of place. But the paint on the hat is muddy around the edges, and there are excess globs on the top and bill. The head of our Kitty fell off because of weak glue, but we stuck it back on, and it stays fine. At a distance, this figure looks great. Being a statuette with no articulation, the problems mentioned above aren't deal-breakers. But if you're a collector only interested in official merchandise, this will be an unwelcome gift.
Box 2 - January 2016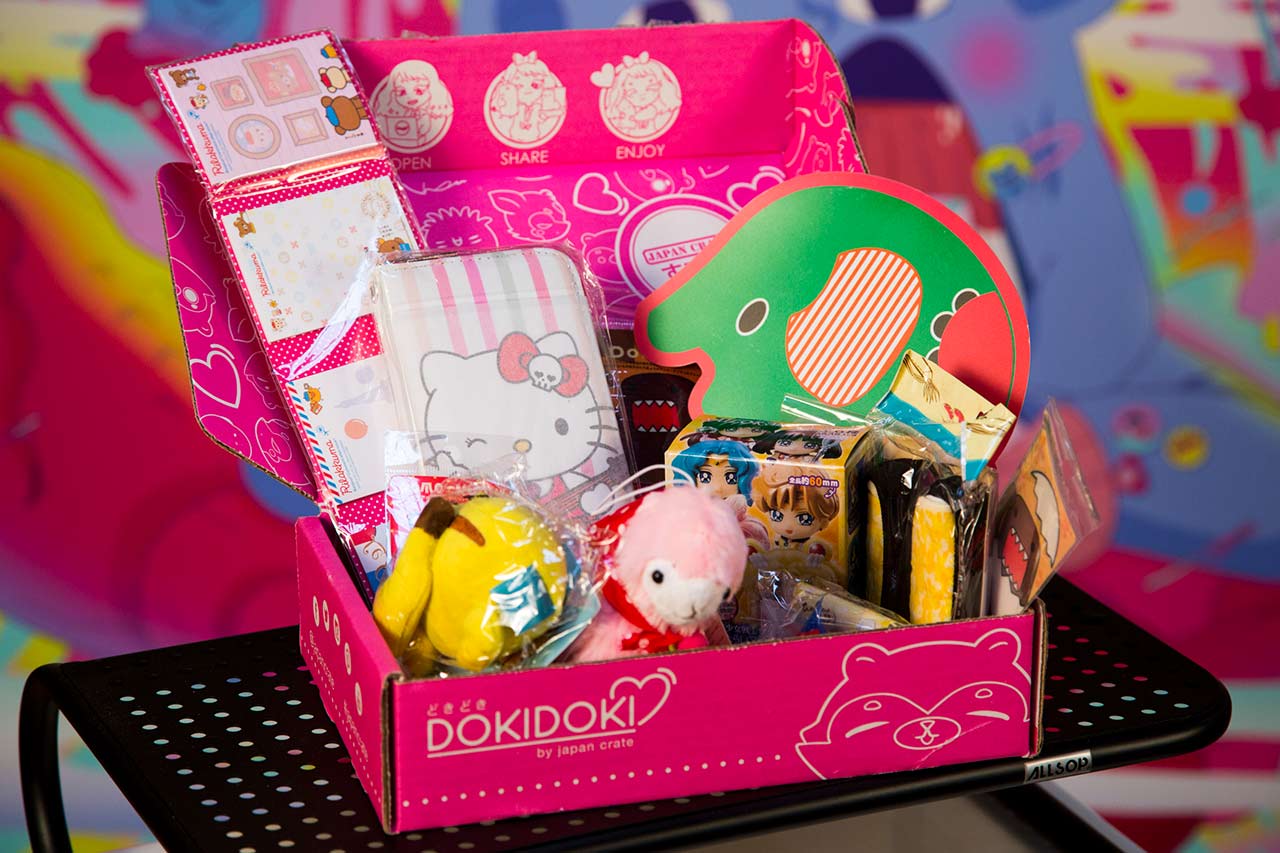 Estimated Value: $13.04

Weight: 0.74lb
This box introduces us to Hoppe-chan, a character that's popular with elementary school students in Japan. At first, I couldn't believe this cheapie blob was popular, but further investigation proved it to be true. There's a Hoppe-chan 3DS game, and it's even in cahoots with Hello Kitty. So if you're interested in getting something that's hot in Japan, Hoppe-chan is it. For now.
Take note: all character goods in this box are knock-offs, with the exception of Hoppe-chan and Alpacasso.

団扇(うちわ)

Japanese handheld fan
Baby Alpacasso Plush
A cute alpaca plush.
Hello Kitty Wallet
A big ol' wallet featuring Hello Kitty.
Sushi Socks
These are two pairs of Japanese socks rolled up into sushi. Unroll them and you get comfy feet.
Sentimental Circus Fan
A green elephant uchiwa 団扇 (fan).
Hoppe-Chan Charm
This is a strap of a character that recently became popular in Japan. It's a sparkly blob with eyes.
Pikachu Butt Plush
A plush of Pikachu's butt. And only his butt. Cute or creepy, depending on your what you're into.
Domo Stickers
Stickers of the NHK character that was super popular in the U.S. in 2007. We did a video on him.
Rilakkuma Stationery
Four notepads featuring everyone's favorite NEET bear.
Sailor Moon Blind Box: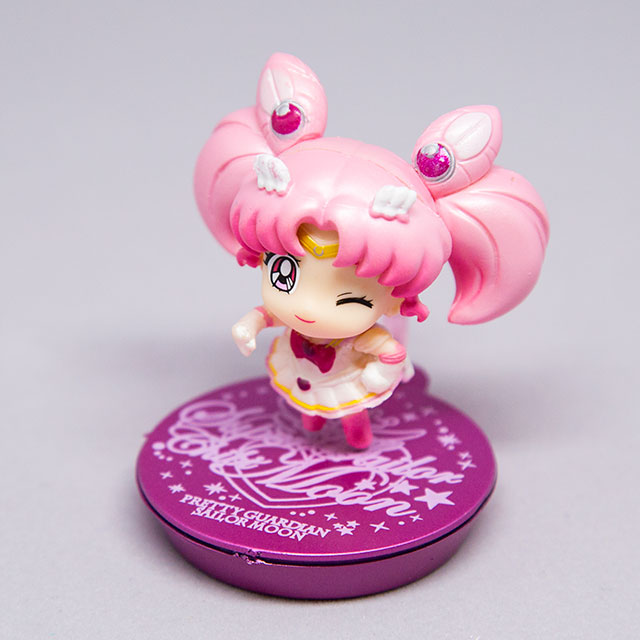 This Sailor Moon toy, like December's Hello Kitty figurine, is not an official product. It's a knockoff of this figure from MegaHouse. The same pros and cons associated with the Hello Kitty figure are applied here.
That said, the paint job on this figure is much worse. Sitting on a desk, it will look fine. But closer examination exposes a handful of tiny flaws. Also, the tiny, loose Luna P head is missing the deely-bop like in the original.
If you're a Sailor Moon fan, you might be happy to have this in your collection, unless you're a stickler for official goods.
Box 3 - February 2016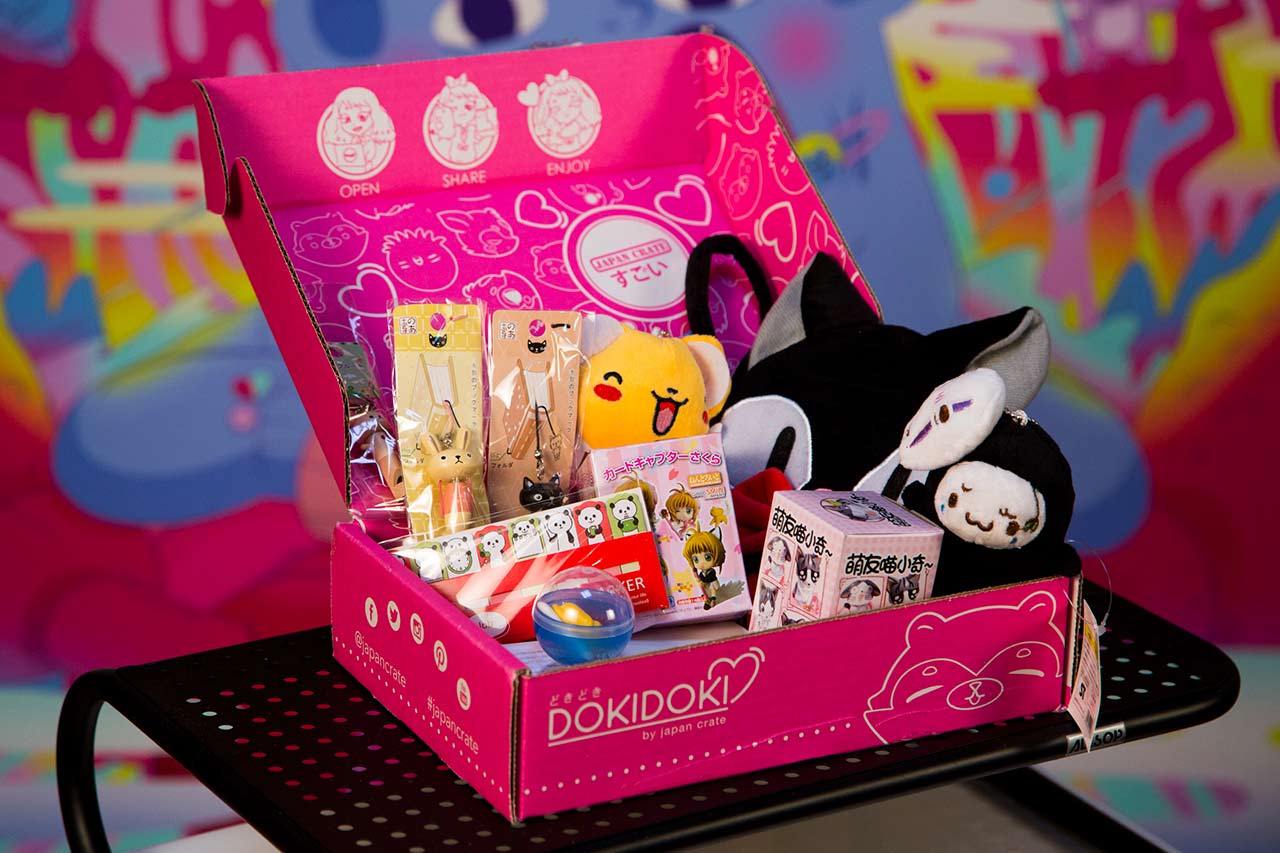 Estimated Value: $8.68

Weight: 0.43lb
This is the weakest of the six boxes. Nothing is terrible, but it lacked that WOW! factor. Plus, the character goods are still knock-offs. Thankfully the boxes get better from here.

"Unfortunately, the chain is screwed into his forehead, making him look dead."

Thoughts on Gudetama Keychain
Cardcaptor Sakura Plush
A plush charm of Kero from Cardcaptor Sakura. Even though it's not an official product, it looks pretty good.
Kiki's Delivery Service Coin Purse
A coin purse that looks like Jiji's head. Too bad the bow is on his mouth. It looks like a red mustache.
Cute Friends Whistle
A wooden whistle shaped like a bear. He loves you, probably.
Animal Friend Page Marker
Little stickers you can put in notebooks so you can find important pages quickly. They look like animals.
Cute Friends Pen
A neat wooden animal pen you can strap to stuff.
Spirited Away No-Face Plush
A plush of the good/bad weirdo from Spirited Away.
Gudetama Keychain
A keychain of Sanrio's famous lazy egg (we wrote about him before). Unfortunately, the chain is screwed into his forehead, making him look dead.
Cute Friends Bookmark
This little charm keeps your place in whatever book you're reading, if you still read books made of paper.
Chi's Sweet Home Blind Box: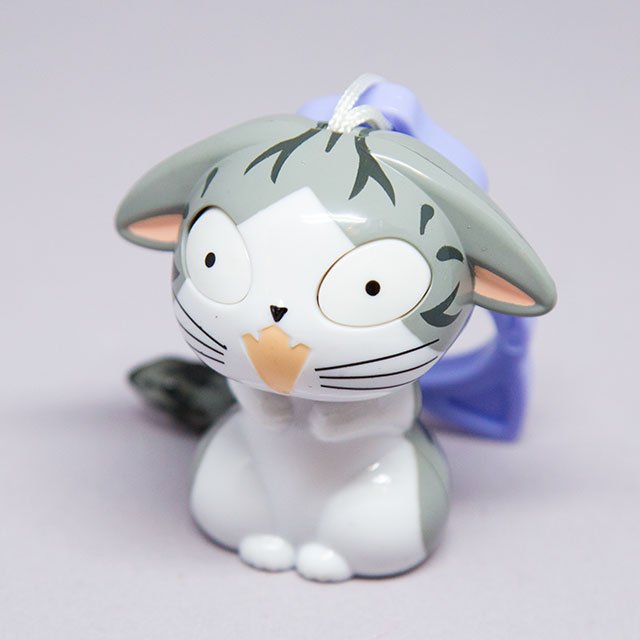 For a knock-off, this is neat. When you pull the string on its head, its eyes pop out and the tail moves.
Visually it's nearly perfect. I have no complaints on the sculpt or paint. It's the best-looking unofficial toy we got.
But a small issue is the moving parts. The eyes and tail move only slightly. I can't know for sure without seeing an "official" version of this toy, but it feels like the parts should be more animated than they are. It's as if something's holding them back.
Cardcaptor Sakura Blind Box: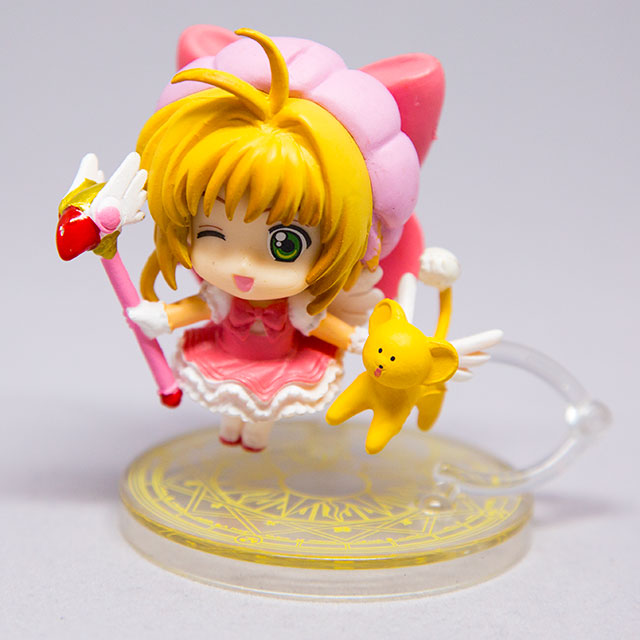 Lots for Cardcaptor fans this month. This blind box offers Sakura in 1 of 6 outfits. And it comes with a little Kero companion.
Like the others, it looks good for a bootleg. The paint is fine everywhere except the gloves and the wand. The wand is especially sloppy.
The clear plastic arms that keep Sakura in place are ungodly difficult to snap in. I was worried about breaking the toy before getting a chance to take pictures. It took about ten minutes of careful work to put it together.
Box 4 - March 2016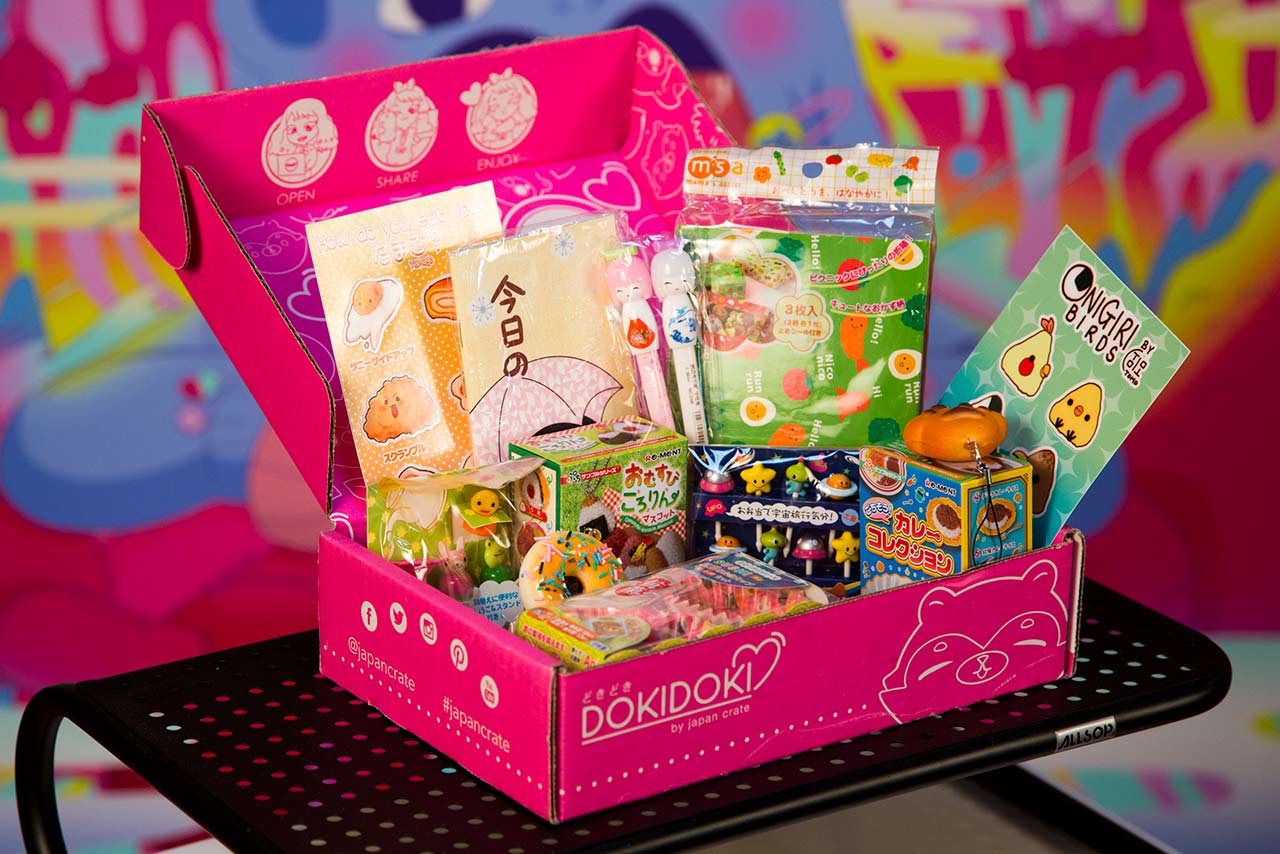 Estimated Value: $13.25

Weight: 0.71lb
This is where Doki Doki Crate turns a corner. No more knock-offs. But this means fewer character goods going forward.
I must admit, at the initial unboxing of all six, this shift was a disappointment. But when I started looking at the items in detail, I changed my opinion. The quality and variety of Doki Doki Crate goes up with this box, and they stop trying to make everything character-centric.
This is also the beginning of Japan Crate making their own items to put in the boxes, something I feel separates them from other kawaii Subscription boxes.

"These are great for preparing lunches to give to your friends."

Thoughts on Bento Boxes
Bento Food Cup
For use in your bento creation. Use these for holding squishy foods like potato salad.
Kokeshi Pen
These are listed as "Geisha Pens" in the Doki Doki Crate zine packed in with this box. But they're clearly kokeshi.
Artist Series Stickers
Sticker sheets designed by Doki Doki Crate's in-house artist. This is the first of the exclusive goods that separate Doki Doki Crate from the pack.
Kawaii Sauce Holder
Little tubes for shouyu or tonkatsu sauce. Great for your kawaii bento.
Cat Paw Cookie and Donut Squishies
Squishy keychains resembling food. The donut looks tasty, but the cat paw cookie just looks like a cat paw to me.
Space Food Picks
Why use toothpicks when you've got cute space picks? Stab these in little meats.
Kawaii Notebook
A cute character notebook. Great for writing in or…that's all you can do with notebooks, I think.
Bento Boxes
Disposable boxes you can fold into bento. These are great for preparing lunches to give to your friends.
Re-Ment Onigiri and Curry Plate Blind Boxes: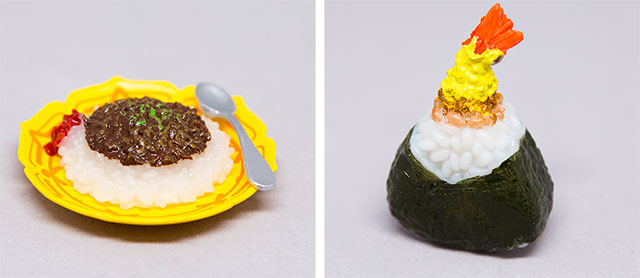 If you love plastic Japanese sampuru food, you'll love these miniatures. After a wave of unofficial blind boxes, we finally get the real deal. They're not characters, but they're not bootleg either. The quality shift is apparent. The packaging and inserts are much nicer. Plus you get a small piece of chiclet gum in each box!
The sculpting and painting on these miniatures are top notch. No stray brush marks or dried paint globs. The details are fine and make for two tasty-looking figures. You even get a little spoon for the curry! Just don't eat them.
Box 5 - April 2016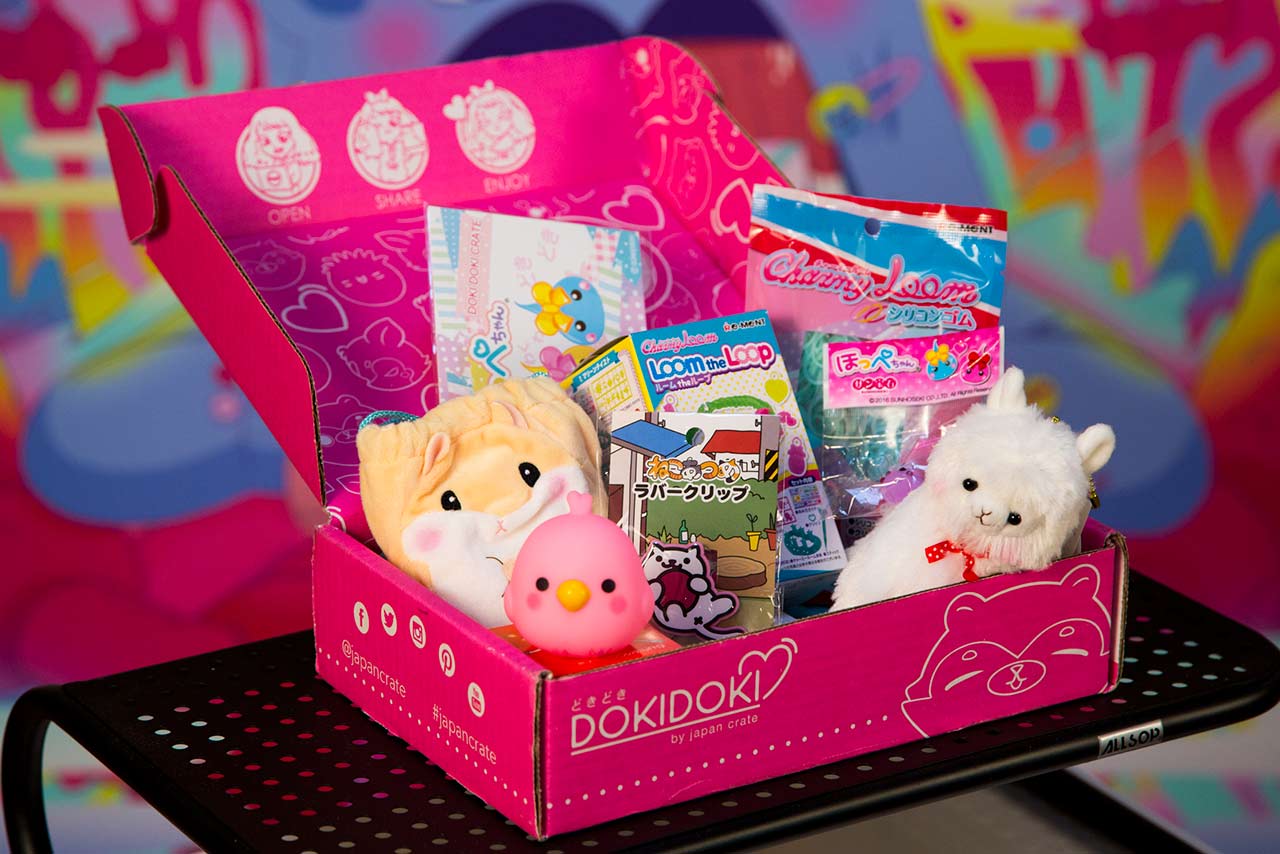 Estimated Value: $15.83

Weight: 0.531lb
The bird, hamster, and alpaca in this crate are all from Amuse, a budget character goods company in Japan. We also get the first collaboration between Japan Crate and another company. Sure, the collaboration is just postcards, which are cheap to make, but the effort shows they care.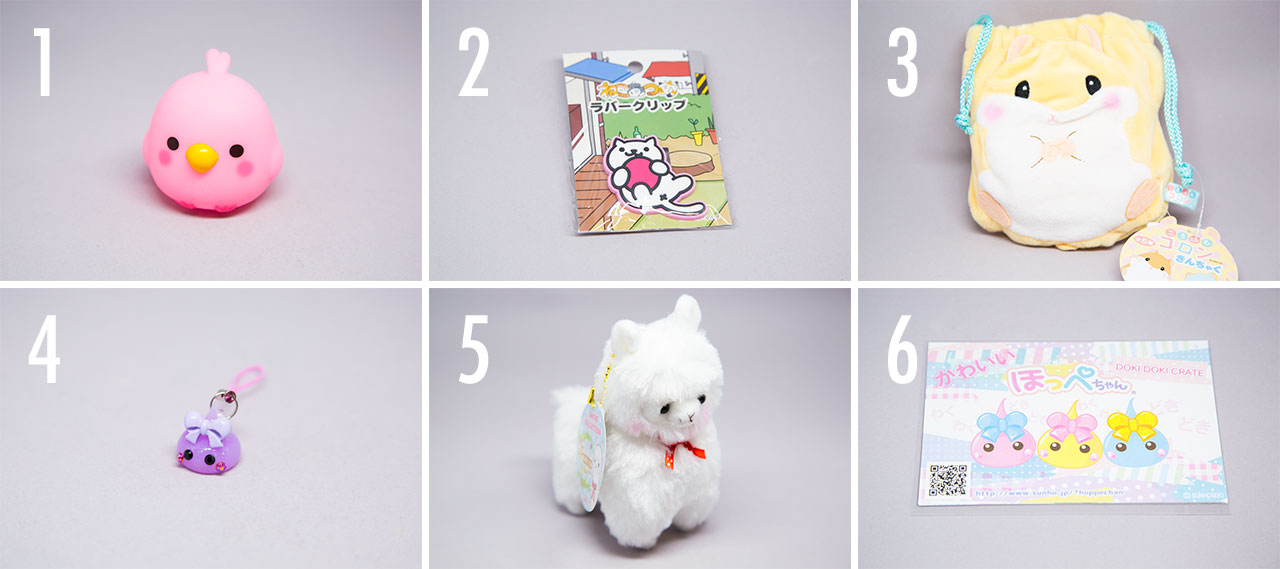 "I can't explain my love for this plastic bird."

Thoughts on Kotoritai Flashing
Amuse Kotoritai Flashing
I can't explain my love for this plastic bird. It lights up when you hold it in your hand.
Neko Atsume Clip
A clip from the popular mobile game Neko Atsume. Official product, too!
Amuse CoroHam Coron Pouch
A hollowed-out hamster body you can store things in.
Hoppe-Chan Charm
The cute slime returns.
Amuse Alpacasso Plush
Another alpaca plush. Good thing we love alpacas here at Tofugu.
Hoppe-Chan x Doki Doki Crate Postcards
Postcards featuring everyone's favorite kawaii ooze. These are a collaboration between Sunhoseki (the company that created Hoppe-chan) and Doki Doki Crate.
Re-Ment Charmy Loom and Refill Pack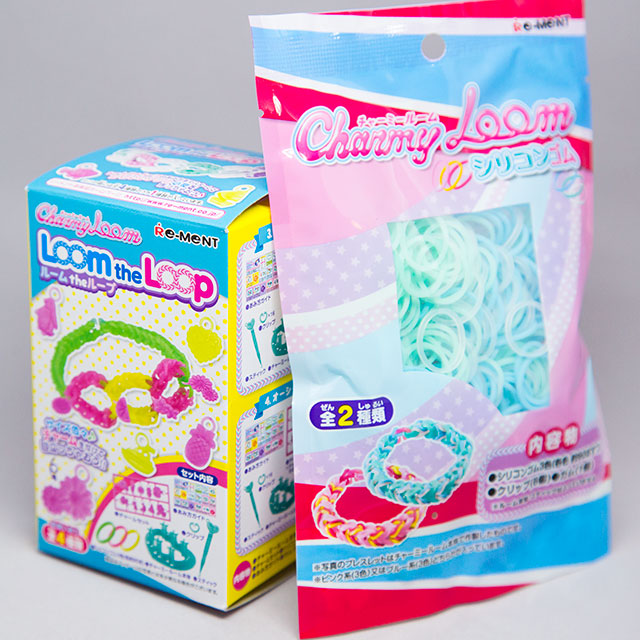 At first I thought, "Rubber bands? Really?" But over time, I started to see how this could be neat.
Charmy Loom is a small loom used to make bracelets and other accessories with rubber bands. Since part of Doki Doki Crate's customer base is parents ordering the box for their kids, it's nice that the company offers activities, rather than just another trinket.
Your feelings about Charmy Loom will depend on who you are. If you're a busy grown-up human, you probably won't have much use for it. But if you're younger or like cute DIY projects, then it will be a welcome gift.
Box 6 - May 2016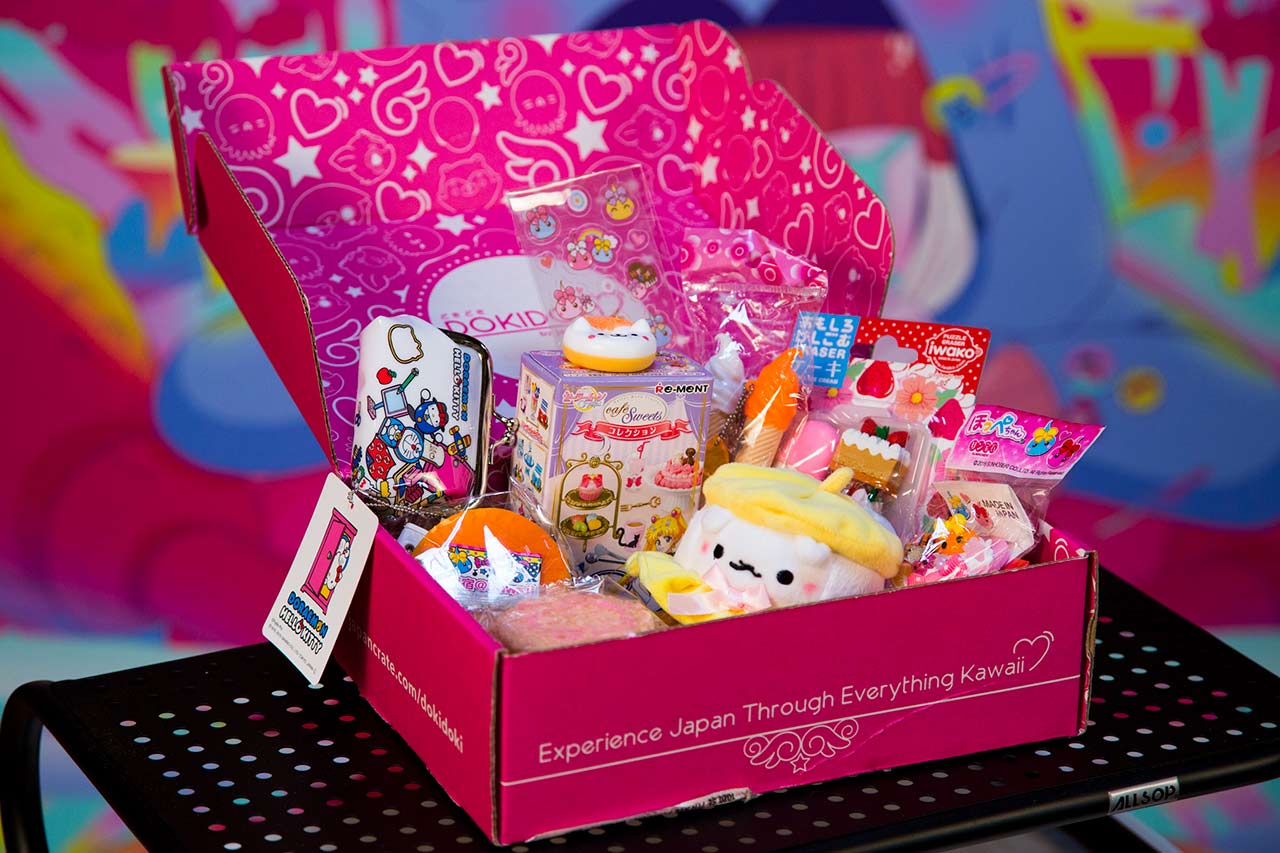 Estimated Value: $13.15

Weight: 0.57lb
Our sixth and final box is such a departure from the first. No bootleg items, fewer character goods, and more practical accessories. This box gives customers a touch of the familiar while introducing them to something new. I hope Doki Doki Crate continues going in this direction.

期間限定(きかんげんてい)

limited time
Sailor Moon Crystal Dessert Blind Box
A blind box of Sailor Moon themed food. Ours was a Chibi Moon ice cream set.
Sweet Bread Compact Mirror
A compact mirror shaped like bread. Check out your cute face on the go.
Hoppe-Chan Sweet Deco
Everyone's favorite adorable sludge is back. This time, it's stuck to some food. A cute charm for bags and backpacks.
Ice Cream Cone Pen
Two pens that look like ice cream.
Hoppe-Chan Stickers
Stickers of the cute slime sweeping Japan. A generous number too.
Hello Kitty Strawberry Senbei
Three Hello Kitty senbei. Senbei are an important part of Japanese snackery.
Iwako Sweets Erasers
Erasers that look like things are popular in Japan. These look like desserts. Don't eat them.
Kawaii Animal Donut Charm
A puppy merged with a donut through alchemy. Now she lives on your backpack.
Hello Kitty x Doraemon Coin Purse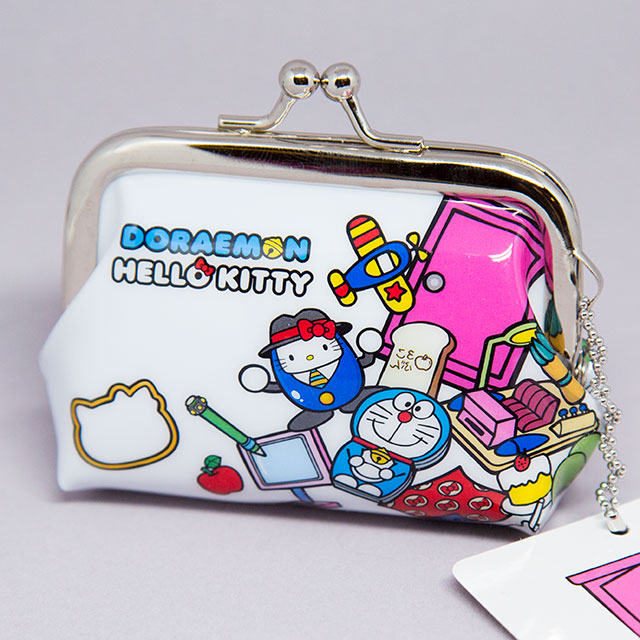 This is a great item. Official character merchandise and kikangentei 期間限定 (limited time only). It comes from Hello Kitty and Doraemon's recent collaboration. The goods aren't easily available outside of Japan, so this item is cool.
Though the quantity of Doki Doki Crate has gone down since the initial box, the quality has gone up. And this coin purse a great example of that.
Petite Lapin Plush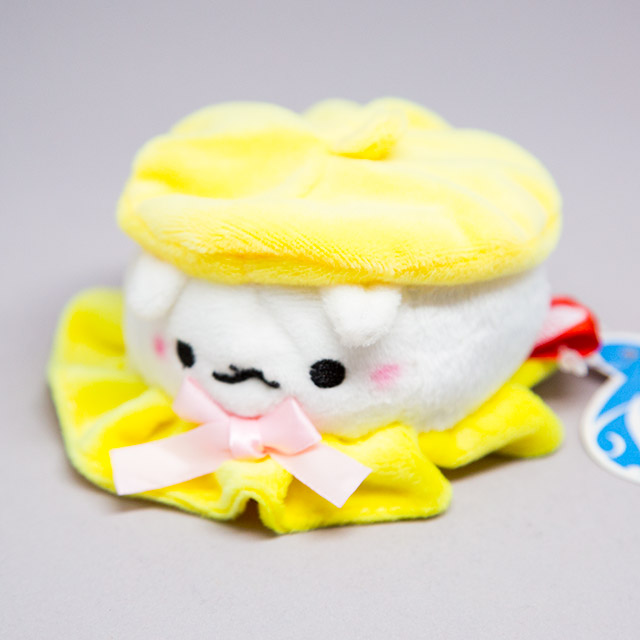 Petite Lapin might be the crowning achievement of all six boxes, philosophically speaking. Not only is it a cute plush, but the character is also exclusive to Doki Doki Crate. It's evidence Doki Doki Crate is on the right track after a shaky start.
Petite Lapin is a good quality plush. No loose strings or wonky stitching. The design is simple and easy to love. The backstory is heavy on stupid details and vague on important information, like a good kyara backstory should be.
Your reaction to this will depend on what you're interested in. If you want established characters from familiar franchises, this is an unwanted new direction. But if you want new kawaii merch you can't find anywhere else, Petite Lapin is the kawaii medicine you've been waiting for.
Doki Doki Crate Judgment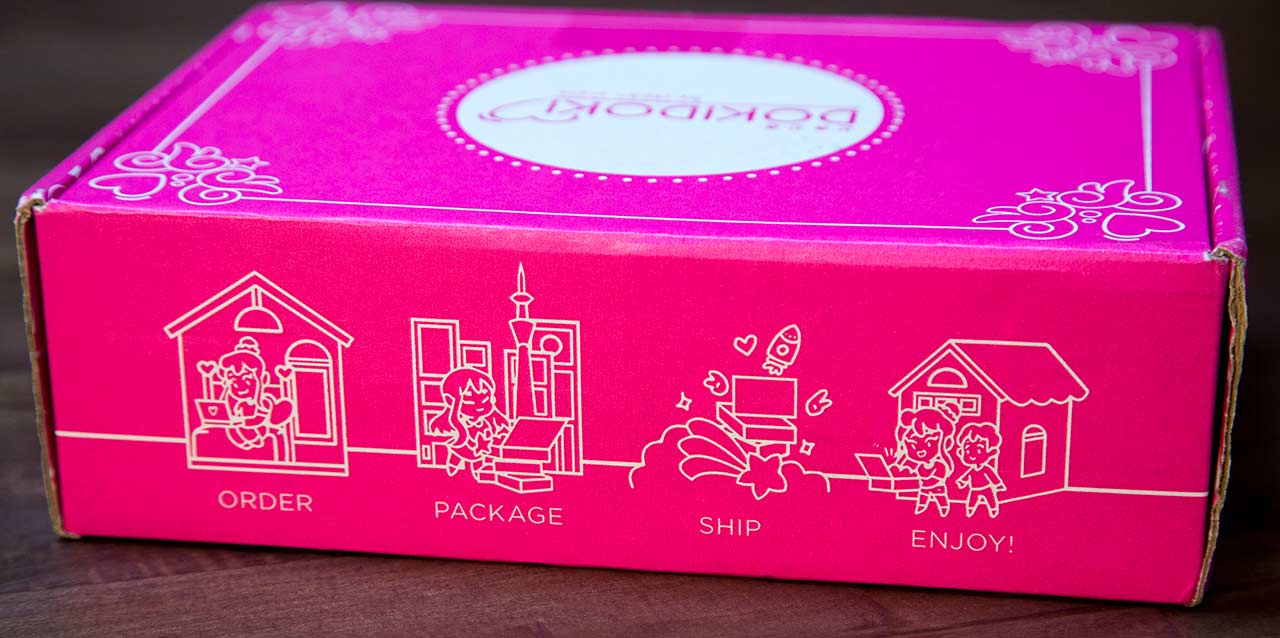 After examining each kawaii item individually, it's time to let the hammer drop. This is where the Doki Doki Crate review gets perspective.
Let's look at the six boxes overall. This will help you know what to expect if you subscribe.
We judged the crates on five criteria:
Variety
Uniqueness
Presentation
Quality
Value
Let's begin with Variety.
Variety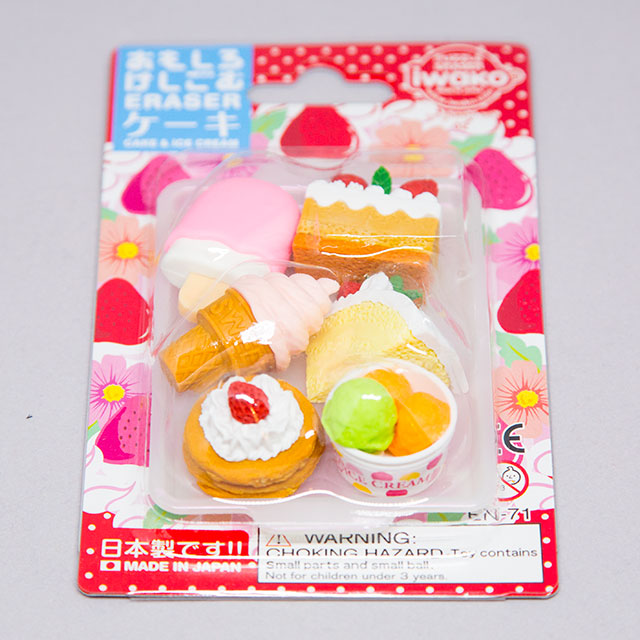 Doki Doki Crate scored well in the Variety category. This is easy when the only criteria for crate items is "kawaii." Anything can be kawaii, so you shouldn't shouldn't see the same items twice (if you do, Japan Crate isn't being creative). That being said, there wasn't much kimokawaii to speak of.
In general, items included in Doki Doki Crate were:
Plushes
Clothing
Accessories
Jewelry
Stationery
Figures
Stickers
Pens
Charms
Kitchen goods
Activity Kits
This wide variety is Doki Doki Crate's strength and weakness. With cute items, a subscriber's personal taste in fashion, anime, and aesthetics factor heavily into their enjoyment of the box. What someone finds "cute" is subjective.
With cute items, a subscriber's taste in fashion, anime, and aesthetics factor heavily into their enjoyment of a box.
Also, character goods are a hard target to hit. A Cardcaptor Sakura figure can only thrill a fan of the series. I've never seen the show, so my reaction will be less electric than someone who is familiar with it.
On the other hand, it's risky for them to include only generic items like the animal plushes. Sure, I like the alpaca plush. But would I like it as much as a plush from a series I'm attached to? When the items are general, you sacrifice the high excitement a particular character can bring. But that specific character hits a narrower audience. This is a tricky balance for Doki Doki Crate to pull off.
Uniqueness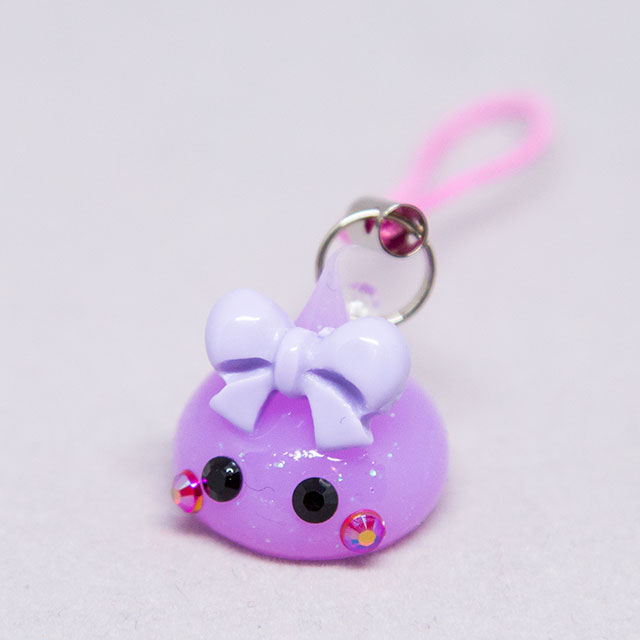 The total for this Doki Doki Crate review goes up because of points scored in the Uniqueness category.
The reason: exclusive items. One way they achieve this is through partnerships and collaborations with companies like Sunhoseki.
But the real achievement in uniqueness is Japan Crate's development of exclusive characters and merch. Beginning in March, Doki Doki Crate included stickers from their in-house artist. They followed this up with the Petite Lapin plush in May.
This is important because inclusion of unique items shows that Doki Doki wants to establish itself as a kawaii brand, rather than just a box full of other people's stuff. Plushes especially are hard to produce. So the addition of Petite Lapin proves to me that they're committed to this idea.
Presentation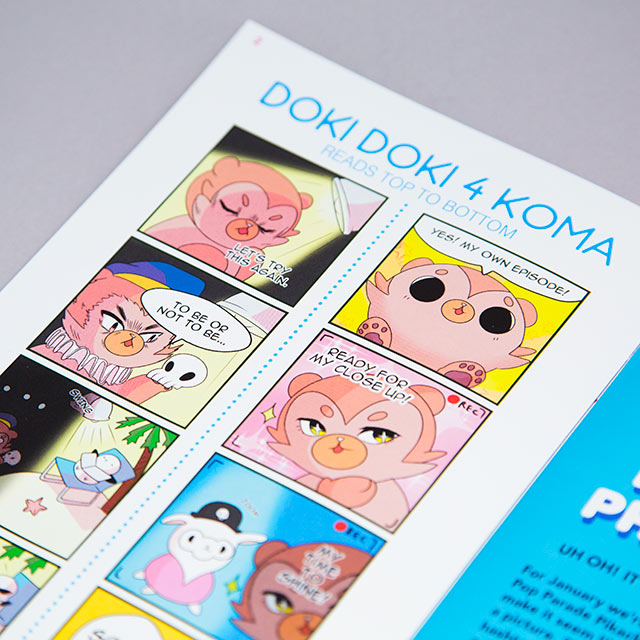 The presentation of Doki Doki Crate is fine. There is tissue paper inside each box. Everything inside is packed properly. The only thing that arrived slightly damaged was the box for the Cardcaptor Sakura figure (the item itself wasn't damaged).
The Doki Doki boxes have a bright pink base color with artwork printed in white. The outer packaging art features a label on the top, a message on the front, cute character drawings on the back, and an allover print on the inside. Keeping the outside stark and the inside busy makes the contents feel more fun. It's a neat design choice that supports the unboxing experience.
The six-page pack-in zine is thin. As a new service, this is to be expected. The zine is devoted to describing items in the box, advertising the Suteki crate, showing off subscriber fan pictures, and presenting 4-koma 4コマ manga.
Keeping the outside stark and the inside busy makes the contents feel more fun and supports the unboxing experience.
The cover of each zine is done by a different artist. This gives the covers a unique flavor month to month, and exposes the subscriber's to new art styles. This is a sign Japan Crate knows its audience.
The 4-koma manga in the zines is cute. The humor hits the mark about half the time, which bothers me more than it should. I think because the character designs and art are so well done, I want the writing to be better. Also, the zine is only six pages, so I feel it's important the one entertainment piece be actually entertaining. That said, I liked these comics much more than those offered in Japan Crate's zines.
Quality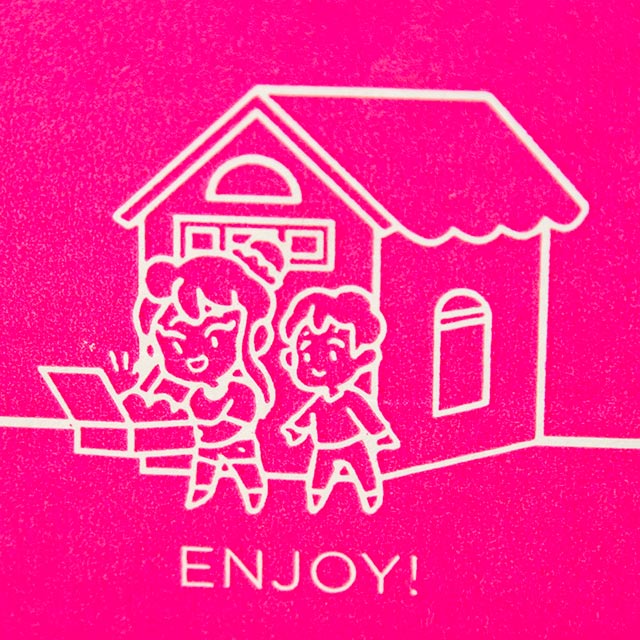 The service is on the straight and narrow now, but the first three boxes of knock-off goods hurt the overall quality score for this Doki Doki Crate review.
But considering how bad bootlegs can get, these aren't bad at all. I couldn't tell they were unofficial at first glance. But I noticed on the second glance.
That's why I find it hard to believe Japan Crate didn't know the products were bootleg. I figured it out after two days. It took them three months.
Whatever the reason, the era of knock-offs is over. It shouldn't be an issue for subscribers going forward. But the removal of bootlegs means fewer character goods overall, and more generally kawaii items that don't carry the steep price tag of Sanrio or Ghibli licenses.
Value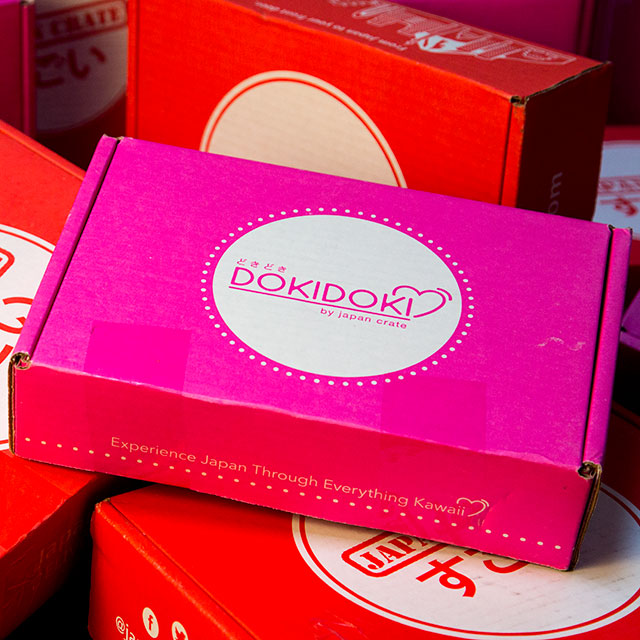 This is the most important category. Getting this box means spending money. Your money. Is Doki Doki Crate worth it?
To find out, we weighed the items from each crate to get an average. We also got dollar value estimates for each item, combined them, and found the average.
Please note estimating value for these crates isn't easy, and maybe not entirely accurate. We don't know which items Japan Crate buys in bulk, or if they have special agreements with goods manufacturers. Also, these numbers don't include taxes or shipping. That said, our estimate should give you a rough idea of the value you get as a subscriber.
First, the averages per box:
Average Item Weight Per Box: 0.70lb (0.3kg)
Average Dollar Value Estimate Per Box: $12.77 (USD)
You spend $30 and get $12.77 worth of items. That's doesn't seem like a lot. But this estimate doesn't include shipping or taxes.
The price Japan Crate has to pay to send you these items is likely higher than our average. So the question is, do you like the items they pick out and are the extra fees worth the surprise of opening the box each month?
Doki Doki Crate Review Verdict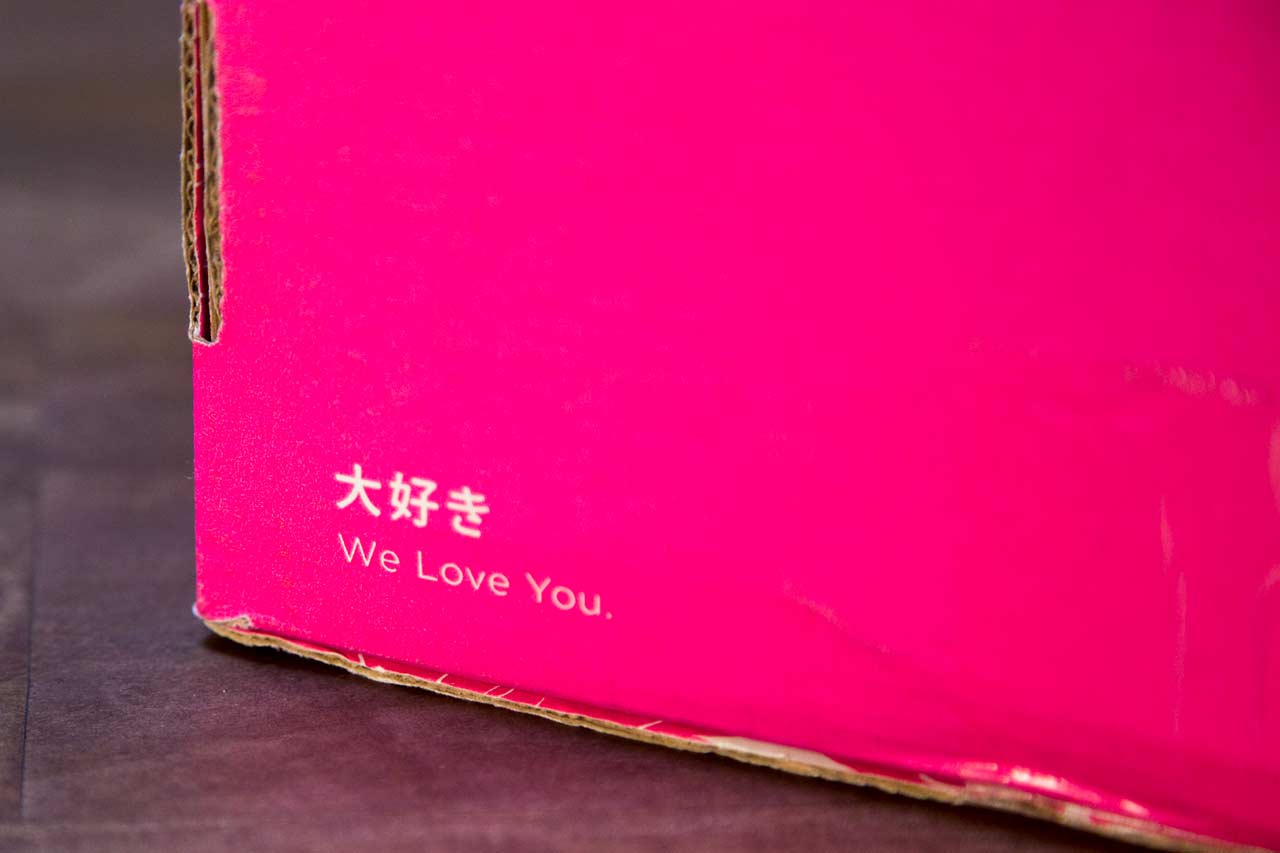 With the candy box review, it was easy to give a hearty recommendation (everyone loves candy). But Doki Doki Crate is a different beast.
The appeal of objects, especially cute ones, has more to do with personal taste and style. And the service is less than a year old. Anyone subscribing now is likely to experience experimental changes over the course of a year (hope you like T-shirts). But the sea of change in focus over the course of our six boxes seems to indicate the service is headed in the right direction.
If you're in the market for cute goods, Doki Doki Crate is an alright choice. It won't satisfy super nerds looking for merch from their favorite anime. But if you like the kawaii things in general, Doki Doki Crate delivers just that.
Kristen's Review
When I think Doki Doki, I think Sailor Moon. There were only two Sailor Moon items in six months, and one of them was a knockoff. 許せない! Okay, so it wasn't that bad, but if I'm going to spend money on a subscription box I want it to be at least 80% things I want. This was more like 10% things I wanted. If there were more plushies and figurines, instead of ugly pieces of paper and plastic foods my cat will eat when I'm not looking, I'd have given this a better rating.
Koichi's Review
The goods were cheap. I suppose you probably know that when you are subscribing. But, I would prefer fewer, higher quality things in a box than the easy-to-break-sometimes-knockoff pens, keychains, and figures that they send. At some point, I think all people will reach the point where they are just tired of getting "stuff" and unsubscribe.
Michael's Review
Of all of Japan Crate's boxes, this one was fine. I have mixed feelings because we subscribed at the very beginning, when it was full of knock-offs (a problem they have since fixed). The knock-offs were decent, but still, it was such a mixed bag. If you're into general cuteness, this might float your boat. If you're hoping for a specific character like Totoro, you can expect Doki Doki Crate to hit the mark, like 13% of the time. And when it does, you're getting, like, a Totoro eraser, or something.
Japan Crate and Doki Doki Crate
by

Japan Crate