100 yen shops, aka hyaku en shoppu 100円ショップ or hyakkin 百均, are a type of discount store that sells a wide range of products for only 100 yen (tax excluded). 100 yen is roughly one US or Canadian dollar. I know that there are dollar shops in North America too, but I personally think that the variety and quality of the products are much better in Japan. The top three are Daiso, Seria and Cando. Today I am going to introduce you to my favorite one – SERIA!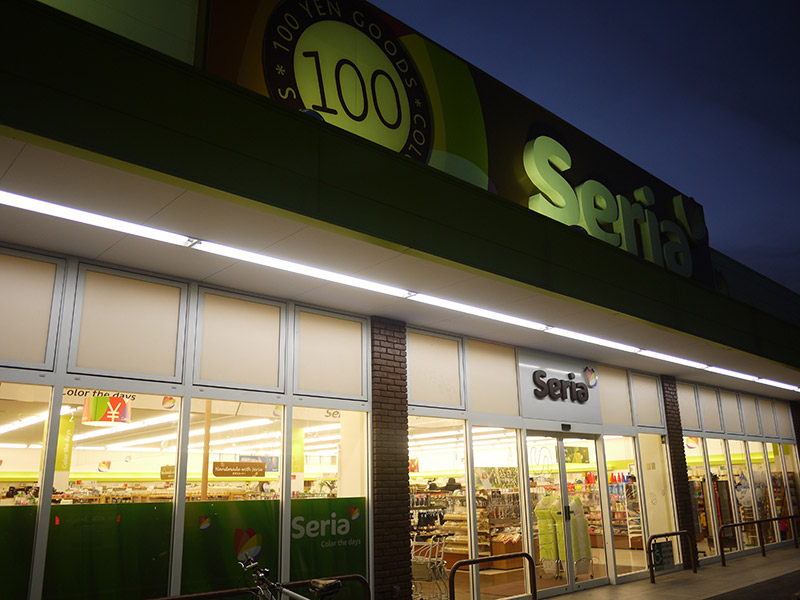 First of all, let me briefly talk about the company. Seria Co., Ltd is a hyakkin corporation whose headquarter is located in Ogaki city in Gifu prefecture. Actually, it's a big company with stock listed on the JASDAQ stock exchange and overs 1000 shops nationwide. But since the headquarter is in Gifu, most shops are in Chubu area. The company was founded in 1985, the same year I was born.
Seria means "serious" in Italian. They are so serious that they promise to seriously pursue products that move customers' hearts and decorate and color their daily lives through and through. Whoa!
Now let's see how serious they are, and look at all of their products aisle by aisle. How much can you get for only 100 yen? More than you think.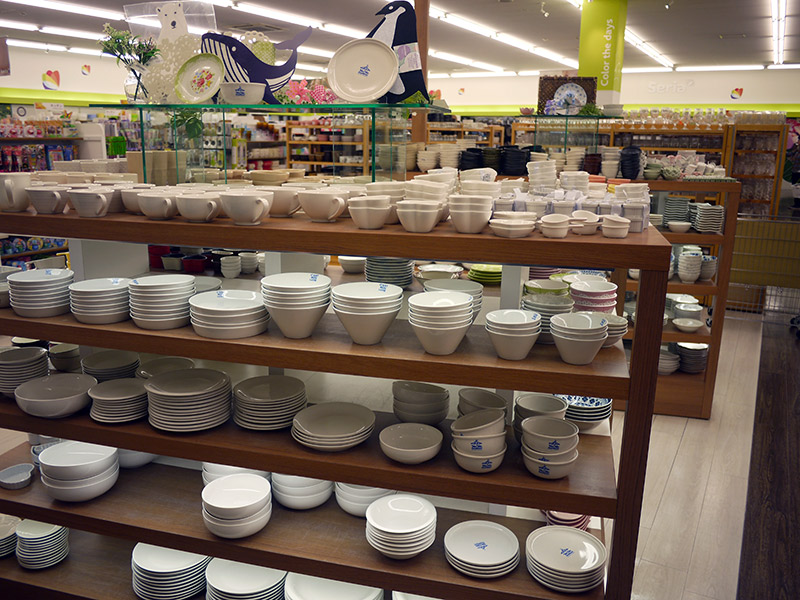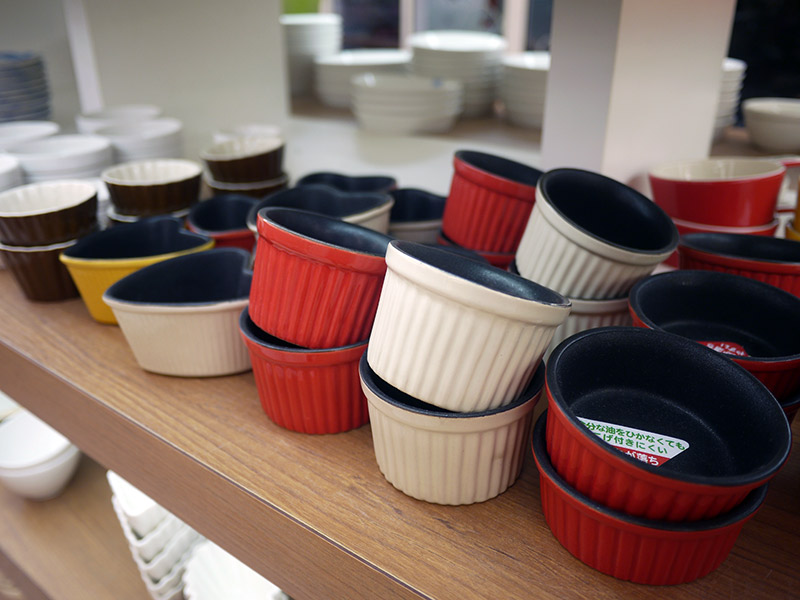 The design of most of the dishes are simple. The mini casserole dishes were coated with nonstick coating (so you won't need to put oil or butter in it).
They also have pretty Polish style dishes, which I thought I'd taken the photo but I didn't. I'm sorry. You can kind of see one of the Polish style bowl on the right side of the top third shelf…yes, that blue one! Cute, deshou? If you can't find it, then click here and you'll see pics of those dishes posted on Twitter.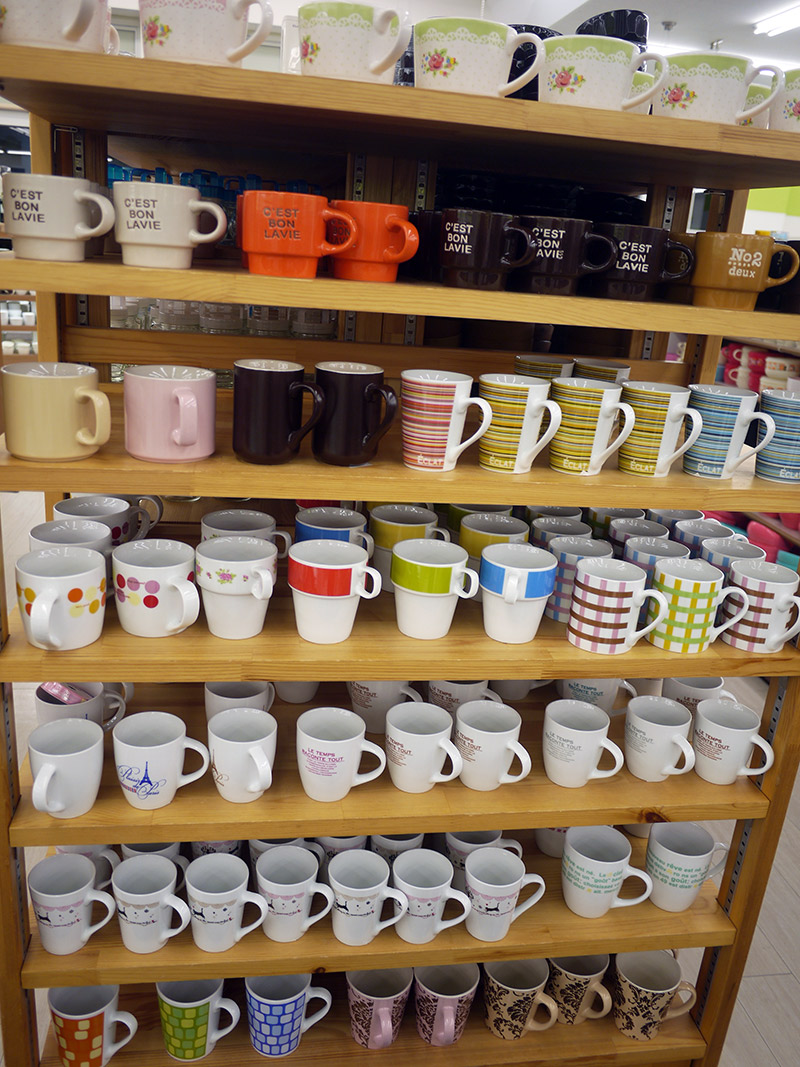 I didn't find anything really special in their mug section. But at least all the handles are right side up (I once bought a white mug with an upside down handle from another 100 yen store once). Actually, the rotation of 100 yen shop products is pretty fast. You may find something cute when you visit there like this, but the next time you go it may be gone. Grab things you like while you can!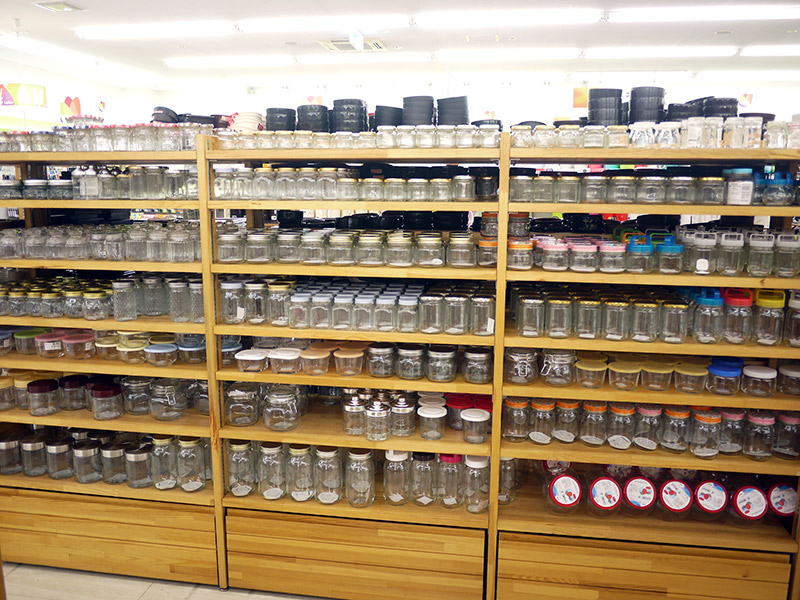 I was surprised by the variety of jars. Serving dishes, salads, or deserts in jars (especially in mason jars) is getting popular in Japan. I guess they are seriously trying to meet the demand.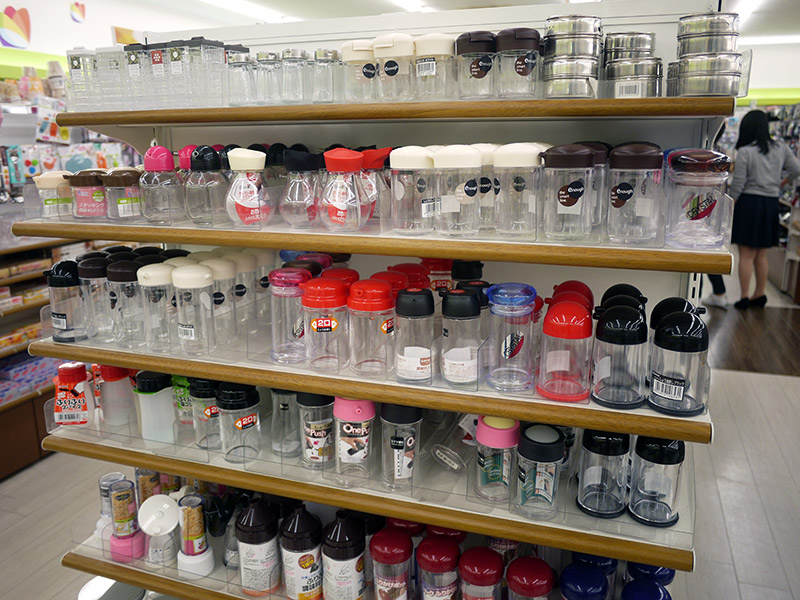 Seria doesn't only track on trends. They also have a lot of traditional products too. Here are a lot of choices of soy sauce jars (aka soy sauce cruets).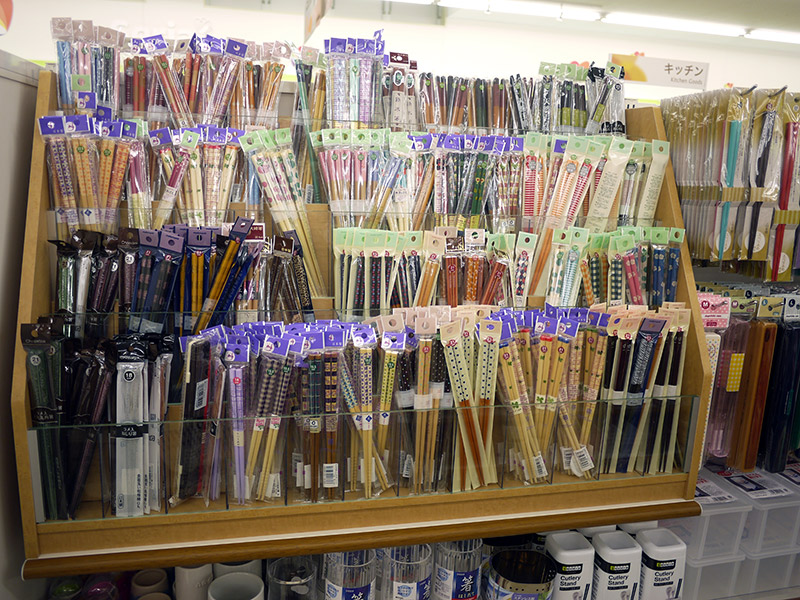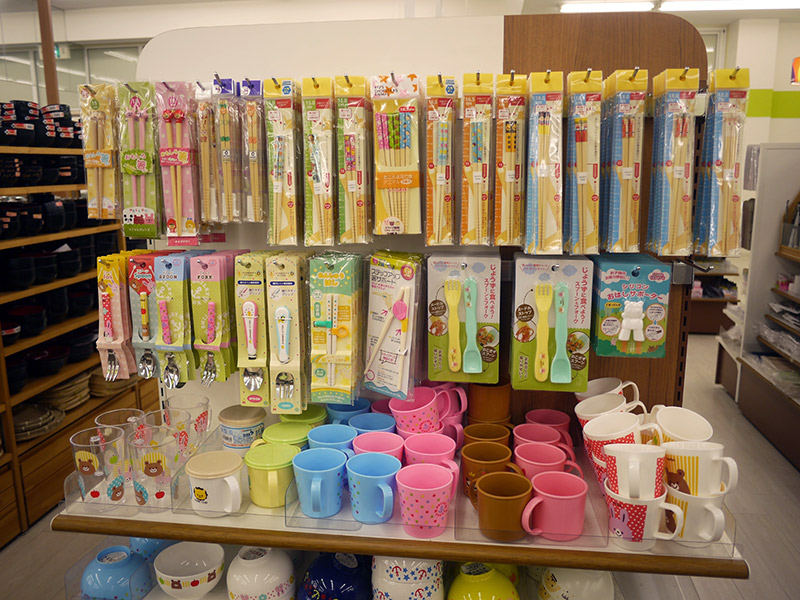 They offer chopsticks for both adults and children. The adult ones were very Japanesey whereas ones for children were really cute. You can't really tell from the picture, but Little Red Riding Hood or Pinocchio or other cute characters are on the top edge of some chopsticks. There were also practice chopsticks or tools to convert normal chopsticks into a practice pair.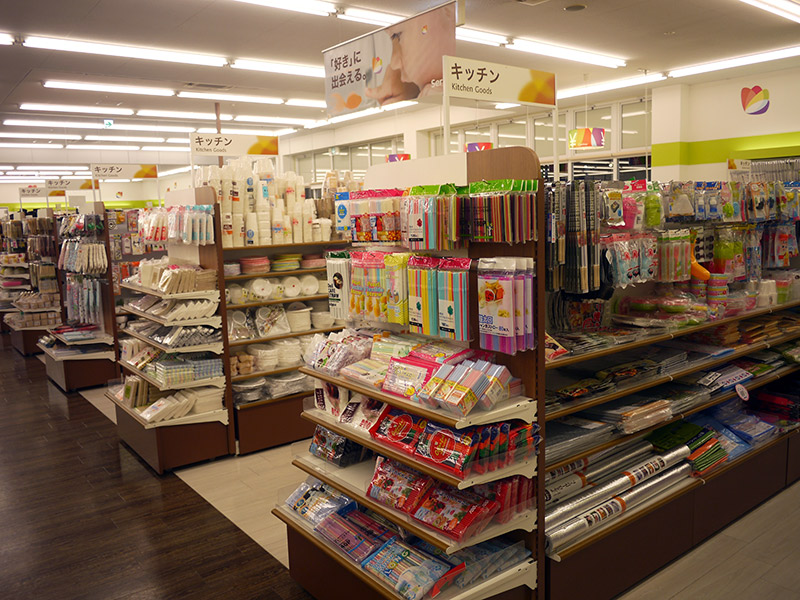 Oh, and we can't skip this part in the kitchen section – bento boxes! You know how Japanese people into arrange foods into art called "deko-ben," right? Well, of course serious Seria has a ton of goods to meet this demand.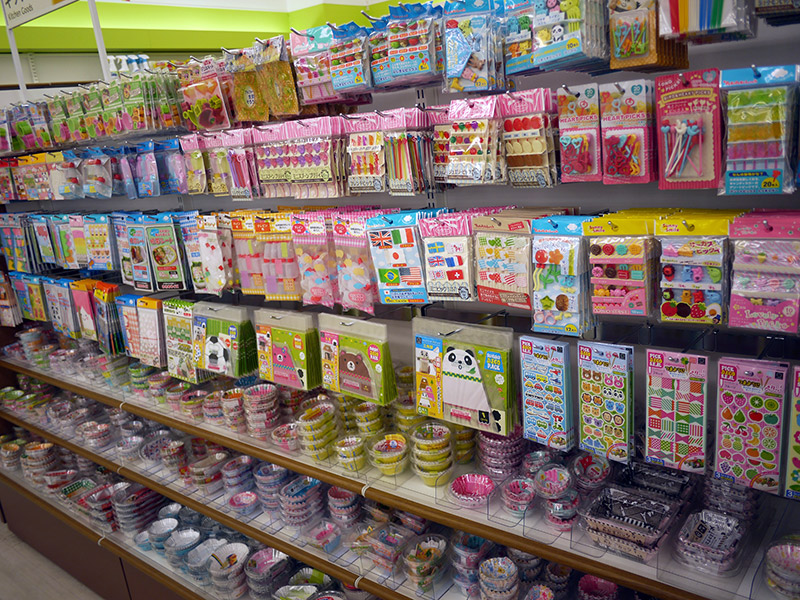 Picks, small sauce containers, aluminum cups with designs on them, and more! Everything you need to turn the food in your bento into a work of art.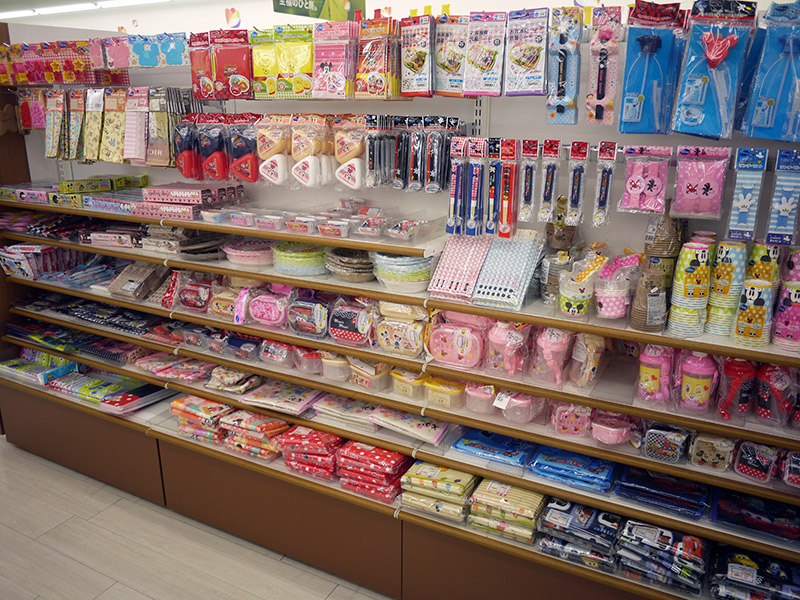 Of course you need a bento as stylish and eye-catching as the art you put in it, right? Seria has you covered here too.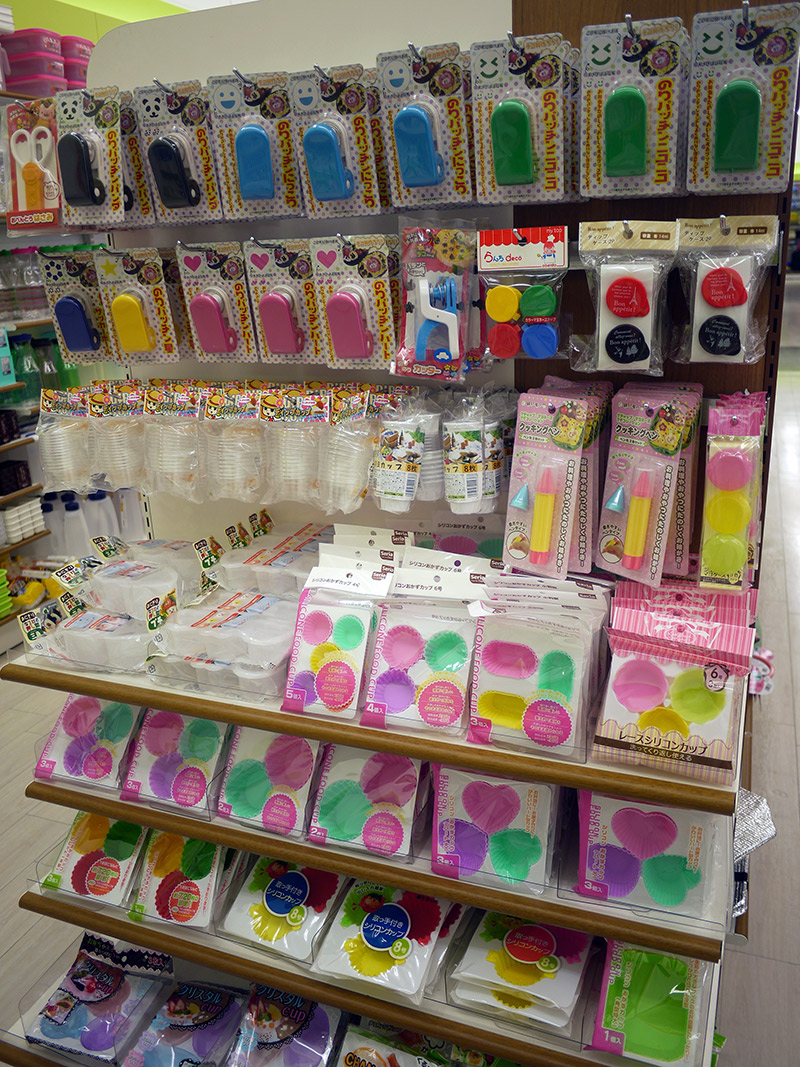 But wait. There's more! Decoration pens and stamp cutters to create cute faces in flat foods.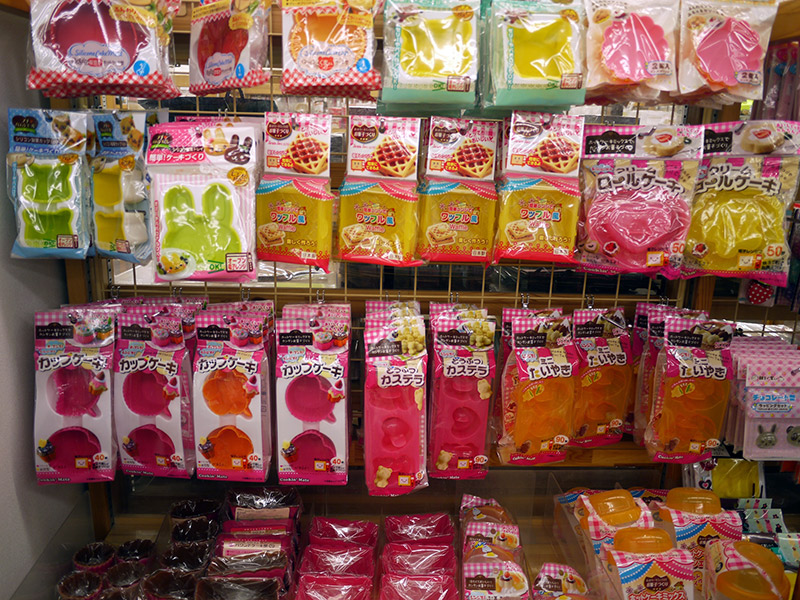 Don't jump ship just yet. There's more bento madness to be seen. These molds let you bake all kinds of petite desserts using pancake mix and your microwave. Piece of cake!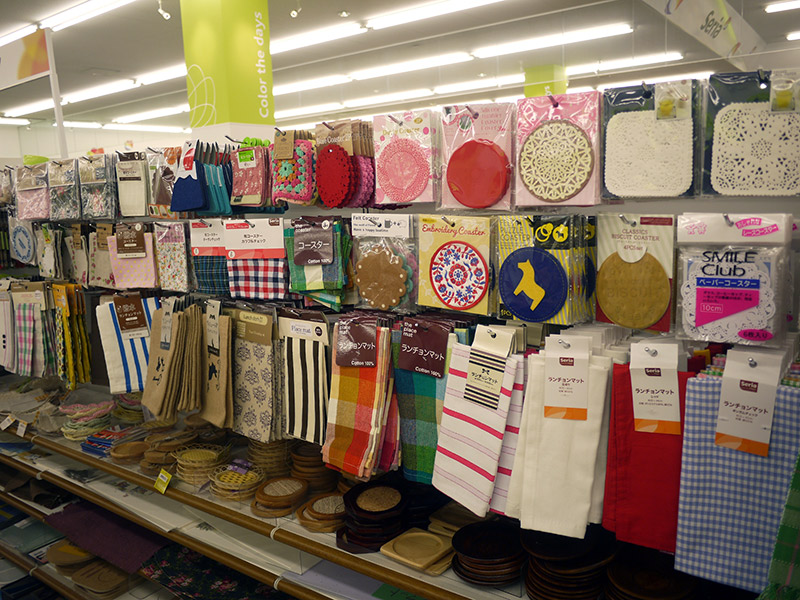 Now that we have all our bento decoration supplies, we need to think about decorating the home. There are also many cute coasters and place mats to make your meal more enjoyable.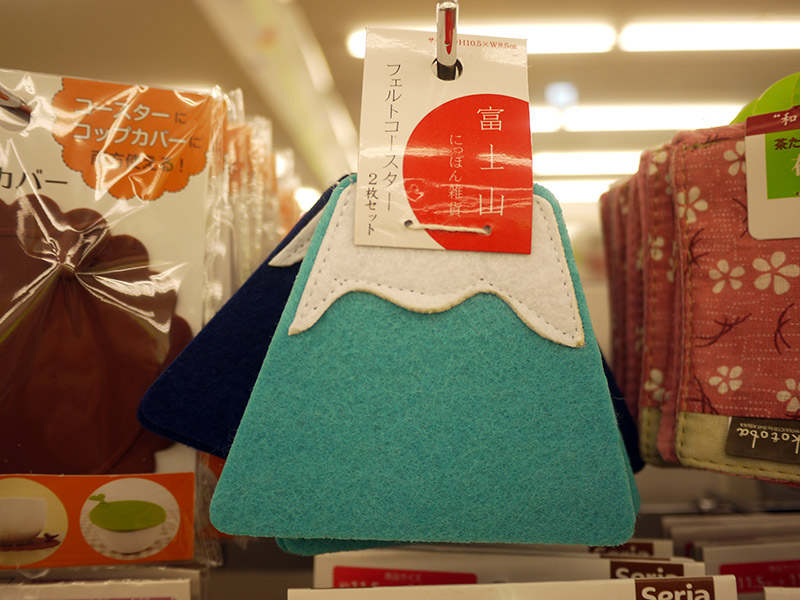 Here is my favorite: Mt.Fuji coasters. It's so kawaii that I bought more than a few.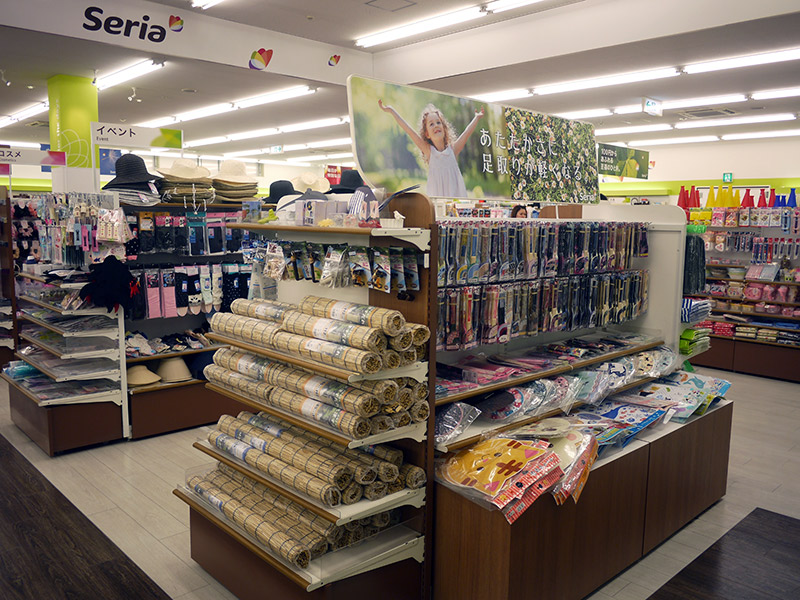 Okay, I guess you've seen enough to learn how serious Seria is about kitchen goods. What else?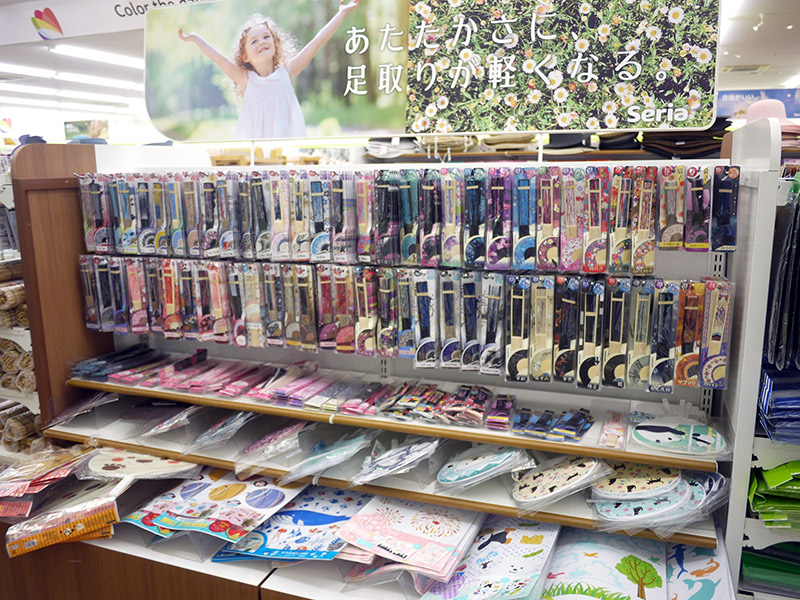 Folding fans! You gotta keep cool in summer and look good doing it.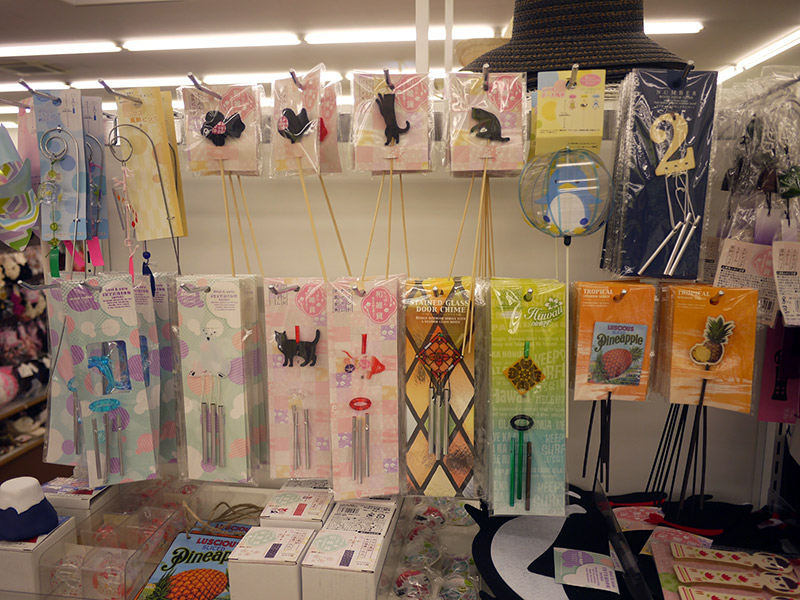 Of course, summertime in Japan means wind chimes. If you don't hear cicadas and wind chimes, it's just not summer.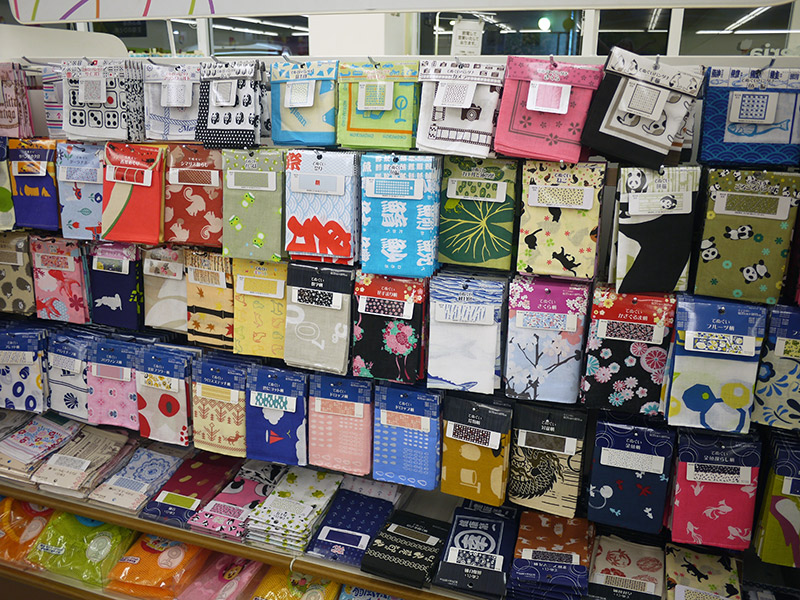 Whoa! You're sweating a lot. Better grab some of these tenugui to dry yourself off. (You know Tofugu has tenugui too, right?)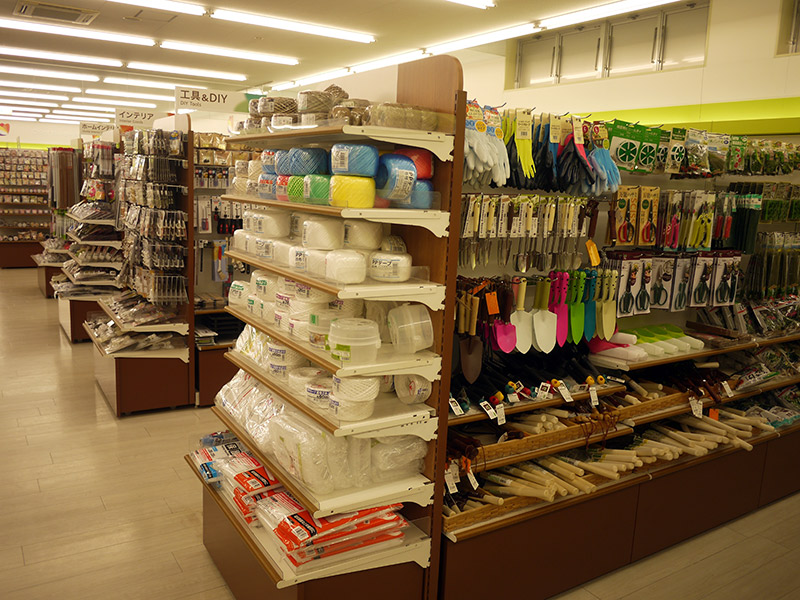 Now that you're set to handle the heat, get outside and use your green thumb. There are all kinds of gardening tools available for just 100 yen each. What, you thought I'd let you stay inside and watch anime all summer?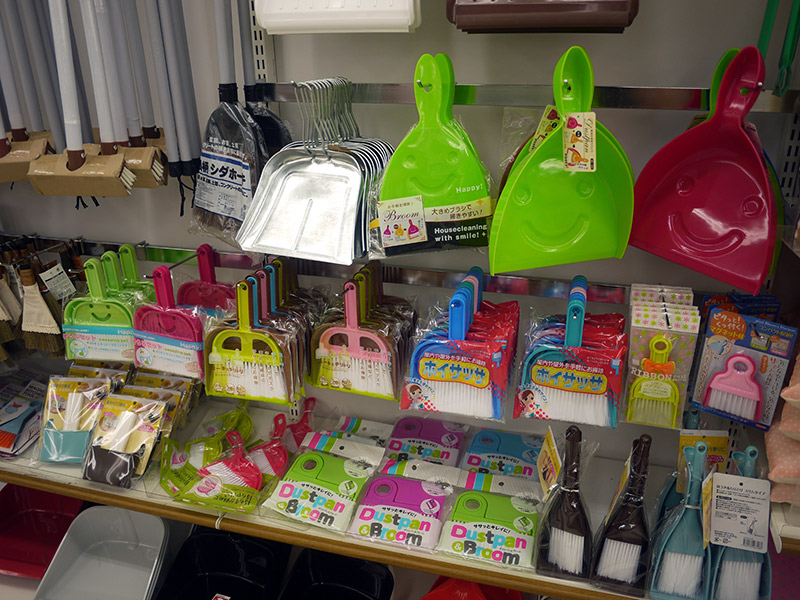 When your house is a god awful mess, head to this section to clean it up. Or sell your house. Your choice.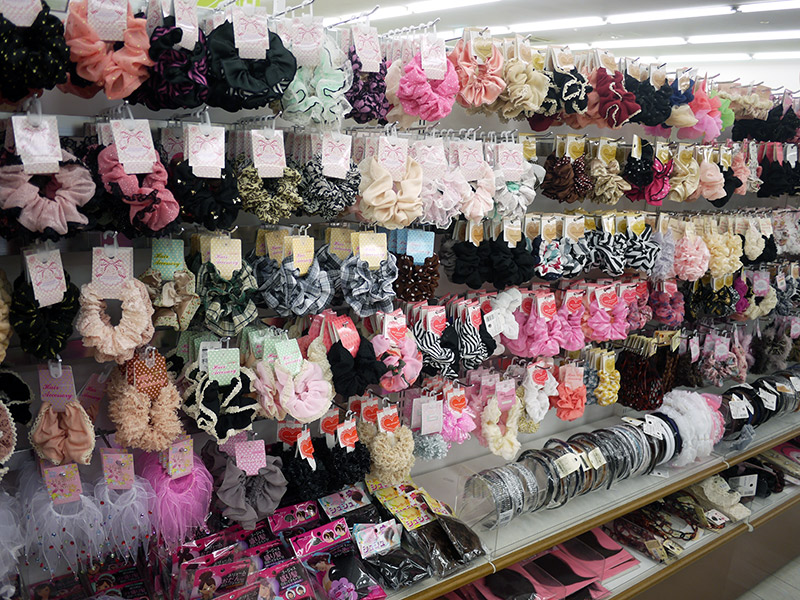 I've always thought your hair was so pretty. Pretty hair deserves pretty hair accessories, don't you think? Which one is your favorite?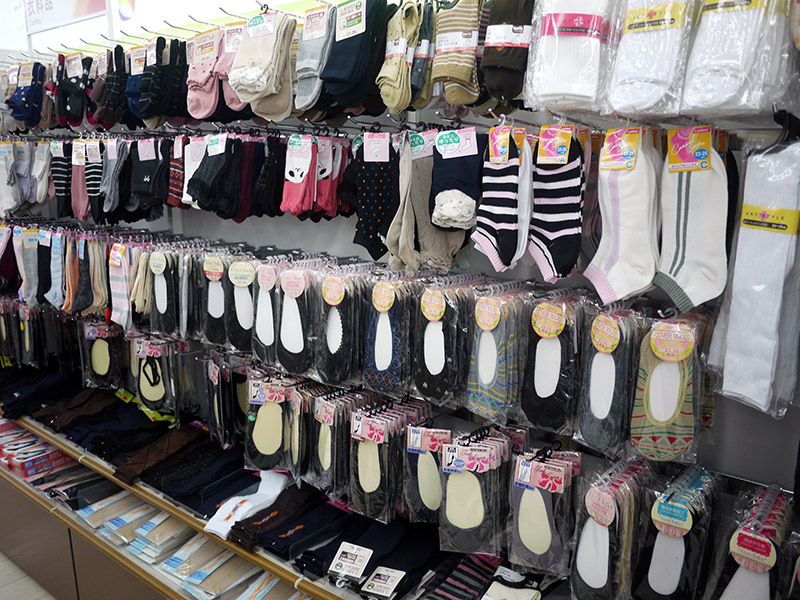 Japan is a sock loving culture. So Japanese socks are the best around. Because you take off your shoes when going indoors, you'll be seeing a lot of your socks. But you don't have to spend a lot to make your feet look nice.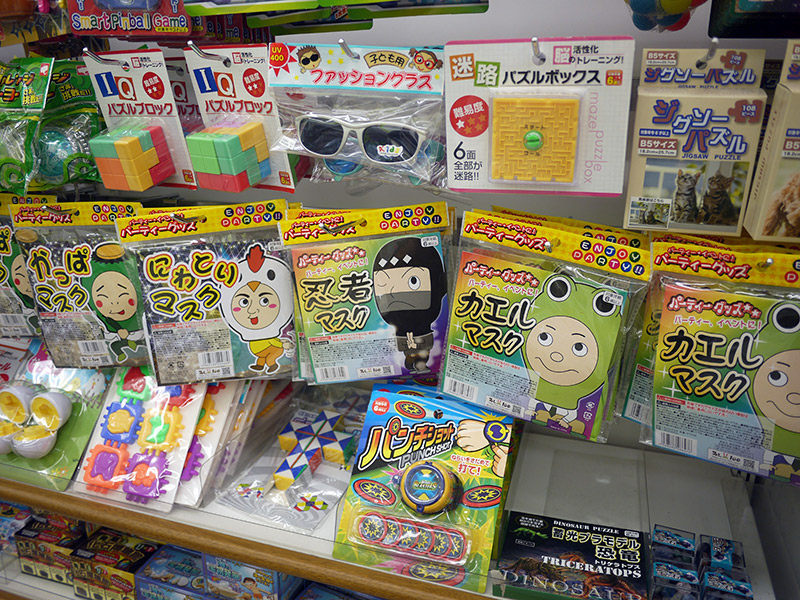 Party time! You can get all kinds of games and costumes for cheap. You could be a frog, a ninja, a kappa, or a chicken. Kappa hat? I'd buy that for a dollar! (which is roughly equivalent to 100 yen, mind you.)
There are a lot more products Seria has to offer. Most of them are really neat and cute. If I continue listing things like I've been doing, this travel post would be too long to read. So, lastly, I want to introduce Seria's specialty: handcraft goods! They even have some directions for making crafts using their products. You can find these "recipes" on Seria's website.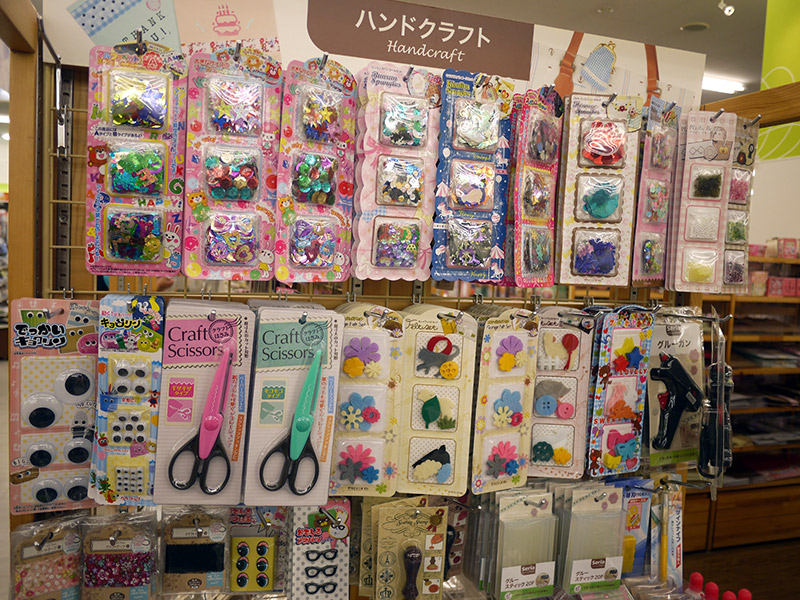 As you may know, many 100 yen or dollar stores have products priced higher than a dollar. Unlike other stores, however, Seria is so serious that they literally sell all their products for 100 yen each. You can even see a glue gun is sold for 100 yen in the photo. That's crazy!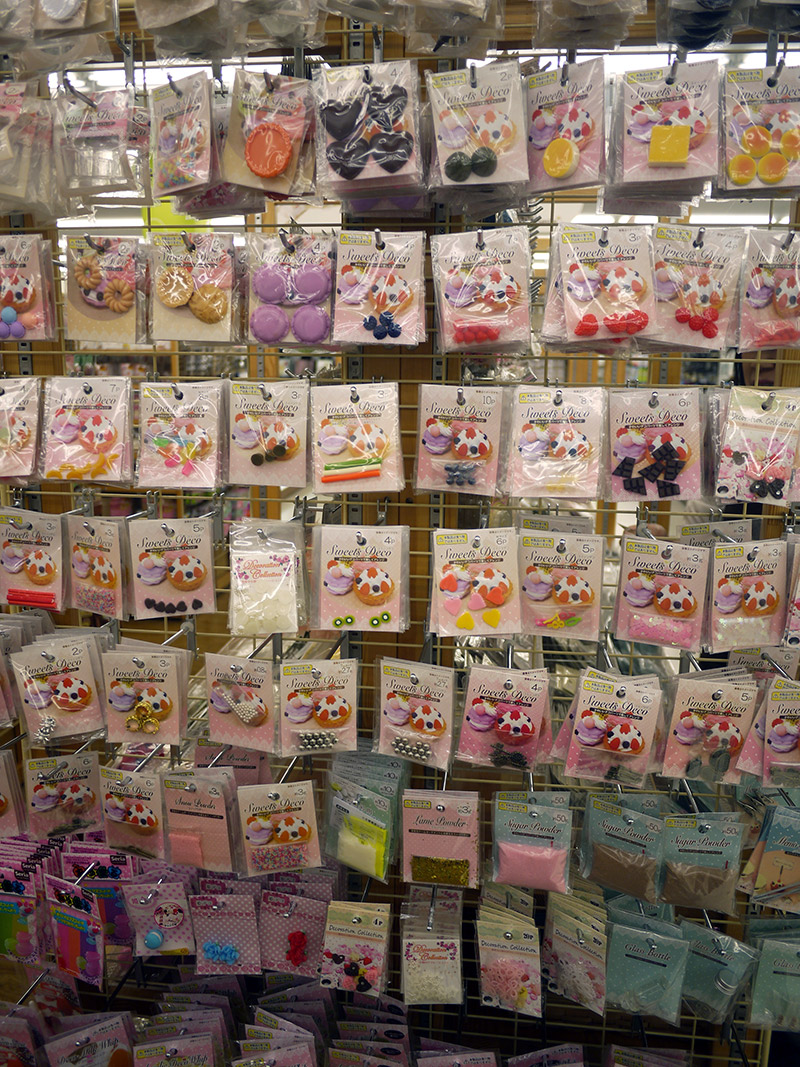 おいしそう! But you can't eat them. These are all for handcrafts. All these little sweets are for decorating your smartphone cover or whatever things you want to bedazzle.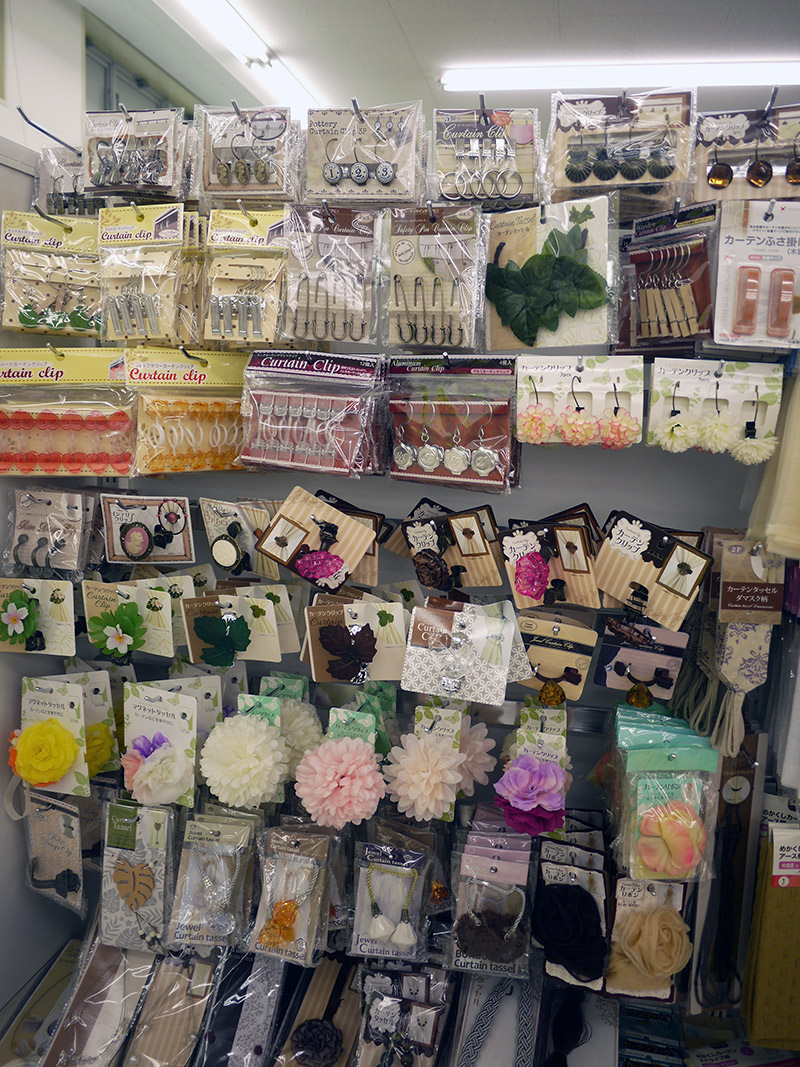 What are these? Piercings? No, they are curtain clips, which some say are the earrings of the living room. Actually, no one says that.
There are a lot more things to color your days in this serious Seria. Their products are not only useful but also really stylish. By now, you can probably understand why this place is my favorite 100 yen shop. If you want to indulge in your secret shopping mania, this is the safest place to do it. Fill your life with possessions without losing too much money!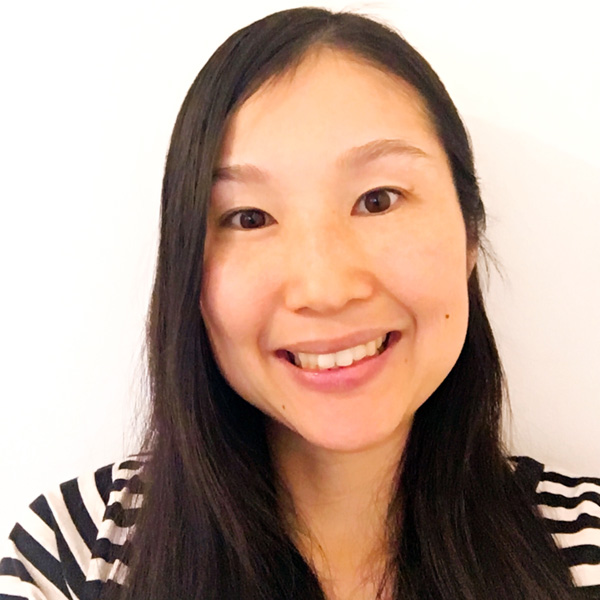 Mami's Review
Great value for your money. I love Daiso too, but I like things in Seria better, because their designs are more to my taste.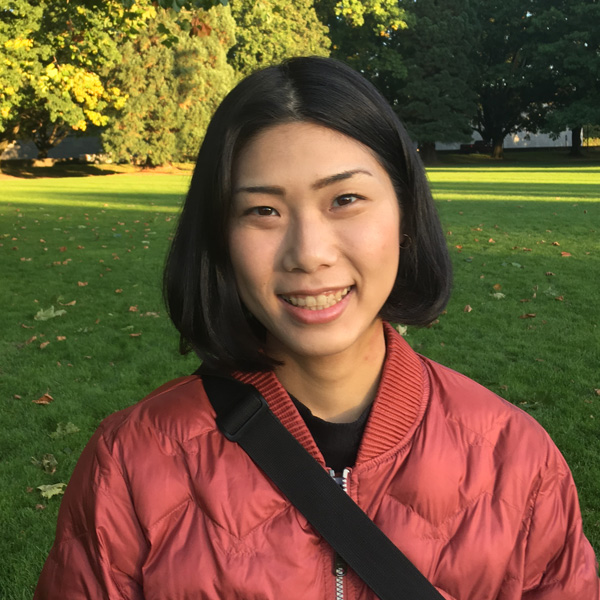 Kanae's Review
Daiso is still my number one ¥100 shop, especially for buying craft materials, because of the variety. But Seria is getting there in this category, too. I also like the selection of plates and dishes Seria has. They have cute ones that don't look ¥100 at all.
Michael's Review
I can't bring myself to give thumbs down to any ¥100 shop, because they're all pretty fantastic, if you ask me. Seria is way up there, perhaps neck-and-neck with Daiso in my mind. I have a winter hat from Seria that I've been wearing for ten years. Money well spent.
Seria
Additional Information
2 Chome-4-2 Abemokuzaidanchi
Sakurai City, Nara Prefecture 633-0055
Japan
View on map