Ramen. Although originally a Chinese import, it's now a huge obsession in Japan and an icon of Japanese cuisine around the world. Part of the excitement is that so many different kinds and styles have developed. People wait in long lines at renowned shops and travel a long way to experience regional variations.
Now, as much as I'd love to travel to Kyushu just to eat their ramen, I didn't have to. I just had to go to Yokohama. And at the Shin-Yokohama Raumen Museum, I not only got my soup, but a cool place to eat it in.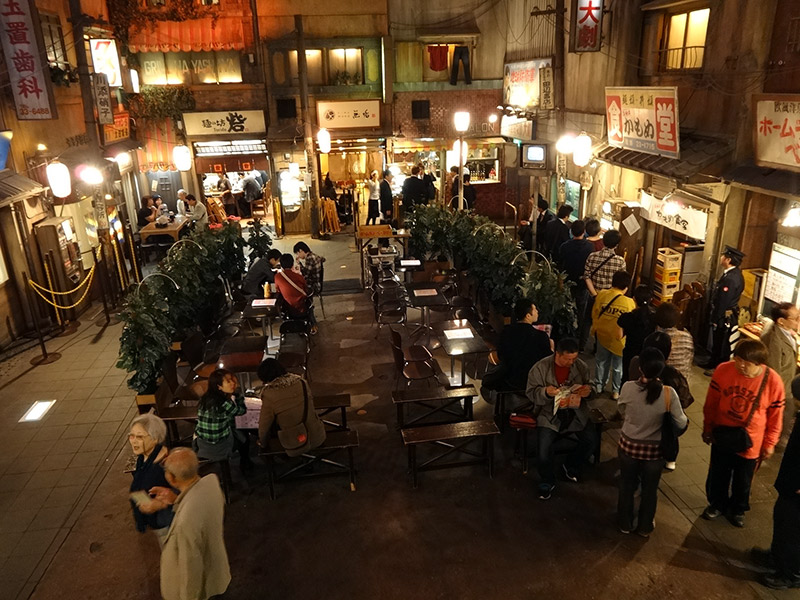 The museum spells raumen with a "u" in its name for a retro feel. But the rest of this article is going to render it properly. The museum says it chose its Showa-era theme because 1958 was the birthdate of instant ramen. This is a bit odd, because this is a place where you will find no trace of instant noodles.
The entrance floor may seem a bit unpromising. Some photos of ramen from different places and an OK gift shop of ramen-related merchandise greet you as you enter. Never fear! Head downstairs and you'll find what you came for: a two-level reproduction of a 1950s shopping street bathed in an eternal twilight.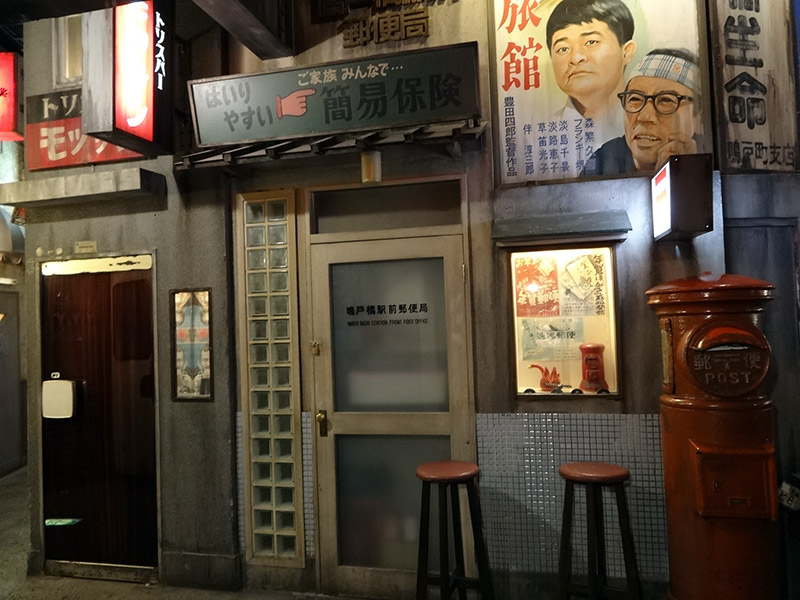 Wander around the upper level and you'll find various charming fake storefronts including a post office, a soba restaurant, and a pawnshop.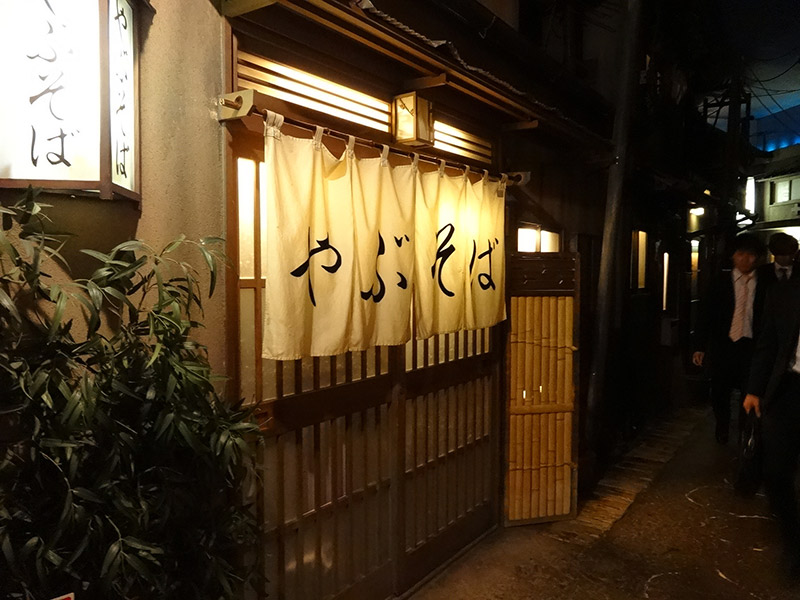 You'll also find one shop that's actually in business where you can buy retro candies and toys.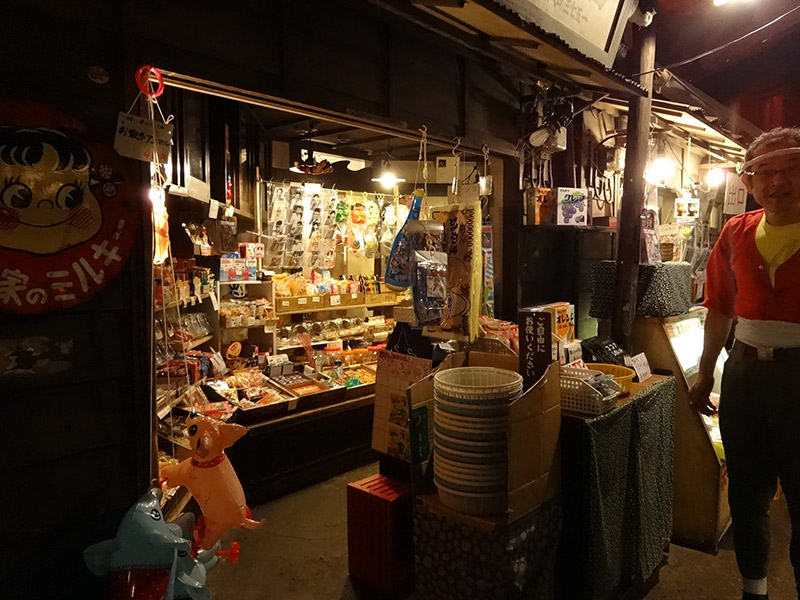 Okay, okay. You're hungry. So go downstairs. But be ready to strategize, because there are a lot of choices.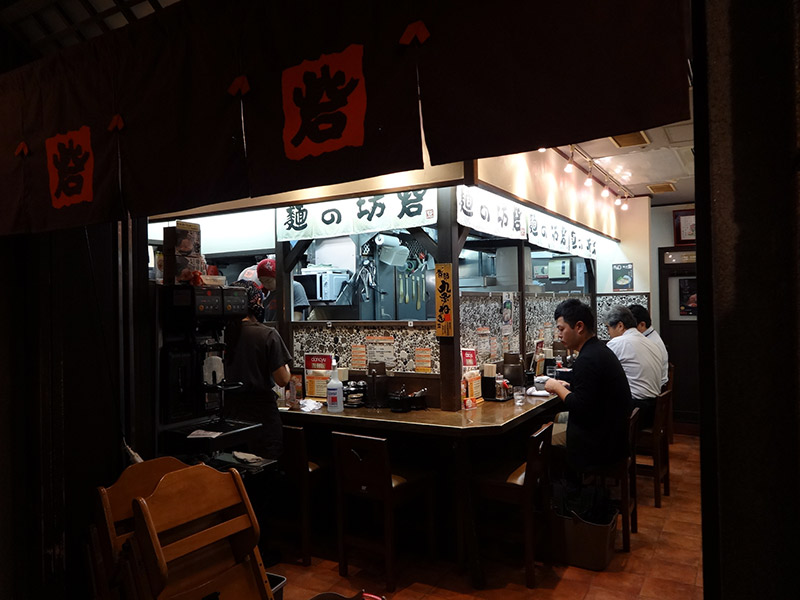 Of course you picked up the brochure (available in English) that tells you what all the shops are and what they offer. Apparently some of them switch out once in a while. But when I was there, there were nine choices. Among them were what was claimed to be the most famous miso ramen in Japan (from Hokkaido) and one made from the recipe of a shop that was swept away in the 3/11 earthquake and tsunami.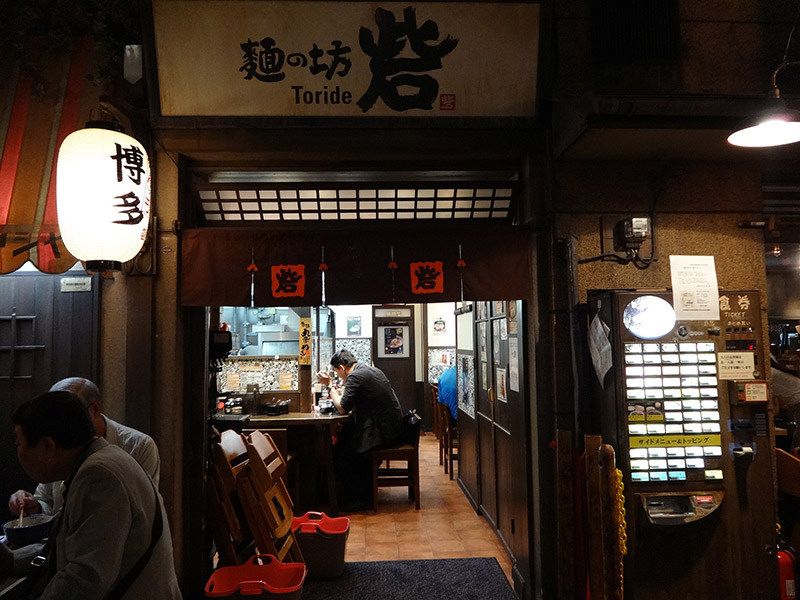 The brochure is serious business. It tells you what the broth and noodles are like at each shop. It details how thick the noodles are on a five-point scale and whether they are straight, curly, or wrinkled. It describes how rich the soup is on another five-point scale ("Rich" in ramen lingo seems to mean "fatty," with the richest soups turning to a solid gelatinized mass if you take the leftovers home and put them in the fridge).
Or you could just pick the shop with the coolest storefront.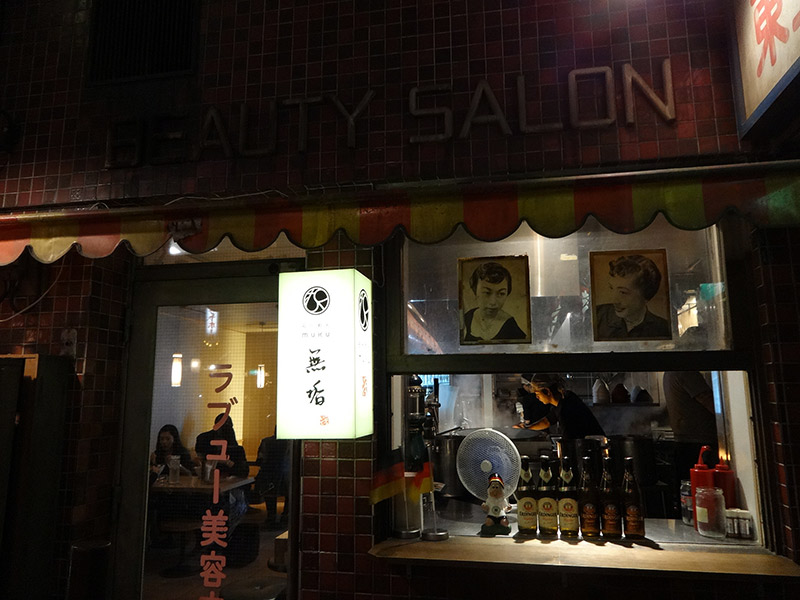 If you are indecisive, there's good news. Some of the shops offer mini-ramen. So you might have room for a bowl at more than one. Also, you may want to decide whether or not to have the authentic experience of waiting in a long line. My friend and I couldn't figure out what to do and ended up just picking a shop without a line.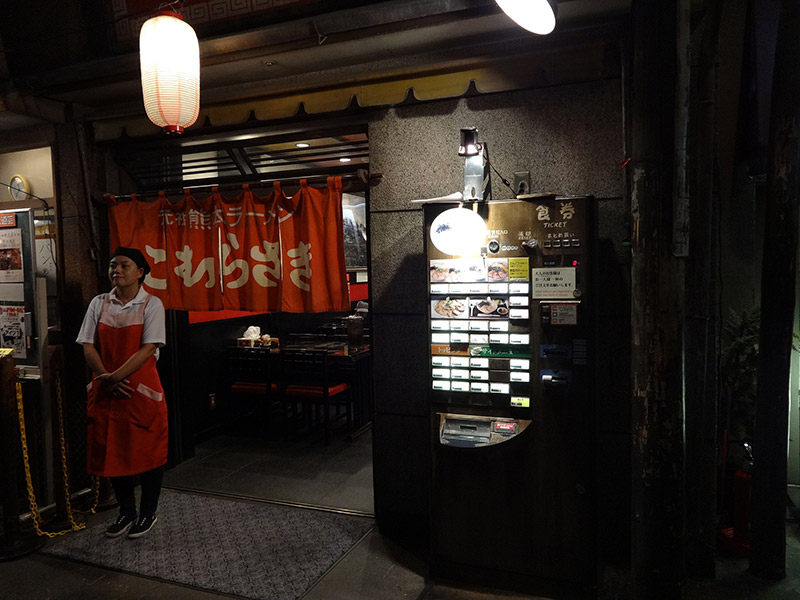 The shops use the old fashioned system where you buy a ticket from a machine (seen to the right in the photo above). The machines have different buttons for different choices. The lady was very helpful, if you get confused. And "mini" is the same in English and Japanese, if you need to ask.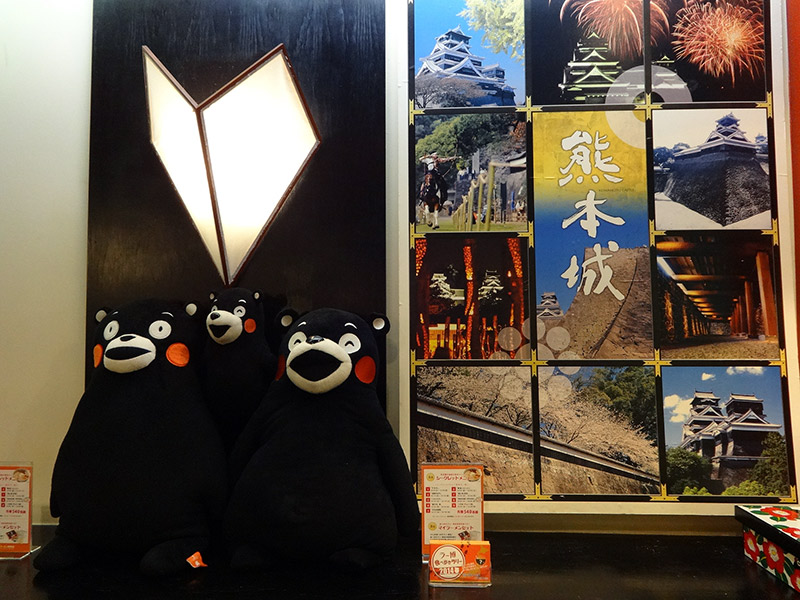 This shop served ramen from a shop in Kyushu that has been in business since the 1950s. It was decorated with the mascot Kumamon (who was not around in the 1950s). I swear I didn't see that when we made our choice. So I suppose I was destined to pick the shop with the cute animal mascot.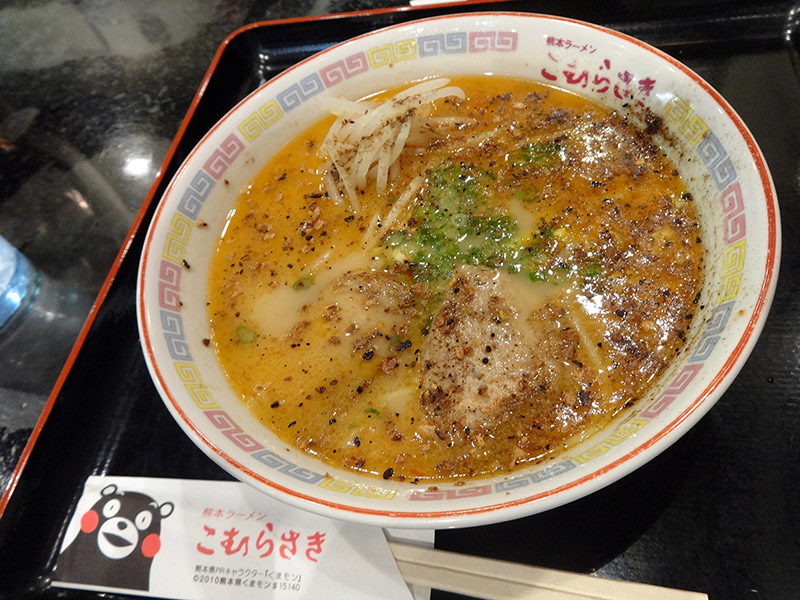 But enough with the decor. How was the soup, you say? To be honest, I kind of wished I'd paid more attention to the helpful brochure, because the straight thin noodles turned out to be almost exactly like spaghetti. I grew up eating Italian-American food, and that was not what I had come halfway around the planet to eat. But I can't blame them for my mistake. The broth and the crunchy garlic sprinkled on top were great, and the atmosphere couldn't be beat.
There are lots of other things to do in Yokohama, such as the famous Yokohama Chinatown and the Cup Noodle Museum (different than the amazing instant ramen museum Koichi visited, but same company). Both of these choices are suitable if you somehow manage not to eat enough food at the Ramen Museum, not to mention non-noodle related attractions. You might want to plan better than I did and spend the whole day.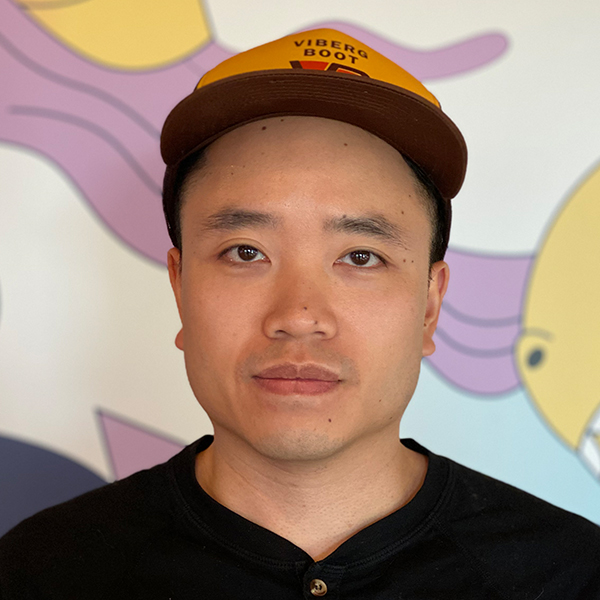 Viet's Review
I wasn't expecting much. But I came out learning about the history of ramen. Also the underground ramen alley is pretty good. The ramen I had was decent.
Michael's Review
This is definitely worth the trip, if you're in Yokohama—even if you dash past the museum, and head straight for the underground ramen town. The museum was definitely cool, but the reconstructed Shōwa period town was baller. The ramen was great, too.
Shin-Yokohama Raumen Museum
Additional Information
港北区新横浜2丁目14−21
Yokohama, Kanagawa Prefecture 222-0033
Japan
View on map