Britain's Prince William recently went on his first trip to Japan. He spent three days there, as part of a larger trip that also included a few days in China. The Duke of Cambridge had his own animal rights cause to promote in China, but Japanese politicians had their own agendas for Prince William in Japan. It was a chance to highlight their successes, in front of the world to some degree, but primarily for the benefit of the Japanese public.
Of course, Japan has its own royal family, and they fulfill their role in Japanese politics, just as the Windsors do back in the UK. However, having a foreign royal come to visit provides a unique opportunity. Moreover, despite some similarities between the royal institutions of each country, Prince William showed a somewhat different face of royalty to a country that really loves them some royalty.
Royal Roamings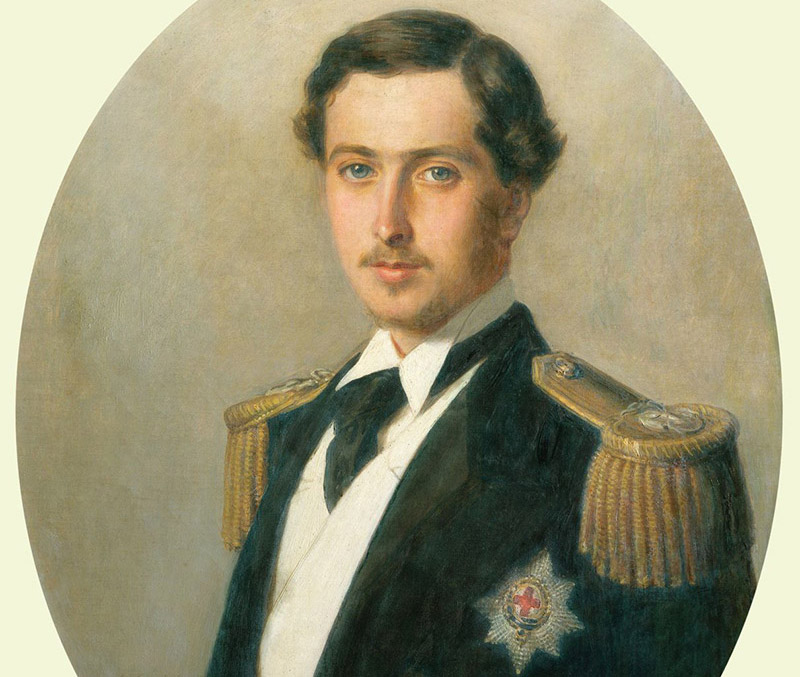 The royals of Japan and the UK have been visiting each other's countries for quite some time. In 1869, Alfred, Duke of Edinburgh, became the first European prince to visit Japan. Just one year prior, the isolationist Tokugawa shogunate that had ruled Japan since 1603 had been overthrown and the emperor restored to power. Alfred had an audience with the newly empowered Emperor Meiji in Tokyo. As Japan became reacquainted with the West during the Meiji period, they didn't fail to notice some similarities between themselves and the UK Both were island nations with long traditions of monarchy, manners, and tea. Japan was also interested in taking up another British tradition: imperialism, and looked to the British model in forming many of their new institutions. It is important to note that Britain was hardly the only imperial power that Japan drew inspiration from, taking elements from Prussia and France as well.
Over the next few decades there were some visits by princes and such on both sides, and then in 1921 Crown Prince Hirohito became the first of his rank to leave Japan when he went to the UK and other European countries via Singapore. Then relations went sour from the 1920s until the end of World War II. After normalizing relations, then Crown Prince (currently emperor) Akihito attended the coronation of Queen Elizabeth II. In 1971, the emperor himself, Hirohito paid a state visit to the UK, and four years later Queen Elizabeth returned the favor. In 1986 Prince Charles and his wife, Princess Diana, went to Japan, and this visit would be often referenced during Prince William's recent visit. Emperor Akihito visited the UK in 1998, 2007, and most recently in 2012 for Queen Elizabeth's Diamond Jubilee.
Prince William in Japan: Day One
Prince William arrived at Haneda Airport on Thursday, February 26th, where he was greeted by a welcoming crowd despite the rain. The duke's duchess, Kate, did not join him on this trip, as she was seven months pregnant with their second child. It was a bit of a shame she couldn't go, as she is quite popular.
Not only has Kate been a quite public figure, appearing at numerous functions and meeting various dignitaries, but she has become known for her fashion as well, not unlike William's mother. She stands in contrast to Princess Masako, wife of Japan's Crown Prince Naruhito, who has had difficulty dealing with public life over the years. She has suffered some emotional distress, and largely stayed out of the public eye since 2002.
Regardless of country, I'm sure being in such a position can often be stressful, but differing cultures and fates have made the situation worse for Princess Masako. Many have speculated that her emotional issues stem from pressure for her to produce a male heir. After six years of marriage, she had a miscarriage in 1999. Then in 2001, she gave birth to a daughter, Aiko. This ignited a lot of public debate over whether or not she could succeed the throne. This would require changing the Imperial Household Law of 1947. The matter was put aside in 2006, when Crown Prince Naruhito's younger brother, Fumihito and his wife had a son. On the other hand, Kate gave birth to a boy, Prince George, in 2013, just two years into her marriage.
Soon after arriving, Tokyo governor Yoichi Masuzoe took the prince on a boat tour around Tokyo Bay to see some of the places that will host events in the 2020 Olympics.
Later in the day, William went to Hamarikyu Gardens to take part in a tea ceremony, where he was greeted by flag-waving schoolchildren. The gardens date back to the Edo period (1603-1867), and provided a nice setting for William's first public appearance taking part in traditional Japanese culture. Of course tea, and the formalized serving of tea, is something that both the UK and Japan have long appreciated, but there are some key differences. William was excused from sitting in the usual seiza position (on his knees), and sat on a low stool instead.
Prince William in Japan: Day Two
On Friday, Prince William visited the Commonwealth War Cemetery in Yokohama. The cemetery is dedicated to the approximately 1,700 servicemen from the British Commonwealth (Britain, Canada, Australia, etc.) who died in Japan as prisoners of war during World War II. William offered a wreath and a silent prayer. He also signed the visitors' register and was shown an album with pictures of his mother, who also visited the cemetery during her final visit to Japan in 1995. His grandmother, the queen, has also paid her respects there.
After the cemetery, William went to a luncheon hosted by Emperor Akihito and Empress Michiko. It was not their first meeting, as the imperial couple met William and his wife in 2012 during the celebrations of Queen Elizabeth's 60 years on the throne.
Later that day, William had tea with Crown Prince Naruhito. Some have noted the contrast in the personalities between the outgoing William and Naruhito. However, once again, some of the blame for what may seem like a colder attitude on Naruhito's part must surely be laid on the more distant relationship between the imperial family and the Japanese public in general.
Prince William in Japan: Day Three
Saturday began with a visit to NHK studios in Tokyo, where William explored the sets of a historical drama. He was also allowed (persuaded?) to don some samurai costume, including helmet and sword.
Later that day William headed north to visit the Fukushima area with Prime Minister Shinzo Abe, which I'm sure the government thought would be a great opportunity to show the Japanese people examples of success in their recovery efforts following the 2011 tsunami and nuclear disaster, and to reassure them that the government is still making progress in that area. Apparently some locals weren't happy about the prince's visit, feeling they were being used for political ends, when they have been dissatisfied with the same recovery efforts the visit was meant to highlight.
At any rate, most of the coverage has been positive. William and Abe went to an athletic center, in the city of Motomiya, which was opened in 2012 as a safe place for recreation in an area where there is less fear of radiation. William talked to local children and impressed them with his juggling skills. They also participated in a tree planting ceremony to wish for a quick recovery.
In the evening, William and Abe donned yukata (light cotton kimono) at a ryokan (traditional inn) in Koriyama, where they ate a dinner made from local ingredients. Of course this kind of thing is common on state visits, except that in this case using local ingredients from the Fukushima area argues for their safety, a point that both the government and Fukushima farmers are eager to make. After all, if it's good enough for the prime minister and the crown prince of Britain, it should be good enough for you.
We'll Never Be Royals… But Maybe They Can Be More Like Us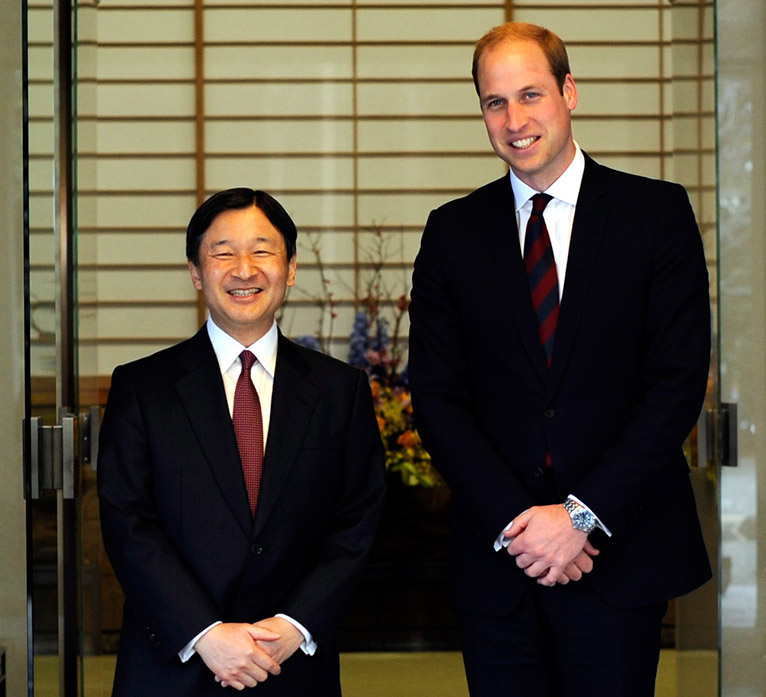 The next day Prince William bid Japan farewell and continued along his travels. So, what can we learn from his trip?
State visits are fairly common, but royal representatives that go between the UK and Japan are a bit special due to the many things their lives have in common, but also due to the many differences, usually stemming from differences in culture.
In both cases, the royals were once considered to have divine right in one form or another, but now they have neither that nor practical authority. In the UK the change came from within, whereas in Japan it was forced upon them from the outside. I think this has led to a lot of lingering ideas about the imperial family in Japan that both remove them from the public and at the same time put more public pressure on them. Perhaps, by seeing the example of William, a royal who is more open and tries to use his influence for good in a number of causes, while at the same time being a bit more down to earth than previous royal generations, Japan might take a closer look at their own relationship with the imperial family, and how it might evolve for the better.