Manga and alcohol are a wonderful mix. Sadly, few artists explored this pairing before Araki Joh wrote the manga, "Sommelier," in 1996. It is the story of a Japanese wine connoisseur living in France and was eventually retold as a television drama starring Goro Inagaki of SMAP. Joh's other smash-hit, "Bartender," was made into a drama starring Arashi's Masaki Aiba, and an anime. His writing is not restricted to one genre or medium, though, and in each genre he works in, he uses different pen names: Arajin ("Aladdin" in Japanese), Joh Mizuki, and Akira Ito.
Tofugu was fortunate enough to get a one-on-one interview with one of Japan's most successful manga writers. Let's uncork this bottle of knowledge and savor the insight.
Araki Joh. Occupation: Manga Writer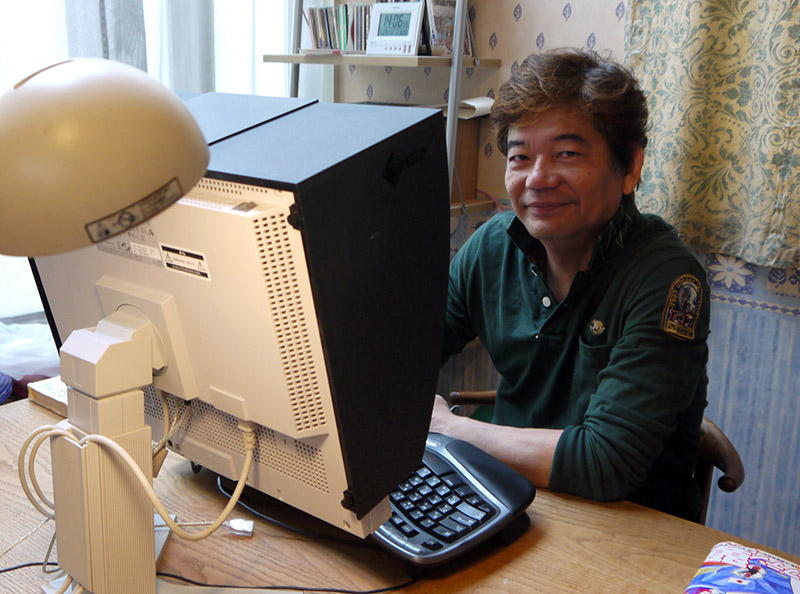 Pen Name: Araki Joh
Age: Secret
Bibliography: Sommelier (4 million books sold), Bartender (3.5 million books sold), Sommelière (1 million books sold), Bartender à Paris , Bartender à Tokyo, Hono no Ryorinin: Shu Tomitoku (meaning "Cook of Fire: Shu Tomitoku")
Q. How did you become a manga writer?
I began my writing career as a copywriter for magazines while attending Rikkyo University. One day, my friend, who was a manga editor at the time, asked me to try writing a manga script, and I just tried it out. I didn't have any training or practice in writing scripts for manga, so I had to carve out my own way of doing it. The first thing I did was write out the script of an existing manga for practice. I chose Osamu Tezuka's "Black Jack." I always recommend this method to anyone who wants to become a manga writer, because it taught me how to cut panels in manga and what kinds of lines are striking and memorable. That's how I changed careers and became a manga writer.
Q. What do you mean by "cutting panels in manga"?
One manga story can span a period of months or years, or even entire lifetimes. If you write every single incident, the manga will be a ridiculous number of pages long. So you have to decide what to omit, in other words, decide which panels to cut.
Scriptwriting requires not only skills of omission but also of emphasis. For example, when "a hand" is drawn by itself, it's emphasized, right? It's a simple thing, but there is usually a meaning behind it. I learned things like this while practicing by myself.
It's often said, "one punch line for one theme." I used to be a copywriter, so each line of dialogue in my script is advertising copy, and I craft entire stories around the one line of copy I want to write most. Sometimes the storyline is decided first, but other times I come up with the punch line first. The latter is my pattern for success. Once the punch line and the featured drink are nailed down, to me it means that one story is completed. It takes quite a while to find a good one though, and I struggle with it a lot, like I am right now. (Mami's note: At the time of the interview, he was trying to decide a theme for his next story about bar tending.)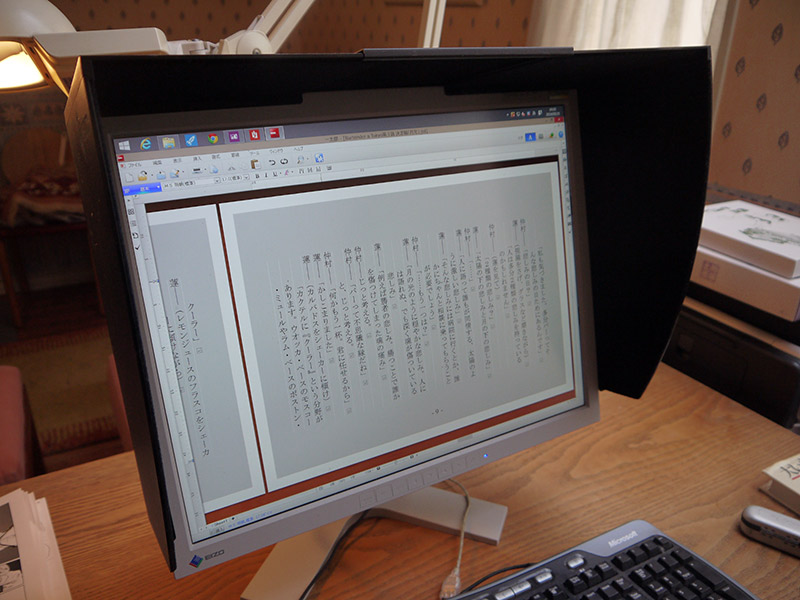 Q. You said you didn't have training, but do manga writers usually have some training beforehand?
It depends because there are so many styles for manga scripts. The most important thing in writing manga is to convey clear images to a manga artist, and as long as the script does this, the style doesn't matter. For example, one famous manga writer, Kazuo Koike, who wrote the script for "Lone Wolf and Cub", handwrites his scripts in pencil. When he wants to emphasize a word or a phrase, he writes it bigger and presses down to make strong, bold letters. It may not sound professional, but it's fine as long as it conveys his image to the manga artist. Thus, some people have training, but others just find their own way.
Q. What was your first story about?
Initially, I wrote stories about dogs. I recommend this to new scriptwriters too, but it's important to write something you are really interested in at the time. When I was 40, I got a dog for the first time in my life and it was a big part of my life at that time. There are lots of emotional moments involved in owning dogs, right? Thus, I decided to write about dogs.
If you are interested in something, you can add details and reality to the story, so I recommend people write about something they know and are interested in. On top of this, it's even better to make it unique. If your story is about something that somebody has already written, it has to be really good to conquer the existing stories of the same topic. If yours is the first story written of that type, there's an added advantage that its flaws won't stand out as much.
The Life of a Manga Writer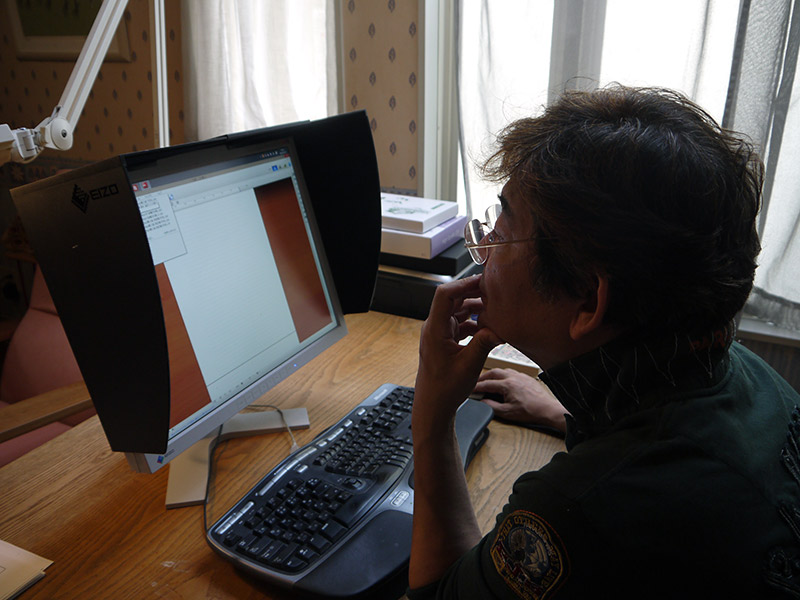 Q. What does a manga writer do?
The job of a manga scriptwriter is to write scripts that can convey images clearly to the manga artist.
As for the process, personally I write the script and have meetings with the editor. After that, the manga artist draws a rough storyboard (it's called "neemu ネーム" in Japanese). If the editor approves it, the artist begins work on the final version. Although some scriptwriters check the storyboard each time, I usually don't check it except at the very beginning of a new series. When a new series starts, the manga artist hasn't had a chance to get used to my writing and I want to make sure that he or she captures the right images. Some do, but I don't allow manga artists to change my words at all. If allowed, most of them end up making too many changes without permission, so I just say, "don't change a single word or phrase" from the beginning.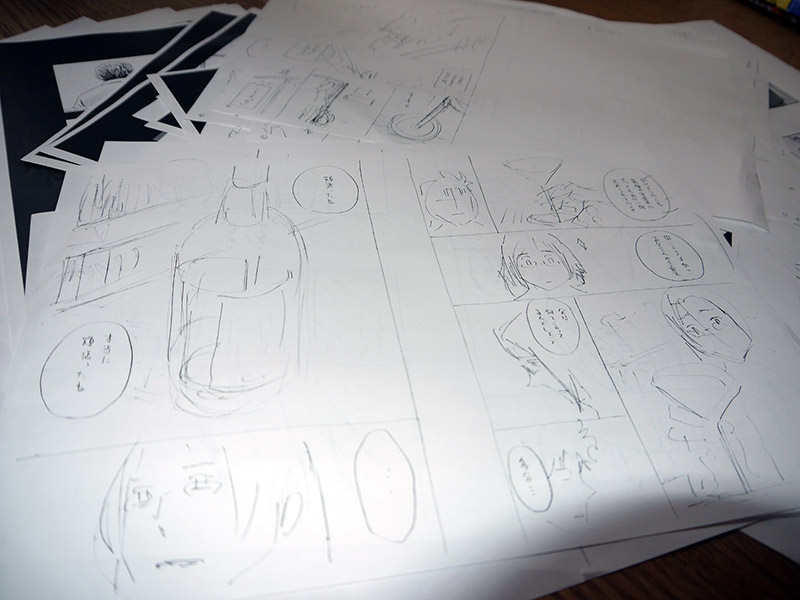 Q. What is it like being a manga writer?
I've never worked as a salaryman, so I can't really compare it to other jobs. I've been writing since I was 18. I was a magazine copywriter for 10 years, and then became a manga writer, though there was a period where my copywriting career and my manga writing career overlapped. It's a difficult question. A manga writer is a scenario writer, after all. It's basically the same as being a film or TV screenwriter.
There is a big difference between manga and films, though. For films, there is a director, right? For manga, sometimes I take a part as a director, other times the editor does, and other times the manga artist does. The power relationships among the three of us change continuously.
Q. What is the best part of your job?
When the manga I write becomes a big hit! It's like winning lottery. You can buy a Ferrari with cash! LOL (←He told me to make sure to write lol.)
Making movies cost a lot, but manga can be published quickly and the reaction comes back quickly too. If I answer seriously, I think the best part of my job is that manga doesn't sell because of the "name". To put it simply, people buy pictures or novels or watch movies because of the name of the author or director, right? However, manga doesn't work that way. Even for the author of "One Piece", if he wrote lame stories for three months, readers would leave him. In this sense, readers don't buy manga just for the author's name.
The manga world is so strict and severe that the content has to maintain high quality and the reactions of readers are very quick. I think that's the best part of my job.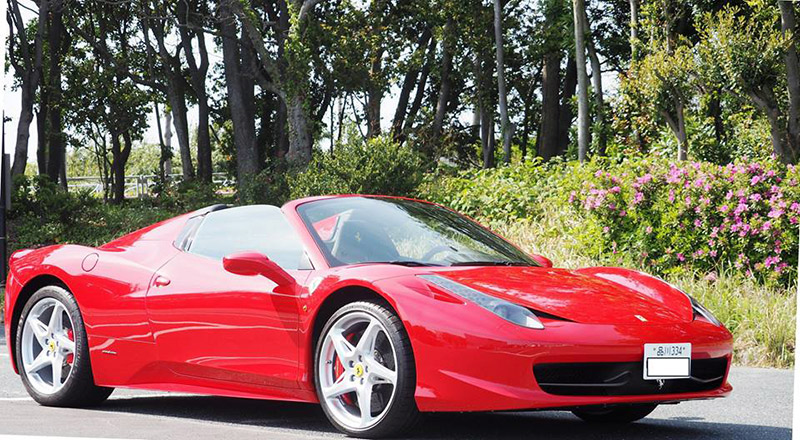 Q. What do you think is the worst part?
There is no non-hard part. I always tell the manga artist I'm working with to work so hard that their blood drips from every panel of the manga. Like I said, if we relax our guard even a little bit, readers leave us, so we have to make sure that our work is really enjoyable. We struggle a lot to create each story, yet there's a lot of joy in this struggle. When I finally find the story's theme after a long time, I feel as if it broadens my world and shows me my way. My view turns from cloudy to clear as if God lighted the path. I really like that moment. Honestly, we have big struggles almost every time, but we haven't shit our pants yet. We somehow get over the struggle every time and it works out.
The absolute hardest part is making the seventh story. One volume of manga usually contains 7 stories. We put most of our effort into the first and last volumes because they really determine whether or not readers continue to read the next book or not. I had a really hard time coming up with the stories for the seventh story of both Sommelier and Bartender, but they both turned out to be the best stories in each series.
Bartender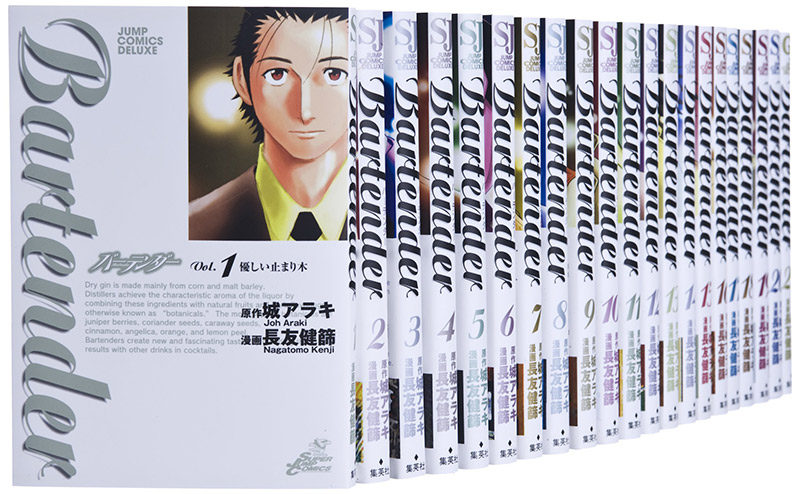 Q. What's the storyline of Bartender in your own words?
It's not a story about drinks (cocktails or alcohol). It's a story about people whose lives revolve around drinks. Simply put, it's a story about a bartender, and people with problems who find respite through interacting with him. I can't say anything more.
Q. How did you get started working on Bartender?
Just because I like alcohol. As I said before, you should write something you would be good at writing. I always focus my writing on people, so the topic can be anything as long as it's a good setting to depict human drama.
Q. In Japan, it seems like there's a lot of manga about food or drink helping people. Why do you think this is?
I think we should think separately of the category (food or drink) and story line (helping people).
As for helping people, first consider the difference between chess and shogi (Japanese chess), which represents the difference between Western manga and Japanese manga. You can't re-use enemy's chessman you take in chess, whereas you can re-use an enemy's piece in shogi. What this means is that a good guy usually just fights against a bad guy and wins in Western manga, whereas in Japanese manga a good guy wins against a bad guy and the bad guy often becomes a companion of the good guy. This applies not only to mainstream adventure/fighting manga but also to stories for adults, like mine. If you have read my manga, you probably already know, but there are not simply "bad" people in my stories because all people have good and bad aspects. When you see a person from different standpoints, he/she can look like either a good person or a bad person. I believe Japanese people like to save those "bad" people or people with problems, and that is why there are a lot of manga about helping people.
As for food and drinks, you might say they are popular because Japanese people are very studious. For example, there are only about 300 sommeliers in France, but after my manga "Sommelier" became a hit, the number of sommeliers in Japan rose to about 30,000. People like learning new things and manga is a very useful gateway for beginners to start studying something. Therefore, there are many manga with a lot of information packed in them. In fact, many people actually don't read manga without such elements. It's often said that readers want a reason to buy books. What this means is that adult readers only buy manga that they'll want to keep in their homes and read over and over again. Thus, manga has to be enjoyable and informational.
This is especially important for manga that has a scriptwriter. If it's a manga that the manga artist can write and draw by himself/herself, we aren't needed. Manga artists don't have time to go and collect materials and sources for stories, so we, manga writers, do it for them to add some educational spice to the stories. The reason why food-themed manga are written so much is simply because it's easier for readers to try out what they learn. They can read manga and then make the foods or go to eat the foods in a restaurant. They can use the information right away. It's the same with drink manga.
I recently wrote a script about a lawyer who specializes in writing wills, but it didn't become popular. I think the reason why it wasn't popular was because I chose the wrong category. Given the ages of the target audience, a story of a divorce lawyer might have been much more interesting, though it's too late for that now. When a manga contains information that readers want, and also if the story is enjoyable, it will be a hit. Everybody likes eating tasty foods and stories about foods are written a lot.
Q. Japanese people also seem to like the "genius" character, like the bartender in Bartender. Why do you think this is?
That's an interesting question. It don't think Japanese people necessarily like or dislike the "genius' character. It's just that any kind of drama needs a hero to be mainstream. That is why main characters are usually "genius" or have a "special power". Yet, those special elements don't make a good character. Adding generosity or even weakness makes the character much more interesting. I think American characters tend to be "genius" or "have special powers", like Superman, more than Japanese characters though.
The Ins and Outs of a Manga Career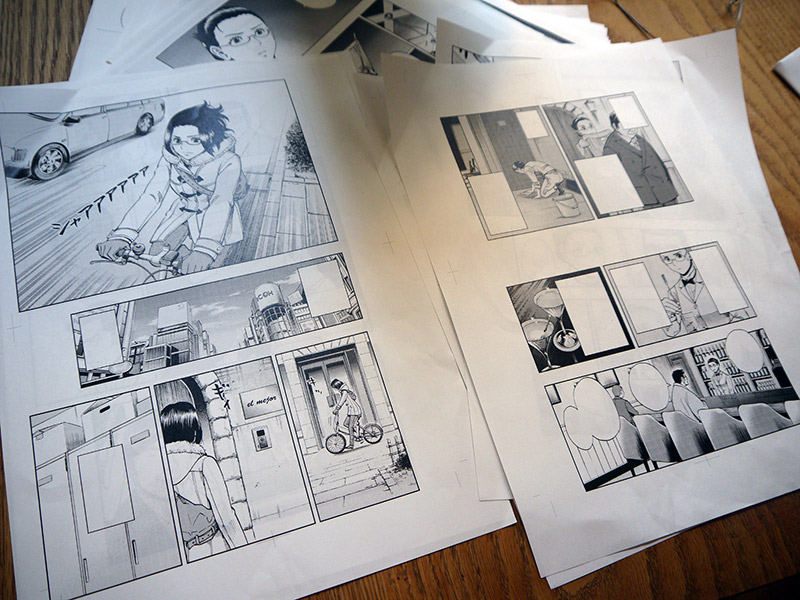 Q. Why do you have so many pen names?
I use Joh Araki for stylish manga, but I write other manga too. So when I write a yakuza manga, for example, that pen name doesn't really match the image of the story, so I use a different one. After I write a clean, stylish story, I sometimes want to write something crazy as stress relief. This is pretty much a tradition for Japanese manga creators. For example, Machiko Hasegawa, the author of "Sazae-san", wrote "Ijiwaru-baasan" (Mean Grandma) alongside the warm and funny Sazae family story. I think people get tired of writing only "nice" stories.
Q. What is your favorite Manga of all time / why?
Osamu Tezuka's manga. I practiced writing using his works and learned a lot, including how great he was. If I wrote his manga, they would be double the length, because he is a master of cutting panels.
Q. What is your process for coming up with a story?
There are two processes. One is where I come up with the punch line first, and then shape the story around that line. Other times I get a vague idea and just pursue it. The latter takes quite a while to shape though.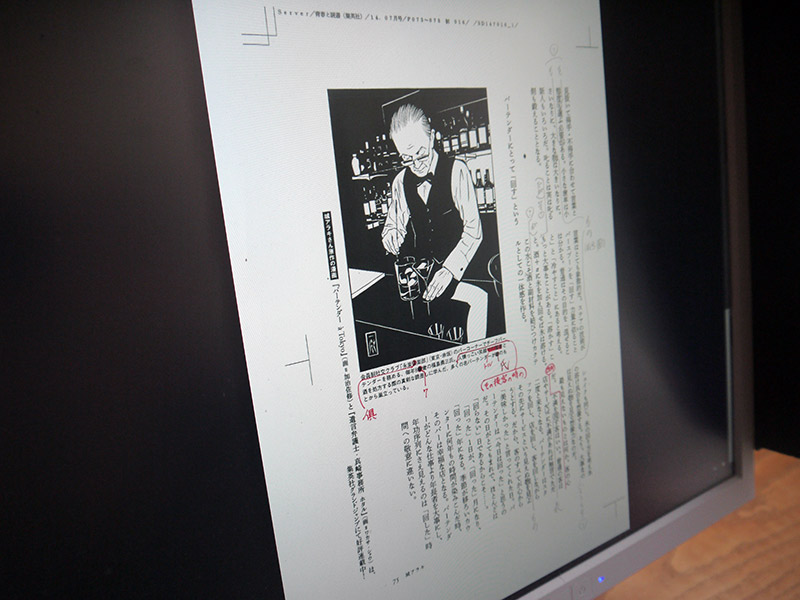 Q. Is there any language that you have to be careful about using when writing a Japanese manga script?
The reality of the language. The dialogue of teenagers and the dialogue of middle-aged guys is very different. I try to make them sound real. I try to make them easier to understand too. I also remain aware of the look of the dialogue. Since it's manga, the dialogue itself is a characters on each page. If the kanji ratio is too high, it can make readers tired. Thus, I try to maintain a good balance of hiragana and kanji. But there are times when I intentionally use difficult kanji to capture the reader's attention.
Q. What is the most important element for creating a great story?
I create each story by bleeding from soul. I actually told this to the manga artist of bartender, Kenji Nagatomo, to make him more serious about creating our story. Then he told me, "I've actually got an ulcer and I'm bleeding from my stomach right now."
Q. Any funny stories about your job?
I heard some guys talking to girls at a bar about the drinks they were drinking, and what they said were exact quotes from my books. Of course, they didn't realize that I was there, but I felt happy when I heard it.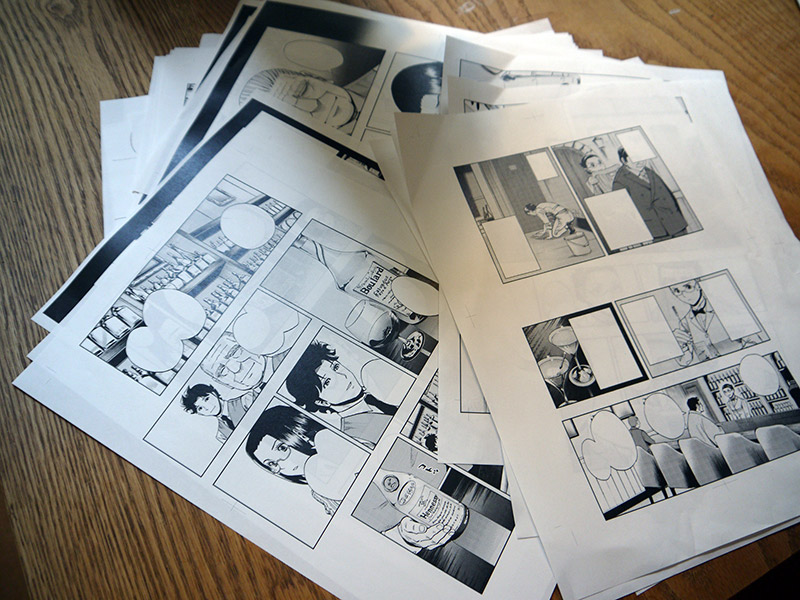 Q. Can you tell us a story about your job that you've never told anyone?
I can't tell them, but they are all woven into my stories.
Q. If someone wants to become a manga scriptwriter, what should they do?
You don't need to like manga or know about manga. All you need is a message you want to convey to people, or some feeling that you want to shape into words or pictures. Although it's still hard to be a manga artist or writer for famous magazines, there's a better chance of you getting your manga story published than you do getting a script turned into a movie, because of the cost of film production. In that sense, it's an easier challenge. So, the most important thing is to have strong interests and to try living your life in line with those interests. Find something you really like, and then you will find material to write about. There are foreign manga artists working for Japanese manga magazines too, so there are possibilities.
Q. Is there anything else you want to say about your job?
When I go to a bar, I sometimes encounter bartenders or sommelier who say they chose their career after reading my manga. If their drinks are good, it's wonderful. But if they serve me a bad drink, I feel bad that my manga led them the wrong way, though I can't tell them. I shout in my mind, "It's not too late! Change your career! Noooo!" LOL! Of course, I appreciate the fact that they liked my manga enough to choose a career based on it.