Tokyo has a reputation as a city that's all about speed and newness. Everyone's in a hurry, buildings are constantly being torn down and rebuilt, and in most of the city, nothing's older than the last World War. But there's a part of the old shitamachi downtown area that escaped destruction by earthquake and war in the twentieth century, where you can experience what's left of an older version of the city. It's called Yanesen, from the initials of the three neighborhoods Yanaka, Nezu and Sendagi. It's the place to go if you love winding alleys, small shops, and appreciate the appeal of a place that's a bit shabby and worn around the edges.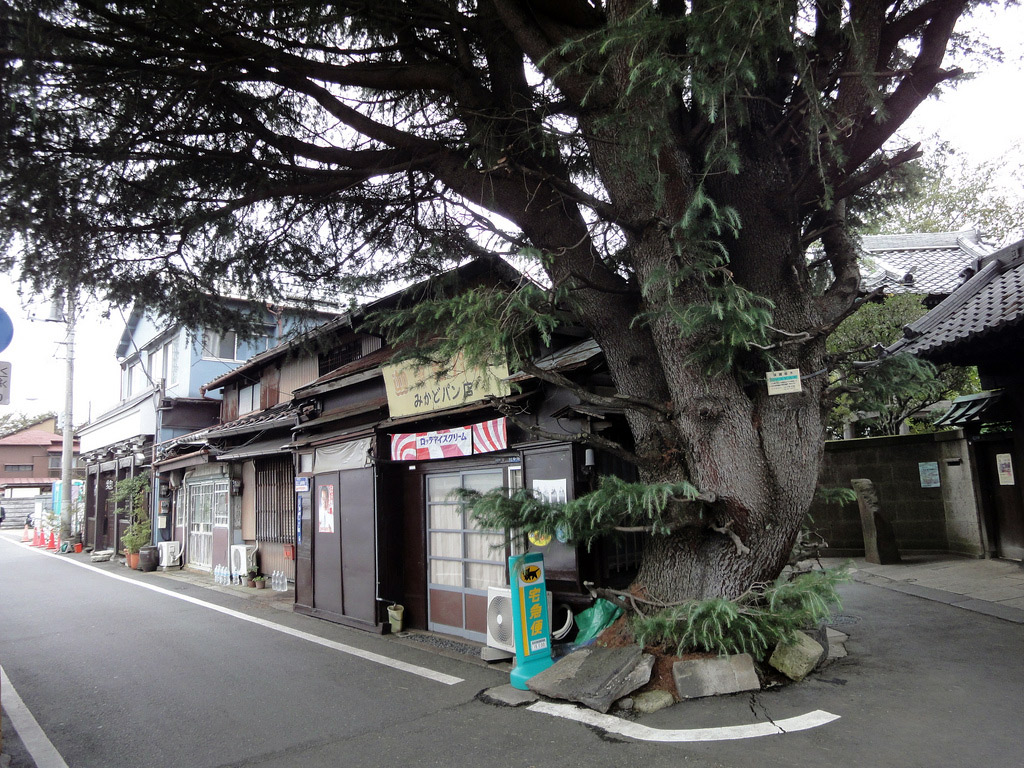 Yanesen is off the beaten tourist path, east of Ueno Park and its zoo and museums,which is as far east as most visitors end up going. What's even more interesting is that if you know people who live in Tokyo, chances are that they are completely unfamiliar with this part of town as well. Learn just a little and, like I did, you can impress Tokyo natives with a tour even if you've only spent a few weeks total in the city in your whole life.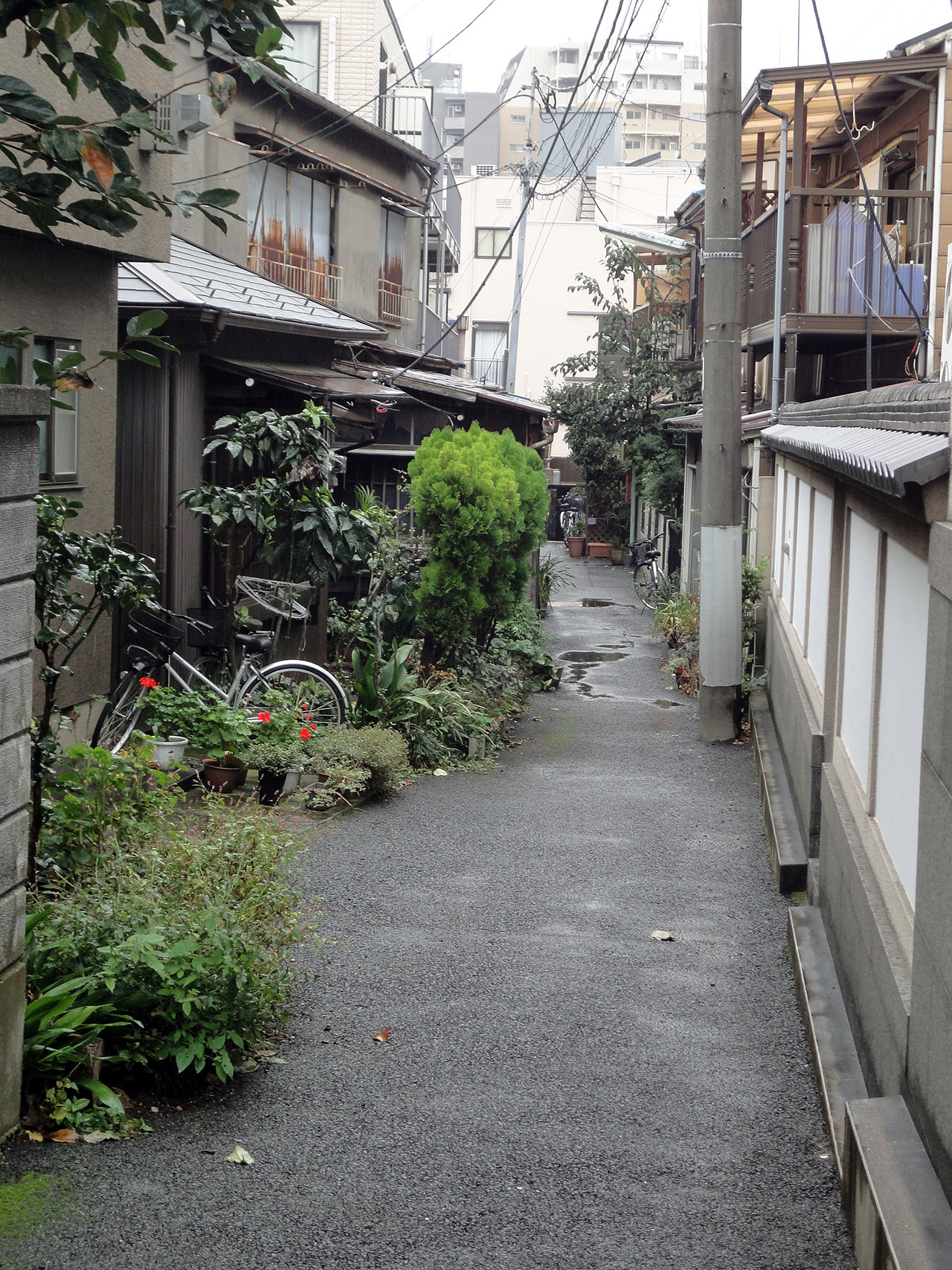 You could probably spend a lifetime delving into the history of this neighborhood. There are over a hundred temples in the area, and it's been a center of the arts for centuries, with shops selling traditional brushes and ground-stone pigments. But to me there's nothing better than just wandering the streets, watching people go about their errands, and exploring the shops.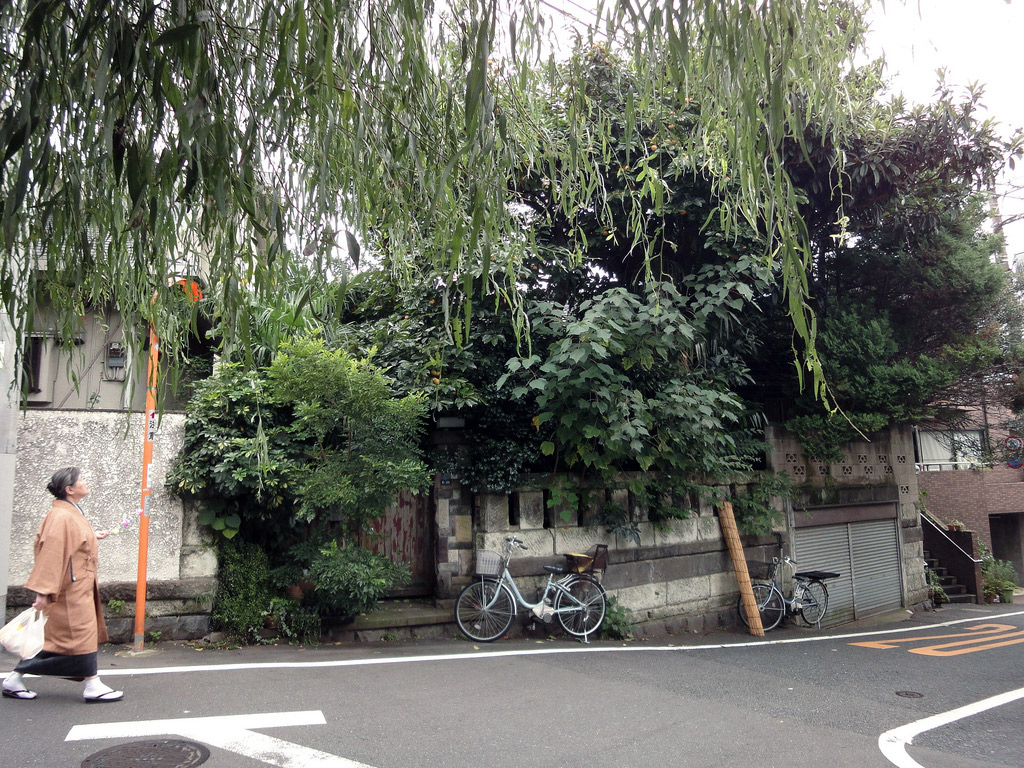 Yanaka has an awesome combination of old and new businesses – from stores that have been selling, say, rice crackers for generations, to young bakers and craftspeople that are fitting themselves into the old buildings and long tradition of handicrafts in the neighborhood.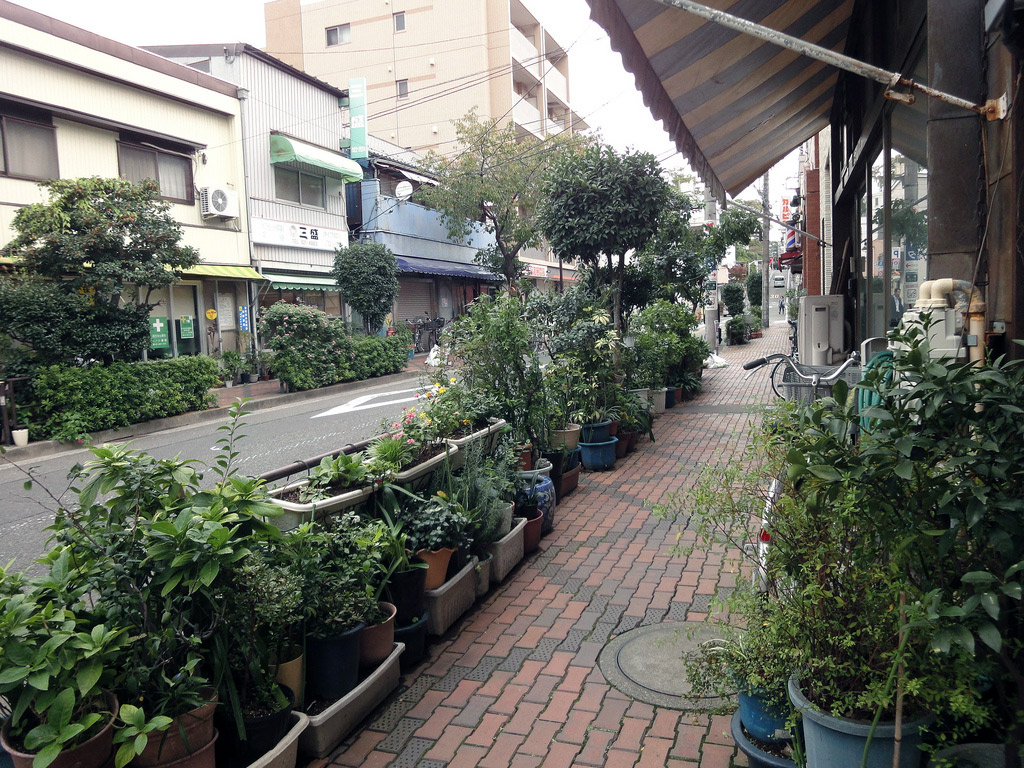 The easiest place to start and see all of this is the Yanaka Ginza shopping street, which you can reach by taking the a train to Nippori Station. Take the west exit and right outside the station, the first thing is to decide whether to take a detour into Yanaka Cemetery. It's a favorite cherry blossom viewing site, and the old gnarled trees are cool in any season.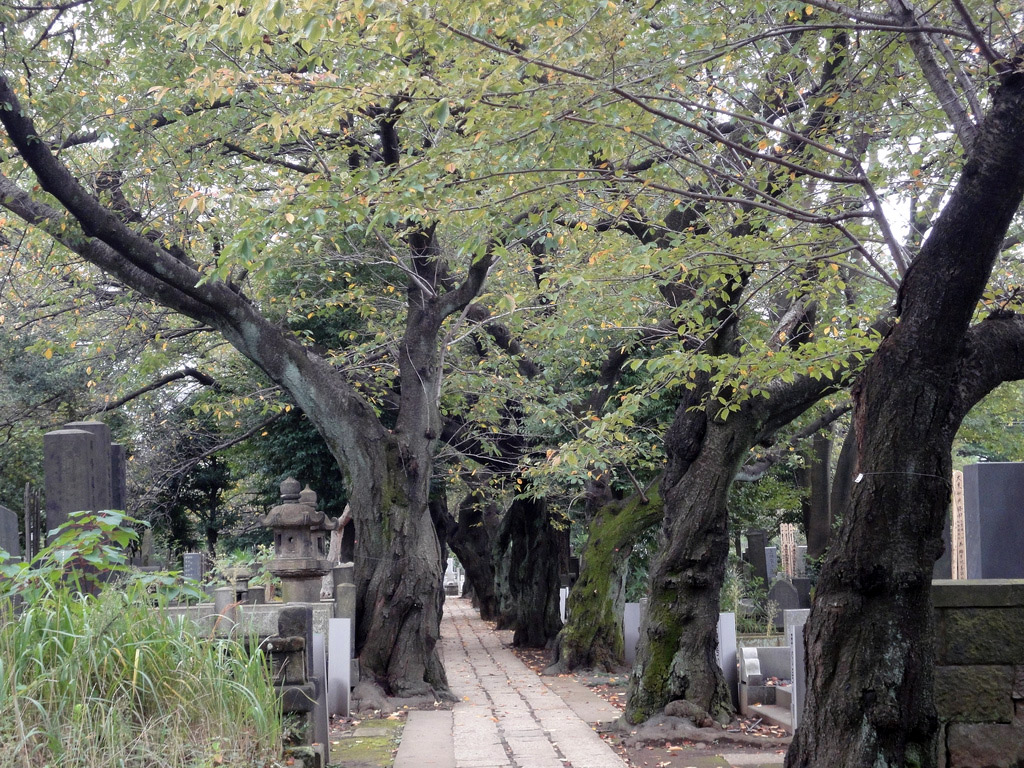 Wandering cats are symbols of the neighborhood. In Yanaka, you don't need to find a newfangled cat cafe and pay money to hang out with felines – they're right there on the street. In the cemetery you may find someone feeding them: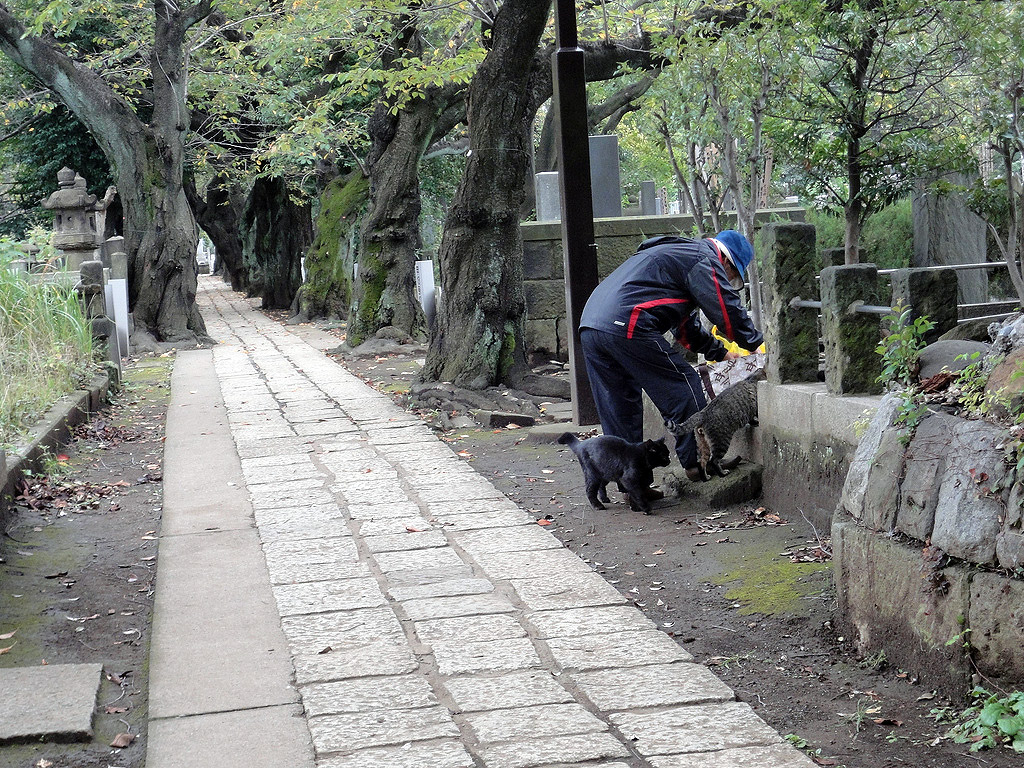 Passing the cemetery, continue down the street and you'll find yourself at the top of a staircase that leads down to Yanaka Ginza. The staircase is supposed to be a good place to view the sunset, but here's what I discovered about it: those Tokyoites who know nothing about this part of the city – this is the one thing they'll recognize. Apparently it's irresistible to TV crews, so it often appears in dramas.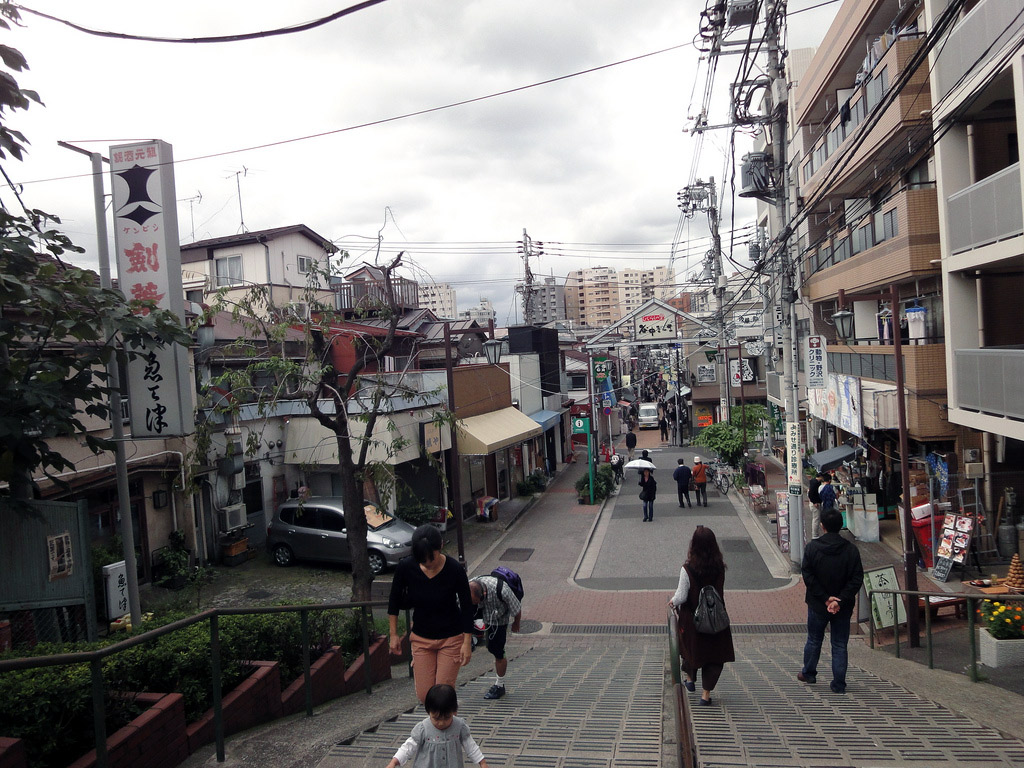 Cats often hang out on the stairs here, and I even saw one that had a little box for a home off to the side of the stairs.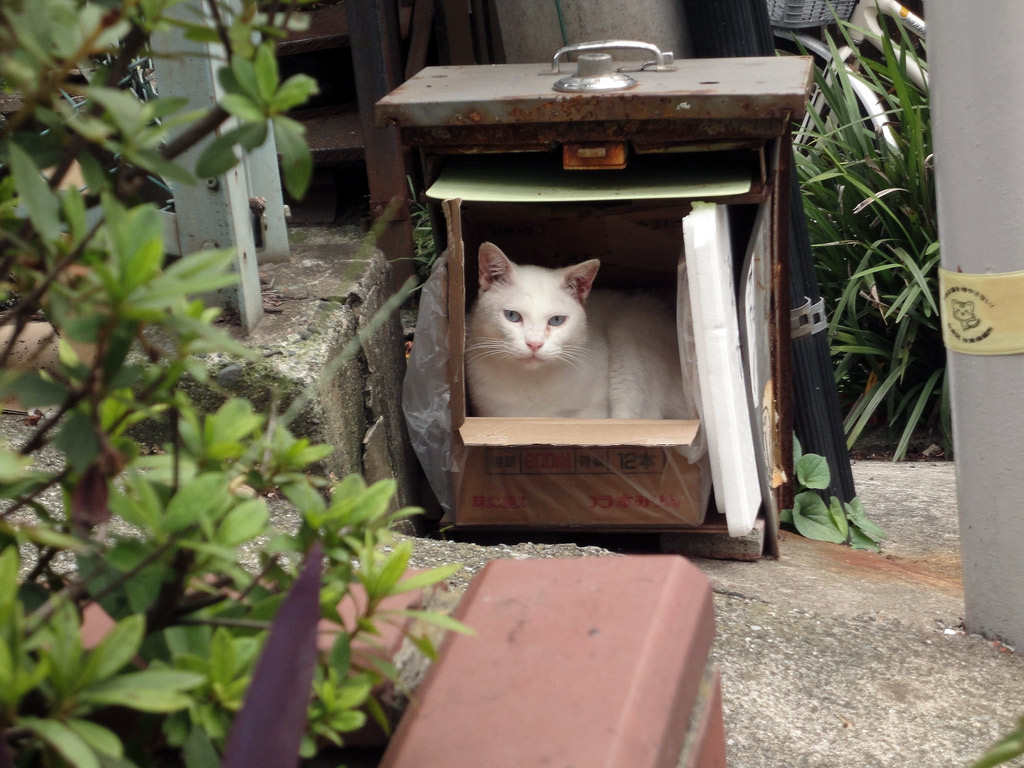 There are cat–themed souvenirs throughout the street, but before you go down the stairs, you can check out an entire store of kitty stuff: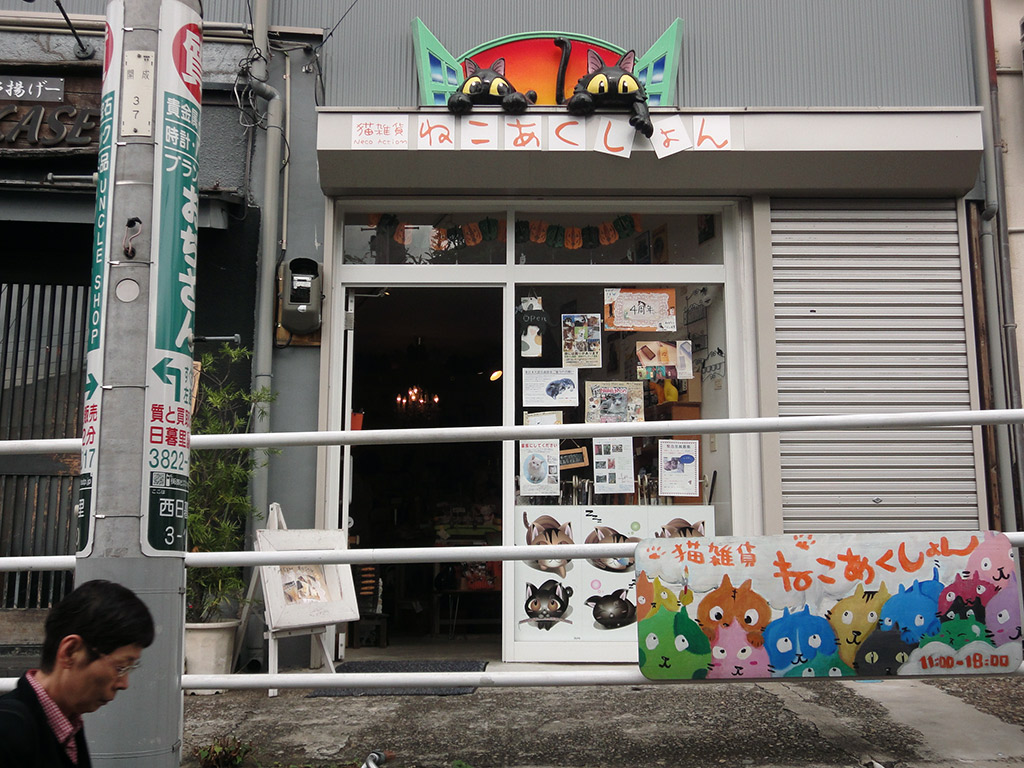 At the bottom of the stairs, two interesting places are a store that sells traditional handcrafts made of bamboo, and a tea shop where I had a cream puff filled with green tea flavored cream that was a practically a religious experience, and also an excellent metaphor for how this neighborhood seamlessly combines old and new, if you're into that sort of thing.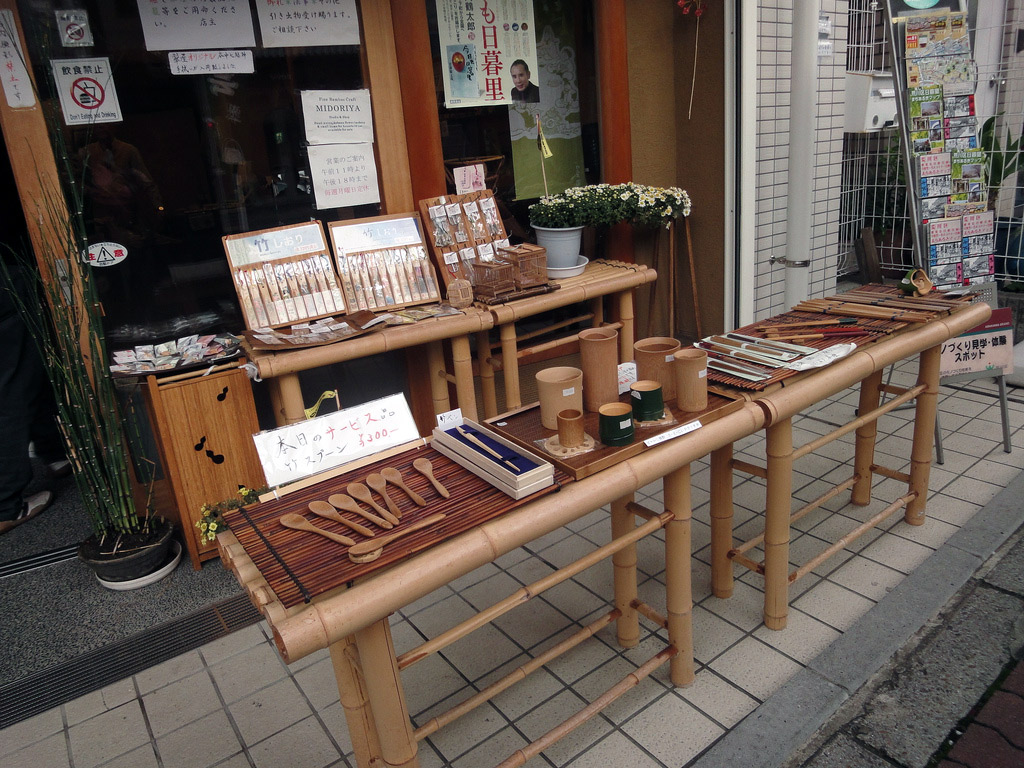 One of the next shops you'll notice is this nicely decorated building where you can buy traditional candies. I was thrilled at the idea of kinako and yuzu hard candies but honestly, neither bowled me over – but you might have better luck, and if so, it's a good long-lasting souvenir to take home.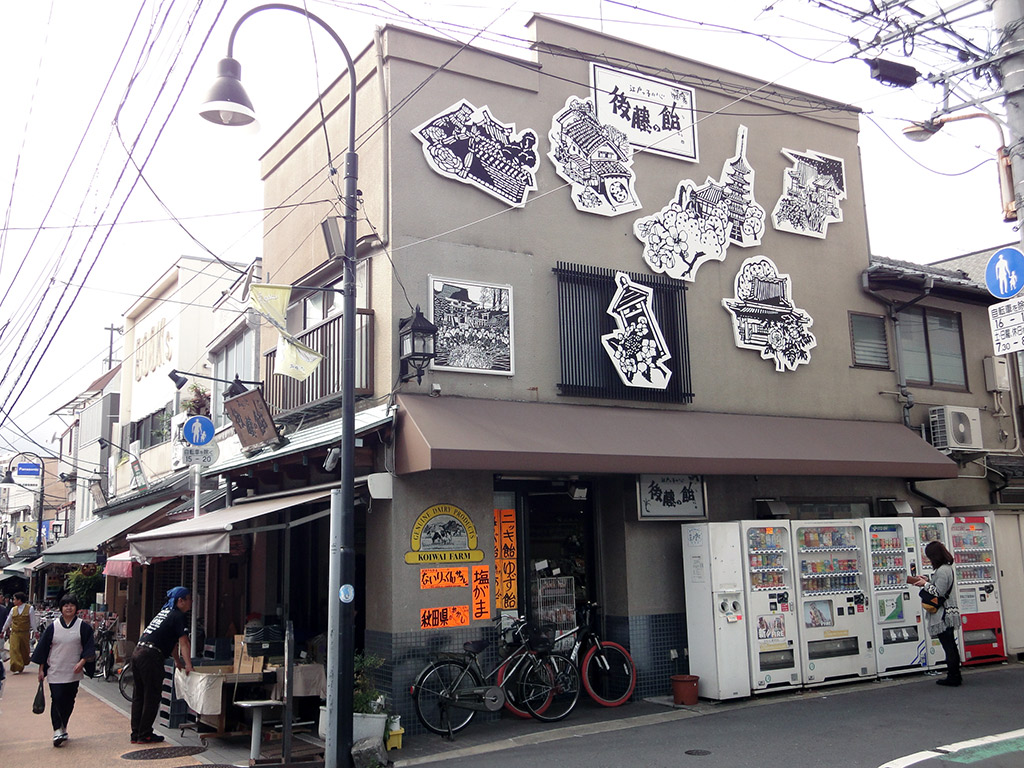 More traditional handmade stuff you can buy for souvenirs includes this sandal shop: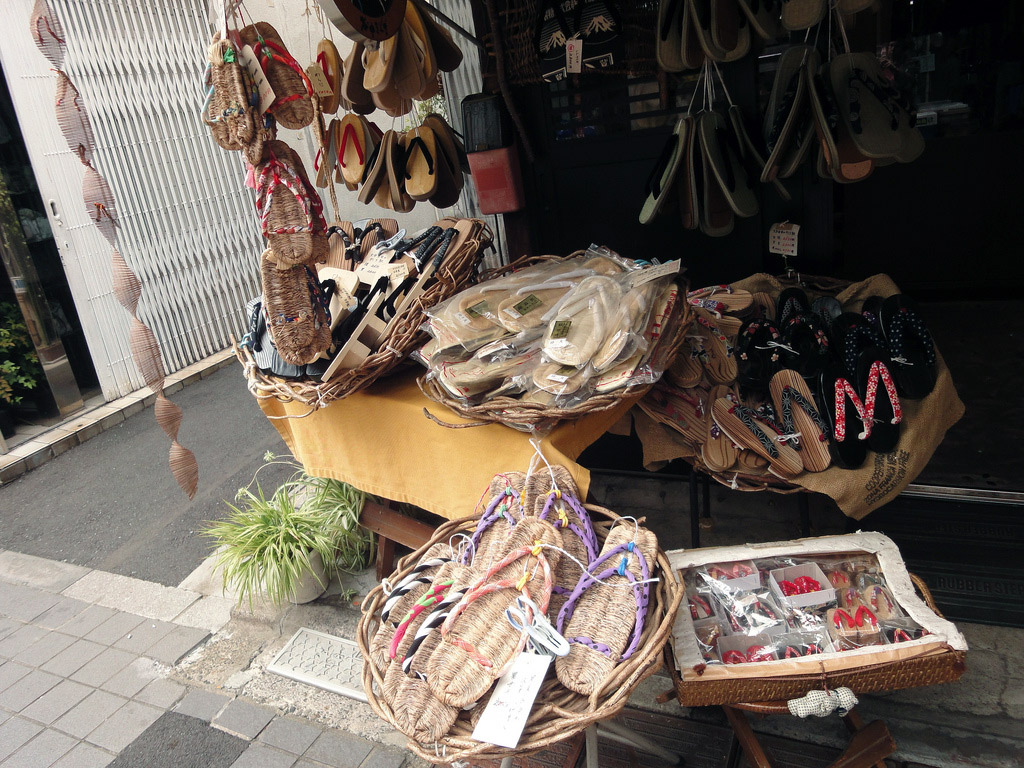 But there's also some of what I'd almost call the Japanese version of hipster crafts. If you can wait around, you can get a custom hanko name stamp with your choice of unusual animal: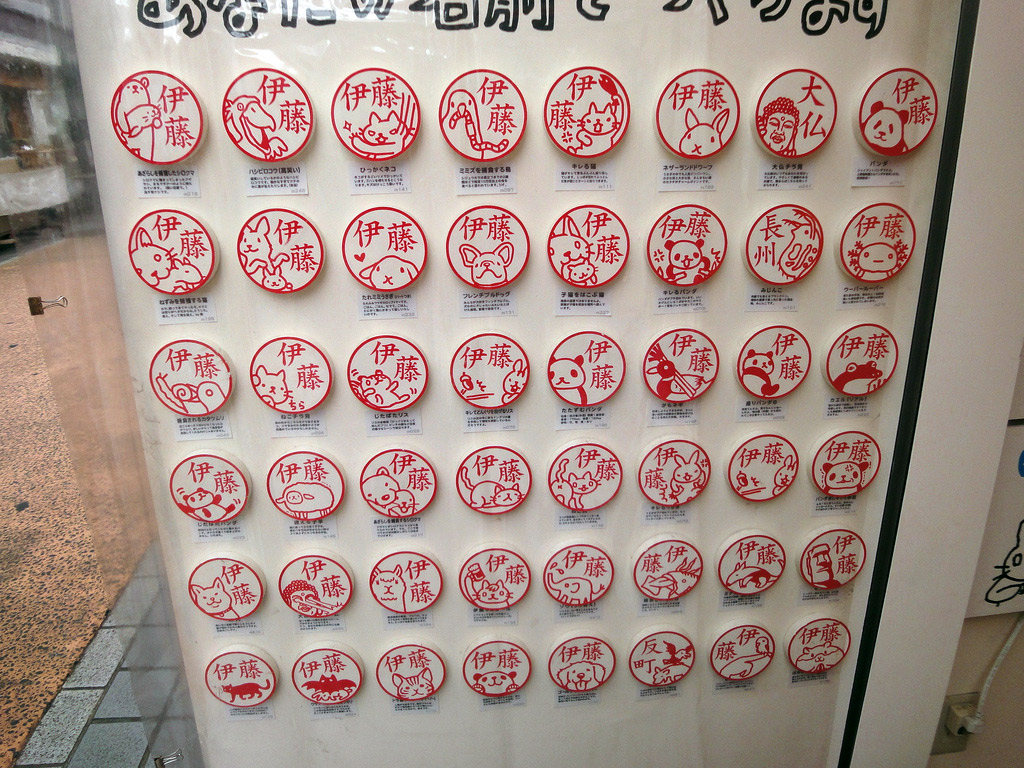 The shop also does print-on-demand t-shirts with similar original illustrations. I got one with a large rodent called the mara or Patagonian cavy, which is an animal I've never seen on a T-shirt any before, so I was thoroughly impressed.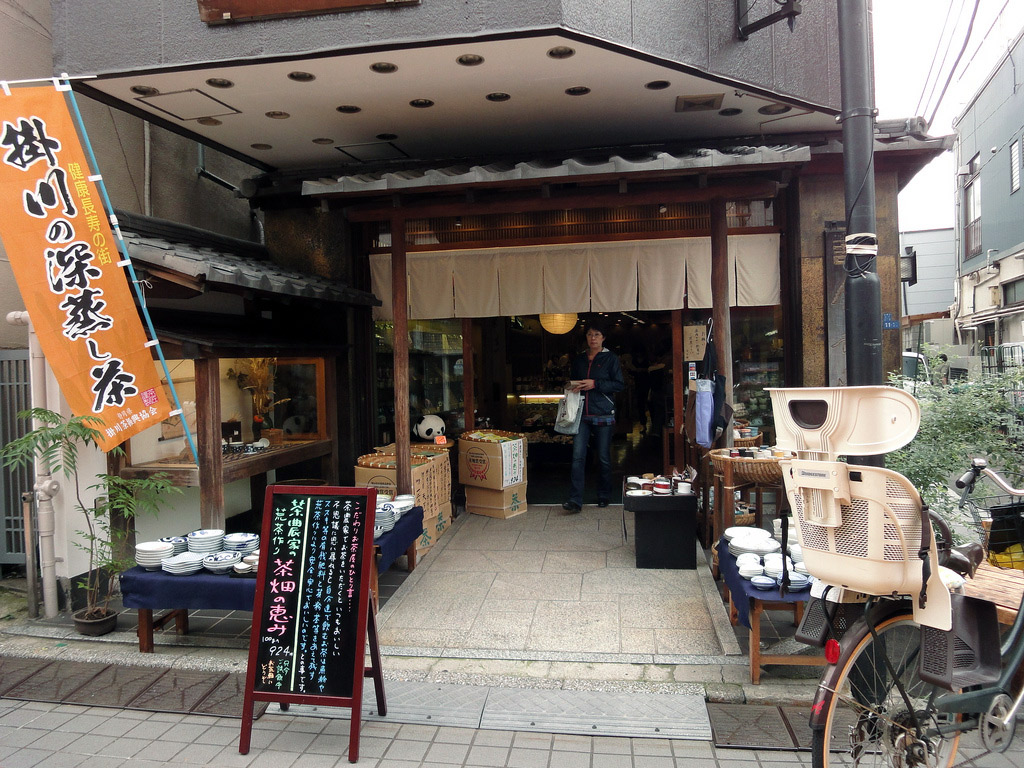 Yanaka Ginza is a place where normal people do their normal everyday shopping, so there's a little bit of everything practical. There are a small drugstore and supermarket, discount clothing and fashion, a butcher shop (I'm told on good authority that you should try the menchi katsu at Suzuki Meat), a whole stall that sells nothing but fish paste. You can also have your choice of inexpensive pre-made bento from a stall that feels more homey than the 7-11: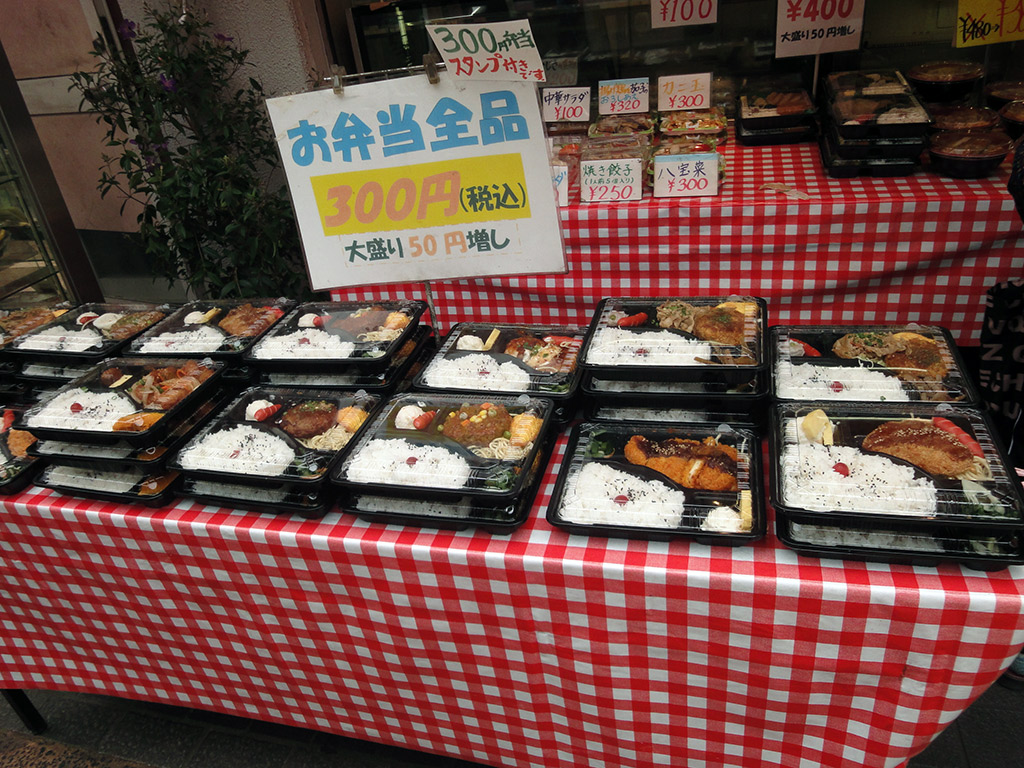 And maybe this reflects my personal obsessions, but it's a great place to sample sweets. When you've recovered from your green tea cream puff, head for this shop that sells soft ice cream and cat-shaped taiyaki, the bean-paste filled pancakes that are usually in the shape of a fish: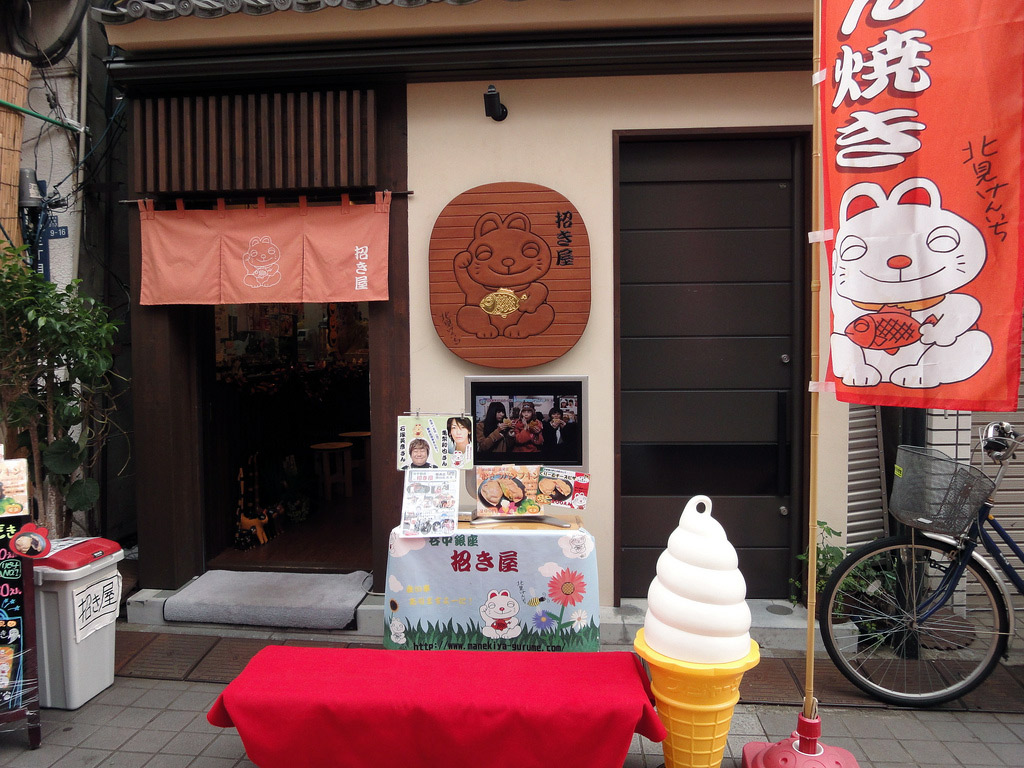 And if you've had enough Japanese-style sweets, never fear. The Atom bakery sells fantastic Western-style baked goods, in a shop decorated with Astro Boy knickknacks.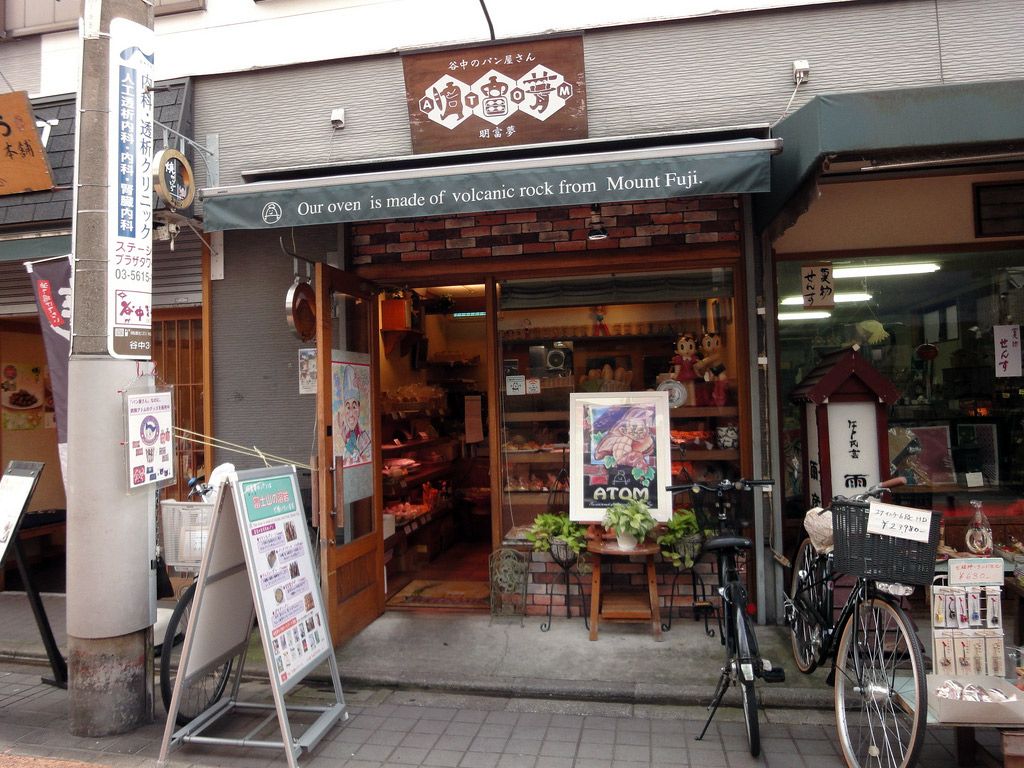 Some of the shops on the street sell a good inexpensive English tourist map of the rest of the neighborhood. Map in hand or not, when you're done with Yanaka Ginza, you should go wander the streets and alleys. You'll stumble on many of the one hundred temples without even trying: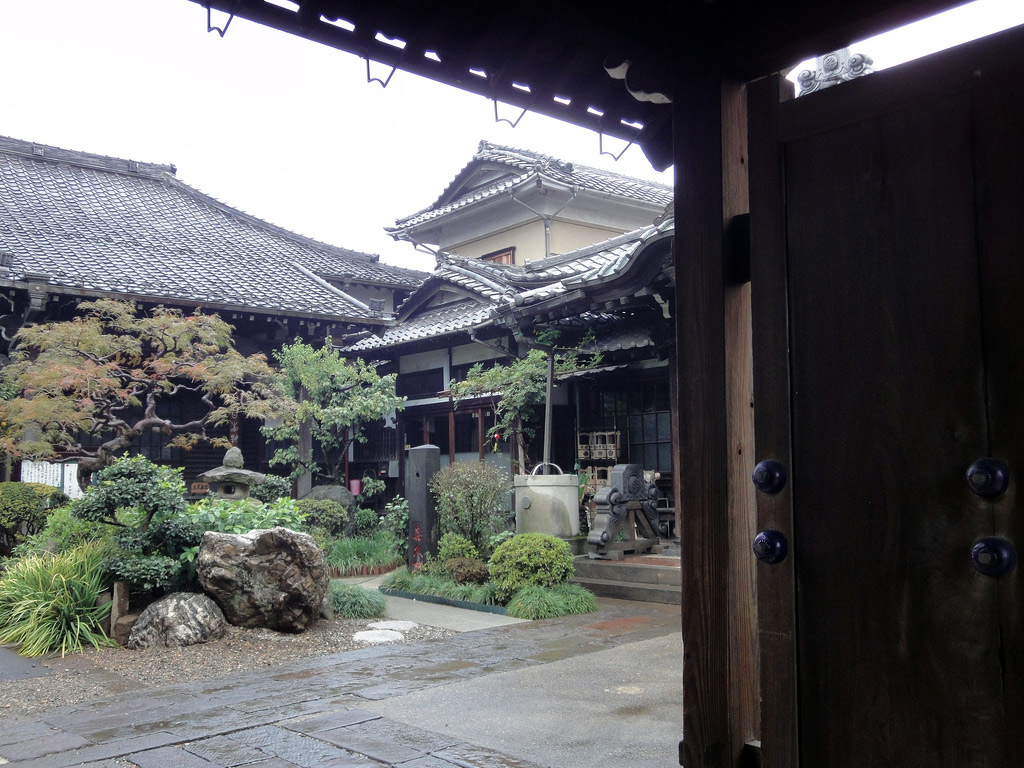 Along with old shops and restaurants that have been in place for generations, there are old buildings that have been repurposed instead of torn down, like an old bathhouse and an old pawn shop that are now art galleries. You'll come across more shops of both old and new crafts and foods, from old rice cracker shops: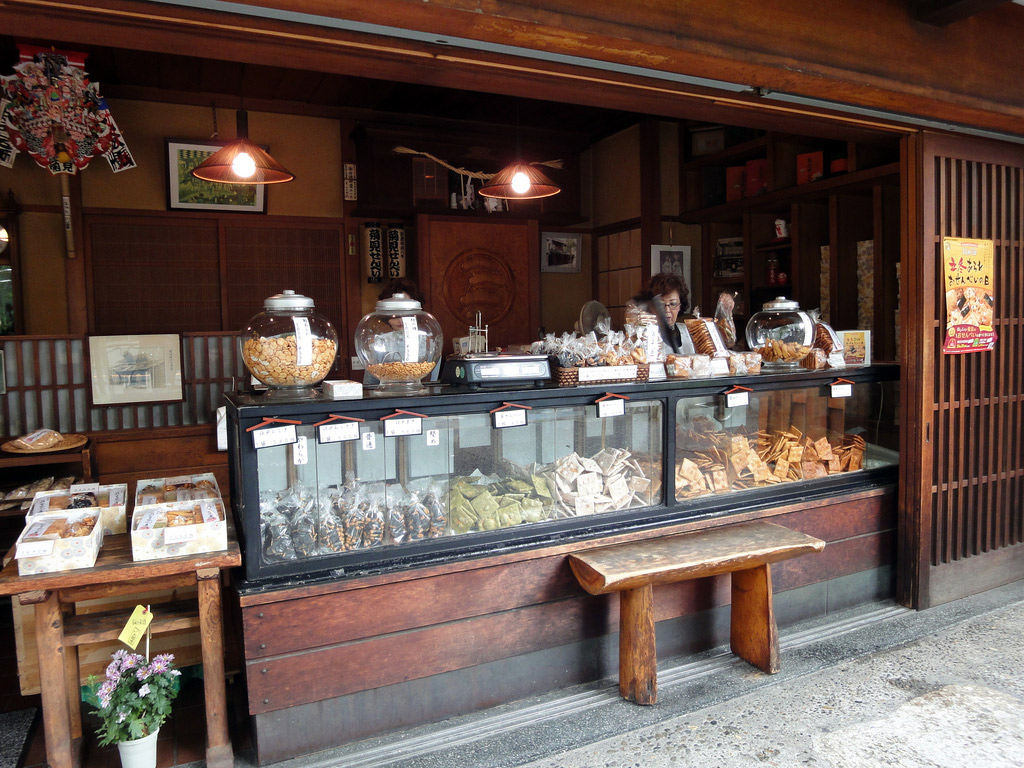 to a vegan bakery: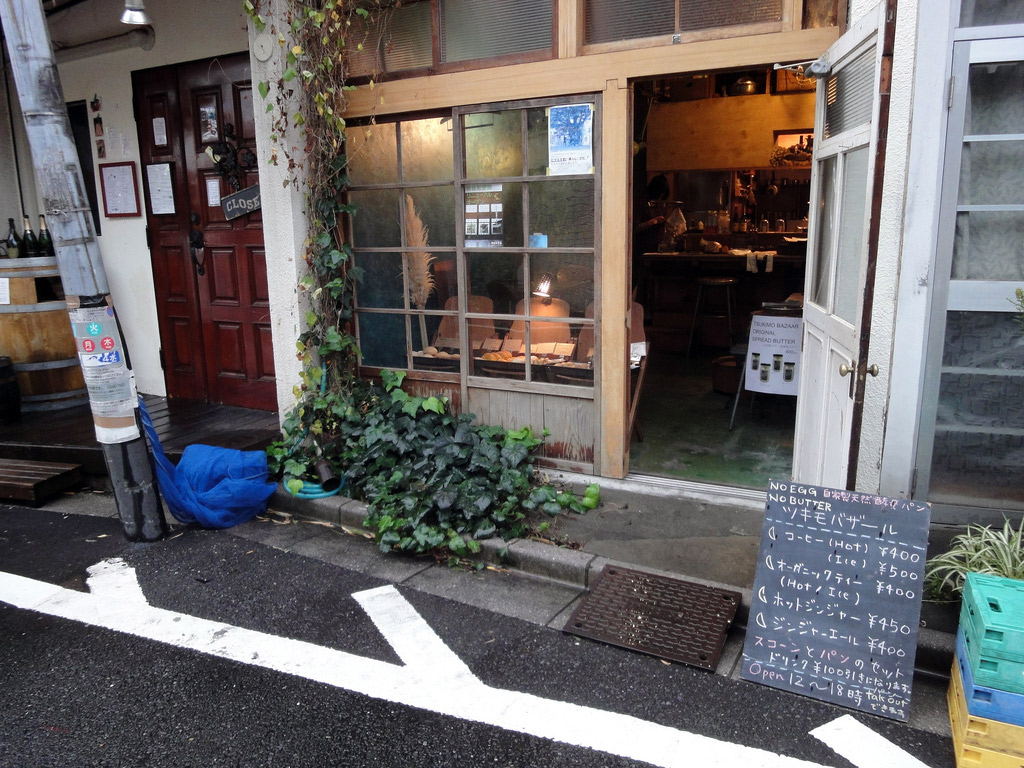 If you really dig deep, you may come across something that's off the beaten path even for Yanaka: a Swiss chalet containing a cafe, run by a Swiss gentleman who's lived in the area for decades: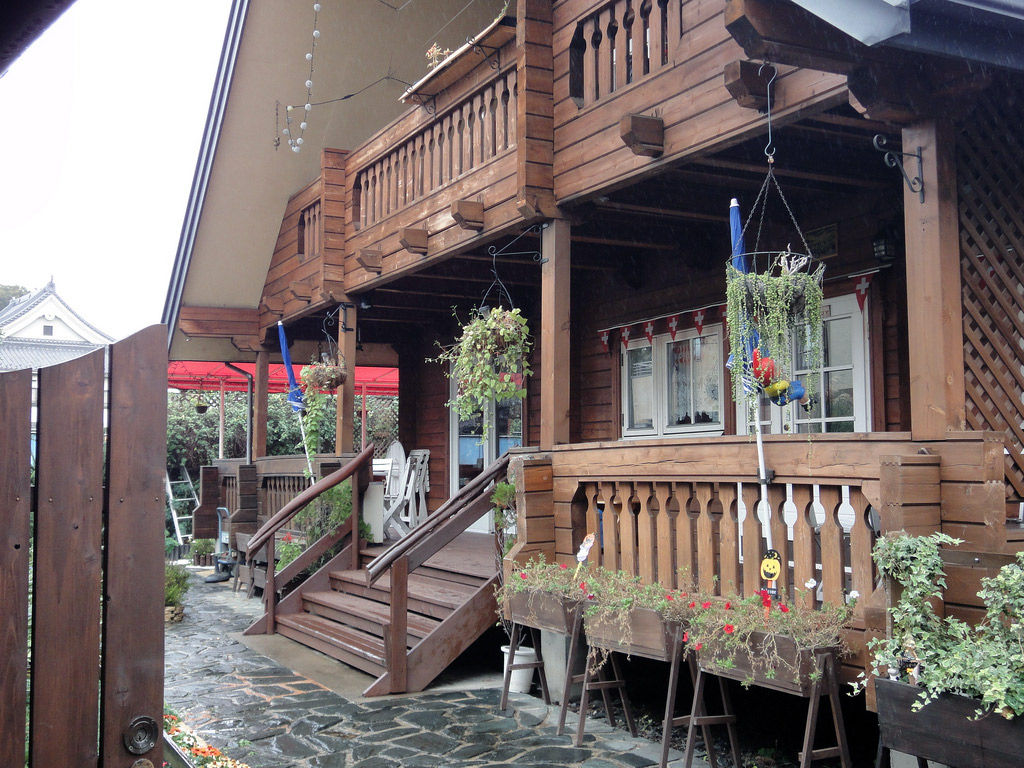 Or you might find one of those traditional art supply stores – a local artist told me that there are only nine stores in all of Japan that still sell these traditional pigments, and four of them are in Yanaka – more than Kyoto, even: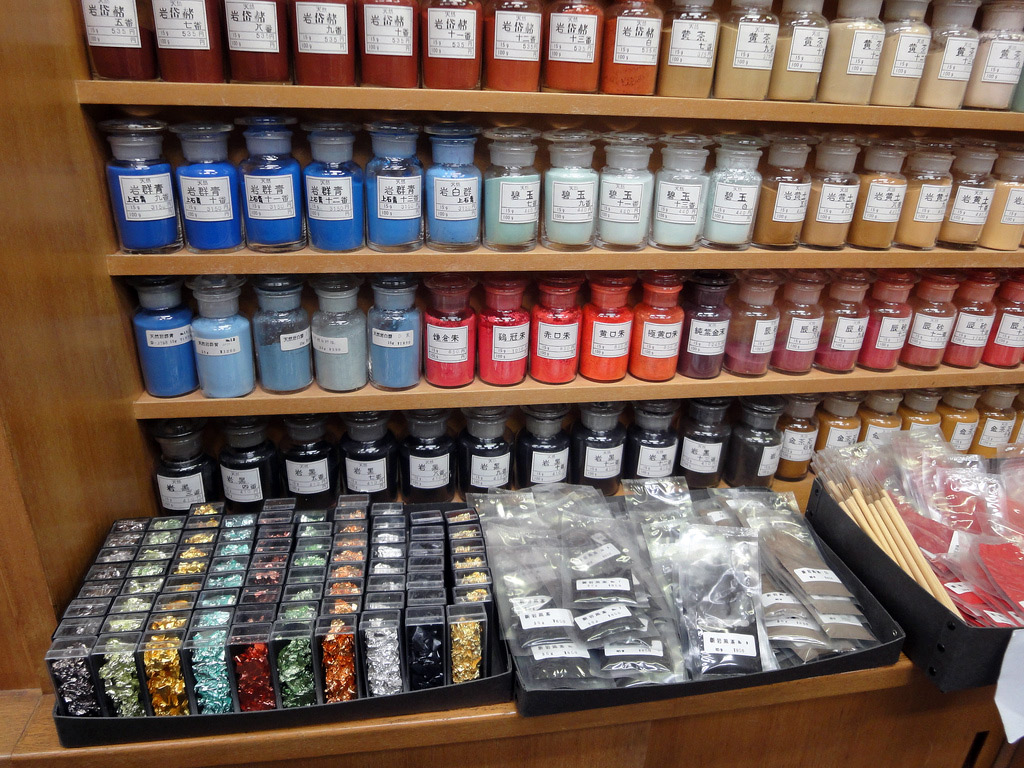 My favorite sights, though, are the many gardens of potted plants that make the neighborhood green despite the fact that there are hardly any yards to plant anything in.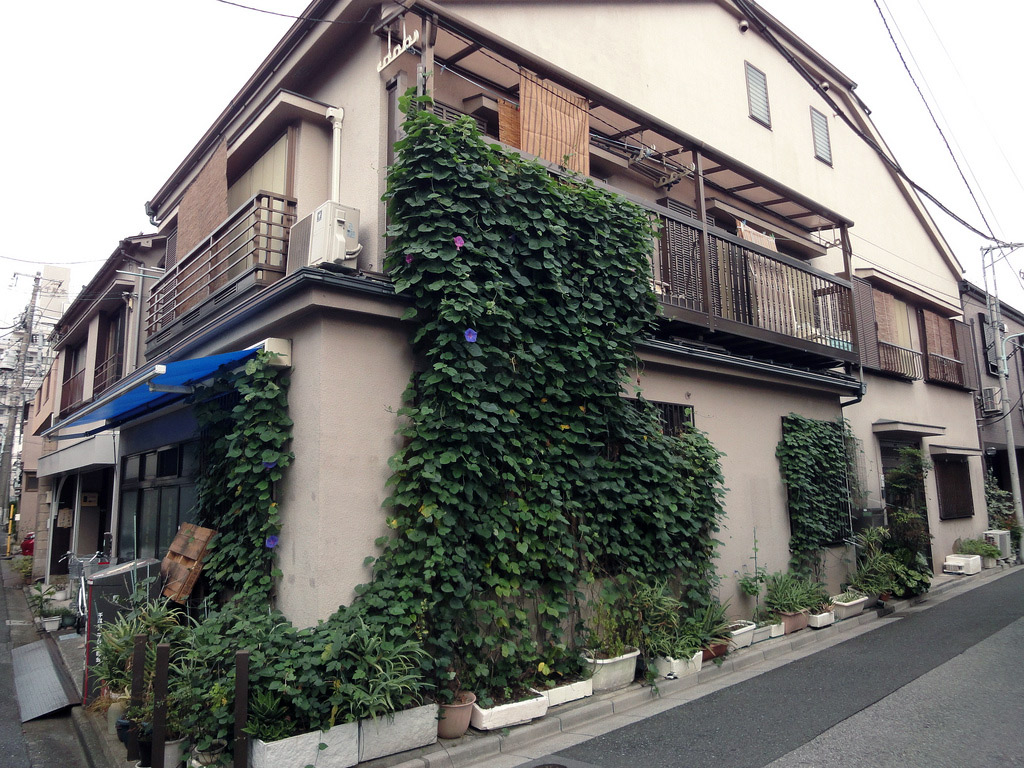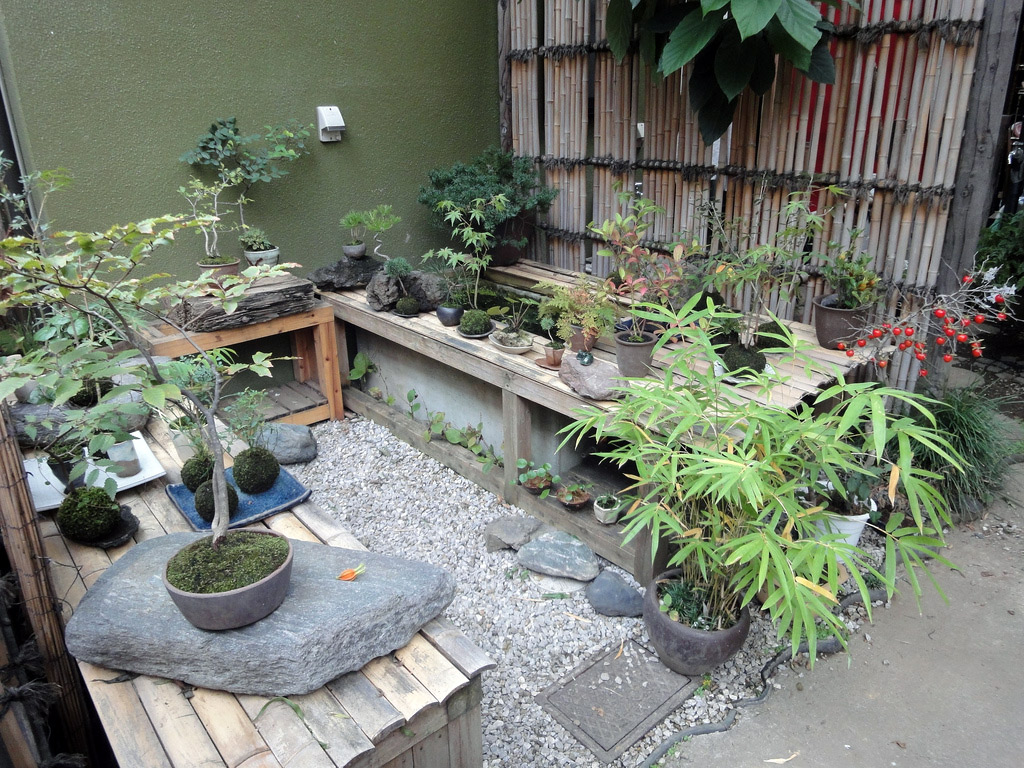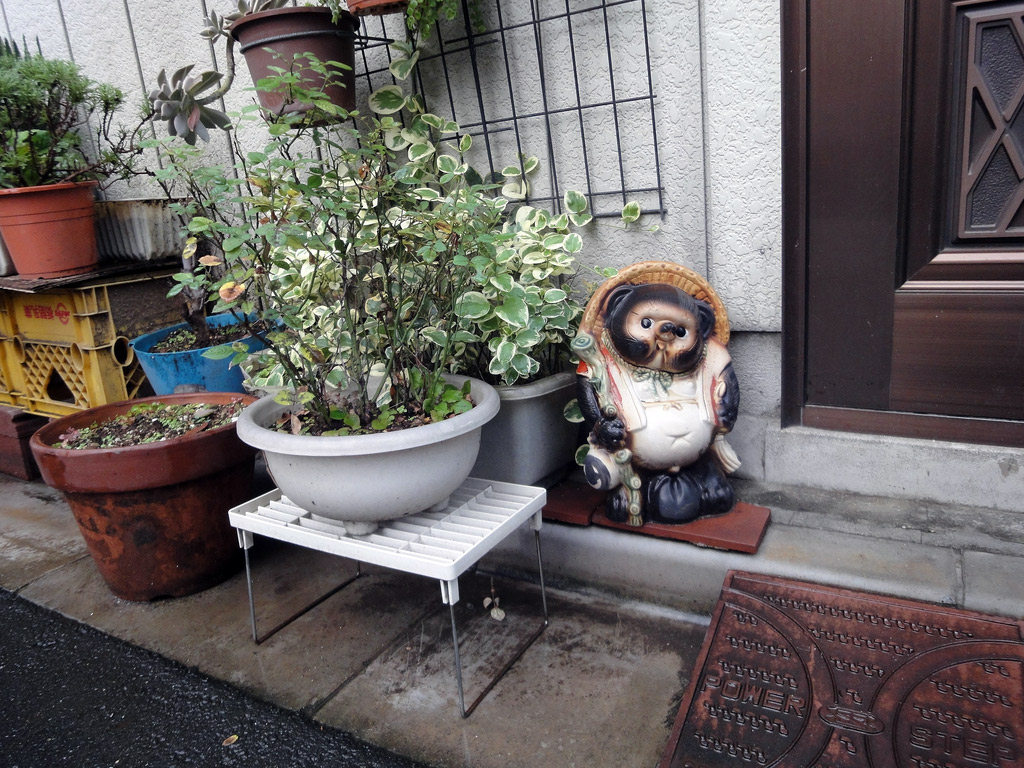 The slower pace of life in Yanaka is a nice break from the intensity of the rest of the city, but that means it's not a place for nightlife, so visit in the daytime or you may find everything closed. The fact that these are small shops often owned by one person means that hours may be irregular and my impression is that Monday is a day when a lot of shops take the day off.
Access
Kristen's Review
I spent one lazy afternoon in Yanaka, Ginza, and it was incredibly relaxing. I don't know if it's the layout or the people who live there, but I think if I were to settle down in Tokyo, this would be my ideal location. While I didn't see any cats, which was a huge bummer, I did really enjoy myself. This is definitely the perfect place to look for very Japanese souvenirs and get out of the hustle and bustle of the city.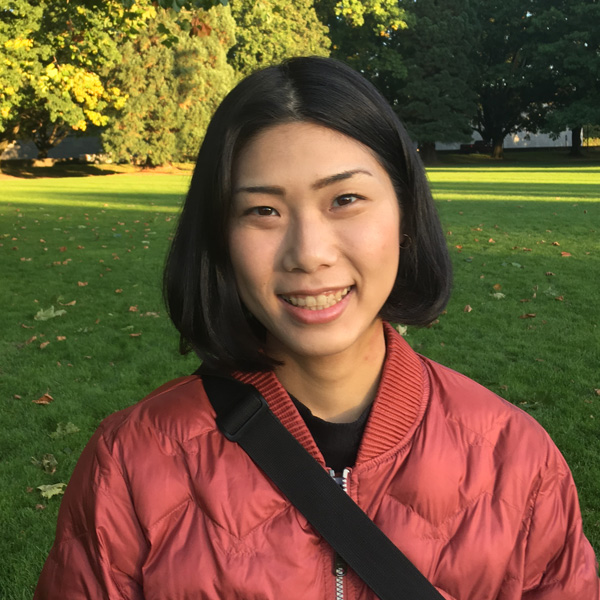 Kanae's Review
I love Yanaka and it's even the ideal place to start my day in Tokyo. I lived in the neighborhood for three years, and I guarantee it's a good place to live and visit. I didn't get to write about よみせ通り(Yomise-Dōri), a little drinking area, but I recommend you go hang if you're visiting there at night.
Yanaka, Tokyo
Additional Information

Yanaka, Taito, Tokyo Prefecture 110-0001
Japan
View on map