There is a bar in Kyoto called "Tonkatsu Shimizu". Tonkatsu is a breaded and deliciously deep fried pork cutlet and 'Shimizu' translates to 'pure water'. Now, it may sound like this bar serves up tall glasses of pork juice, but it's actually a bar with an owner named Mr. Shimizu.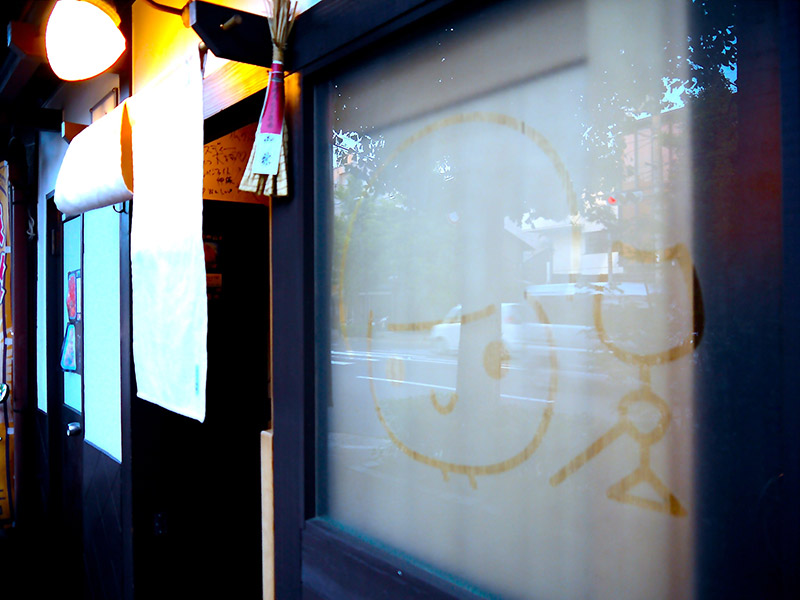 You'll find this cute little picture on the door, which is their mascot. It was drawn by the owner's wife, Mrs. Shimizu.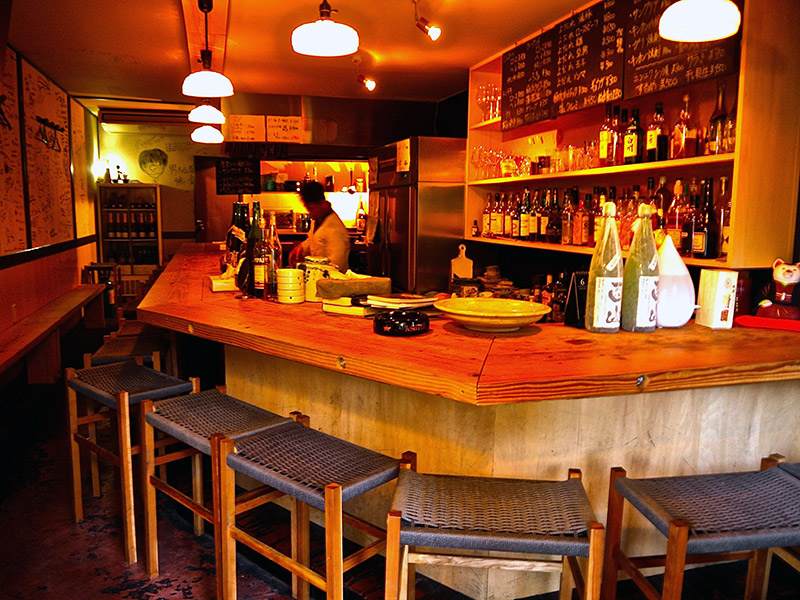 When you first enter, you'll see the bar. I came here right before the place opened, so I was the first customer of the day. It's usually full of people.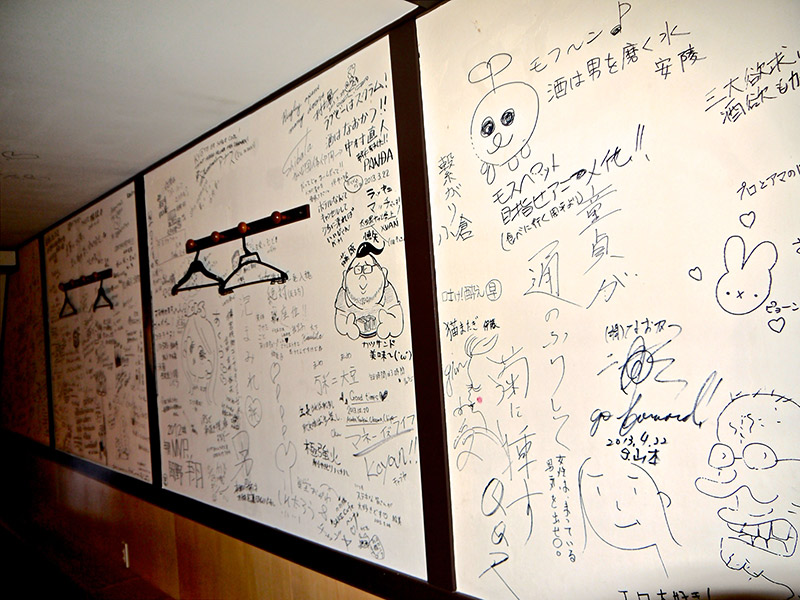 What makes this bar unique is this rakugaki (scribbling) wall. Customers can write or draw whatever they want. It's a delightful sort of chaos.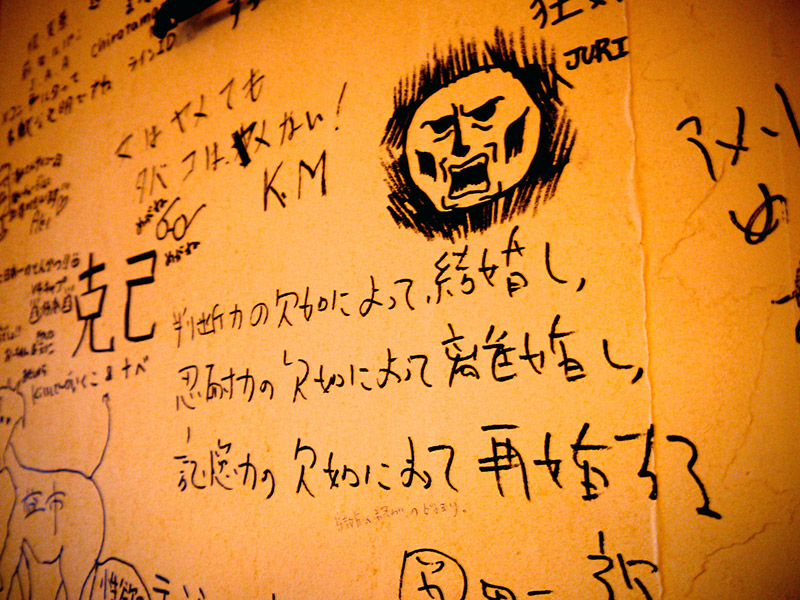 Some of them are notes and quotes. This one says, "Get married due to lack of judgment, get divorced due to lack of patience, get re-married due to lack of memory." This formula was written by a lawyer.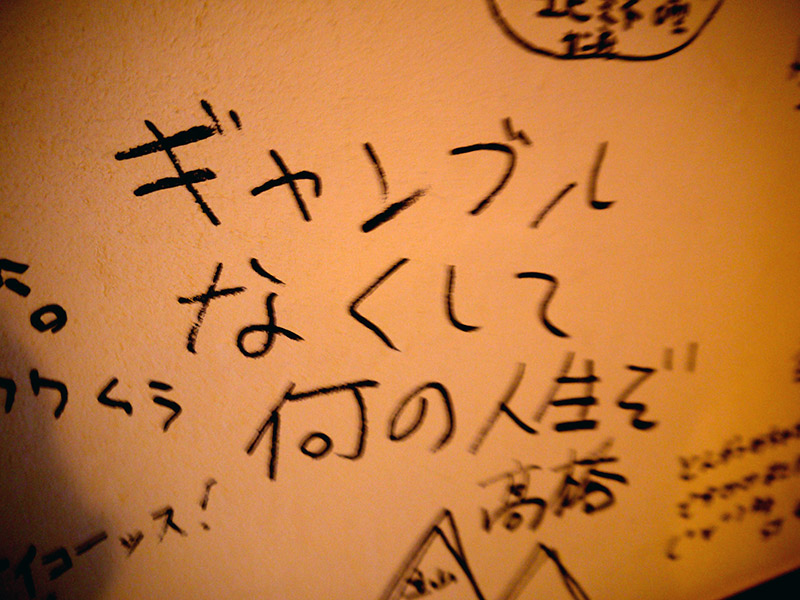 Some of them are cries from the depths of the soul. This person laments, "No gambling, no life!"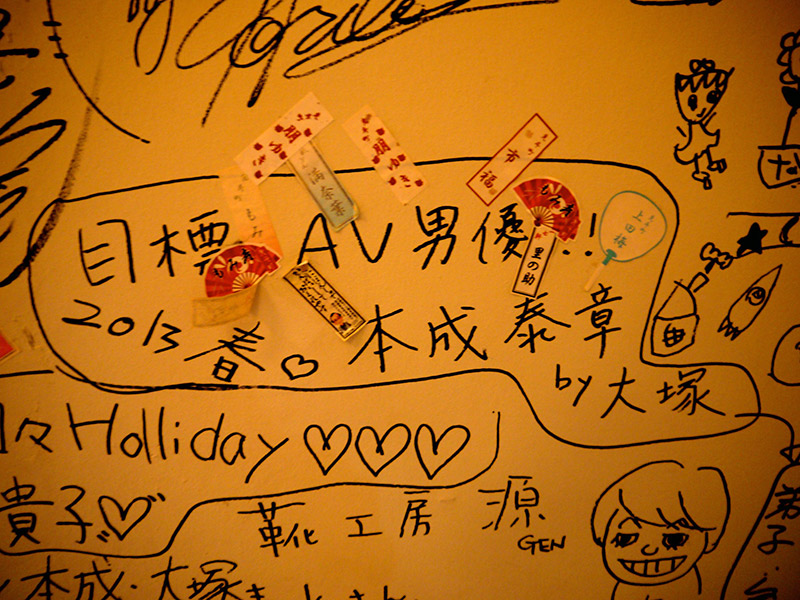 Some of them can be a bit weird. This one says, "My Goal: to be a male porno star! – Spring 2013". It's good to know there are still people in this world that dream big!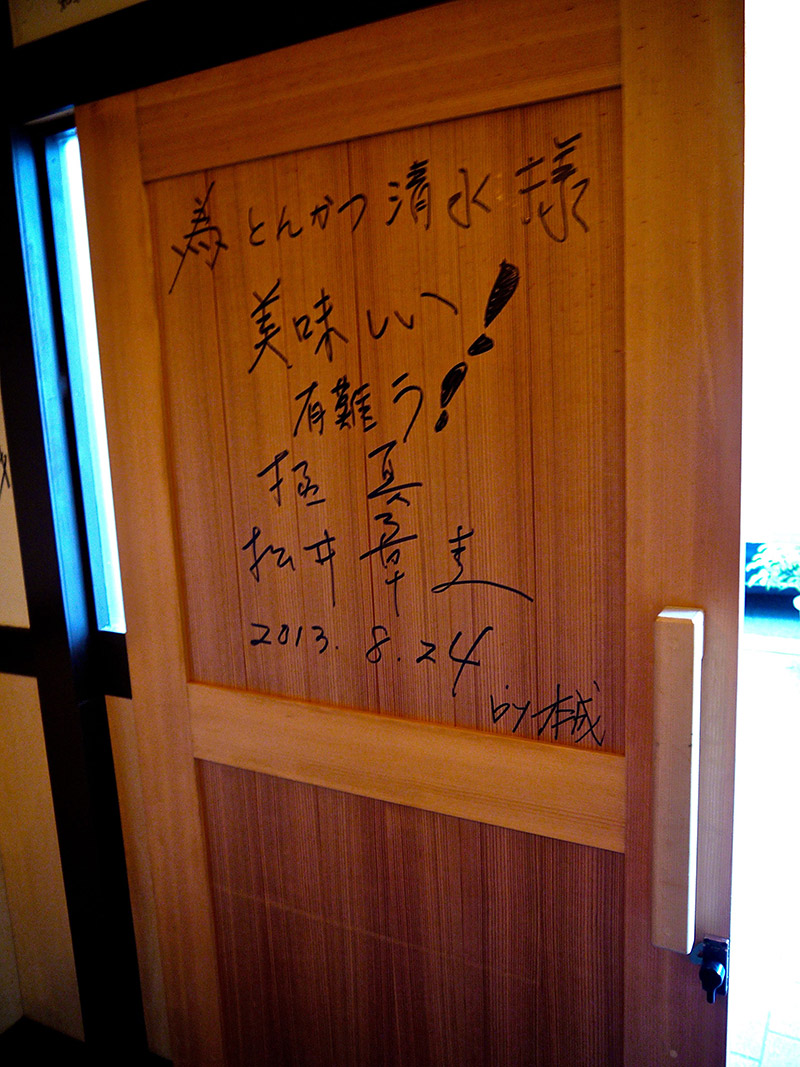 Sometimes you'll find something written by famous people. For example, here is a message saying "Yummy! Thanks!" from Shokei Matsui. He's also known by his Korean name, Moond Jang Gyu. He is a master of Kyokushin Karate and is currently a director of one of the International Karate Organizations founded by Mas Oyama.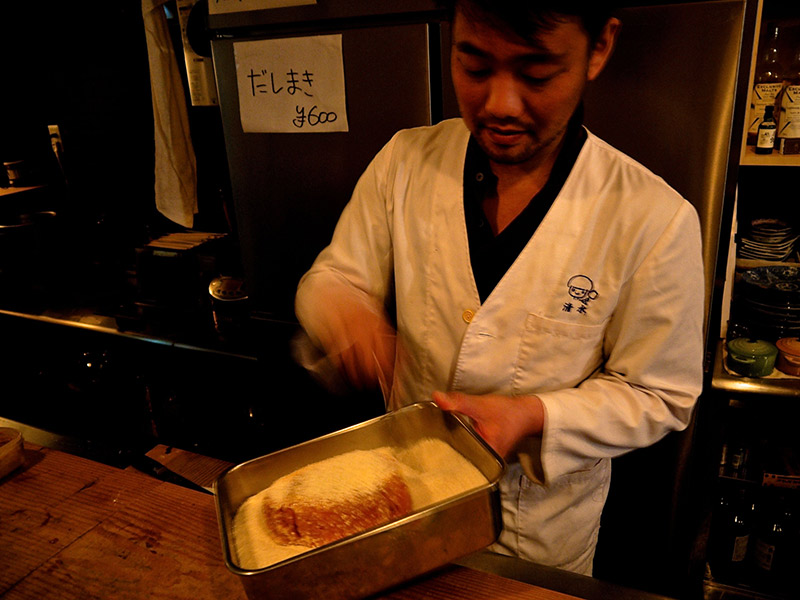 Although this is a bar, and tonkatsu is less important than alcohol, you'll want to order their special tonkatsu on your first visit. I strongly recommend ordering it as soon as you arrive. The tonkatsu is so thick that it takes quite a while for it to cook through. They have two kinds: roosu ロース, which means pork loin, and ヘレ (here), which means pork medallion. They also have a chickenkatsu.
I ordered pork loin. I really, really love his tonkatsu because it's tasty and filling. The photo above may not give you a good idea of how voluminous this tonkatu really is, so check out the next one.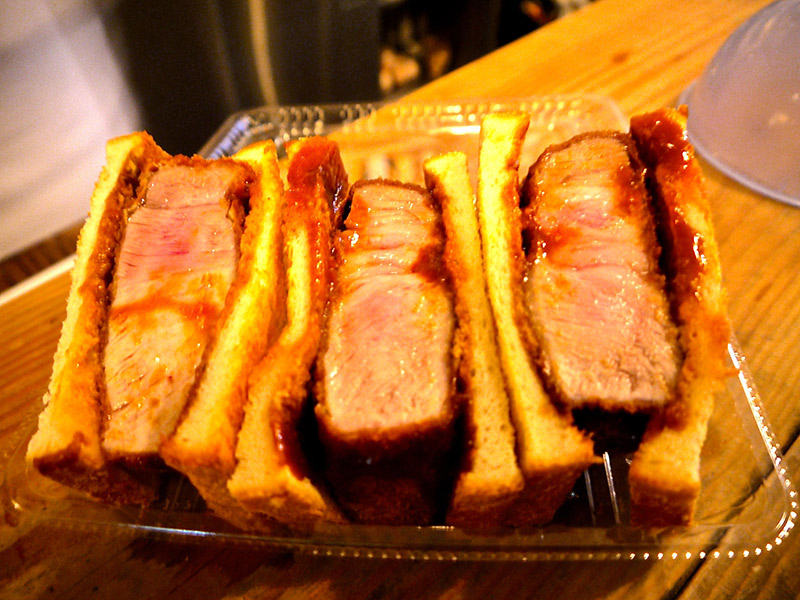 I asked him to make me a sandwich with his special tonkatsu. This photo really shows you how thick each piece is. Other menu items are really good, too. The dashimaki-tamago, which is a Japanese omelette, is a mild and delicious taste of home.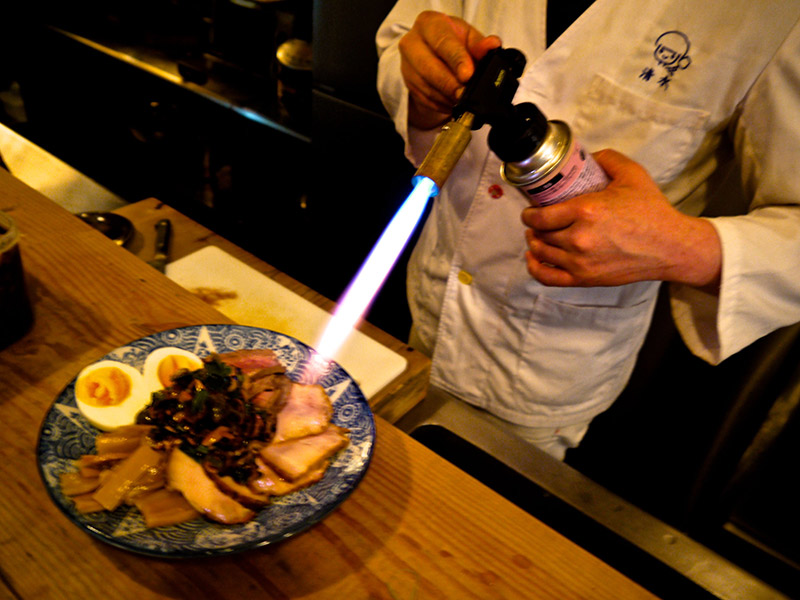 This roasted pork, bamboo shoot, and hardboiled egg dish paired perfectly with my drink.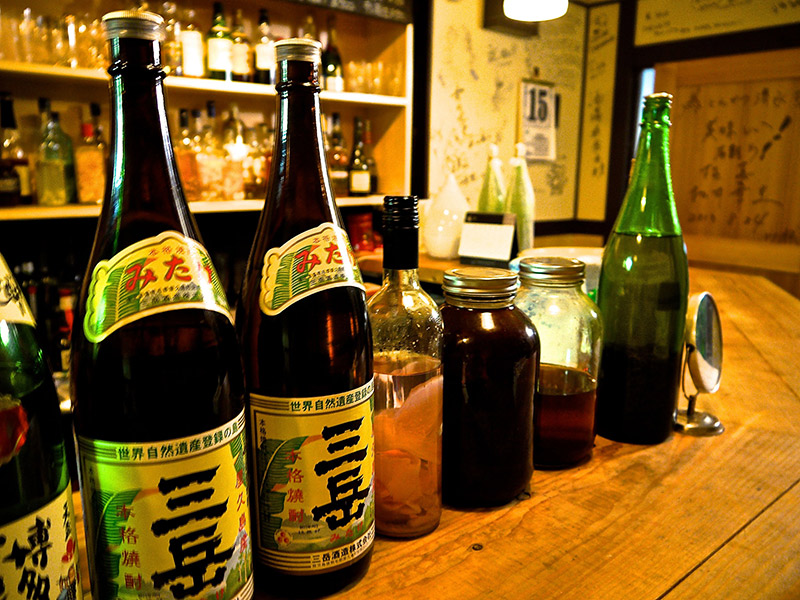 Speaking of alcohol, don't forget this is a bar. There is a wide variety of alcohol to choose from. From cocktails to Japanese sake to shochu. Mr. Shimizu actually takes it upon himself to infuse flavor into some of bottles to better suit the drinks he intends to make. They are all very tasty.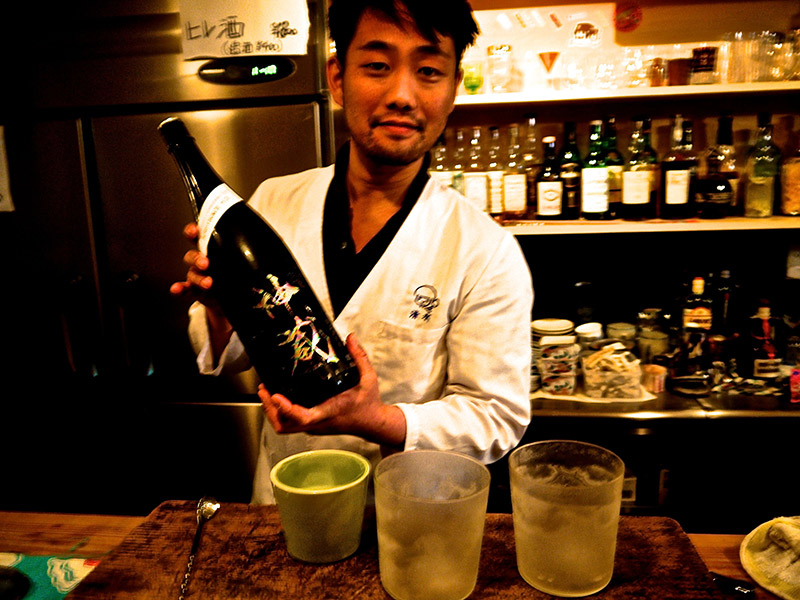 Here is Mr. Shimizu holding Kagura 神蔵, which is a raw, non-filtered, unprocessed sake. He poured it into the green glass.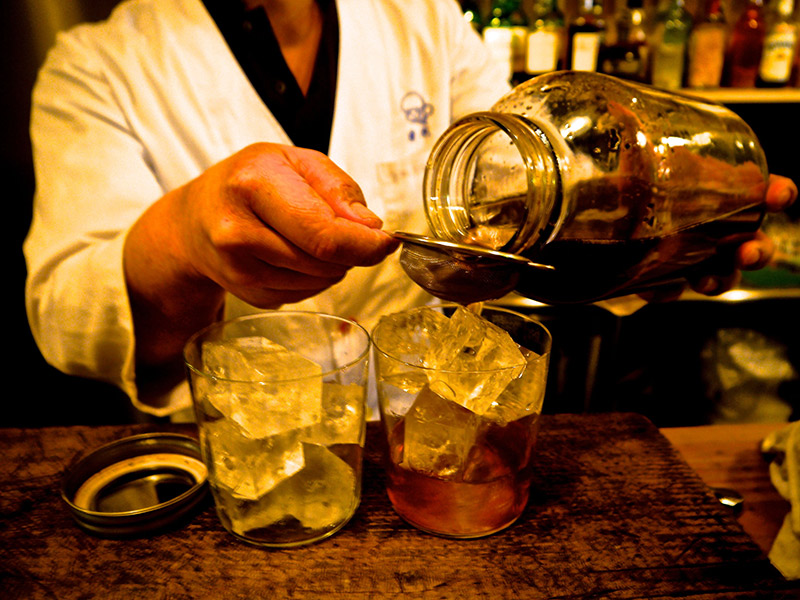 This was liquor flavored with black beans.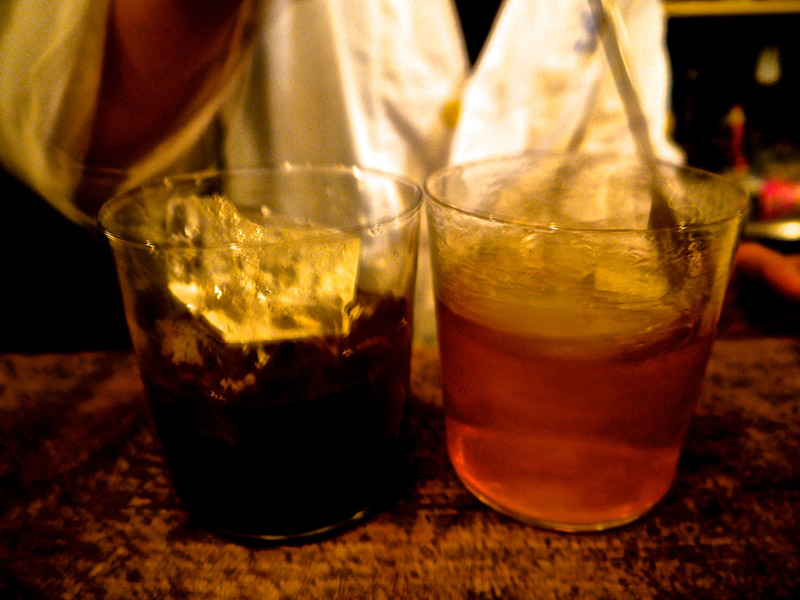 I think the darker one was coffee flavored liquor, but I'm not sure. I'm sorry, I'm not going to lie and say I stayed completely sober throughout my visit. My memory starts to get a little foggy after round one. Anyhow, they have a variety of liquors with interesting, homemade flavors.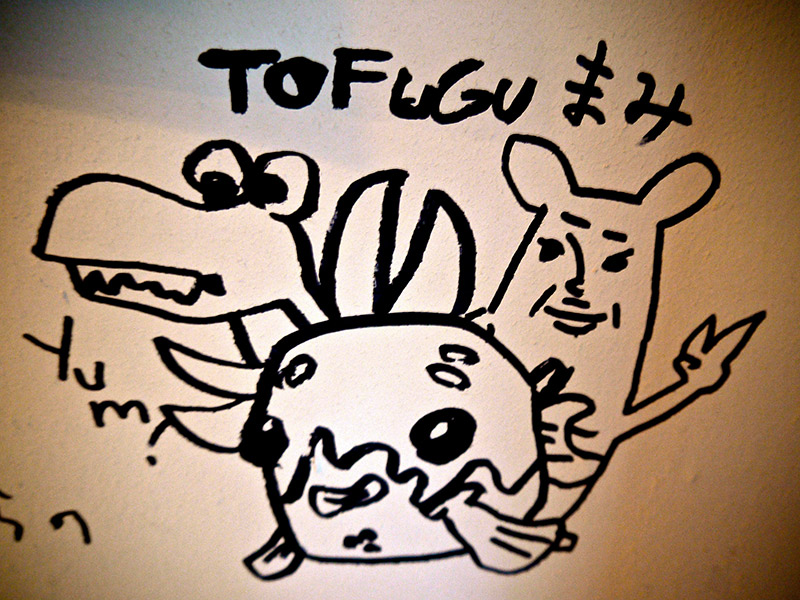 Finally, I drew this Tofugu doodle on the wall. So if you go there, please look for it. Perhaps our great illustrator, Aya, could touch it up a little for me if she ever visits Tonkatu Shimizu :P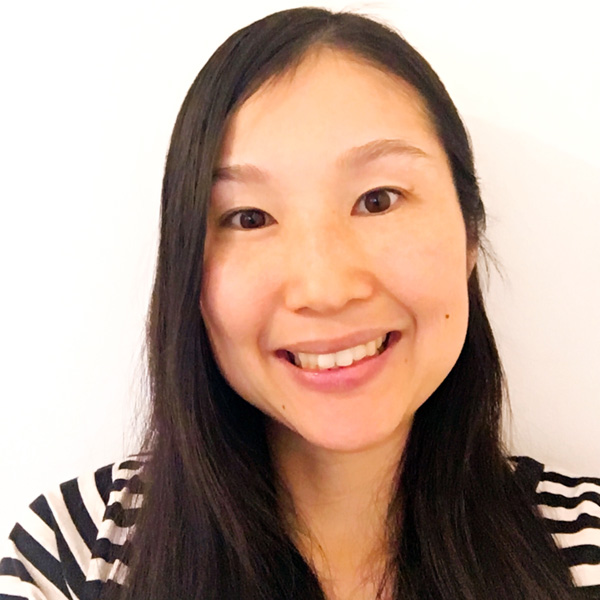 Mami's Review
I love their tonkatsu and drinks, but the owner is the best. He is a very mellow yet super friendly guy, and because of him, customers often end up becoming friends and enjoy the night together.
Tonkatsu Shimizu
Additional Information
248-5 Kamiikesuchou, Kamigyo-ku
Kyoto City, Kyoto Prefecture 602-0855
Japan
View on map