It's claimed that 30 million tourists a year visit Senso-ji Temple in Asakusa. When you're trying to squeeze through the Nakamise shopping street leading to the temple on a busy weekend, it's easy to believe they're all there at once. But the vast majority of them miss one of the coolest attractions in the neighborhood, despite the fact that if you look around in the sky when you're at the temple, you might see this: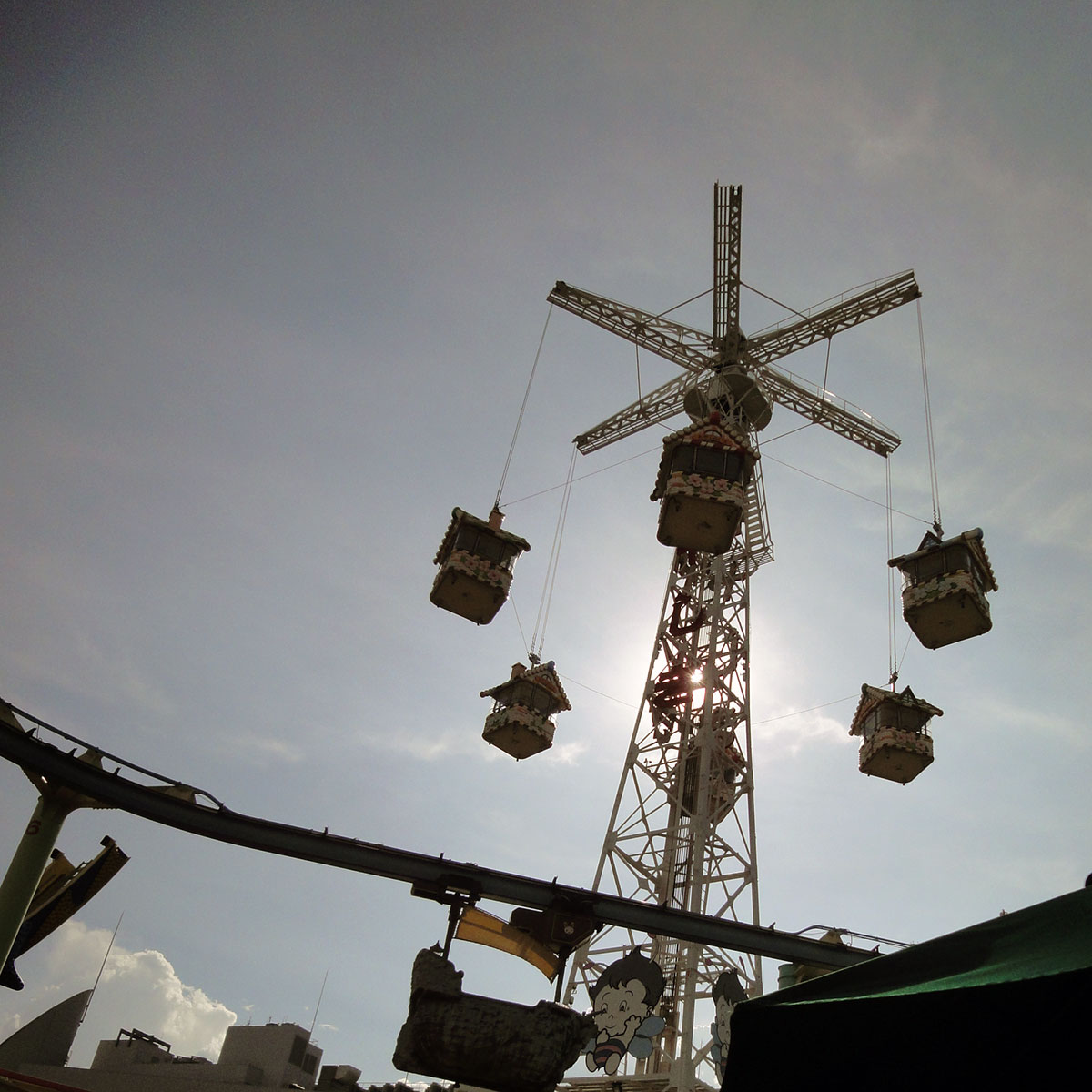 That's a ride at Hanayashiki Amusement Park, just about a block away. Hanayashiki claims to be the oldest amusement park in Japan, having opened in 1853. Actually it was originally a "flower park" and went through a period where it had a small zoo, so its current form with rides and other attractions doesn't go back that far. Just as well, because I don't think I'd feel safe riding a roller coaster built in 1853. And as it stands, it's still definitely as old-fashioned and quirky as anyone could want.
To get there from Senso-ji, just walk toward that towering ride. And don't walk past this just because it doesn't look like your idea of an amusement park entrance.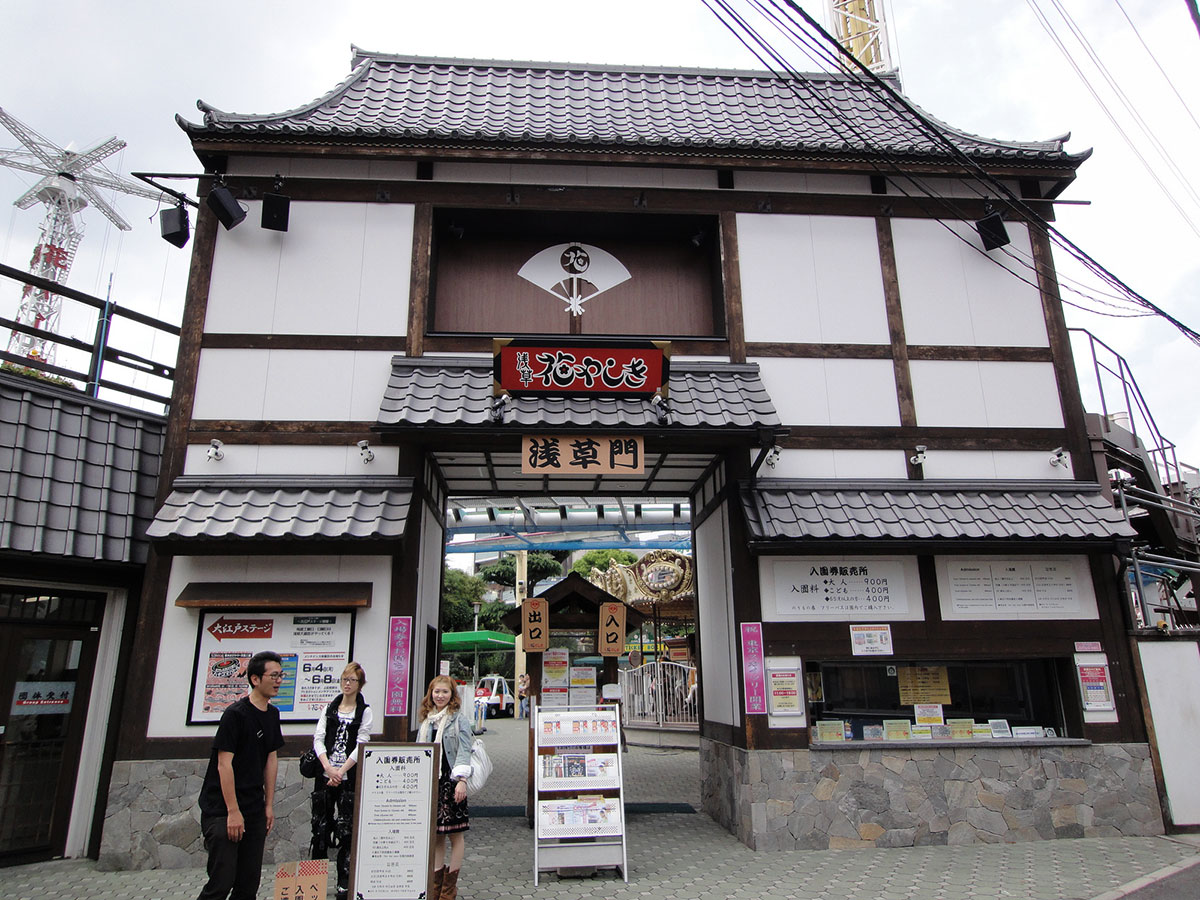 The entrance design is only one of many details about Hanayashiki that are uniquely Japanese in odd and cool little ways. Sure, kids love pandas everywhere, so you've got your panda-shaped go-carts…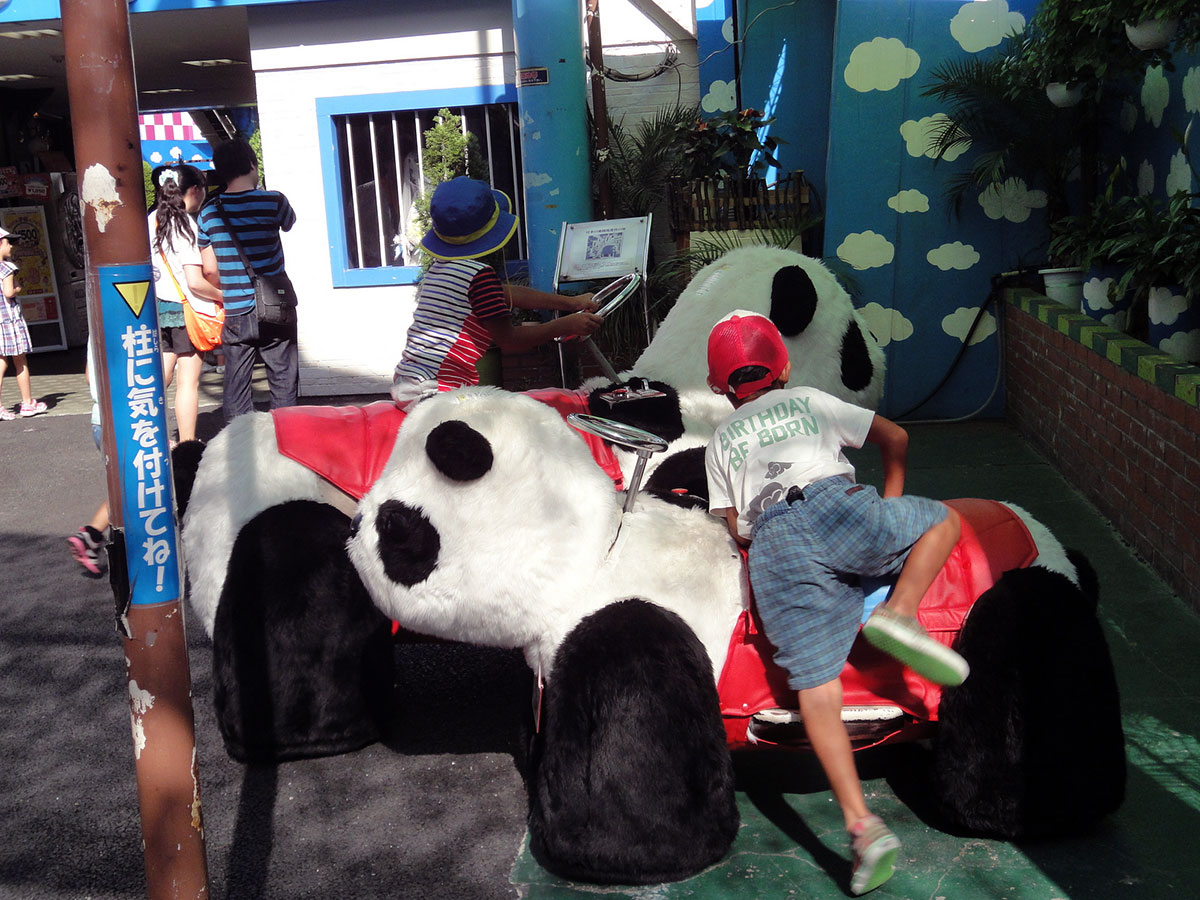 But only in Japan do you appeal to kids using those huge horned beetles that are kept as pets, which are part of decorations in a few places, like the truly enormous one on this ticket booth.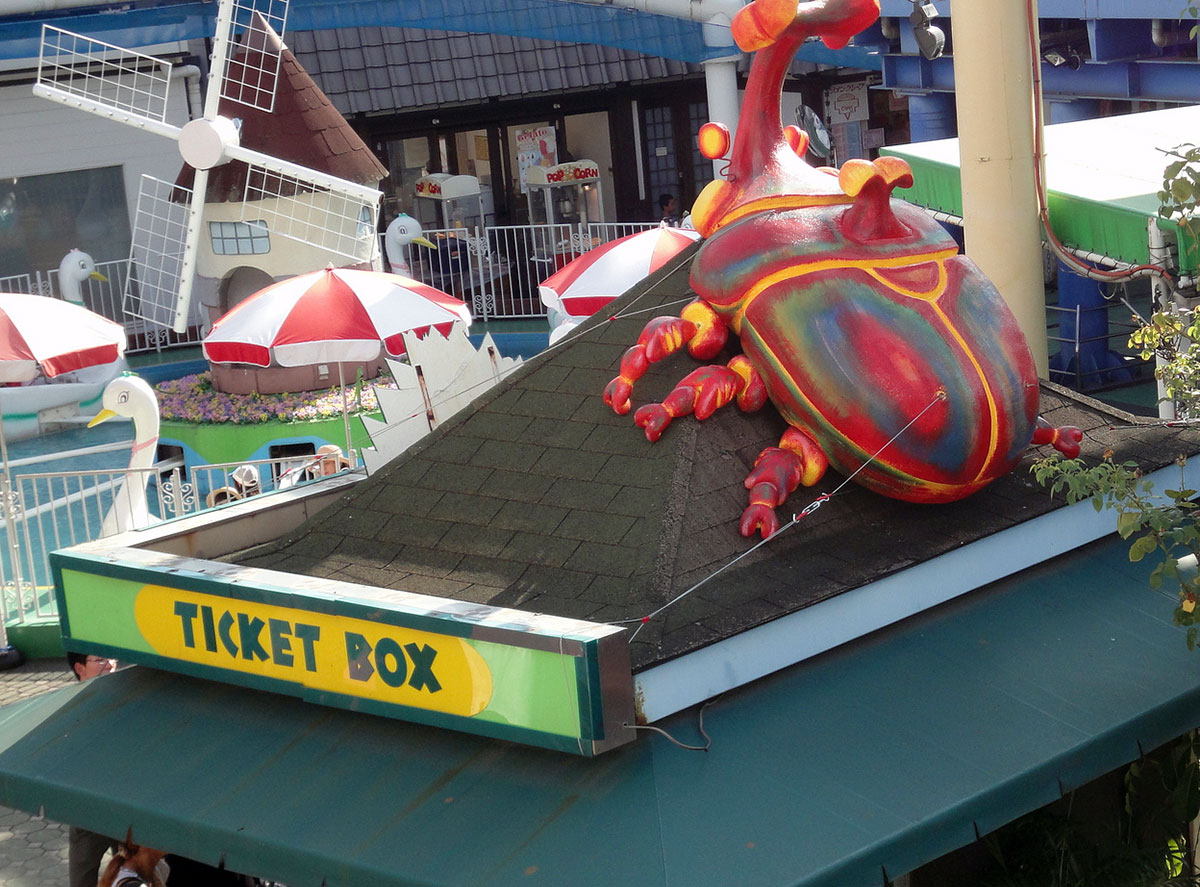 There's also a little Japanese garden with a stream and bridge in the center of the park: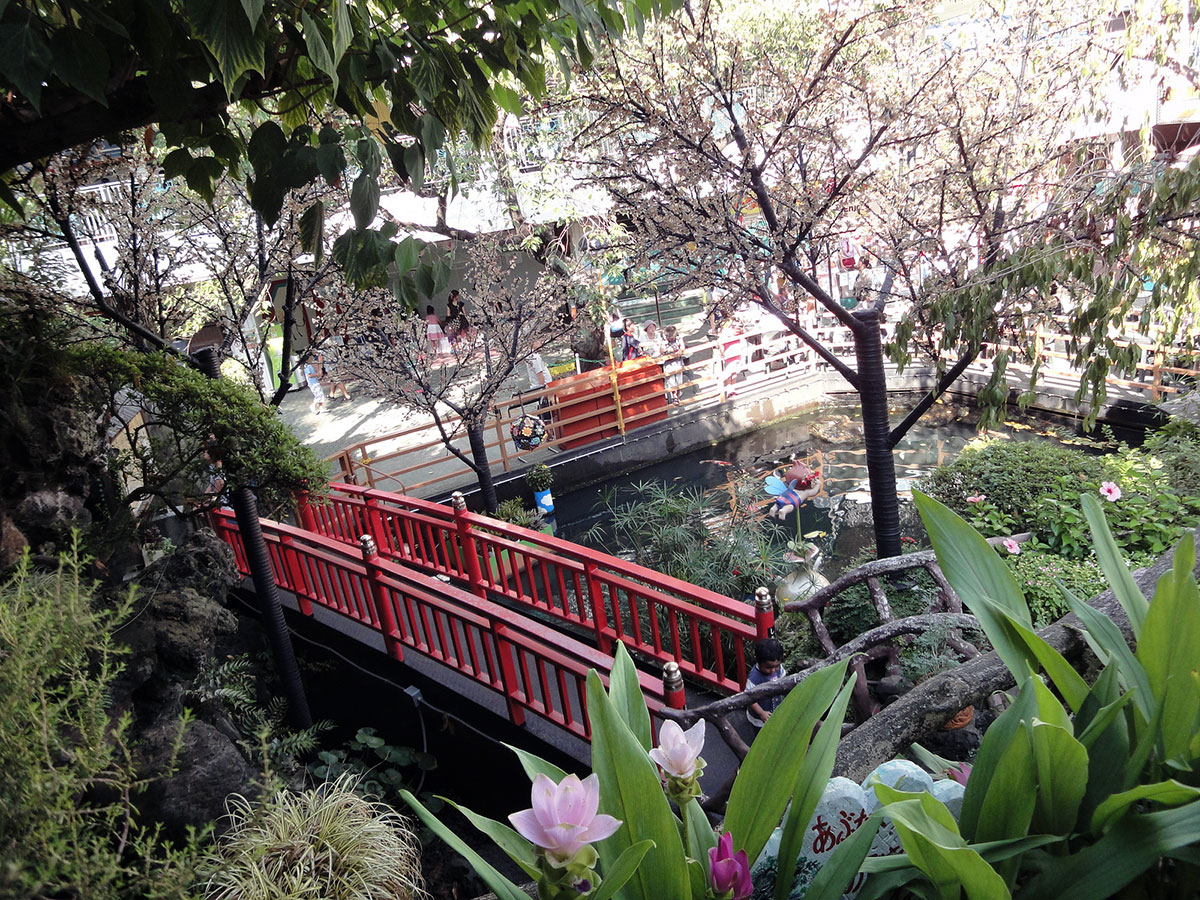 And one of its trees has got some more beetles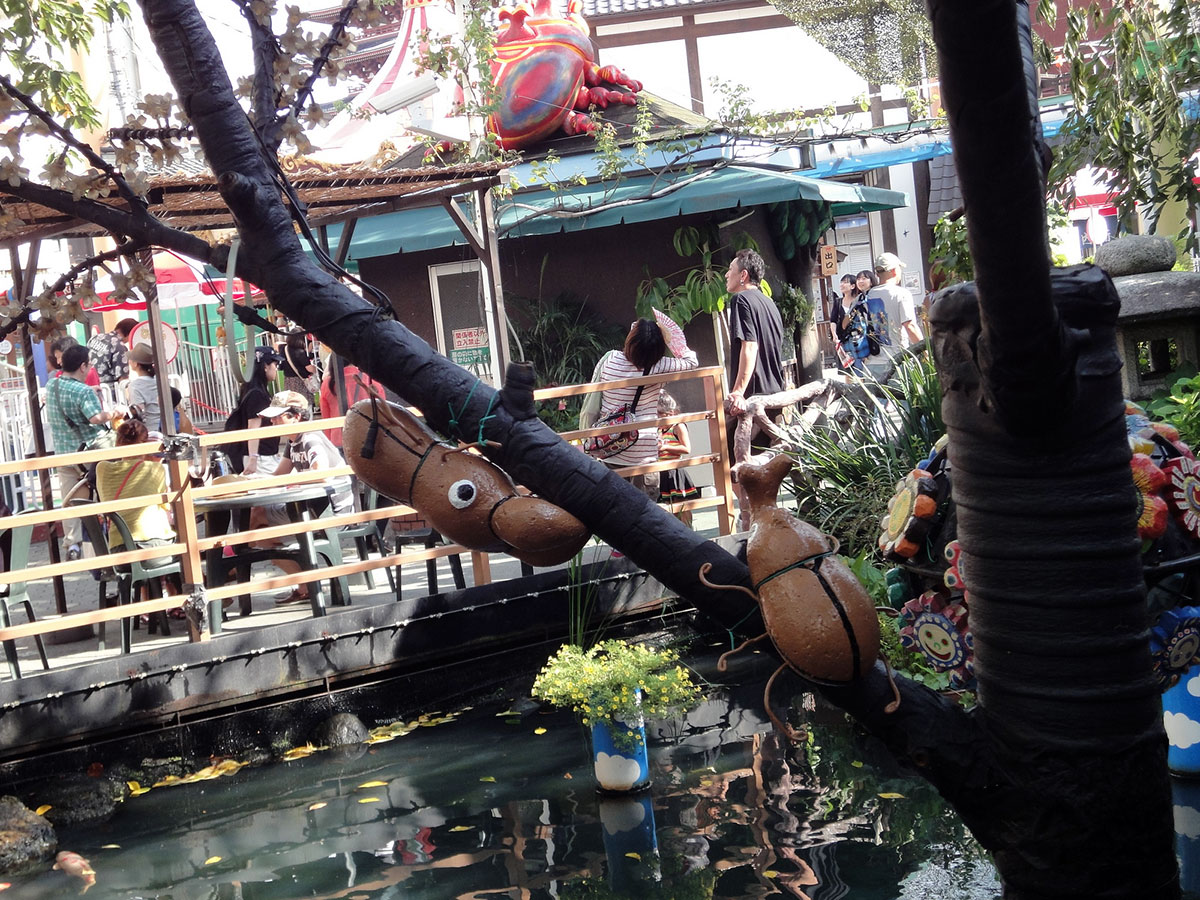 One ride with cars in different shapes includes one that's a tanuki (a cartoony one with a striped tail, possibly even meant to specifically be a Super Mario Bros tanuki suit?):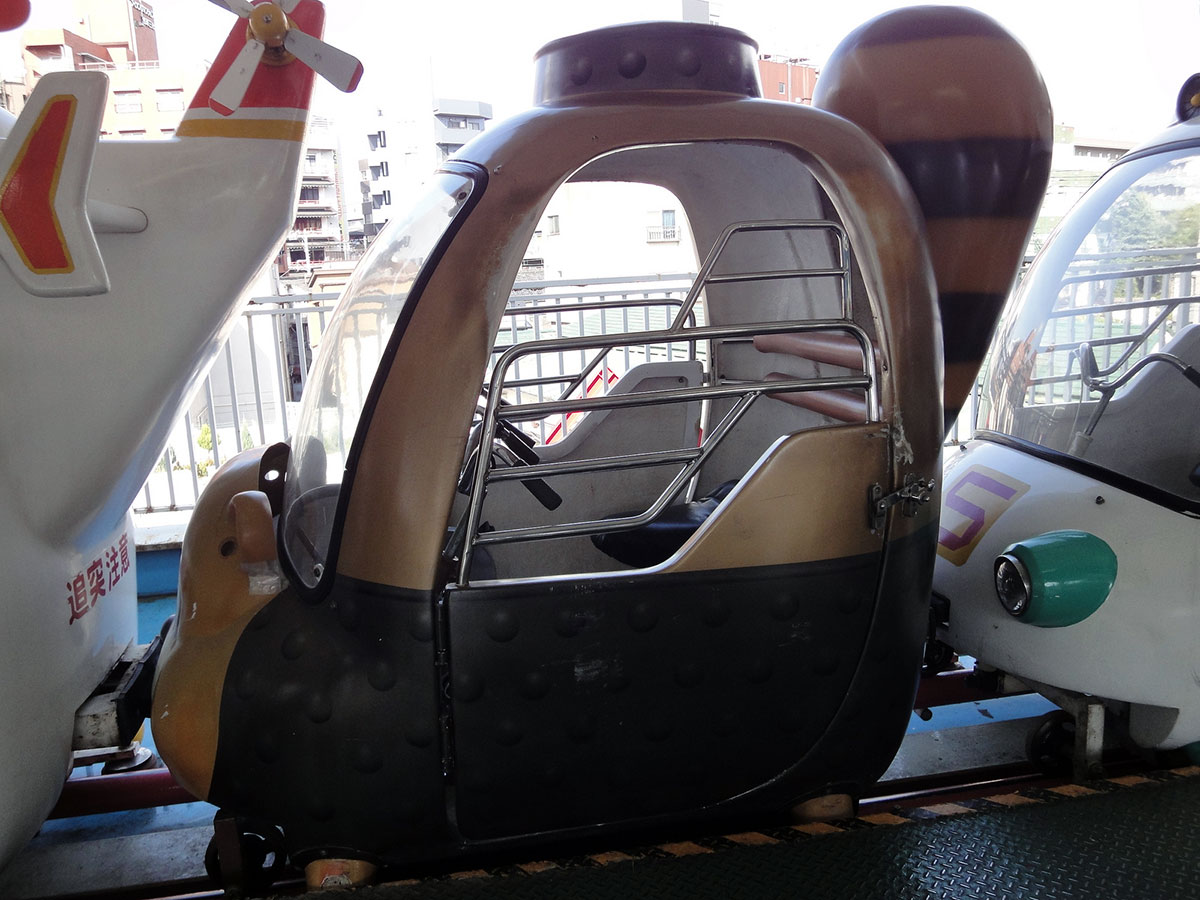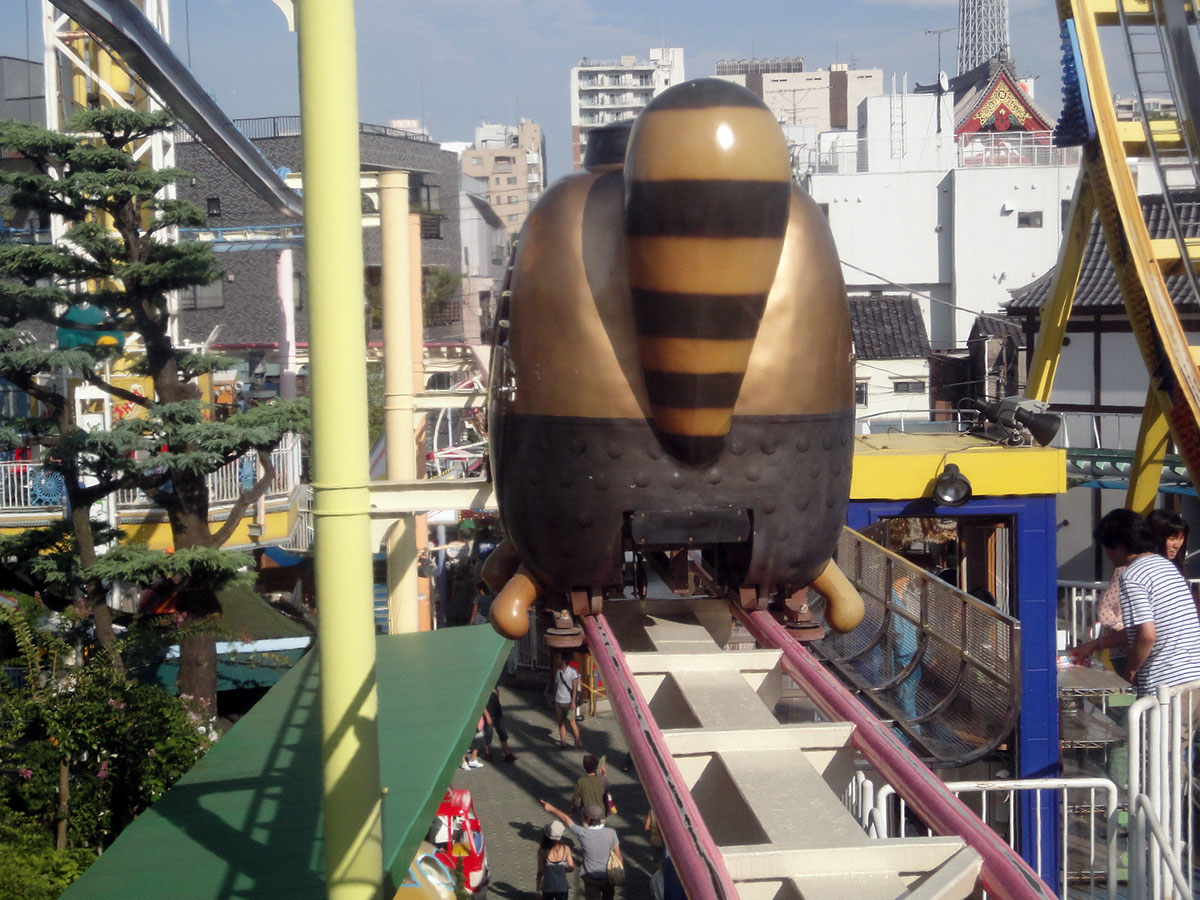 I discovered another particularly Japanese feature of the ride while taking that picture, or at least, an un-American one. You move those cars by pedaling and braking them, and you have complete control: there's apparently no other technology to stop you crashing into the car in front. Something that could only exist in a country with WAY fewer lawyers.
That's one of a number of rides on overhead tracks that are layered all over each other, weaving through the limited space. Maybe what's most amazing about Hanayashiki. It is packed into what isn't much more than one city block, surrounded by buildings that seem so close that you could almost touch them from some of the rides: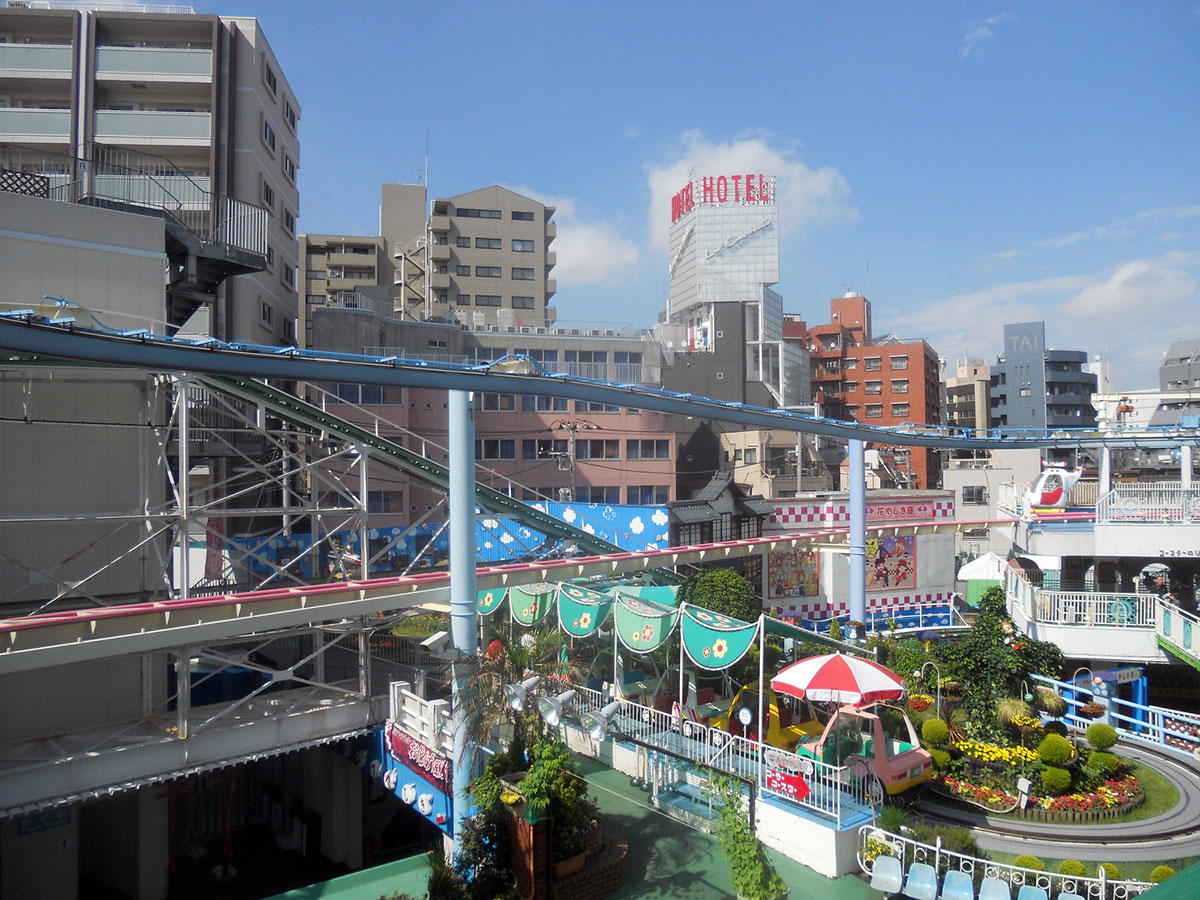 And you can see how close you still are to Senso-ji when you're up on one of the rides in the air.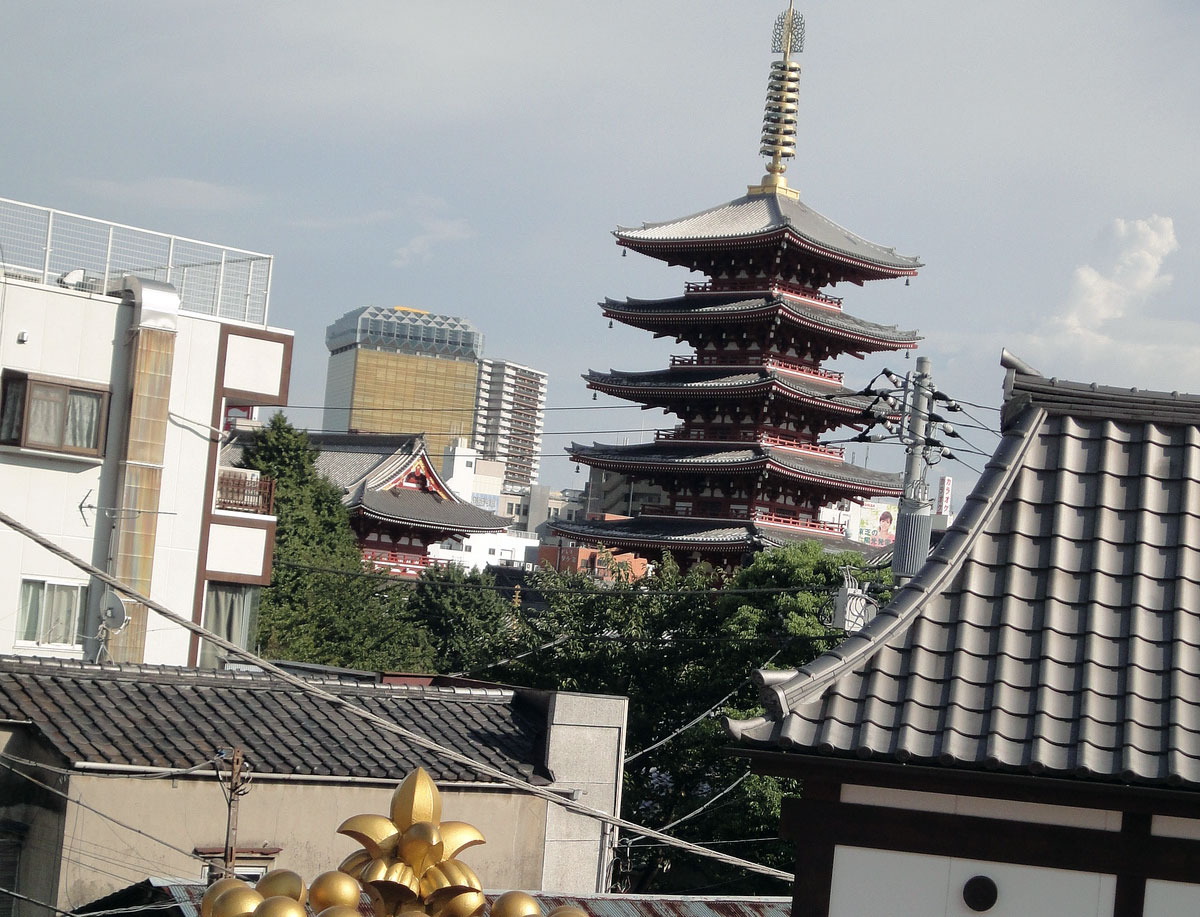 Check out the English map on their website to see all the other stuff that's crammed in there, including an indoor game arcade, some haunted houses that I can't believe I was stupid enough to miss, and a food court.
Admission is 900 yen and tickets for rides are 100 yen each. There are a few attractions like a fortune teller and some entertainers that you'll have to pass on if you don't speak Japanese, and I didn't see any other Western tourists in the park when I visited, but come on, it's an amusement park, it's a universal language. You can do this thing. Don't be one of the 29,999,999 tourists to Asakusa (other than me) who misses it.
All photos not credited by Linda Lombardi
UPDATE: As of October 2016, the iconic Bee Tower has been taken down. It got too old to operate safely. But the rest of the amusement park is still open and working.
Hanayashiki Amusement Park
Additional Information
2 Chome-28-1 Asakusa, Taito
Tokyo, Tokyo Prefecture 111-0032
Japan
View on map