If you like Japanese aviation, planes, technology, tokusatsu, military history, or cosplay, then head to the Japanese Air Self-Defense Force (JASDF) museum . It will provide you with hours of fun. Even though they have a massive and awesome collection, admission is absolutely free!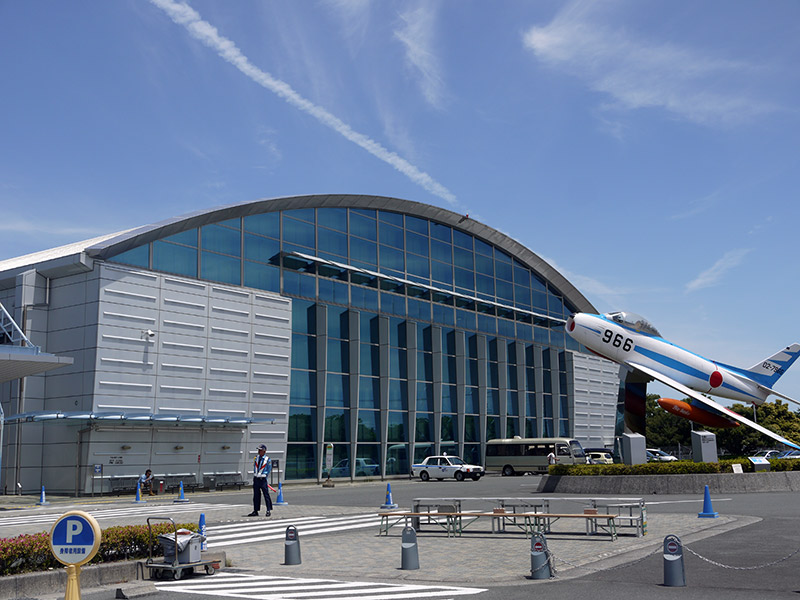 When you enter the building…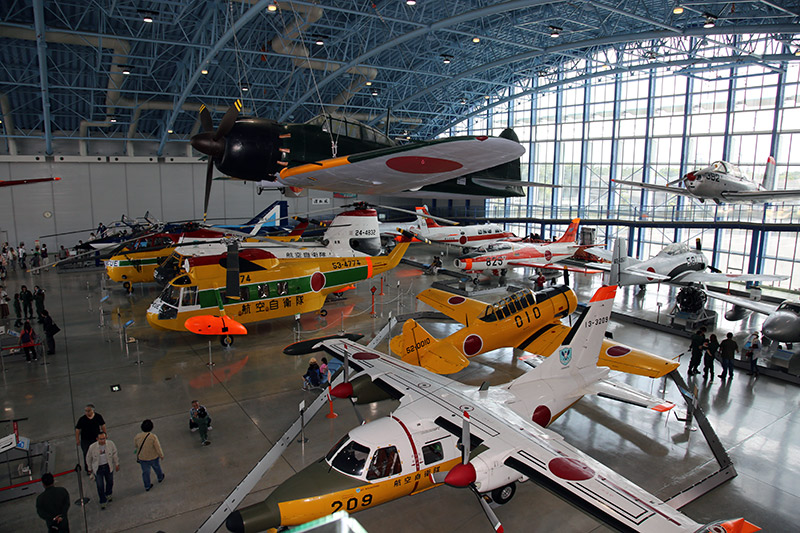 …you will see a fleet of aircraft.
Let's take a closer look at some of the planes in that fleet.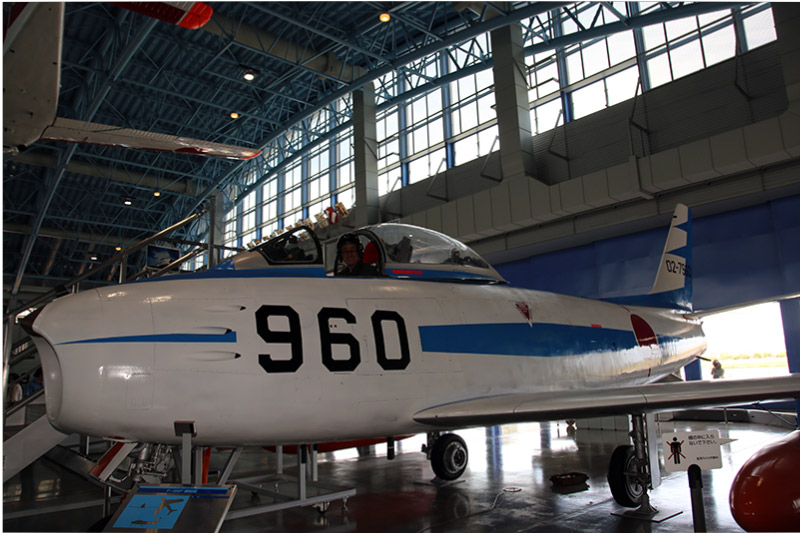 This is a transonic jet fighter jet known as the F-86F. The F-86F is the one that attacked Godzilla in the 1954 classic. It has also fought against the giant monster Rodan in "Rodan" (1956). The planes that appear in the films don't look like this plane at all though. This one's had a paint job. If you want to see a jet from the movies, this "Blue Impulse" model appeared in "Dogora" (1964). You can sit inside it if you like.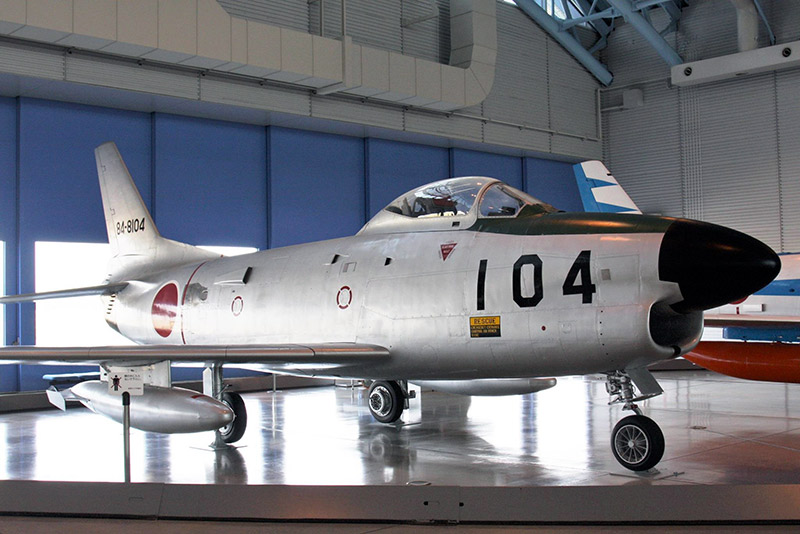 This one is also an F-86, but it has radar in front and is called the F-86D. It demonstrated the use of radar during the night attack in "Varan the Unbelievable" (1958).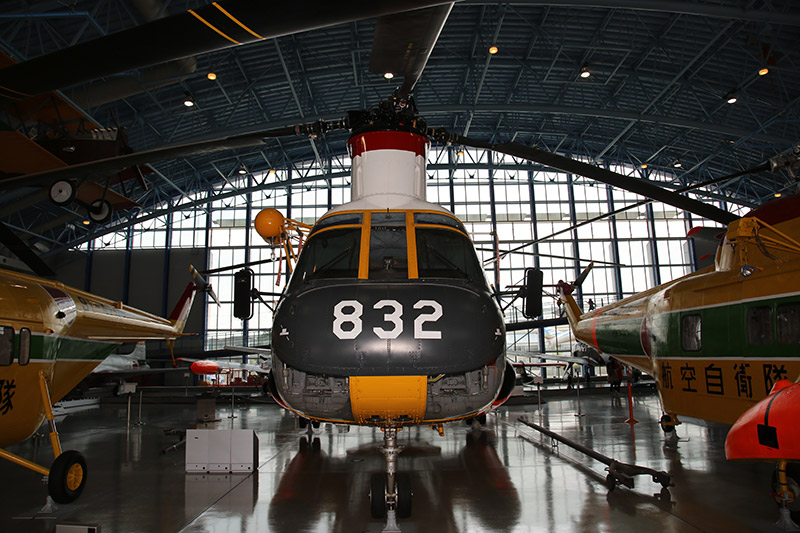 Of course, there's more than just airplanes here. There are some helicopters on display as well. This V-107 rescue helicopter played a big role in "King Kong vs. Godzilla" (1962) and "Godzilla vs. Mothra" (1964) as an air transport helicopter.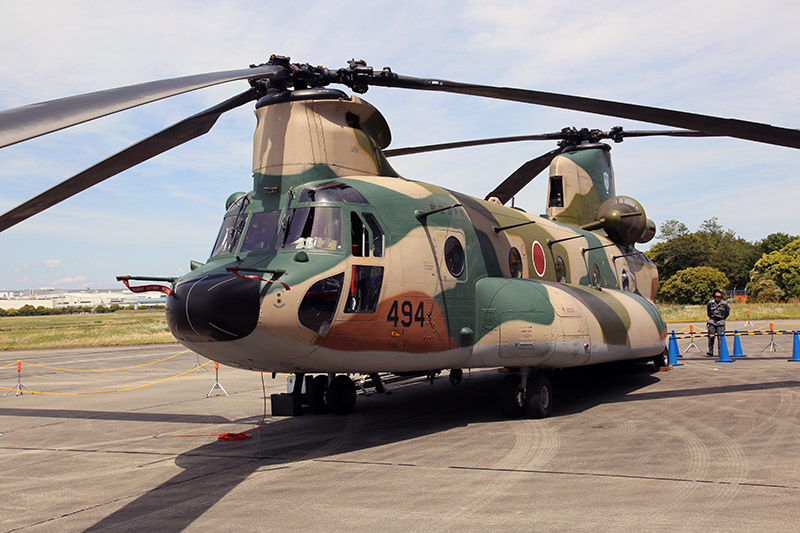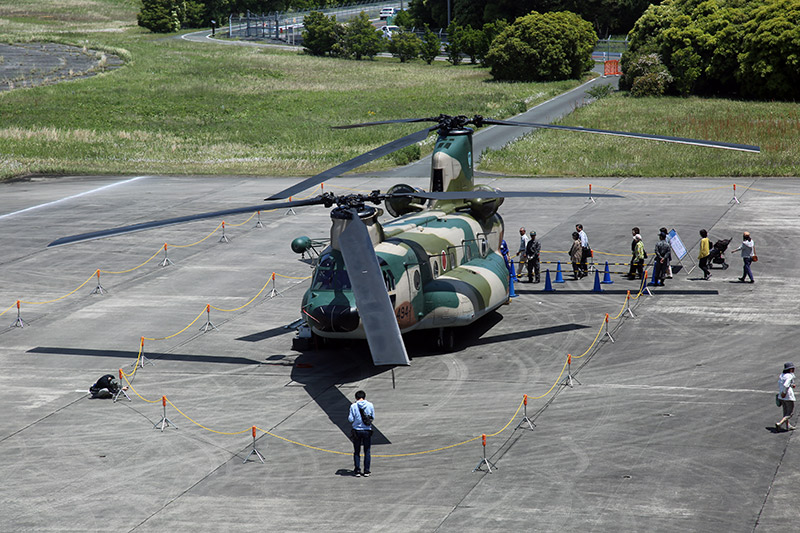 The museum also holds special exhibitions from time to time. When I visited, there was a rescue helicopter with two propellers called the CH-47 Chinook out on the tarmac. There is a similar looking helicopter with one propeller such as the AH-64. But that model is a fighter helicopter.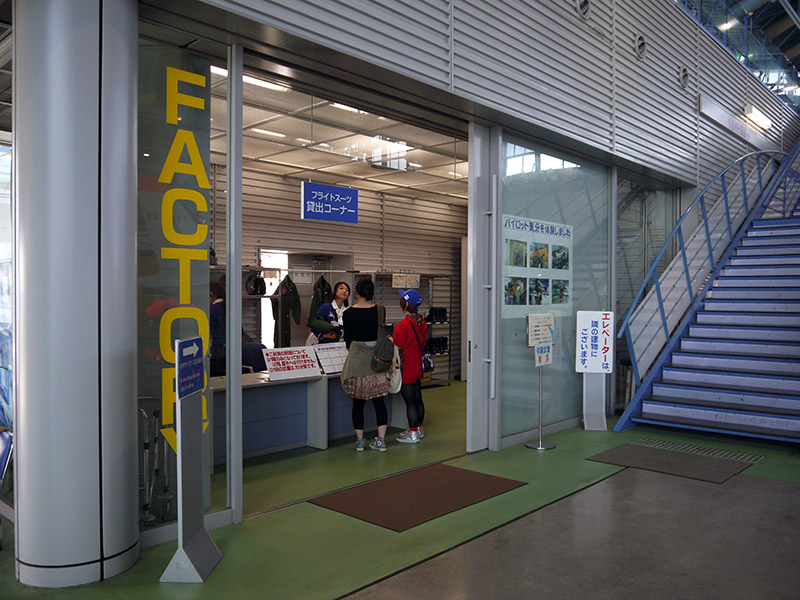 As I said earlier, you can rent a costume and dress as an actual JASDF pilot!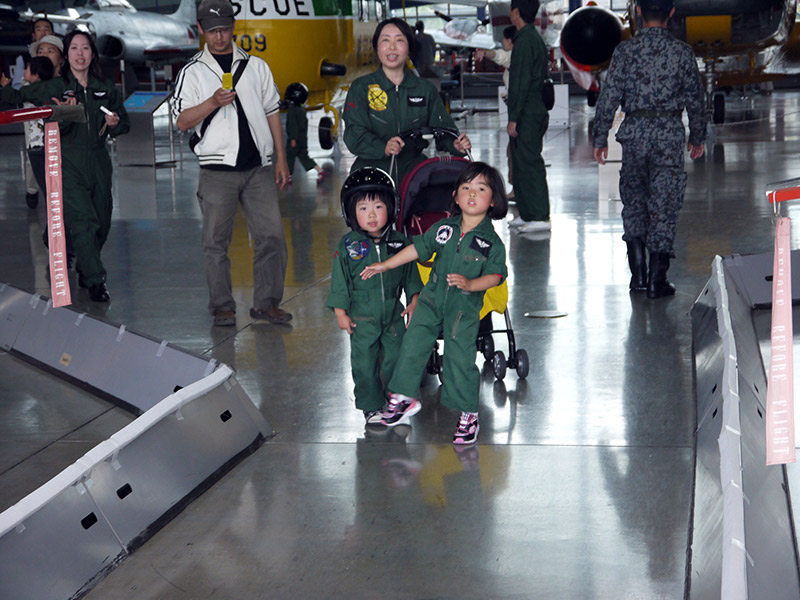 The costumes come in sizes that will fit 3 years olds all the way up to adults (XXL). Unfortunately, only one helmet is allowed per group. The boots only come in sizes 24 to 28cm. So if your feet won't fit and you really want to look like a real pilot, you'll have to buy your own. Oh, and you must wear socks in the rented boots.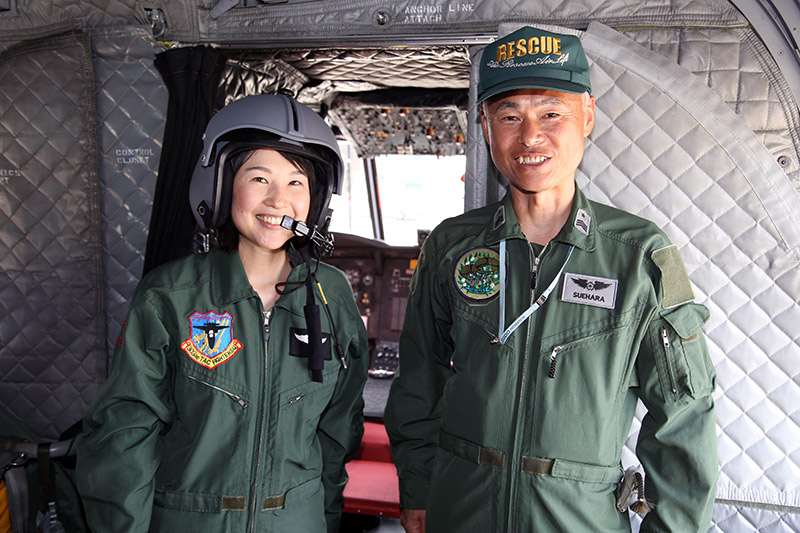 You can wear the costume for only 15 minutes, but it's enough time take a lot of photos. I had time to rush into a helicopter (CH-47) and ask an actual pilot to take a photograph with me.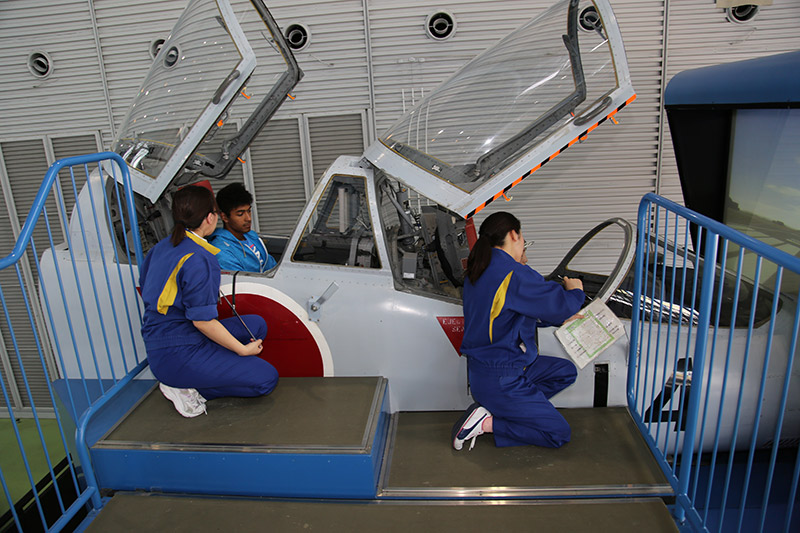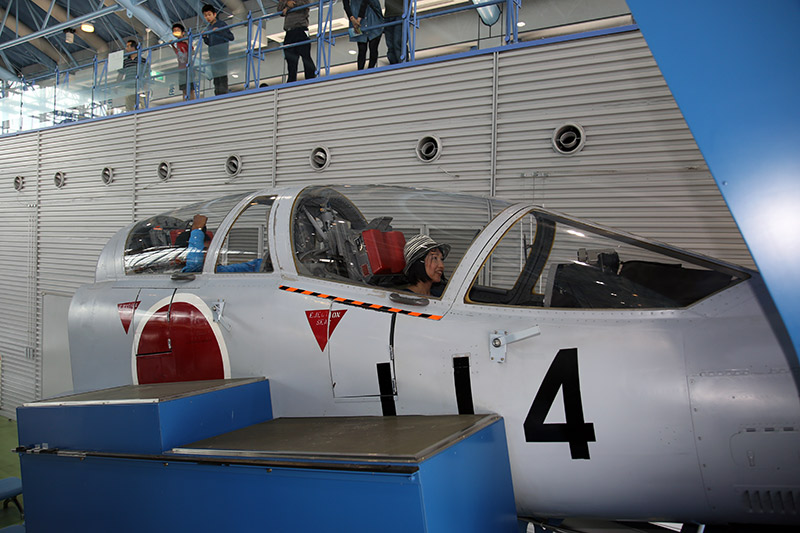 Another very cool thing at this museum is the flight simulator. There are 3 levels of difficulty. I, of course, tried beginner. Still, my flight crashed many times. If you want to try this, you have to make a reservation when you arrive. If it's not fully booked, you'll be flying high in no time. Make sure you get there 5 minutes before your booked time. It runs from 9:00 am to 3:30 pm. You have to be sober, 10 years of age or older, and 120cm in height or taller. You can't be pregnant, have heart disease, or high blood pressure.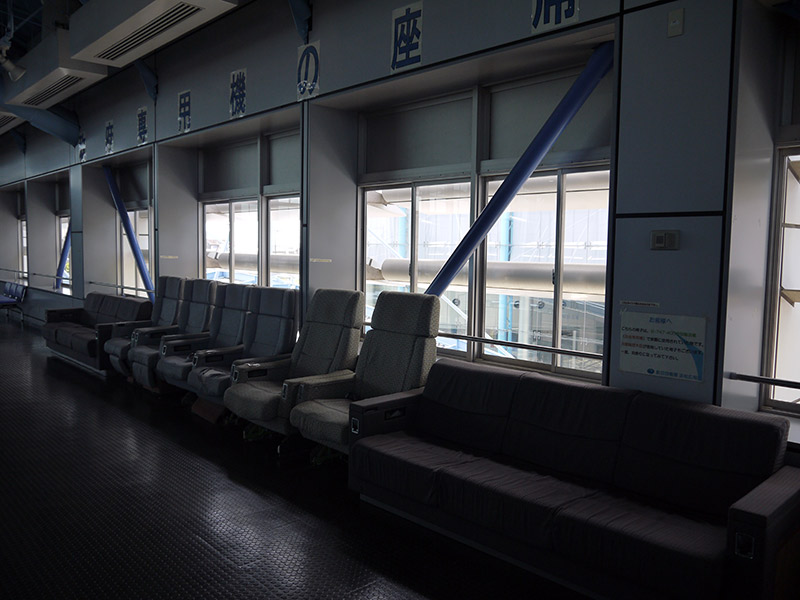 There are also seats from the Japanese version of Air Force One that you can sit in to see how important people treat their bottoms. To be honest, it wasn't as comfortable as I thought it would be.
Although I don't have any pictures of it, you can watch a movie on a 180-degree screen. Honestly, the theater seat was much more comfortable than the one from the special government plane. So much so I fell asleep while watching the movie…but I heard that the movie is pretty cool.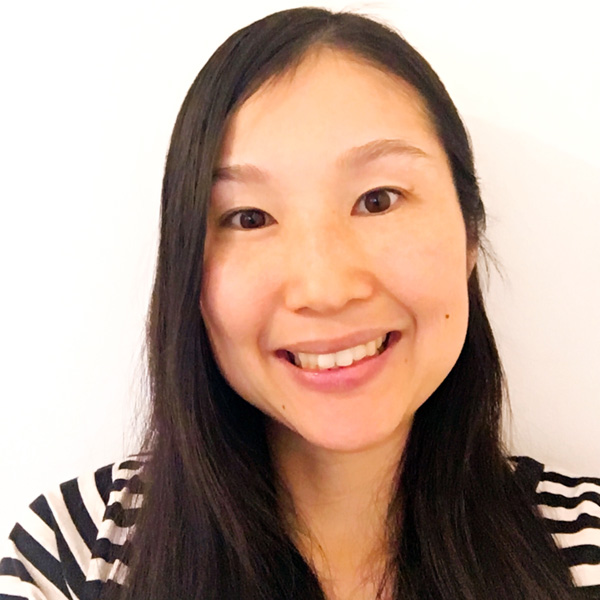 Mami's Review
It was a great place with many interesting planes. It's also cool that you can wear their uniforms and walk around the museum.
Hamamatsu JASDF Air Park and Museum
Additional Information
Nishi Ward
Hamamatsu, Shizuoka Prefecture 432-8551
Japan
View on map