During my vacation in Japan last year, I traveled to Nakano Broadway, the Tokyo shopping arcade sometimes called "the mini-Akihabara." I didn't really know what I'd find there, I just knew I'd likely find something I'm interested in (y'know, because I'm a nerd).
I arrived at Nakano Station mid-morning and walked north. Within five minutes, I had passed through a "normal" shopping arcade and entered the Nakano Broadway mall area. There were manga and toy stores everywhere! Unfortunately, they were all closed. I'd assumed the shops would be open by 11:00am on a weekday, but I was wrong. Plus, I had to meet people in about an hour, so I couldn't hang around waiting for these lazy shops to unlock their doors.
I quickened my pace, searching for anything that could salvage this trip, rushing past rows of shuttered shops. I checked a map and headed for the escalator (not the world's shortest) to the third floor. As my line of sight peeked over the stairs, I saw a light. Something was open! A beautiful glow was spilling out from a store covered in plastic masks and tiny, tiny keychains.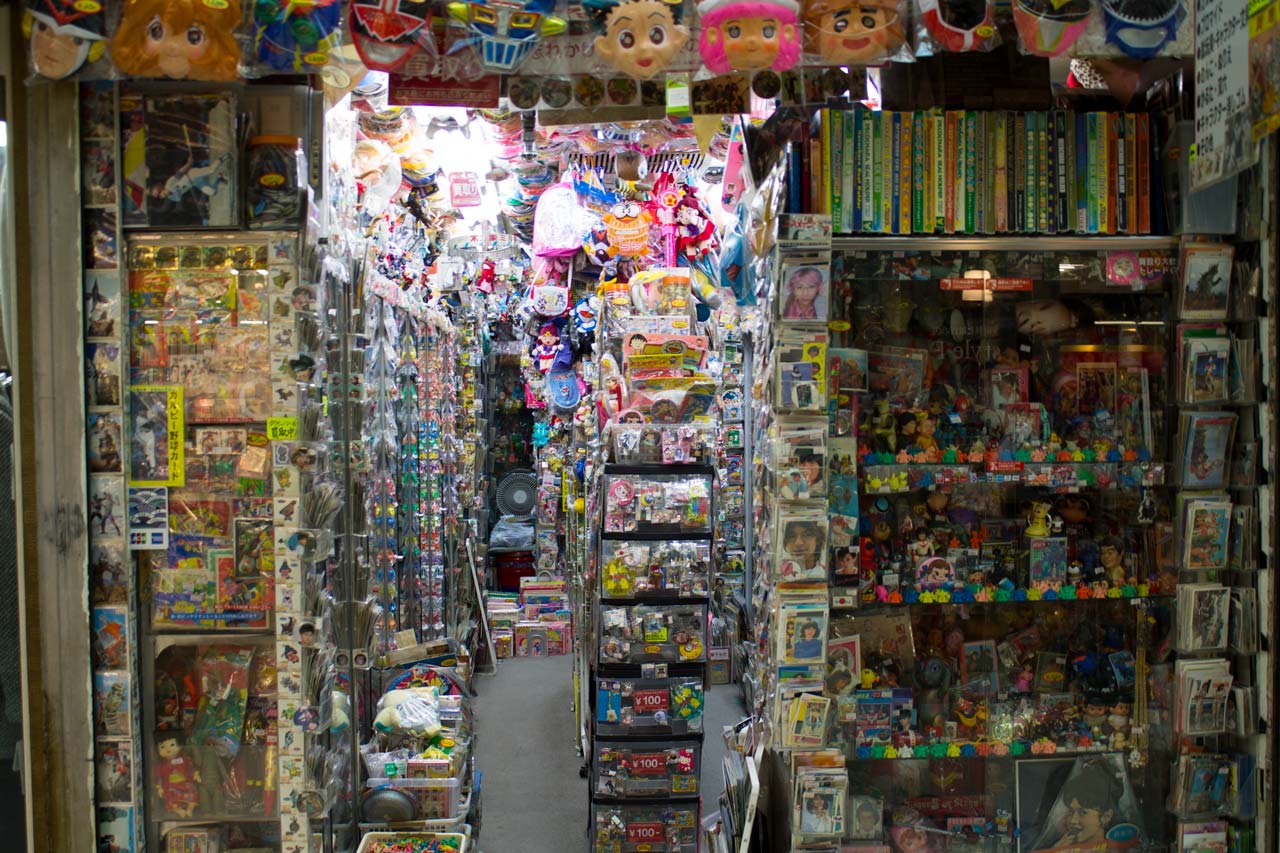 I ran up to the entrance and peered inside. It was a tiny cave lined with thousands of plastic miniatures, stickers, trading cards, books, toys, and games, all in neon and primary colors. As if the space wasn't tight enough, there was an extra shelf of toys in the middle.
I looked up at the store's sign, obscured by plastic and vinyl objects. It read ガオッチ: 古いおもちゃ, or "Gaocchi: Old Toys."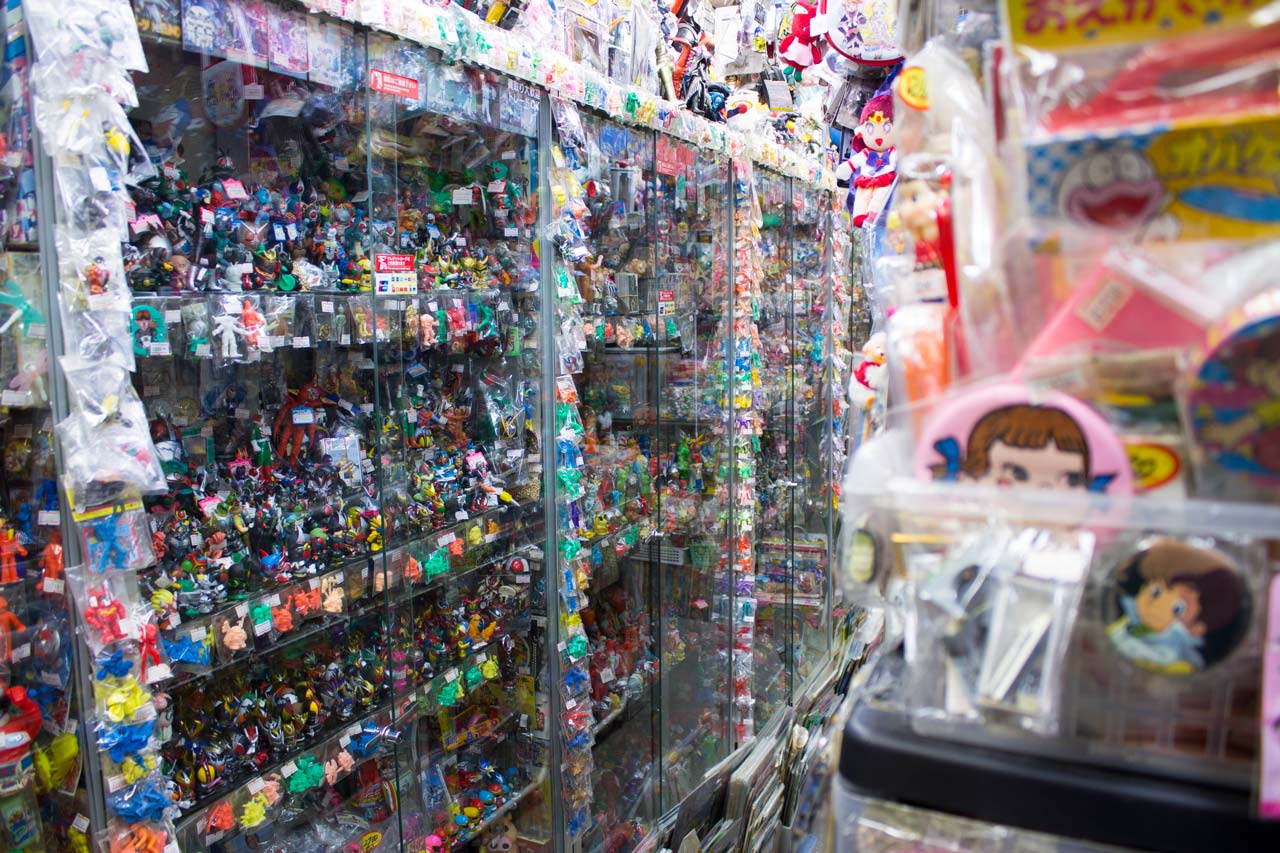 It was a tiny cave lined with thousands of plastic miniatures, stickers, trading cards, books, toys, and games, all in neon and primary colors.
I entered the store and heard the standard, いらっしゃいませ! from the owner in the back. His counter was covered with figures and plastic packaging. In fact, there was barely an inch of the store that wasn't a layer of toys (except the floor, of course).
The owner, spying the camera around my neck, called out to me, "Photos okay! But no close-ups," making camera gestures close to a toy near him. I gave him the thumbs up and started to browse.
"Are you from YouTube?" he asked. I told him I wasn't and he proceeded to tell me he was on YouTube, then showed me videos on his phone that people had taken of his shop. Then he told me about how he collects Batman, and the kinds of toys he sees foreigners buy, and why the store is called "Gaocchi" (it's the sound a kaijū makes).
I later learned this talkative man was Takayuki Kosaka, one of the world's foremost Japanese Batman collectors. He's collected so much Japanese Batman stuff, he was featured in a documentary about Batman collecting:
It was a little hard to shop and take pictures at first, because Kosaka-san had something new to tell me every minute or so. But he encouraged me to snap photos, asked me what kinds of toys I was looking for, and was very friendly overall. This was in stark contrast to a smaller vintage Japanese toy shop I'd visited days earlier, which had "no photos" signs posted everywhere and a grumpy shopkeep who followed me around the whole time, frowning (true story).
After about ten minutes of chit-chat Kosaka-san went back to his counter to do whatever it is toy shop owners do, and I began my browse.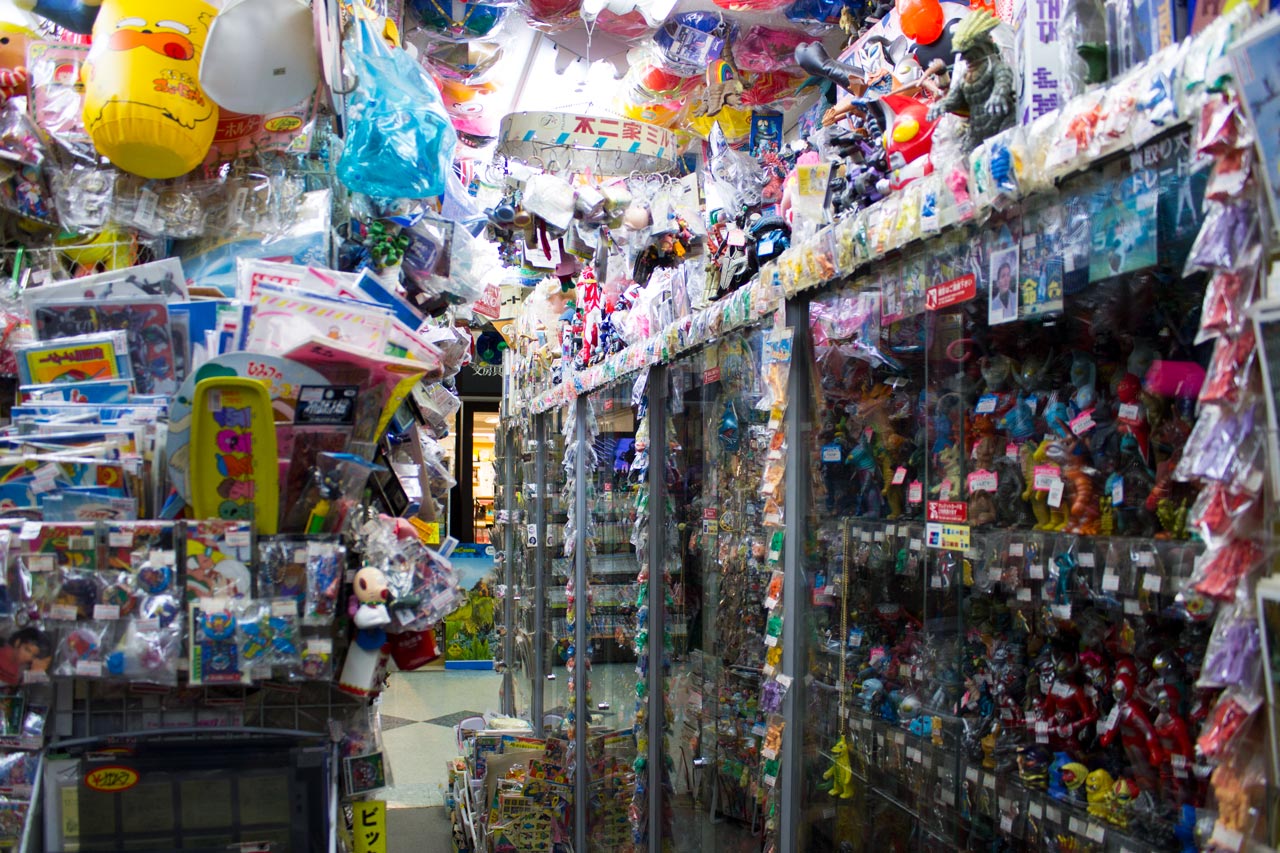 Surprisingly, my senses never adjusted to how much stuff was all around me. I was stuck in sensory overload and couldn't get out, not that I wanted to.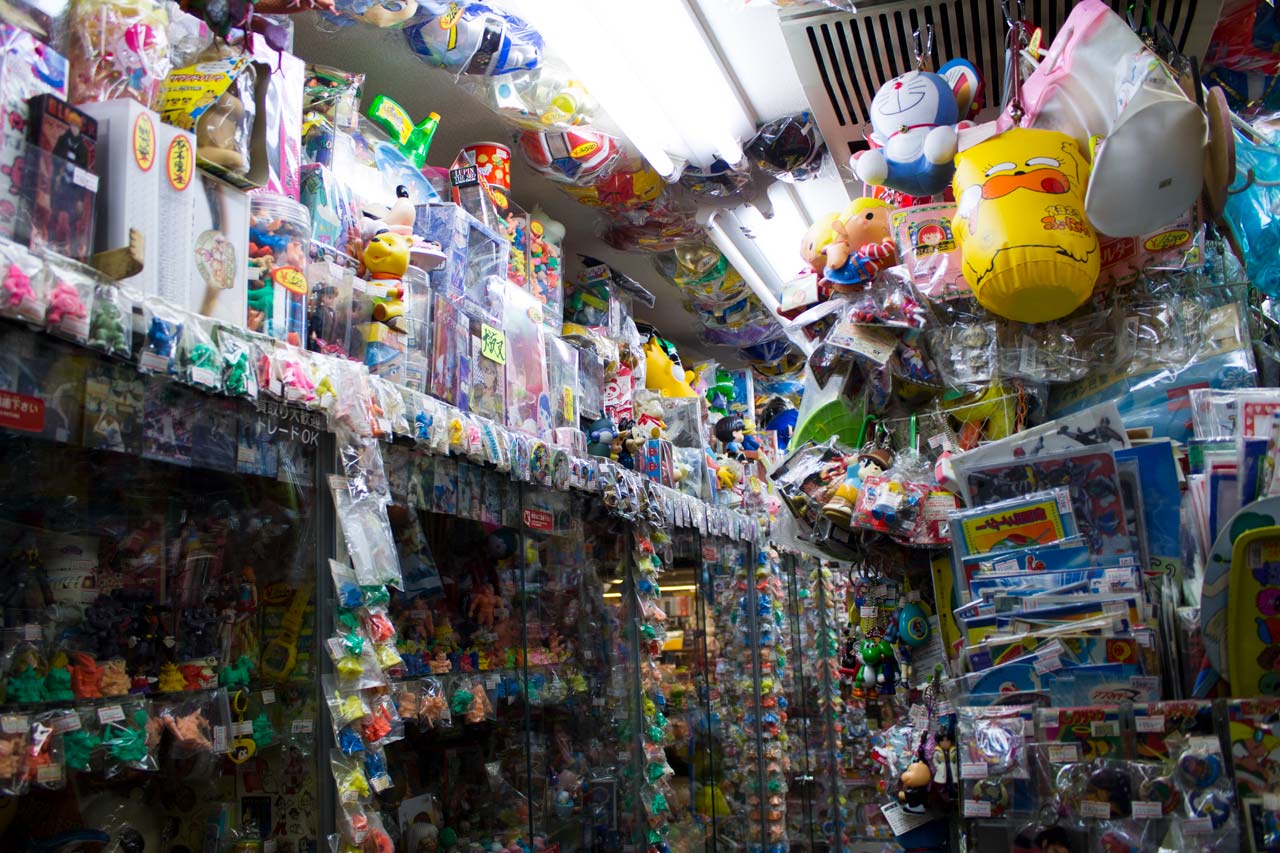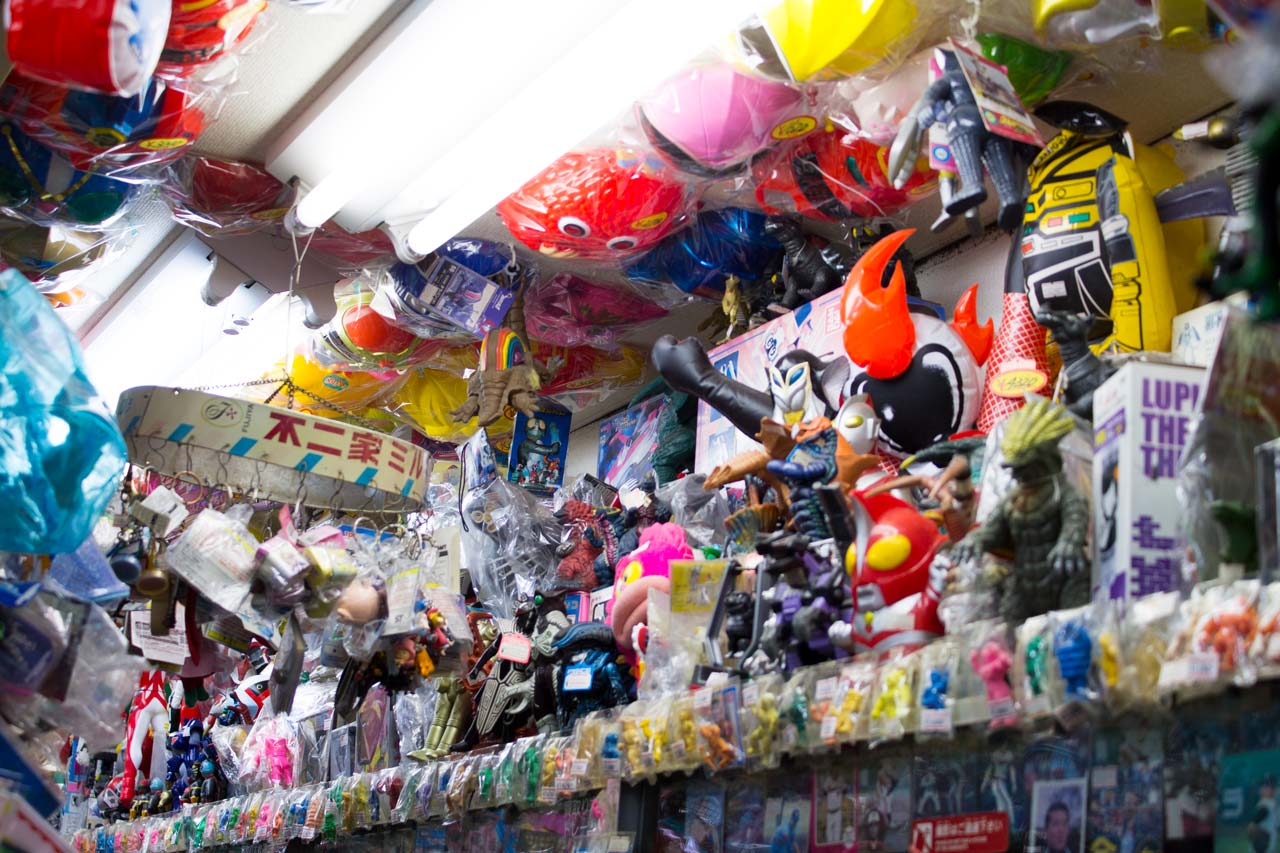 Yes, even the ceiling has toys hanging from it.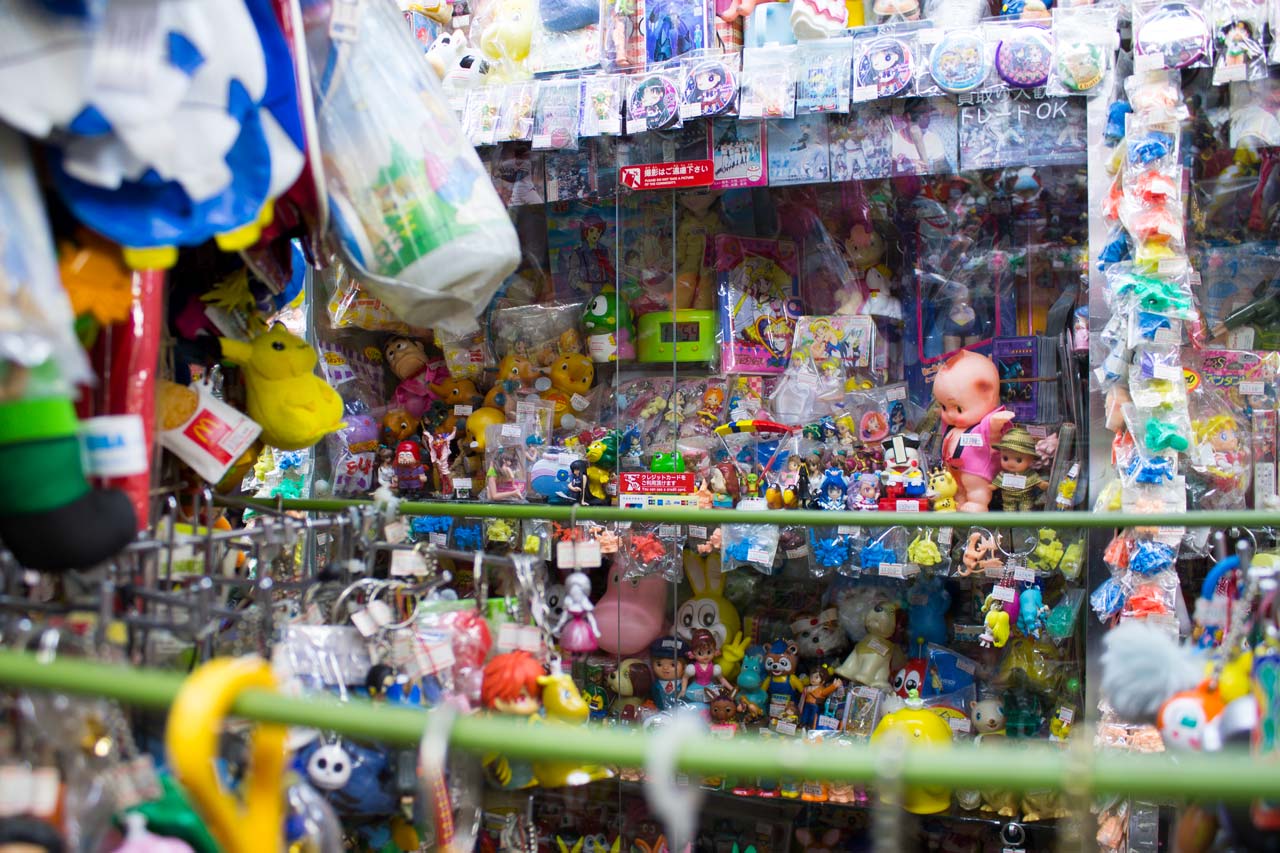 There's an added row of merchandise jammed in the middle of the store, making a tight space tighter. But sometimes you have to sacrifice space for more toys. Abraham Lincoln said that.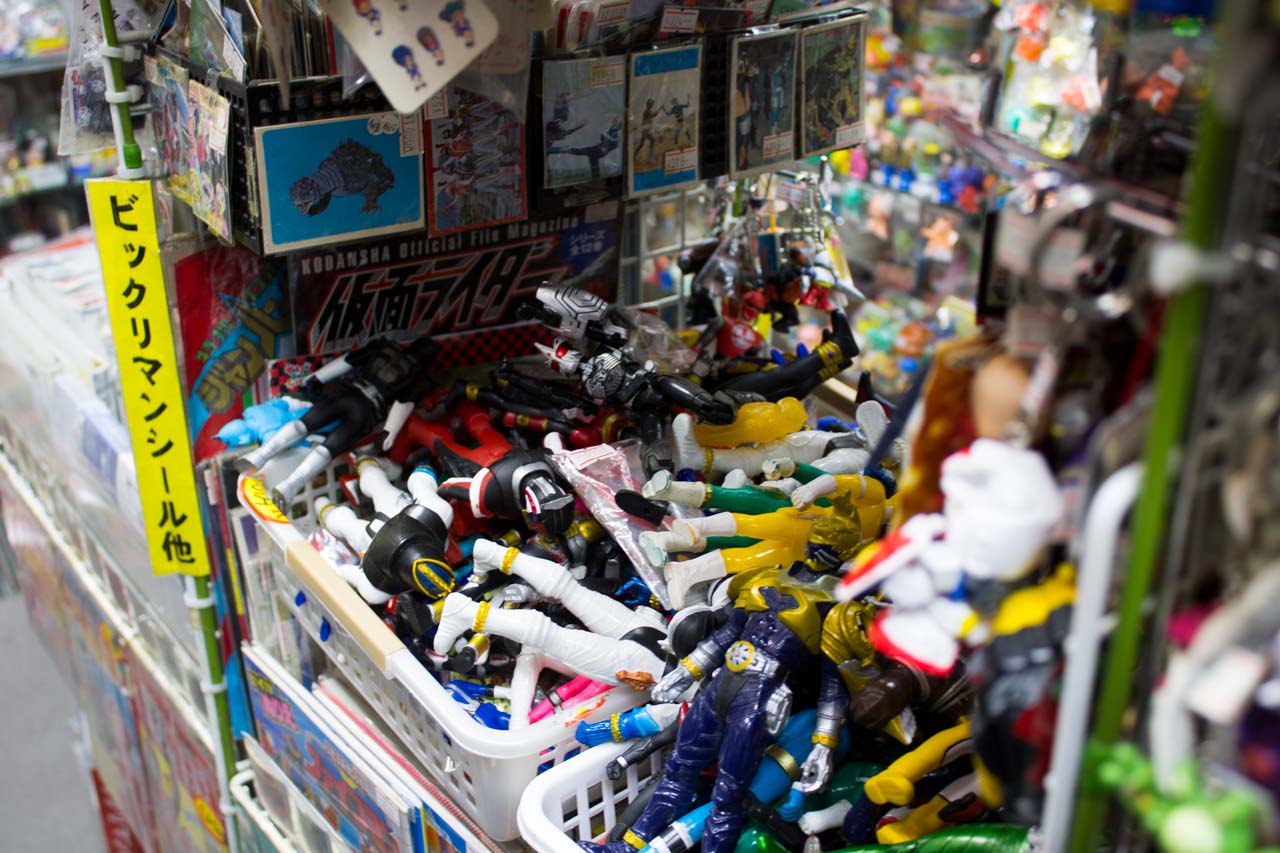 "Slowly and carefully" is the only way to experience Gaocchi.
It's hard to construct any narrative of the Gaocchi shopping experience. The store is basically a 100-something square foot box packed with toys. That's it. It defies any kind of organization of its parts – it's just a massive toy experience.
Some might not be able to handle the cramped space or how lightly you have to tread around all the delicate plastic babies. One elbow bump or trip-up and you're suddenly the doofus who wrecked dozens of vintage Japanese toys.
But "slowly and carefully" is the only way to experience Gaocchi anyway. You could spend hours, your eyes tracking across a row of figurines, then to the next row, and the next, then repeat that for the next shelf, and the next shelf, and then all the rows and shelves in all the cases in the store. After that there would still be boxes of cards and stickers to pore over, and bins of loose toys to dig through.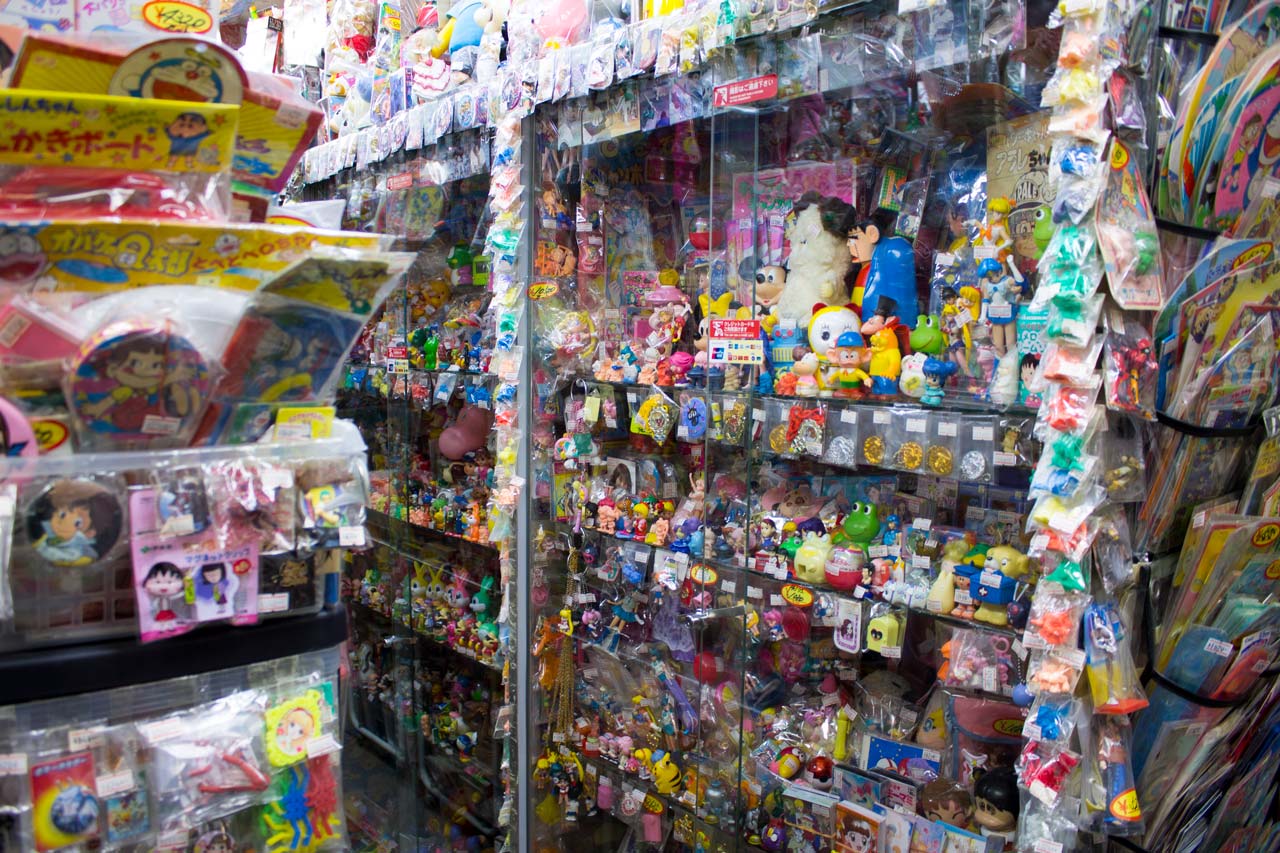 And even though the owner is a Batman collector, don't think his store is just for the superhero crowd. If you're even mildly interested in colorful Japanese stuff, I promise there is something here for you. There are shoujo and Sanrio toys, Japanese wrestling cards, Japanese baseball cards, and kids manga figurines. If it was made for Japanese children in the latter half of the twentieth century, it's probably at Gaocchi.
Personally, I was looking for anything with Crayon Shin-chan on it. I've been a fan of "Japan's Dennis the Menace" for years, but collectibles from this series are few and far between, let me assure you. There was plenty of Shin-chan goodness at Gaocchi though, and most of it was from the early days of the manga's popularity. I prefer Shin-chan's 1990 design, so this was a big win for me. I picked out two mini-figures, at which point Kosaka-san began showing me all the Shin-chan merchandise in the shop. This was much appreciated because I wanted to make sure I saw all my options before I left. In addition to the figures, I bought two giant Shin-chan stickers which will never be stuck on anything.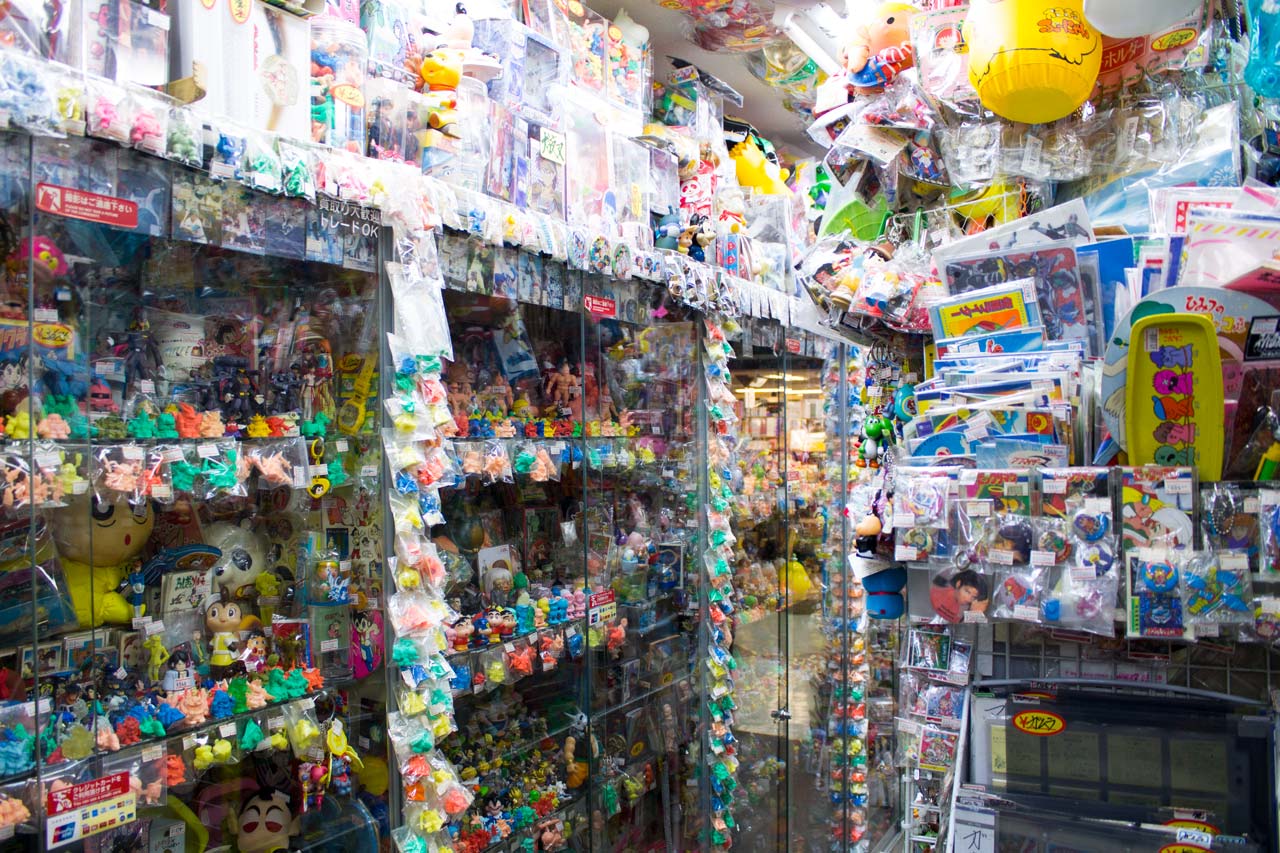 If it was made for Japanese children in the latter half of the twentieth century, it's probably at Gaocchi.
My hour was almost up and I'd soon be whisked away from this wonderland. Though I could stay in Gaocchi all day, I snapped some extra photos and waved goodbye to my new friend Kosaka-san. He urged me to tell everyone about his shop, and that's exactly what I'm doing right now.
If you find yourself in Nakano Broadway, I recommend breaking away from the bigger stores like Mandarake and stepping back in time with Gaocchi. It's definitely worth your time and money, even if you don't spend much of either. The four items I bought were about ¥500 each – very affordable considering how old everything is. Of course, if you want to spend several hundred dollars on a Godzilla figure from the 60s, Kosaka-san can help you with that too.
Oh, and if you're thinking you can just sit back and eBay Gaocchi's goods from the comfort of your gaming chair, you're out of luck. Kosaka-san has no website or online store and he doesn't do eBay. If you want access to his wealth of Showa era goodness, you have to visit in-person.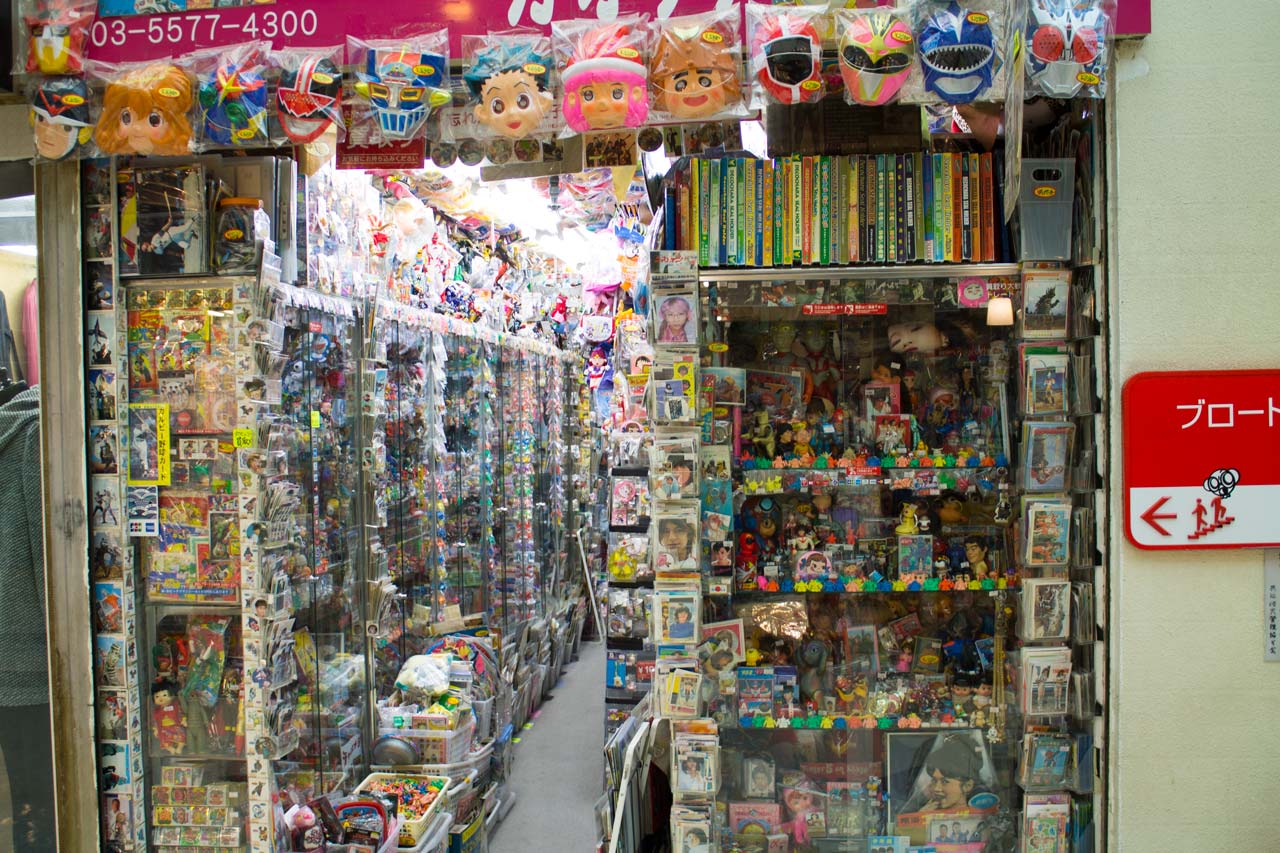 If nothing else, just to meeting Kosaka-san makes a visit to Gaocchi rewarding. He'll speak in Japanese or English, or maybe English even if you try to speak Japanese. He might bend your ear a bit in the beginning, but it's usually helpful, or at the very least interesting.
If you're still not convinced, here's a video of Kosaka-san singing karaoke surrounded by his Batman collection.
I know I'll be back next time I'm in Tokyo, and I'll be spending much more than an hour and ¥2,000.
Michael's Review
This place is a sight to behold, packed floor-to-ceiling with toys. I'm always on the lookout for late Shōwa period plastic things, and this is one of the few places I've found that has them in excess. It's a little far out, but worth the trip, I think. There are other neat toy and nerd shops all around Gaocchi, too (it's in Nakano Broadway), so if this place doesn't float your boat, you're bound to find something else that does.