Japan is not known for its variety of beer. Asahi, Sapporo, Kirin, Suntory, and… I think I just named them all.
But there has been a craft beer movement in Japan recently, which we talked about on a recent podcast.
Places that sell and pour beer besides "the big four" are popping up here and there. We went to one of these places, Beer Club Popeye (麦酒倶楽部POPEYE), which is supposedly Japan's first pub restaurant to serve draft craft beers.
They have seventy varieties of craft beer on tap from all over the world, including dozens of local Japanese brewers. Beer Club Popeye has the largest selection of craft beer of any bar in Japan, hands down.
Where "Knowledge" Meets "Beer"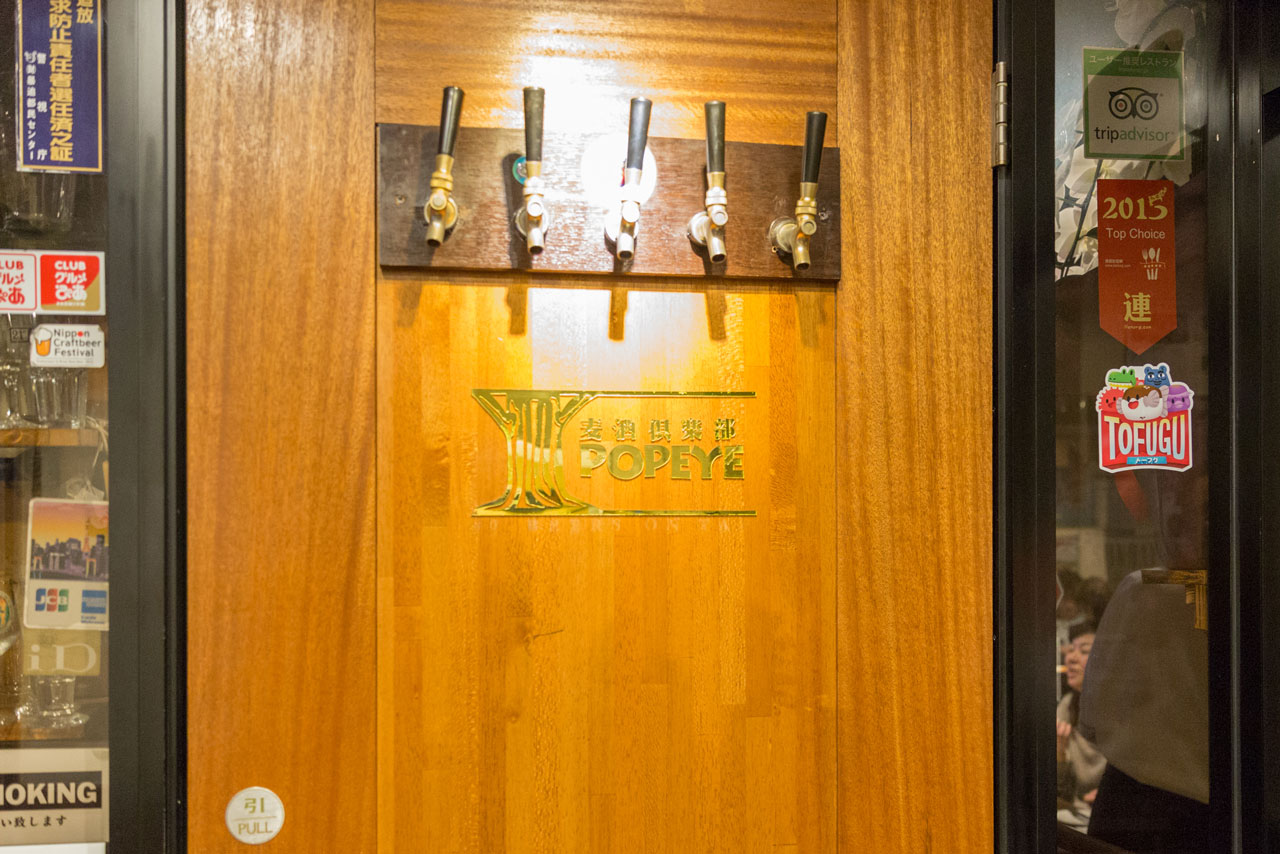 When we arrived, it was busy. Almost every table was filled; people squeezed into every nook and cranny. Our group of four was jammed into a tabletop meant for two.
It felt cozy though. Perhaps this was because of the chaos that surrounded us: signs, decorations, stickers, hanging beer glasses, and exposed wood. It all comes together surprisingly well.
But the centerpiece of it all was behind the bar: seventy craft beer taps, dozens of which came from Japanese craft breweries we'd never heard of. The bartender poured pints skillfully, and there was never a lull. He was clearly a professional.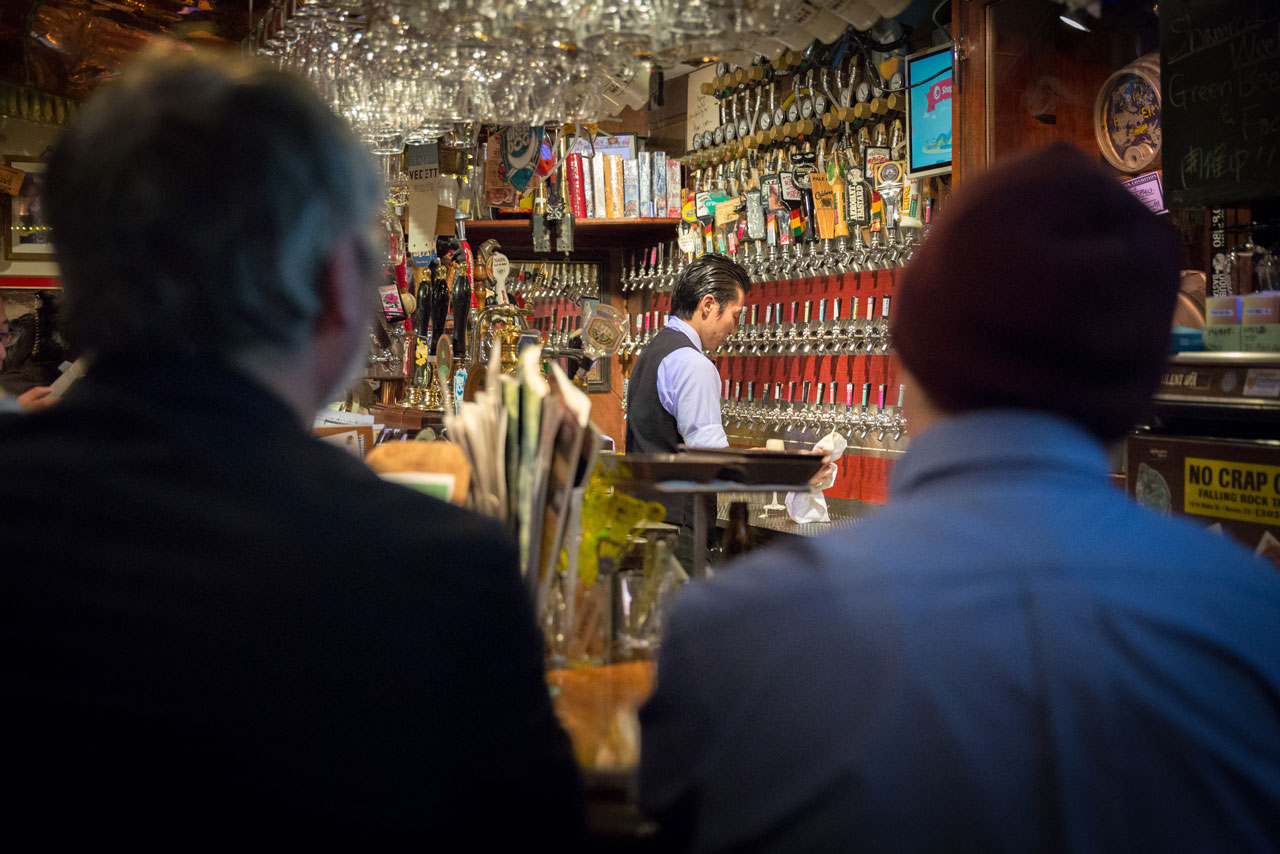 After ordering our drinks, we started talking to Mr. Aoki, the owner and founder of Beer Club Popeye. Although he didn't say it himself, we were told he was a "legend of the Japanese craft beer scene." We can't confirm this ourselves, but he certainly did know a lot about beer.
He started by giving us a rundown of Popeye. We learned the basics: it opened in 1985 and it was the first Japanese bar to specialize in craft beers.
"Why did you name it Popeye?" we asked.
"I used to be a chef, and I was really into cooking spinach dishes."
"I used to be a chef, and I was really into cooking spinach dishes."
At first, Popeye was a "Western-style" izakaya. Aoki wanted to create a comfortable place that families would enjoy. Then in 1996, craft breweries became legal in Japan, so he pivoted and started serving mostly Japanese craft beers.
"The family-friendly atmosphere still remains, though," he told us. "We've been open for thirty years now, and it's been fun to see customers grow up, then bring their children here."
"Did you switch to craft beers because you like beer?" Mami asked.
There was a twinkle in his eye. We knew then we'd hit on something because he opened up and his answers got longer. We were happy to listen.
"Well, I certainly do like it, but at the time I was also wondering why there were only like three or four major beer companies in Japan. So when the law changed, I thought 'Hooray! Finally we can have pubs like Ireland or Denmark here in Japan!'
"Today we serve seventy kinds of draft beer; around 70% are domestic and the other 30% are international. This works well in the Kanto area, because people here are drinking them in bars and pubs. In other areas, they tend to be sold as tourist souvenirs and don't taste as good."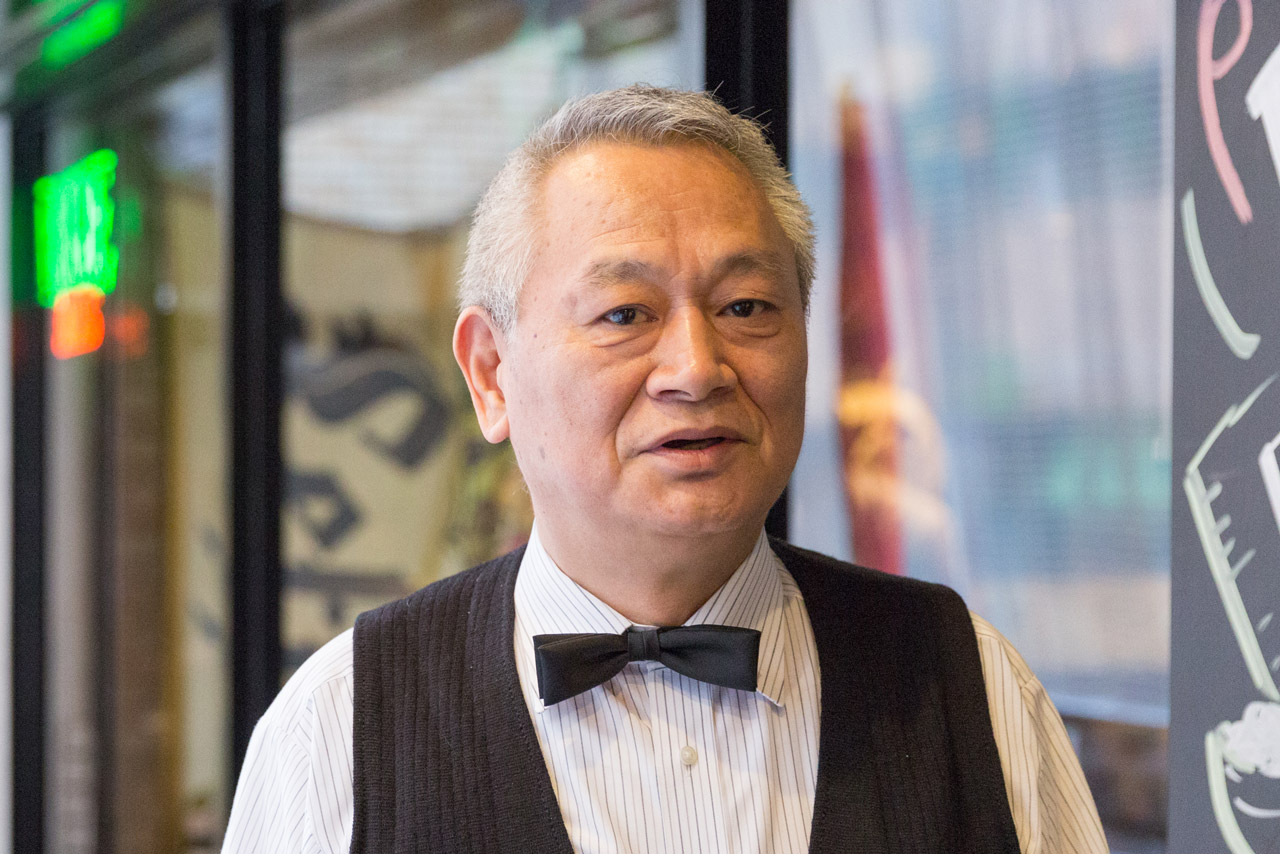 He continued to regale us with stories of Japanese craft beer, the different qualities in Japan, and his passion for it all. He told us how he tries every beer served at Popeye, to make sure the quality is high enough for his restaurant.
He even talked about how to serve beer properly.
"I visited the US a long time ago. Their craft beer-serving skills weren't … they weren't so refined. So I concluded I could rise above most other pubs if we cultivated our serving skills.
"For example, there are a hundred styles of beer, and you have to adjust the carbonation amount to pull out the best taste that each individual beer has to offer. Now, I have my own calculated formula for that based on a manual I found in America."
"Is the formula a secret?"
Surprisingly, he said it wasn't.
"It's not a secret. I've done around thirty-five consultations for beer-focused restaurants around Japan and taught my formula to all of them. In order to adjust the carbonation, you just have to change the length of the hose.
"In Japan, there is only one diameter for the hose, so length is all you need to worry about. If you properly understand this, you can pour delicious beer. Of course, you can't do this at home because you don't usually have a tap in your house, right?
"So, secret or not, it'll be hard for you to replicate. How about I give you some advice on how to serve delicious beer at home?"
"Please!" We leaned in.
"The trick is you need to find a popular liquor store that has high turnover in its stock. Beer itself doesn't go bad even when it gets old, but it tastes way better when fresh. In fact, at Popeye, beer barrels come directly from breweries and we switch them out approximately once a week.
"The temperature for at-home beer is important too. The best temperature for beer is within 2℃ of the same number degrees Celsius as its percent alcohol. For example, you should drink a Pilsner with an alcohol content of 4% between 4℃ and 6℃. An IPA that's 7% should be between 7℃ and 9℃.
"If you have a fancy refrigerator, you might be able to adjust the temperature of individual sections, if you're that serious about your beer tasting as best as it possibly can. Oh, and beers with a high alcohol content, like barley wines, should be served at room temperature."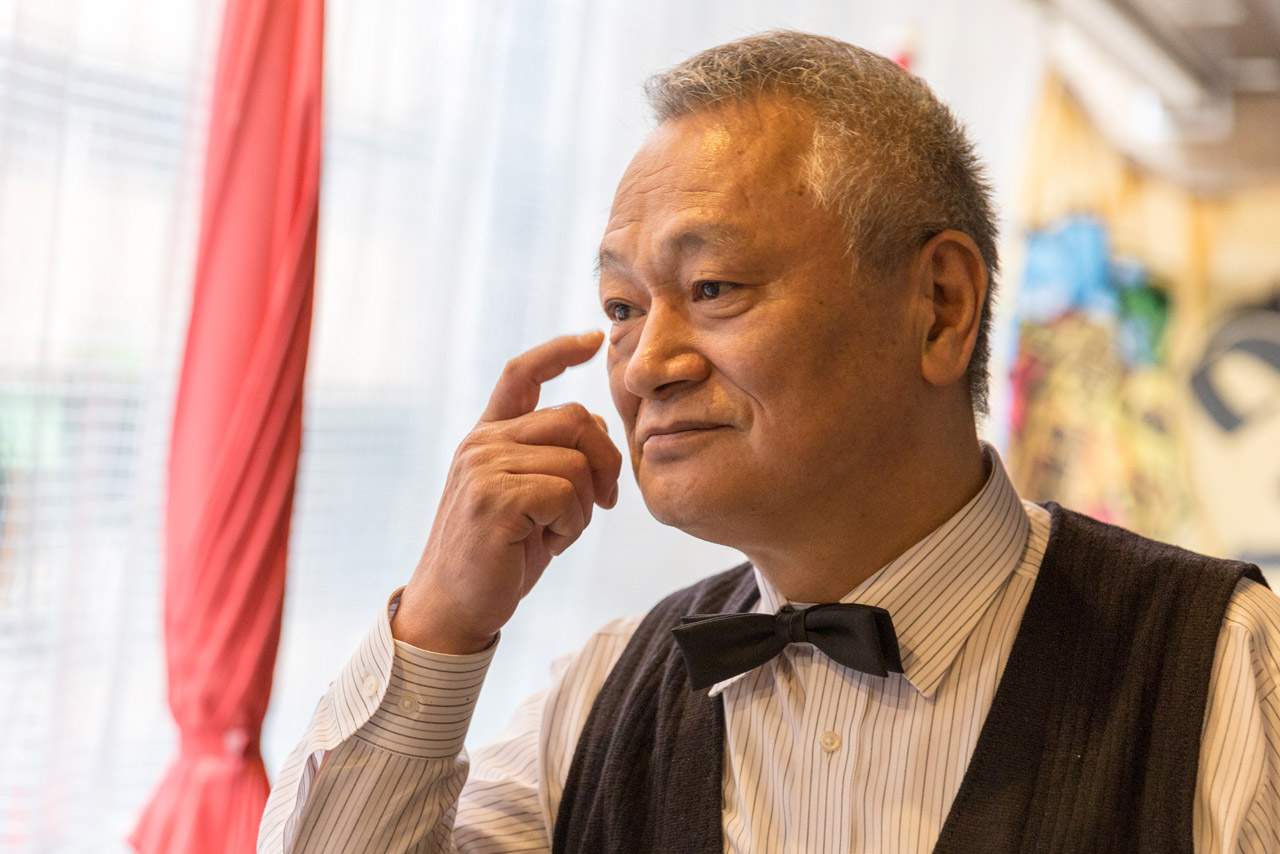 The tumbler goes well with beers that fit within the range of pale ale to IPA … that's basically everything! It's a really great glass.
"Glasses are also important. Depending on the glass, the taste of the beer can differ a lot. We have about ten different kinds of glasses here at Popeye, as well as a dozen or so brand-specific glasses. I trust my tongue and choose the one I think is best for each beer.
"You can try to find the best match at home too. But if you don't want to waste too much time or money, three types are good enough: the cylindrical tumbler, the tulip-shaped wine glass, and the thin and tall Pilsner glass.
"The tumbler goes well with beers that fit within the range of pale ale to IPA … that's basically everything! It's a really great glass.
"Another thing to think about, though, is how quickly you drink. If you're a fast drinker, a thin glass is good. Slow, a thicker glass will be helpful, because it will keep the beer's temperature longer. A wine glass can be good for barley wines or fruit beer, since the rim of this type of glass is wide, which means the aroma is less hindered and you can better enjoy the alcohol and bitterness.
"Finally, the Pilsner glass is great for beers with a strong carbonation, such as lagers. It lets you enjoy the malt and the aroma of the hops."
Unbelievably, there was more. We were on the edge of our seats.
"Now that you have a good beer and proper glass to drink from, the most important thing to do before you pour is to rinse your glass out with water.
"A beer consists of forty-two different kinds of standard flavors, and each one is at a specific balance. If you pour your beer into a glass that wasn't kept properly, that balance can be destroyed. That's a primary cause for beers that are 'off-flavor' or off in smell.
"If you rinse the glass, you can avoid this. For low-alcohol beer use ice water to rinse out your glass. For high-alcohol beer, room temperature water or tap water is good.
"Also, if you're pouring an unfiltered beer, like a Weizen, you shouldn't empty the bottle entirely. Leave a little at the bottom. Then you can shake it so it foams up, and pour the foam on top of the beer into the glass, ready to be served."
Drinking Japanese Craft Beer (and Snacking Snacks)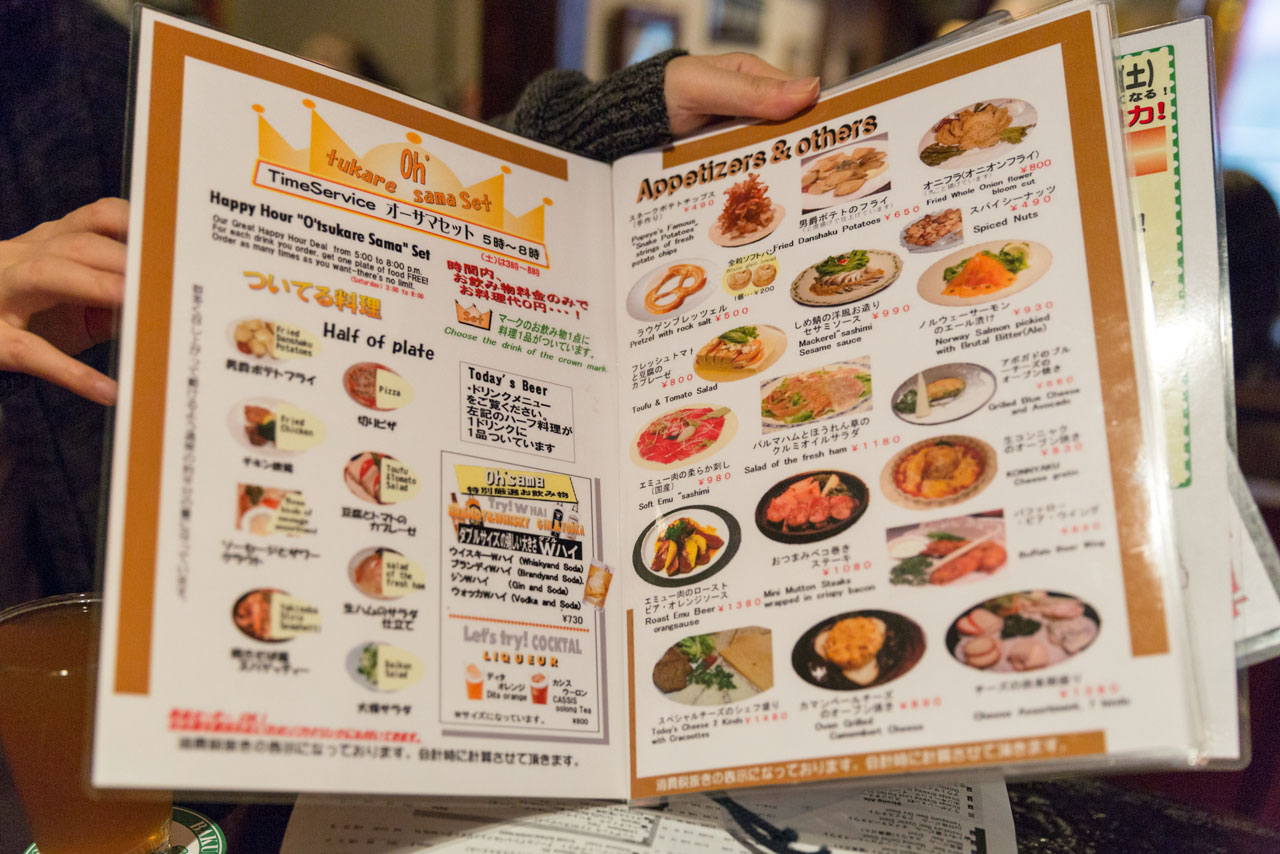 After learning how to properly pour beer, we were ready to drink. It was happy hour, so every beer with a crown symbol on the menu came with a half-sized plate of food for free. We ate fried danshaku potatoes, an assortment of sausages with sauerkraut, some "salad of the fresh ham," and a tofu and caprese salad.
We said "itadakimasu" and started to dig in.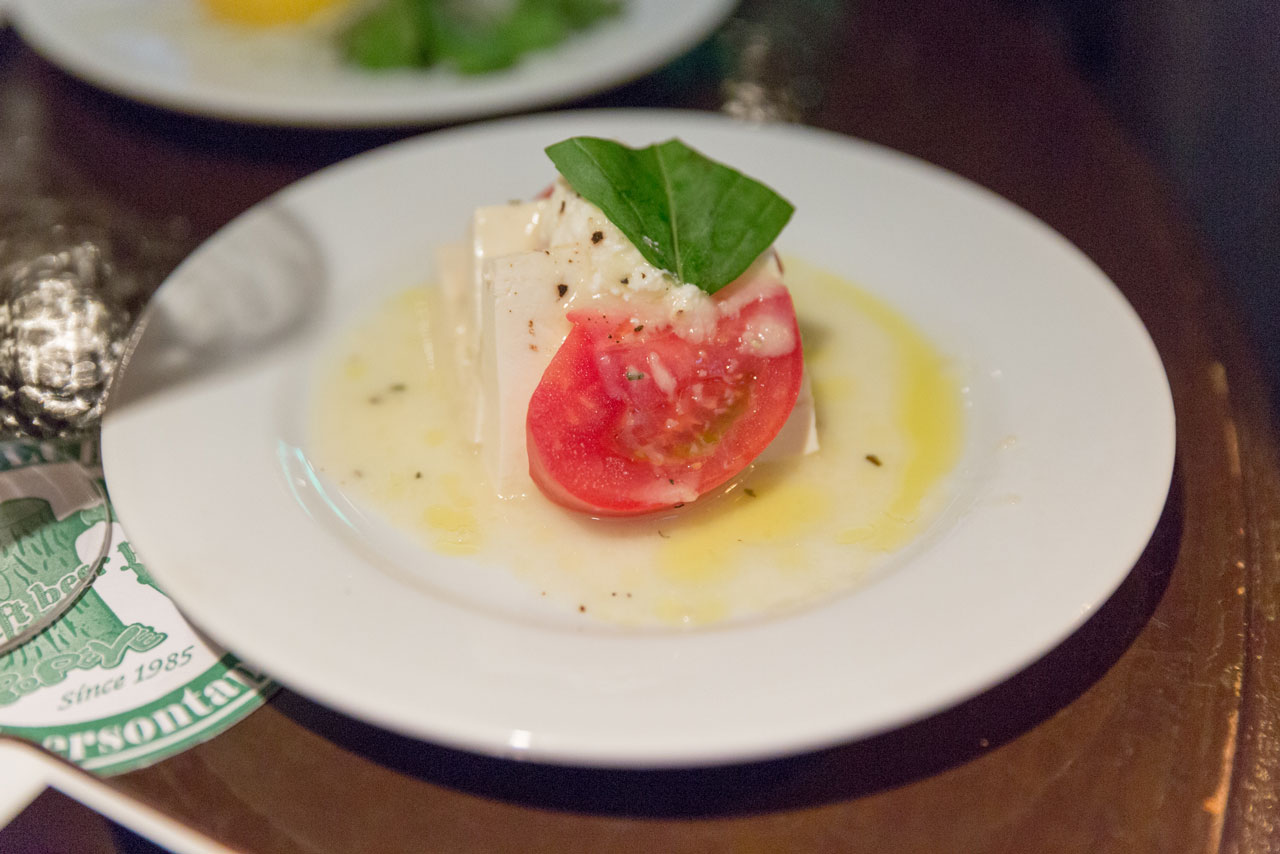 When choosing our beers, we asked the professional for recommendations.
"The most popular beer is our pale ale, Golden Slumber. It's made in our own brewery, Strange Brewing, in Niigata Prefecture. That's the one I recommend most. But for those who are unfamiliar with craft beer, I recommend Yamaguchi's Weizen."
This was the first we'd heard they had their own brewery. We asked about it.
"That's right! It's been going strong for a few years now. We started in 2014. We call it Strange Brewing because the brewery manager, Mr. Fujiki Tatsuo, likes a band called Cream and named it after their song Strange Brew."
"The pale ale we make is a beautiful beer with proper ingredients that have been fermented perfectly.
"There are many kinds of beer and each has a unique taste, but one thing I can say for certain is that nobody calls a beer bad if it is properly fermented with a healthy yeast.
"With that in mind, I would say our Golden Slumber is a really good beer. The ingredients are pale malts from England and Cascade hops from America. Finally, we use water from Minami-Uonoma City in Niigata."
"Is there something special about that place?" we asked.
One thing I can say for certain is that nobody calls a beer bad if it is properly fermented with a healthy yeast.
"The city is famous for good rice, which means they have good water too. But we still change the hardness and pH value of the water to run experimental brews over and over again and collect data for creating the best beer.
"But the thing that really sets our beer apart is the yeast. We cultivate and freeze it ourselves. New breweries often use commercially available yeast imported from America, which means the yeast gets tired during the long trip. And they use the same yeast multiple times to save some money.
"But if you use yeast over and over again, sometimes the shape of it changes or it becomes susceptible to bacteria. The beer can change completely because of the yeast, so we use new yeast every time we make a new batch."
"What do you think is unique about the taste of your beer?"
"Well, the thing about Japanese beer drinkers is they're mostly just drinking Super Dry. Golden Slumber has a delicate taste that fits with what those types of beer drinkers expect. It's very smooth with a refreshing, bitter aftertaste.
"Some beer fans say it's too clean and doesn't have any truly unique qualities, but I think this is because beer otaku sometimes look for 'offs' in beer. A bad quality, unbalanced beer is commonly described as 'off-flavor' and recently many people regard that off-flavor as a beer's uniqueness.
"The drinker should search for whatever suits their taste buds instead of being concerned with preconceptions or the popularity of certain beers. So I intentionally brew clean, smooth beer, though I know many Japanese craft beer fans are seeking that 'off' flavor.
"But if the drinker thinks it's tasty, is it really an 'off-flavor?' In the end, these are the things that make beer unique and I enjoy unique beers too.
"Golden Slumber isn't the only beer we brew, but our other beers are brewed with that same principle in mind. Even if they have a 'unique' flavor, they're properly fermented with good ingredients. This flavor won't come from it being 'unbalanced.' I can say that with confidence. If you want to see what I mean, you can come to Popeye and taste for yourself. You'll understand right away. Please come with high expectations!"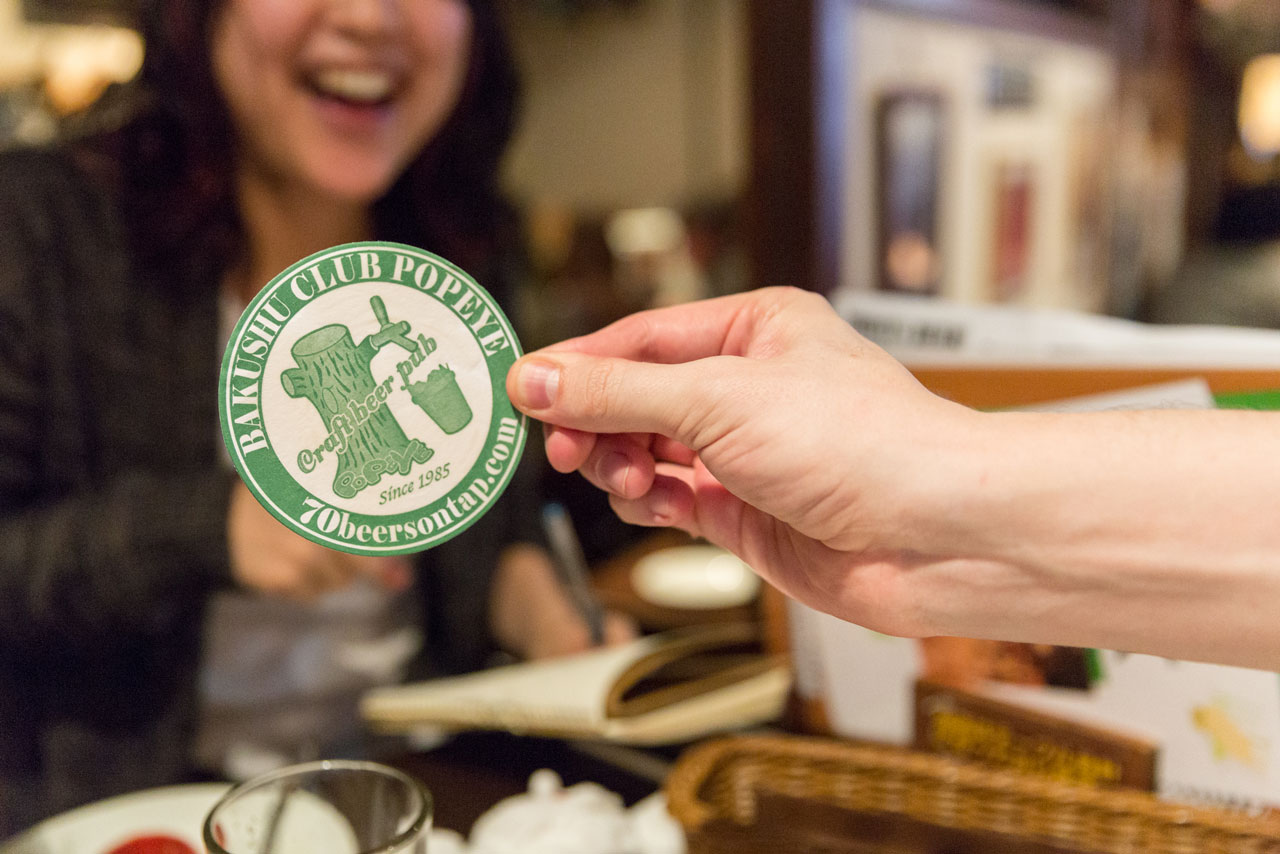 Despite what it sounds like, we didn't just get educated on beers and their many qualities. We had drinks, too!
The whole time Mr. Aoki was telling us about beer, we were drinking it too, attempting to try as many Japanese beers as possible. And they were good! Tasting a wide range of Strange Brewing beers was a great experience (the beers from other breweries were good too 😉).
All in all, we had a great time. We would have stayed for a few more rounds had it not been for another appointment we had later that night.
If you're in Tokyo, and want to taste some of Japan's best beers, Beer Club Popeye is a great place to do it. Be sure to look for the Tofugu sticker on your way in.
Koichi's Review
A great variety of beers and pretty good food. If I lived in Japan, I'd probably come here so I could get away from the Asahis, Sapporos, and Kirins. But, as someone who lives in the craft beer capital of the world (Portland, OR), it's only moderately interesting. Still, come here at least once to try a bunch of local Japanese craft brews!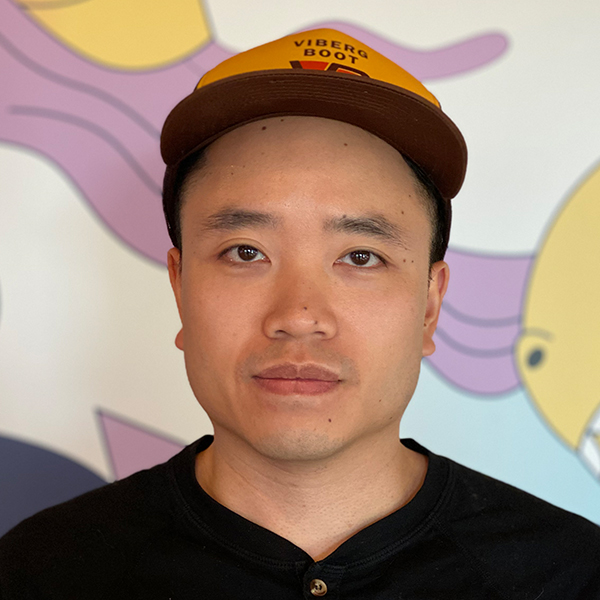 Viet's Review
This is the kind of place I could see myself patronizing, if I lived in the area. Craft beer selection is interesting. They carry Rogue (Portland brewery), which we locals kind of scoff at. 🙂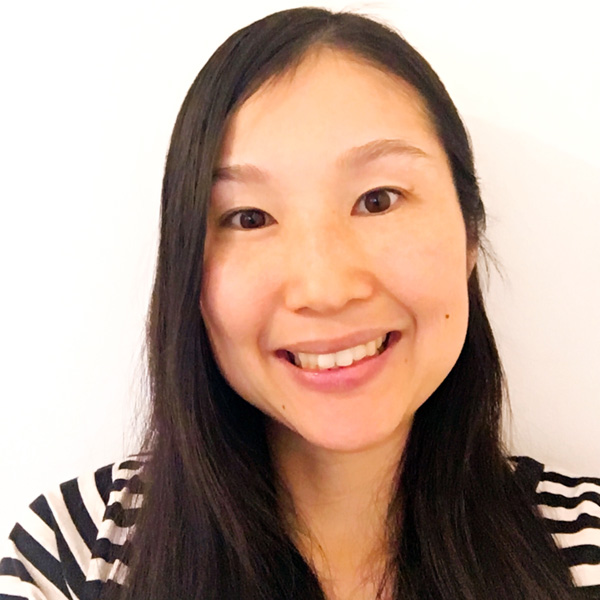 Mami's Review
I really liked this place. It had so many varieties of craft beer. The owner has a lot of knowledge. The price was so reasonable. I'd like to come back here to try out different kinds of craft beer.
Beer Club Popeye
Additional Information
2 Chome-18-7 Ryogoku
Sumida, Tokyo 130-0026
Japan
View on map