Some of you may have heard of the three great sceneries of Japan. Miyajima, with its floating torii, is certainly the most famous of these. Matsushima is so-so famous though it was hit badly by the 2011 earthquake and tsunami. Perhaps the most overlooked is Amanohashidate. It's very remote but I still highly recommend it, at least if you have a day to spare in the Kansai region.
But what is it? When I say that it's one of the famous great sceneries of Japan, a special image comes to mind, right? In this case, Amanohashidate is a natural feature located at the Northern coast of Kyoto prefecture. It is a sandbar (or strip of land which joins two separate parts of the Miyazu Bay) and looks kind of like the letter "D".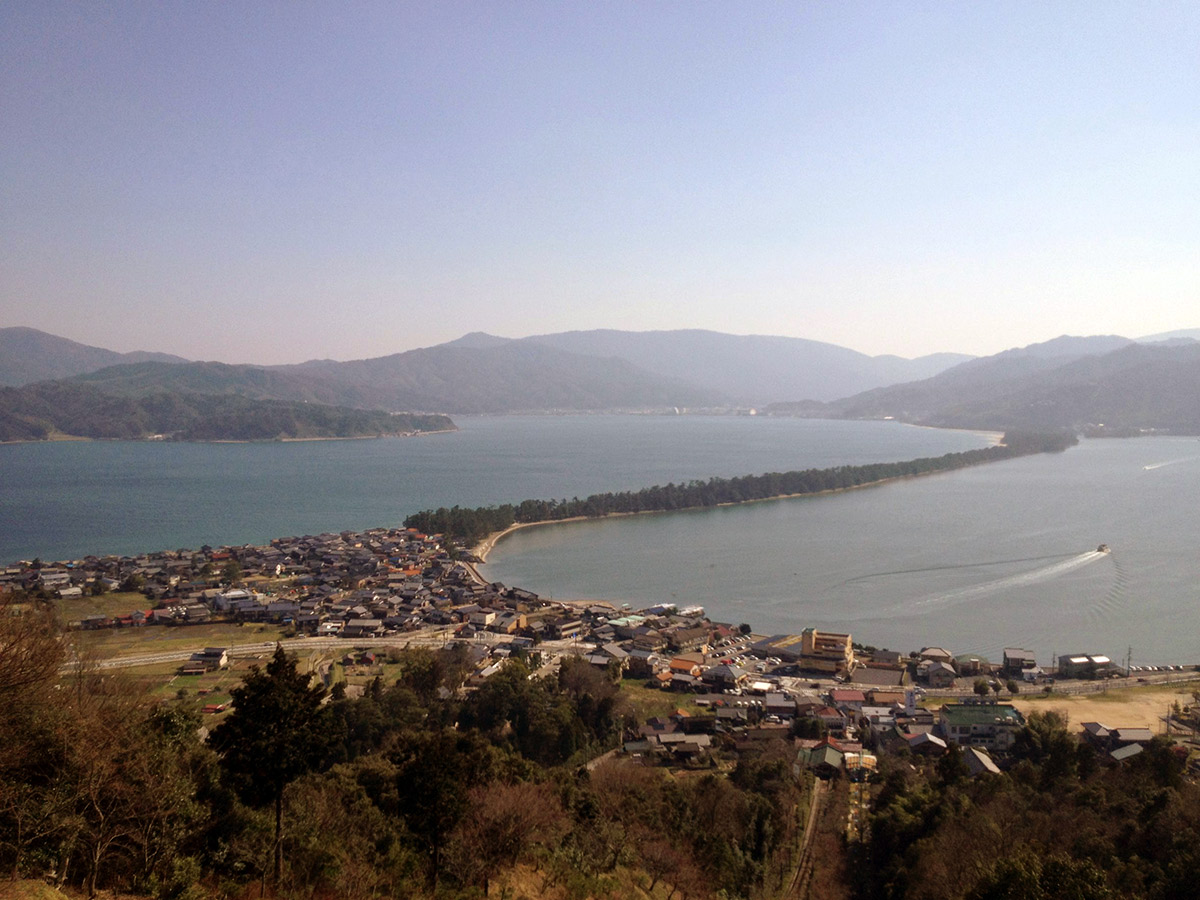 Aside from the beauty and scenery of such a unique feature, a very big attraction point is that apparently, if you face your back towards the sandbar, bend down and view Amanohashidate from between your legs, it's supposed to look like a trail leading towards the heavens (the name Amanohashidate means something like "bridge to the heavens" anyway).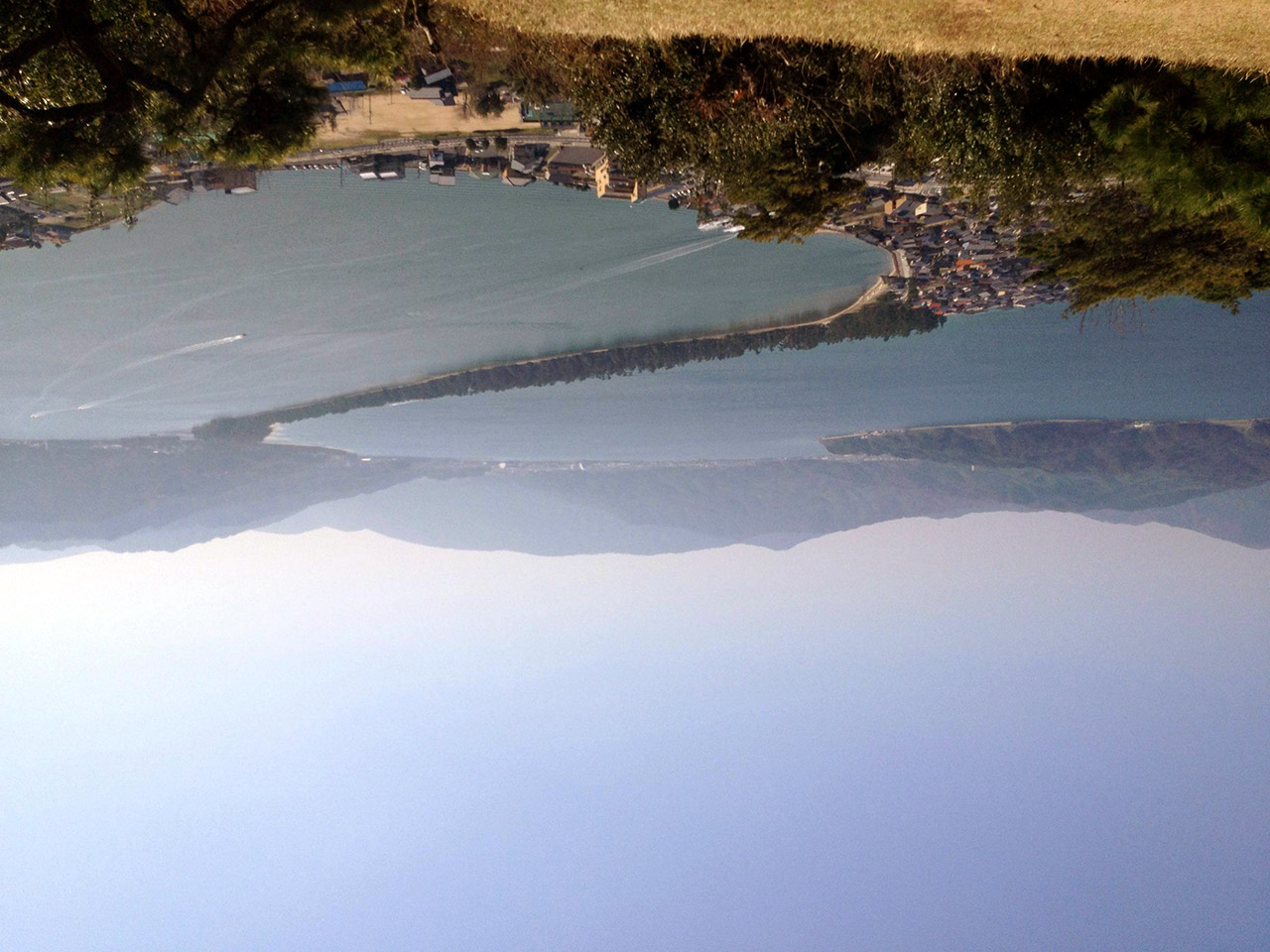 Thus, Amanohashidate from between my legs.
Even though I highly recommend it and enjoyed the scenery, this isn't a place for everyone. It takes at least two hours each way to get there from Osaka/Kyoto. Thus, I'd only recommend it to the following types of people:
People who are touring Kansai and have at least an extra day to spend.
People living in Kansai and who have exhausted places to visit.
People who are interested in visiting the 3 great sceneries just because.
People who prefer "natural" scenery to the urban scenery of Japanese cities.
How to Get There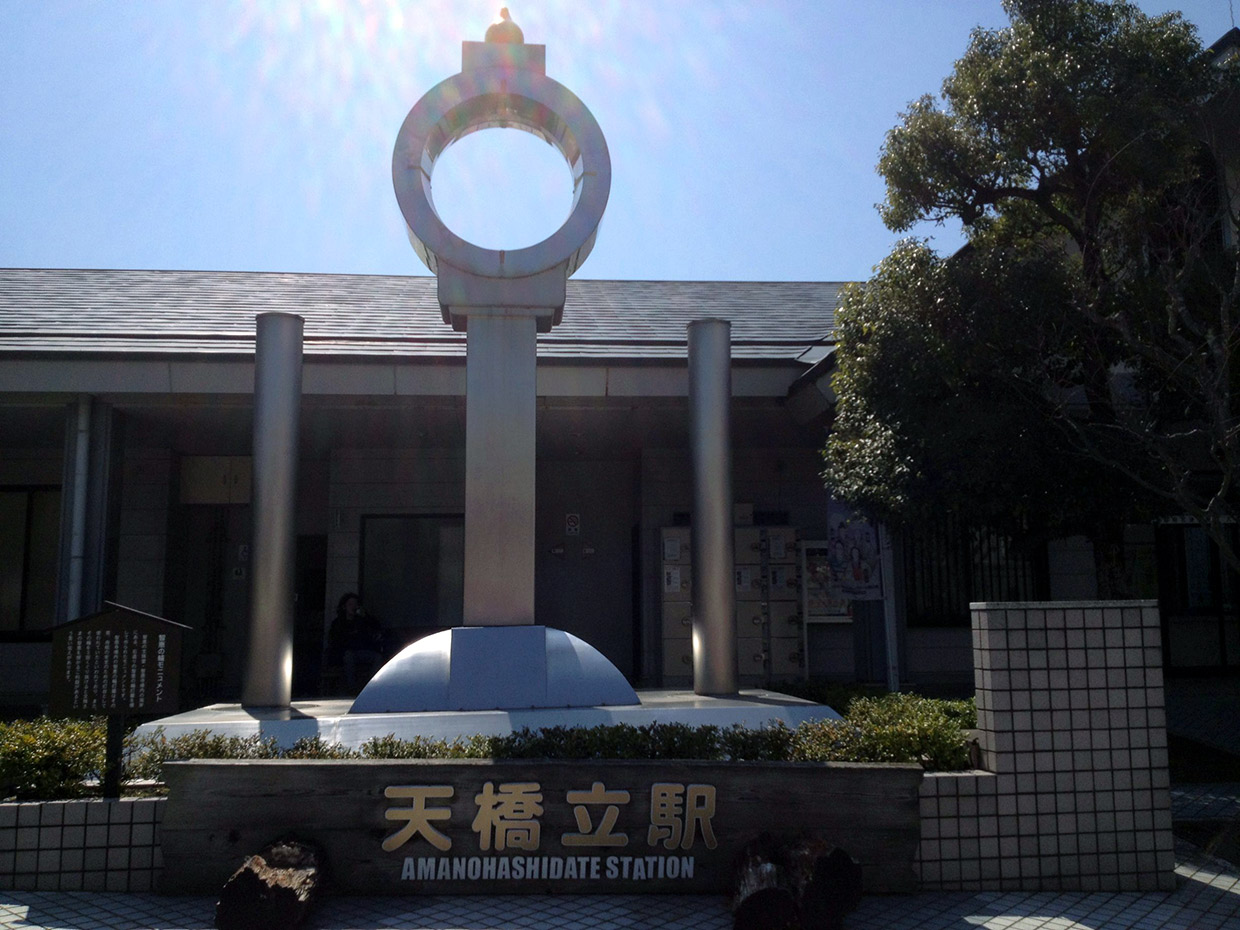 There are two main ways to get to Amanohashidate (besides driving yourself). There are regular buses that depart from Osaka and Kyoto as well as a railway trip towards Amanohashidate. Below is the comparison:
Bus (Tango Kairiku Kotsu):
Time taken: Osaka/Umeda Station → Amanohashidate Station: 2 hrs 40 mins Kyoto Station → Amanohashidate Station: 2 hrs 20 mins
Cost: Osaka Station – Amanohashidate Station : 2650 yen Kyoto Station – Amanohashidate Station : 2800 yen
First bus to Amanohashidate: 9:50 am (Osaka) arrives 12.30 (Amanohashidate); 12.45 pm (Kyoto) arrives 3.01pm (Amanohashidate) Last bus to major city: 4.45 pm (Amanohashidate) arrives 7.25pm (Umeda); 1.22 pm (Amanohashidate) arrives 3.40 (Kyoto)
*all this subject to change, be sure to check more up to date schedules before planning your trip!
Trains (JR + Kitakinki Tango Railway)
Time taken: Osaka/Umeda Station – Amanohashidate Station: 2 hrs 20 minutes (Assuming use of the Kōnotori express and the Kitakinki Tokkyu) Osaka/Umeda Station – Amanohashidate Station: 3 hrs 45 minutes (Assuming no use of paid express trains) Kyoto Station – Amanohashidate Station : 2 hrs 50 minutes (Not using express trains) Kyoto Station – Amanohashidate Station : 2 hrs (by direct Hashidate express train)
Cost: Osaka / Umeda Station – Amanohashidate Station : about 4700 yen (using JR Kōnotori express and the Kitakinki Tokkyu OR Hashidate express) Osaka / Umeda Station – Amanohashidate Station : about 2700 yen (transfer at Fukuchiyama) Kyoto Station – Amanohashidate Station : about 2200 yen (without express trains) Kyoto Station – Amanohashidate Station : 3880 yen (by direct Hashidate express train)
First / Last trains are far more flexible than the buses.
First train from both Kyoto and Osaka reaches Amanohashidate at around 8:50am while the last train back to Kyoto and Osaka departs around 8:00pm.
Note: Japan Rail Pass / Seishun 18 holders will still have to pay a certain amount as the railways to Amanohashidate are not owned by JR. If you're taking to local trains the cost can be as low as around 770 yen but if you're taking the Hashidate express it may go as high as 1450 yen for the reserved seat.
I personally took the first bus from Osaka and the last bus back to Osaka, leaving me with about 4 hours at Amanohashidate which was actually enough. My rationale for doing so was that:
I didn't have to change trains, which can be a pain.
I was guaranteed a seat.
It is significantly cheaper than the express train while not giving up that much time.
However, these may be reasons for why you may want to take the train:
If you're coming from Kyoto the first/last buses are at very strange timings.
If you're planning to say catch a plane/shikansen after you get back to Osaka/Kyoto the possible traffic delays (mine was delayed by 20-30 minutes both ways) make it dangerous to trust buses.
The scenery may be better on the train.
Or if you're coming from Osaka you may want to take the first bus to Amanohashidate while coming back by train to give you more time to explore.
Buses can be booked at the highway bus counters at Hankyu Umeda Station, Shin-Osaka Station and Kyoto Station.
Must do
Amanohashidate only requires a day or at most a day and a half – mainly because there's only really 2 "must see/do" things there.
Viewpoints from Hills
Firstly, you must view Amanohashidate from at least one of the vantage points from the south or north banks. The views are slightly different but I don't think they change that much. Both offer ropeways (for a more "exciting experience) and normal monorail cars. The costs are around 600-700 yen for a return trip on either.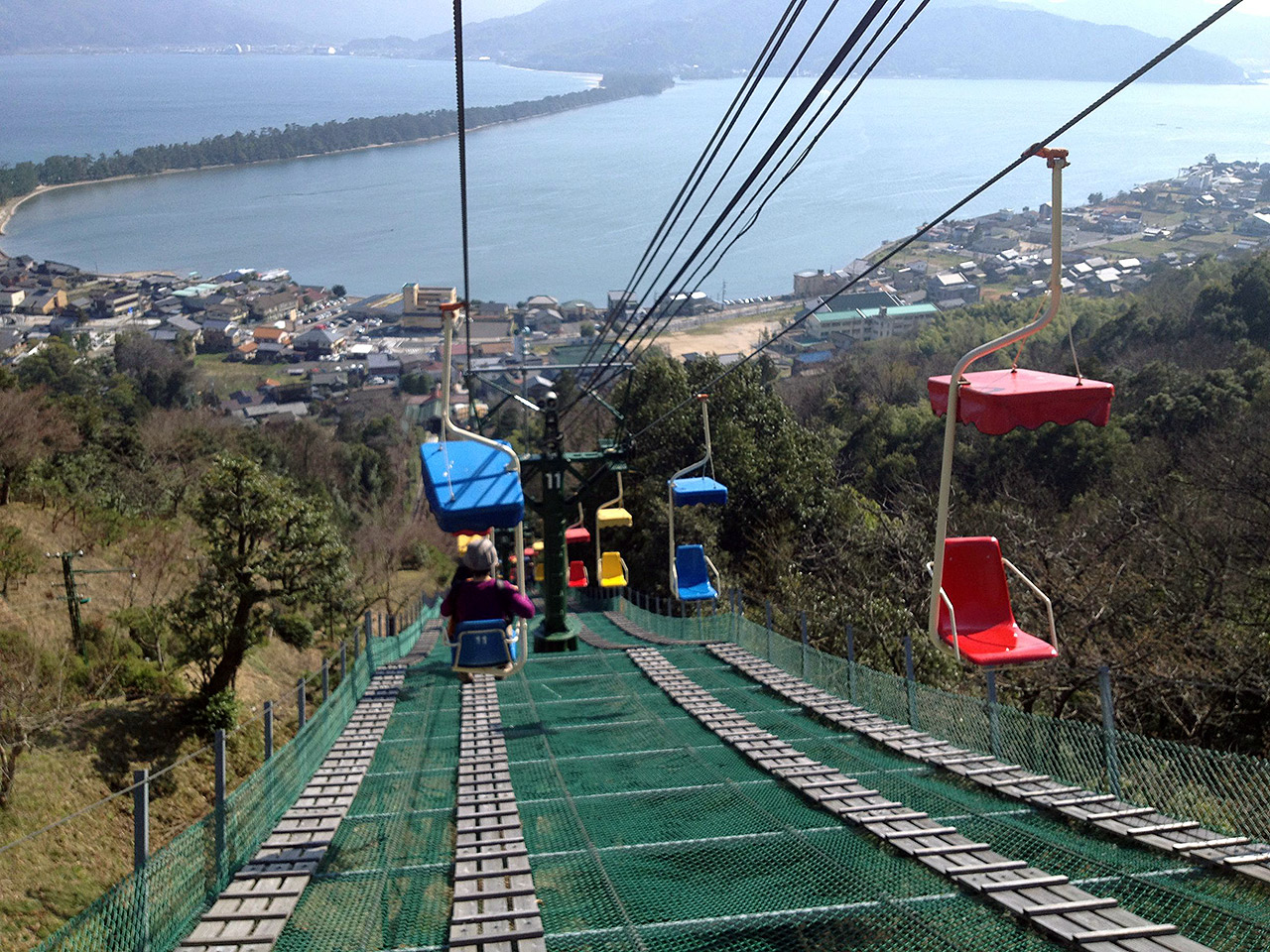 If you need some pointers which to choose, the north view point is supposedly the "original" viewing point where looking at Amanohashidate from between your legs became popular. It also has a small cafe and an opportunity to see a Buddhist temple (Narai-ji) if you take a bus. In comparison the south is close to Amanohashidate station and has a small amusement park at the top.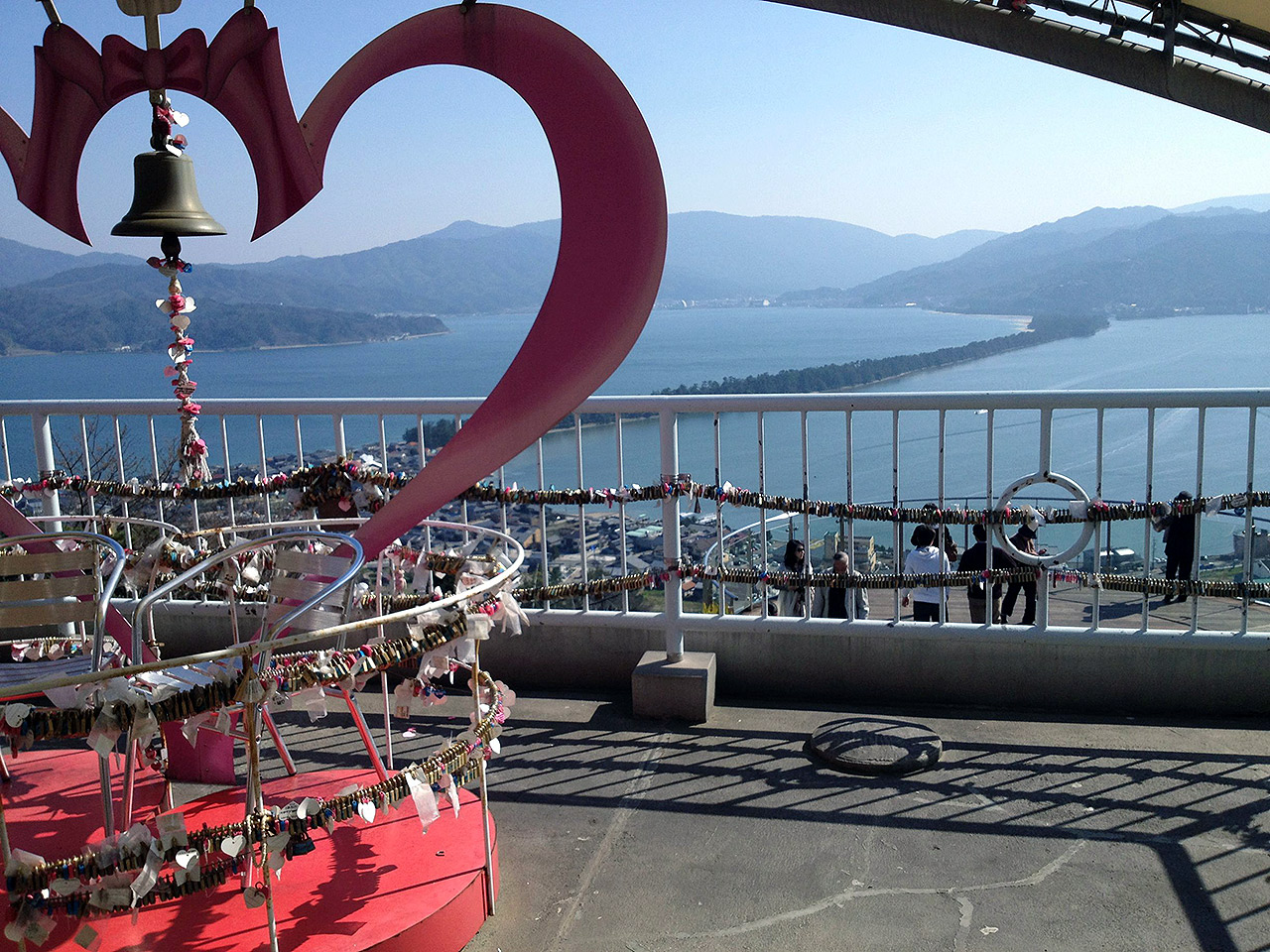 As stated from the map there's also a small hiking trail from which you can get a view of Amanohashidate but I wouldn't recommend it because it's too low to get a good view. It may be worthwhile if you just want a good climb though.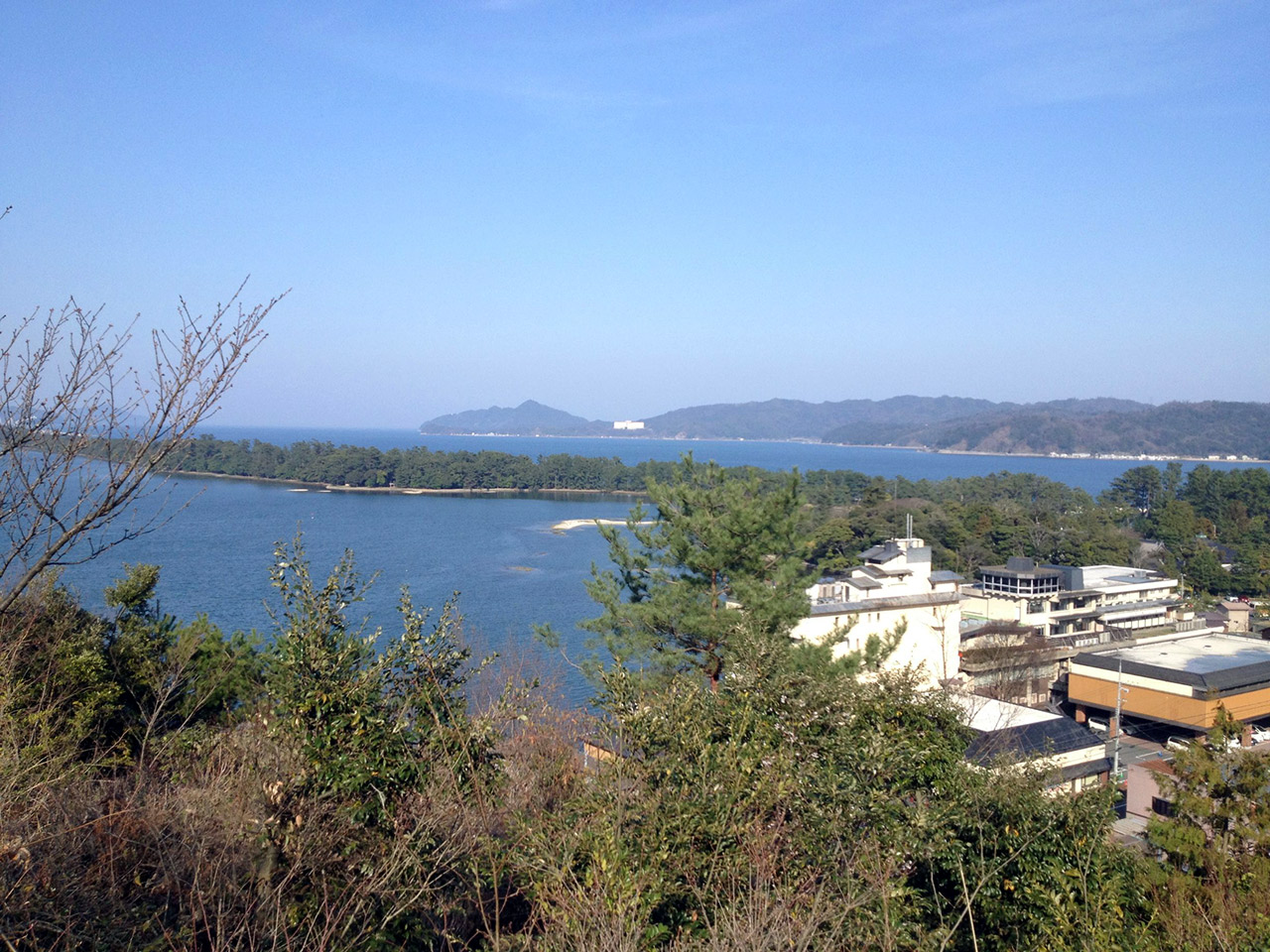 This is what it looks like.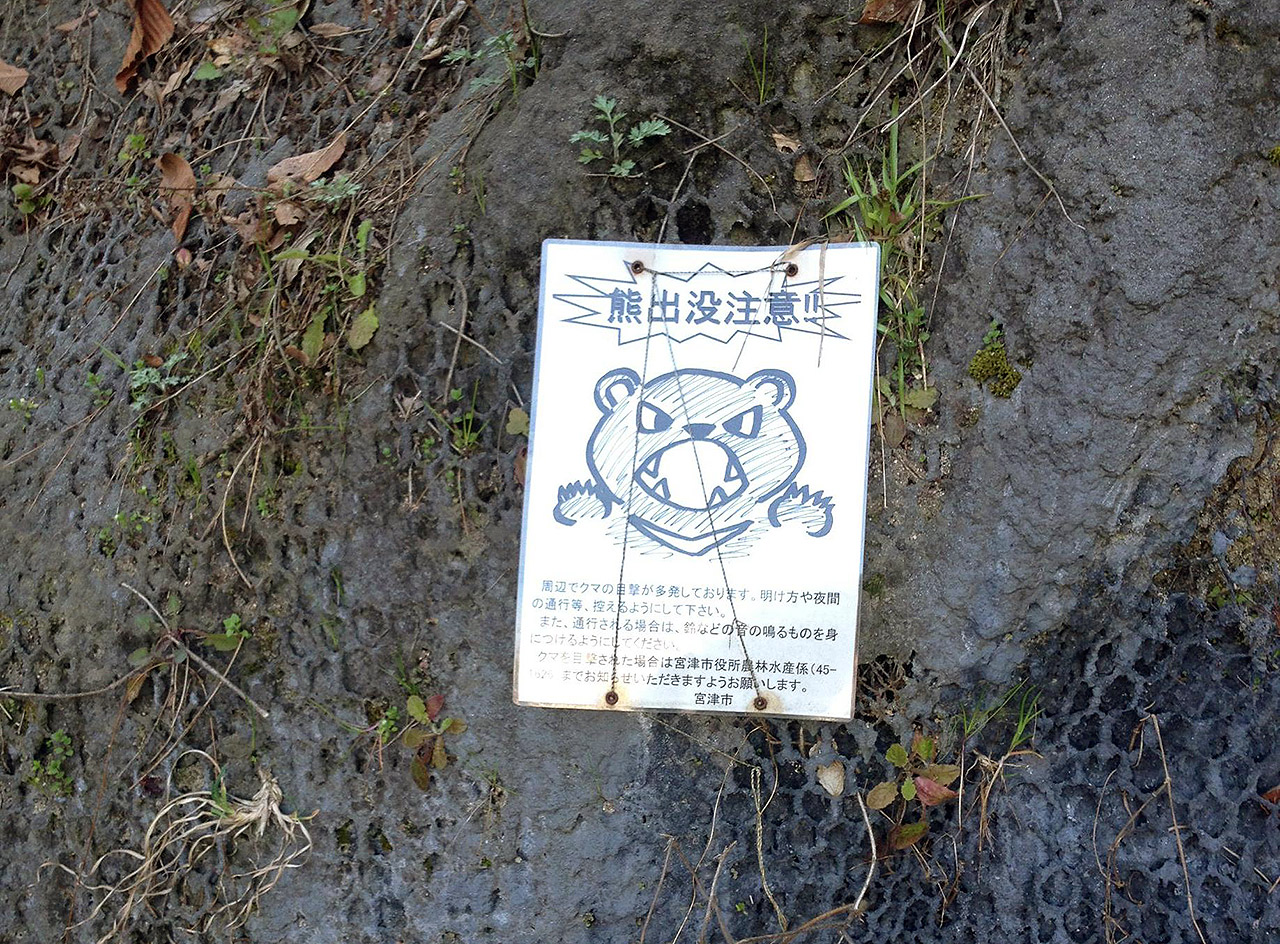 Beware of bears though
Crossing Amanohashidate
Secondly, you need to go through Amanohashidate itself – the sandbar has a trail which can be cycled/walked on though cycling may be slightly bumpy. It takes around 15-20 minutes to cross Amanohashidate by bicycle and about 1 hour on foot. Bicycles can be rented for around 400 yen per 2 hours at the south bank. There's a lot of sights in the area such as: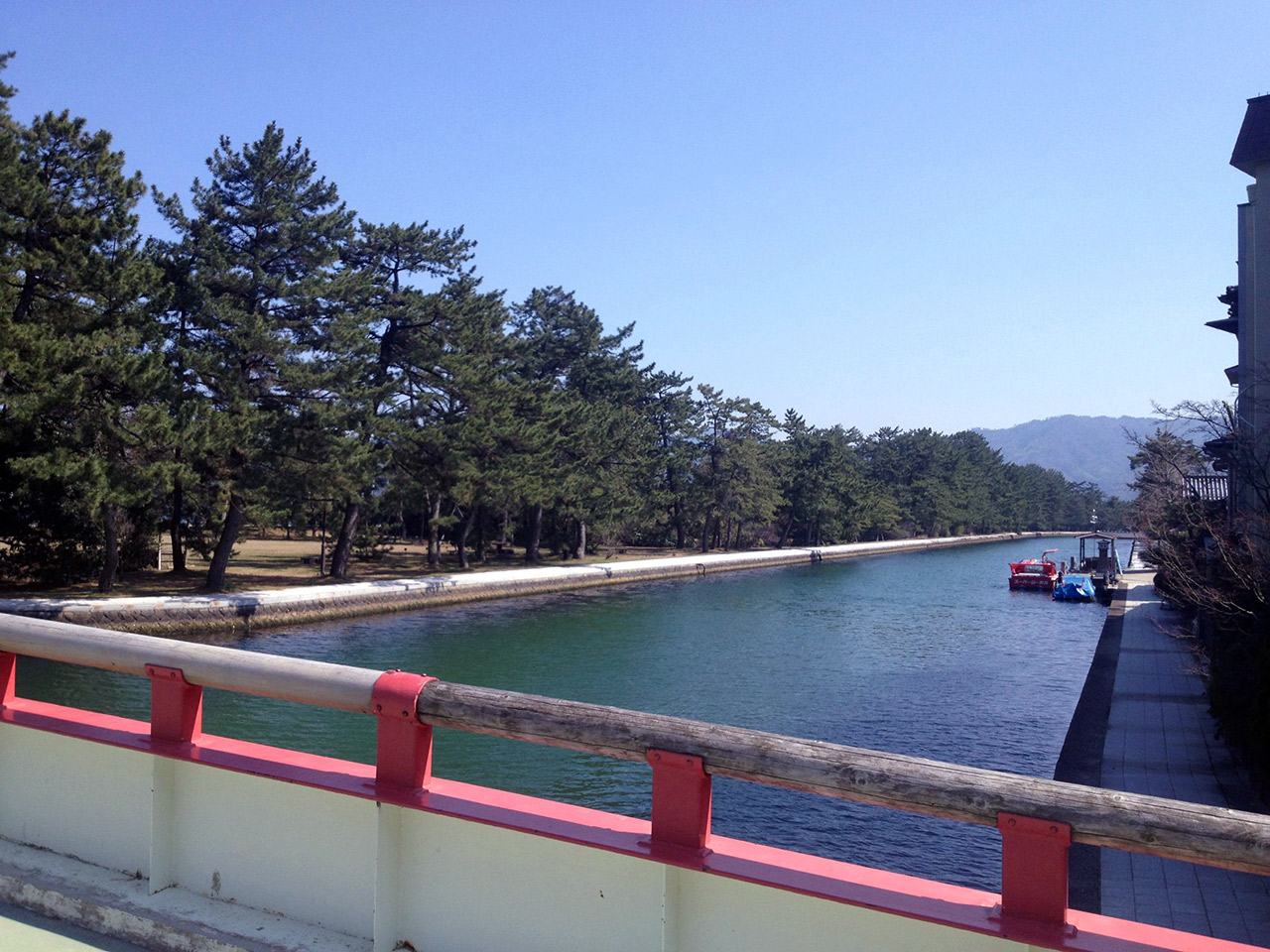 The scenery.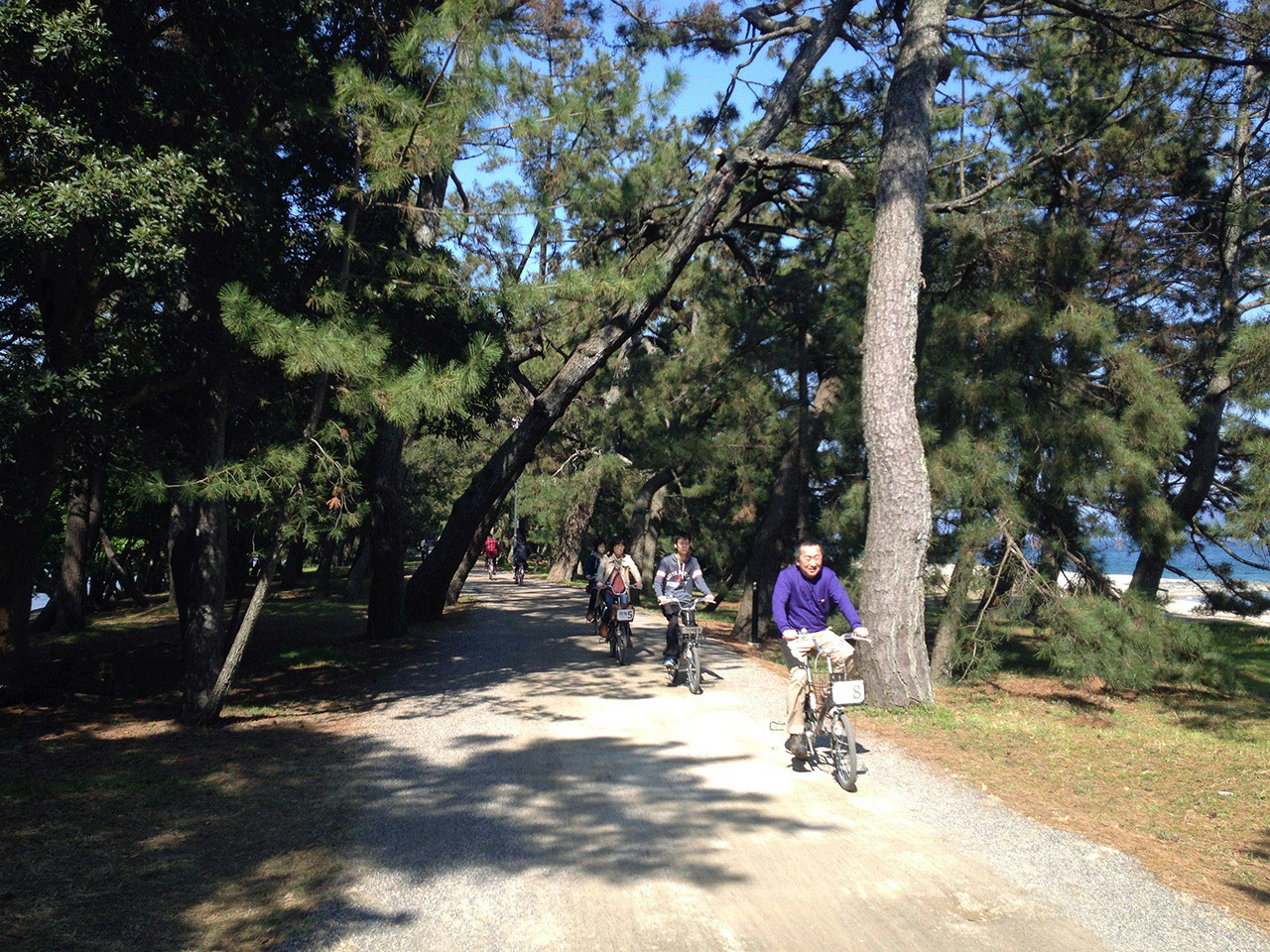 The pine trees.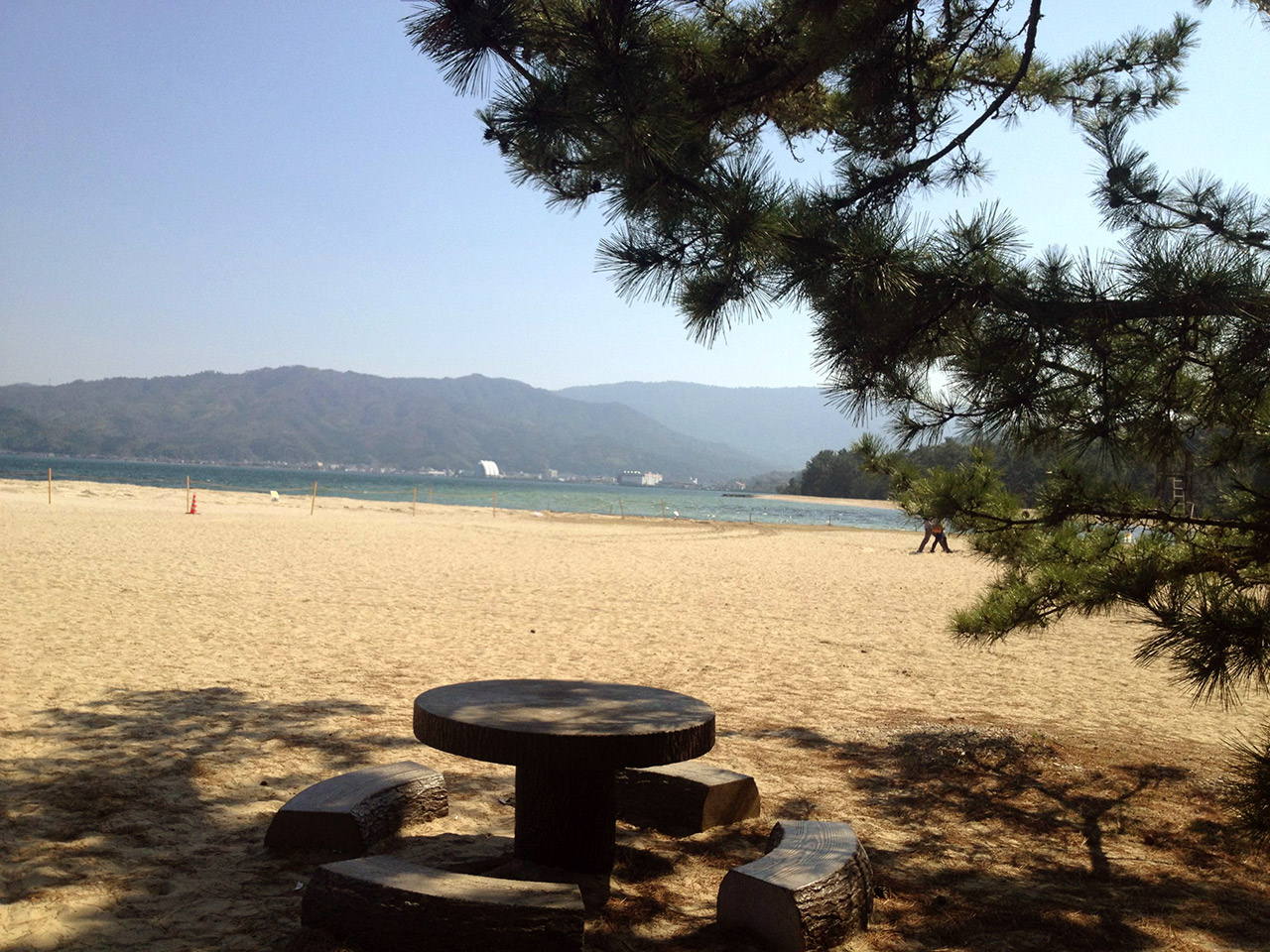 The beaches. (Note: I don't think there were lifeguards / showering facilities around so you probably don't want to go swimming in the ocean. Getting your feet wet or playing with the sand is fine though)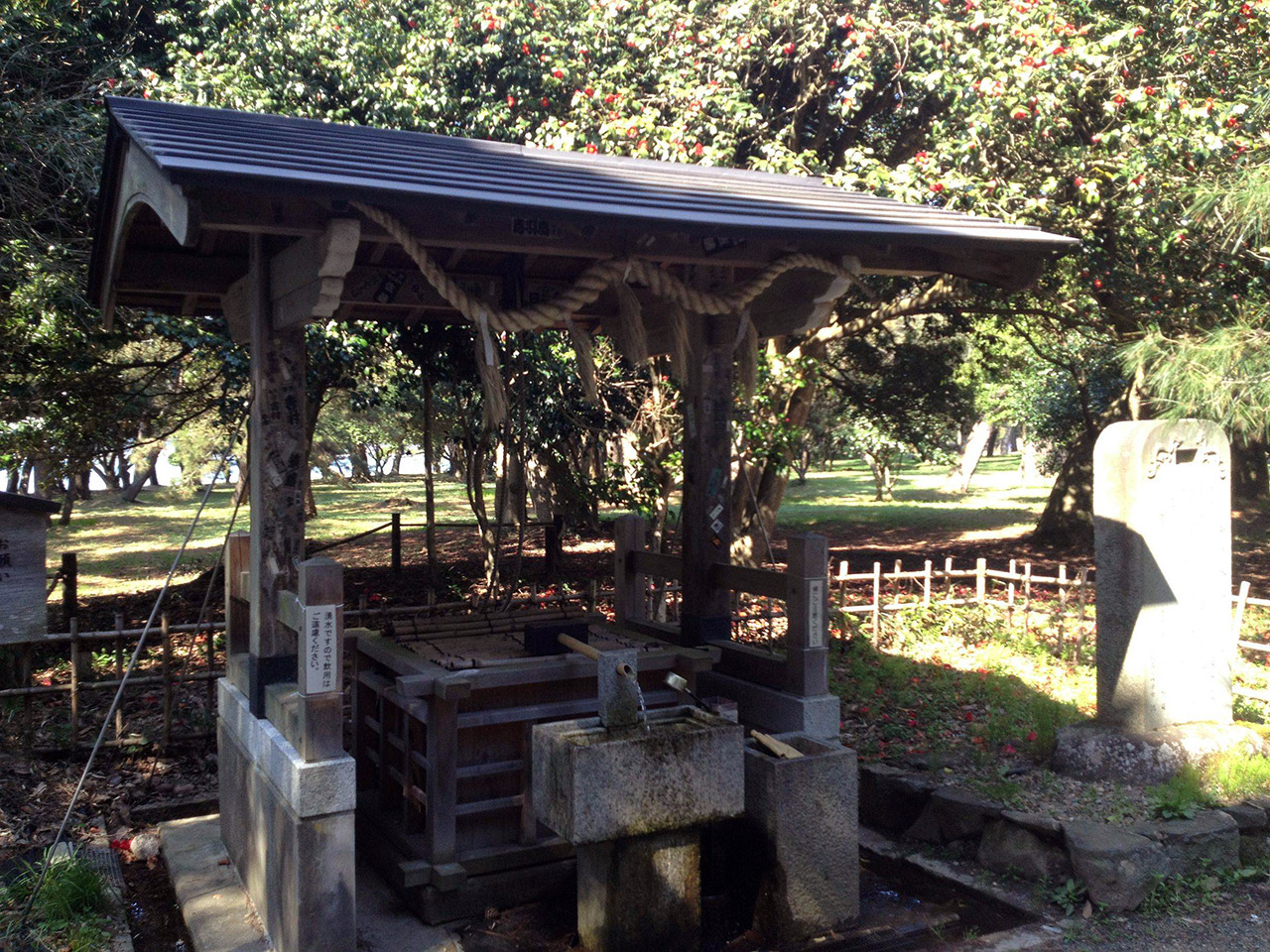 This well which is apparently special because "despite being surrounded on both sides by the sea – the water coming out here is fresh water".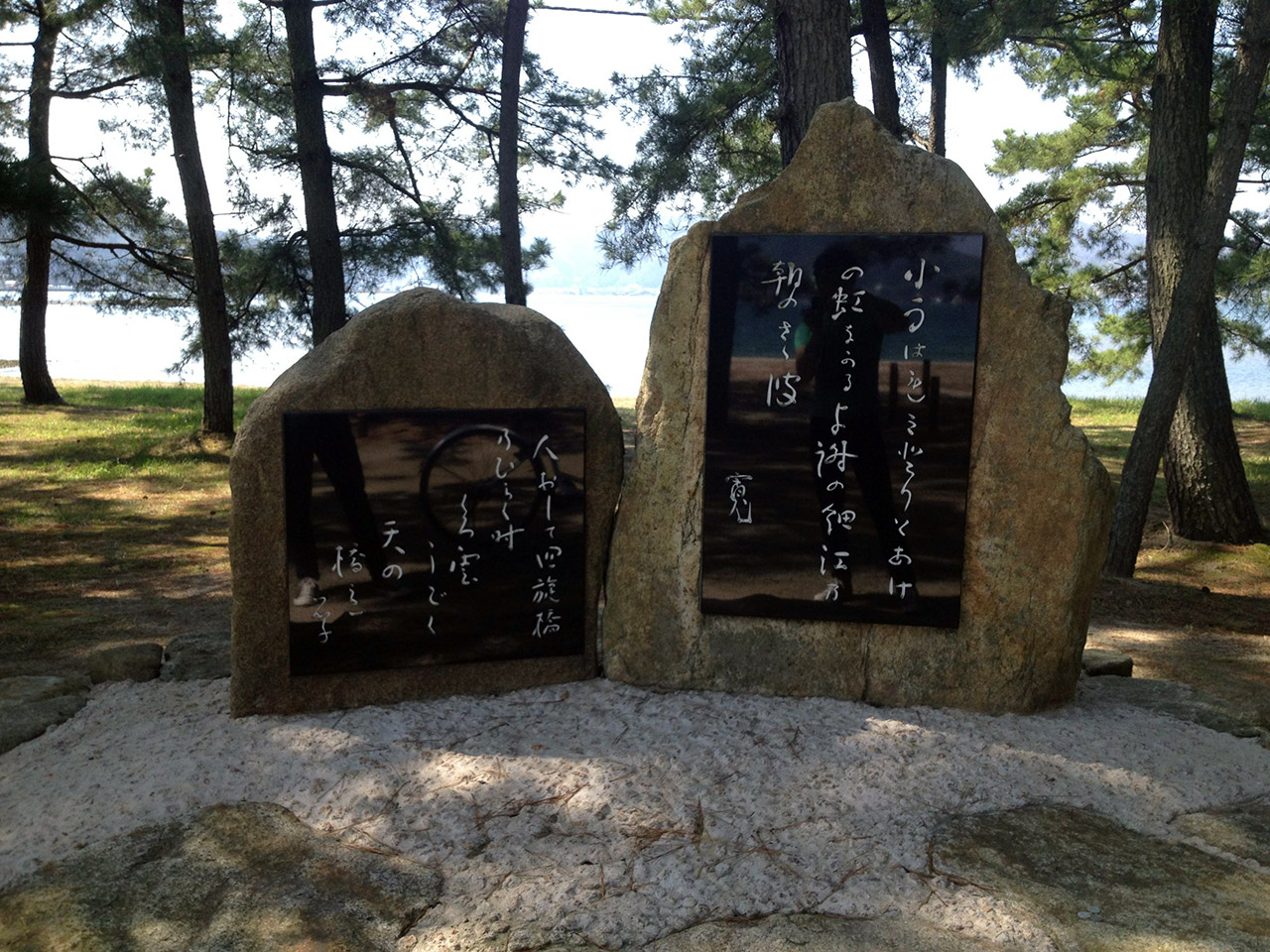 Poetry plaques! They're even calling for poetry entries so if you want to test your linguistic ability feel free to write something and put it in this box.
Secondary Points (Green on Map)
There are few temples and shrines in the area which are worth visiting if you have the extra time too.
Chionji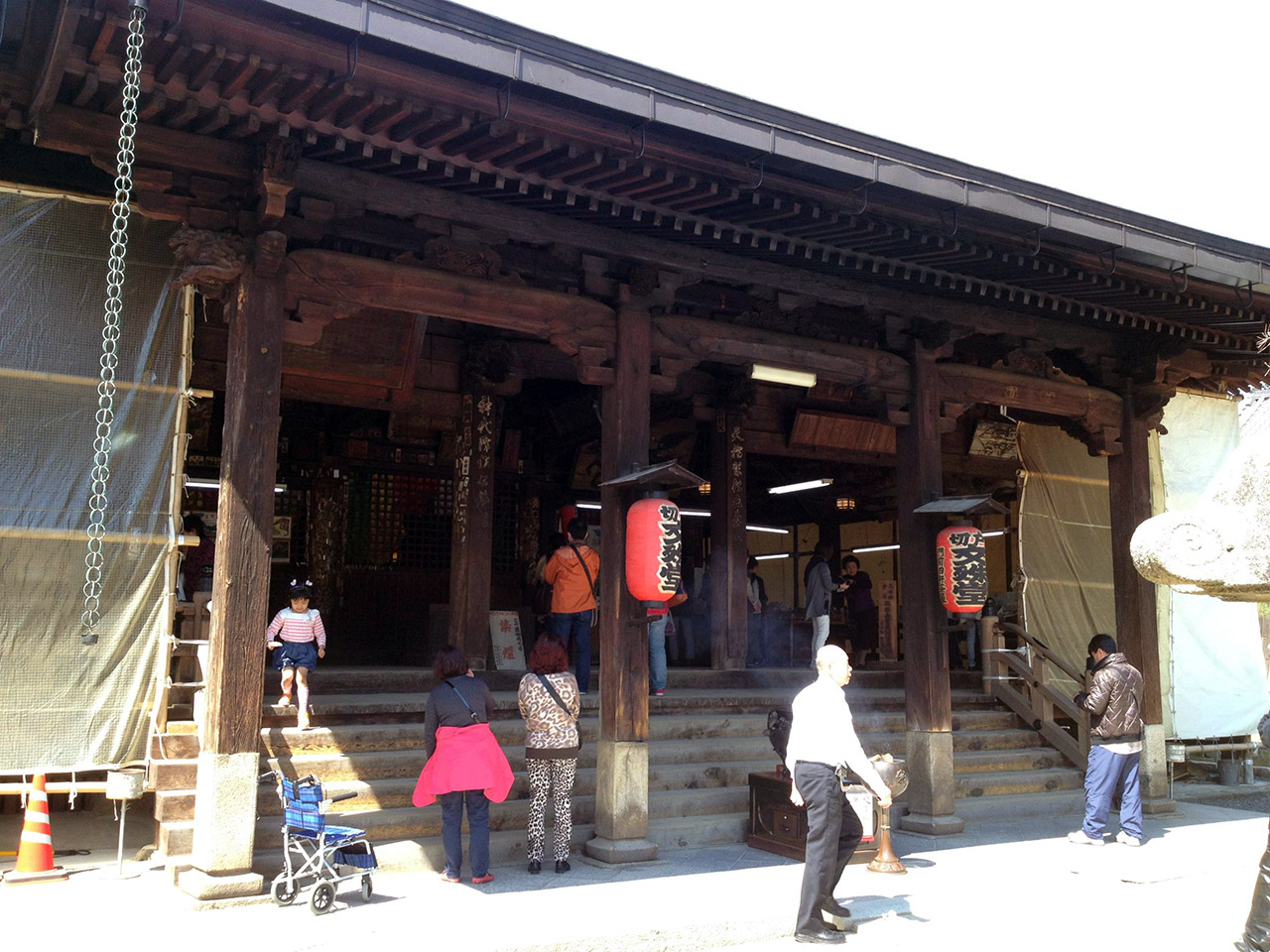 Just a few steps away from the south entrance of Amanohashidate. Just a normal Buddhist temple but the omikuji are entirely different from those from other temples though.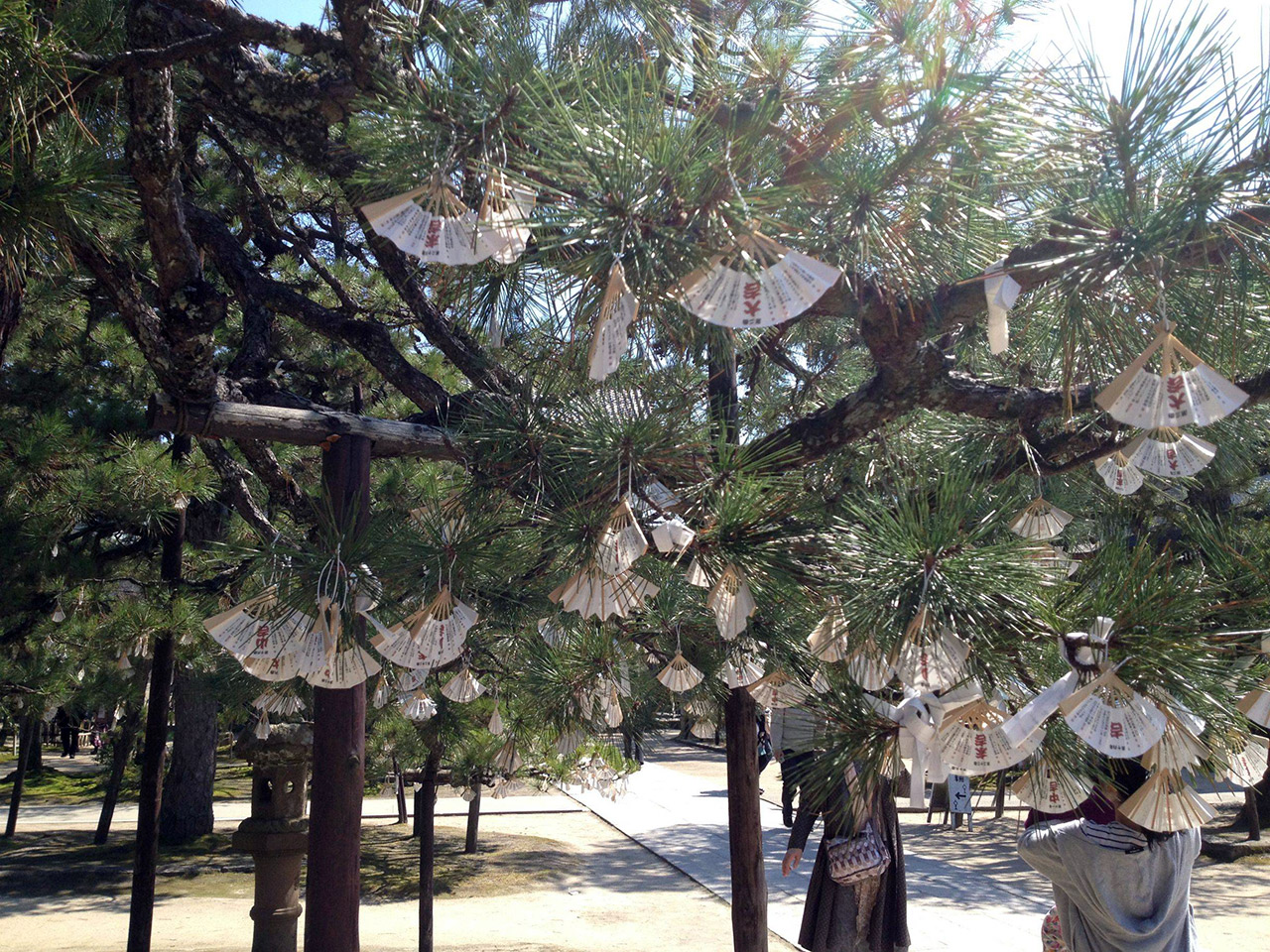 This is the omikuji hanging tree and as you can see, the omikuji are fan shaped. Quite nice as a decoration / souvenir you can bring back from Amanohashidate.
Kono Jinja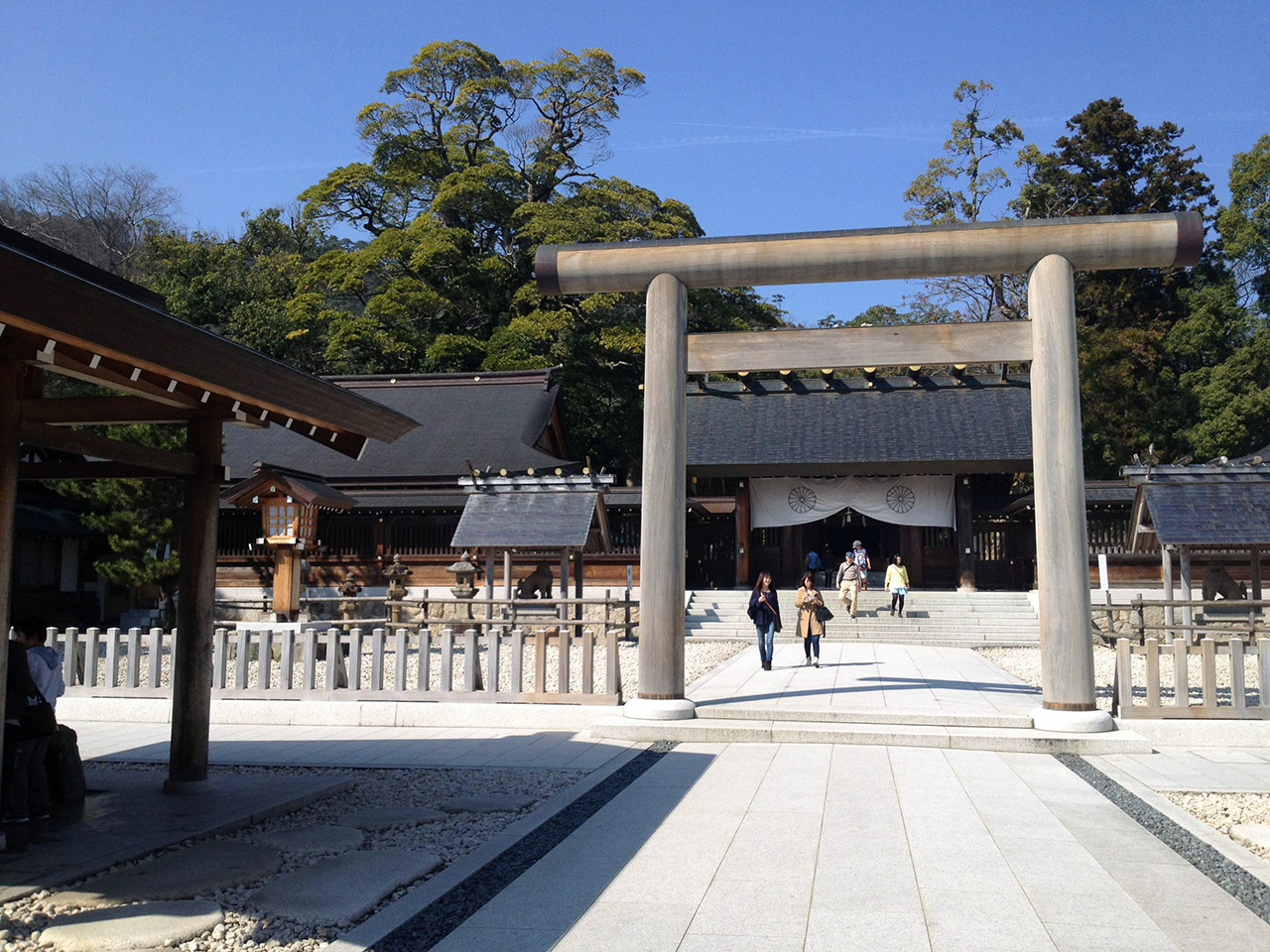 At first this just seems like a typical shinto shrine but apparently this is where two major Japanese Shinto deities, Toyoukebime and the famous Amaterasu-no-ōkami were enshrined and worshiped. Aside from the shrine itself there's also a few items within it which are interesting such as this statue: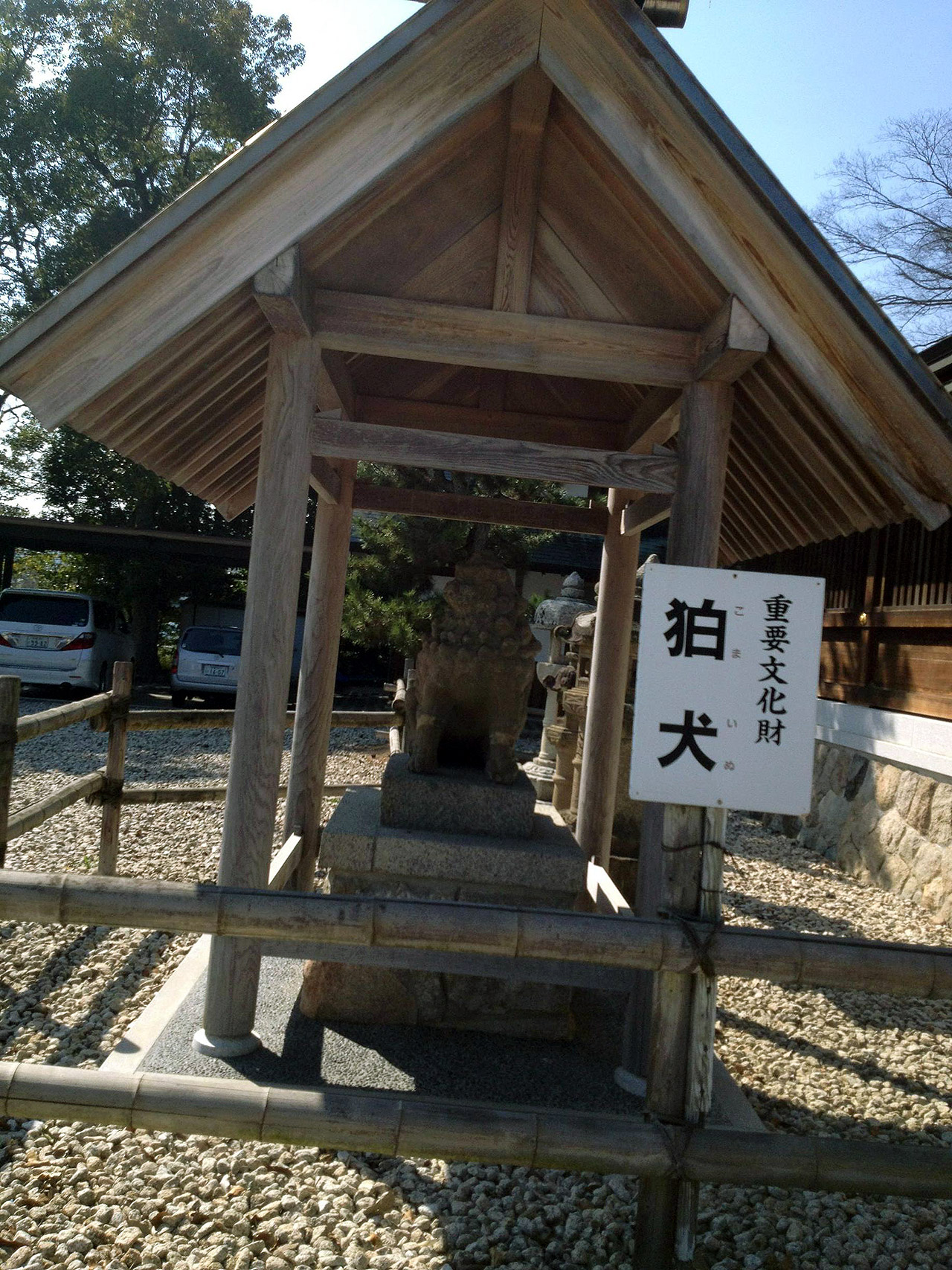 The description describes the person (Yamatonosukune) as someone who appeared riding on a turtle and who lead the emperor towards the olden Yamato province and who is credited as one of the contributors to the founding of the Yamato kingdom.
Narai-ji
I can't say much about this because I personally didn't visit it. However, the website (in Japanese) does suggest that it has some interesting sights plus a view of Amanohashidate from even further up the mountain.
Can be accessed from the north viewing point by bus (about 200 yen each way) or hiking (perhaps taking around half an hour)
Ferry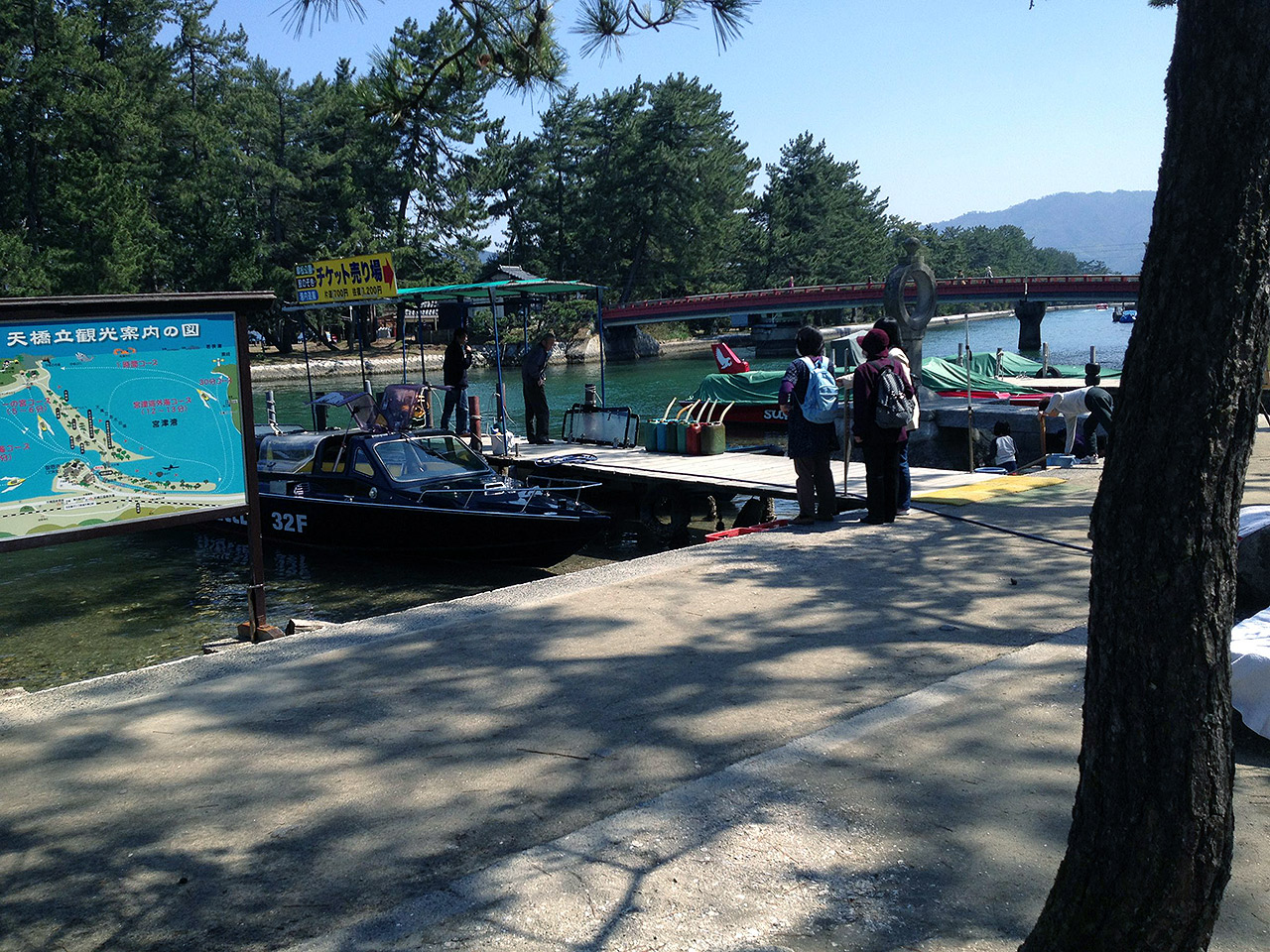 If you want to take a ride on the ferries to the other bank it is possible at the cost of around 530 yen. It may be nice if you plan to zip over to the other side and don't want to walk/cycle through Amanohashidate.
Useful Information
Amanohashidate seems to be stepping up its efforts to attract foreign visitors and the local tourism board has just started selling (as of 1st April 2014) a new Amanohashidate area pass for 1600 yen to foreign visitors with a tourist / short stay visa.
Unfortunately I couldn't confirm the details first hand because I visited in late March. However the details of this based on the online brochure are:
Free use of Kitakinki Tango Railway lines including rapid trains. Ability to use express trains if combined with the JR West rail pass or the Japan Rail Pass
Free use of the ropeways/cable cars on the north bank of Amanohashidate
Free use of the sightseeing ferry and bicycle rentals.
Now, the cost of the ferry is 530 each way, the bicycle 400 yen for 2 hours and the use of the ropeway is 660 yen. Thus, unless you plan to use the ropeway and use the ferry at least twice the pass is not exactly a good deal. However, if you plan to get to Amanohashidate by train this is a very good deal as when including the train costs it will certainly save you money.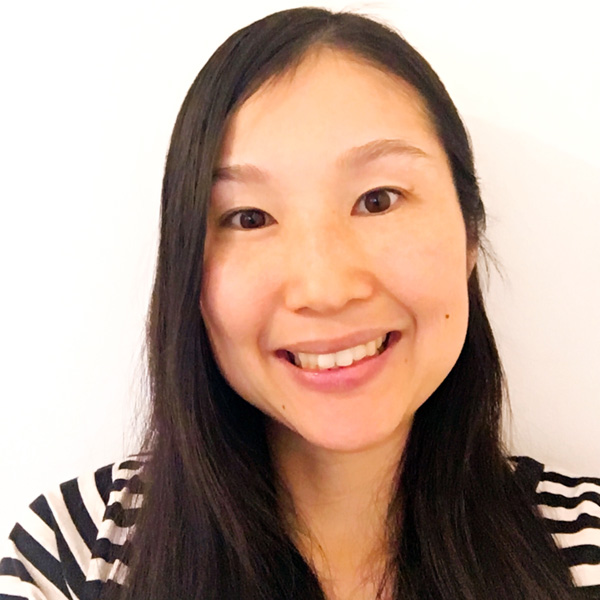 Mami's Review
I think this place was okay. I only remember the view of the famous Amanohashidate sandbar. The view was beautiful, but that was about it.
Amanohashidate
Additional Information
314-2 Monju
Miyazu, Kyoto Prefecture 626-0001
Japan
View on map
0772-22-8030
0772-22-8710