If there is one problem with getting past the intermediate level of Japanese, it is that you reach this point where you know a good amount of grammar and have a firm understanding of what the Japanese language is like, but when you open a book, website, or manga you come to the horrible realization that you don't know anything. It is not true, of course, but it sure feels like it. It is almost impossible to read something and know all the kanji or grammar in it when you are at that in between place. Luckily, in the last few years, more and more options for intermediate learners have sprung up for those of us stuck in the middle.
Read Real Japanese: Contemporary Writings by Popular Authors contains eight essays by current, popular Japanese authors. Read Real Japanese: Short Stories by Contemporary Writers contains six short stories by another set of current authors. They have my favorite kind of layout: Japanese on one side and English on the other. The Japanese, unlike most of the other books I have been able to find, is vertical like the original texts would be, not reformatted to be read left to right. They also include furigana for easier, faster reading. The English pages have numbers corresponding to the Japanese sentences with what they mean in English, but they can't really be considered "literary" translations. In fact, I wouldn't call them "translations" per se, but more of a gloss to understand what you are reading.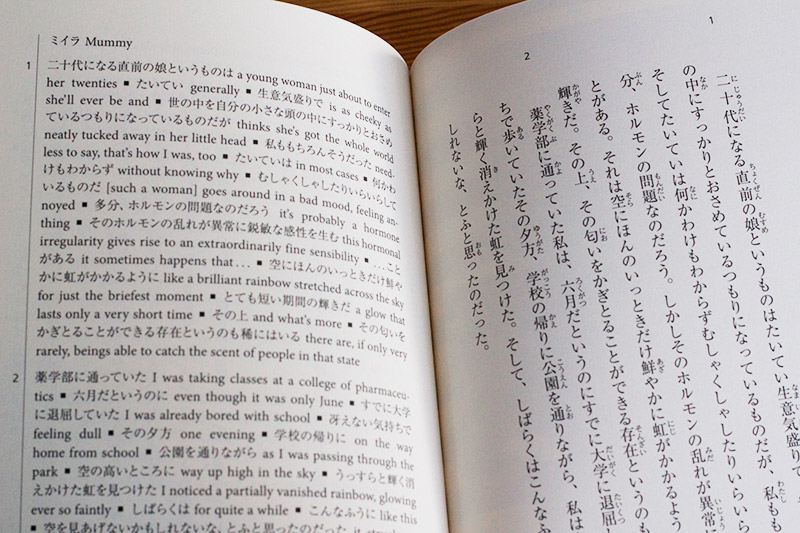 Probably the most useful addition to these books is the inclusion of a notes section for each essay and/or story. This section contains the translators' decisions, and in some cases their thought processes, regarding how they decided to translate or understand the text in English. For aspiring translators this section is invaluable. Having firsthand translation notes and explanations for you to compare to your own decisions while you improve your knowledge of Japanese is insanely helpful. But the English translation is more than enough to warrant picking this thing up.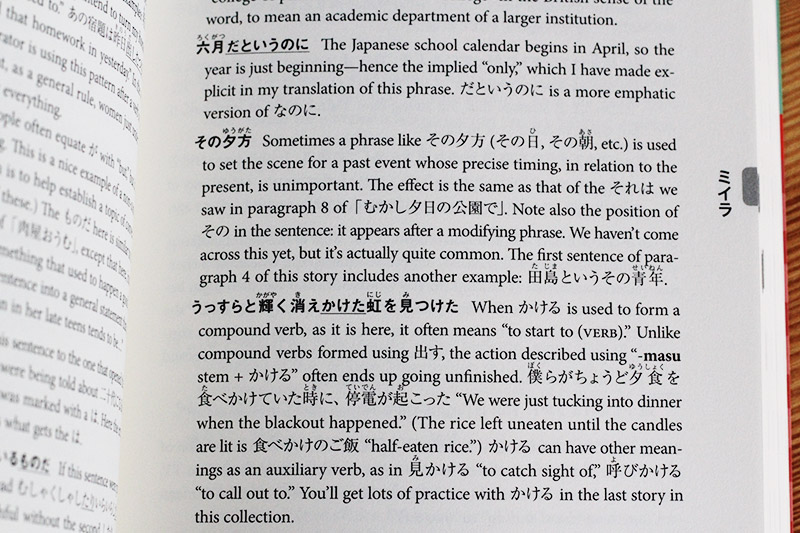 It is more than that though. There is also a dictionary in the back of each book, which has the exact meanings for the word usage in the books. That means you don't have to wade through dictionaries on your own trying to figure out the which meaning fits the word in that context. They picked the right ones and gave them to you.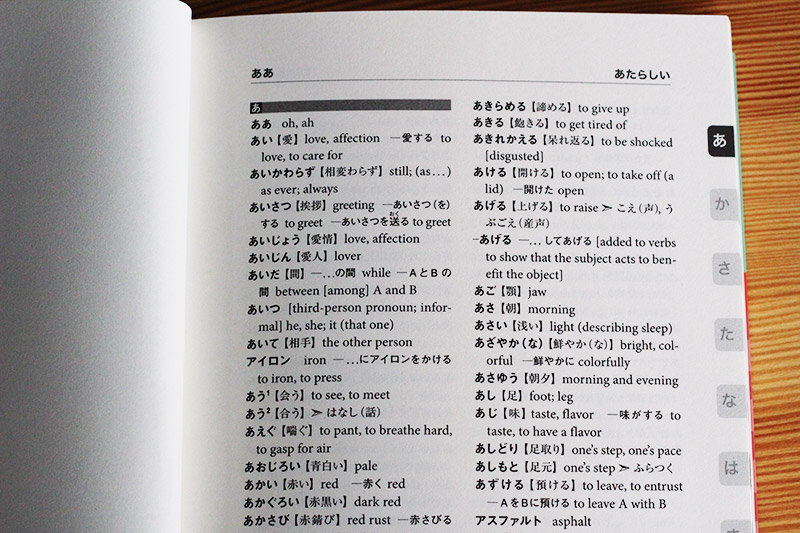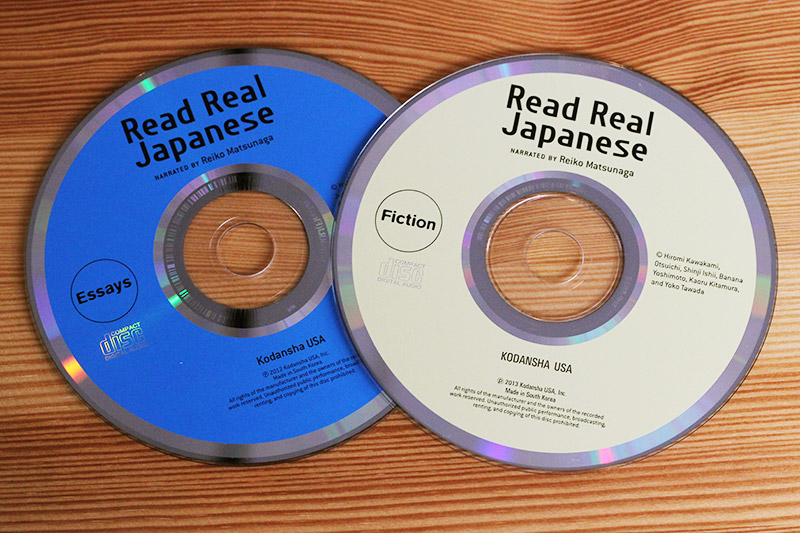 To top it all off there are audio CDs in the back covers narrated by Japanese actress Reiko Matsunaga. She has a beautiful, clear voice and the audio is nothing short of gorgeous. The only problem is that she does all of the audio. She uses a slightly deeper tone when reading things written by and from the point of view of male characters, but that does not make up for the lack of a male voice. The only improvement I could hope for would be that a male voice actor could record these stories and essays as well, so that both male and female listeners could benefit in their own shadowing studies. Surprisingly enough, there does seem to be a lack of male voiced content when it comes to Japanese studies.
Raising the Bar
As much as this book says it is for intermediate learners, I can't help but feel like it is a little more advanced than that. The side-by-side English is extremely helpful, but if you have only been learning Japanese for two years or so you will probably have a great deal of trouble getting through these essays and stories. I guess that depends on your study methods and schooling, but I would really like to stress that this will be hard for intermediate students. If you find that it is too difficult for your current level, pick up some simple manga or children's books first, and try again when you think you are ready.
This is also one of the only resources of this type that I have found to include female authors. That may not sound like a big deal, but Japanese literature in translation is already so lacking, that when you look at the state of women in translation it is just abysmal. Their inclusion of Japanese authors like Sakai Junko, Kawakami Hiromi, and Yoshimoto Banana gives me hope that more female authors' work will become available in this format in the future.
Translation Tool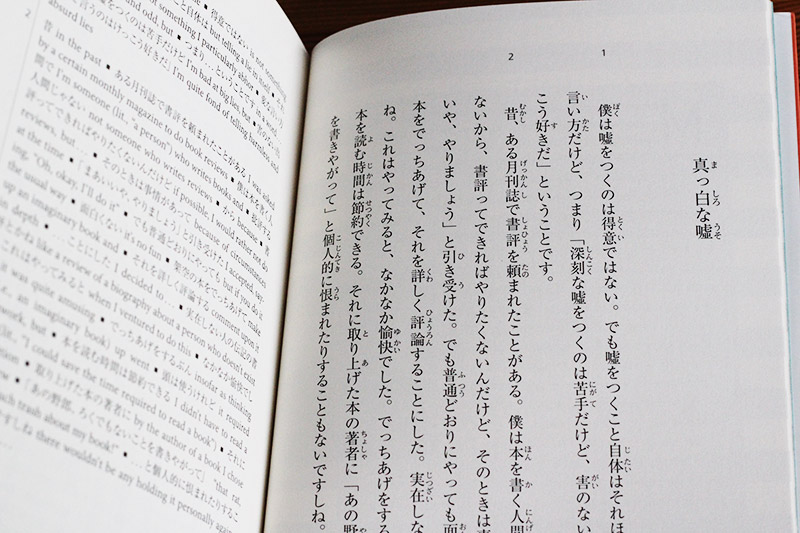 On the other hand, they are an aspiring translator's dream. If you want to go into the details and decisions that are made in the Japanese – English translation process, these books are great just for that. Even if you only went through and read the notes sections, I feel like you could get a lot out of them (but why skip the fun part?).
I think it can also really help out if you are teaching yourself Japanese without a class or dedicated teacher. The benefit to taking advanced classes at the college level is the wealth of material they throw at you. No one learns an entire language from a single textbook. There are all those juicy handouts and extra essays and research topics you will be missing out on if you aren't in a situation where you can attend classes. This book really picks up that slack. You're getting real essays, real stories, real Japanese, vocabulary lists, and an inside look at how other people understand Japanese. Oh, and you get to listen to how everything is pronounced too. It doesn't get much better than that.
Read Real Japanese - Verdict
If you are an intermediate or advanced student of Japanese, and especially if you are interested in translation, you should get these books. You might find them intimidating and leave them on the shelf for a few months, but someday you will get to the level where you can power your way through them. They provide a solid tool for learning how to read actual Japanese, not something tailor made for your level, and the essays and stories they picked are mostly really interesting. Once you are done you will probably be craving more, and you will already have a list of authors you like that you can choose from. I think at some point every student of Japanese should give these a try. You won't regret it.
Kristen's Review
I love these two books. If you want to start reading actual, contemporary Japanese literature you can do no better.
Koichi's Review
These are great for advanced learners, and the content is actually somewhat interesting too!
Read Real Japanese: Essays and Fiction
by

Janet Ashby, Michael Emmerich
Additional Information