This resource has been featured in: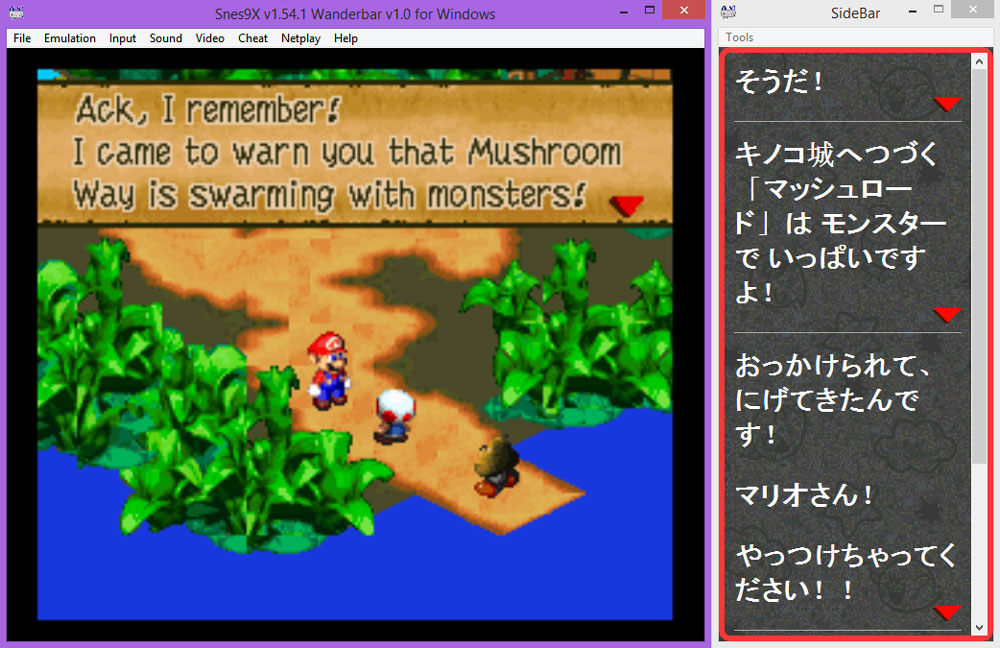 It took maybe fifteen minutes before I was playing Super Mario RPG with real-time, side-by-side English-Japanese text!
We're big fans of Clyde Mandelin's video game translation projects over at Legends of Localization, and he just released one of his personally-developed tools that stands to benefit any Japanese language learner interested in video games.
Enter the Wanderbar, a text-translation-and-anything-else-you-want tool that pairs with NES and SNES emulators for Windows. Clyde has been using it in his livestreams to display Japanese text in video games whenever the English text appears on-screen.
He had to build custom plug-ins for each game from scratch, but now he's released the Wanderbar, along with all eleven plug-ins, for anyone to use for free! Here are the games supported right now:
SNES
Super Mario RPG
Final Fantasy VI
Super Mario All-Stars
The Legend of Zelda: A Link to the Past
Breath of Fire II
Final Fantasy IV
Super Mario World
Final Fantasy VI: T-Edition (Rom Hack)
NES
The Legend of Zelda
Ninja Gaiden II
Final Fantasy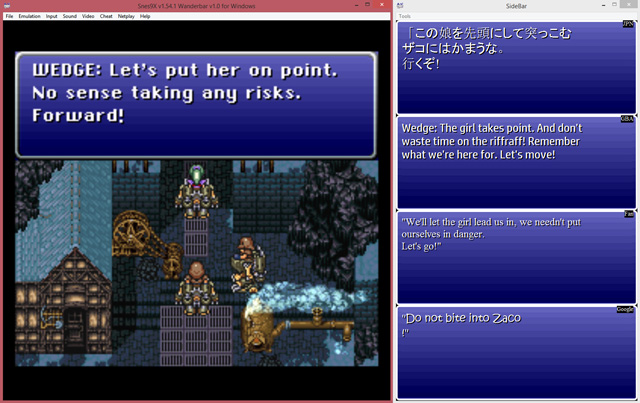 When I grabbed the Wanderbar for myself, I was surprised at how easy it was to set up. I just downloaded the zip file from Clyde's site, changed the directory path in the setup txt file, opened the emulator, and opened the rom file. That's it! It took maybe fifteen minutes before I was playing Super Mario RPG with real-time, side-by-side English-Japanese text!
Personally, I was enthralled, and my "testing the Wanderbar for research purposes" quickly became "playing the games so I could read more of the Japanese and English text." This is a great way to play games while bolstering your Japanese ability, especially if you're not quite at the level where you can play a game in Japanese on your own. Trying to read the Japanese then comparing the translation can teach you so much (as we've said before), and when you run into kanji or vocab you're unfamiliar with, there's a hover dictionary, similar to rikai, built into most of the plug-ins.
For more information on the Wanderbar and what each game plug-in can do, check out the write-up over at Legends of Localization.
Clyde admits he's not the most skilled programmer, and he hopes others will grab the torch and build on what he's started. But in the meantime, we have eleven games we can play through to supplement our textbook study with some retro-gaming fun.