While there can be no doubt that Studio Ghibli draws strongly on Japanese material, such as the folk tales of the tanuki in Pom Poko or Shinto gods in Spirited Away, Ghibli is by no means culturally isolated. We may be dazzled by the Japanese elements, the gods, spirits, monsters and settings, but for Japanese audiences some of the movies have elements foreign to them as well. Though stories set explicitly in real foreign countries are often moved to Japan, fantastical mix-ups of European culture remain untouched. In fact, the source material is often not by Japanese authors. If we look at this list of the 50 children's books recommended by Studio Ghibli's acclaimed director Miyazaki, we can see that 48 are by non-Japanese authors from across the world. Several of these books have also been adapted by Studio Ghibli.
There are some really wonderful books behind the Ghibli films, and reading them can give insight into the underpinnings of some of your favourite movies. I will try to keep this article as spoiler free as possible. However, if you haven't seen any of the movies, then I suggest you rush out and do so. After that (or before if that's more your taste), rush out and read the books!
Grave of the Fireflies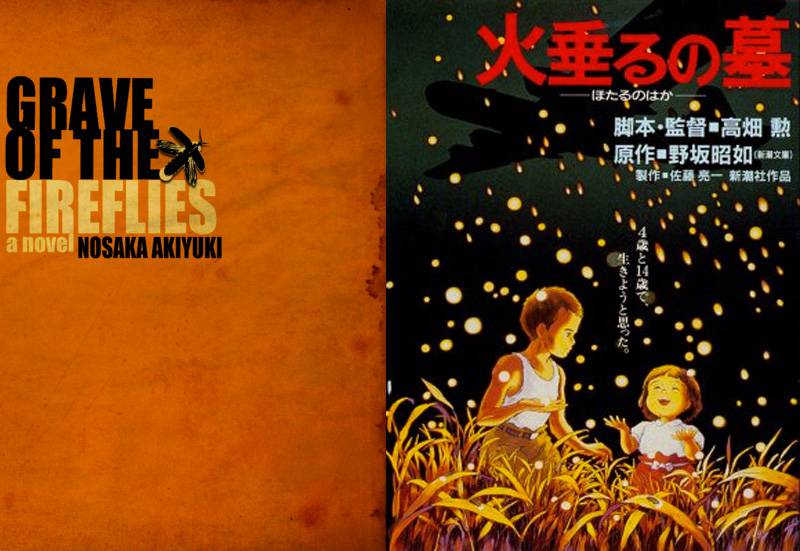 hotaru 火垂るのhaka 墓 or Grave of the Fireflies is based on the semi-autobiographical novel by Akiyuki Nosaka. The story is about a brother and sister struggling to survive on their own during World War Two. The book was published in 1967, a time when Japan was experiencing great economic growth. Nosaka was inspired to write the book partly by the contrast he saw with the world he saw around him and the Japan of his childhood, and partly as an apology to his adoptive sister Keiko who had died of malnutrition during the war.
After its publication Nosaka received many offers to turn the book into a movie. He declined them all, claiming that it would be impossible to recreate the blasted landscape of Japan during the war and that he doubted child actors would be able to portray the necessary emotions convincingly. However, when an anime was suggested and Nosaka was shown provisional storyboards, he agreed to it, saying that it was not possible to film the novel any other way.
Isao Takahata was the director of Studio Ghibli's Grave of the Fireflies. Unlike most animation directors, he had not been an animator before becoming a director. His works are among Ghibli's least known films outside of Japan, including Only Yesterday, Pom Poko, and My Neighbors the Yamadas. Within Japan, though, the movie of Grave of the Fireflies was associated with fan favourite Totoro, as they were originally released together as a double feature.
Grave of the Fireflies was Nosaka's third book. His earlier works include アメリカひじき American Hijiki and エロ事師たち The Pornographers, both of which were highly acclaimed. He has also written many stories about the war for children. But writing is just one string to Nosaka's bow. The same year he published Grave of the Fireflies, he also debuted as a singer and has made many albums since. He has appeared in commercials, directed a movie, been a drunken TV talent, and in 1983 was elected to the Japanese Diet. In 2003 he had a stroke, which he is still recovering from.
Nosaka's Grave of the Fireflies is overshadowed by its animated counterpart outside of Japan. While it is easy to find copies of the movies, getting hold of the original novel is more difficult. An English translation by James R. Abrams was published in Japan Quarterly, Volume 25 in 1978. However, I haven't been able to find any other English translations that are widely available. It is still in print in Japanese, as are his other books. This is the only book on the list that I have not read in either English or Japanese. Hopefully one day I'll be able to read it, though it's hard to track down.
Kiki's Delivery Service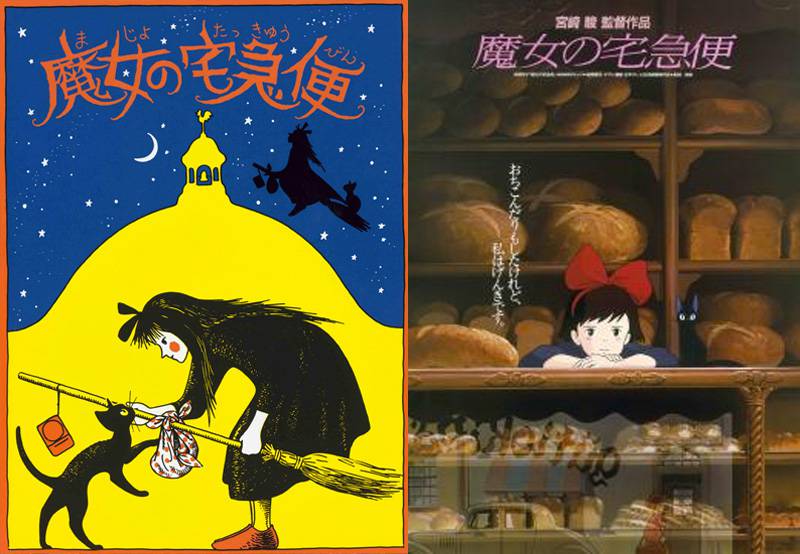 majo 魔女のtakkyūbin 宅急便 or Kiki's Delivery Service was written by Eiko Kadono in 1985. She has written a wide range of children's books, including stories about a bear who is a doctor, a bed which becomes a tiger, and tales of an old sea captain. However, her interest in witches and other spooky things is shown by the many books she has written about them. There is even an enigmatic sentence on her website which, says "I travelled to Germany and Romania to meet a witch," with no further explanation.
Kiki's Delivery Service won the 23rd Noma Award for Juvenile Literature, the 34th Shogakukan Award for Children's Literature, and holds a place on the IBBY Honour List for 1986. It is also certainly Eiko Kadono's best well known book outside of Japan, thanks to the film adaptation.
The movie was originally scripted by Nobuyuki Isshiki and Sunao Katabuchi was meant to direct it. However, Miyazaki, who was the producer on the project, was unhappy with the script. He rewrote it and finally ended up directing it too. While Kiki is based on a book by a Japanese author, the setting draws on European cities. Miyazaki and his team travelled to Sweden to do research and included elements from Lisbon, Paris, San Francisco, and Milan to create the city of Koriko.
The book and the movie diverge at the point Kiki arrives in her new town. While the movie gives Kiki a strong character arc, the book is more of a series of vignettes about each of Kiki's deliveries. Miyazaki commented on the changes saying,
As movies always create a more realistic feeling, Kiki will suffer stronger setbacks and loneliness than in the original.
These changes initially made Eiko Kadono unhappy with the project, and it was almost shelved until Miyazaki and the producer Suzuki visited Kadono at her house and invited her to the studio to convince her to let it go ahead. Luckily for all of us she did.
After the film's release Kadono seemed pleased with the result. She wrote the sequels after its release. She has even themed her personal website with her most famous characters, Kiki and Jiji.
If you finished watching the film and you wanted to see more of Kiki's (mis)adventures delivering things then the book would be perfect for you. There are some really fun ones, involving clocks and love letters. If what resonated with you about the movie was Kiki's struggles, then the book might feel a little flat. The book is certainly written for children, and it is perhaps the Ghibli genius that makes the movie so accessible for a wider audience.
If you are studying Japanese, I would really recommend trying to read Kiki. Having a rough idea of the story from the movie will help you move through it faster, even if like me your Japanese reading skills aren't the best. As the movie and the book differ, there will still be plenty of surprises to keep you hooked. Since it is a kids' book there are furigana to help you out. It's still a very popular book in Japan and you should be able to find a copy in book stores or libraries.
Also, if you master that challenge, maybe you'd like to try the sequels. Eiko Kadono has written 5 more books in the Kiki series. These are キキと 新しい 魔法 (Kiki and Her New Magic), キキともうひとりの 魔女 (Kiki and the Other Witch), キキの 恋 (Kiki's Love), 魔法の 止まり 木 (Perch of Magic), and それぞれの 旅立ち (Each and Every Departure). The most recent was published in 2009 and it appears to be the last in the Kiki series.
However, if you'd rather read Kiki's Delivery Service in English, you are in luck! A translation was published in 2003. Ignore the terrible cover art. What is inside is great fun!
Howl's Moving Castle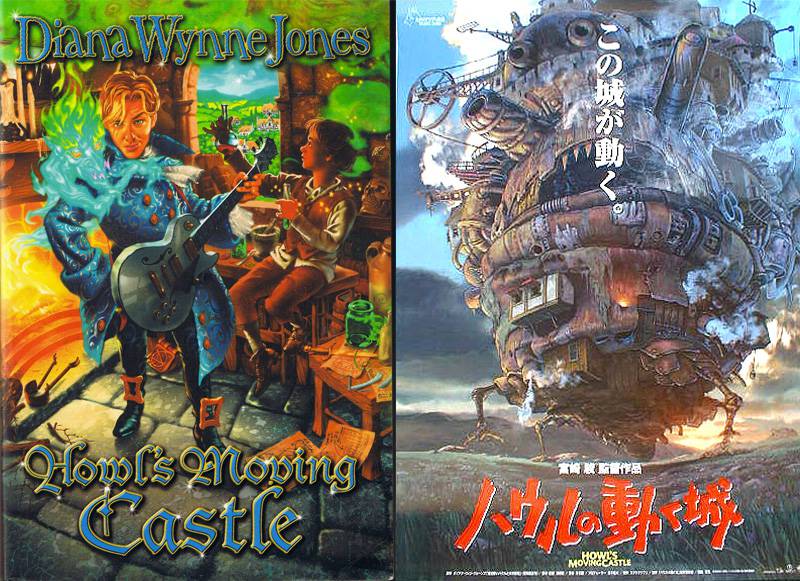 This is the book that inspired me to write this article. It is pretty much my favourite book and definitely my most read one. I have four copies, one signed, one that fell apart because I read it so many times, one to replace that one, and one that I bought in Japan because I regretted not taking a copy with me. When I found out that the movie studio that had made Spirited Away – which had recently blown my then 13 year old mind – was making an adaptation of Howl's Moving Castle, I went into a new world of excitement. To say that I love this book is something of an understatement.
I'm not sure if I would recommend the movie or the book first. For me the book will always come first, but I still appreciate the film (I saw it four times at the theatre after all.) If nothing else the book will help to explain a little the sudden and slightly bewildering transformation of a minor character at the end of the movie. It makes a lot more sense in the book.
Keep in mind, again, this is a children's book. I encountered it at exactly the right age. Older readers coming to it might not get as much out of it as I did, but I still think it holds up and has a lot of interesting things to say about age and self confidence.
The movie adaption is perhaps the one with the most drastic changes on this list. Some characters who were good become evil. Some who were evil become good. Some who were men become women. Howl's main motivation is completely different. However, the author Diana Wynne Jones had a positive reaction to the film, which was specially screened for her before release. Speaking to the Telegraph, she said, "It was wonderful. "I don't think I've ever met anyone before who thinks like I do. He saw my books from the inside out." Despite the changes, she believed that Miyazaki shared her vision. At the premier screening in the UK she said,
Miyazaki and I think alike, so when his offer came in I was overjoyed, because I had admired him for years. The characters are the same as I wrote them, but other things are different. Making something visual is so different from making something to read. It takes more time to make something that you see, so he had to cut things out. Howl is less of a drama queen in the film, and more of a hero. It didn't spoil the essence of Howl.
I'm inclined to agree. My 13 year old self is pretty darned happy that both the book and the film exist.
Tales from Earthsea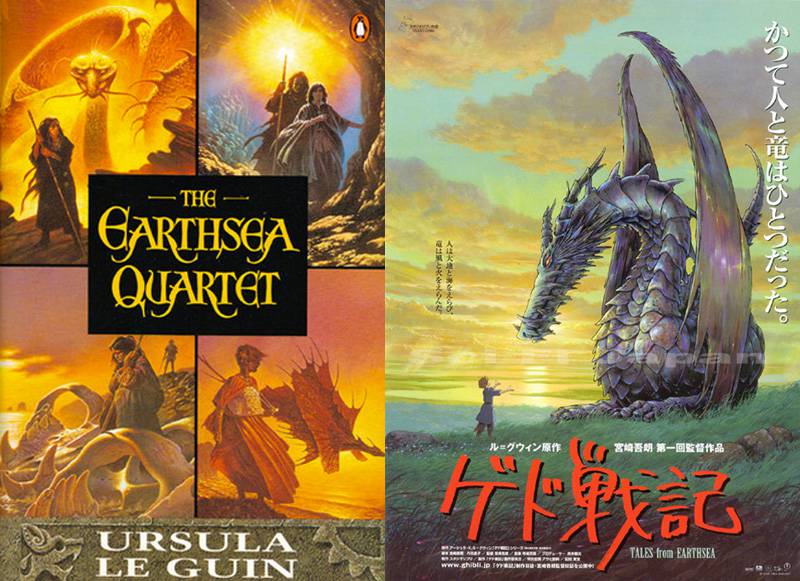 Tales from Earthsea was the first feature film directed by Gorō Miyazaki, son of animator Hayao Miyazaki. It was loosly based on the Earthsea series by Ursula K. Le Guin. The English name of the adaptation shares the name of a short story collection by Le Guin, but the movie actually draws on plot elements from many different books in the series. In Japanese the film is called ゲド 戦記, literally Ged's War Chronicles.
Ursula K. LeGuin has had bad luck with adaptations of her works. In each case, accuracy has been lacking. Sadly, the Ghibli movie is no exception (though nowhere near as bad as the SciFi Channel's adaptation of A Wizard of Earthsea that led LeGuin to write this cutting article.) Her response to Tales from Earthsea was more favourable, but still expressed a measure of dissatisfaction. She told Gorō, "It is not my book. It is your movie. It is a good movie."
While the movie had its troubles, winning the Bunshun Raspberry Award for worst movie of 2006 and driving a wedge between father and son during its production, the books are truly wonderful, often cited by other authors as their favourite books. If you would like to enter the world of Earthsea, I would recommend starting with The Wizard of Earthsea. It has been enchanting readers since 1968 with its tale of young wizard Sparrowhawk and how he must face down the evils his own ambition for power calls up. If you only read one of the books in this article, read this one. Then you can go on and read the rest of the Cycle. You can begin to see some of the elements that the movie drew on. Honestly, you could probably skip the movie and just get on with enjoying these wonderful books as well as the other works of Ursula K. Le Guin.
Arrietty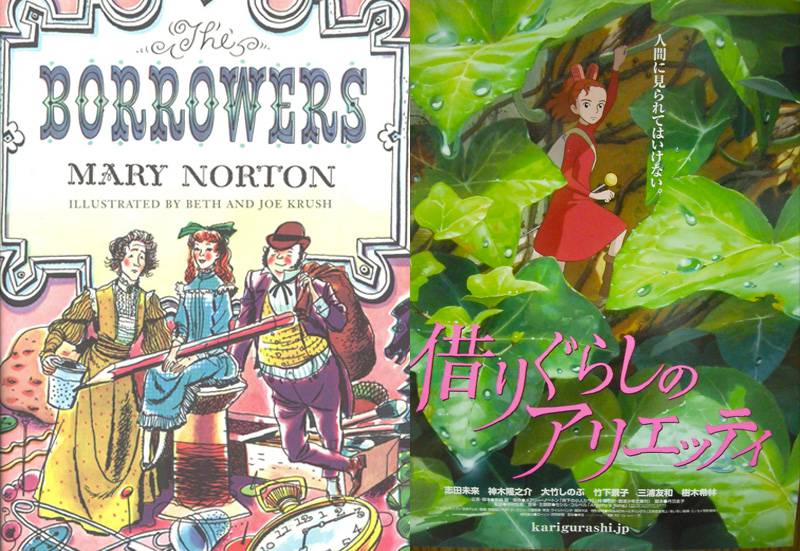 Arrietty, or The Secret World of Arrietty, or 借りぐらしのアリエッティ (depending on whether you're in the UK, US, or Japan) was released in 2010. It was the debut movie of Hiromasa Yonebayashi and was scripted by Hayao Miyazaki and Keiko Niwa. Although the film was first announced in 2008, Ghibli founders Miyazaki and Isao Takahata had considered an adaptation for 40 years.
The source material is Mary Norton's 1952 book The Borrowers. This is the first animated version, but the classic story of tiny people surviving in the world of comparatively massive humans by "borrowing" things from them has been adapted for television multiple times.
The movie stays fairly close to the plot of the first book, although it does draw in a character from the second book in the series. The biggest change is certainly the setting, moving the action from 1950s England to modern Tokyo. The change only has one downside in my opinion. The names of the Borrowers are also borrowed from English words, such as Pod and Homily. In a Japanese setting, these names make little sense. However, looking past that, I think this is a fine adaptation that captures the spirit of the book. I was particularly impressed by the sound design, which gave a wonderful feeling of being small in a huge world.
The Borrowers series has a well deserved reputation as a classic of children's literature. The first book won the 1952 Carnegie Medal. Mary Norton was born Kathleen Mary Pearson in 1903. She grew up in a house in Leighton Buzzard, which is reportedly the setting for The Borrowers. Her first two books The Magic Bed Knob; or, How to Become a Witch in Ten Easy Lessons (1943) and Bonfires and Broomsticks (1945) were the basis for the Disney musical Bedknobs and Broomsticks.
If you want to know what happens to Arrietty and her family after the dramatic end of the film, the four sequel books will satisfy your curiosity. They are The Borrowers Afield, The Borrowers Afloat, The Borrowers Aloft, and The Borrowers Avenged. All the stories have also been published in a collected edition.
When Marnie Was There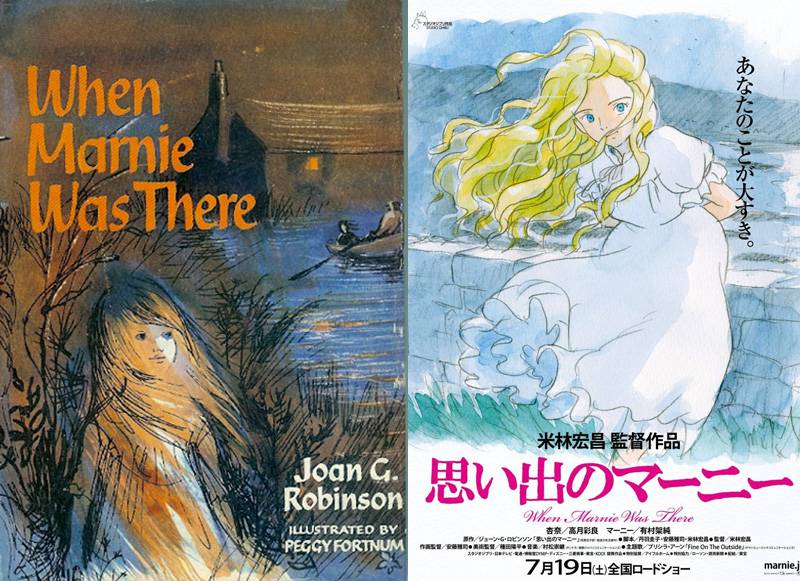 When Marnie Was There, or 思い 出のマーニー is Studio Ghibli's most recent film. It had its English language release starting from May 22nd. When Marnie Was There shares two things with Arrietty: both were directed by Hiromasa Yonebayashi and both were based on children's books set in England. Also like Arrietty, When Marnie Was There is relocated to Japan, specifically eastern Hokkaido. East Hokkaido is a good equivalent for the original Norfolk setting, with its mysterious fog and beautiful countryside. I should know, as I lived close to both. In fact, the train the main character catches at the start is my train (I might have squeaked a little in the cinema.)
The change in setting also brings some additional depth to one of the characters. I won't go into detail, but by the end of the movie you can see one of the characters faced a challenge which was not present in the original. Personally, I thought this was a good change from the book as it did give her character arc a new dimension. Otherwise, the core story is largely unchanged, with much of the book's dialogue making it directly into the film. The story is about Anna, a young girl who struggles socially. When she is sent away for the summer she meets a mysterious girl named Marnie. The mystery of Marnie unfolds as they grow closer. I won't say any more for those of you who haven't seen it, but by the end I was sobbing. I left the cinema and immediately downloaded the ebook of When Marnie Was There.
The novel was written by Joan G. Robinson in 1967. She had previously written books for young children, but Marnie was the first she wrote for young adults. You can find used copies of the book on Amazon.com, but the ebook and new copies are only available through the Amazon.co.uk store. There is also a Japanese translation that was rereleased in a special edition conjunction with the movie. The Japanese version is on my list of study materials to try. Perhaps I'm just a sucker for a bittersweet story, but I love Marnie and Anna, no matter if they are in books or movies, English or Japanese.
What Are Your Favorite Studio Ghibli Films Based on Books?
I hope that this article has given you some ideas for your reading (or watching) list. The people at Studio Ghibli clearly have good taste in books. What is your favourite Ghibli movie or favourite book behind one?