Japan is expensive.
At least, that's what they tell us. Travelers. Expats living in Japan.
But is it really as expensive as people say it is? In the four years I've been living here, although some things cost more in general, I've discovered many ways to save money, both as a resident and as a traveler. Some are fairly standard, but others I learned through trial and error, and now it's easier to spend less money when traveling in Japan than when I first arrived.
Because who doesn't want to see and experience all the beauty and charm and craziness Japan holds… without maxing out your credit card or going bankrupt.
Some of the tips below will require some Japanese reading ability to take advantage of, but that's one of the reasons you follow Tofugu, right?
1. Travel during the off seasons. Whatever you do, avoid Golden Week (late April through the first week of May), Obon (mid-August) and New Year's, unless you love crowds and have money to spare. Accommodation rates are typically highest at these times and rooms fill up fast. The rainy season (June and early July) is one of the cheapest times of the year to travel (and no, it doesn't actually rain all the time, but when it does, you'll want to be prepared).
Hotels/Accommodation
2. If you prefer to stay somewhere as cheap, or free, as possible, check out hostels, capsule hotels, internet cafes, camping, Couchsurfing, or even volunteering, to name a few options. Many of you are probably already familiar with most of these, many of which have been mentioned before on Tofugu.
If regular hotels are more your style, rest assured it's possible to find cheap rooms, even at luxury hotels and in big cities like Tokyo. Here's how I've found hotel deals, anyway:
3. Check for deals early. As in, at least a month but preferably two months or more. I've seen early bird deals for luxury or near-luxury hotels in Japanese for only around 5,000 yen (for two people) a night, when standard costs for these places is at least 15,000 yen and up. In Tokyo/Yokohama. Not all hotels will go this low, and it also depends on where in Japan you travel, but the earlier you look, you might just get the worm.
4. During the off-season, if you're able to risk it, you could wait until the last minute to book, such as a week or two before. I've seen special plans pop up in the same month or a week or two beforehand as hotels try to fill up rooms.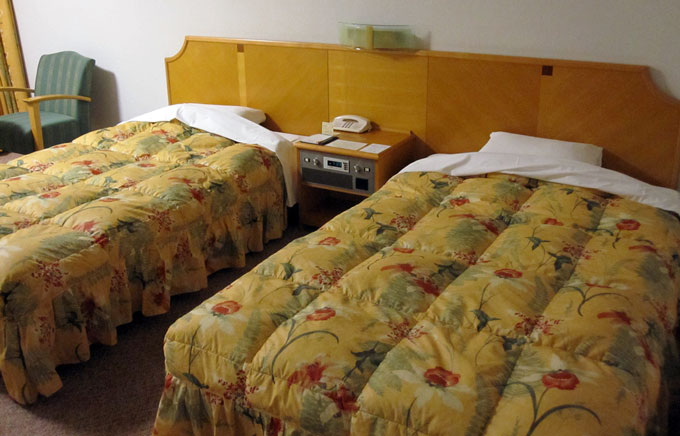 Hotel beds
5. Saturday night rates are typically higher than weekday nights, as to be expected. Fridays are either priced the same as weekdays or similar to Saturdays. Weekends, of course, always fill up quickly. You might be able to find a nice hotel to stay at during the week and a less expensive one on the weekend.
6. Book a hotel via a Japanese travel site or the hotel site. This is key. To save the most yen, I've found, you should try booking a hotel via a Japanese site, such as Rakuten Travel (the English version has less hotels than the Japanese version), Jalan (same as Rakuten Travel, less hotels on the English site), Rurubu, or Meitetsu Kankou. This doesn't mean you shouldn't search for hotels in English, but in my experience, Japanese sites offer a greater selection and usually have better prices. Search for 国内ホテル 予約サイト to find others.
If you find some hotels you like, check their official websites, if they have one, to compare prices. Sometimes the rates on the hotel's site are lower than on the travel sites. Also try searching for the hotels you like in Japanese and English to see if you can get a steeper discount elsewhere. A couple times I've been successful doing this and saved a few thousand yen.
7. Don't get a hotel plan with meals included, unless you're looking for a particular experience, such as at a ryokan. The room or per person rates are lower without hotel meals, and you can find more affordable meals elsewhere. However, you'll want to make sure there are restaurants, supermarkets or convenience stores near the hotel, otherwise you'll end up paying for expensive hotel food anyway.
Transportation
8. Get a Rail Pass, or not. The Japan Rail Pass is a good deal if you plan to travel to multiple cities and make the money spent worth your while. If you only travel around one city, don't get it. (And if you live in Japan, you're out of luck, as the rail pass is only for visitors.) You can use Hyperdia or Jorudan to calculate train fares between cities.
9. Look into other rail passes. Japan Railways (JR) offers a variety of passes and discounted tickets, often referred to as toku kippu トクきっぷ. One well-known pass is the Seishun 18 ticket which is a cheap way to travel by local trains (not shinkansen or express trains) and is valid for up to five days during specified periods of the year.
Another example is the JR Shikoku birthday ticket, which you can get for only 10,000 yen during the month of your birthday. It can be used for three consecutive days on JR Shikoku train lines and some buses. Up to three of your friends can also join you for the same price per person. This ticket is actually cheaper than the Shikoku Free Pass, which costs 15,700 yen and the only difference being it can be bought anytime of the year.
You can find some information about special tickets in English, but most of it is in Japanese. Toretabi is a good Japanese resource to search for JR passes and special tickets around Japan.
10. Take the bus. One of the cheapest options to get around Japan is via a highway or overnight bus, although you'll probably want to make sure you go with a reputable company, considering the tragedy earlier this year and some potential problems. The night buses allow you to save on accommodation, although it depends on how well you sleep in those kind of situations.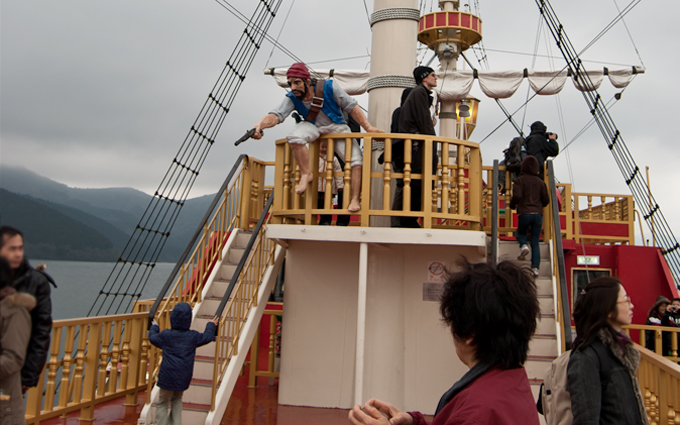 11. Check out regional "free passes" in English and in Japanese. These might include trains, buses, and/or other forms of transportation. Sometimes these passes are an excellent deal, but sometimes not depending on what you end up doing. For example, the Odakyu Hakone Free Pass, which lets you ride the Hakone Tozan Cablecar, Hakone Ropeway, pirate ship (i.e. the Hakone Sightseeing Boat), and the Odakyu buses, is a pretty good deal if you do all those things. So unless you just can't bear the thought of not riding a pirate ship — although you can pay for it separately — you could check out the cheaper Izu Hakone Pass and get around by bus and a regular ferry-type sightseeing boat instead. In order to find more options, searching in Japanese will help, a lot.
12. Take local trains instead of the bullet trains. Sure, they're slower, but they're faster than the bus, and it gives you a chance to see Japan at a more leisurely pace, rather than having it zip by you in a matter of seconds. Although things to consider: there is usually only one car with a bathroom, which you'll have to look for; some train lines run infrequently so you might end up waiting over an hour; and you'll have to watch out for folks who've fallen asleep while on the train. The sleepers will often, seriously, rest their heads on you in their sleep. And if you think a gentle shrug will get them to move, you'd be surprised.
13. Drive. This might be a better option for folks living in Japan, as renting a car can be expensive. I've found that the amount we pay for expressway tolls, gas and parking often works out to be less expensive than shinkansen tickets (but this does depend on where you are driving, too). If you rent a car, you probably won't save much, and the time spent driving is going to take twice as long as riding a bullet train, assuming there's no traffic. There are some places in Japan that are easier and cheaper to travel by car though.
14. Take advantage of all the budget airlines (LCC in Japanese) that keep popping up in Japan, such as Peach, Jetstar, Skymark and AirAsia. I've been watching Peach for the past month or so and have seen one-way flights from Nagasaki to Osaka for less than 5000 yen.
Food
People tend to think food in Japan is prohibitively expensive, especially fruit, due to those ridiculous 10,000 yen melons. And I've heard some people say vegetables are expensive as well, which isn't true, unless you're going for the imported stuff. A lot depends on not only how you shop, but where you shop.
15. Check out department store basements. Most major train stations have at least one or two department stores connected or nearby. I wouldn't say they are the best place to find the cheapest food most of the time, but you can generally find prepared meals, large salads, onigiri, and bentos for a good deal. There are a variety of other food shops worth checking out as well.
16. Convenience stores or konbini コンビニ. You've probably heard about this one. These are great for inexpensive, not-junk-food noodle dishes (soba, ramen), onigiri, bentos and sometimes salads. Beverages, snacks and fruit, if available, tend to be priced higher at konbini than at supermarkets, except the store brand 100 yen snacks, which supermarkets also have.
17. Supermarkets usually have the best deals on food. You can find lots of prepared foods (bentos, noodles, salads, onigiri, fried goods, sushi and a variety of other items) for a decent deal. Water, snacks and other beverages are generally cheaper than at convenience stores. You can actually also sometimes find supermarkets in department store basements.
18. Buy fruit or vegetables from a farmer's market or "morning market". Unless you're buying strictly imported fruit in Japan, it's not all as expensive as the ridiculously priced and carefully packaged melons/peaches/apples/grapes. I've found pineapple, which is normally imported, to actually be cheaper than back home (for me), along with some other fruits. Seasonal fruit is often affordable, but particularly so if you buy it from a farmer's market or morning market. Expensive strawberries at the store might be half-price, or a bag of apples might end up being less than 100 yen a piece.
Many farmer's markets also sell prepared food. To find one nearby, you could ask at the place you're staying, or search for 朝市 or ファーマーズマーケット in your favorite map app. This is also a great way to talk with the locals and experience another side of non-tourist Japan.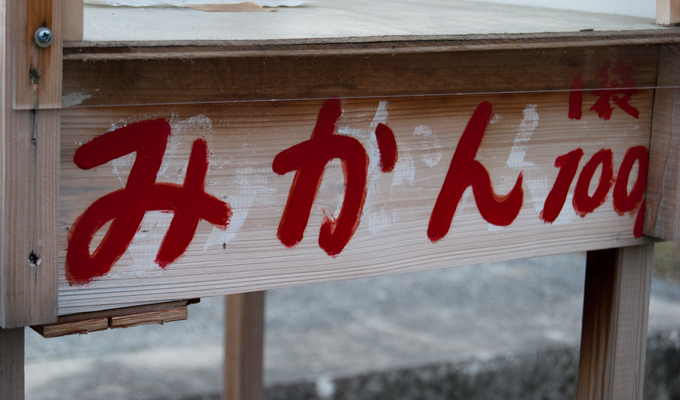 Mikan 19. Eat at affordable places. A lot of these have been covered elsewhere, such as ramen, soba or udon shops, Japanese curry, kaiten sushi (the conveyor belt kind), and chains such as Yoshinoya. You might also want to check out Shakey's Pizza, which offers an all-you-can-eat buffet, lunch or dinner, for around or under 1000 yen, or an Indian curry place (search for インド 料理). Mall food courts offer affordable, mostly-Japanese food options, as do expressway service areas.
Is fast food in Japan actually cheap? McDonald's, Mos Burger, and all those other cheap joints? They can be if you buy one or two things, but if you buy an entire meal's worth, it can end up costing just as much as what you'd pay at an affordable restaurant with more and arguably better or healthier food.
21. Search a restaurant site for said affordable places. Tabelog is one of the most popular. You can search by region, train station, cuisine, and price. So if you want to find some cheap places to eat in Tokyo, you can click on 東京 on the map, and then under 予算 (budget), choose your price range and press the green button that says 検索 (search). As Tokyo is ridiculously huge, there are 111,849 results, so you'll have to narrow your choices on the next page using the options on the left side.
22. Eat a big lunch, small dinner. Lunch meals are typically cheaper than dinner, though the portions might be slightly smaller depending on the restaurant. If you want to splurge on a nice meal, eat a big lunch and spend less money than you would eating out for dinner (unless you go to a cheap place, that is). (Note that this does depend on the restaurant and their lunch/dinner menus).
Other
23. Follow sites such as Groupon Japan, if you're flexible and can read some Japanese. Groupon has regular deals on hotels, restaurants and recreation options, like onsen, so you never know what you might find. I've seen quite a few excellent deals.
24. Search websites for coupons. If it's offered in both English and Japanese, check both, but most often, if the site has any information about coupons or specials, it's in Japanese. So if you're going to an amusement park, a water park, the movies, etc., check the Japanese website for coupons or discounted admission. Keywords to look or search for: クーポン or 割引券, or just 割引.
25. Check Daiso for souvenirs. Out of all the 100 円ショップ I've been to in Japan (not that I've been to ALL of them), I've found Daiso to have a great selection of Japanese souvenir-type goods. This works especially well if you have a lot of people to get gifts for and can't afford to spend thousands and thousands of yen at regular souvenir shops. Green tea is also a great gift (especially if it's from Shizuoka, not that I'm biased or anything), and you can find affordable bags at the supermarket.
From how to read food labels to surviving Japan's rainy season to comprehensive packing guides, Ashley Thompson provides unique how-tos and resources for life (and travel) on Surviving in Japan. She also loves walking among the never-ending green tea fields of Shizuoka prefecture, where she lives.