International Art Event Design Festa is an explosion of creativity that happens twice a year at Japan's largest convention center, Tokyo Big Sight. It's the largest art event of its kind in Asia, so big that it recently spawned a sister event, GAKUTEN, to give extra space an attention to student artists who participated in the original Design Festa event. On top of this, Design Festa owns and runs a gallery year round, at their headquarters. And all this is organized by 18 people.
One of those 18 is California native, Sarah Feinerman, the overseas public relations coordinator who has been helping people find art and helping art find people since 2013. Tofugu was fortunate to get some of her time and learn about inner workings of Japan's largest and most vibrant art organization.
Becoming Part of the Team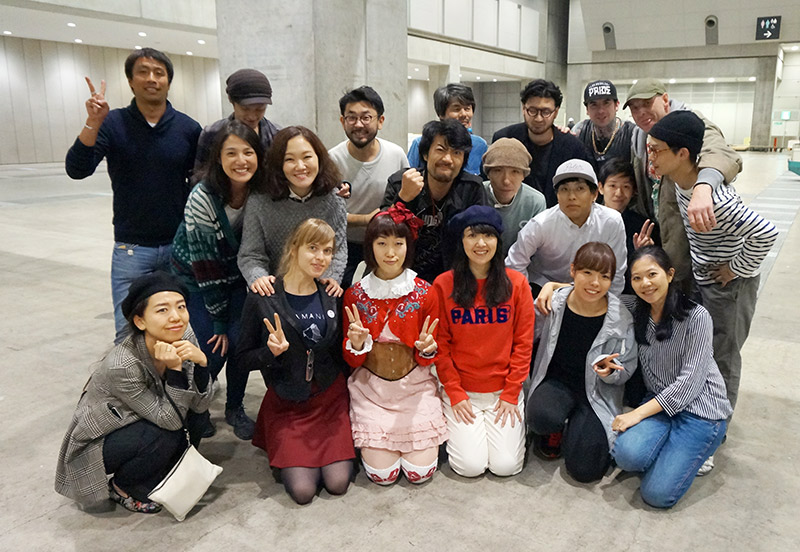 Q. How did you get to Japan initially?
I graduated from college and then came straight to Japan at 20 years old. At the time I was the only person I knew who had never traveled abroad. I had never studied Japanese, opening my first textbook on the plane from San Francisco to Tokyo.
I was brought over as an ALT, and on my first day into work I found out the contract my company had with a Board of Education in Miaygi had actually been cancelled. This is not a rare situation, as independent dispatch companies like mine play a high-stakes game of supply vs. demand every spring and there are always people who arrive for work from overseas only to find they don't have a job anymore, due to no fault of their own. Under normal circumstances I would have been put back on my plane and flown home to San Diego, but there just so happened to be a small town in Tochigi that was too poor to keep their status as a town (they would be transformed into Moka City 18 months after I arrived) or to keep their expensive, government-issued non-Japanese English teacher. I had five elementary schools and three middle schools to teach simultaneously, but I had a job, and came to adore Ninomiya Town.
Q. What were you doing before Design Festa?
I was convinced that the only job for a non-Japanese person with no special skills in Japan was English teaching, so that's what I did and that's what got me out here. I spent 3 and a half years working at kindergartens, elementary schools and middle schools in Tochigi, Fukushima and Ibaraki, then an additional two years at an English conversation school in Chiba. I moved every year for my first six years in the country, but it never really felt like I was working at my job–I was tolerating it. My students were great, but I was no teacher. I was finally in talks to be transferred from the classroom to the head office at the conversation school that employed me when along came Design Festa.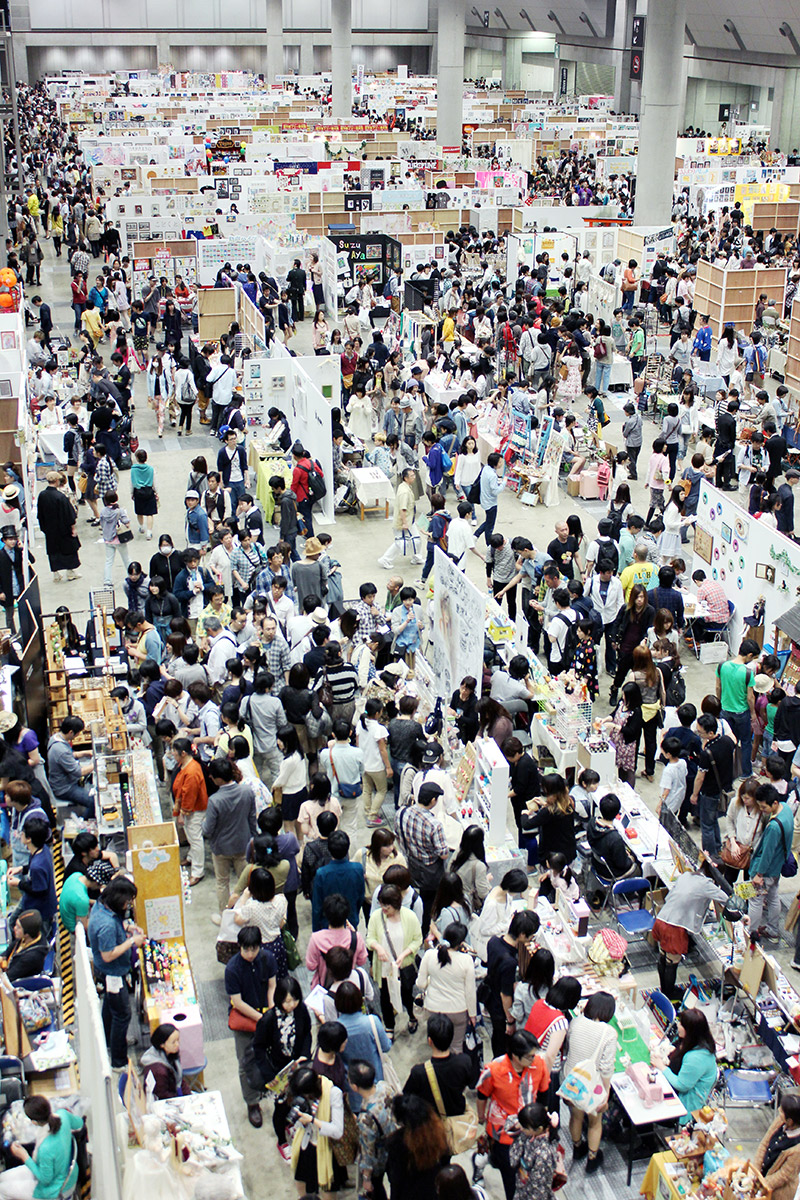 Q. How did you get your job with Design Festa?
When I first moved to Chiba for the English conversation school job, the company had a system where new potential teachers were all put together in a guest house. You went through training and test classes and if you showed potential you were officially hired.
My neighbor in the guest house was a social type who would intentionally look up events and happenings in the area, and he invited me to Design Festa. I am not a social type. I had very little interest in going anywhere with someone I didn't know and I have no idea why I went, but I did.
My first Design Festa was in May of 2011 at vol.33, which I attended as a visitor. I had attended several anime conventions in California (again: nerd), and I absolutely love, love, love the atmosphere of a convention hall. Thousands of people all passionate about the same thing all together in a place where you don't have to feel embarrassed to say what you like, to express what you like, because everyone else feels the same way and wants to meet you. They're glad you're there with them. I felt like I'd come home–or, as I'd later say in my interview with the Director of Design Festa, I felt the emotion of "tadaima."
I have no artistic abilities whatsoever, but my best friend in the world is an illustrator in San Francisco. I harassed her into sending me posters, postcards, prints, keychains, pin badges–anything we could come up with–and in November of 2011 I was an official Design Festa vol.34 exhibitor.
I exhibited and sold her work at volumes 34, 35 and 36, making me more than familiar with the Design Festa website, the application process and the documentation sent out to English-speaking exhibitors.
Being the English nerd that I am, all of the…interesting grammar in the official documentation kind of depressed me. I am quite a fan of Japanese-English, spoken, written or otherwise, but I loved Design Festa and I wanted it to put its best foot forward. I wanted it to impress other people as much as it impressed me, and I felt that the unusual application of English that its organizers used was selling it short.
I was also kind of confused–I knew that Comic Market, the giant anime, manga, and doujinshi fair also held at Tokyo Big Sight was organized entirely by volunteers, and assumed Design Festa operated in the same way. If I'd known it was an actual company I never would have done what I did: emailing them in June of 2012 offering to correct their English-language website purely on a volunteer basis. It was an offer I'd made before to one or two lolita fashion export shops, but no one ever took me up on the offer. So I wasn't surprised when I didn't hear back.
It wasn't until September that I came across the response from the Director of Design Festa in my spam folder–and he was offering me a job. I thought I'd ruined everything by ignoring his email for three months, but I responded anyway in a flurry of apologies, and he assured me the position was still open. From January 2013 to March I worked two jobs, five days a week teaching English conversation in Chiba and twice a week at Design Festa in Harajuku, and I was a full time employee by April.
My first event as a staff member was Design Festa vol.37.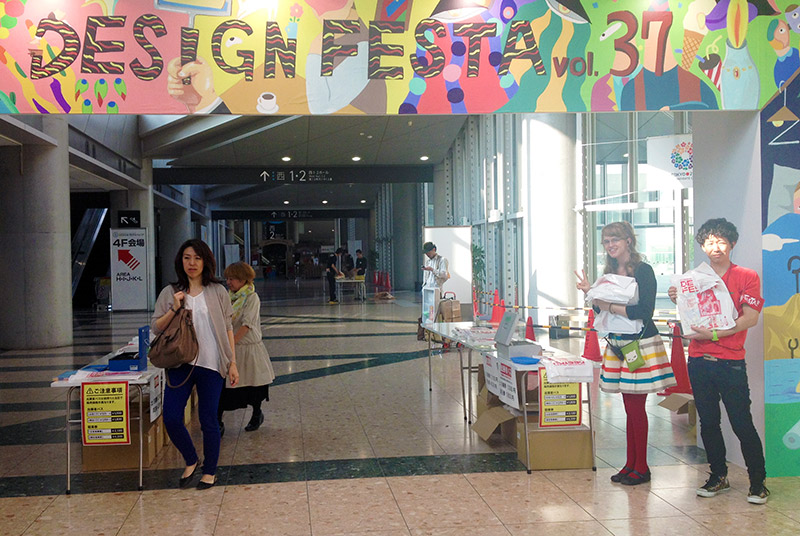 Q. What are the responsibilities of your job?
I'm officially the overseas media public relations coordinator, but like most people in the company I do a little of everything. Translation for the websites and official documents for exhibitors is a big part of what I do, in addition to arranging TV spots, magazine features, and other collaborations with English-language media. Thanks to my graphic design background I've been able to take on the responsibilities of all our foreign-language advertising materials from copywriting to photography to design. I've also been learning video editing on the fly, interviewing exhibitors during Design Festa and GAKUTEN events and then creating event report videos, artist interview compilations and, from this year, monthly features of artists and exhibitions at Design Festa Gallery. We also have relationships with several foreign embassies to whom I represent the company. Everyone assists with the day-to-day running of the art gallery that the Design Festa office is located in.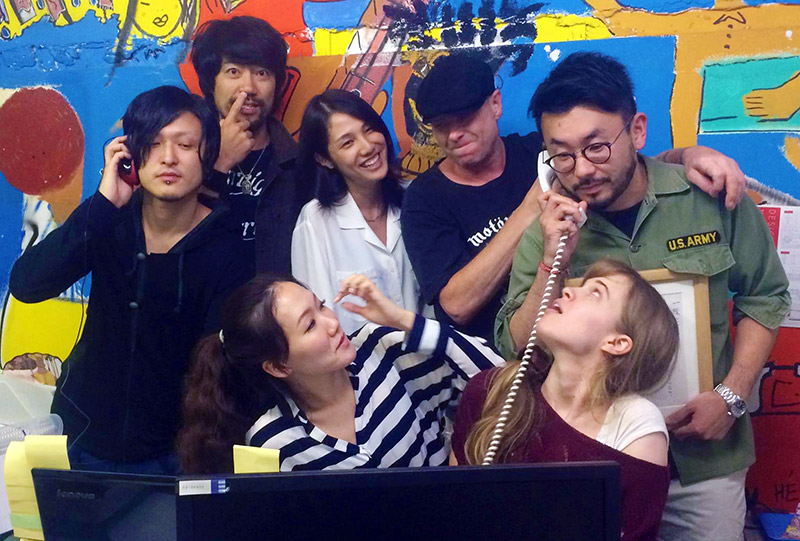 Q. How many people do you work with?
International Art Event Design Festa, the largest art and performance convention in all of Asia, if not the world, welcomes nearly 60,000 visitors and 12,000 artists to each of its biannual events. This monster of an art and music festival has no comparison anywhere inside or outside of Japan, and it is run entirely by 18 people.
International Art Event Design Festa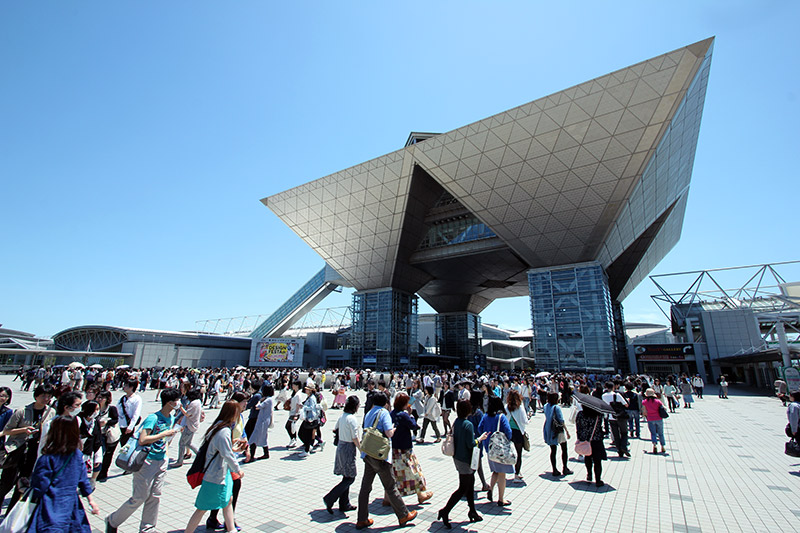 Q. How does your job change when Festa time rolls around? With 60,000 visitors you must be pretty busy.
The very electricity in the air changes as Design Festa draws near. I personally shift to helping prepare paperwork, checking, re-checking and re-re-checking English language signage and documentation, taking phone and email inquiries from English-speaking exhibitors and visitors, sending out invitations to foreign embassies and the media and other exciting things. The Friday before Design Festa weekend is always the most fantastically hectic, where we pack up computers, signs, equipment, flyers and a million other things to transfer to Tokyo Big Sight. I'm not sure how much I can give away, but by the end of the first day of Design Festa, a good portion of the staff members you'll see won't have slept for over 24 hours.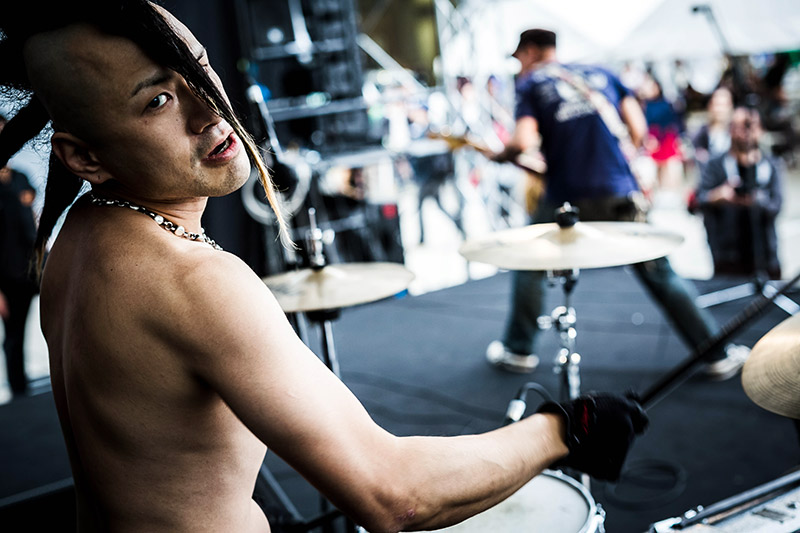 ### Q. That all sounds so exciting and, as you said, "electric." Are there any unexpected roadblocks or funny stories that come out of this frantic time?
I ended up with an orphaned school desk once, but that was a lot funnier at the time than it is in retrospect. We can't leave Tokyo Big Sight until almost midnight on the Sunday of the event (with everyone back at work at 10am on Monday), and everyone has been dead on their feet for hours by then. There was a school desk we'd brought from the gallery that we'd forgotten to load onto the moving truck.
For some reason it was hilarious.
I go to and from the venue with my car stuffed with as many people who are too exhausted to take the train as it can hold, and that night one of my senpai made the trip back home with an upside down school desk in his lap. Then it sat in my parking spot for a few weeks. One of my neighbors asked if they could have it, but I eventually got it back to the gallery in one piece. Poor little desk.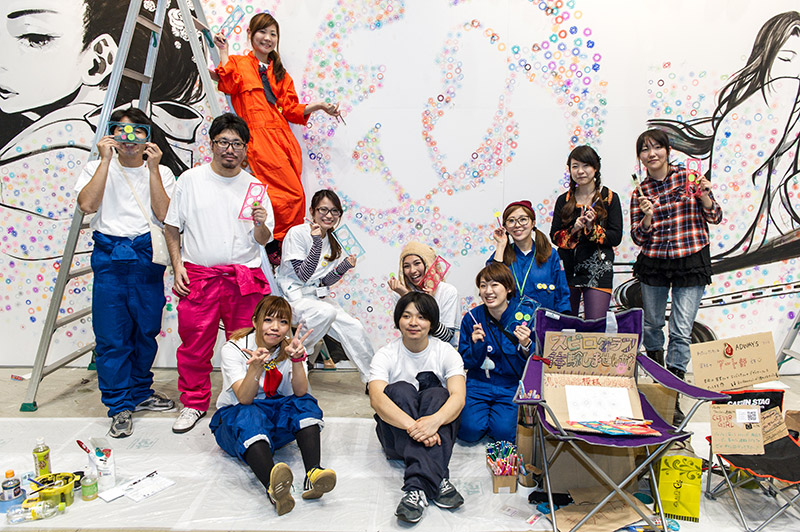 Q. How many different countries are represented at Design Festa on average?
We have a pretty steady average of over 20 different countries represented at every Design Festa event, but we're always trying to attract talent from outside of Japan. We offer exhibitor support in English, Korean, and Chinese in addition to Japanese, and I started studying French last year in hopes that we might one day be able to help non-Japanese artists in a fifth language as well. This year is particularly exciting as we have the normal mixture of overseas exhibitors in the 3,500 booths of the Booth Area, but also non-Japanese live bands in our Live Music Area and non-Japanese performers in both the Theater Space and on the Show Stage.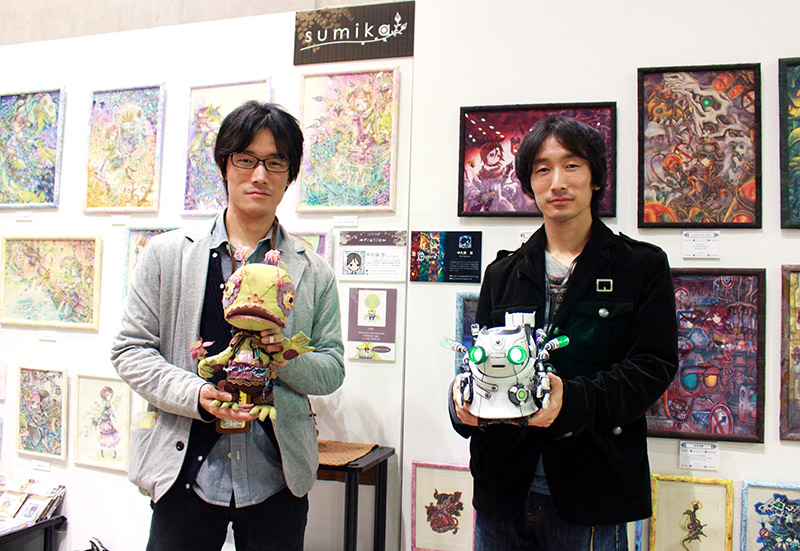 Q. What kind of art is exhibited at Design Festa?
Design Festa is a fantastically abstract affair, so this is going to be a terribly vague answer, but literally anything is welcome at the Design Festa event. We perform no screenings and we have no process for artists to submit their work for any sort of approval. As organizers we know as much about what will arise at Design Festa as our visitors, and the only thing to expect really is the unexpected. Our one and only rule is that an exhibitor's work be entirely original, so fan art, cosplay of copyrighted characters and the like can't be displayed. If you want to go somewhere where the only rule is "You must have something no one has ever done before," Design Festa is that place.
Fashion design, music, live painting, dance, illustration, swordplay, photography, bondage, film, taxidermy, installations, body painting, graphic design, accessory design, figurine design–if it is a thing that exists, there is a good chance you will find it at Design Festa.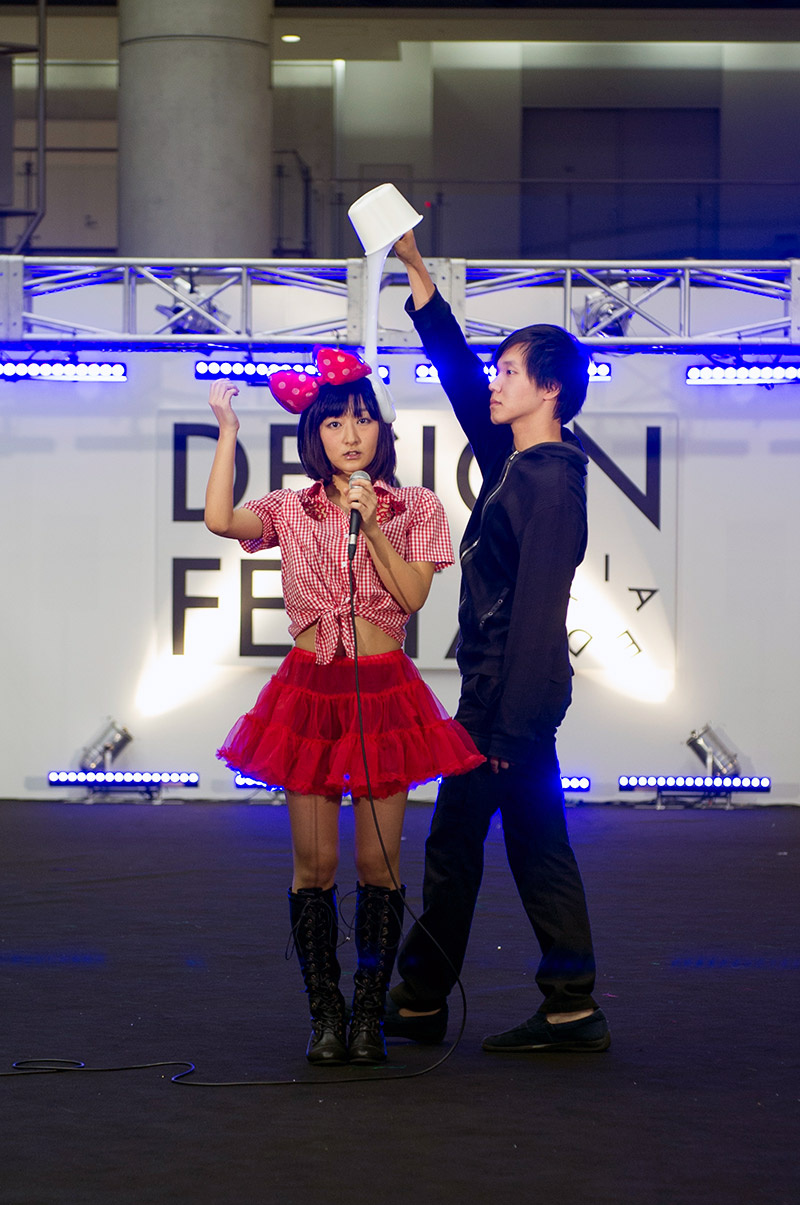 Q. Since anything that is a thing can show up at Design Festa, do you ever find yourself saying, "Wow. I didn't know that was a thing!"
Every time. One of my favorites was a girl who drew pictures in ketchup on top of omurice. Her exhibition was 200 pictures of 200 different omurice ketchup pictures. She had people vote on their favorites to later announce the "Best Om" on her website.
I also really liked a lady who made silver accessories based on Japanese mythological creatures. There was another girl who took rulers, video game controllers and other generic things and turned them into adorable bracelets, necklaces and earrings. The "sushi lover" illustrator had work unlike anything I'd ever seen before, too–and these were all exhibitors just from vol.40.
Q. What kinds of things do exhibitors at Design Festa go on to do? Is it a good place to get your art noticed?
Exhibitors often launch their own brands and online shops and/or go on to become successful bands and geinoujin. The Design Festa event is a fantastic opportunity in that its potential is only limited by how you use it. Some independent artists have no other place they can meet and greet with their fans in person, while newer artists have an audience of thousands to whom they can introduce themselves while simultaneously making connections with others in their field.
I interviewed a Taiwanese artist last year who was displaying work they created for a job they got when they were approached by a company at the previous Design Festa event. I heard secondhand of an American artist who paid for their flight to and from Japan and hotel fees with profits made from selling their work at Design Festa.
Design Festa is a fantastic place to get your art noticed, not only by the general public but also by your fellow artists, performers, photographers, cinematographers, fashion designers and more, who can be just as (if not more) important to an artist's success than their audience. A significant percentage of our Design Festa Gallery exhibition groups consists of artists who met one another at Design Festa and joined forces to support each another in other independent exhibitions.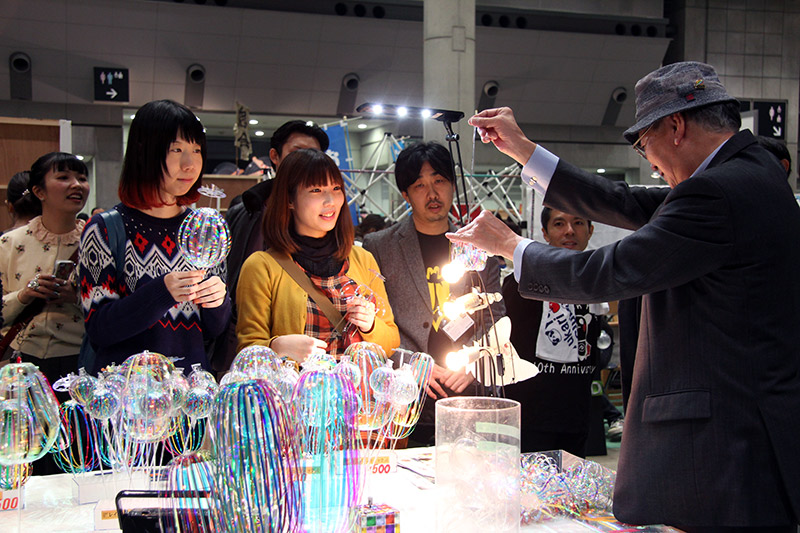 Q. Can you buy some of the art at Design Festa?
My personal favorite thing about Design Festa: we charge no commission fees. Visitors are welcome and encouraged to purchase the art and designs they find, as 100% of all profits goes directly to the creator. There will always be work that is display-only, but beginning a conversation with an exhibitor about what they have for sale is a perfect opportunity to discover a new favorite artist and make a new friend.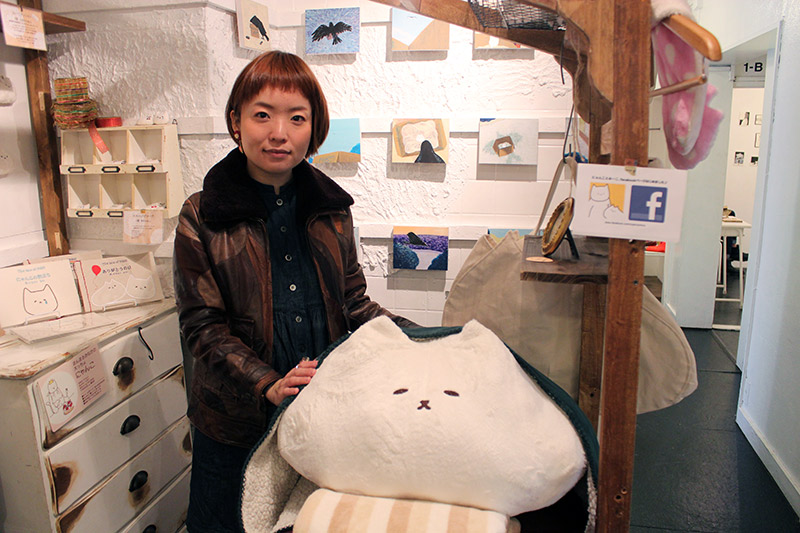 Q. What are your favorite things to see at Design Festa?
I am a huge fan of designs described as "yurui" in Japanese, a word for which I haven't yet found a suitable English translation. They're very simple, often strange…they could almost be described as generic if there wasn't something bizarre about them that makes them anything but.
One of my absolute favorite designers is the creator of Nyanco & Mico, who participates at every Design Festa event as well as exhibiting at Design Festa Gallery. I buy something every single time, not because I feel obligated as a repeat customer, but because she always has something that she's never had before and that I can't get enough of. She is one of our growing Design Festa success stories, and a great example of the "yurui" design aesthetic that I can't help but love.
I also have a wall in my apartment almost completely covered in postcards. It seems like a bland sort of item to indulge in, but 100 yen postcards can be found all over Design Festa and exhibitions at Design Festa Gallery. They're a great way to affordably support local and overseas artists you love. I suppose there are probably people who send them to friends, but I prefer wallpapering my personal spaces in a mix of the fantastic illustrations and photographs that can be found nowhere else but Design Festa.
GAKUTEN

Q. Why was GAKUTEN started?
After twenty years of wildly successful Design Festa events, we managed to outgrow our venue. Unfortunately Tokyo Big Sight is the largest convention center in Japan, leaving us with very few options to continue growing. We decided to focus our efforts on our exhibitors in need of the greatest amount of support: student artists.
GAKUTEN exhibitors are not limited to college students though: to the contrary they vary in age from 8 years old to age 64 and include adults pursuing the study of an instrument, language, or craft in their free time, retirees attending classes at community centers, elementary school, middle school, high school students and more.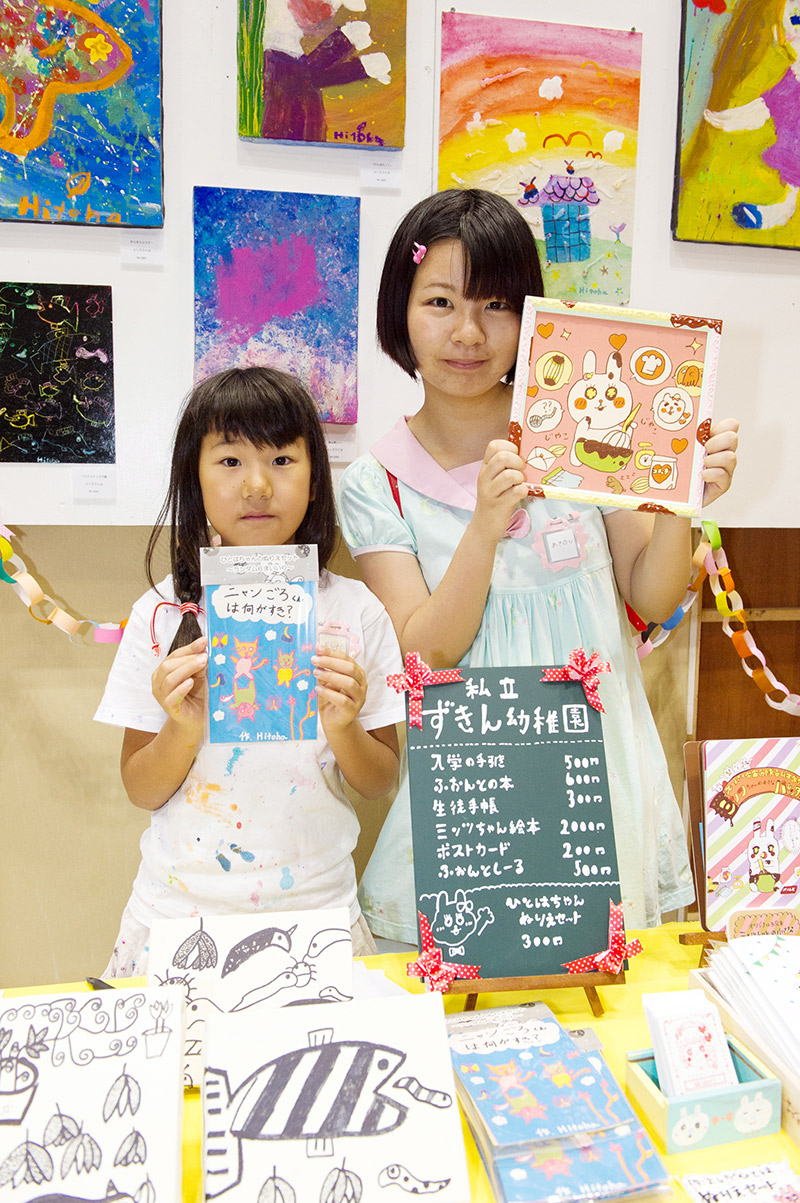 Q. What separates GAKUTEN from Design Festa?
Design Festa is for amateurs and professionals, individuals and companies, the general public and established artists to buy, sell and perform. GAKUTEN is for networking: an opportunity for technical schools to reach out to the community alongside universities and students to step outside their classrooms for the first time to get real, unfiltered feedback from an audience.
GAKUTEN is an opportunity I would have done anything for when I was a student, and we are doing our best to meet all the needs of up and coming student artists who need more personalization and support than what can be offered at Design Festa due to its sheer size. Buying, selling, and performances still happen, but fashion designers have the increased visibility of the GAKUTEN Fashion Avenue. Impromptu performance groups, performance artists and sculptors have the more personalized option of the Installation Area. Universities and technical schools have the entirely unique Campus Area. GAKUTEN, like its student artists, is growing and evolving all the time.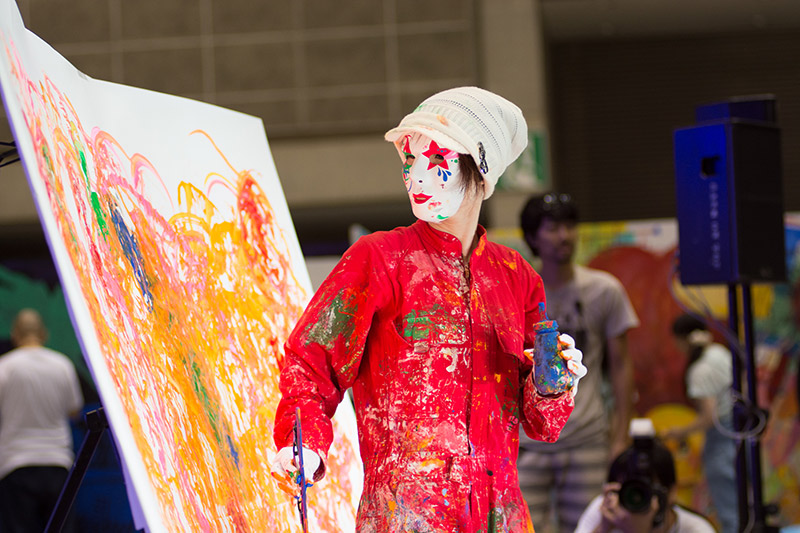 Q. Because GAKUTEN is newer, what dreams to you have for it personally?
Personally, I want GAKUTEN to be the place non-Japanese students go when they're thinking about attending school in Japan and want to know what kind of options are available to them. I want it to be where students of all levels of schooling go because the experience and feedback they get working with the public at GAKUTEN is something they can get nowhere else. I want it to be where large companies and small business owners go to find talent for their future ventures and where, therefore, students go to get job offers. I very strongly believe that GAKUTEN's potential is endless, simply because it has never been tried before, just like things were when Design Festa was founded over twenty years ago.
Advice and an Ever Changing Gallery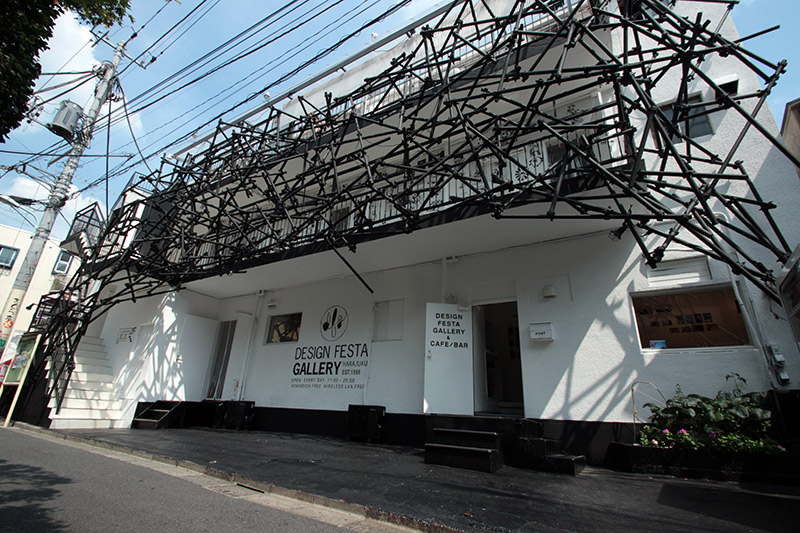 Q. What advice do you have for our readers who may want to get a job in Japan one day?
You have to adapt. You don't have to agree with everything or even anything, but you have to be flexible. It sounds like common sense that everyone applies in any workplace in any country, but everything that can be different is different in Japan, and everything from the good to the bad can feel like it's being magnified threefold. It can feel like you're the only one who sees a problem that should be glaringly obvious, that you're the only one that can't understand something that shouldn't make any sense and that you're the only one laughing at something that should be hilarious. That last one in particular–I'm the only one who thinks I'm funny.
But it's not impossible, and it's not even necessarily harder just because it's Japan. It's just different.
It's not you being in Japan that makes getting and holding a job hard or easy, it's being you in Japan and what you do with it.
Q. What advice do you have for young artists who may want to come to Japan to exhibit their art or get an art career started?
Talk to anyone–everyone. When exhibiting on my friend's behalf at Design Festa I constantly had other artists coming up to introduce themselves, to try and discuss the art with me and give me business cards. After each event my friend would get a surge of emails from people looking to form a group for an exhibition at some gallery and asking where her next event would be so they could meet up again. A Japanese friend of mine brought her silver accessories to Design Festa, met up with an American glass accessory designer and now, years later, he's the reason she's fluent in English and she's doing English to Japanese translation for a huge company. Accessory design was always a hobby for her, but there is no telling where the people you meet will take you whether you're a hobbyist or a professional.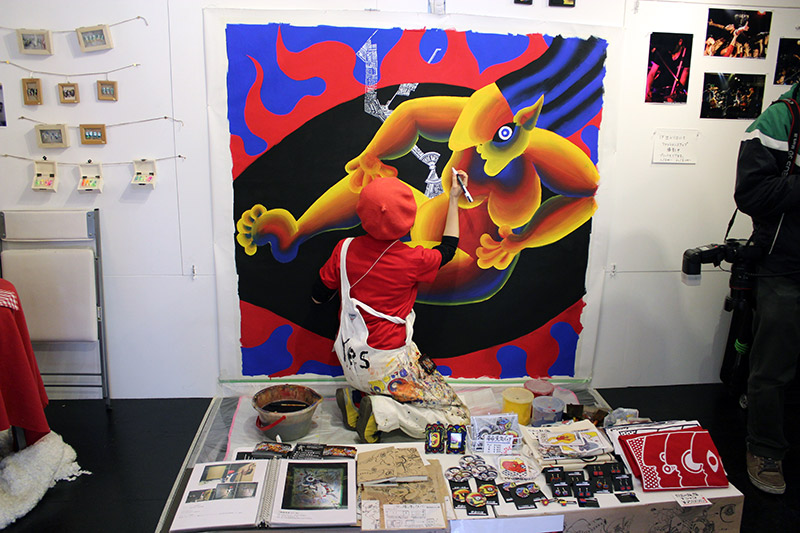 Q. Any advice to those applying to exhibit at Design Festa?
Be ready to talk! That is another one of the things I love about the event. When I was an exhibitor, it suddenly didn't matter that I was a confused blonde girl surrounded by people who didn't speak my language. The staff, my fellow exhibitors and the visitors all acted like me being there was the most natural thing in the world. People would "koe kakeru"–reach out, I guess, you could say in English–without the slightest hesitation, and that doesn't always happen when you're an obviously-non-Japanese-person in Japan. I was there with them, I was a part of them. I exchanged candies with my booth neighbors along with "yoroshiku onegaishimasu" in the morning, we watched each other's spaces when we stepped out for lunch in the afternoon and we helped each other clean up our spaces at night.
Design Festa is two days of belonging, and that is amazing no matter who you are.
But yes: talking.
Before Design Festa I was working at an English conversation school, as I've mentioned, and one of the tasks assigned to teachers from time to time was handing out flyers for the school at the train station during down time. My first time with those flyers went horribly, as I tend to be crippled by shyness when thrust in front of strangers. Then there was Design Festa. I only exhibited for one of the two event days, but it was eight hours of greeting, explaining things to and befriending people I'd never seen before.
When I was back on the street with my conversation school flyers the next week, I gave out every last one. It was a skill I'd never known I needed and had no idea how to gain even if I did, and Design Festa made it possible.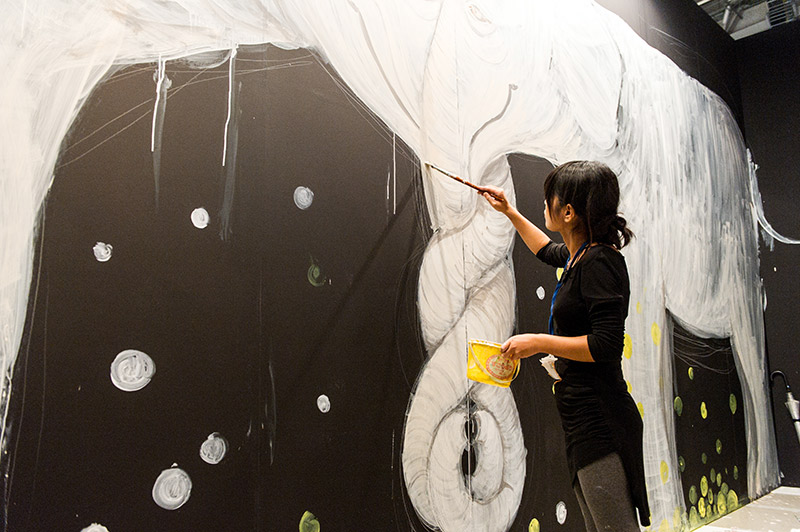 Q. What do you like to do when you're not shaping the future of Japan's greatest artistic organization?
Study French! An unusually large percentage of the non-Japanese visitors that come to Design Festa Gallery are from French-speaking countries, and I dream of being able to one day guide them through our exhibition rooms in French. I went to a language school in Montpellier (my first time to a country that isn't Japan or the U.S.) earlier this year. I study with a teacher via Skype once a week and independently whenever I can. It would probably be easier if I lived in a French-speaking country, but I'm too much in love with Design Festa to imagine myself ever being anywhere else.
Q. What's the most magical Japanese food?
Katsudon is love. Tempura-don and oyakodon are similarly made of magic. The invention of "meat and vegetables on rice" is the greatest in the history of man.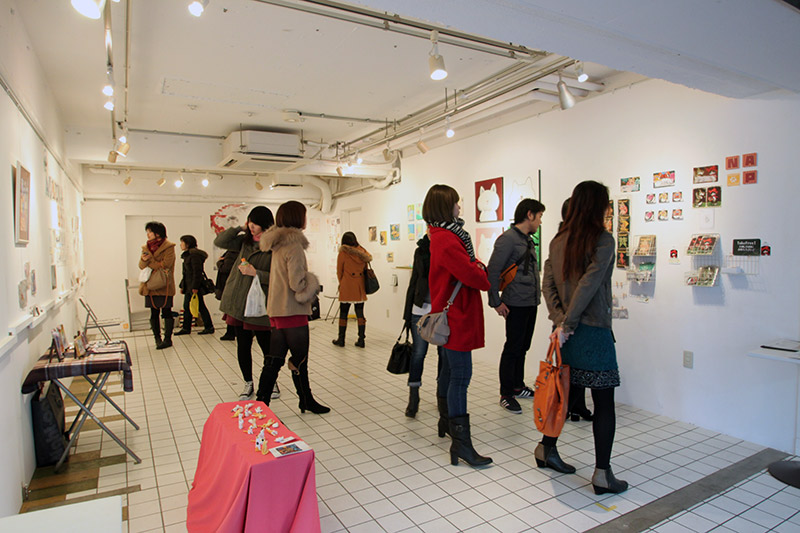 Q. What's the one question you wish people would ask you, but never do? (then answer it!)
So if Design Festa is continuing to grow as the largest art and performance festival in Asia and GAKUTEN is aiming to become one of the single greatest support systems for student artists, what even is Design Festa Gallery?
Design Festa Gallery is a collaboration of Design Festa artists, GAKUTEN artists and an increasingly large variety of students, teachers, amateurs, professionals, individuals and companies. It is a constantly evolving art village, a hotbed of originality and creative expression but, above all, a community. It is one of the largest galleries of its kind and brings people from all over the world together on a daily basis, with creators and fans, tourists and local artists, contemporary and traditional mediums all coming together into one of the most diverse melting pots on earth.
The Design Festa event is like my home and Design Festa Gallery is like the neighborhood where I grew up. Every day I walk into work to find 20 different exhibition rooms of people and things I've never seen before, and it's completely amazing, every single time.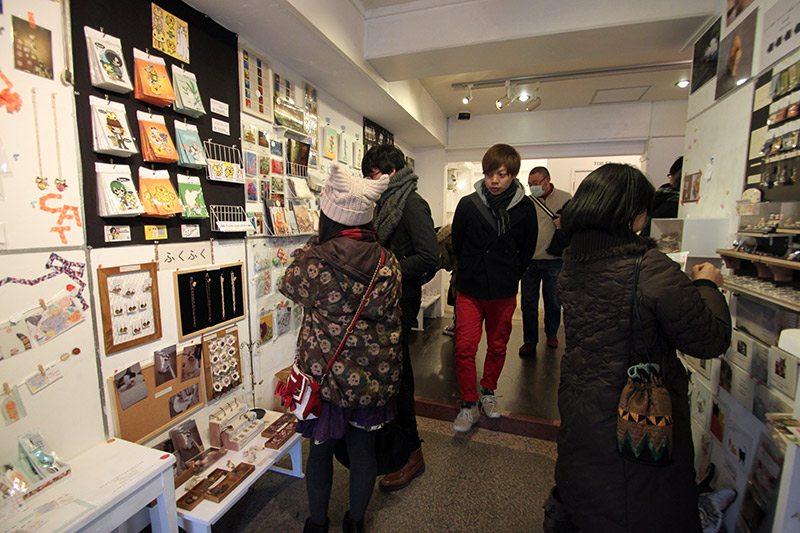 Q. Anything you want to say to the Tofugu friends and readers?
This has been an awful lot of words trying to put across something that really can't be explained. I'm a shamelessly biased source, but I truly believe that Design Festa is something everyone should experience at least once. Words, pictures, and video can help you get a general idea of what goes on, but you've really got to be immersed–surrounded, caught up and swept away–to really understand what Design Festa is about and what can be accomplished by the tens of thousands of people there.
Create & Participate
Big thanks to Sarah for her time and informative answers. Be sure to check out the incomparable Design Festa and GAKUTEN event experiences at Tokyo Big Sight. The next event dates are:
Design Festa
GAKUTEN
Dates: August 8 & 9, 2015
Design Festa Gallery Access
If you can't make it to a Design Festa organized event, the Design Festa Gallery is open year round in Harajuku.
Access: 3-20-18 Jingumae, Shibuya, Tokyo 150-0001, Japan
Hours: 11a-8p, everyday
Phone: 03-3479-1442