A little over four years ago, Kotani Makoto was not homeless. He was also not happy, successful, or well fed. He had been trying to make it as a comedian, with limited success, ever since he formed the manzai comedy duo Dandelion in 2004. After they broke up in 2009, he started another duo with Yoshiyuki Miwa called MiwaKotani. They also broke up.
So in 2013, Kotani decided to go to Tokyo to try and make it as a solo comedian. The first thing he did was go to a comedy show featuring comedian King Kong Nishino. After the show, Kotani asked Nishino for advice.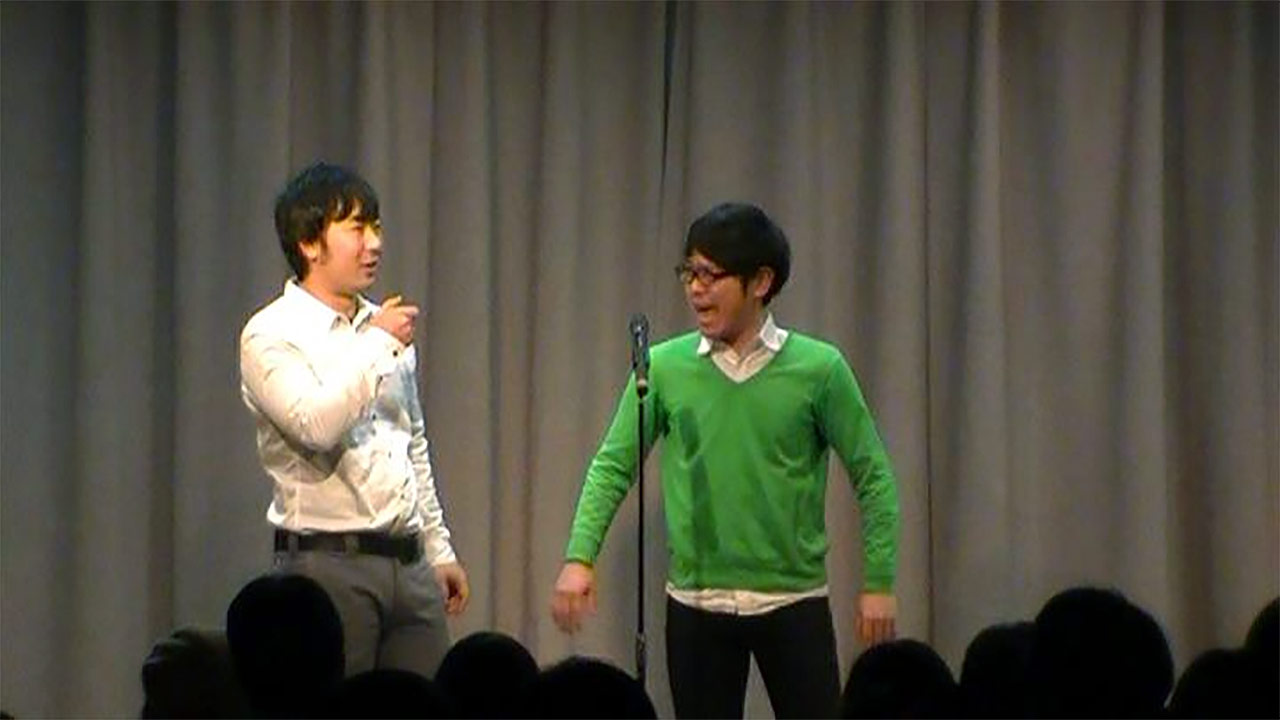 "Why don't you stay at my place?" Nishino said. Despite Kotani-san's appearance, and everyone saying it would be a bad idea, Nishino thought it would be fun to live with such a "sloppy, ridiculous person." At the very least, Kotani – and his odd personality – would be a good source of comedy materials. Kotani agreed, and rent was set at ¥40,000 (~$400 USD) per month.
But Kotani wasn't a good tenant. He was messy, forgot to turn off the shower, dragged dirt in the house, and even missed his first month of rent.
Kotani apologized profusely, and promised it wouldn't happen again. But it did happen again, exactly one month later. So Kotani shaved his head and prostrated himself in a dogeza position. "I'm sorry! I'm sorry! I'm sorry! I spent all my money on a woman I met last night and then she rejected me."
It was at this moment that Nishino changed Kotani's life forever. In a serious voice, Nisihono told him: "Starting today, you should become homeless. Your life will definitely be better that way."
And just like that, Kotani became homeless.
Zen and the Art of Being Homeless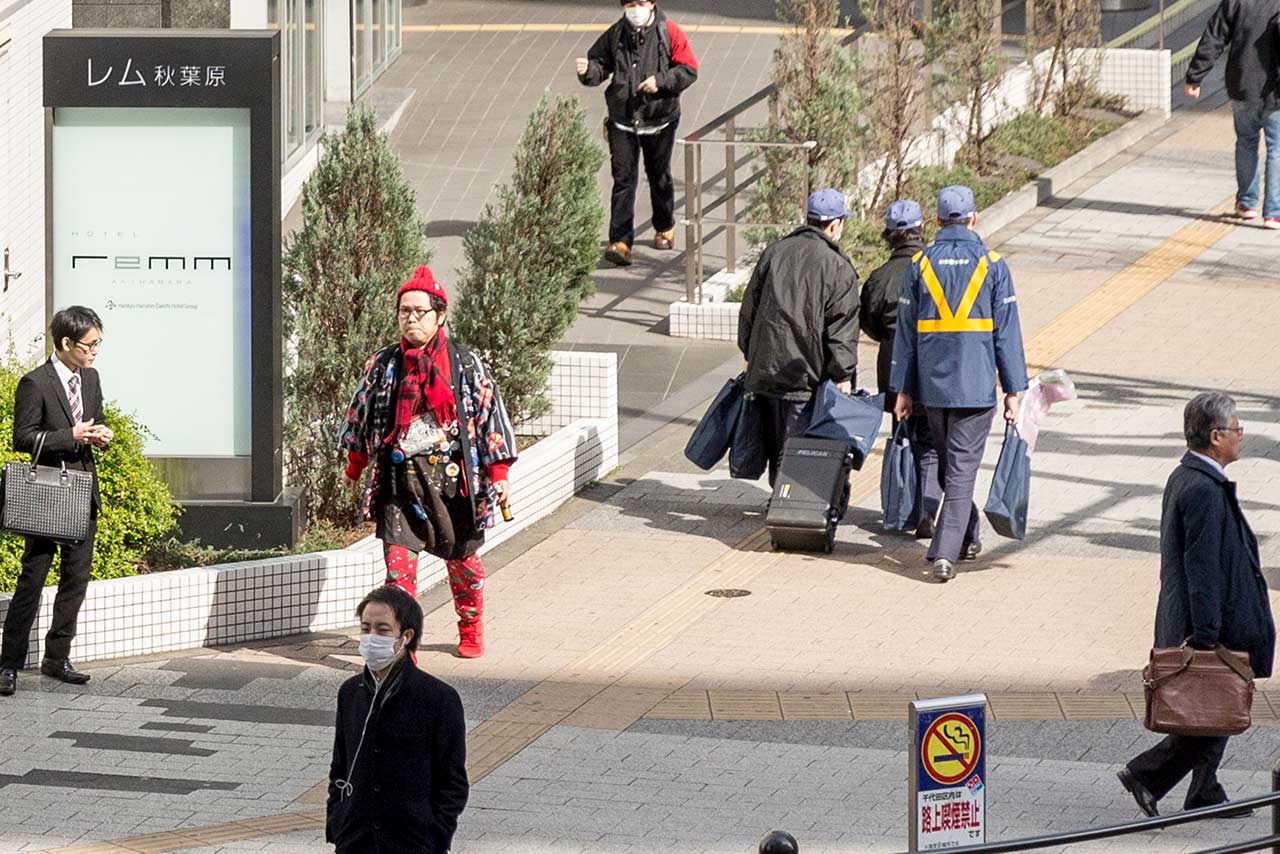 "Was Nishino-san making a joke, or something?" Mami asked. Kotani's story sounded a little ridiculous.
"Oh not at all… I doubt it was just random advice. When he told me that, I really believed that he thought it would be an interesting thing to become homeless."
We were all sitting inside the Denny's in Akihabara, Tokyo. Besides myself and Kotani, Mami, Viet, and Sean were all sitting around the table. Mami came across a story about Homeless Kotani while doing research on the growing "human rental market" in Japan. She reserved Kotani for two days via his website, sent him a message to arrange a meeting place and time, and then here we were a month and a half later, all eating the Japanese equivalent of a Grand Slam.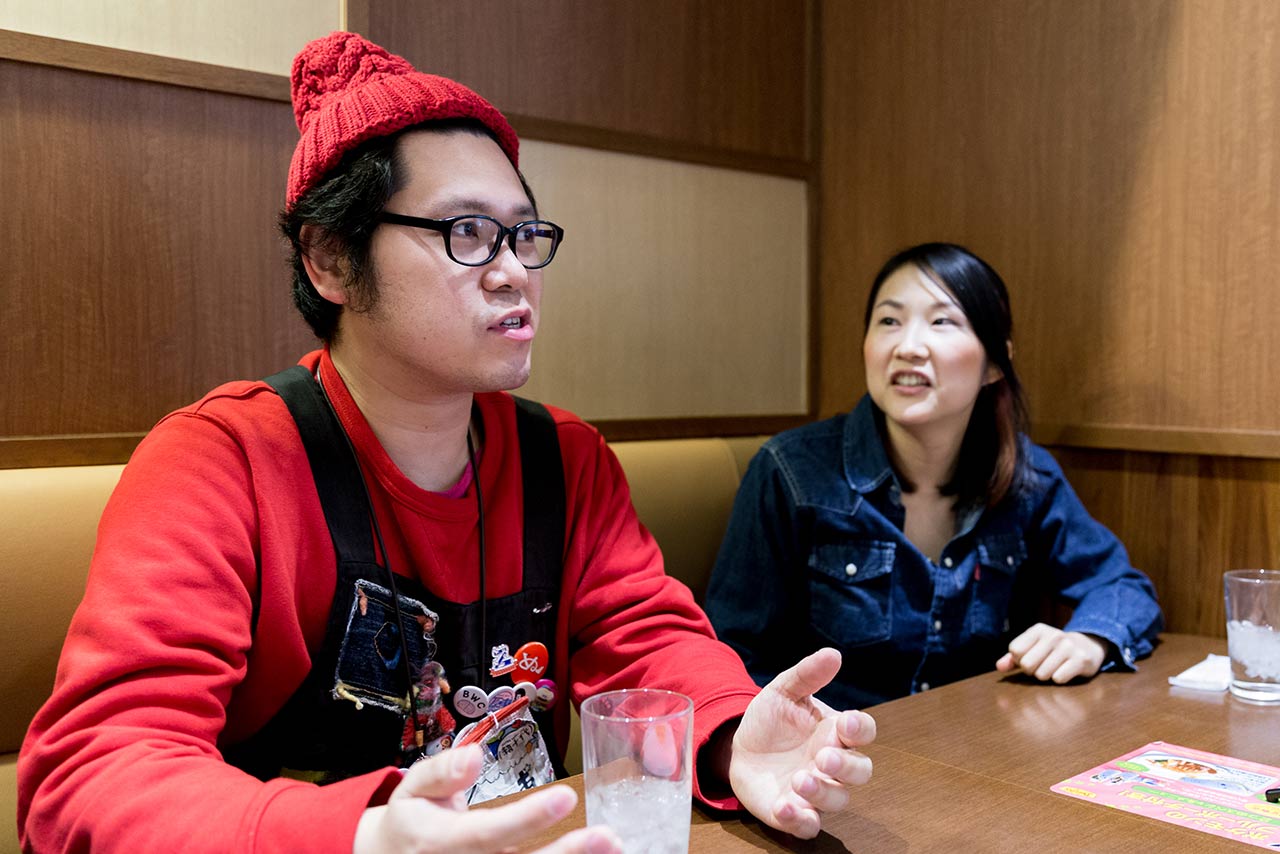 "Do you sleep on the street?" I asked between bites of salmon and rice.
"I haven't done that in a while now," Kotani said. "Only the first couple months was spent on the streets. That first month was tough. I used my phone to write about my homeless life on Twitter and it got a little popular. I also tried to get some part-time jobs, but the interviews didn't go so well. Then Nishino-san suggested I sell myself for ¥50 per day, so I did."
At first, Kotani-san was skeptical of how it would work out. But then, he noticed something: people felt guilty about renting him for only ¥50. He would do a favor for someone for basically no money at all, so his "customers" would buy him food, and sometimes offer their couch or floor to sleep on.
Kotani would do something for them and they wanted to return the favor. He ate more than ever before and gained a lot of weight. Then he tweeted that he couldn't fit in his pants because he got fat. One of his followers bought him new pants.
"I have this 'worldwide family' now," he said. Kotani looked at each of us in turn. "Either I'd become friends with someone who rented me and at the end of the evening they'd offer to let me stay at their place, or I'd ask on social media and someone would offer. I'd be like: 'Is there anyone who can let me stay over tonight?' There are so many good people in the world."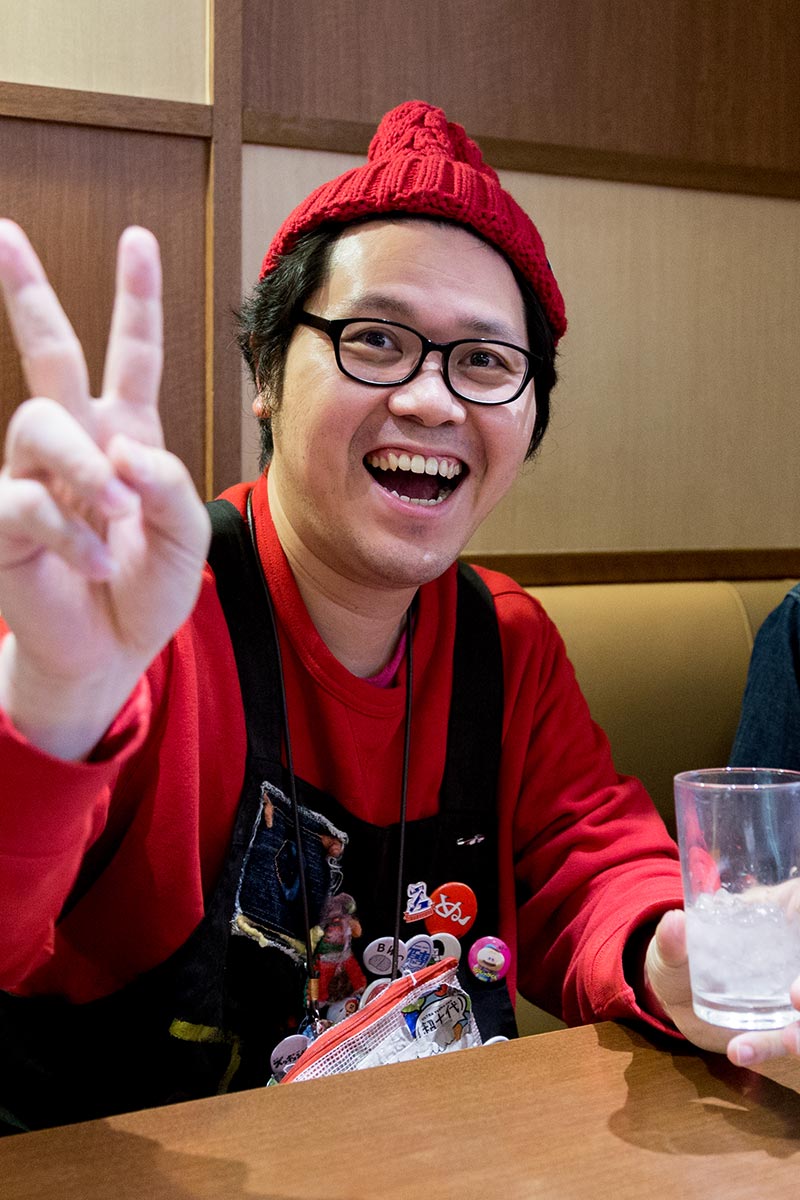 Everything Kotani told us went completely against my expectation. I've lived my whole life seeing homeless people being shunned, ignored, and abused. But here was a homeless man with thousands of adoring fans, many who consider Kotani a good friend. Thanks to these friendships, he is able to lead an extremely successful life, despite having no home and no money.
You see, on the most basic levels, all of Kotani-san's day-to-day expenses are taken care of. Rent him for ¥50 and you gain his company. But he needs to get to your meeting location, so you have to reimburse him for transportation. Usually this is just a train or subway ticket, but people have paid for airplane tickets as well. On top of this, the unspoken rule is that you pay for basic meals. When you offer, he'll say something like "Oh, is it okay to order something?" then follow up with a very genuine "thank you."
But nobody lives on food and transportation alone. Kotani explained to us that most, if not all, of his expenses are paid for by other people. His pocket WiFi and its data are paid for by one customer. His smartphone contract is paid for by another. "They just offered to pay them for me. All I could do was thank them for their offers."
"They just offered to pay them for me. All I could do was thank them for their offers."
His clothes, too, are often thanks to his customers and friends. He's made some designer friends along the way who sometimes give him stylish (or as he would say, "おしゃれ") things to wear. Other clothes were just bought by customers who thought Kotani would look good in them.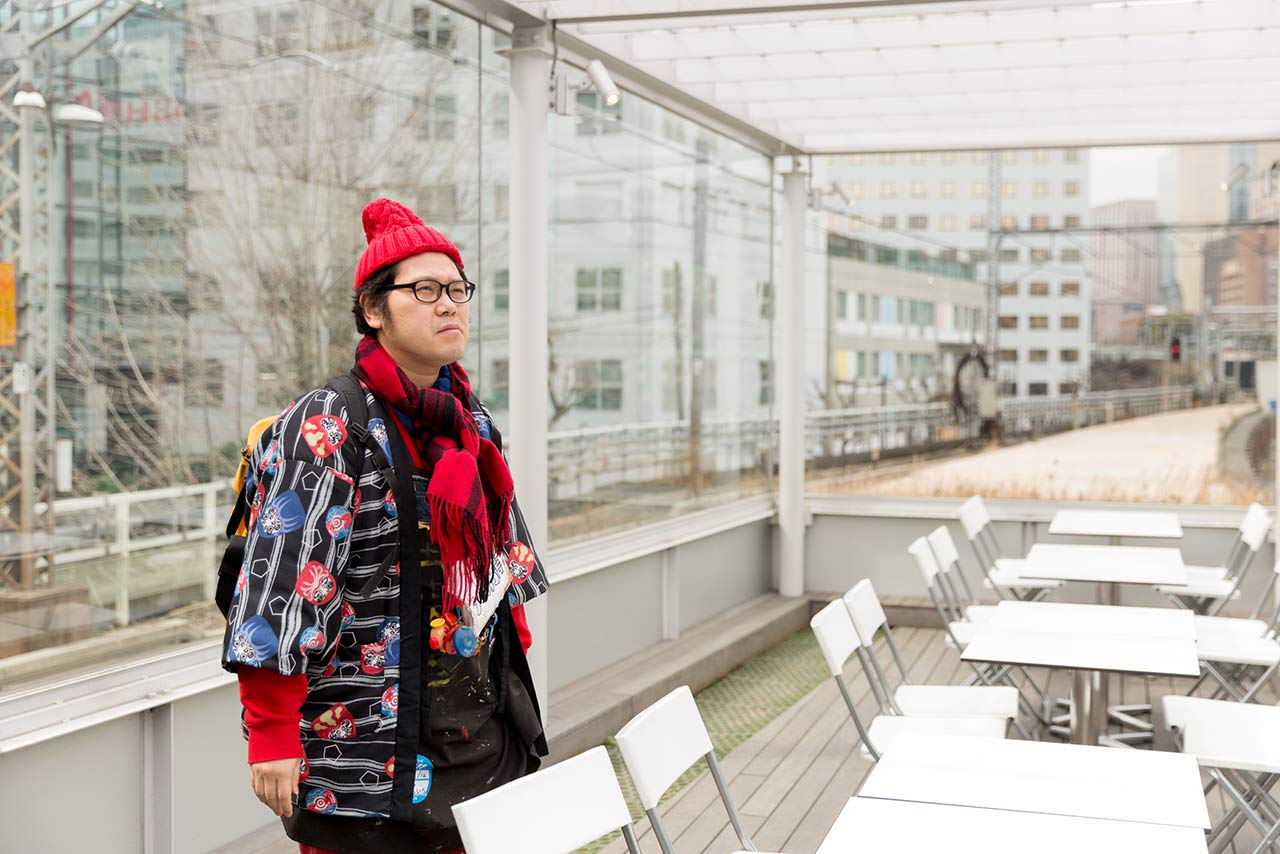 Indeed, if you look at his clothes, it truly is a cacophony of styles. But when he Voltrons them together, they somehow end up fitting his personality perfectly: a combination of "I don't care" and "a lot of different people who have never met bought me different pieces of clothing and I'm wearing them together." Keeping with this theme, we gave him a Tofugu tenugui, which he immediately added to the collection.
What Homeless Kotani Does for ¥50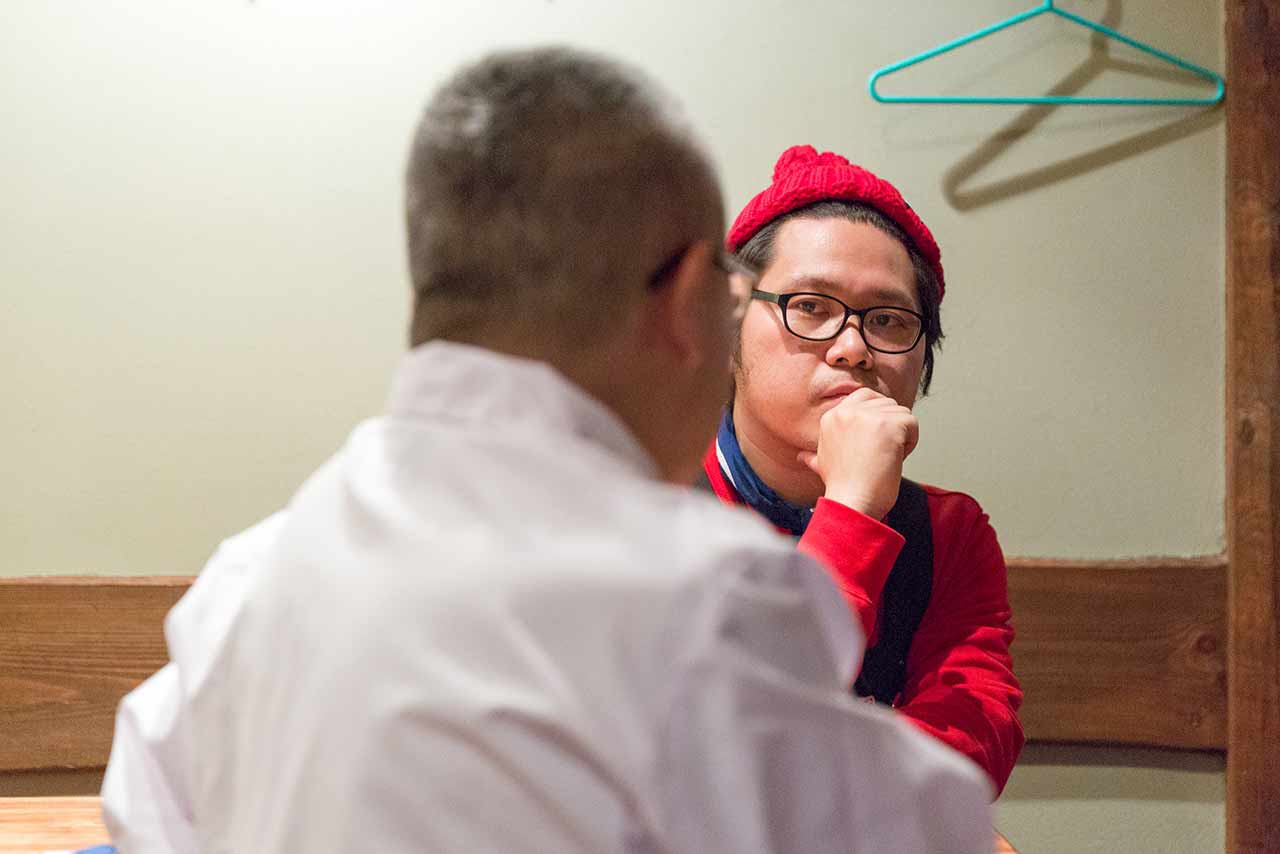 His food, lodging, clothes, and transportation are taken care of. But he doesn't just take, take, take. You give him ¥50; he does something for you. Over the course of the two days we spent with him, Kotani told us about some of his past jobs. He also did some work for us.
"So you basically accept any kind of offer?" Mami asked.
"Anything," said Kotani.
"Is there anything that is definitely a 'no' for you?"
"Well, I prefer an offer that doesn't cause trouble for somebody. I don't want to do something that will make others feel unpleasant, or bad. But I'll take any kind of offer as long as it is fun and it helps somebody."
We began talking about some of his past "jobs." According to his own estimation, he's been rented over a thousand times. He said he works almost every day.
"What's the craziest job you've done?"
"One time, I was rented to be a nude sketch model. Usually, professional nude models are muscular people doing poses. In my case, I made poses that I was told to do, and my poses were quite relaxed ones. It was kind of embarrassing, though. Eventually I was just asked to lie down naked, so I didn't have to do any tough poses. But I was so embarrassed that I ended up talking the whole time. Later there was an exhibition of the drawings, so I went to that too. The nude drawings of me were in a cafe for about a week."
"Then, one day a random stranger came up to me. It turned out he was someone from the exhibition. This person knew that I didn't have a home, and they offered to let me stay the night. So if you get naked sometimes people will let you stay over."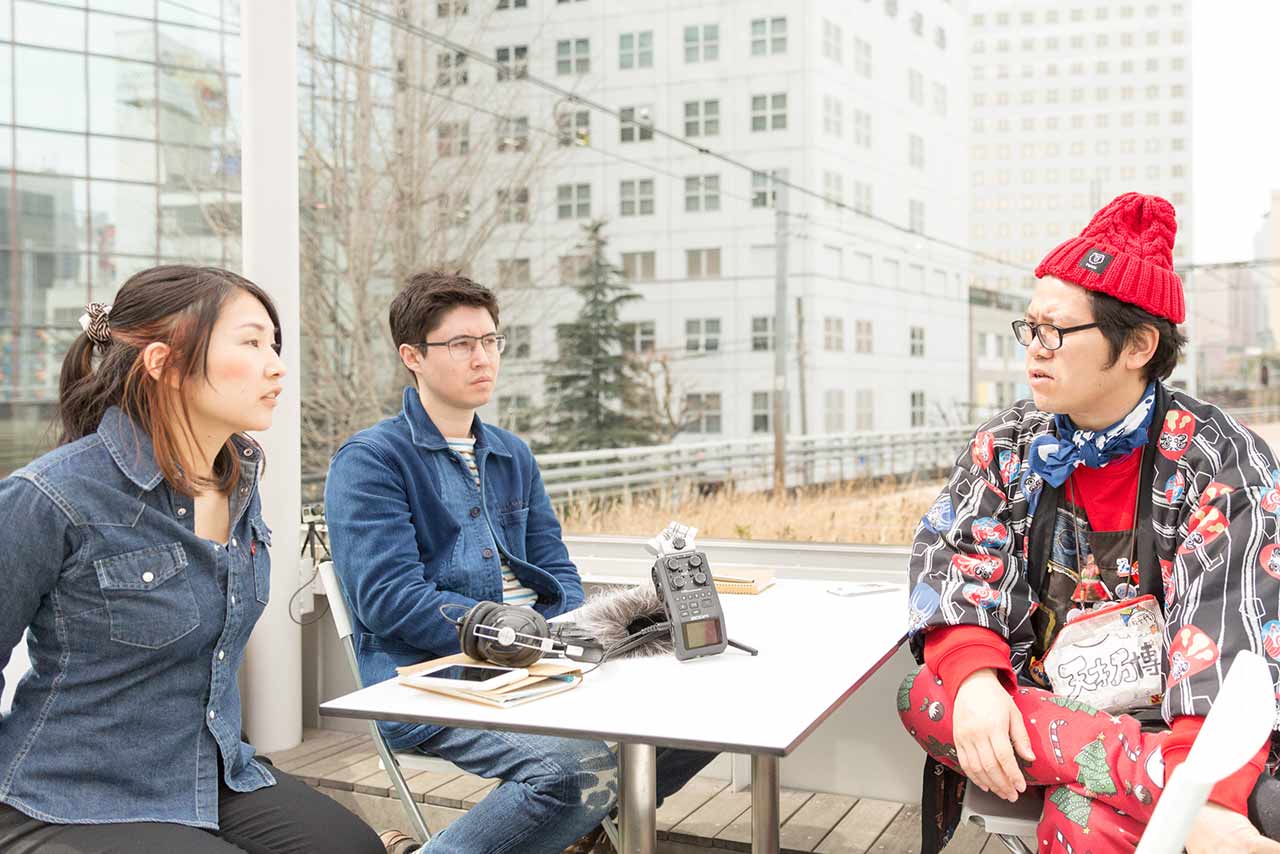 He told us many stories, all of them good, all of them ending with at least one more friend in the "Kotani family," as he puts it.
He told us about the time he waited in line for someone to buy a pair of limited edition sneakers, because the customer had to be at work. They wanted to buy them as a present for their friend who was about to go to China to study abroad. "I was able to buy the sneakers, so I was happy I could help someone make someone else happy."
He told us about the (many) times he just went out drinking with someone who wanted fun company. He told us about the times he's cleaned, worked, and done other kinds of menial labor.
And even during the time we had Kotani reserved, other people had rented him too. He gets messages from past customers asking for his time. When he wants to, he takes these jobs as well, overbooking himself for the day. The first time this happened to us, he said: "I only cost ¥50. So you get ¥50 quality. Sometimes I will oversleep too."
Except for one of these jobs (a girl who needed someone to talk to, because she was having a rough week), most of these add-ons joined us while we went about our business with Kotani.
The first was Shin (pictured below), who rented Kotani to have someone who could take a new profile picture of him for his blog. Really he just wanted an excuse to hang out with Kotani. Shin had heard about him through the Internet and became interested in meeting him.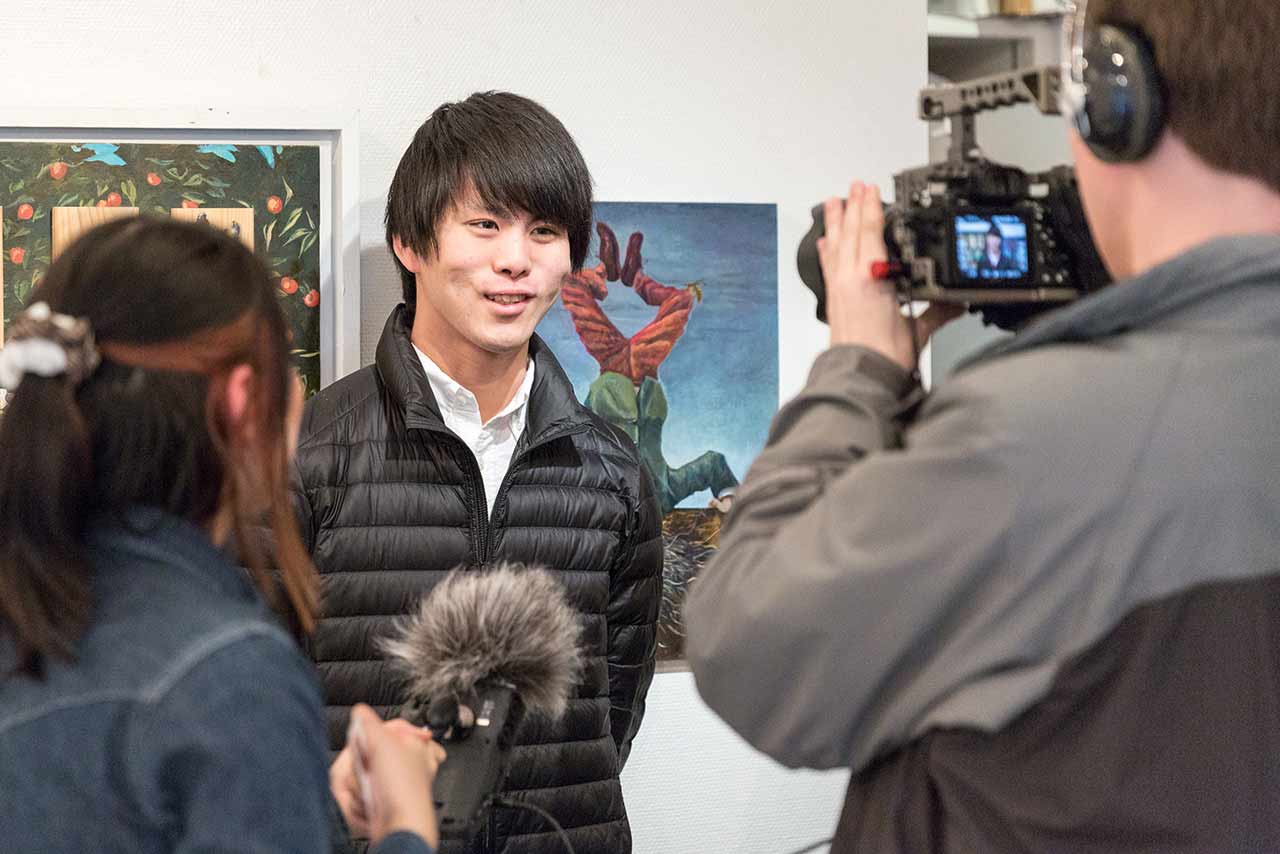 At nearly the same time, Yamaji, another past customer of Kotani's joined us. He was a little different, in that Kotani would message him whenever something interesting was happening (assuming that he actually remembered to message him). Yamaji was writing a book about Kotani. Originally, he was suspicious that Kotani could actually make a living off being homeless, so he followed him around for a while. "But [Kotani's] life didn't look painful at all," he told us. "He just enjoys life so much, from morning to night." Now Yamaji is trying to chronicle Kotani's life.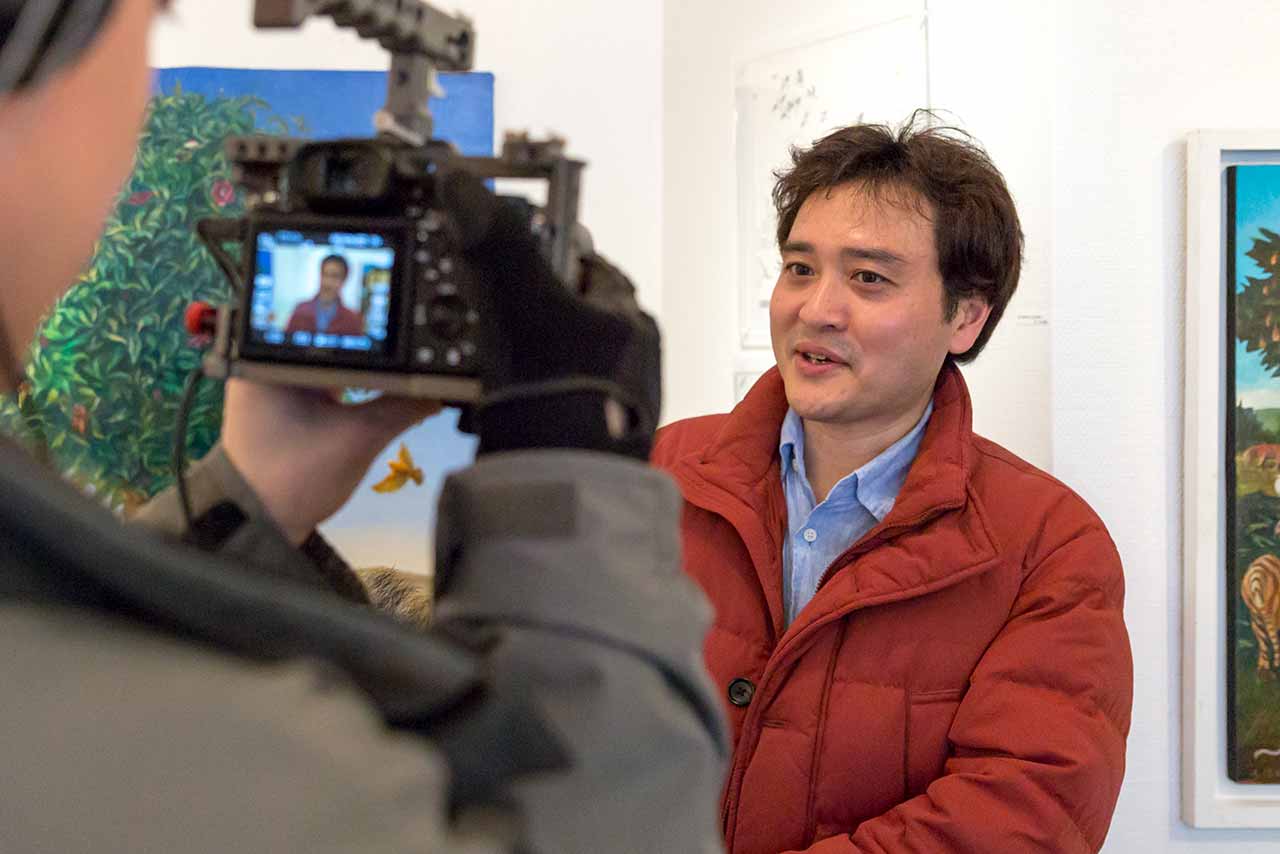 Together, we walked around doing Tofugu's work. We went to a hotel that we will cover for our Japan travel section. Kotani held a camera and sometimes pointed it at things. Shin and Yamaji just tagged along for the ride. After our tour of the hotel, we all took a picture together. If you look at Kotani's Twitter timeline, there are a lot of pictures like this.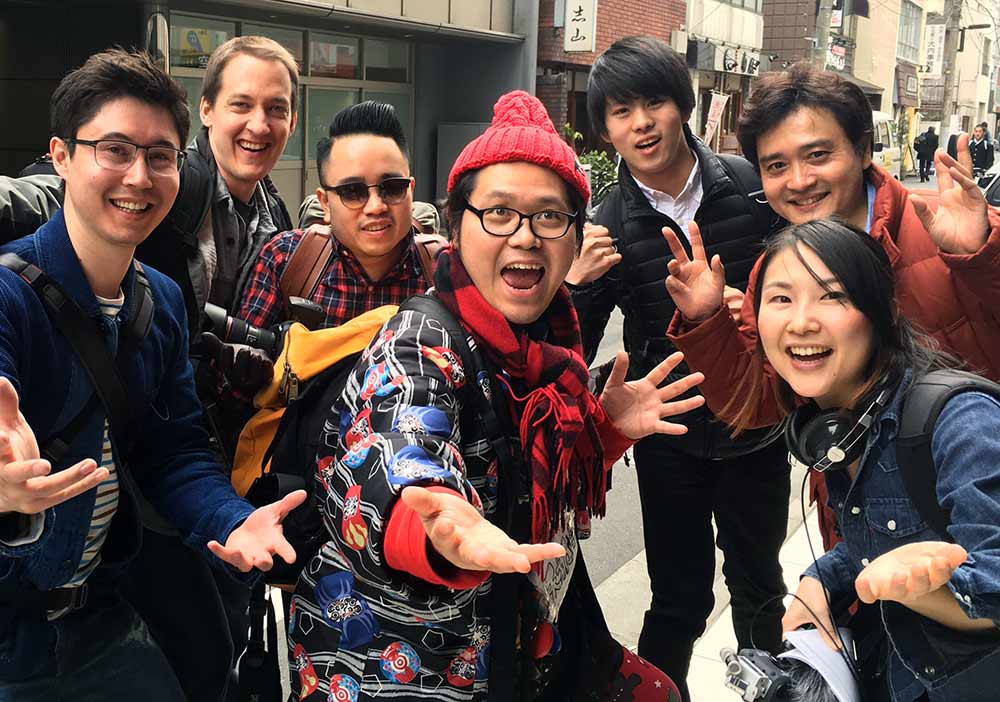 After this, it was time for everyone to go to a Kotani job. An artist had invited him to view and "critique" his gallery. A short train ride later (which the artist paid for), we all arrived at Ryohei Matsumoto's gallery.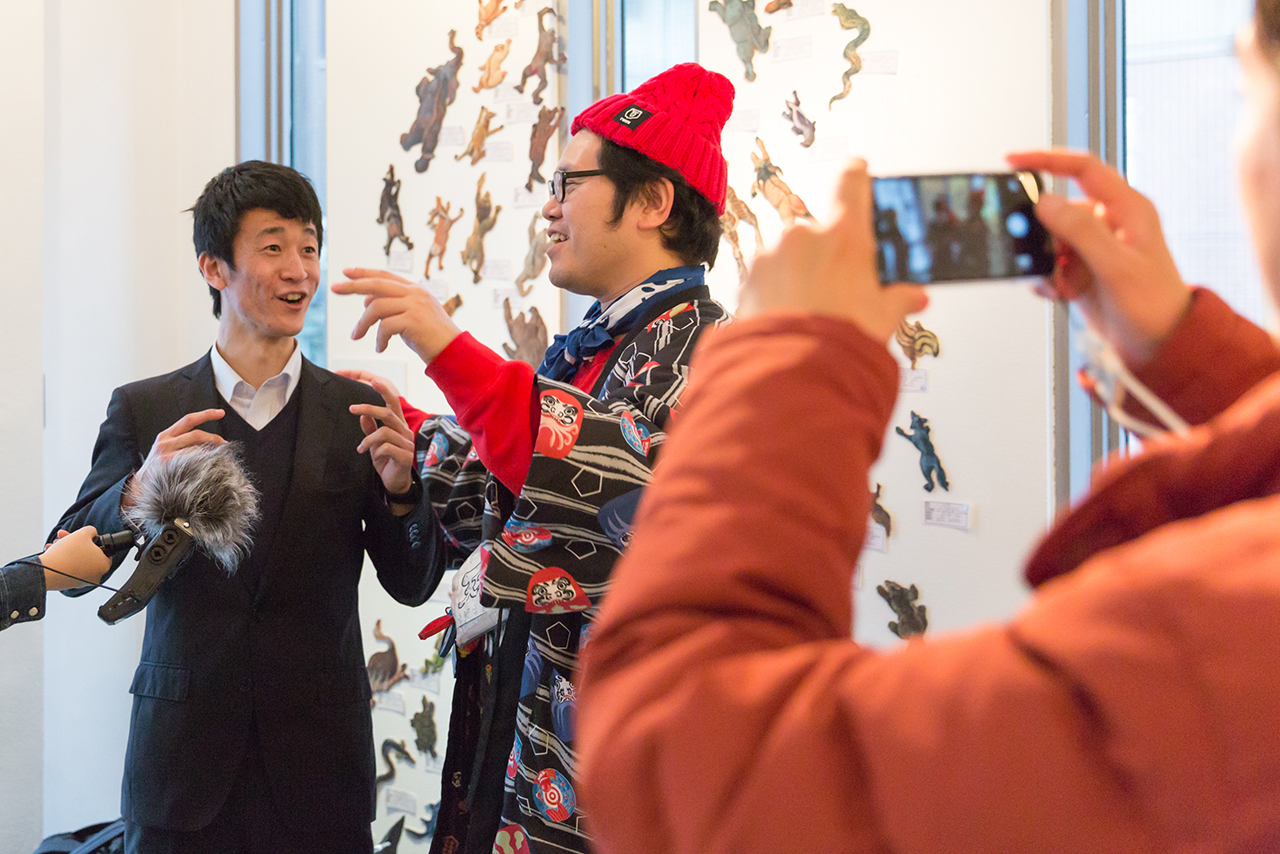 We looked at the art for a little bit, talked, and then Kotani completed his job by saying: "Awesome, your art is 100/100. Very good." If there is one thing I can fault Kotani for, it is probably this. No matter what it is, he will love it. Though I'm not sure if that's actually a fault.
After the gallery job, Shin and Yamaji went their separate ways, and Kotani had to run off to another job. But we met back up later to interview the owner of Bird Land, a Michelin Star yakitori restaurant, right across the hall from the famous Jiro Dreams of Sushi restaurant. It was here that Kotani was able to do what Kotani does best: he talked, was curious, asked questions, and made our interview that much more interesting.
And of course we ate and drank.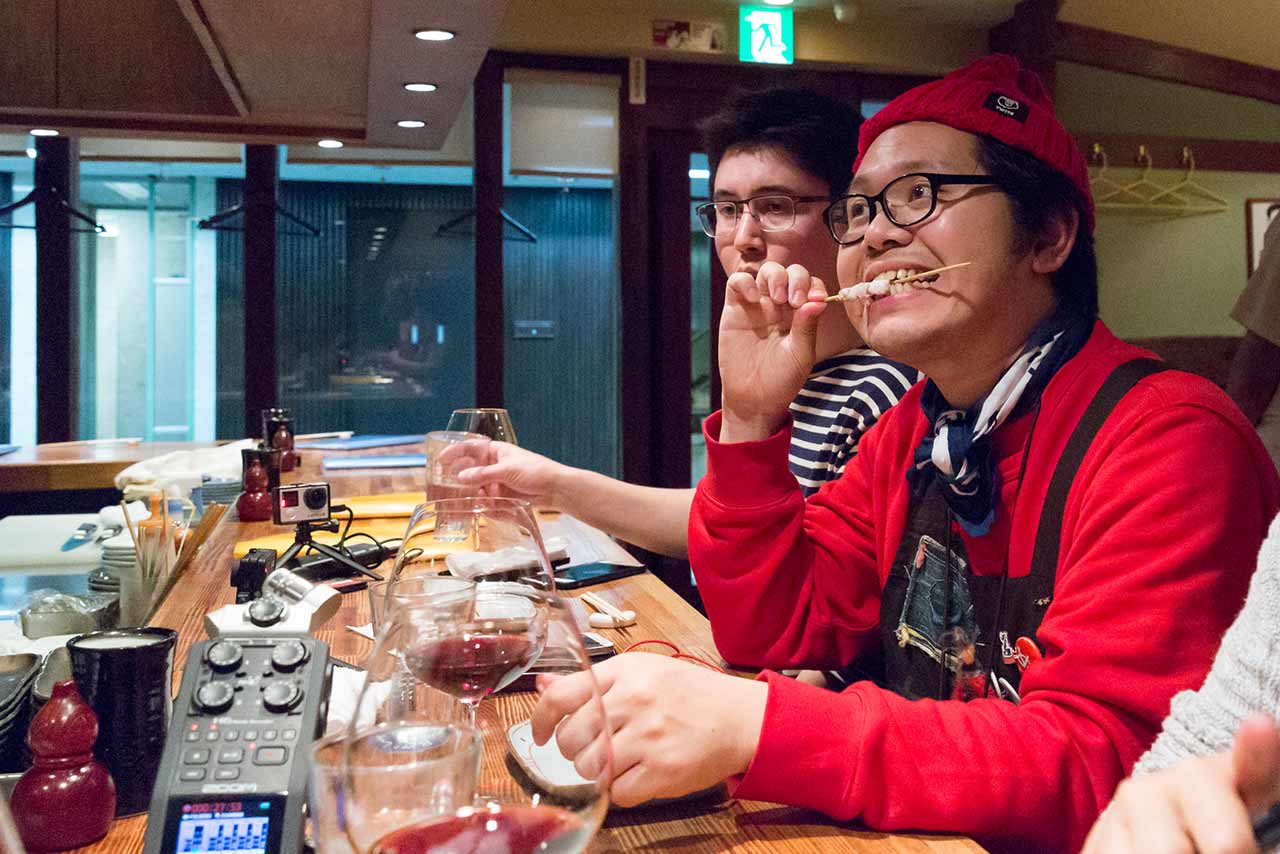 When we originally reserved Homeless Kotani, I assumed we would be giving him two of the most interesting days of his life. We took him to Kagaya Izakaya, quite possibly the craziest (and my favorite) izakaya in the world, and a Michelin Star restaurant (Bird Land). He also came along with us to visit other places on our travel list, which are places that most people don't know about. But to Kotani these days were just like any other day. And he has definitely had jobs that were way more interesting than what we were able to provide.
"One time, someone bought me to go to Taiwan and check on his friend, to make sure they were okay," Kotani told us while we were walking together. "I've also been to Vietnam. I was sent there during the rainy season. [The person who rented me] asked me to find out which is more humid, Vietnam or Japan."
"He asked me to find out which is more humid, Vietnam or Japan."
"And he paid you ¥50?" Mami asked.
"Yeah. And the airplane ticket. Actually, it was the same guy who asked me to go to Korea."
"Oh, so you've been to Korea too?"
"Yep. He wanted me to check on the weather in Seoul. I literally just went there for that. People I met in Korea helped me out. Usually it's like that. I'll go someplace, make friends, and then come back home. Just like that, I was able to chat with foreign people. For example, when I was there I got bought by the owner of a Korean yakiniku restaurant for ¥50. He asked me to help him out in his restaurant, and I was planning to help him, but then some Japanese tourists came in randomly and I ended up talking and eating with them the whole time. But the owner still gave me money to stay at a hotel that night."
It was a little later, after we had talked about his travels, as well as his experience with foreigners in Japan, that he continued this thought:
"Over time, I've been able to change my thinking about foreigners. At first, I hesitated to talk to them because I couldn't speak English or their language. But I started thinking it doesn't matter," he said.
Somehow, this works out well for him. Even with a language barrier, Kotani's charisma is overpowering. When he travels, he doesn't book a hotel or bring any money. He just does what he always does: asks for help from old friends, or quickly makes new ones.
Getting Married to a Homeless Man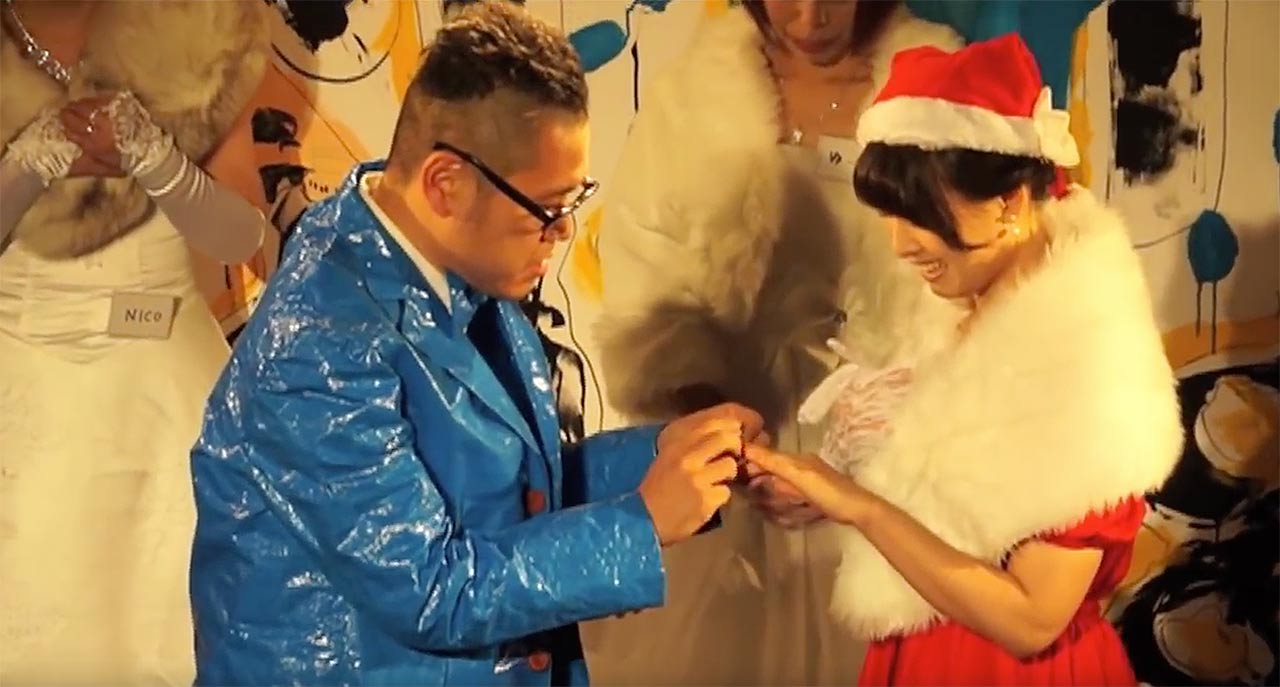 Perhaps his most surprising "job" was the one where he got married. We learned about this when he casually mentioned how he'll "sometimes stay over at [his] wife's place" when he's in Nagoya.
"Your wife? You're married?" I said.
"Yep. She lives at her parents' place in Nagoya."
"But wait, you're… you're married?"
Kotani explained. "I met her a few months after I became homeless. She bought me for ¥50 at first, to play tag in Nagoya station. I had ten people trying to chase me down."
"Then another time, she bought me to go drinking. While we were drinking together, someone said to us: 'Why don't you go on a date?' And she said, 'Wouldn't it be funny if we just got married instead?' Then we did it. Yeah, that's how I got married to her. I don't really think a lot. I just decide what to do in the moment by instinct. It's funny, we actually didn't even date once. It was just like you and me sitting here, we didn't know each other at all."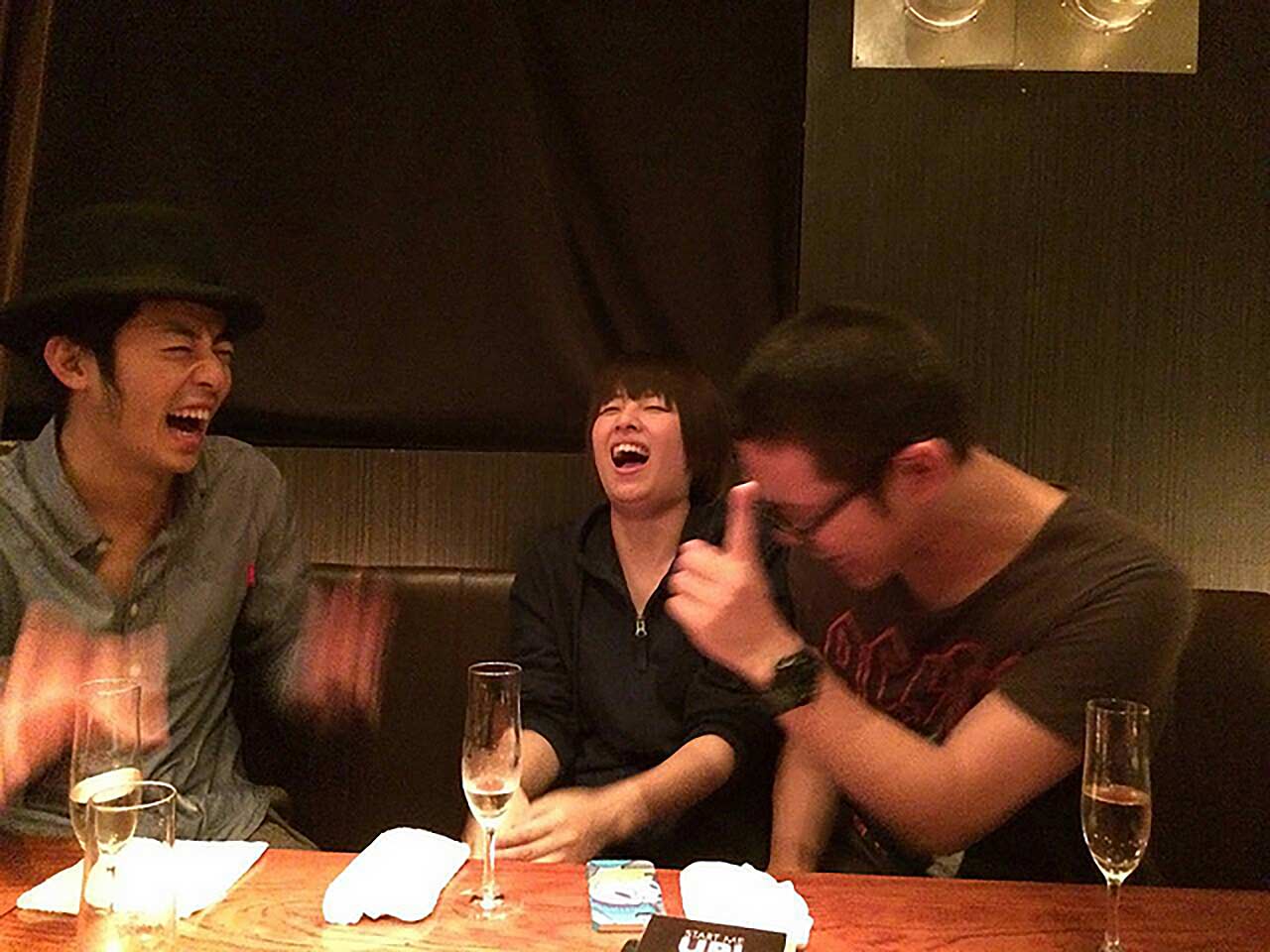 When you get married, you want to have a wedding party. But, of course, Kotani-san didn't have any money. "My friend Nishino-san suggested I try a crowdfunding website called Campfire to fund it. He used it for his art exhibition in New York. I wasn't sure at first. I didn't want people to think I was being greedy or selfish. But Nishino-san said to me: 'Who do you want to make happy? You? Your wife? Me, Yan-kun, or Ieiri-san? Your supporters? Or, somebody who doesn't even care about you but criticizes you anyway?' At this point, I realized that I shouldn't worry about other people. My wife and I decided to prove that even a homeless man with no money could have a great wedding party."
My wife and I decided to prove that even a homeless man with no money could have a great wedding party.
Kotani and his wife-to-be collected ¥1,673,554 from 273 people. In total (presumably including sources outside the crowdfunding campaign), Kotani told us he raised around ¥2.5 million. That's around $25,000 USD. They rented out the theme park Hanayashiki, and he told us around 600 people came (though his book1 says this number was nearly 1,000).
"At that time… I felt like… what can I say… I felt like there aren't only bad people in this world. There's kindness to be found everywhere."
Based on his description, and the extra big smile on his face, the wedding party sounded like one of his most cherished memories. I think he enjoyed and appreciated getting married, of course, but it was when he talked about all the guests – that is, his friendships – that his face really lit up.
So many people came together to not only celebrate with him, but also to help put together an awesome party. Designer friends helped with the invitations, clothes, and planning. Everyone chipped in to give back to Kotani-san, who made an impact on their lives too. Most importantly, someone (presumably Mugatu from Zoolander) made him a suit out of tarps.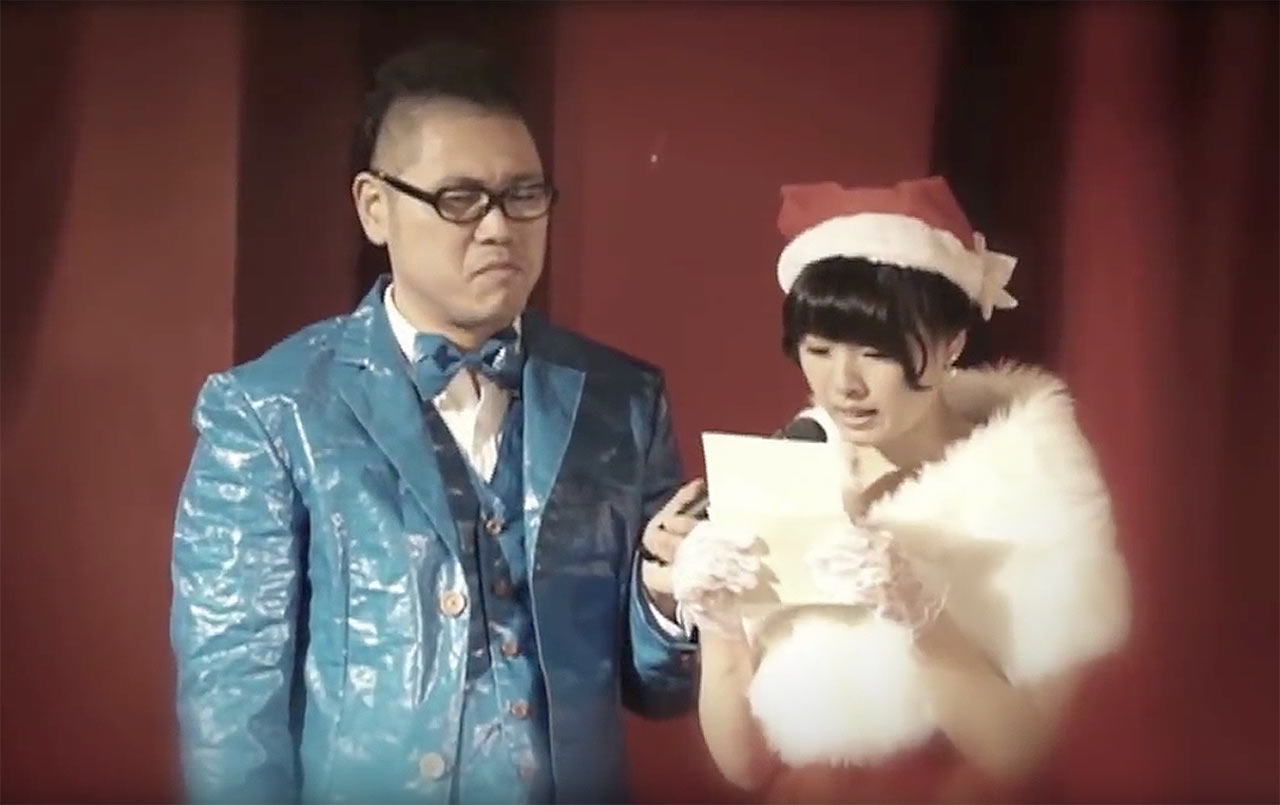 After getting married, Kotani-san continued his homeless life. His wife lives in Nagoya while he works in Tokyo. When you think about it, it makes sense. They got married because of a joke, and it was unclear to me how seriously they took their wedding, though Kotani did seem genuinely happy about it.
It's not all that uncommon in Japan for the husband to go off and work in another city while the family stays behind somewhere else. And homelessness is Kotani's occupation, after all.
Homelessness is Kotani's occupation, after all.
But on anniversaries, he sends Mrs. Kotani flowers and a letter. "I get money for that from other people too," he added.
The Homeless Philanthropist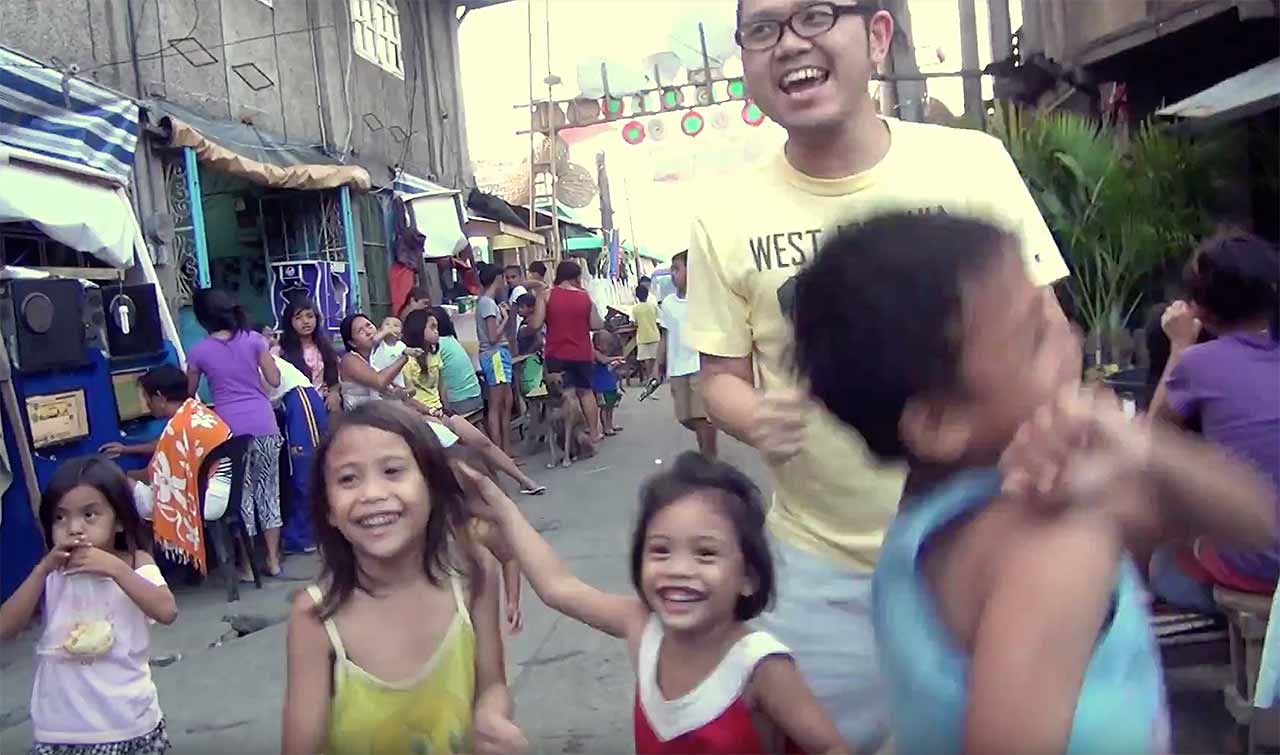 About a month after the wedding, awful news came out of the Philippines. A magnitude 7.2 earthquake hit the Bohol-Cebu region causing widespread damage. Immediately after hearing about this, Kotani-san was on a night ship with food, water, soap, and around ¥1,000,000 (~$10,000 USD) in leftover wedding money to donate.
"So I lost my house and got married a half year later, then a month later, I was volunteering in the Philippines… I was wondering to myself like, 'what am I doing? I don't get it.' …but it was all fun."
He stayed in the Philippines for one month, visiting and volunteering in the disaster area. When he told us about this time, he focused mostly on the climax of his visit: a "Japanese" festival, which he organized to cheer up the locals. "It was for the kids," he said.
They built a portable shrine, danced, and partied. Despite only having spent two days with Kotani, my own memories with him are some of my most cherished. I can only imagine that it's the same for the kids he hung out with. Although he didn't say this specifically, I can't imagine Kotani doing much hard physical labor while in the Philippines. His contribution, I'm sure, was raising morale, and I bet he did an amazing job.
"After going overseas, I thought it doesn't matter if someone is Japanese or not. Good people are good people no matter where they are from."
This trip was the first time Kotani went overseas, setting him up to enjoy Taiwan, Korea, Vietnam, and quite recently, Europe. As Kotani said in his own words: "After going overseas, I thought it doesn't matter if someone is Japanese or not. Good people are good people no matter where they are from."
Being Homeless, Being Happy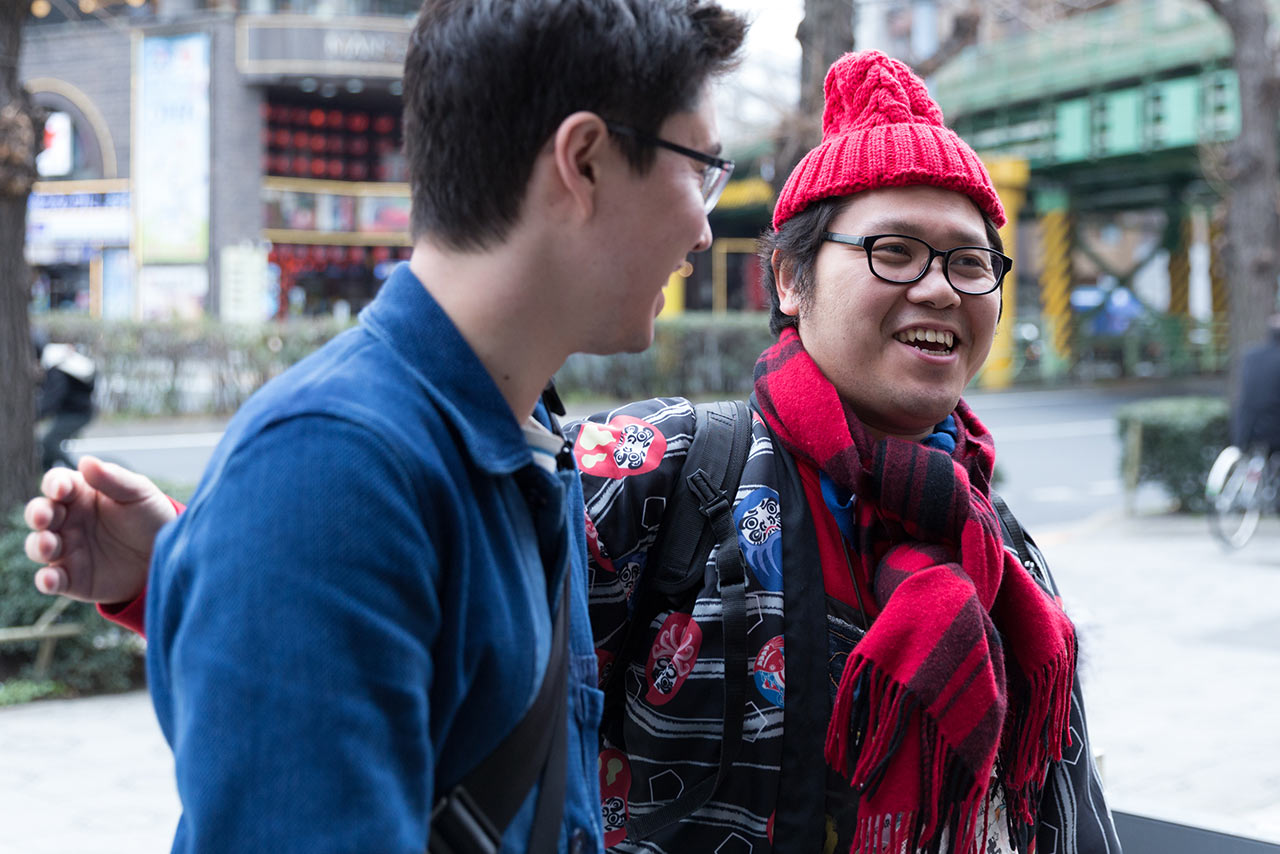 At the start of every single day, Kotani has no idea what he'll be doing. He doesn't ask his customers why they are renting him. He just accepts the reservation (or doesn't, if he's busy) and shows up at the agreed upon place and time (usually 15 minutes late, of course).
"Usually I don't get much information beforehand. Today I met many people, but most didn't tell me what we'd do […] I enjoy [this way] much better."
This, I think, is Kotani's key to happiness. There is no expectation. He just takes in the world and enjoys it to the best of his ability, living from moment to moment. There is no worry about money, things, or home. He doesn't really have those things. Unburdened, he can go anywhere and do anything. Because of this, he can be happy. He doesn't have to worry about anything but himself, and he somehow figured that out too. Paraphrasing from Kotani's book1:
What is happiness? Trying to go where the wind carries you is much easier than going against the wind. I am homeless, I have no money, I'm ugly, fat, middle-aged, and dirty… but I don't try to make those things better. I think of these not as weak points, but as talents. What can I do with them? What we really need to find out in our lives is the best way to change our angle, so the headwind becomes the tailwind. It's much easier and more fun to sail before the wind.
At first glance, I thought Kotani was saying that just "giving up" is his key to happiness. But now I don't think that's the case. He's saying you need to accept your flaws in order to accept your life, as well as to accept others. He is homeless, fat, ugly, poor, middle-aged, and dirty. But he is happy. Happier than the 9–5 office worker with a six figure income. Happier than me. And, probably, happier than you too.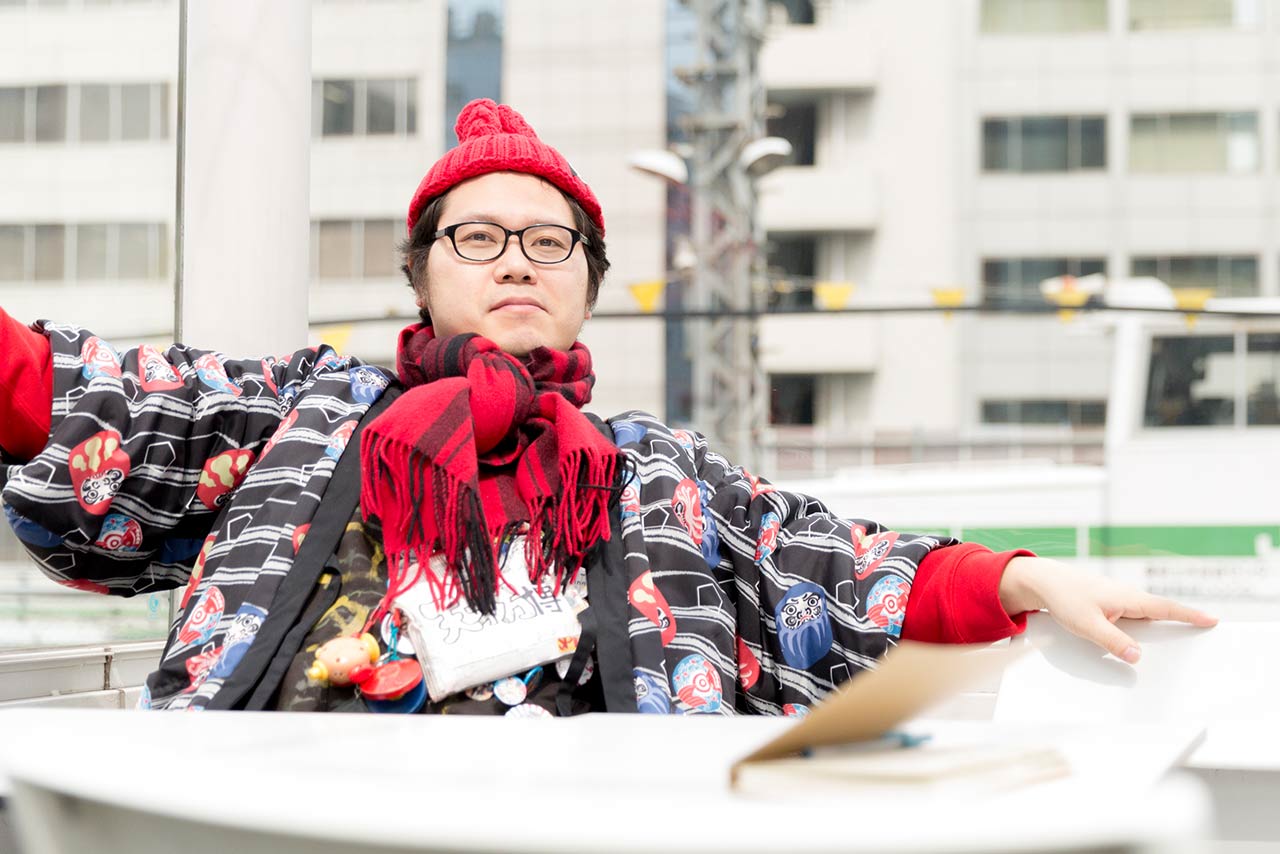 But what I experienced wasn't just Kotani-san's own happiness. It spread – pretty much immediately – to everyone around him. And while I was with him, I felt like I was doing something good for someone else. Looking back on this, I now know it was the opposite. Kotani-san was helping me. But it's important that the customer feels like they are helping Kotani. His book says it best:
Ieiri-san (founder of crowdfunding platform Campfire) said that what I do is like kisha 喜捨, which is a Buddhist term that refers to when someone donates money, food, or things to someone in trouble in order to accumulate their own virtues or karma. People are unconsciously helping me [Kotani] to feel better about their own virtues.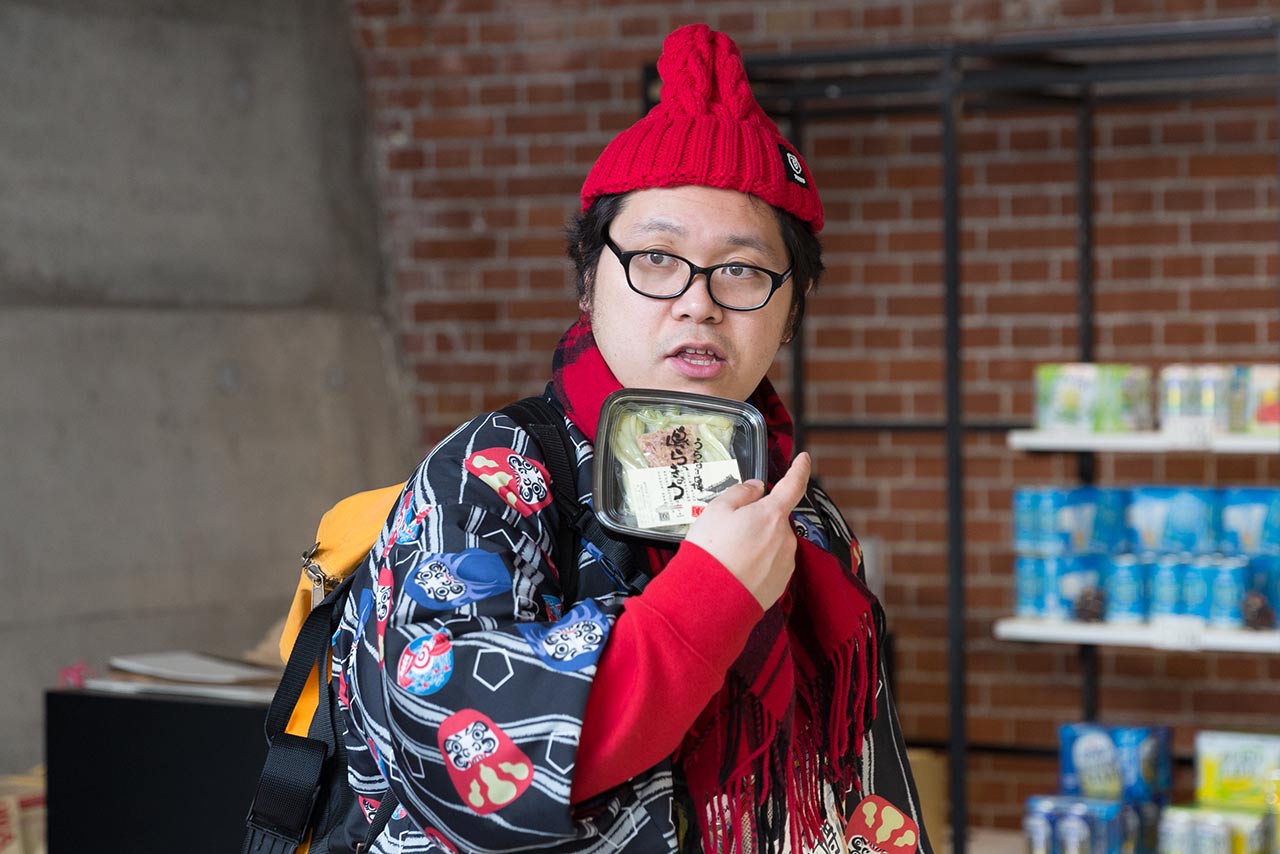 I came away from the whole experience feeling like he gave me too much, and I gave him too little. ¥50 (plus food, plus transportation) is no match for the two days of joy and fulfillment I experienced. As far as renting a human goes, Homeless Kotani gets a 13/10.
The best thing? This isn't some special experience only we were able to do. If you are in Japan (or willing to fly him to you, plus give him ¥50), you can rent him too. He posts his next month's time slots on his website, where you can make a reservation to spend time with him, among other things.
For example, if you're unable to rent Kotani you can still give ¥100 to his 賽銭箱 (offertory box). As it is written on that page, all proceeds go toward his sushi fund (Kotani loves sushi). You can also join the 小谷家族 (Kotani Family) for ¥6,000 (around $60 USD). This gets you access to a private Facebook group, as well as invitations to various members-only events.
Even if you don't want to get directly involved, you can follow along vicariously via his Twitter account: @kotanimakoto. He's always tweeting his adventures, and retweeting posts and photos from people who rent him.
Homeless Kotani-san is a unique, perhaps even a once-in-a-generation type person. There are very few people who have the energy and charisma necessary to live off ¥50 a day. He is irresponsible, sloppy, rarely on time, and a poor communicator. But he is happy, people around him are happy, and everyone goes to great lengths to keep it that way. In my life, I believe this is the closest I've come to meeting Buddha. That is, until I rent him again.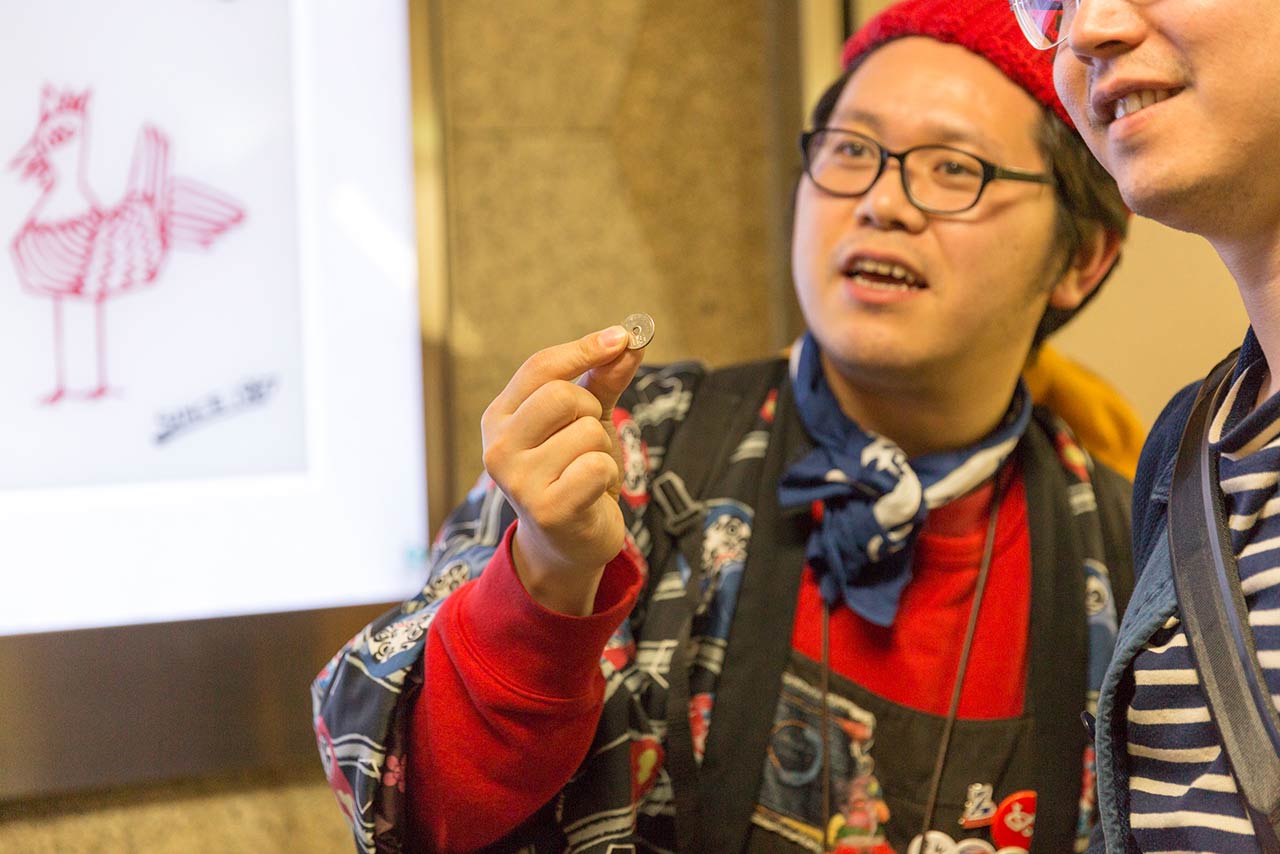 See you soon, Kotani-san!