Up north on the island of Hokkaido is the city of Otaru, a touristy town about an hour or so outside of Sapporo by train. A little off the beaten Otaru track is a small ice cream shop: Kita No Aisu Ya San ( 北のアイス 屋さん), which translates to something like "Ice Cream Shop Of The North."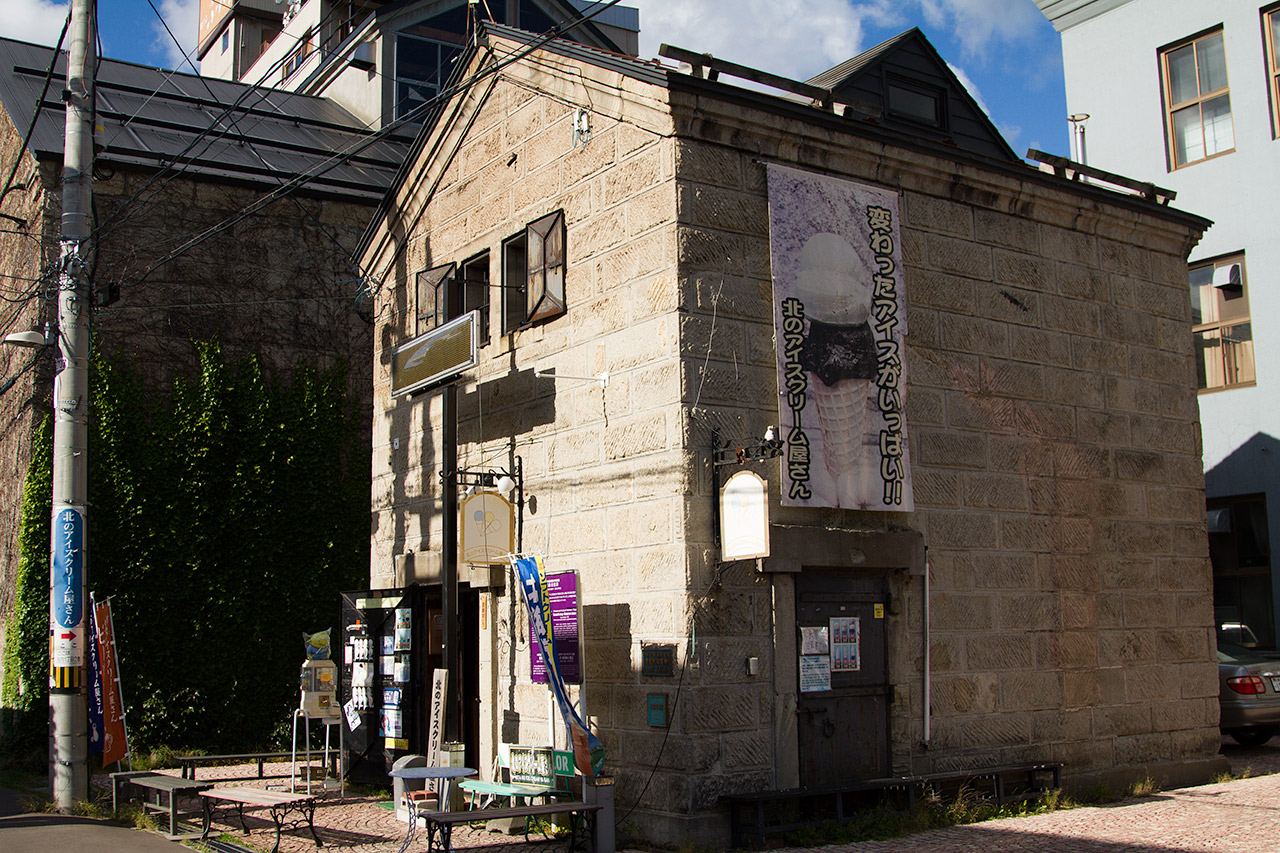 Hokkaido is famous for its soft serve ice cream, its cream, and its milk. So it's only natural that there's some amazing ice cream as well.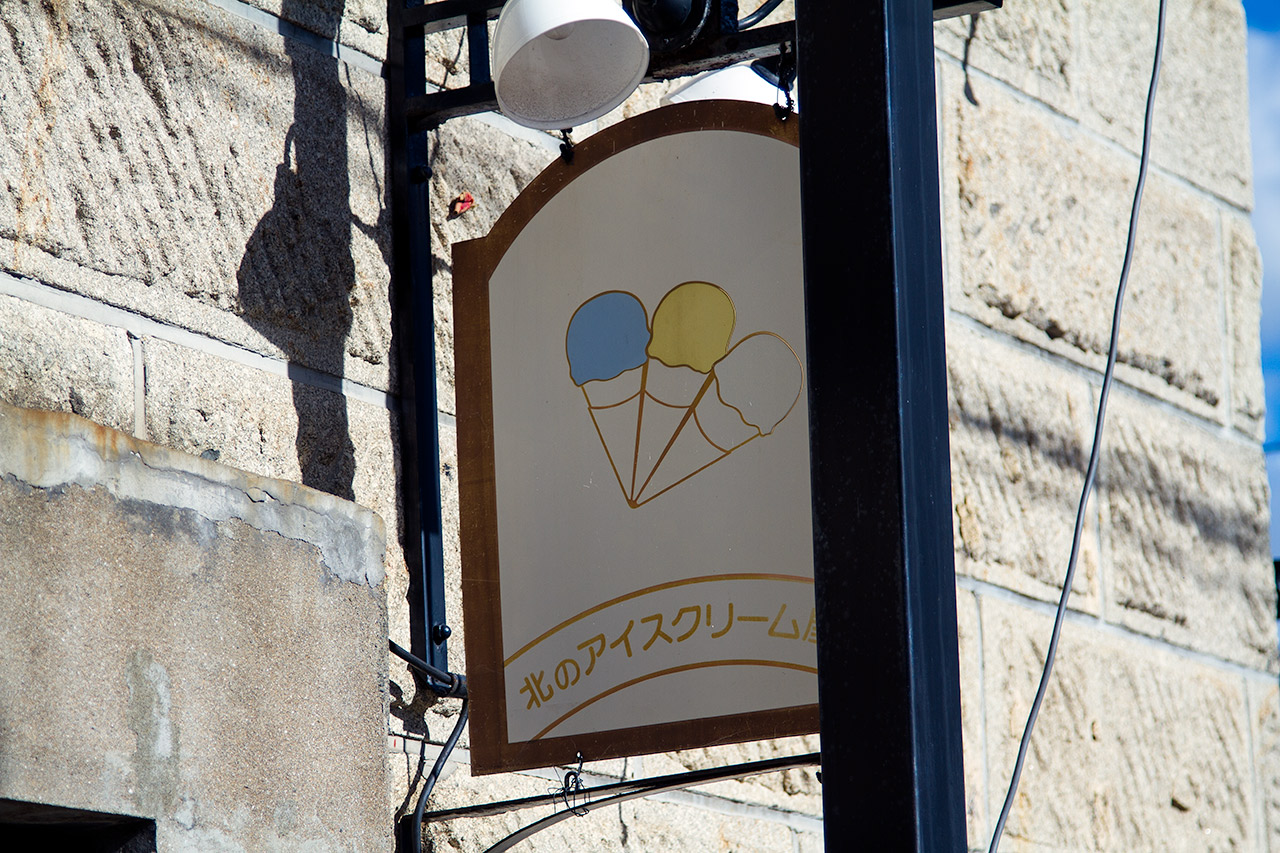 Really, though, it's the flavors that make an ice cream shop interesting. I'd wager to say that Kita No Aisu Ya San has some of the most unique flavors in the world, and despite sounding weird, the ones I had were really quite good. More on that in a moment. As you walk in you see the kinds of things you'd see in any ice cream shop. There's a freezer with ice cream, instructions telling you what kinds of combinations you can have (see picture below, I like the look of that ice cream + soft serve combination), and a few signatures in the back from famous people who have visited the shop (a Japanese shop staple). Apparently they also sold beer, though I passed on that.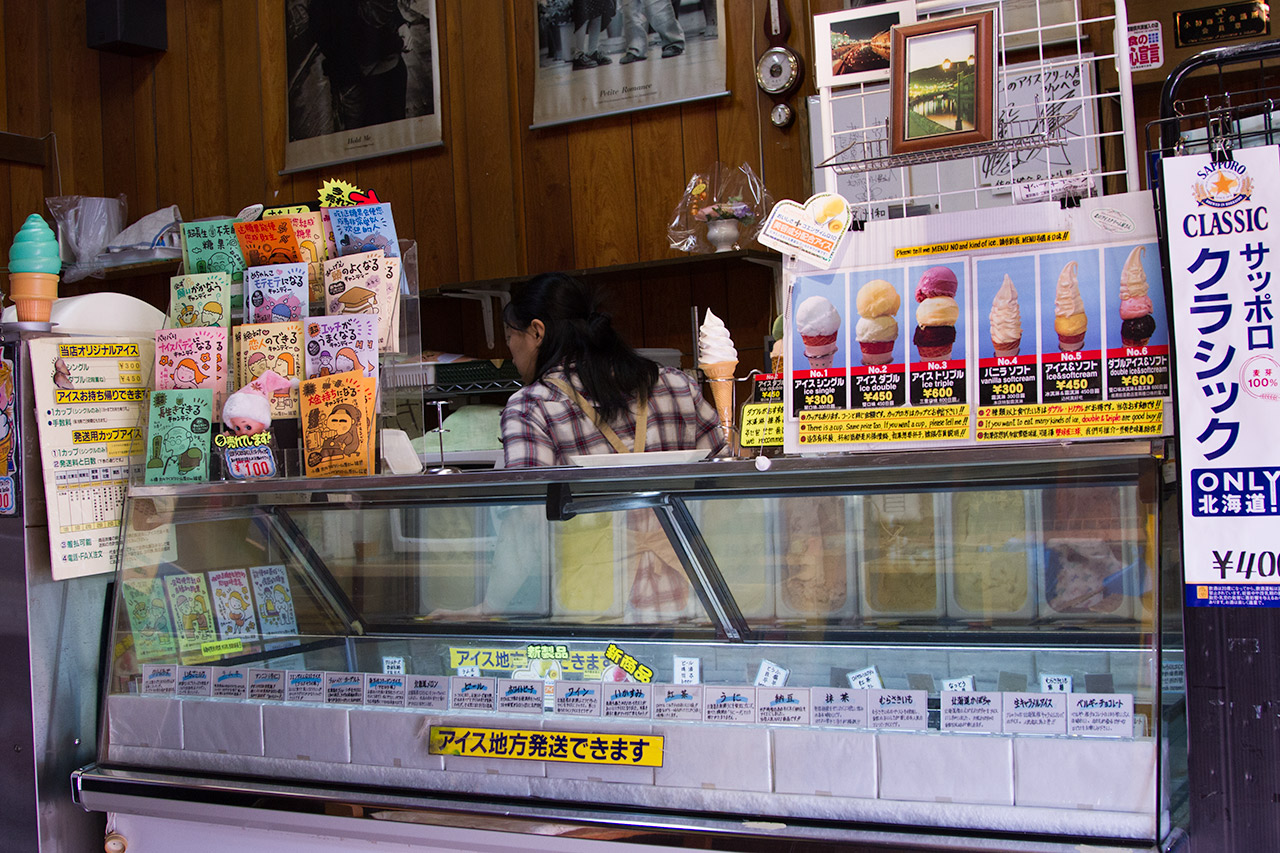 Things look pretty normal, right? Then you walk closer and take a look at the flavors inside the freezer.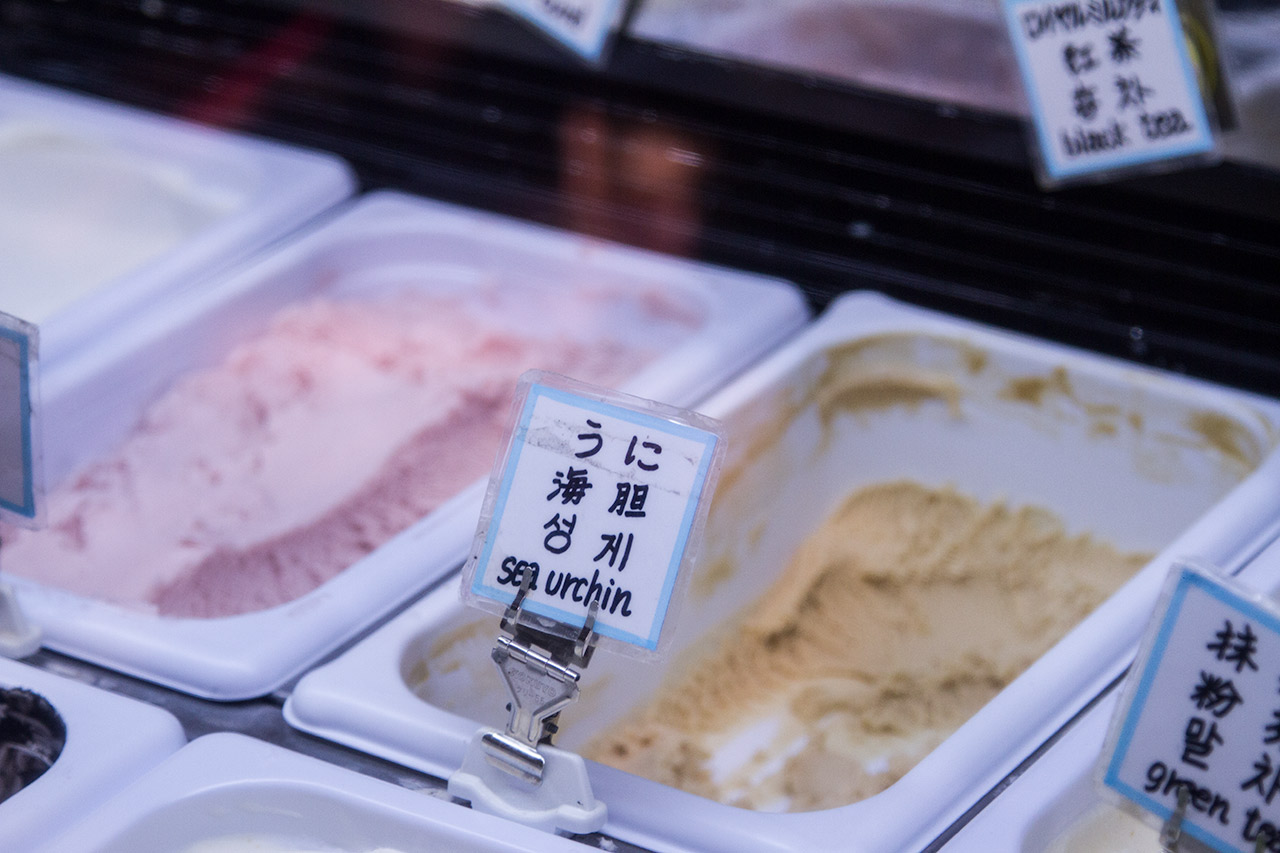 Sea urchin!??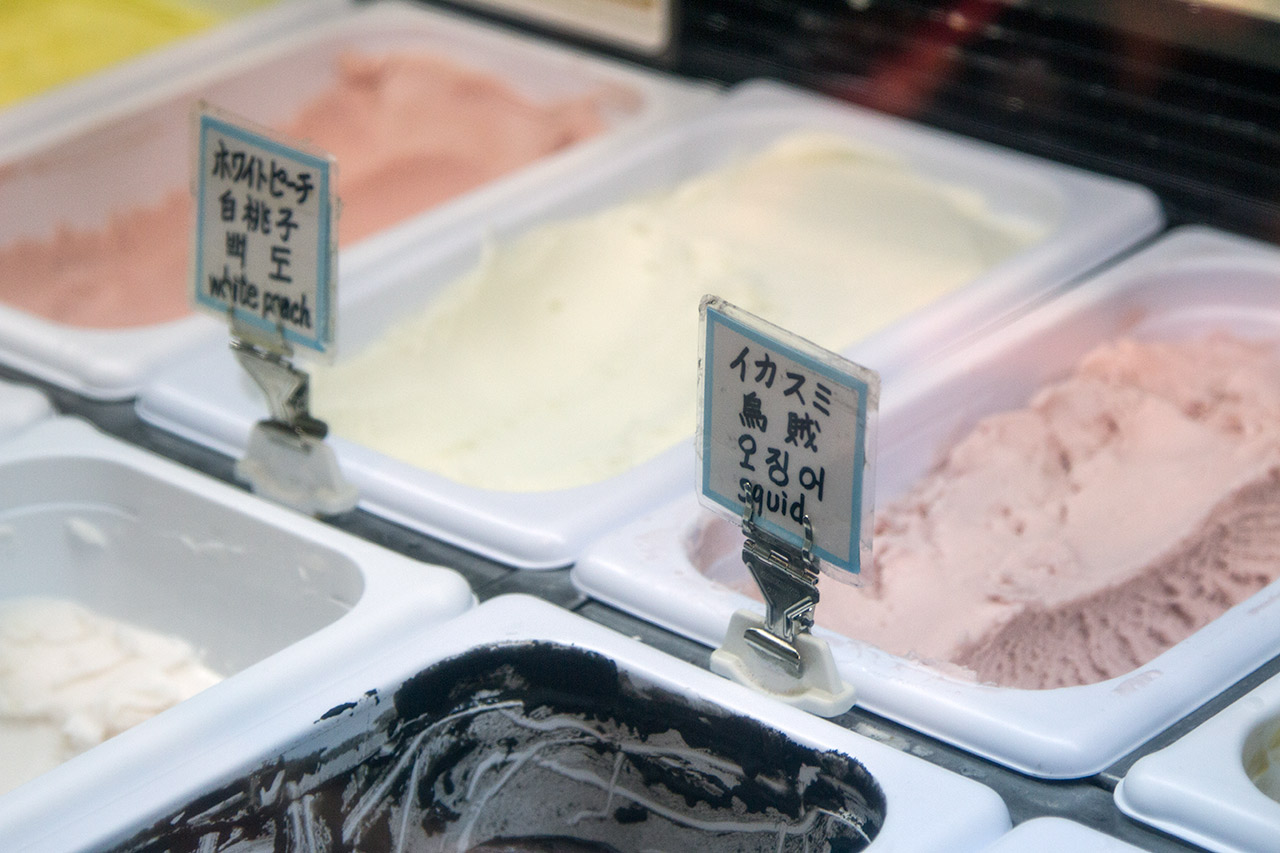 Squid!?? (Actually, it's squid ink, halfway done translation in English there).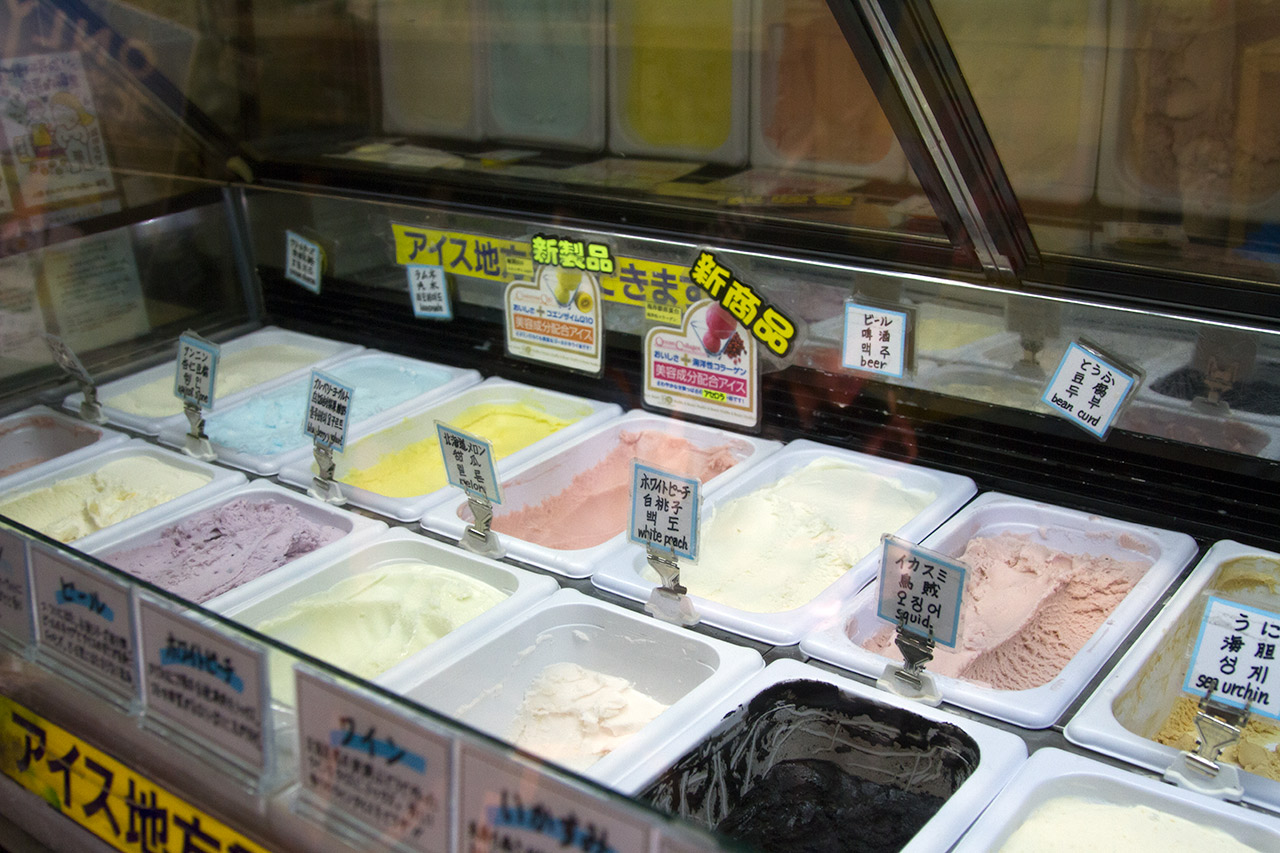 Tofu? Beer? Et cetera et cetera et cetera. Many of the flavors were pretty normal, too, so don't let the sea urchin stop you. Here's a list of all the flavors: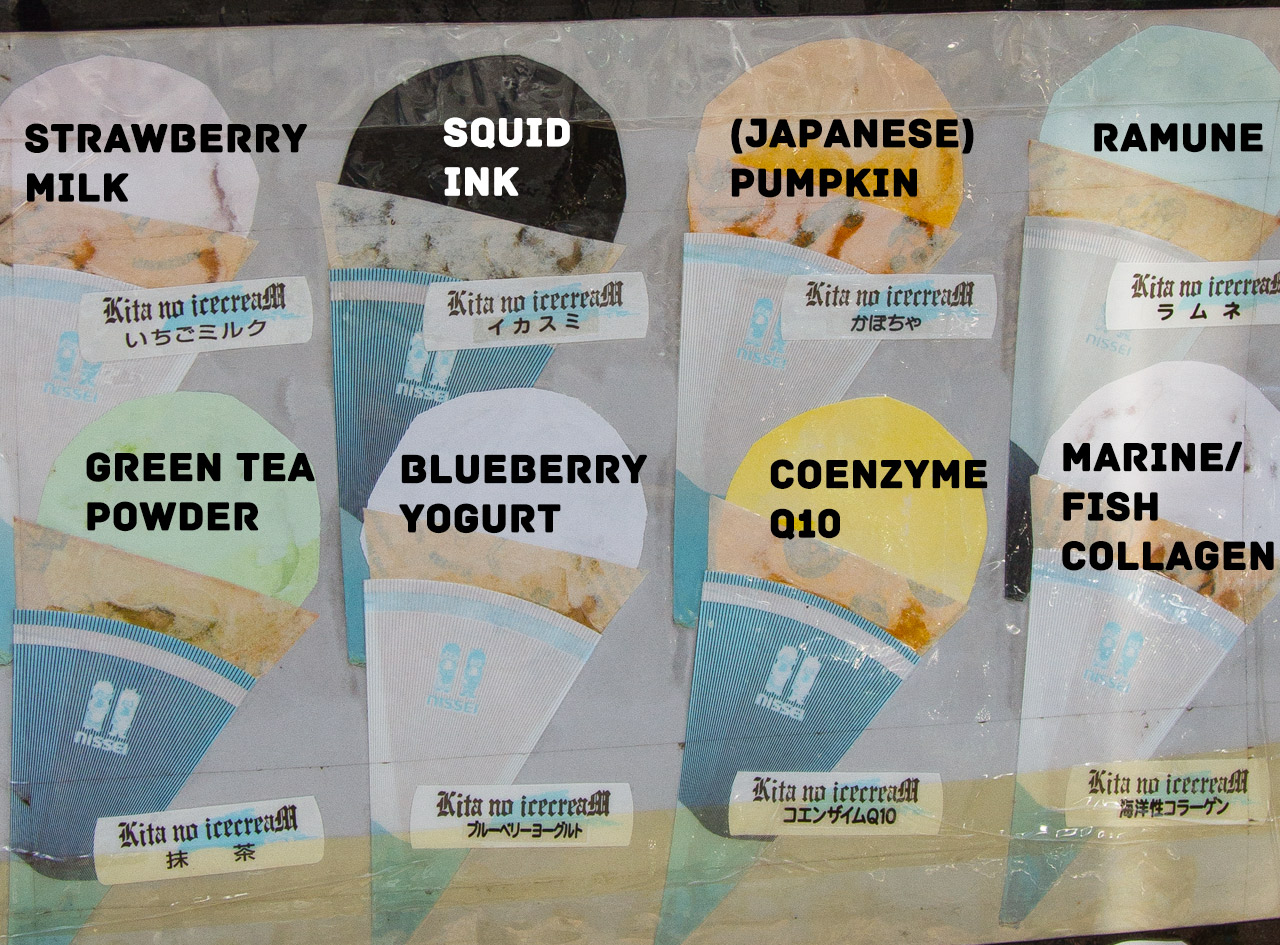 Strawberry milk, squid ink, kabocha (Japanese pumpkin), ramune, green tea powder, blueberry yogurt, coenzyme Q10 (what??), marine / fish collagen…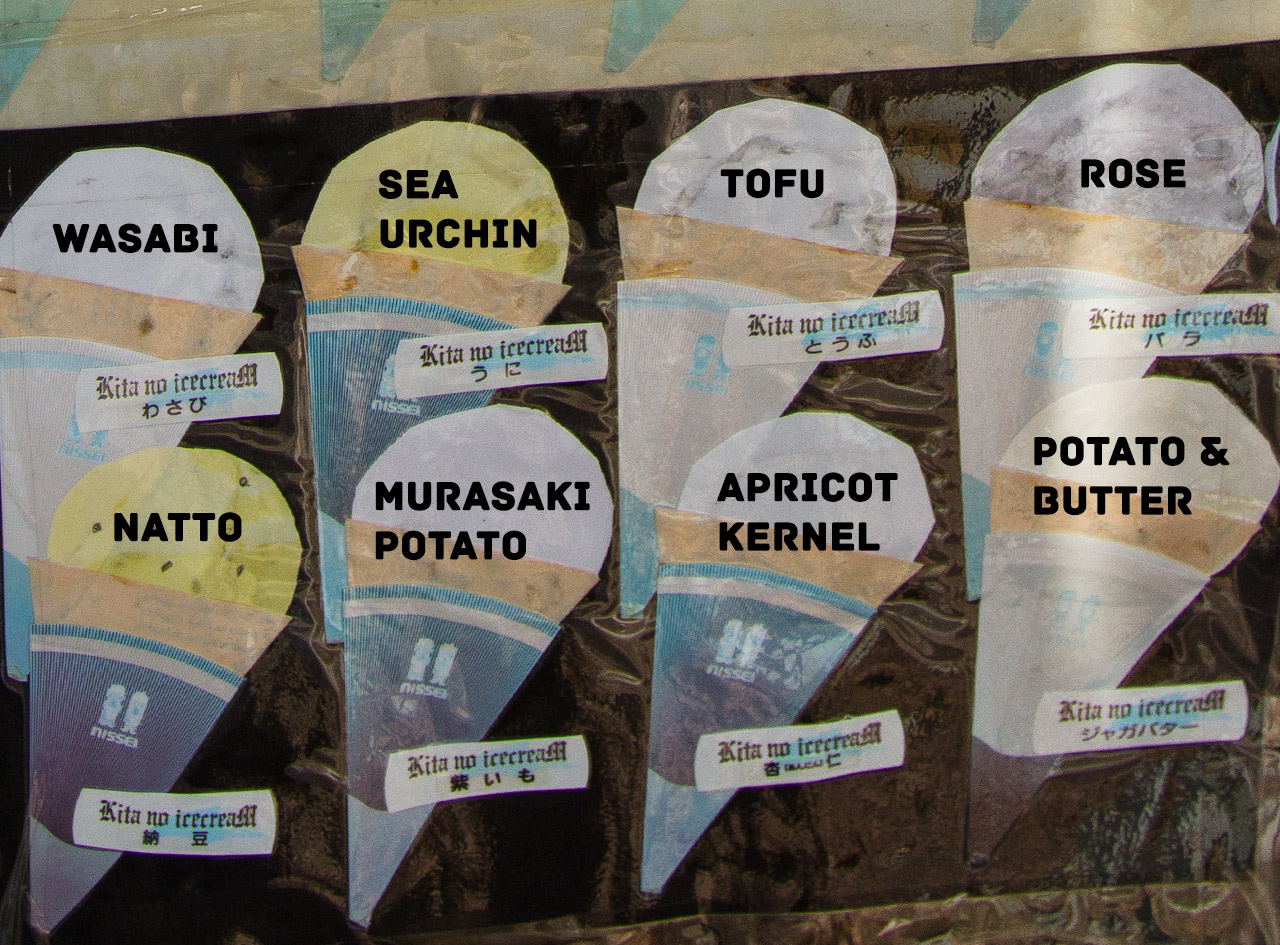 Wasabi, sea urchin, tofu, rose, natto (fermented soy bean), murasaki potato (a famous purple potato from the Hokkaido area), apricot kernel, potato and butter…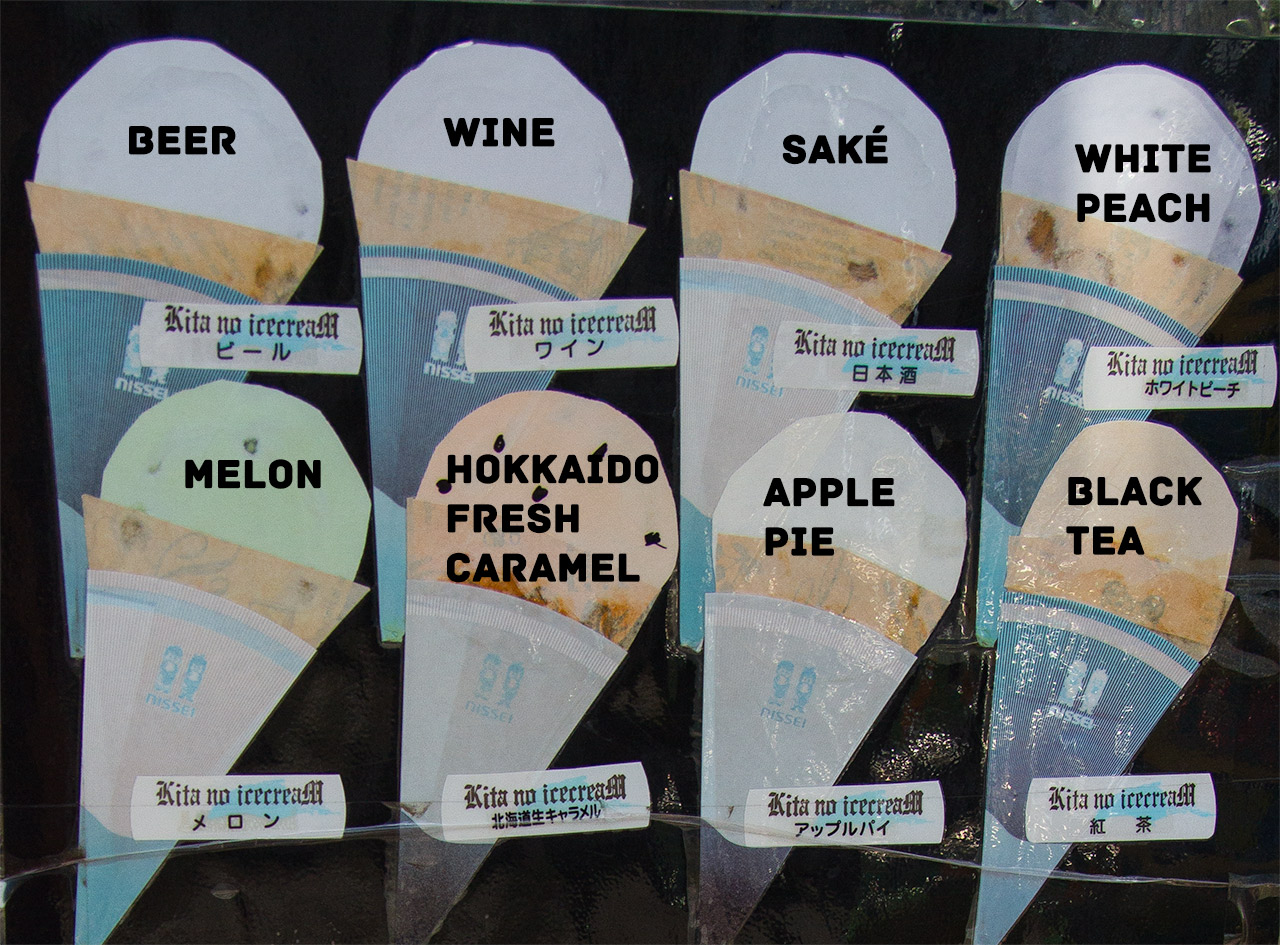 Beer, wine, saké, white peach, melon, Hokkaido fresh caramel, apple pie, black tea… As you can see, lots of options whether you want something "weird" or you want something "normal." Me? I got one scoop of squid ink and one scoop of sea urchin.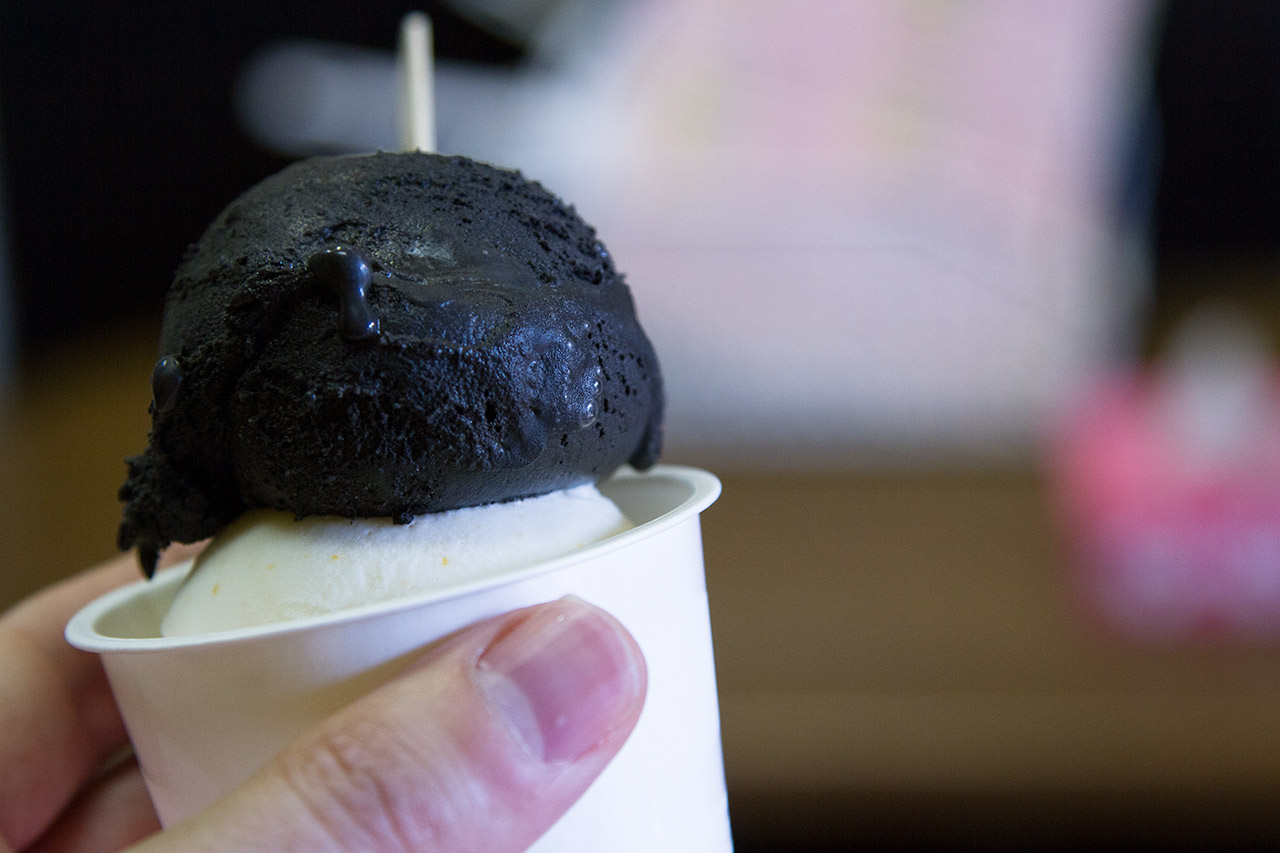 Turned out it was a good combination.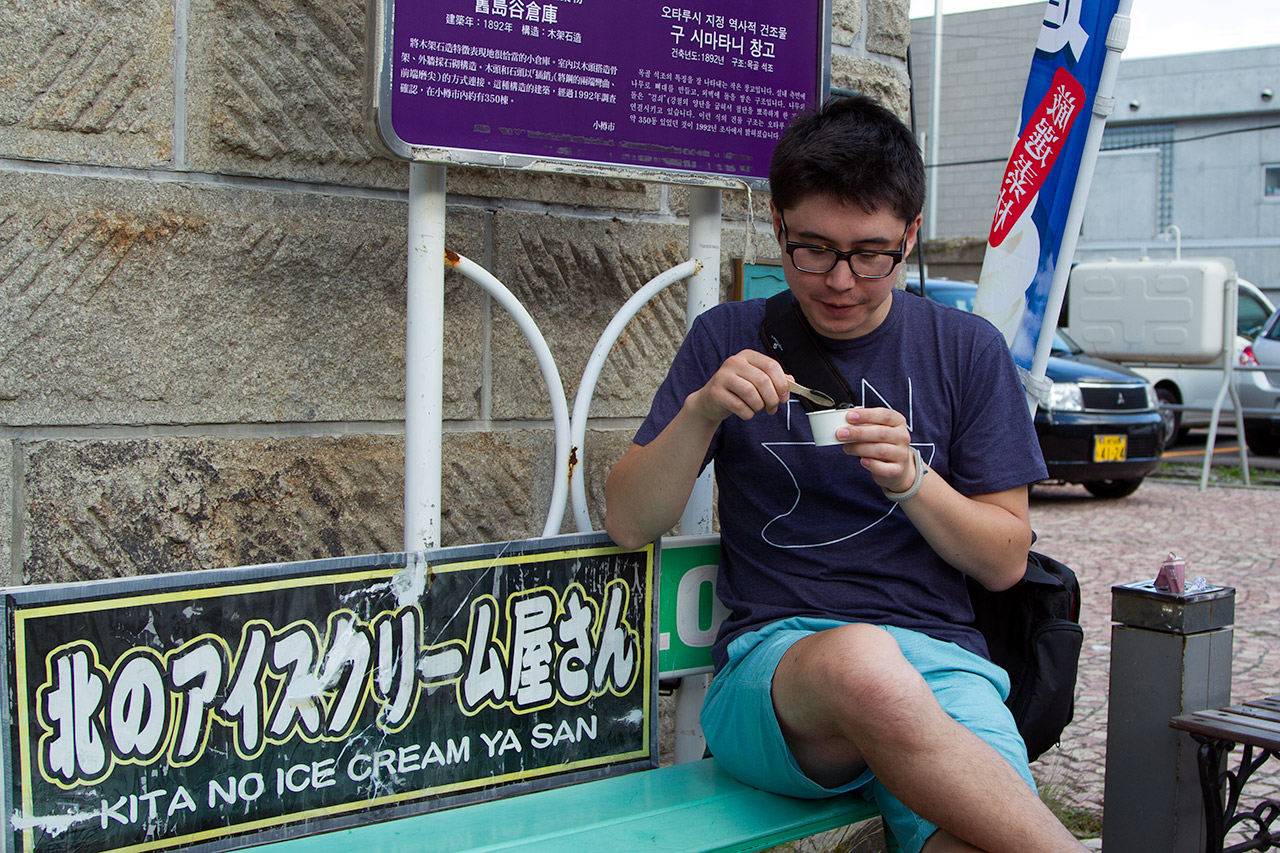 If you've ever had squid ink before, you'll know that the flavor is fairly bland. I thought it was good in ice cream, though people who like sweeter things will probably rather get something else. The uni (sea urchin) on the other hand was amazing. Now, there's a difference between regular uni and really fresh uni. Hokkaido has really fresh uni, and the taste is a little sweeter and less "fishy" than what people are used to in the states or even in many parts of Japan. The ice cream tasted like somewhat creamy (fresh uni is already kind of creamy tasting, I think) frozen and blended uni. That's it. It was like they pulled some sea urchins from the rocks, pulled out their roe, froze them, blended them, and put them in a cup using an ice cream scoop. It was seriously the best.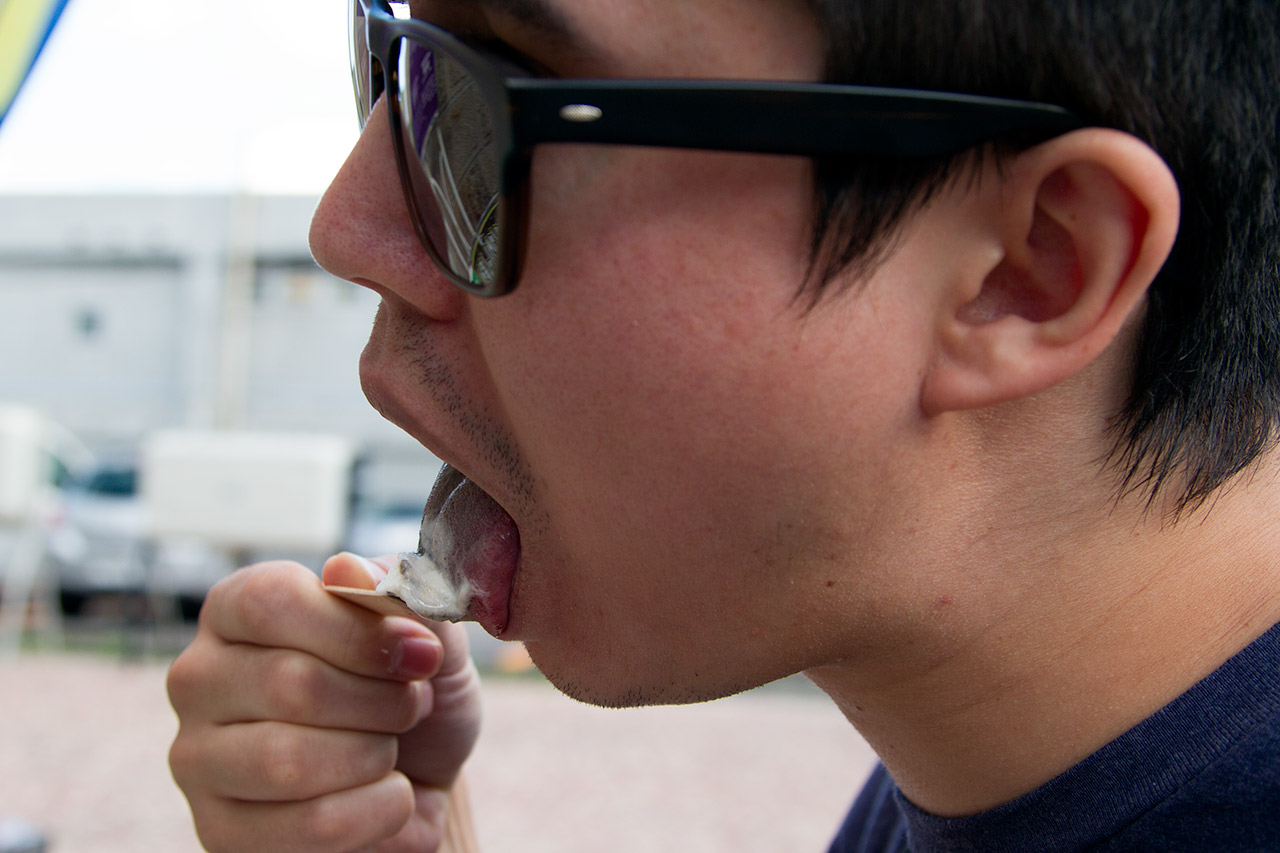 Omnomnomnomnom.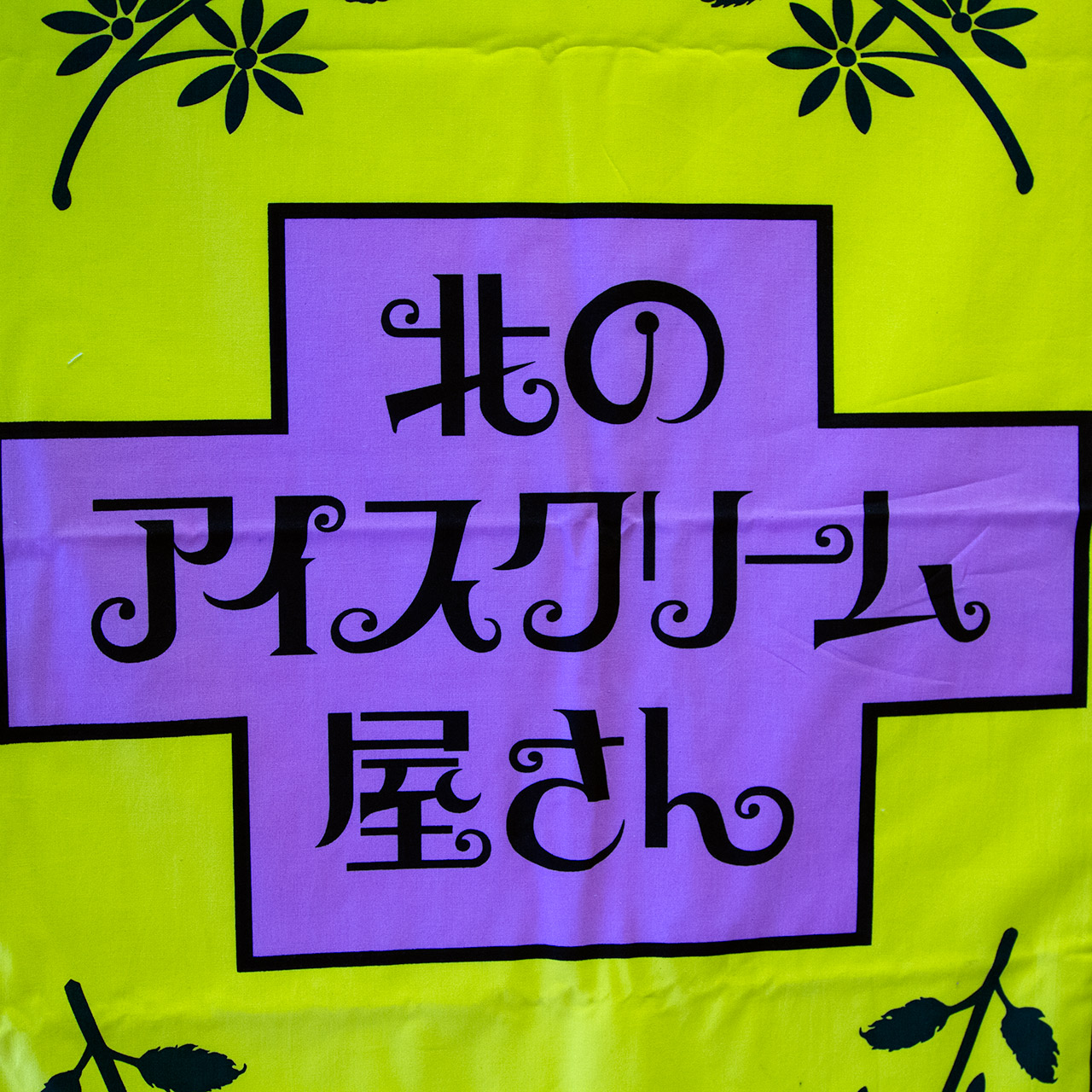 If you're ever in Hokkaido, there's a good chance you'll end up in Sapporo. If you're in Sapporo, there's a good chance you'll end up in Otaru. If you're in Otaru, don't pass up this ice cream shop. Be sure to try some of the flavors I didn't and tell everyone how they were. Next time I'm there I'll be trying ramune, potato butter, coenzyme q10, and natto. I'm pretty sure that's all I'll be able to handle, though.
Koichi's Review
I'm not a fan of ice cream, but the sea urchin flavor was surprisingly good. You should come to Hokkaido anyway, and when you're in Hokkaido you should come to Otaru. That means, you can come here! Bring a group so you can try a bunch of flavors. Despite being weird and gimmicky, they taste really good.
Kita no Aisu Ya San
Additional Information
色内1丁目, 2−18
Otaru, Hokkaido Prefecture {"String"=>nil}
Japan
View on map
0134-23-8983
0134-23-8983