On the coast of the Sea of Japan in Hyōgo prefecture, there is a charming little onsen town called Kinosaki 城崎. Although it wasn't included in our list of Japan's 10 best onsen resort towns, Kinosaki is one of the most well-known. When compiling our list for that article, Kinosaki ranked number 20. Not a bad position given there are over 223 onsen towns across the country. Kinosaki is, however, Japan's first, and widely regarded as its foremost, onsen town. And it has received two Michelin Green Guide stars. Pretty high praise!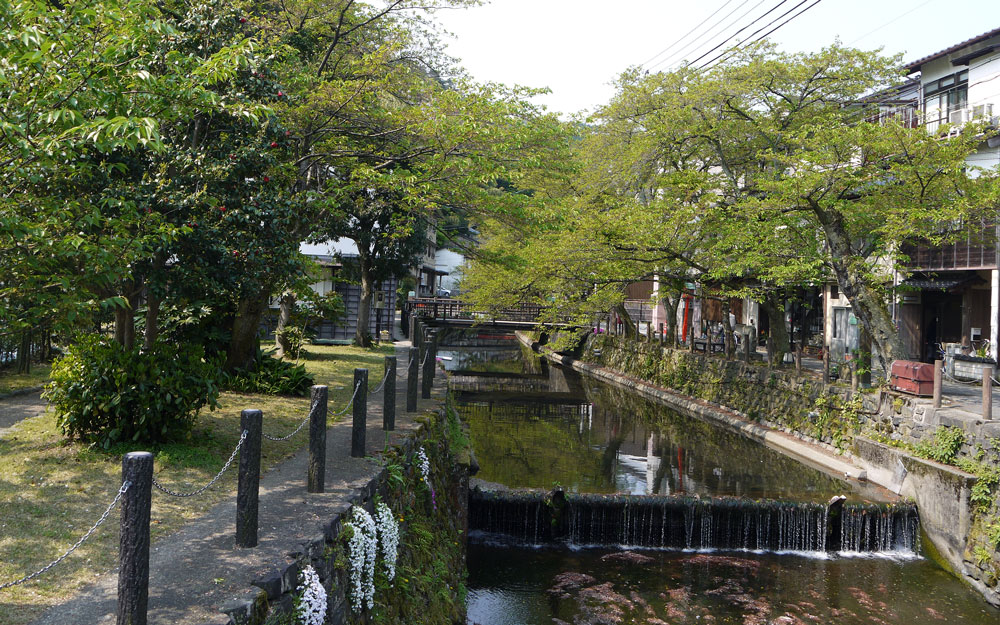 Despite the town's popularity and accessibility, it retains a tranquil feel. And if you already enjoy going to onsen, this is one the best choices.
There are numerous hot springs in Kinosaki, but I'm going to focus on the seven public onsen, called sotoyu 外湯. Each one can be accessed from a beautiful willow-lined river called Maruyama.
They say this river brings you peace of mind and happiness. You very well could have the most relaxing walk of your life here.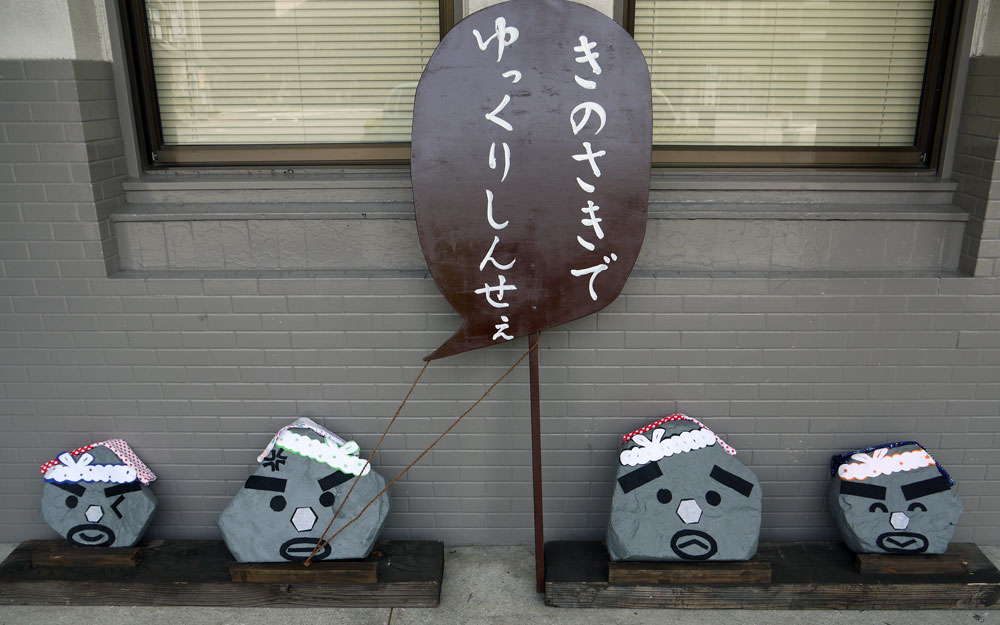 I visited Kinosaki Onsen Town with my mother on the way back from my sister's place in Toyooka City. Toyooka has a rock mascot, named Gen-san (玄さん), who was waiting for us at Kinosaki Station when we arrived. He was saying, 「きのさきで、ゆっくりしんせぇ」which means, "Relax in Kinosaki."
But I didn't listen.
We had a limited amount of time, so we ended up rushing through all of the spots in town so we could share them with you all. I still feel a bit bad for my mom, who probably just wanted to chill out with me. Oh well. Hopefully we'll go back soon!
Seven Public Kinosaki Onsen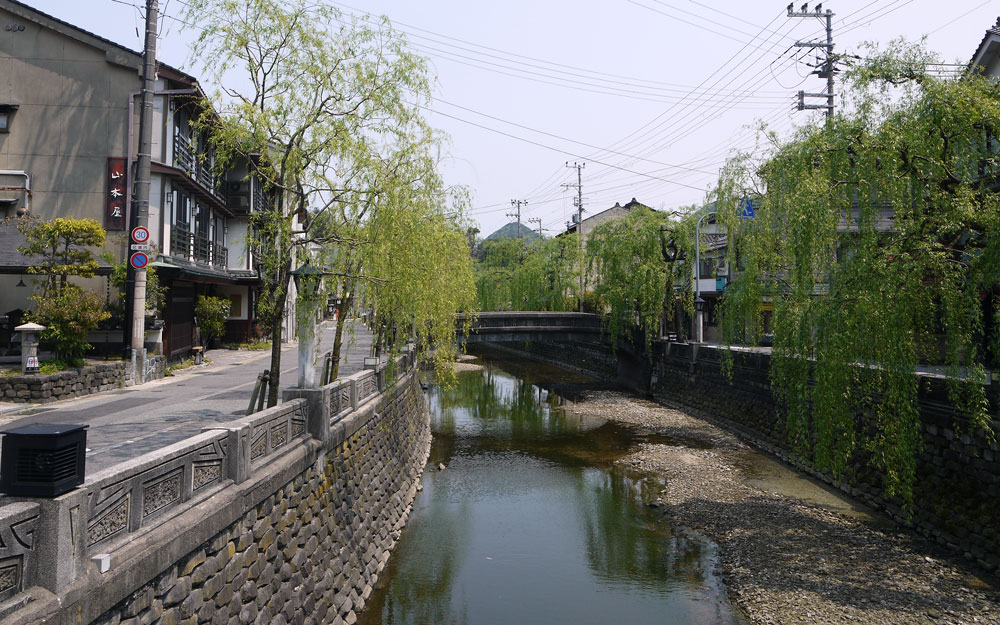 You can get into all seven public onsen in Kinosaki with a day pass: ¥1,200 for adults and ¥600 for children. I love any kind of "all you can〜" thing. All you can eat, all you can drink, and now, all you can bathe. These public onsen are separate from traditional inns and hotels that require a room to enjoy their hot springs. Anyone can get this one-day ticket and get access to all seven onsen, so that's what we did.
If you happen to stay at a nearby ryokan, a traditional Japanese inn, the seven onsen pass is complementary! Very convenient if you're already planning to stay nearby.
You can get into all seven public onsen in Kinosaki with a day pass: ¥1,200 for adults and ¥600 for children.
Although each onsen has their own unique characteristics, there are some things they all share. Every bath is 42℃ and contains sodium-calcium-chloride. This is supposedly good for neuralgia, muscle pain, bruises, chronic digestive organ disease, hemorrhoid disease, recovery from fatigue, and much more. Wow, what does soaking in a hot spring not cure?
Fun fact: if you happen to be the first person to enter an onsen on a given day, you will be given a special wooden tag that states you were the first bather that day. Some people find these quite collectible and will line up thirty minutes before an onsen opens just to get one. Oh, and "number one" tags are prepared for one woman and one man each day—they're different sides of the onsen, after all. If you go with someone of the opposite sex maybe you can both snag a first-in-line-wooden-tag.
I visited near the end of April, but in summer, usually from July to September, there are firework displays in the evenings.
Another thing to note is that all seven onsen claim to be relaxed about tattoos. If you've been avoiding hot springs because of your ink, you may want to look into Kinosaki.
Understandably, I wasn't allowed to take photos inside the onsen, since there were so many naked people. Let me instead explain each place via the exterior.
Mandala Yu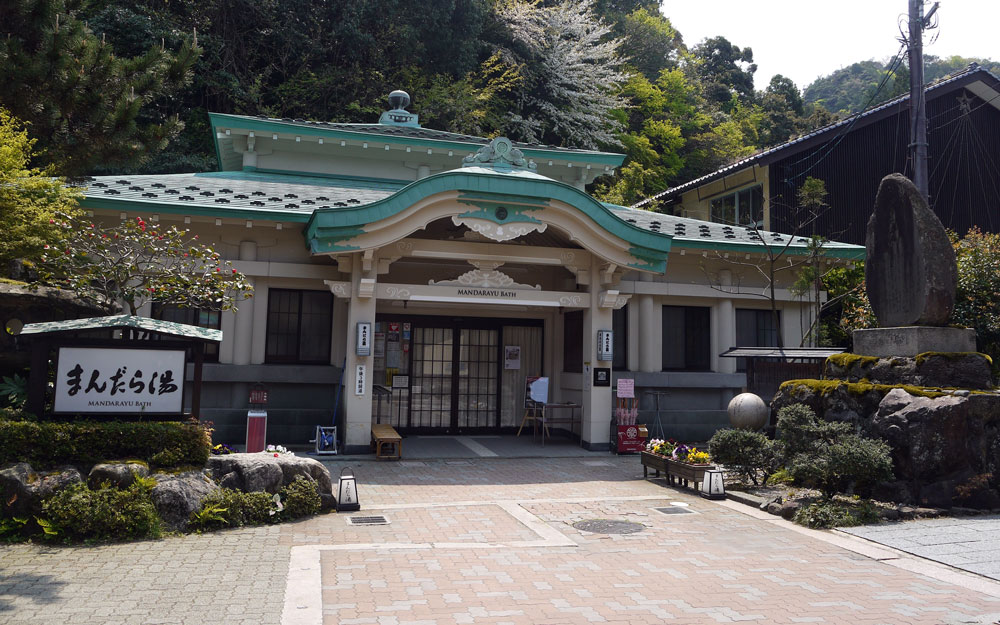 The first onsen on our journey is called Mandala Yu まんだら湯. Legends say that in 717, a Buddhist monk named Dōchi-shōnin (道智上人), had a vision that he should perform a thousand day mandala prayer in order to heal and comfort the local people. After the thousand days, hot spring waters burst forth from the ground beneath him. Dōchi-shōnin became the founder of Kinosaki as well as the nearby Onsen Temple.
About 800 years later, those waters suddenly began boiling and grew too hot for people to enjoy. Luckily, another monk, Nisshin-shōnin (日真上人), happened to be visiting Kinosaki from Kyoto at the time. He drew a mandala and placed it on the water, letting it sink to the bottom. He then prayed for a few days until the temperature came back to a comfortable 42℃. Or so they say.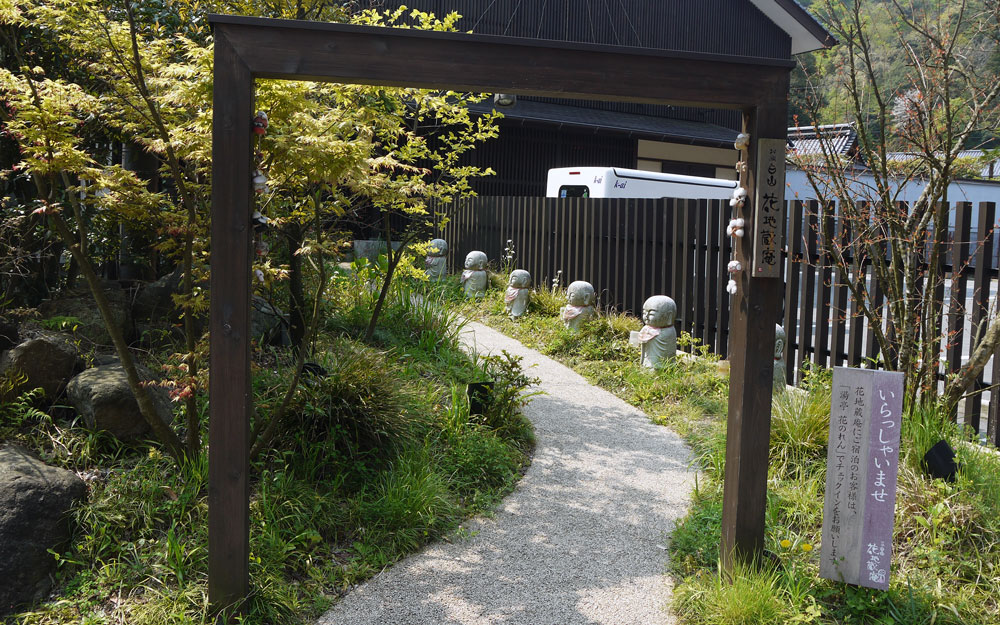 This particular hot spring is also known for helping with success in business, bountiful crops, and granting wishes. There are also several cute jizō statues waiting to welcome you.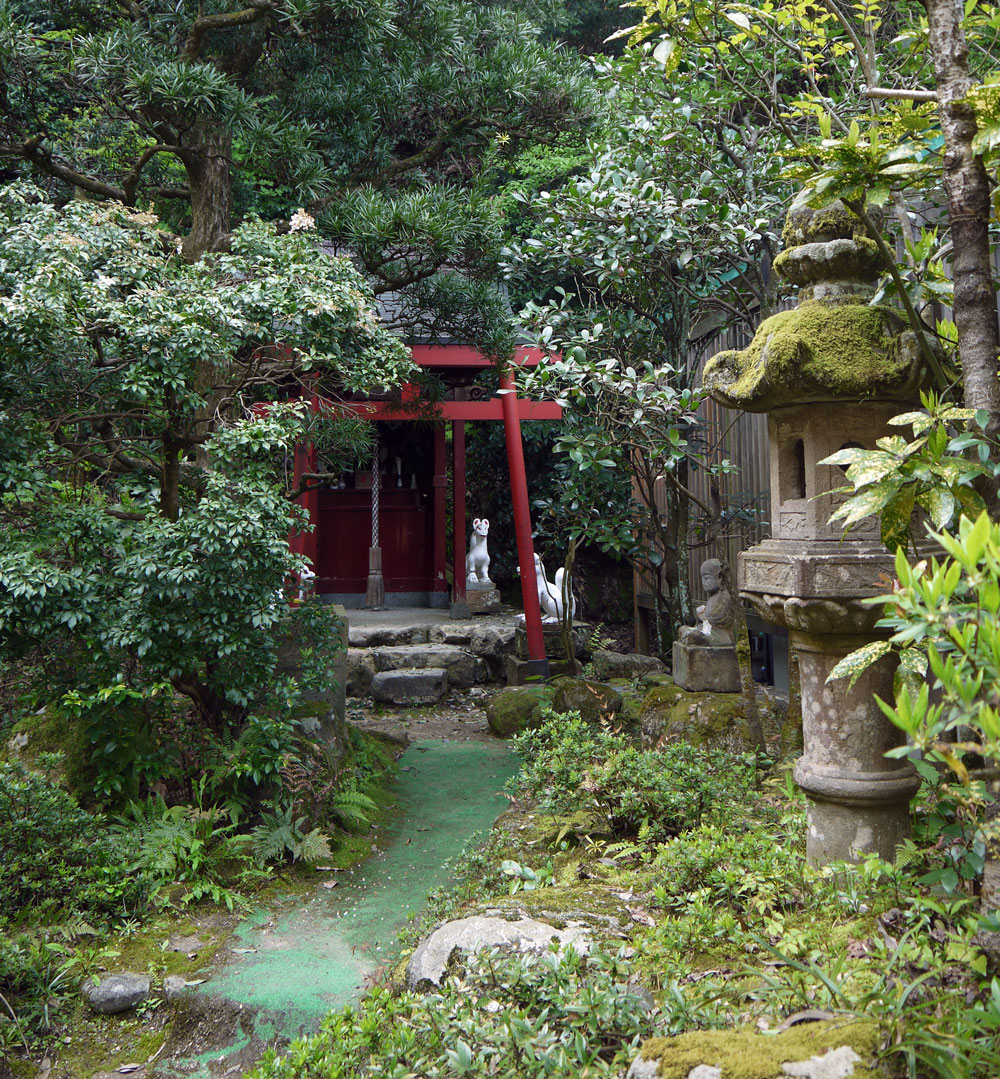 As well as an Inari fox shrine.
Mandala Yu is fairly small, but there are a lot of Japanese inns nearby, so it's often crowded. A very nice couple worked there and the whole place had a very homey atmosphere. There was a wooden bucket-type tub in their outside bath, but it could hold only one or two people (it was about 1.3 meters in diameter), so I wasn't able to try it.
まんだら湯 Additional Information
Jizō Yu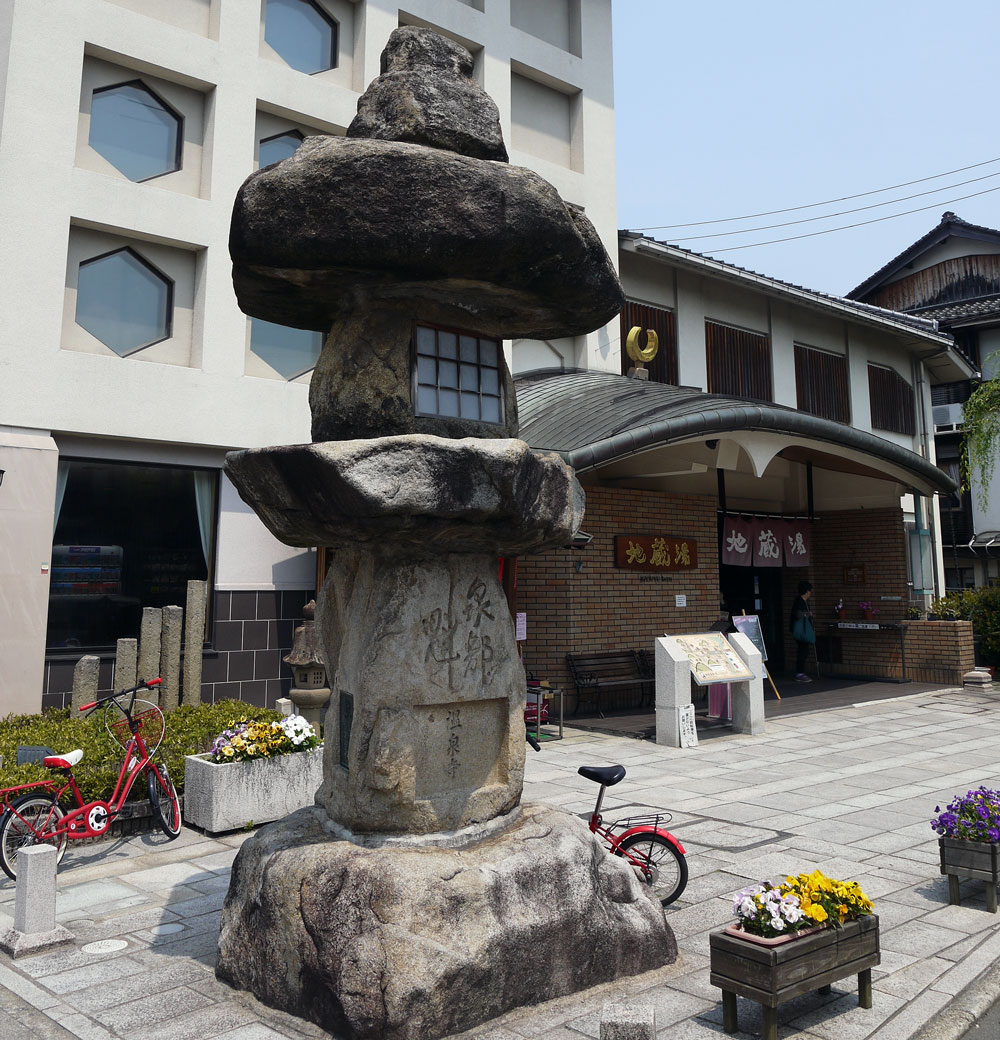 The second onsen on our trip is called Jizō Yu 地蔵湯. They say that a fully-formed jizō statue once rose out of this hot spring—thus the name. That very jizō statue is to the left of the entrance, but somehow I managed to cover it with the stone lantern in this photo. Oops!
Thanks to the jizō, this onsen is thought to promote family safety, healing the souls of deceased children, and saving the lives of all living beings.
During the Edo period, this was the most popular local bath in Kinosaki. Its hexagonal windows were inspired by the neighboring Genbudо̄ basalt caves, which formed 1.6 million years ago. The circumstances of their creation formed hexagonal rock columns that you can still see today.
Thanks to the jizō, this onsen is thought to promote family safety, healing the souls of deceased children, and saving the lives of all living beings.
When I visited Jizō Yu, the female side bathtub was shaped like a loquat, and apparently the male side was shaped like a matsutake mushroom. They're meant to symbolize their respective sexual organs. But the rooms are regularly switched, so you never know which genital-inspired tub you're going to get!
Other than that, it was a fairly simple onsen, though the bathtub was quite large (about twenty tatami mats in size). This lets you relax in peace without worrying about bumping into other nude customers. There was also a more modern jet bath.
If you want to visit Jizō Yu with your family, you can rent the entire private bathroom for an extra fee. It's expensive though, ¥3,000 for forty minutes. And if you want to bring your significant other, unfortunately Hyōgo prefecture only allows married couples and their children to bathe in public together, so you won't be able to rent the room if you aren't married.
If you aren't sure if you qualify just check their rules:
You may enter with a disabled person as their supporter.
You may enter with infants and small children.
If you are in a group, everyone in the group must have the same family name.
Married couples must provide identification for proof of marital status.
If you qualify and have kids, there is a very shallow (35 cm) parents and children bath called oyako furo 親子風呂 that you can share. Jizō is a symbol of kid protection, after all.
地蔵湯 Additional Information
Kou no Yu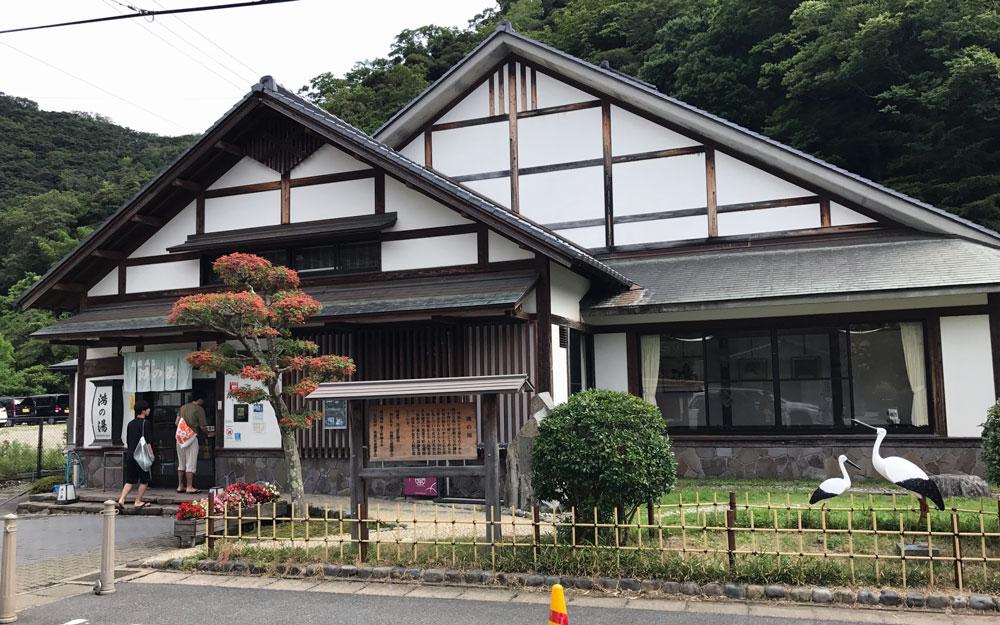 The third onsen is called Kou no Yu 鴻の湯, which means "Oriental White Stork Onsen." Japan's last known Oriental white stork died in captivity in 1971 in the neighboring city of Toyooka.
Around 1,400 years ago, an injured stork flew down to this hot spring and its wounded leg was healed by the waters. This onsen was named Kou no Yu in its memory. It also claims to be the oldest onsen in Kinosaki.
Since storks are thought to deliver babies to parents, this place is well known for promoting happy marriages, perpetual youth, and longevity. Essentially, this is the hot spring that brings you lifelong happiness.
The bathtub was spacious and cozy. There was an outside bath too and it was surrounded by rocks and greenery. It was extremely refreshing. There were also many chairs, so you can relax there without needing to take a bath. They had many different types of juice, as well as Haagen-Dazs ice cream! Wouldn't you want to eat cold, delicious ice cream after taking a hot bath? I sure did.
鴻の湯 Additional Information
Yanagi Yu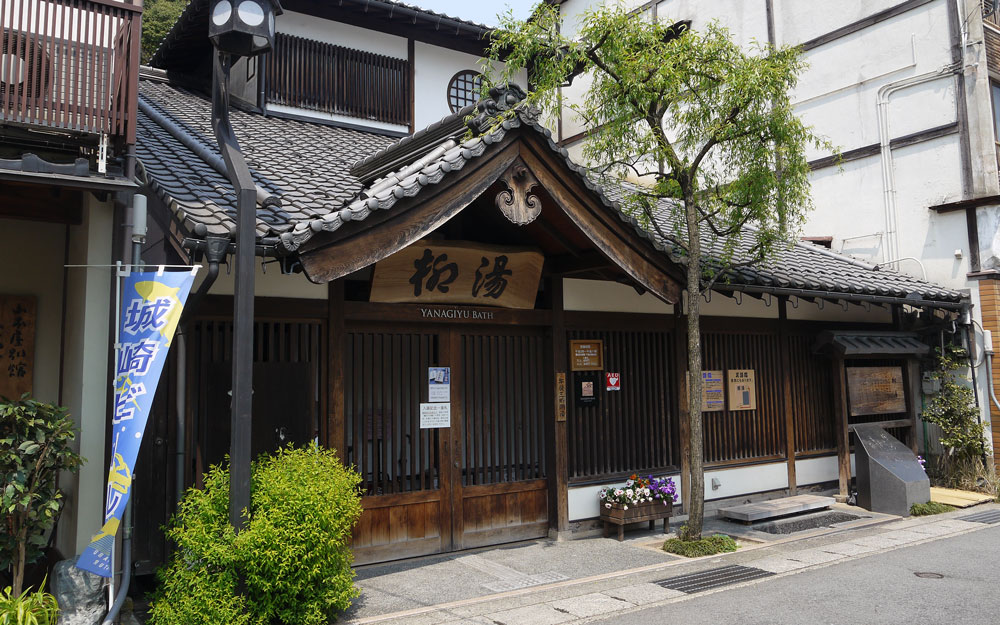 Next up is an onsen called Yanagi Yu 柳湯. Yanagi means "willow" in English and that willow in front of the building came all the way from West Lake in China. But there was no onsen here when it arrived. After the tree was planted, hot spring water began flowing from under it. The tree was moved out front, and the onsen built up around it was named Yanagi Yu, in its honor.
Because of the deep, hot water and the wonderful wood smell, it was very relaxing. I loved it.
This onsen is known for helping promote pregnancy and easy childbirth, as well as healing wounds and reducing swelling.
The building was made with lots of wood, so it's rustic and beautiful, inside and out. There was only one bathtub, but it was fairly deep and had a nice smell to it, since the frame was made entirely out of a type of Japanese cypress called hinoki 檜.
Although people say the temperature of all of the onsen in Kinosaki is the same, this one is known as the "hottest" of the seven. Because of the deep, hot water and the wonderful wood smell, it was very relaxing. I loved it.
There was no relaxation area in the building, but there was a foot soak tub. Since it wasn't a big place, you should try to visit at a time that won't be so crowded. Maybe around 1:00 – 3:00 p.m. would be best.
柳湯 Additional Information
Sato no Yu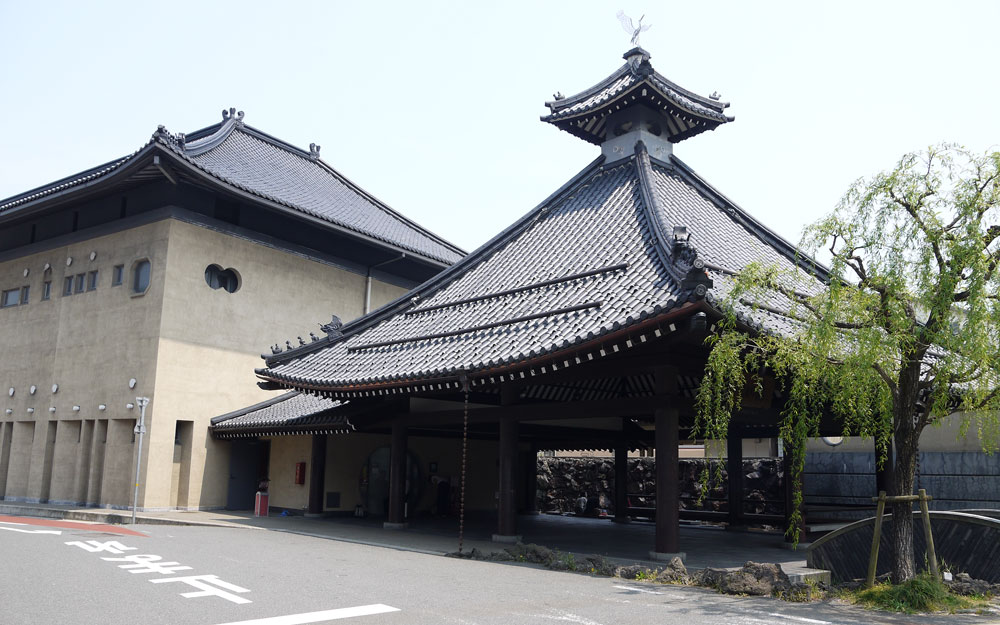 Fifth on our trip is Sato no Yu さとの湯. This is the hot spring of friendly interactions. It's located right in front of Kinosaki Station, so it's called an Ekisha Onsen 駅舎温泉, which means "station onsen."
This establishment was originally next to Jizō Yu, but when Jizō Yu expanded it overtook both locations. Sato no Yu was then moved and reconstructed here in July 2000. There are other station onsen in Japan, but this is the biggest of them all—the building itself is three stories high.
The first floor holds the reception and relaxation areas with tatami mats and vending machines. The second floor has Western and Japanese-style baths, which switch daily between male and female visitors. The design of the changing room was also quite fancy for an onsen.
The best part of Sato no Yu was the outdoor bath. You can enjoy the seasonal scenery of the Maruyama river and the sights and smells of nature while relaxing in their hot spring. They also have more unique baths and saunas, like jet baths, whirlpools, dry saunas, herbal saunas (ハマームレスト), and cool saunas (called penguin saunas).
The foot onsen outside the building is free, so you can rest here after walking around the town even if you don't have an onsen day pass.
Sato no Yu isn't like a traditional onsen, it's more like a super sentō. There is no diner or massage room, but it was definitely an enjoyable place.
さとの湯 Additional Information
Ichi no Yu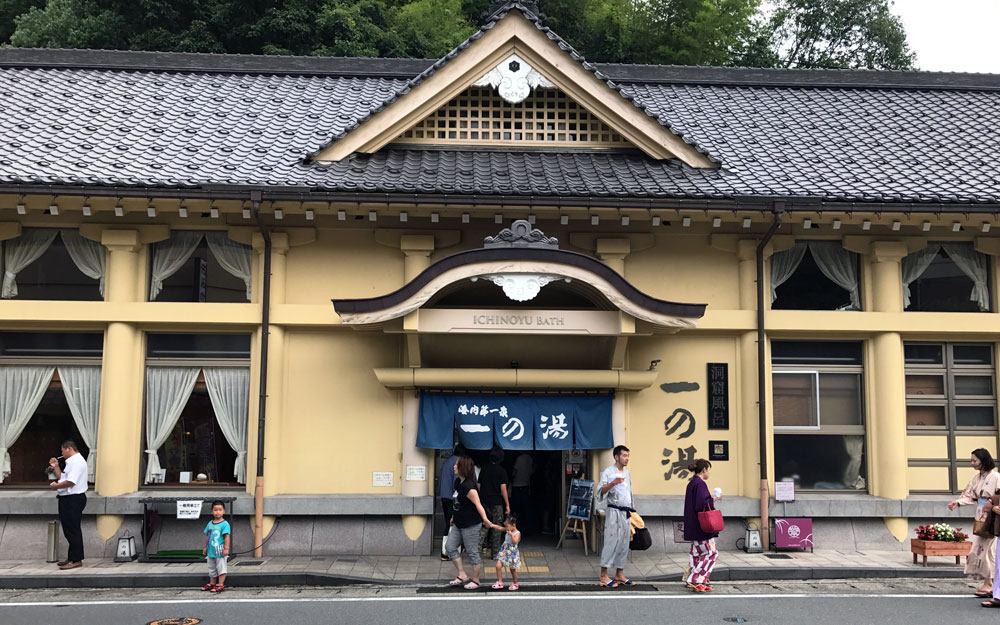 While some onsen facilities were rebuilt and reopened over time, Ichi no Yu retains the same wonderful, old-fashioned atmosphere it's always had.
Our next onsen got its name in the Edo period from a man called Kagawa Shotoku (香川修徳). He was the apprentice of the founder of medicinal herbology, Goto Konzan (後藤艮山). Kagawa praised this hot spring as 天下一, meaning "best under heaven" in his book Ippondo Yakusen 一本堂薬選. At the time, this onsen was known as Shinyu 新湯, which just means "new onsen."
After Kagawa's book gained popularity, they changed the hot spring's name to Ichi no Yu 一の湯, as a way to forever call themselves number one.
Ichi no Yu is definitely Kinosaki's model onsen, if you will, in both name and quality. When you see advertisements for Kinosaki, Ichi no Yu is usually at the top. And its waters are known for promoting academic success, road safety, and bringing good luck, probably thanks to the studious Edo period scientists that gave the hot spring its name.
While some onsen facilities were rebuilt and reopened over time, Ichi no Yu retains the same wonderful, old-fashioned atmosphere it's always had. Located in the middle of the resort town, the building has long held the appearance of a Momoyama period style Kabuki theater and is the foremost landmark of Kinosaki.
The bath itself is quite long, so you can walk in it. There is also a "caved" bath, known as a doukutsuyu 洞窟湯. It was carved out of the face of the mountain it rests on.
While doing research, I saw some reviews that complained about a chlorine smell at Ichi no Yu, but I didn't notice any smells like this in any of the seven locations. The water was clean and pleasant, and there was a nice relaxation area on the second floor that had tables, chairs, and vending machines.
一の湯 Additional Information
Gosho no Yu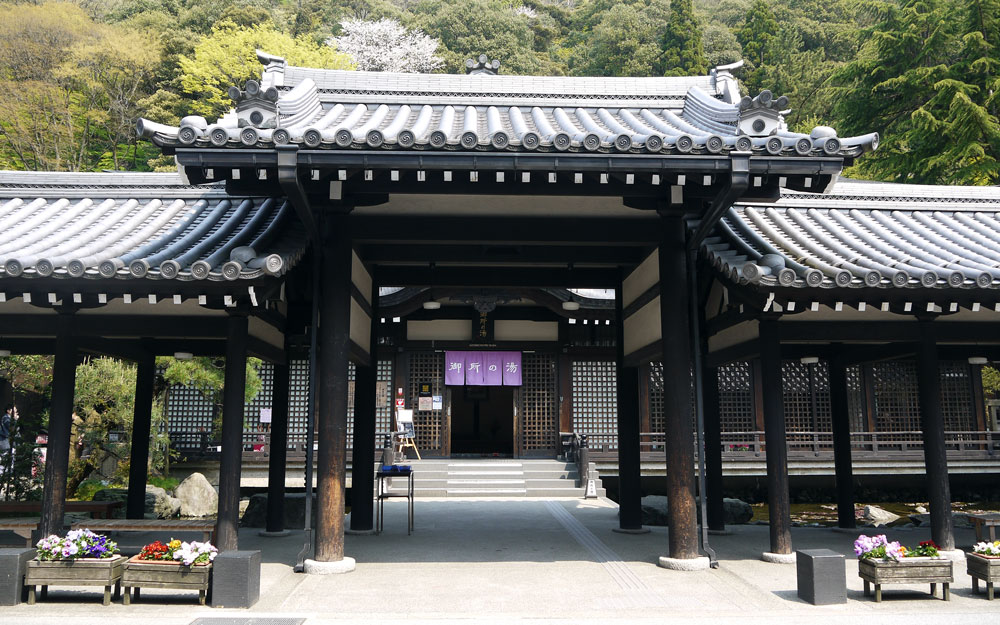 Finally, there is the seventh Kinosaki onsen, Gosho no Yu 御所の湯. Gosho means "imperial palace" in Japanese.
In a historical novel called Masukagami 増鏡, about the period of the Northern and Southern Dynasties (1336–1392), there is a record that tells of a woman named Ankamonin (安嘉門院), a.k.a. Princess Kuniko, who took a bath here in 1267. She was an empress of Japan and the mother-in-law of the famous Emperor Go-Horikawa.
There was once another hot spring on Gosho's west side, called Tono no Yu 殿の湯 or Kagi no Yu 鍵の湯, which was merged with Gosho no Yu in the Meiji period. But the current building, newly built to resemble the Kyoto Imperial Palace, was constructed in July 2005.
As the onsen of beauty, bathing in this water is said to help you find a good partner. I wonder if I became more beautiful. I don't think I made any jaws drop after I visited… oh well.
It's also known for fire disaster prevention, which I guess worked, because I haven't come across any disastrous fires since bathing here.
The design of the interior of Gosho no Yu was very cool. The ceiling was glass, so sunlight poured through, providing natural light. This is called a tenkūburo 天空風呂 or "sky bath." There is also a rocky outdoor onsen with a little waterfall. In front of that waterfall is a shallow pool where you can lay down. However, the male and female sides do alternate, so you have to go there on the right day to experience this.
I liked how open this onsen was compared to the others. It was definitely the most beautiful and breathtaking of the seven. Though, apparently, Gosho no Yu wasn't like this before. It was supposedly a very plain, boring bath before they rebuilt.
御所の湯 Additional Information
Other Things to Do in Kinosaki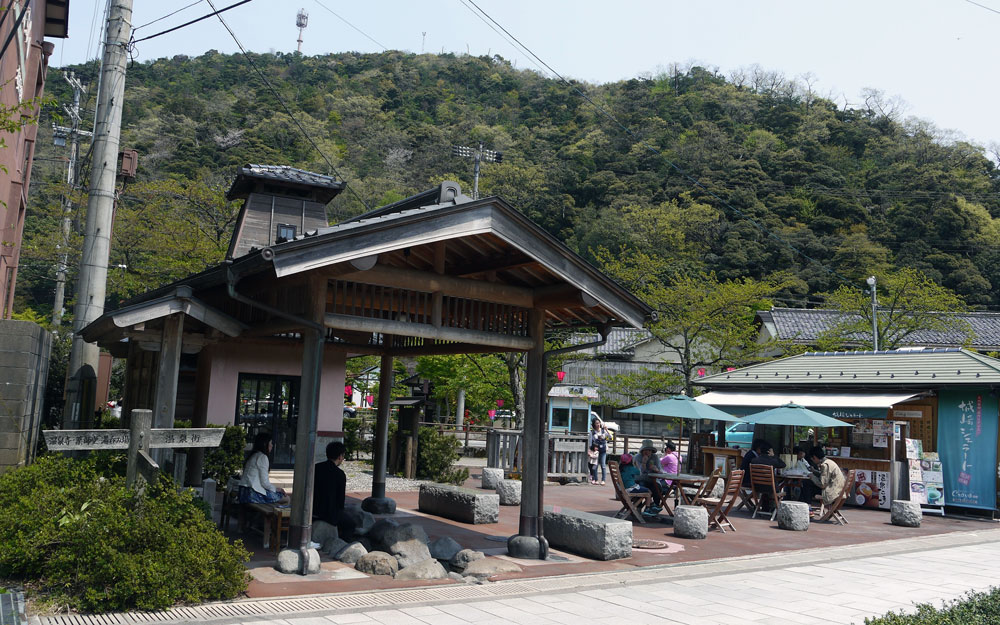 We've completed our tour of the seven public onsen of Kinosaki! But those aren't the only things to experience in this area. Not only are there more hot springs, foot baths, or 足湯 are scattered throughout the town. They're like little, public onsen for your feet!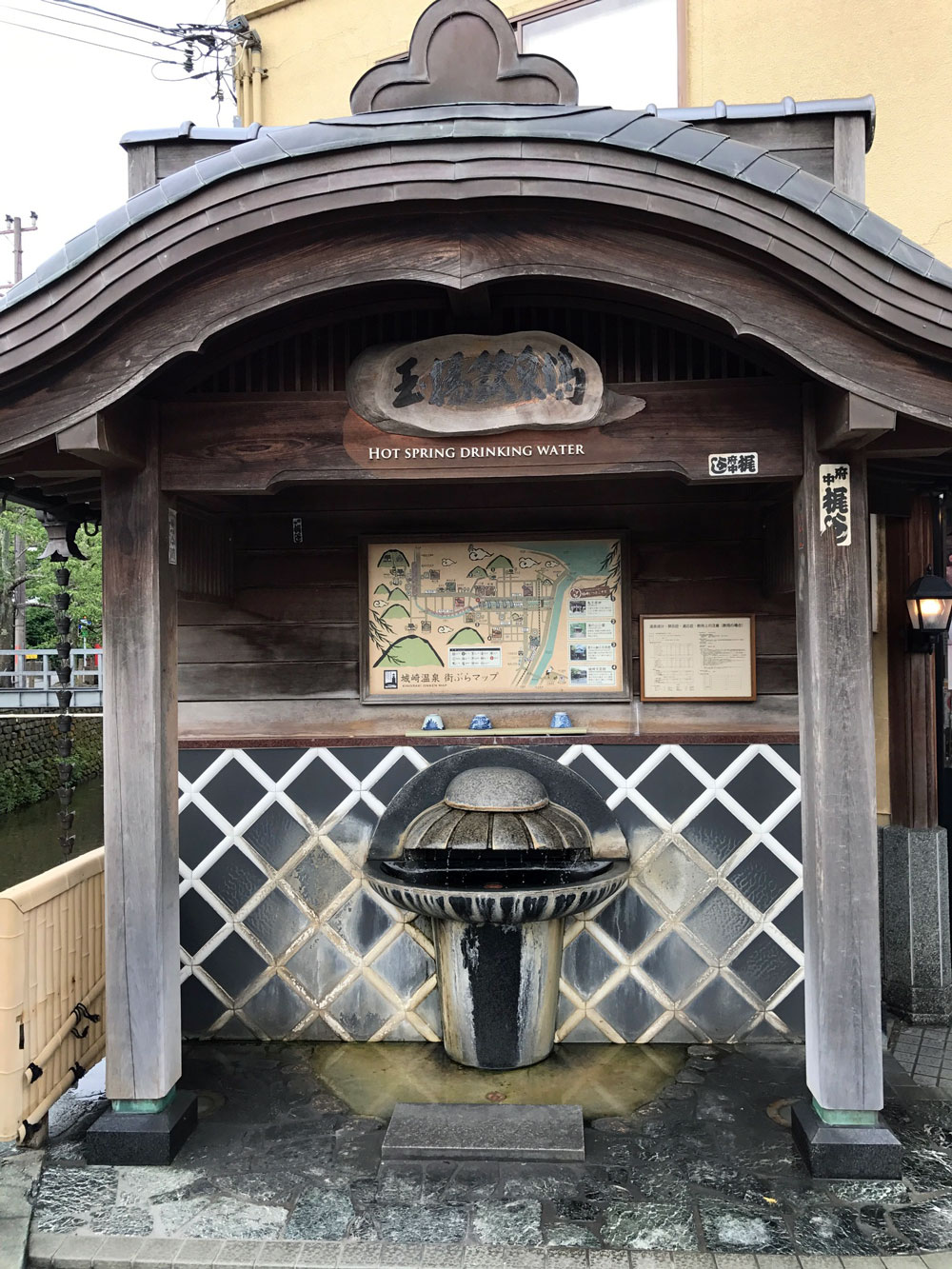 And if you get thirsty, there's even a hot spring with drinking water!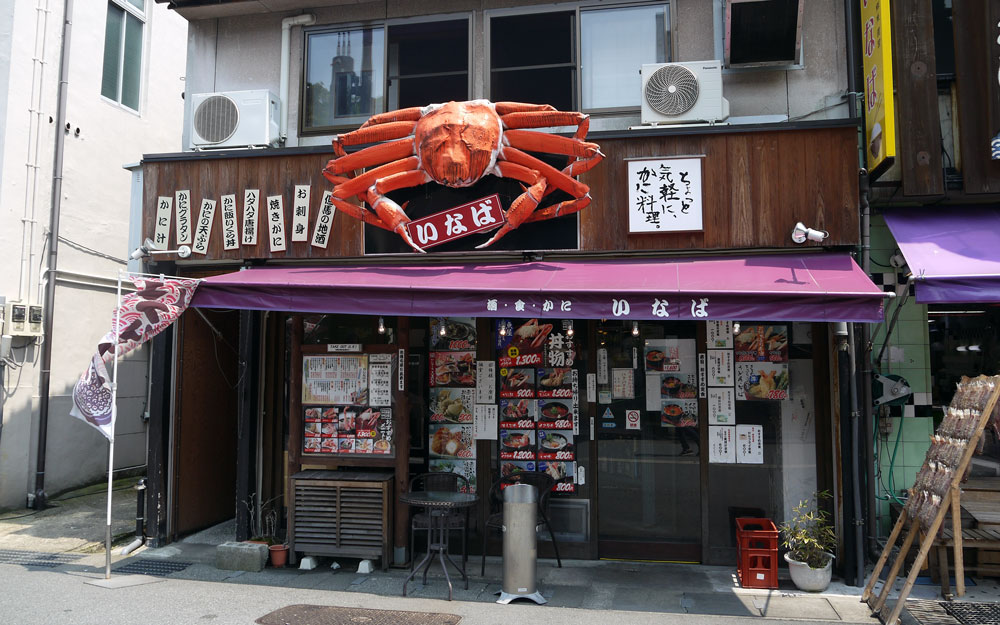 Besides piping hot natural baths, Kinosaki is also famous for its delicious matsuba crabs, the local name for snow crabs harvested from the Sea of Japan. Lots of people come here to feast on pinchy crustaceans, especially when they're in season from November 7th to March 31st.
In town you'll run into tons of red, eight-legged figures mounted on restaurants and storefronts. And don't forget crab souvenirs galore!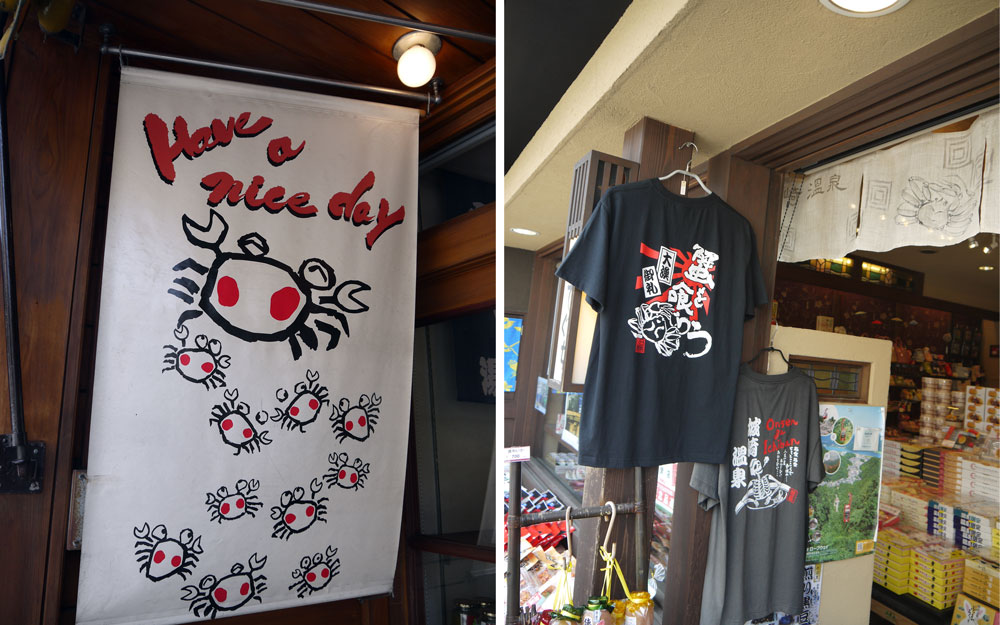 To say Kinosaki is overrun with crab merchandise is an understatement. From crab t-shirts, to crab curtains, they have everything you can put a crab on.
Crab snacks anyone? These make for wonderful crab-themed omiyage to bring home to your friends and family!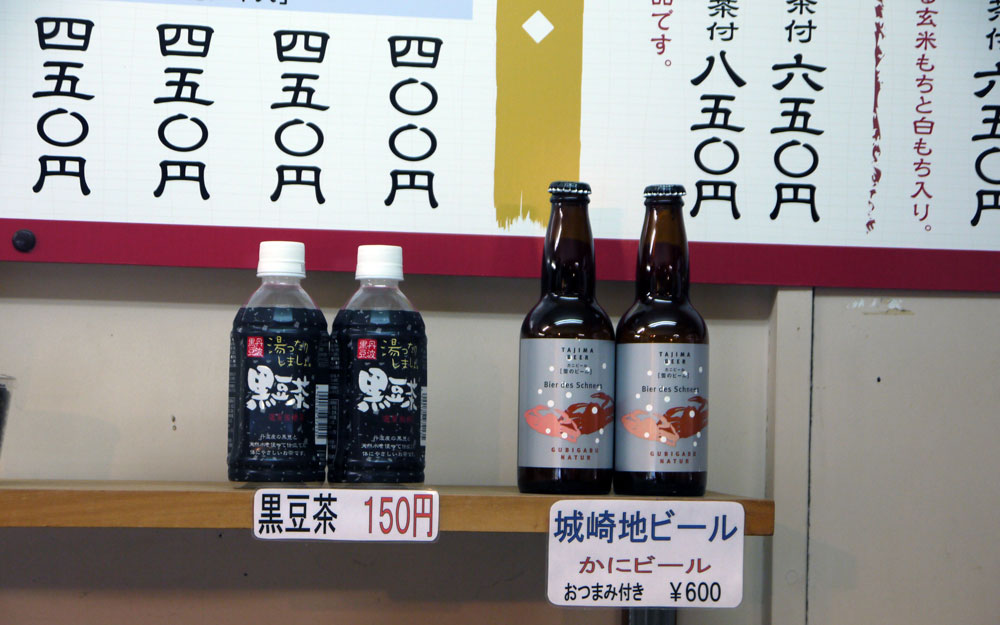 Crab beer! Can you imagine? It was ¥600 per bottle and I just had to get one. It was good, but sadly, or perhaps not sadly, it didn't contain any actual crabs. This beer pairs with crab dishes. I wanted to try it with crab, so I bought four bottles and brought them back to Canada.
I saved these bottles in my in-law's fridge for just the right crabby occasion. Sadly, they were there so long, my in-laws forgot what they were for and drank them without me (and without any crab either). My husband never got to taste them and he still wonders what they are like. I guess I'll have to go back with him next time.
I also sent some bottles to Tofugu, one of which is proudly displayed on their shelves at the office.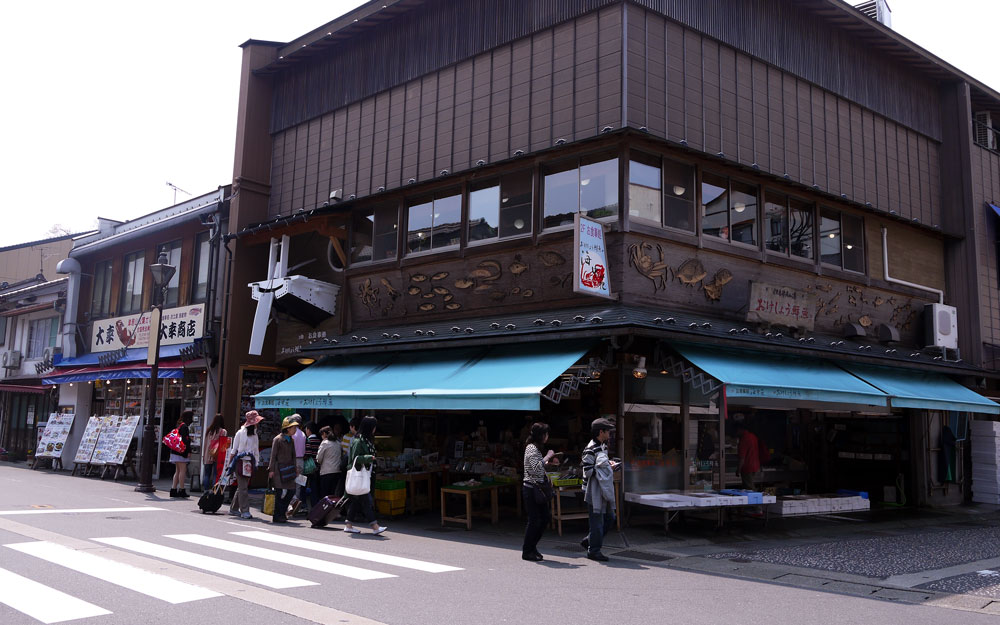 Now let's walk down the street. Pictured above is a fish shop called Okeshō Sengyo おけしょう鮮魚 and the second floor is a restaurant called Kaichūen 海中苑. I didn't have time to eat anything in Kinosaki, but if I could, this is the place I'd choose.
In winter, of course they have matsuba crab dishes, but they also have a wide variety of other seafood dishes at reasonable prices. You can even choose a fish you want to eat on the first floor shop and they'll cook it fresh for you right there! If you choose to eat upstairs, the fish downstairs will be 10% off!
Mt. Taishi and the Crab Grave
I heard there was a grave for crabs on top of Mt. Taishi, because people eat so much crab here. I took a ride on a yellow cable car to the top. It comes every twenty minutes and tickets are ¥900 for a roundtrip ride. The ropeway is 676 meters and you arrive at the top in about ten minutes.
While riding the gondola, you can enjoy all the beauty that nature has to offer in this area.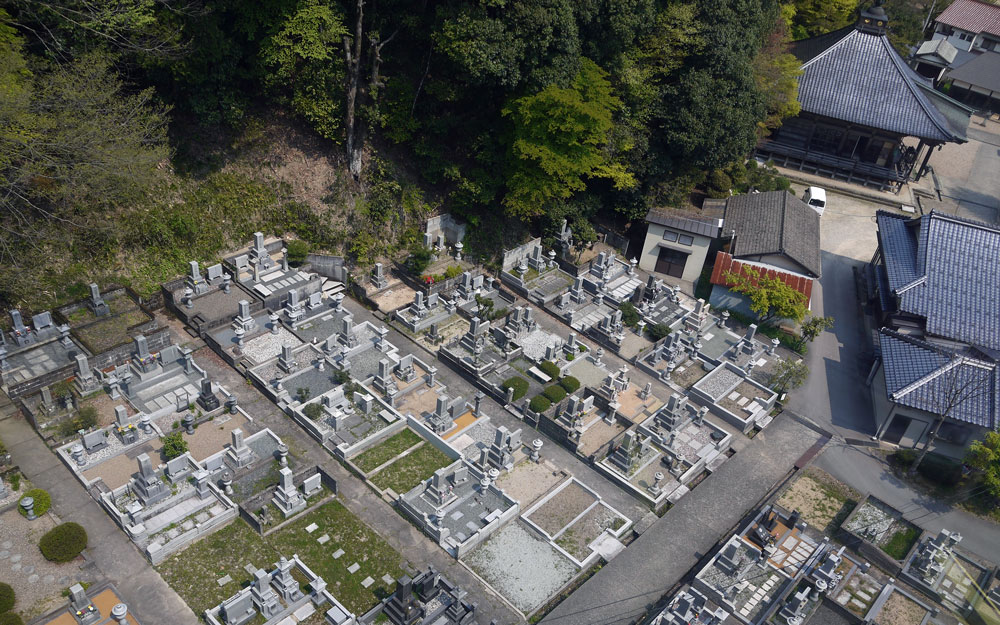 On the way up, there is one stop between the bottom and the top of Mt. Taishi: Onsen Temple Station. You can get a bird's eye view of the adjacent graveyard from the cable car and we decided to stop by on our way up.
While there wasn't much to see other than an old temple, a Buddhist art museum, and some strange signs, there is supposed to be an old bath house somewhere with special onsen water you can drink. The water is good for your stomach (or so they say), but I guess I'll never know if it works or not, because I couldn't find it.
So about that crab grave…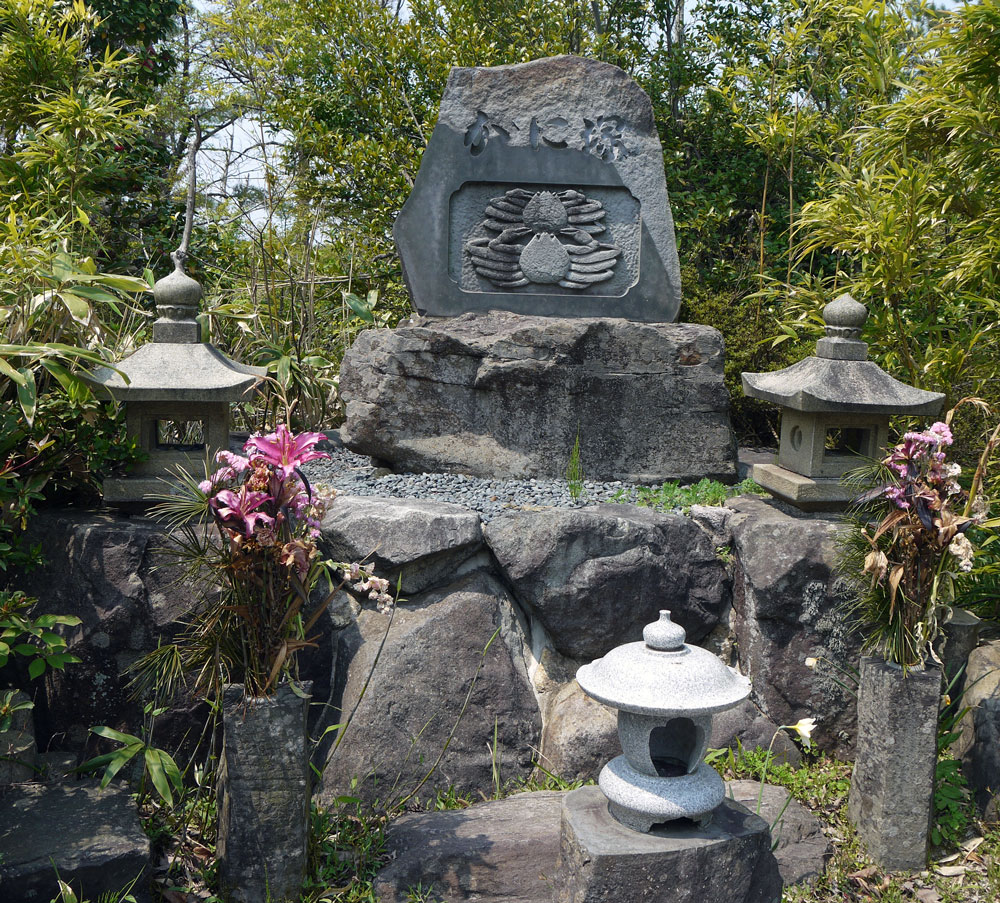 Finally, I found it! This grave was built to thank all the crabs that have been eaten over the years. It's not a fancy grave, made of granite like many graves today. It was made from an old natural rock and both the male and female matsuba crabs are carved into it. The engraving says, kanizuka かに塚, which means "crab burial mound."
I put my hands together and prayed for all the crabs we've eaten and also the prosperity of WaniKani.
Apparently, every November 6th or so, there is a memorial service for the crabs, with an event called "Thank You Crab Screaming Contest." People come together to see who can scream their appreciation to the crabs the loudest. I want Koichi and the whole Tofugu team to enter this competition someday.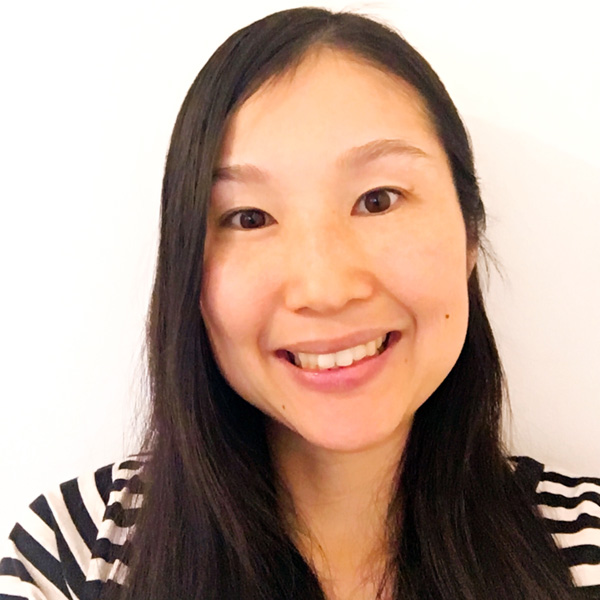 Mami's Review
It was a bit hectic, but I enjoyed Kinosaki onsen town. I liked that they are themed with kani, too. I just wish I was able to eat their delicious crabs though… then my trip would have been perfect. Maybe when I go next time, I'll eat kani, and update the rating depending on the deliciousness.