Whatever other worries Japan has about its economy, there's one business where it's clearly the world leader: animal cafes. While Americans were pathetically excited about a temporary cat cafe in New York, Japan long ago moved beyond having coffee with kitties. The trend goes beyond even domesticated critters like rabbits and goats – there are now cafes where you can go and hang out with owls.
As a traveler I'm all about going to see dugongs, tanuki, and capybaras, but birds just don't grab me. And owls – they're this hipster obsession that I just don't get. It kind of bugs me when some cute animal gets too popular (don't get me started on pandas). So I was skeptical. Still, a cafe full of owls? How was that even possible? I had to go and see for myself.
Visiting an owl cafe is not like spontaneously dropping by your local Starbucks – it takes some advance work. When I mentioned my plans to people at home, they'd all say "There's an owl cafe in Tokyo?" and I would be all, "Au contraire, there are MANY owl cafes in Tokyo." Once you've picked one out, you need to figure out its hours and procedures. Some take reservations, some don't, they've got all kinds of different opening days and hours, and some never seem to answer the phone so you can ask what the deal is. Some persistence and a Japanese-speaking friend may be necessary in some cases.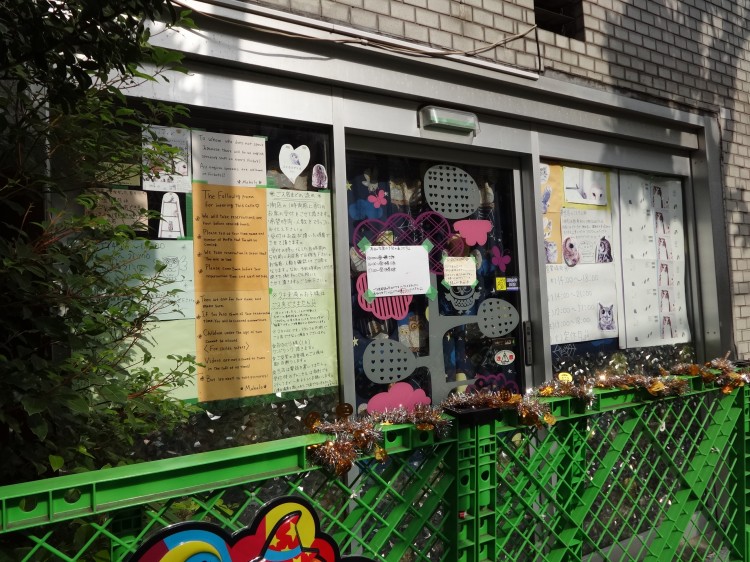 I chose Fukuro no Mise in Tsukishima, which seems to be the owl cafe most well-represented on the Internet. Their procedure can be inconvenient but doesn't require any language skills. Get in line an hour before they open and they will give you a reservation for later that day and take your 2000 yen payment for the hour-long session. It's all explained on the many posters on the windows in both Japanese and English. When I arrived a little after 1 on a weekday, I got the last seat for 3 PM, so you may have some time to kill. There are no refunds if you change your mind, and you need to come back five minutes before your reserved time or you might not get in.
The cafe suggests that foreigners come on Friday when there are English-speaking staff, but if that's not possible, you will be fine. The staff member giving out reservations spoke a little English and wrote down what was totally crucial, like the fact that I needed to come back at 2:55.
When I got back, we were all directed to our seats in a room that's rather cramped and over-decorated, but none of that is really noticeable compared to the fact that there are OWLS sitting on perches all along with walls. Not in cages. Just sitting there, looking at you with their big owl eyes. Or not – I don't think we were nearly as interesting to them as they were to us.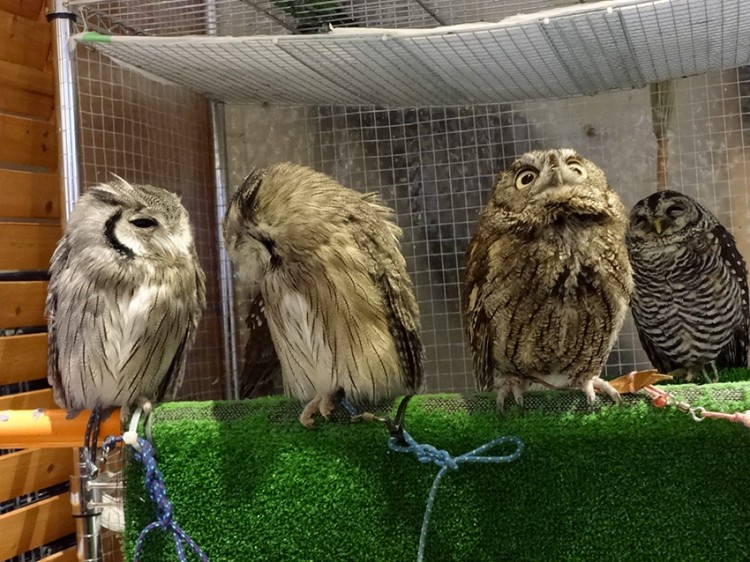 I was given a laminated list of instructions and rules in English. Everyone else got a lecture and demonstration in Japanese that was clearly entertaining but mostly went over my head, but the printed sheet gave me the crucial points. This includes the fact that you should touch the owls only on the head and back, and also that while they are very tame "they can't be potty trained like dogs. So please be generous when they potty on you!"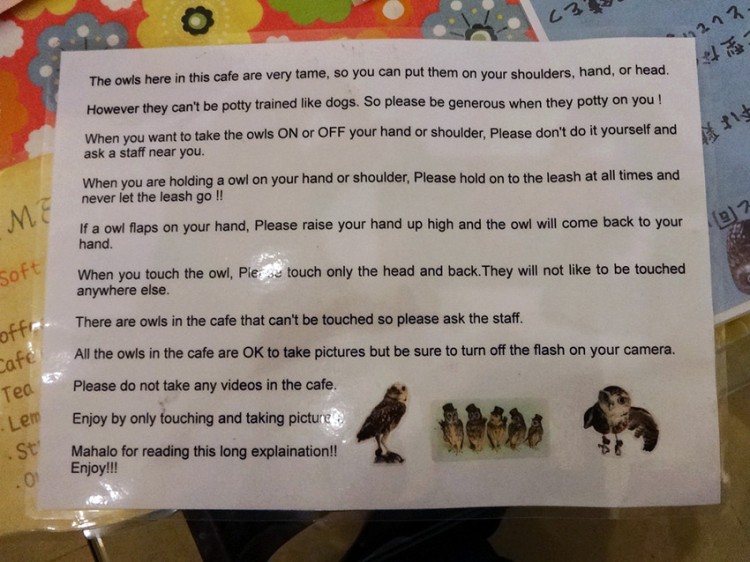 Finally comes what we have all been waiting for: You don't just get to look at owls here. You get to hold one. The staff go around and put the owls on people's arms. They each have a little tether around one foot, which you hold in your hand. There are a bunch of different species in all different sizes, from the little miniature guy that I got to hold…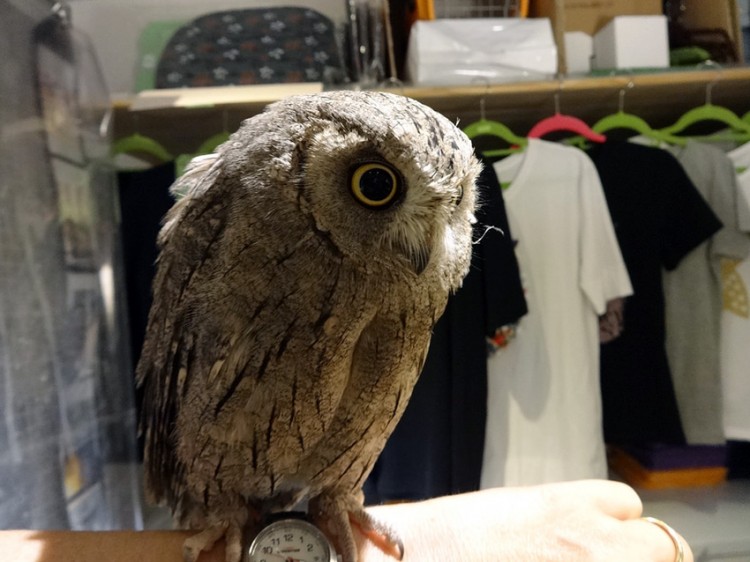 …to a Great Horned Owl that even I, a former zookeeper, would have been hesitant to put on my arm. It was very large with lots of sharp parts, and all I could think was that there must be a lot fewer lawyers in Japan than in America, because I can't imagine any of this happening back home without people signing a bunch of legal releases. You can even have an owl put on your shoulder or head if you want, but what with all the sharp parts and the lack of potty-training, I decided to pass, unlike this brave soul: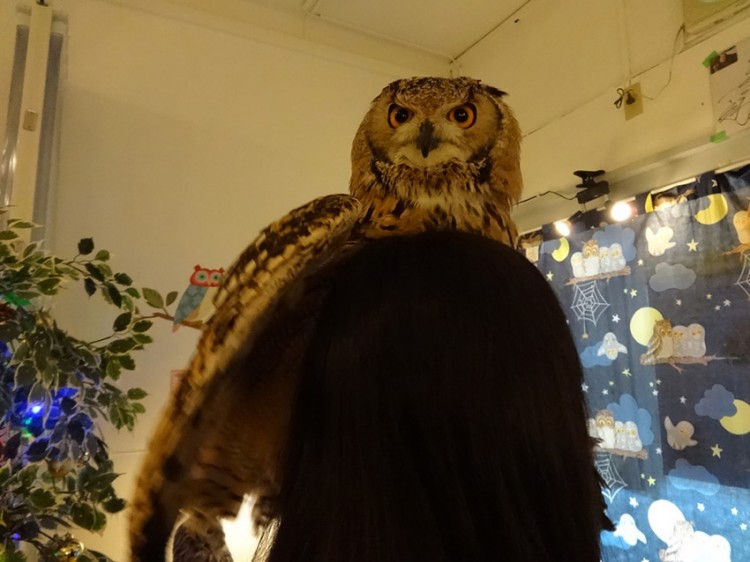 The room was so crowded it made me think of a subway car (but with OWLS and with everyone taking photographs) but it all works out fine. The owls seem perfectly calm, and they also all look quite sleek and healthy. The cafe does have some owls that people are not allowed to touch, so they clearly choose the ones that participate with an eye to the bird's temperament. A couple of staff members circulate in the room attentively, helping you hold the owl properly if it gets uncomfortable. And if you get uncomfortable and just want to watch, let them know and they'll take it away.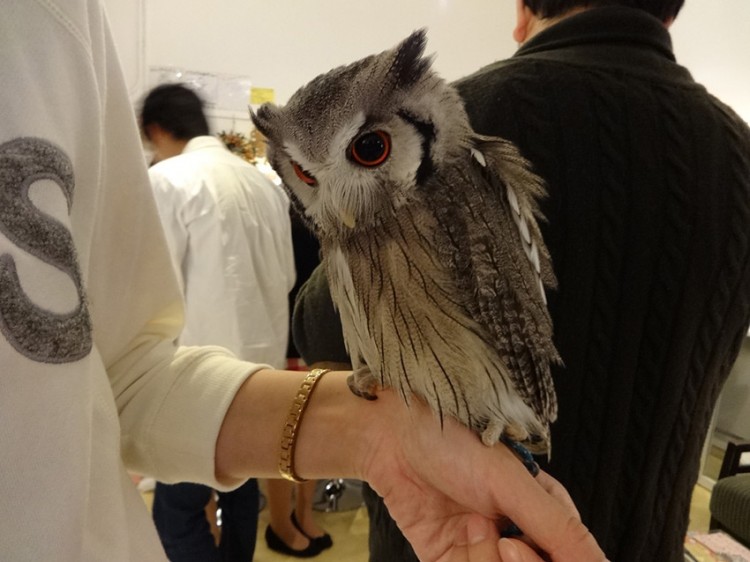 I have to say that my initial skepticism totally vanished. It was amazing to be up-close with these wild animals that seemed totally un-fazed by the experience. Maybe they knew they had the upper hand, what with the sharp parts. And clearly they're used to the adoration of the crowds. They were also quite beautiful and much more varied than I expected.
Don't come hungry to the owl cafe. Unlike other animal cafes, this is a "cafe" mostly in name only. There's no food, just a small drink that's included in the fee and is delivered at the end of the session when we all sit down for the final activity, which is a rock-paper-scissors game to hand out souvenirs (also included). There's a photo book, cell phone charms, chopsticks, and a cloth decorated with owls – I got the purple one, which was just what I wanted.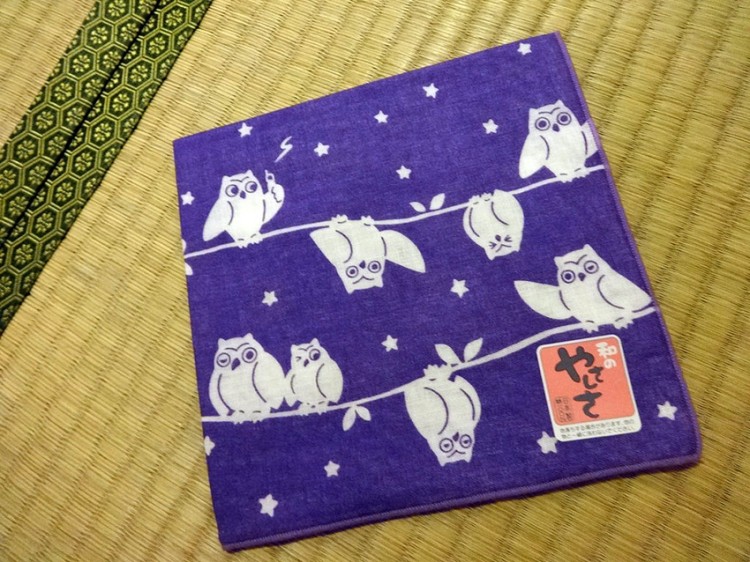 The cafe is pretty far off the beaten path of Tokyo tourist neighborhoods, but it's easy to find. Take exit 10 from Tokyo Metro Tsukishima Station, cross the street, and head up the street directly across from the station that's lined with oddly pruned trees. It'll be on your right and pretty obvious – if you don't recognize it from the long line, the front is plastered with posters in English and Japanese with a lot of photos of owls.
When I went, the hours were posted as Sundays 12-6, Wednesday and Thursday 2-6, Friday 2- 21, and Saturday 12-21, but you probably want to verify their current schedule at their website.
You may find yourself waiting with a fair amount of time to kill in a decidedly non-touristy neighborhood. A couple blocks away there is a long shopping street which no doubt used to provide for all the practical needs of the locals but is now almost entirely populated by restaurants serving monjayaki 1 (the Tokyo version of okonomiyaki), so that's probably your best bet.
Monjayaki is pan-fried Japanese batter, similar to okonomiyaki but runnier in consistency. ↩
Fukuro No Mise
Additional Information
1 Chome-27-9 Tsukishima
Chuo, Tokyo Prefecture 104-0052
Japan
View on map