As many of you know by now, being an intermediate student of Japanese can be really miserable. You know a chunk of basic grammar, you can understand everything in your textbooks, but the moment you step into the real world of reading Japanese, everything feels foreign again. If you are one of those people who wants to transition into reading Japanese literature in its original state, sometimes it feels like there is no way you will ever get there. Well, that isn't the case!
Giles Murray's Breaking into Japanese Literature: Seven Modern Classics in Parallel Text is your big step into reading Japanese literature, real literature, the books your professors would assign you in English. While it may not be for everyone, I think this book might be exactly what some of our readers have been looking for, especially those who like crime, drama, and a good old fashioned Japanese ghost story.
This book has one of my favorite features of having Japanese on one side, English on the other, and a follow-along dictionary underneath. There is furigana too, so for those of us who have an easier time remembering the meanings of kanji than the readings, it is pretty darn convenient. And beginners can still follow along with help on every single page, as long as they are stubborn enough.
The Three Levels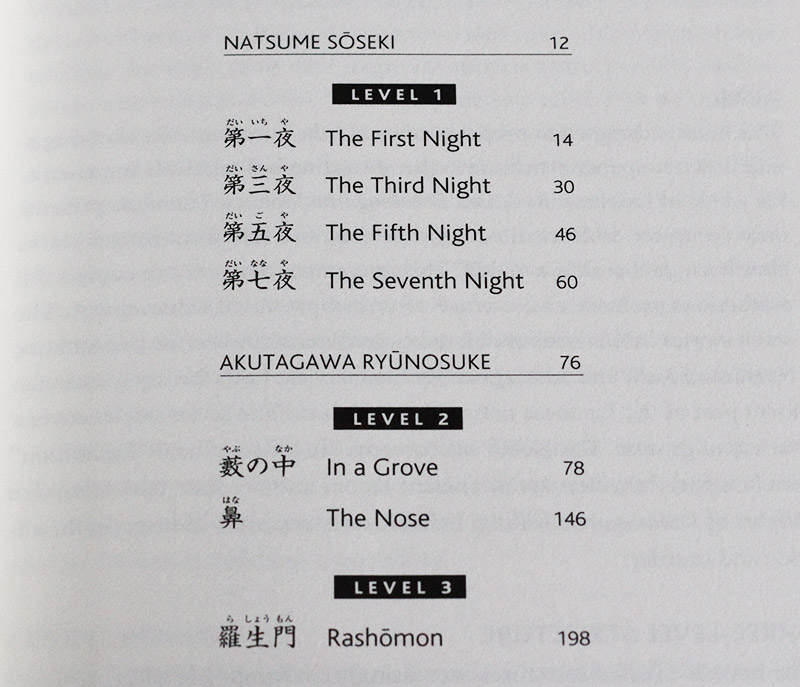 Level 1 contains four different stories from Natsume Soseki's Ten Nights of Dreams.
Level 2 contains two short stories by Akutagawa Ryunosuke.
Level 3 contains Akutagawa Ryunosuke's Rashomon.
The first few stories are short, and fairly simple in regards to sentence structure. The more you read, the more complex the stories become in terms of grammar, sentence length, and story length. At the end, the hope is that you will be able to read through the entirety of Rashomon. (And let me just say, once you get to that point it feels really good.)
It Does What Others Don't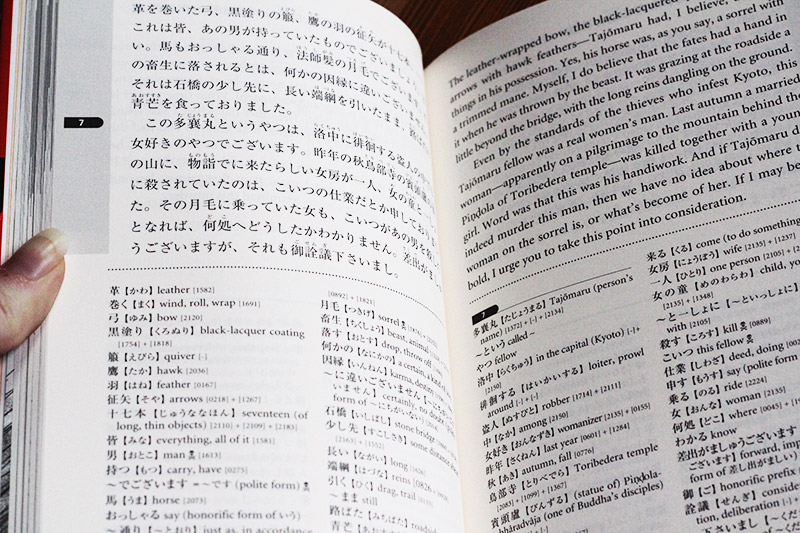 On top of the practical layout, there is one really important things this book does. It provides full stories. So many of the books designed to ease you into reading Japanese literature that I have read only give you excerpts, single chapters, or an essay. This may give you a nice taste for the author and their style, but it can be frustrating when you want to know what happens next in the story!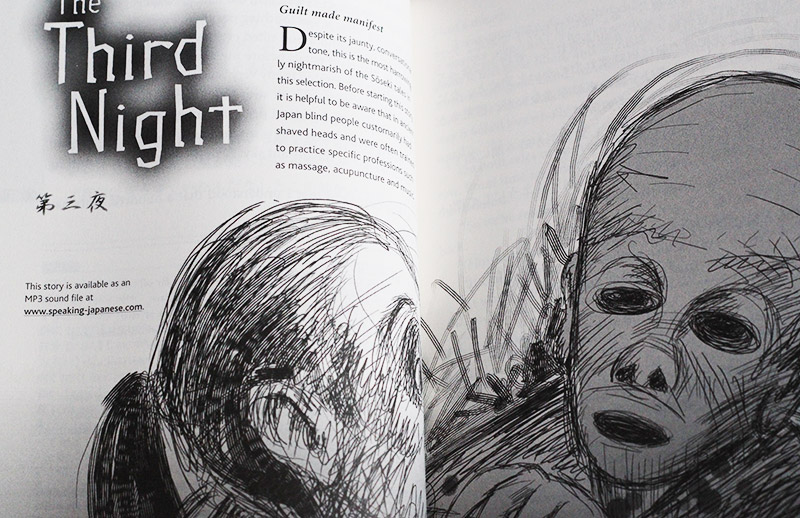 Another thing Breaking into Japanese Literature does that other resources of this type don't is the coverage a variety of genres. Love, death, comedy, horror, gore… horror again. Here's where I have to put a big warning sign to anyone who is thinking of picking up this book. There is some dark content, and if you shy away from violent crime you should reconsider buying this. To this book's credit, these stories are by huge, critically acclaimed authors. So you are getting a real taste for Japanese literature here. But it is not light and fluffy, and certainly not for kids.
And while it does not come physically with the book, there are free audio files for every story in the book available online here. The sound quality is good enough and there is a male narrator for most of the stories. He sounds a bit like a radio host though, which tends to make me sleepy when I listen to him. Rashomon is read by a woman, who also does a good job, but her audio does not sound as clear as the male voice. It is great that they offer readings by both a man and a woman too, for those of us interested in language shadowing (though reading literature aloud is not the ideal way to practice, it certainly does not hurt). You do not have to have the book to listen to them either, which is pretty cool, but I would not suggest listening to them without it. Though I guess that could be a really cool way to test how good your Japanese listening skills are.
Old Language Is Still Old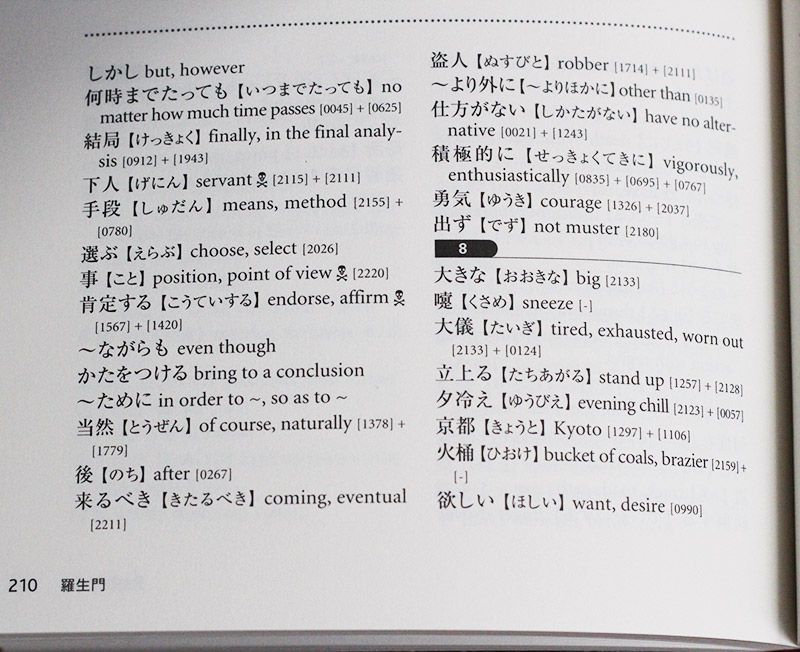 Don't get me wrong, I really enjoyed this book, but these are modern "classics" of Japanese literature we're talking about so it has a dated feel to it. To give you some perspective, Natsume Soseki wrote Ten Nights of Dreams in 1908. Rashomon is from 1915. Most people do not speak or write the same as they did over 100 years ago. Sometimes I would not know a word because it was using old kanji. And I learned that there are a lot of words for darkness and how to stab or kill someone that we probably would not use anymore. This type of language probably is not going to be useful in your everyday Japanese (I hope. Please don't stab people). Maybe if you are watching the news or a drama and they are explaining a crime scene you will be prepared to understand more than you normally would, but that is probably the extent of it.
This book offers a start into literature, not spoken, everyday Japanese. It is for people who want to read, and a lot of great Japanese literature is, well, old. So be aware of what you are getting yourself into. If you do not like to read, you probably will not benefit from it.
Breaking into Japanese Literature - Verdict
If you are a diligent self-learner who loves to read, this book has just about everything you could want. Unless you do not like reading crime or scary stories. Or reading. Then I really do not suggest you pick this one up. I kind of like the macabre, so the only thing I wish is that there were more of these books. Oh, wait there is another book like this! Its successor is called Exploring Japanese Literature and it has slightly newer stories and covers more than just the horror genre, though it is meant to be read after this one based on its difficulty level. In the end, if you are looking for a way to start reading Japanese classics, this is a pretty good place to start. It is well designed and can be beneficial to anyone trying to break into the world of Japanese literature with no idea where or how to start.
Kristen's Review
I really wanted to love this book, but the longer I sat on it, the more I realized the content just wasn't for me. You really need to be into old, Japanese crime and horror to enjoy it. That being said, the format was fantastic, and it was easy to learn a lot from it even though the language was dated.
Breaking into Japanese Literature
by

Giles Murray
Additional Information