This resource has been featured in:
Yojijukugo, or "four-character idiomatic compounds," may not be something you run into everyday, but they are interesting and fun to learn. They're things like: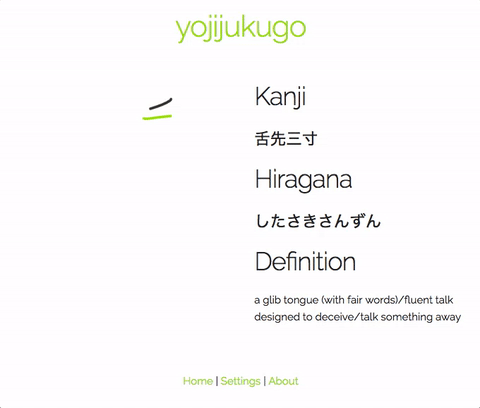 馬鹿慇懃
overdone politeness/polite to a fault/feigned politeness
認識不足
lack of (adequate) knowledge or understanding/being ignorant of/being ill-informed about
This site, called simply "yojijukugo," offers a platform to learn these types of four kanji phrases. You leave it on and watch the screen change idioms. It provides the four kanji characters, hiragana, an english definition, and the stroke order as the written kanji slowly scrawl down your screen. It's clean and minimal with only three options to choose from: Stroke Order Numbers (On/Off), Background Grid (for kanji alignment) (On/Off), and Stroke Speed (Normal/Slow).
It may not be specifically designed to teach you Japanese, but if will get you more familiar with yojijukugo and reinforce your jukugo (words with more than one kanji that use the on'yomi readings) reading knowledge. Watching the strokes and learning new phrases this way is also surprisingly relaxing.