This resource has been featured in: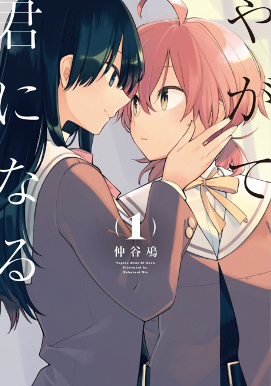 Bloom Into You, or やがて君になる is a manga series by Nio Nakatani. The story is about two female high school students, Touko Nanami and Yuu Koito. After both girls turn down confessions from others, Touko unexpectedly confesses her feelings for Yuu, and Yuu isn't sure how to respond. Despite this, Yuu agrees to become the manager of Touko's campaign for student council president.
In this complex, nuanced story, the girls discover more about their own identities as they develop an evolving relationship with each other. As the series goes on, Yuu explores the difference between romance as depicted in fiction and romance in real life, delves deeper into Touko's identity, and questions what is considered "normal."
Notably, there is also some discussion of experiences that could arguably be considered asexual/aromantic representation, in addition to the queerness found throughout the series. This story is on the serious side, so be prepared for some heavy (but interesting) plot elements.
The language used in this series isn't too advanced, so intermediate learners may find it relatively easy to read. The characters are putting on a school play, so you may need to look up some vocabulary relating to that along the way. This manga series also has an anime by the same name that depicts the beginning of the story, so check it out if you're interested!