This resource has been featured in: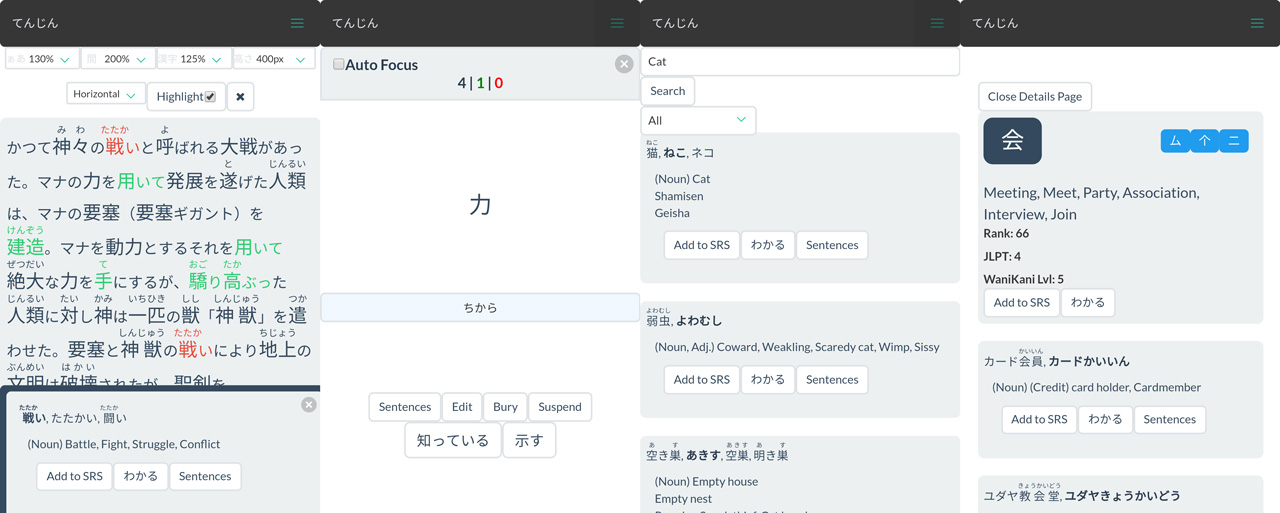 Tenjin Reader is an all-in-one Japanese study app just released for Android. Non-Android users, don't fret! You can access all the same features via your browser at the developer's website.
The app (like the browser version) is divided into five sections: Reader, SRS, Sentence, Vocab, and Kanji. SRS is an Anki-style flashcard system that lets you input answers or mark them correct. The Sentence feature breaks down a pasted sentence for quick reading. Vocab is your onboard dictionary, and Kanji gives you kanji analysis and radical breakdown.
But, the main event is the Reader, with the four other features acting more as support. It works like similar apps we've reviewed in the past: you paste text, and the app resizes it and adds furigana.
But there are a lot of options just below the surface that make Tenjin Reader worth checking out. You've got view options for kanji, furigana, and font size, not to mention spacing. Clicking on a word gives you its definition, and from there you get three options: add to SRS, view example sentences, or mark the word わかる to remove furigana.
There are some issues, though. You can't toggle furigana on or off all at once, and the auto-generated furigana is not always accurate. Menus and UI aren't as intuitive as they could be—it took too much trial and error to successfully navigate and understand the app's functionality.
Overall, this is a great all-in-one package that can help focused Japanese learners read and study without switching between multiple apps and devices. And with time and polish, Tenjin Reader could offer a smoother experience with the healthy set of features it's already got.