This resource has been featured in:
Going to Japan isn't easy. You have to book plane tickets, find places to stay, figure out where to go when and what to do there. Oh, and you need to somehow come up with the money to pay for it all. Taking a trip to another country is a very involved process, and sometimes you don't realize what you want or need until you're actually there. But by then it feels like it's too late to do what you really want to do.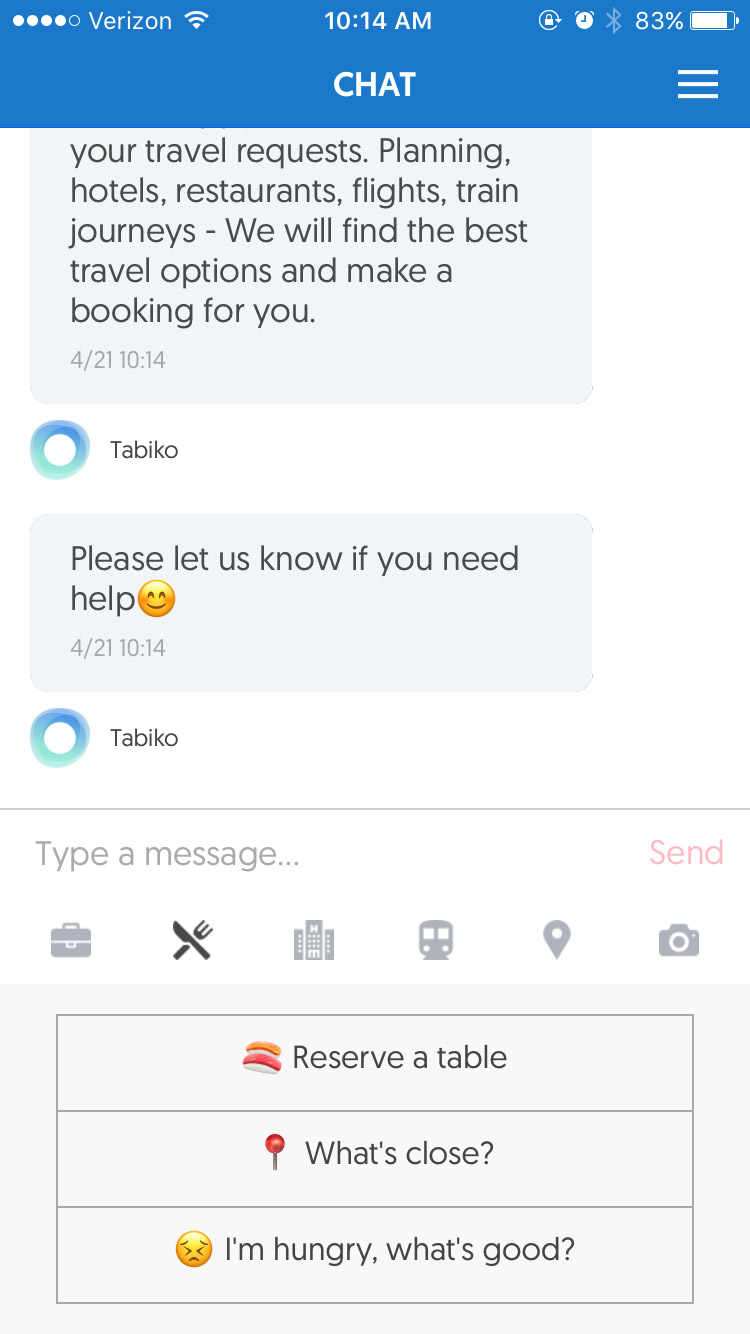 Luckily, Tabiko, a new app by Fast Japan can help you with your traveling woes. It is a simple, chat based assistant and concierge service you can use while in Japan. Whether you're there for a month, week, or just stuck with a free day, Tabiko can help you find out where to go, stay, and eat easily.
The app opens up and introduces a few basic chatting options, as well as the ability to type what you want. But it supplies ideas like:
What's close
Reserve a table
How do I get there?
Find a flight
And a ton of other useful quick links. It can access your location (with permission, of course) and show you exactly where to go. You can find out where to shop depending on your budget, get a car to take you somewhere, and even find hotels or flights at the best prices. It's like having a tour guide and a personal assistant in your pocket.
If your plans for the day fall through, you can easily find a replacement that isn't just wandering around aimlessly. Stuck in what seems like the middle of nowhere? Find a way out fast with bus and train schedules. Need to get vegetarian food in the next hour before you pass out? There's a little place two streets over. This app is unbelievably useful, whether you're at home planning your dream trip or stuck waiting through a 36 hour layover in Narita, Tabiko's got you covered. And their main site, which is all about travel and tourism in Japan, isn't half bad either, so check it out too while you're at it.
Oh, and since this is about language resources, we should mention you can ask them about languages too. Signage, names of cities, subways, and parks, even what your menu says. So while it may not be a Japanese language study tool, it can be a language backup.