This resource has been featured in: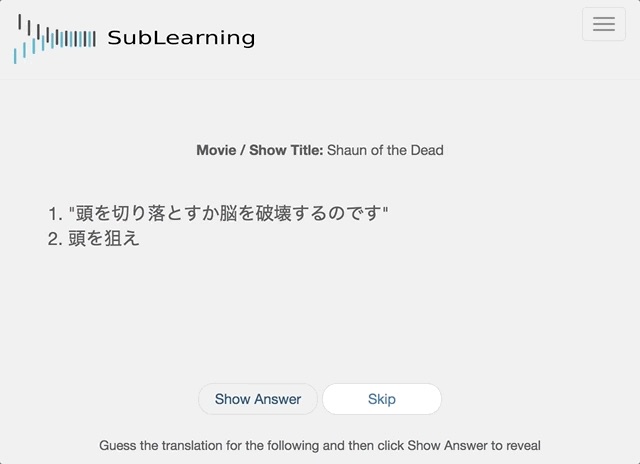 Everybody loves learning language with movies. And it works especially well with movies you know by heart. That's what makes the new language learning site, SubLearning, so effective.
SubLearning isn't just for Japanese language learning. There are hundreds of movie subtitles to choose from in 62 languages. Just pick your target language (Japanese), your native language (maybe English, if you're reading this), and the movie you want to study with.
Let's say you choose Star Wars: Episode IV – A New Hope. It starts by showing you the first two lines of the movie.
聞こえたかい?
メイン・リアクターが破壊された
There are two buttons underneath the Japanese lines, "Show Answer" and "Skip." Try and read the two lines as best you can. If you've seen Star Wars 600 times, it might not be too difficult. When you're ready, click "Show Answer."
Did you hear that?
They shut down the main reactor.
It's the first two lines C-3PO speaks at the beginning of the movie. After revealing the translation, the "Next" button appears and you're served the third and fourth lines. After that you get the fifth and sixth, and so on until you get to the end of the film.
It should be noted that these subtitles aren't translations from one language to another. They're simply the subtitles for a given movie in Japanese, English, Italian, Dutch, French, or whatever two languages you choose. The two subtitle translations simply show up side-by-side. That means, the revealed English subtitle may be very different from the Japanese subtitle you are trying to translate. This is especially true if the movie you choose is, say, Who Am I, which is German.
This is a cool way to experience your favorite movies, especially if listening to a Japanese film audio track is too fast for you. And there are lots of movies to choose from (most all the Ghibli and MCU films are represented), so you're bound to find at least one that you know by heart.