This resource has been featured in: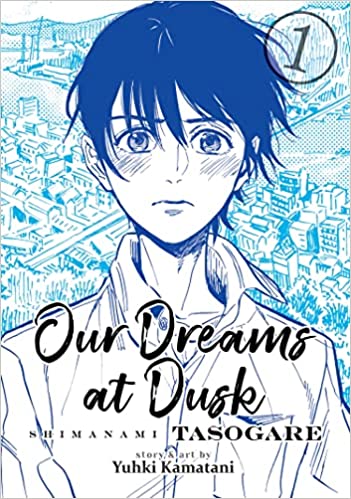 Our Dreams at Dusk, or しまなみ誰そ彼 is a manga series by Yuhki Kamatani. The story follows a motley crew of LGBTQIA+ characters living in rural Hiroshima. Each volume in this four-volume series focuses on a different character in the group, which makes for a fascinatingly multifaceted depiction of many gender and sexual identities under the LGBTQIA+ umbrella.
The first volume centers on Tasuku Kaname, a gay teenage boy who finds refuge in a "drop-in center," or discussion lounge, after experiencing the trauma of being outed at school. Here he meets other LGBTQIA+ people for the first time, becomes part of this local community, grapples with his internalized homophobia, and begins the difficult journey of accepting himself. The second, third, and fourth volumes prominently feature trans, gender non-conforming, asexual, lesbian, and queer characters as well, delving into their psyches and experiences of life in both abstract/artistic and concrete ways. It also includes beautiful, detailed illustrations of the Hiroshima landscape, so there's a lot to appreciate in these pages.
This story takes place in everyday life, so most of the grammar and vocabulary is fairly common. However, a few characters, especially the elder ones, may speak in a dialect sometimes, so you might find that a mild challenge (though a highly worthwhile one). The author's notes written on the side can also be hard to make out, but they're not required to enjoy the story. If you're looking for authentic, nuanced, and sensitive portrayals of the queer community in Japan, it's hard to do better than this.
Content warning: This series contains plot points related to suicide.