This resource has been featured in:
First of all, a huge thank you to Chase for recommending this resource to us!
Writer and game developer npckc makes pay-what-you-wish visual novels. While npckc offers many games to choose from, all with many language options, we played one night, hot springs and its sequel last day of spring, which are set in Japan.
The story follows a nineteen-year-old trans woman named Haru through the anxiety, fears, and difficult situations she has to deal with on a daily basis. In one night, hot springs, her childhood friend, Ami, invites her to go to a fancy hot spring on her birthday. Unfortunately, this isn't an invitation Haru can easily accept.
The game portrays the constant struggles trans people face, with a focus specifically on the onsen (hot springs), a common destination for tourists and native Japanese. If you are trans, the story is worth playing for the comfort and celebration of a shared experience; if you're not, it provides a valuable perspective.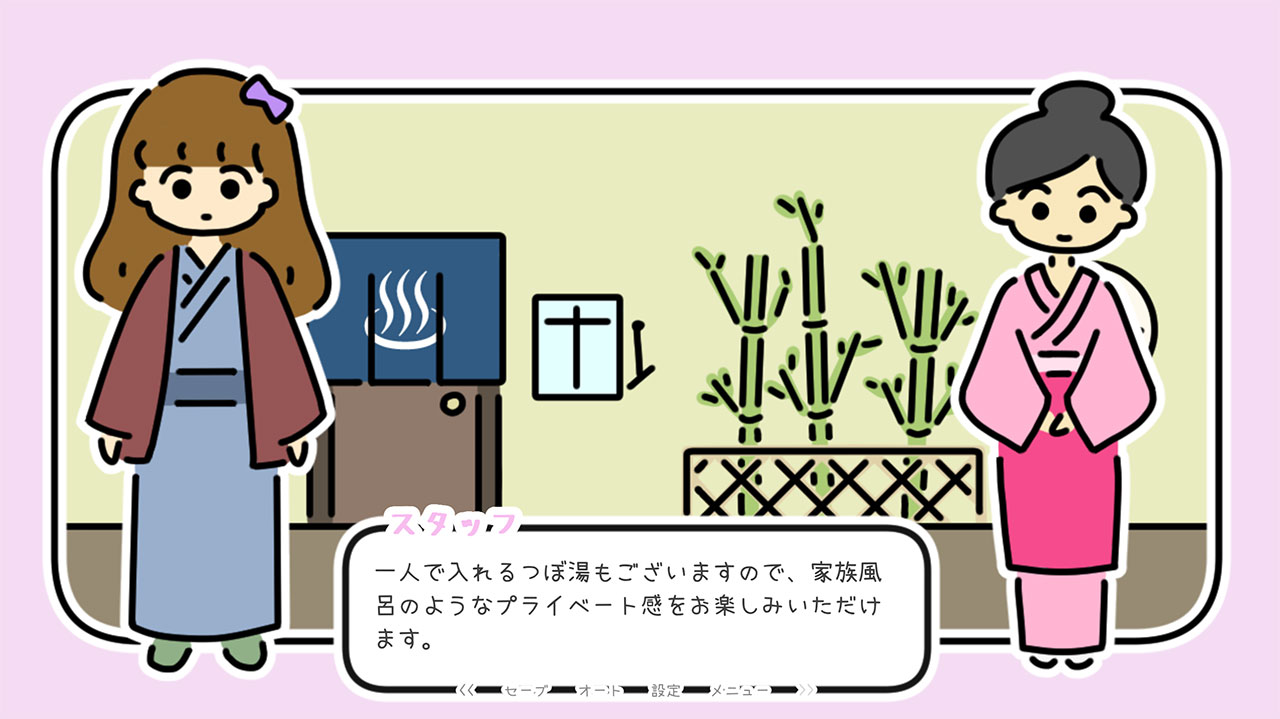 How do these games help you learn Japanese? By being visual novels! You can move through the text at your own speed. There is no voice-acting or furigana, so you have to rely on your own knowledge of Japanese, kanji, and context to figure out what's going on. The conversations and situations will help you become familiar with terminology you won't necessarily get from textbooks. In the case of one night, hot springs, there is also onsen and transgender-specific terminology and phrases to pick up.
If you miss a line or need to go back to review, arrows at the bottom of the text box are there to help you navigate between lines. If you get stuck, you can revert to your native language. Supported languages include English, Japanese, Dutch, Spanish, Portuguese, Vietnamese, Korean, Indonesian, Russian, and Traditional Chinese! If you want to save a particular spot to study again later, you can do that too.
These and npckc's other games are worth playing simply because they are thoughtful and interesting. The fact that they can help with your Japanese reading as well makes them a great addition to anyone's "games to study with" list.