This resource has been featured in: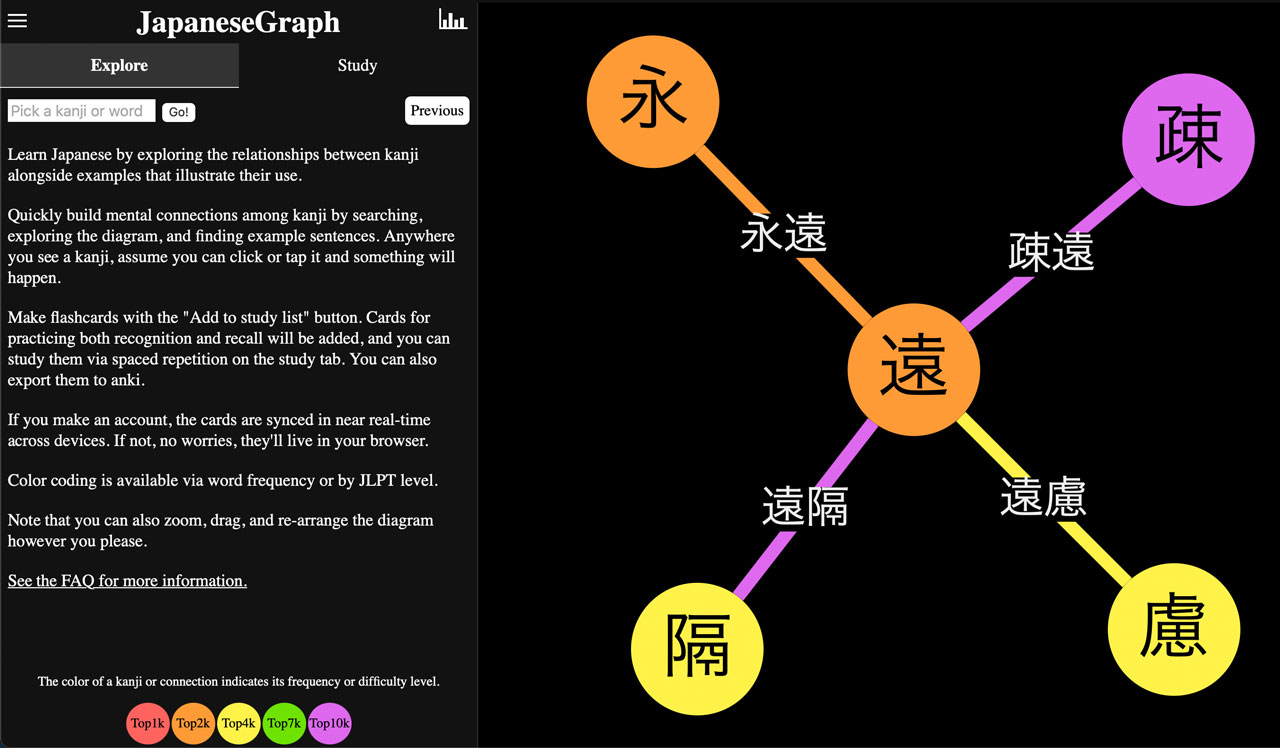 The idea behind Japanese Graph, as stated on their site is to "learn Japanese by exploring the relationships between kanji alongside examples that illustrate their use." In the "Explore" section of the site, you can run a search on a single character and the character, along with any possible combinations utilizing that character, will be diagrammed nearby in a node-network style. Character nodes are color-coded by frequency (or, optionally, by JLPT level) and can be moved around by clicking and dragging. Selecting an additional, surrounding character will reveal more relationships and so on. You can really get a large web going if you click long enough! Once a character is selected, the left panel displays a basic definition and some example sentences with words that contain the selected kanji. You also have the choice to listen to how the character is pronounced as well as add the character to your personal study list. And speaking of personal study lists, the site also has a spaced-repetition study feature that allows you to study "flashcards" of characters you've marked for study. As the site explains, it is a very basic system and all data is stored locally in your browser. (Which means no need to create an account!)
Users can additionally view a statistics page to help visualize their spaced-repetition reviews on the site as well as export any saved cards to a file format compatible with other spaced-repetition systems like Anki. The only downside to the site is how easy and quickly it is for the diagram to become cluttered and unreadable. And instead of being able to move whole nodes and their corresponding branches together, you are only able to move one node at a time. This can get pretty frustrating if you're trying to move a bunch of kanji out of the way to organize things better. All in all, it may be a worthwhile supplement for any learner interested in kanji.