This resource has been featured in: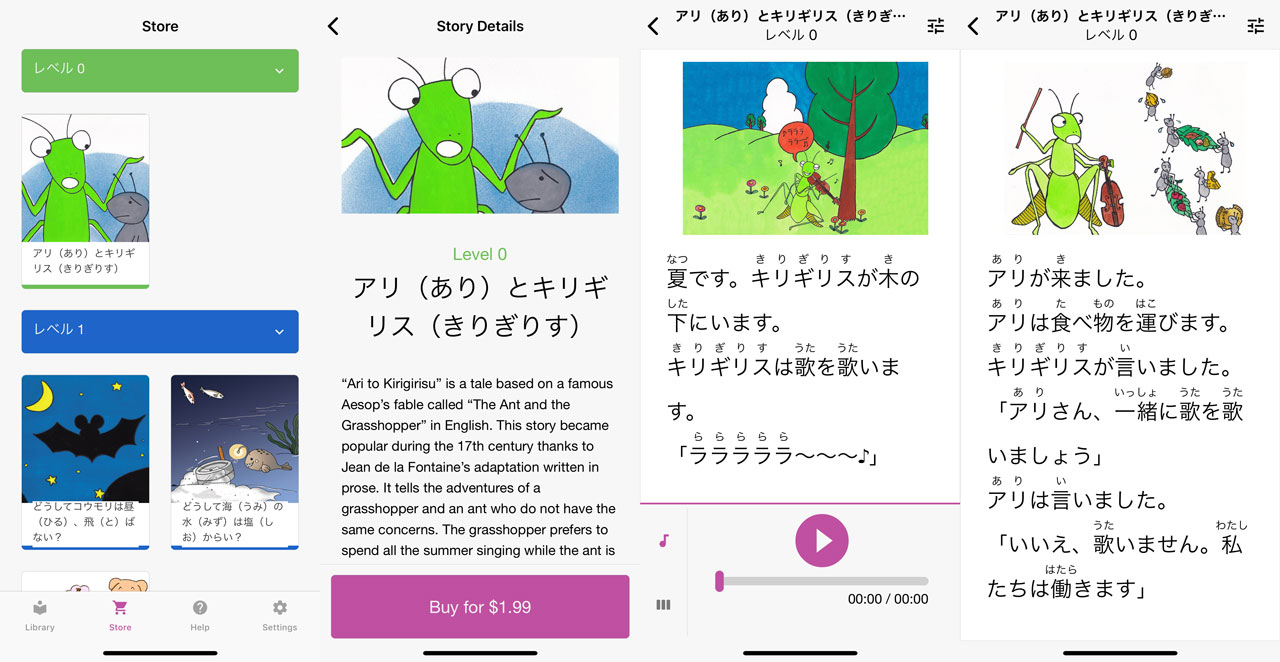 The Japanese Graded Readers app is available on both iOS and Android, and published by White Rabbit Press. The stories in the app are also from the NPO Tadoku Supporters collection, however, there are only 9 stories available, and these stories are only in the levels between 0 and 3. The app comes with a short sample, and then each subsequent story can be purchased independently for either $2.99 or $3.99.
All the stories are relatively short, usually around 10 or 15 pages or so. They tend to cater more towards folk stories or children's tales, but I still found them relatively interesting. I read a folk tale about bats, one about the sea, and a retelling of the O. Henry short story "Witches' Loaves."
Given the greatly reduced library and cost associated, you might wonder why you'd choose to use this app instead of the free online books. For one, it's very convenient to have stories as an app. Especially given the short length of most of them, it's easy to pull out your phone while waiting in line for coffee and read a bit in Japanese. Additionally, the app has a lot of helpful options that the online libraries lack. For example, you can change the size of the text, toggle furigana on and off, and enable autoplay to advance the story. Images can be clicked on and enlarged, and there's audio that matches every page, allowing much finer control if you want to repeat something.
Despite these conveniences, the app's limitations make it difficult to recommend for most learners. If the library were larger to match or include some of the free books from the NPO site, or if it were possible to purchase discounted sets of books, it might be an easier sell. The user experience is great, which only makes the limitations all the more frustrating here. If you're already studying most often on your phone rather than a computer, or strongly prefer having more control over the viewing options, this might be a good place to look.