The Takarazuka Revue is a unique Japanese all-female theater company that has gained incredible popularity since it was founded nearly one hundred years ago. With over one thousand performances each year and an audience of two and a half million, including people who come from all over the world, The Takarazuka Revue is one of the largest theater companies in the world. A single-gendered troupe of such incredible popularity is a unique phenomenon, though Japan is no stranger to gender bending in theater performance. The traditional theater Kabuki has been restricted to men only since 1629, with males playing female roles.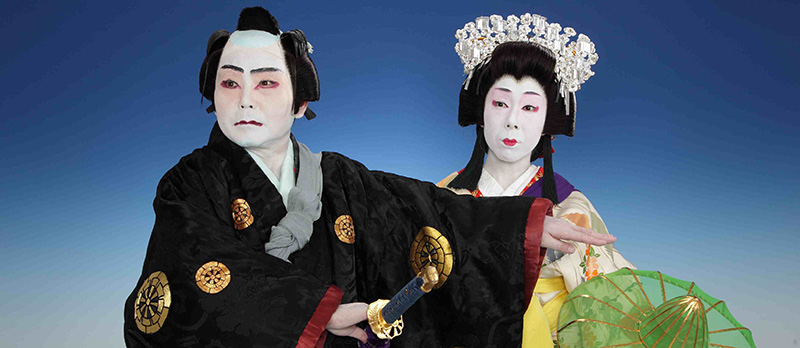 The revue is not only unique because of its fame, which is on the same level as Broadway musicals in the United States, but also because of its unique stylistic elements. The women in the troupe are split into two categories, otokoyaku, who play men's roles, and musumeyaku, who play women's roles. Once these roles are decided, the actresses specialize in that role and almost never switch from one to the other.
Becoming Takarazuka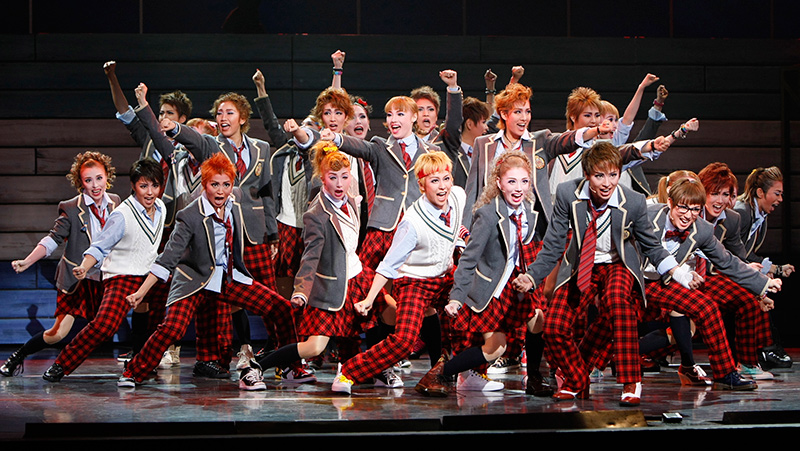 The goal is not to trick the audience into believing that the otokoyaku are men, but to present an idealized male character through a woman's body. The productions are almost always romantic, glamorous musicals, and thus attract a mostly female audience. They are generally Western-style musicals, with costumes and music very similar to American Broadway musicals. Although they often stage adaptations of Western plays such as Romeo and Juliet and Gone with the Wind, they are even more glitzy and extravagant than their Western counterparts. It is as if they took the idea and exaggerated it. For an American like me, it is a strange sight to see the actresses with their blonde hair and eye-exaggerating makeup.
The Takarazuka Revue was founded in 1914, in the small Takarazuka City near Osaka, for which the group was named. The founder, Kobayashi Ichizou was a railway tycoon, and his original intent was to increase the use of his new railway by attracting people to Takarazuka City and making it a leisure location. Kobayashi created the revue's motto, which still endures today: Kiyoku, Tadashiku, Utsukushiku (Purity, Integrity, Grace). The company currently has five troupes with about eighty performers each: The Flower, Moon, Snow, Star, and Cosmos Troupes, which all perform both in the Takarazuka Grand Theatre located in Takarazuka City and the Tokyo Takarazuka Theatre, as well as going on tour both in Japan and abroad. The company has in-house playwrights, costume designers, stage art directors, music composers, and orchestras.
The audition to be accepted into Takarazuka is extremely competitive, with fewer than one in twenty girls passing each year. Originally they accepted girls in their early teens, but now only girls aged fifteen to eighteen may apply. After passing the audition, the girls attend the Takarazuka Music School for two years where they receive rigorous instruction not only in performing arts, but also in how to become disciplined in everyday life. The school is renowned for its strictness; for example, first year students must get up in the early hours of the morning and clean the school from top to bottom in complete silence. Furthermore, there is an even more controlling aspect of Takarazuka: the actresses must remain unmarried until they retire from the group, and in fact are not permitted to date or even have interaction with outside men.
The "Dream Factory"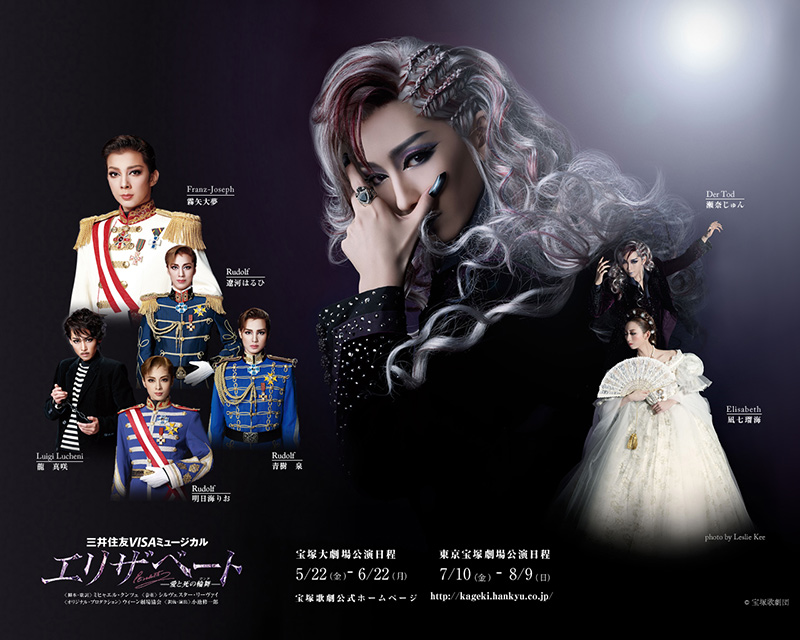 The characters that the otokoyaku try to create are heroic figures, masculine enough to seem strong and supportive, but gentle enough to be romantic and loving. This is not meant to seem realistic by any means, but to portray an ideal, impossible man that will delight the hearts of the audience. As a foil to the otokoyaku, the musumeyaku portray exaggeratedly feminine women, who therefore make the male characters seem more masculine by comparison. The otokoyaku train their voices to reach low octaves, attempting for a husky tone, while the musumeyaku practice an unnaturally high tone. Beyond that, the Japanese language also provides a way to set them apart from each other, as they can use gendered language to an extreme that most Japanese people don't use in their day-to-day speech.
Before I went for my year abroad in Tokyo, I had heard about Takarazuka and was intrigued. During my time there, I saw two shows at the Tokyo Takarazuka Theatre and I found myself enraptured by their performances. There was a Disneyland-esque feeling of a fantasy land being brought into the real world. Indeed, Takarazuka is sometimes called a "Dream Factory." The otokoyaku held a particular mesmerizing appeal.
One Takarazuka show I saw while I was in Tokyo was The Rose of Versailles, the company's most famous play. Based on a classic manga series of the same name, it follows the story of Oscar, a female who is raised as a male because her father needed a son. This show adds another delightful layer of gender confusion, and throughout the years there has been discussion about what kind of actress should play Oscar; the actresses who play females, the musumeyaku, or the actresses who play males, the otokoyaku? Generally they choose an otokoyaku, who then ironically plays a more feminine character than usual, a woman pretending to be a man rather than a pure male character. This is further complicated by her romantic relationship with her male friend and companion, Andre.
The advance tickets were sold out for this show within hours of becoming available, but there were also limited same-day at the door tickets. I stood in line with some hardcore fans from 6:00 am to 10:00 am in the freezing winter cold in order to secure these tickets.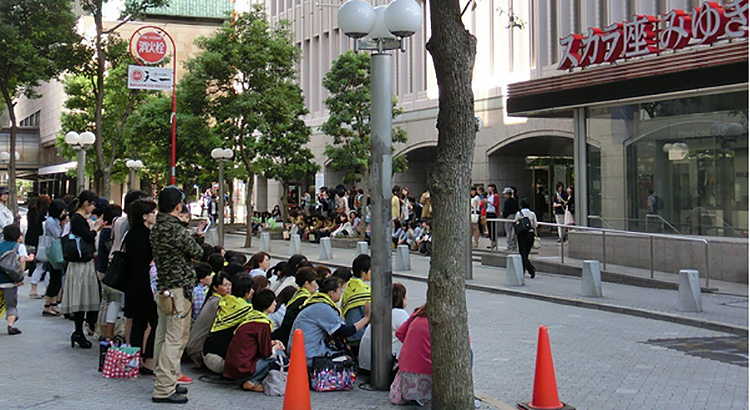 Luckily my friends and I could take turns to run to the local convenience store to buy hand warmer packets. During that time I was bemused to observe fan club members, dressed in identical scarves and shirts, standing in a line outside the theater and waiting patiently for hours until their favorite actress arrived so that they could hand her gifts and letters. The clubs will perform this ritual both before shows and after, simply to have that moment of contact with their favorite star.
The Takarazuka Fanclub
takarazuka-fanclub Almost all of the star actresses have one or more specialized fan clubs, where dedicated fans take on almost a cult-like tendency as they support their favorite actress. The Takarazuka official fan club, Takarazuka Tomonokai (Takarazuka Friends' Society), was founded in 1934 and is a general club for any Takarazuka fan. But almost all of the stars have their own personal fan clubs. The top stars often have more than a thousand loyal fan club members. Although the group was originally intended to appeal to families and to young girls, the typical fans today are usually middle aged married women.
Club activities include writing letters together, discussing theater, and staging their own plays. Letters to the actresses typically contain compliments, requests for advice on personal problems, gentle criticism of the star's latest performance, or may sometimes even contain love confessions or sexual content. While the newer fans can only have contact with their favorite actress through those letters and fleeting moments outside the theater, long time fans will perform duties such as chauffeuring her to and from the theater, preparing meals for her, and in some cases even providing financial support.
When attending a Kabuki performance, I saw two otokoyaku accompanied by two fans sitting in the most expensive seats, no doubt purchased as a gift by the fans. How did I know they were otokoyaku? Even outside the theater, they dress in a particular style that is fashionable and sleek and androgynous. They also have a particular aura, such that one could practically feel their presence in the room. The rest of the audience also seemed keenly aware of their presence, but they were guarded the entire time by their adoring fans. My friends and I noticed them immediately, and since we were up in the balcony we spent the entire intermission peering down at them with our binoculars.
How Do You Categorize Them?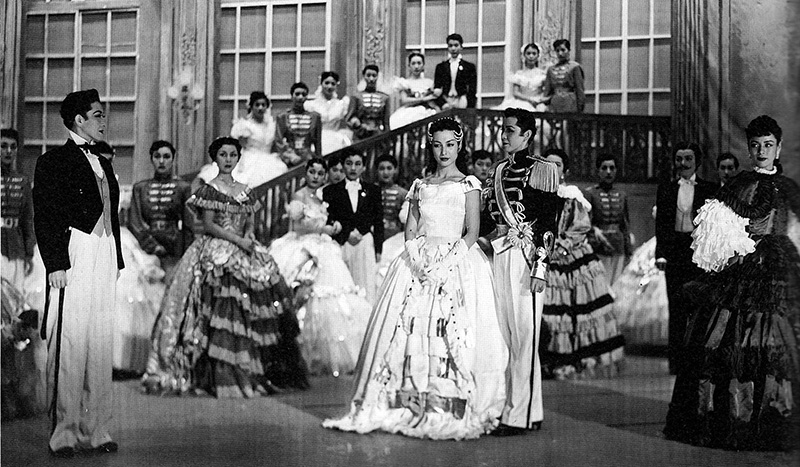 Quote from a fan of Takarazuka:
Japanese men are boring, so of course women love Takarazuka. The husbands work so hard that they have no time for their wives, and Takarazuka is a place for wives to go that doesn't threaten their husbands. At Takarazuka, women can express the emotion they can't show their coldhearted husbands. Takarazuka never disappoints them. (Takarazuka: Sexual Politics and Popular Culture in Modern Japan).
Because Takarazuka fans seem so passionate about their favorite actresses, Western scholars who study Takarazuka often describe it as a "lesbian" phenomenon, while Japanese scholars, fans, and actresses alike insist that there is no romantic attraction at work. Instead they explain the bond as a sisterly bond, with younger fans and actresses acting as the adoring imouto(younger sister) and the older ones acting as the wise, protecting oneesama (older sister). In fact they often use these words to describe each other. But as many fans of anime and manga have no doubt noticed, this kind of relationship can seem very romantic to an outside eye. And in some ways, it is romantic.
Even so, there is no way to call Takarazuka fans lesbians. They do not fit into Western ideas of romance and sexuality, where one must fall into one of several neat categories. They exist somewhere in between, and while Americans might try to figure out the exact nature of the relationship, Japanese Takarazuka fans are perfectly content to leave that question unasked, and to enjoy their hobby with no shame.
When an answer can't be nailed down, sometimes we have to let that question go and enjoy the uncertainty.