Osaka, where I was born, is known for having the highest crime rate in Japan. But, this may come as quite the surprise especially to those who have actually visited Osaka for sightseeing. Don't get me wrong though. Osaka is, for the most part, a safe city. Foreigners will find it to be a safe place, though locals will not be surprised by this stigma. This is partly thanks to Nishinari (aka Kamagasaki, or Airin), which is considered to be the slum of Osaka.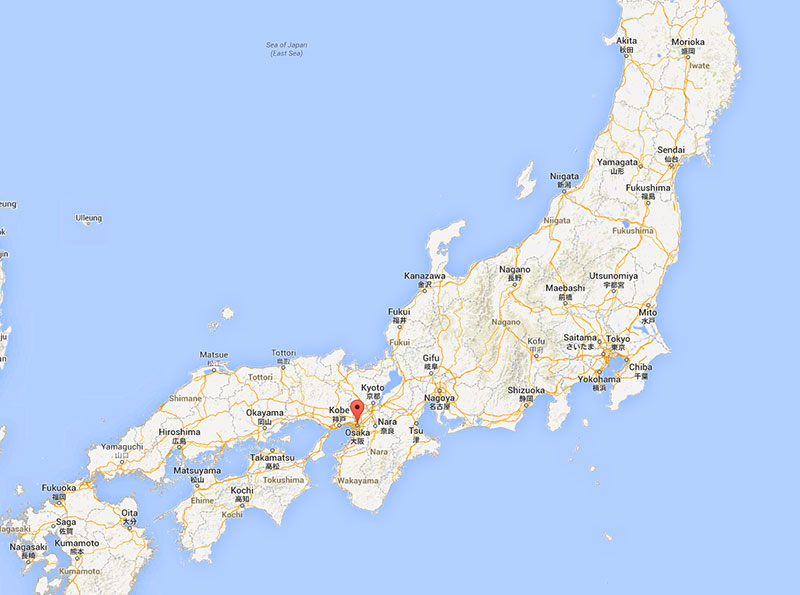 Although the locals tend to avoid this area, it has surprisingly become a sort of mecca for foreign backpackers due to the cheap accomodations. The reason why they don't mind staying in such a place is because it is statistically way safer than their own home countries. Apparently, there are even a few guide books that say this outright: "Nishinari-ku: the most dangerous area in Japan, but not as bad as your own country."
But, can you really be confident that this place is not as dangerous as your own country? It's possible that you may feel quite comfortable in those areas at home, but, many things are done differently country to country. So, how cheap are things in Nishinari-ku? Is it really worth visiting or staying here? Let's find out!
Nishinari Ward
There are 24 wards in Osaka City, and one of them is Nishinari, which takes up a whole 2.8 square miles. If you type "Nishinari" in Google Maps, it will show you where the Nishinari Ward is. Perhaps you'll even recognize some of the more popular landmarks nearby.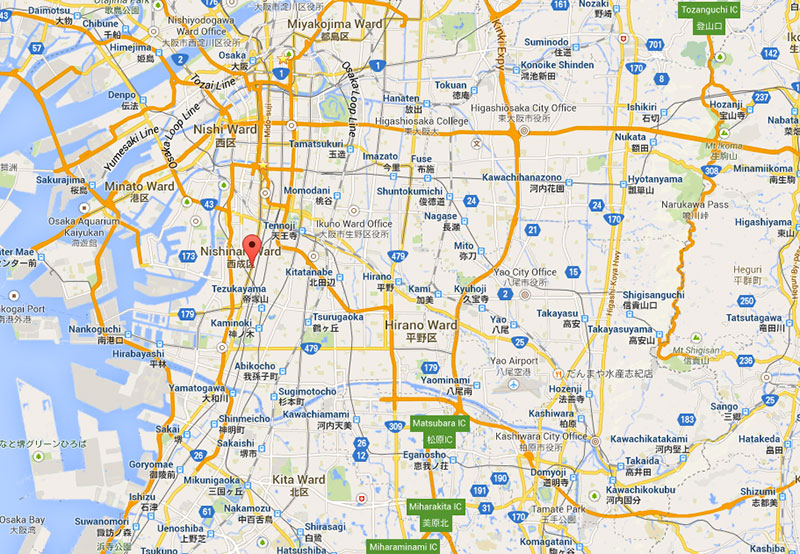 This area is famous for the Tennouji Park, Tennouji Zoo, the Tsutenkaku Tower, deep fried kebab-style restaurants, and "Spa World," which has many different kinds of onsen from around the world as well as scary water slides. One slide is called "The Death Loop," if that helps to paint a picture.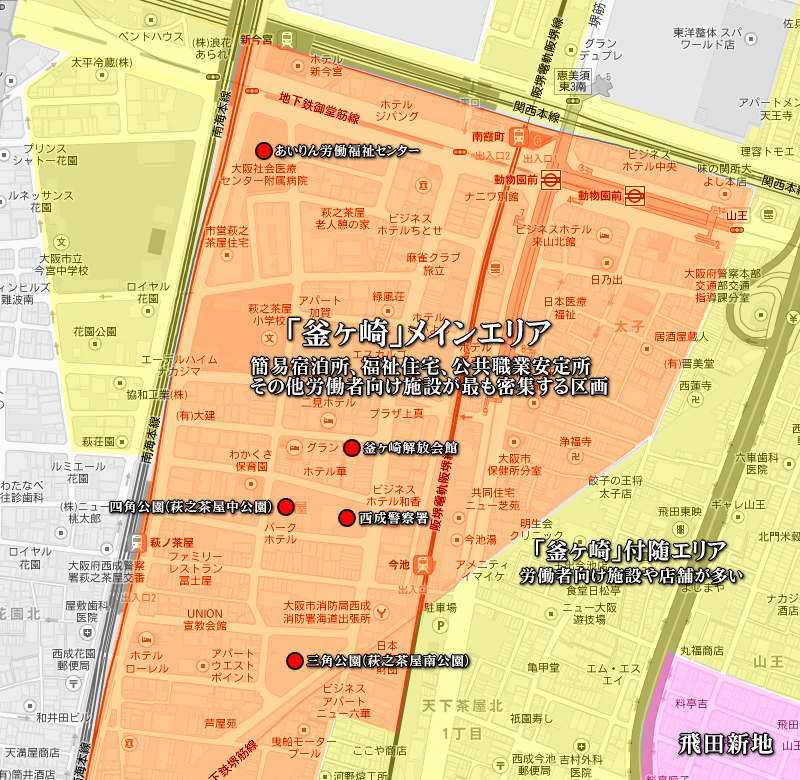 After reading the above paragraph you may be wondering something like, "Mami, you said the locals tend to avoid that area, didn't you?" Well, the park and zoo are in Tennouji-ward and the other sight-seeing spots called Shinsekai (literally meaning "new world") are all located in Naniwa-ward. Only Midousuji Boulevard separates Naniwa from Nishinari, but the difference is still quickly noticeable. So, if you are a little worried about going to Nishinari, make sure not to cross the road to the "other side" of Japan.
Furthermore, the slum area doesn't cover the whole of the Nishinari-Ward either. The undesireable areas of Nishinari are found around Haginochaya, Taishi, and Sannou. In May 1966, Airin-chiku became the area's offical name, but most of the locals continue to call this area "Kamagasaki" or "Nishinari".
Although not found in the above mentioned areas, Japan's largest red-light-district, Tobita-shinchi (a.k.a Tobita-Yuukaku) also makes its home in Nishinari-ward. Though it's advisable to avoid this area in real life, especially if you're a woman, when writing an article about Nishinari it's nearly impossible to bypass.
Kamagasaki: Nishinari in Nishinari-ward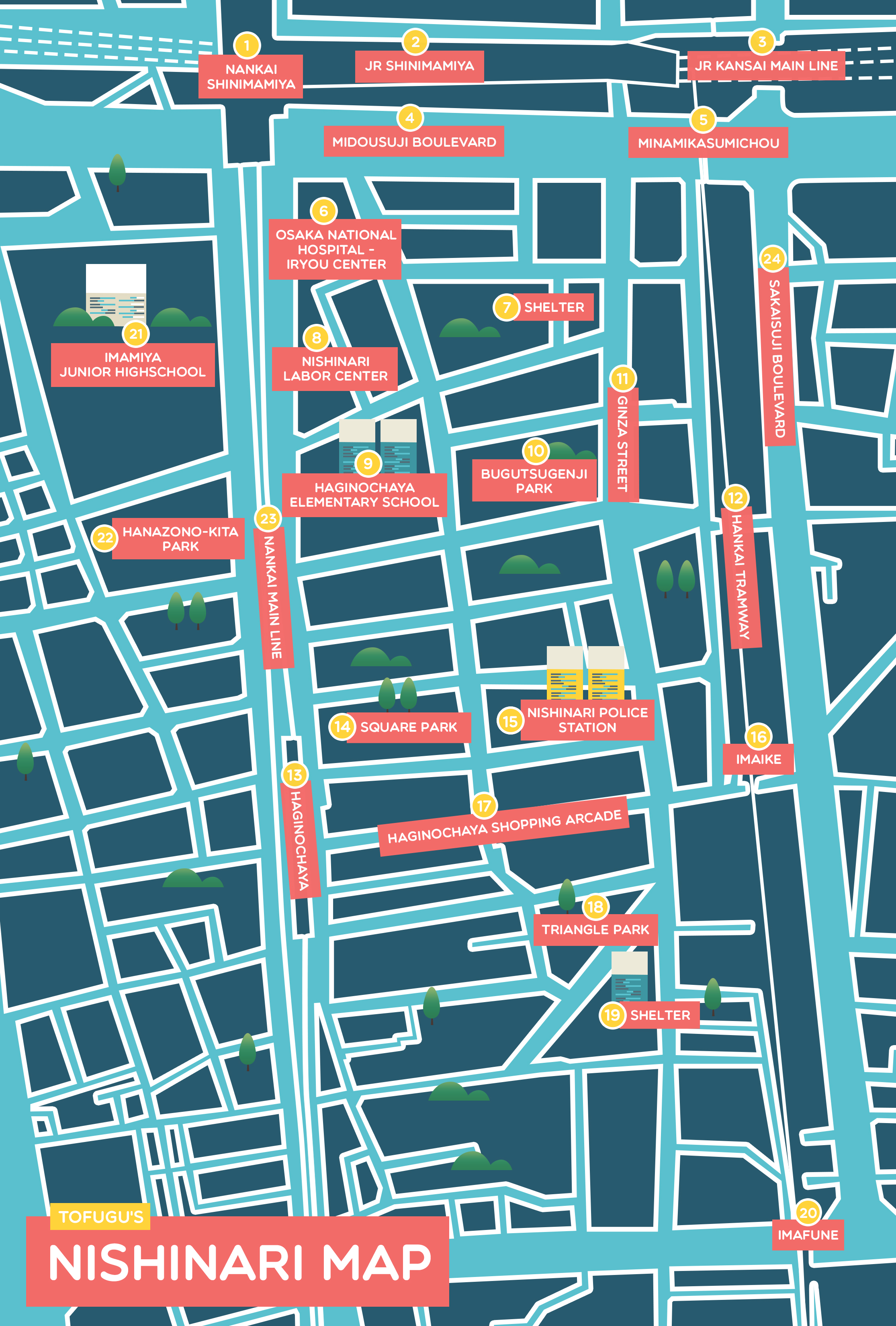 Until the mid Meiji-era (1868-1912 AD), Osaka's slum area was located in Nagamachi, which is now Block 1-3 Nipponbashi in Chuuou-ward, and the Kamagasaki area was just a small fishing village with a graveyard and an accompanying execution grounds, a vestige of the Edo (1603-1867) Shogunate.
The Nagamachi area had many extremely cheap inns for day laborers (called Kichin-ya), but for the purpose of making more available accommodations for the fifth National Industrial Exhibition being held in 1903, a law was passed forcing all inns in the Nagamachi area to move to the Kamagasaki area in 1898. In turn this forced the day laborers to follow, and so began the Kamagasaki slum.
Just as a note, some people mistake Kamagasaki (or Nagamachi) area to be the distinctive village of Burakumin, but they are different. The Nagamachi and Kamagasaki slums were naturally formed by homeless people and wanderers, whereas the Buraku hamlets were officially formed as outcaste communities in the Japanese feudal era.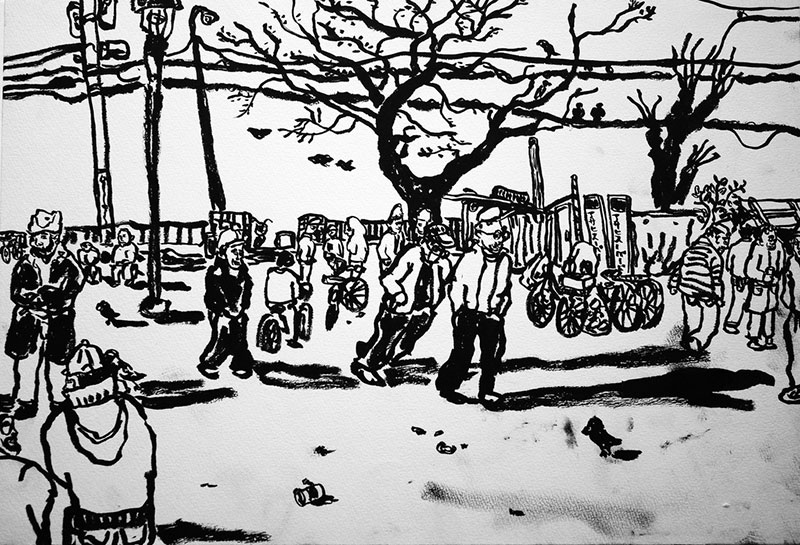 The Kamagasaki area is only ~500-800 square meters but the population is said to be around 20,000 to 30,000. The actual number is unknown because many of the people there are homeless and aren't even on the residential registration. Since there are so many Doya-inns (previously known as Kichinya-inns) in such a small area, its population density is said to be 3 or 4 times that of Tokyo's 23 wards.
Sakaisuji Street divides the area into West and East and each side has different characteristics. On the East side, there are many wooden rental houses and also a shopping arcade called "Tobita-hon-doori" (a.k.a Doubutsuen-mae-ichiban-gai). Thus, it still exhibits a similar resemblance to, and a taste of the ambiance of old Osaka. On the West side, there are many multistoried Doya-inns as well as restaurants and launderettes for laborers. Regional improvement facilities are also increasing in number.
Super Cheap Doya-Inns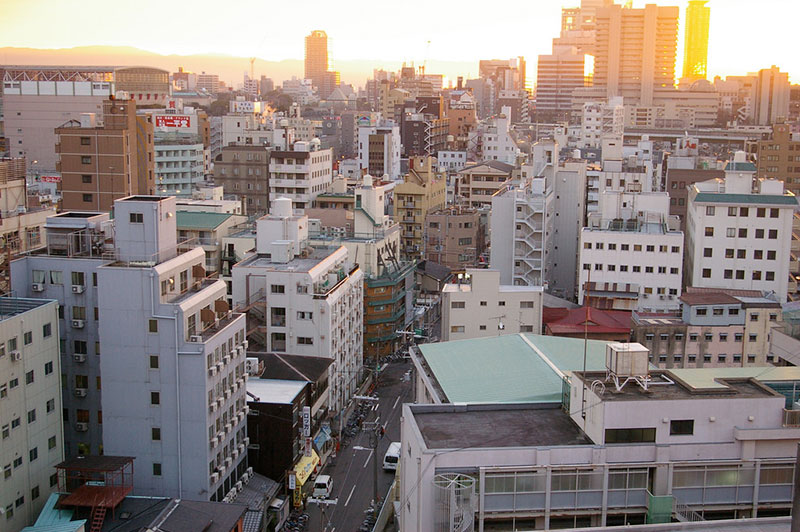 In the 90's there were around 200 Doya-inns. Now it's nearly half of that due to the aging of the laborers. Some Doya-inns changed into public welfare housing where residents pay rent with public assistance. Although those public housing complexes are no longer available, other Doya-inns are open for not only day-layborers but anyone else who needs a bed. In fact, Doya-inns first started to be used by foreigners in 2002, when the FIFA World Cup was held in Japan and Korea.
News of the cheap accommodations and convenience traveled quickly among world travelers and now it's becoming a backpackers' paradise. I even came across a person who tweeted that he wants to make homeless and foreign friends at the same time, so he is thinking of staying over night in a doya.
The cost of Doya-Inns start at 400 yen/night (~$4). However, the cheapest places (400-1000yen/night) are very competitive and are usually already occupied by fixed residents. But, don't worry. There are still plenty of other cheap places starting from 1000-2500 (~$10-$25) yen/night. Furthermore, if you were rich enough to pay over 2500 yen/night, you could stay at a nice "hotel" in and around this area, as well.
According to Hotel Price Index, the average hotel price in Japan is around $150/night, so now you have a better idea as to how cheap these Kamagasaki "hotels" really are.
In terms of what you're getting, the average Doya-inn is around 54 square feet (3 tatami mats). The bathroom and toilet are shared, or you may have to go to another inn or hotel to take a shower. Some rooms are becoming non-smoking for backpackers, but you can still smell the stale cigarette smoke that will be stuck there for years to come.
What Else Is Cheap?
As many of you have probably already guessed by now, the accommodations are not the only thing that is inexpensive. Let's have a look around to find out what else can be done on the cheap.
Super Tamade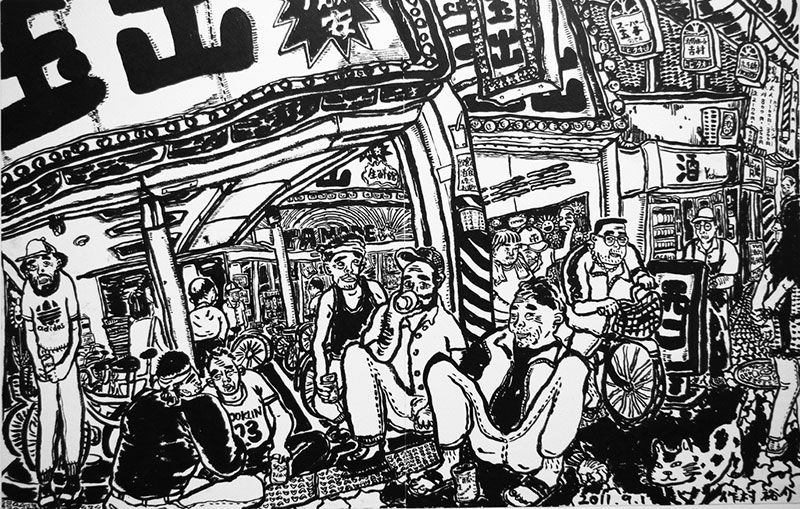 First, in Kamagasaki area, there are 5 super cheap grocery stores called "Super Tamade." Super Tamade was founded in 1992, coinciding with the final decline of the Yakuza in Tamade of the Nishinari-ward. There is a well-known rumor that this discount grocery store chain is run by the Yakuza, but I will leave that up to your imagination.
This discount grocery chain goes to extreme lenghts to stand out in comparison to others, not only for their brightly decorated appearance but also their unbelievably cheap prices.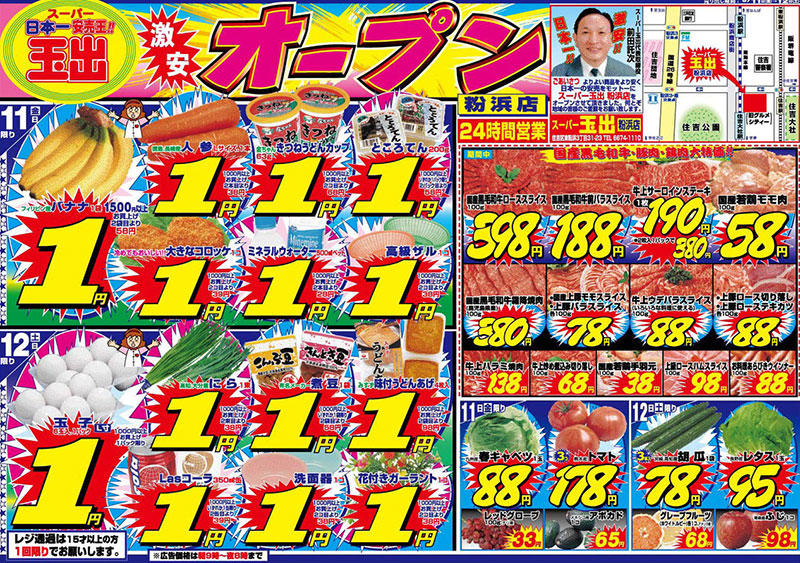 For example, they have a unique 1 yen (~1 penny) sale system. If you spend 1,000 yen or more, you can buy one of their special items at 1 yen. Several items are selected everyday and they are usually canned food, drinks, vegetables, meats, eggs, etc… The amount you can purchase at 1 yen is restricted, but it's still a nice surprise, isn't it? They are so friendly to day laborers that they also offer a variety of bento boxes starting at 200 yen.
Himawari
There is also a 24/7 cafe restaurant called "Himawari" (meaning sunflower) managed by Super Tamade in the Nishinari-ward. They offer breakfast for about 300 yen and lunch sets for about 500yen.
Cheap Foods Other Than Tamade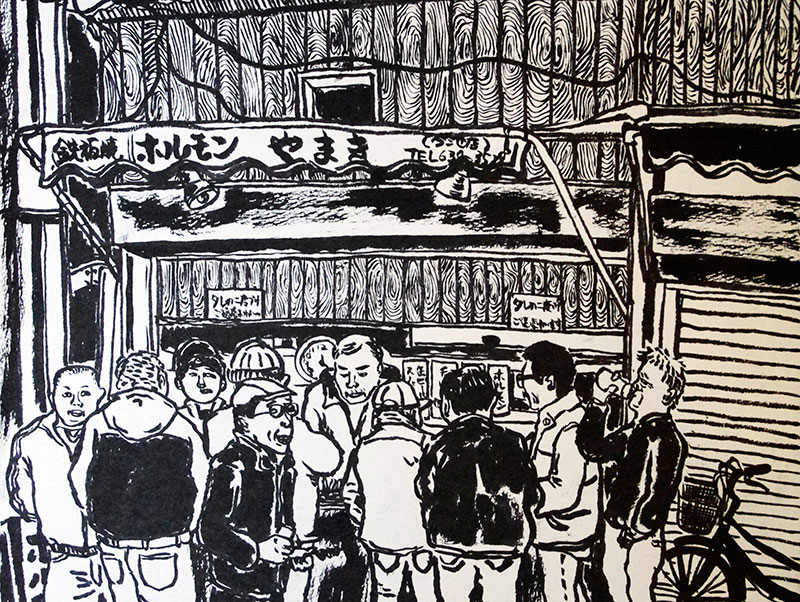 There are many cheap teishoku (set menu) restaurants. For example, manpuku-shokudou provide "home-made" set meals for 400 to 500yen that will fill a traveller's stomach.
Most of the restaurants in Kamagasaki also have a tachinomi (standing bar) because it's more economical for both restaurant owners and laborers.
Tachinomis offer quick and simple meals, as well. For example, one place sells "cooked instant ramen" for 200yen and another sells "homemade curry rice" for 300yen.
Free meals are sometimes distributed in a public park, but you need to bring a container and wait in a super long line.
Cheap Vending Machines
Although Japan's cheapest beverage vending machine (10yen) is in the Fukushima-ward of Osaka, they have their own cheap cans too. All of the cheap beverages are made by Sangaria, a local company in Osaka. The average price of Kamagasaki's vending machines ranges from 50 to 70 yen/can, whereas the average Japan-wide price is 120 yen. Unlike the cheapest vending machine in the Fukushima-ward, at least here you actually get to choose what comes out of the machine.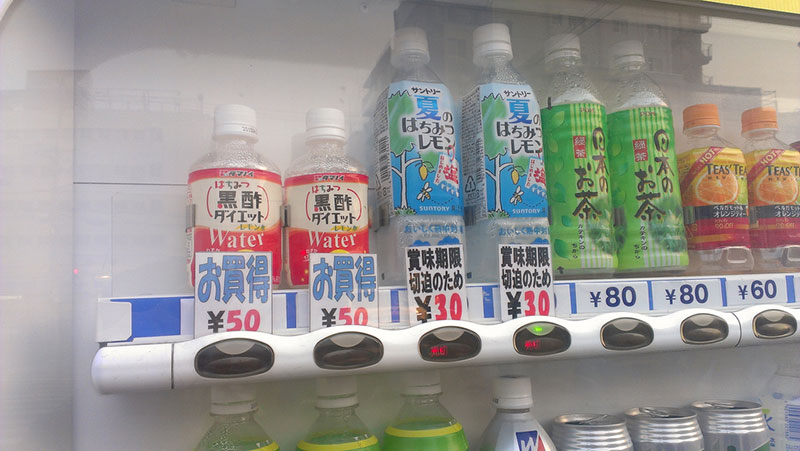 Interestingly, Sangaria gets its name from a famous Chinese poem called "Spring View" by Toho, "国破れて山河在り" or "國破山河在 (guó pò shān hé zài)" in Chinese, which means; "The country is destroyed; yet mountains and rivers remain." So, I feel like the company is saying, "Even though Japan was bankrupt, Sangaria's cheap beverage will remain." Please don't say that I'm the only one that thinks that because they made a song for a commercial that went;
いち にい サンガリア
1 2 3(san)-garia
にい にい サンガリア
2 2 3(san)-garia
サンガリア サンガリア
Sangaria Sangaria
国破れて サンガリア
The country is destroyed: yet Sangaria remains.
敵も味方も ヨンダリア
You should invite both friends and foes. (Yondaria sounds like "youndariya" in Kansai-ben, which means "you should invite")
みーんなで仲良く 飲んだりア サンガリアコーヒー
You should all drink Sangaria coffee together as friends. (Nakayoku-nondaria sounds like "nakayoku-nondariya" in Kansai-ben, which means "you should drink as friends".)
Needless to say, there are many alcohol vending machines, as well.
Seemingly Cheap Shops
There are also several shops displaying unique signboards. For instance, the board of a clothing store called Yasuda-ya says "まだ高いですか!!", which means "Is it still expensive?". There is an Izakaya restaurant in the arcade that goes by the name "甘すぎてすいません", which means "Sorry for spoiling you". Speaking of "sorry," sorry, but I'm not sure if these places are actually cheap or not, but it's a fairly safe bet given their signs and where they are located.
Cheap Movies
There is a small movie theatre called Tobita-Cinema where you can see 3 movies for 800 yen. If it is Tuesday, it's 500 yen.
Cheap Or Even Free Haircut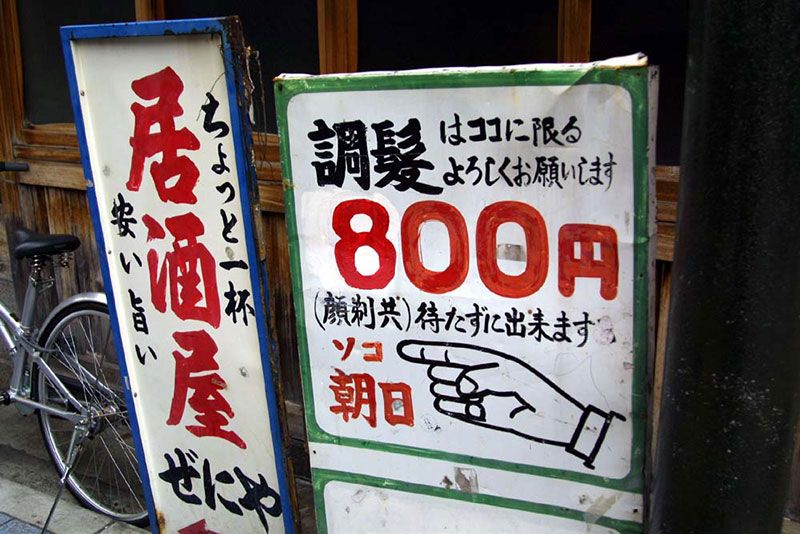 The average price of a haircut is around 800 yen in this area. If you were really broke, sometimes volunteers will offer you a free haircut. There's usually a notification posted somewhere beforehand. In order to get a free haircut, you have to get a numbered ticket in the morning in the public park because they usually have a maximum limit.
Granted, if you're reading this you're not likely to be homeless, but don't be taken aback that I've told you where to get a free haircut. Believe it or not, when I took my boyfriend to Spa world, we came across a caucasian man sleeping on flattened out cardboard boxes.
At first we weren't able to see him because of the blanket he'd fashioned out of cardboard to get away from the drizzle that night. Yes, he wasn't even able to stay in a Doya-inn and had to do Aokan (sleeping outside). We had some leftover nan bread from the curry restaurant we'd just come from, so my boyfriend offered it to the man.
As he rustled to grab the bread we realized that he was not Japanese when his response – "Ah, cheers man. Thanks" – was unmistakably that of a native English speaker. We never asked him anything about how he came there, but like I said at the beginning of the article, you never know what will happen there.
What's Coming Up Next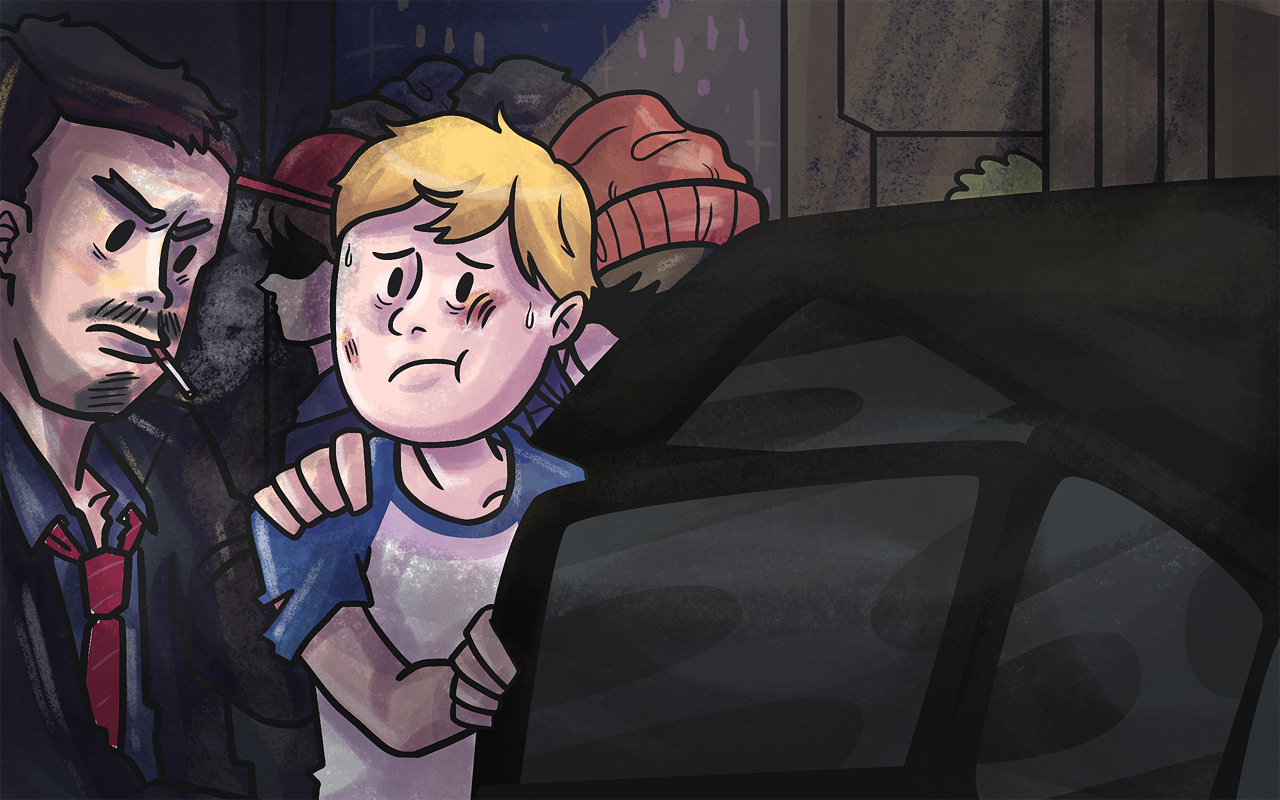 Now that you know what's here (and how cheap it is) it's time to learn more about the "dodgy" side of Nishinari. I'm going to tell you what makes this place somewhat dangerous (though maybe not as dangerous as you might expect). These are the reasons why the locals avoid the area. I hope it will help educate you so that you can decide if you'd like to visit (or not visit).
Only Here In Japan: Repetitive Riots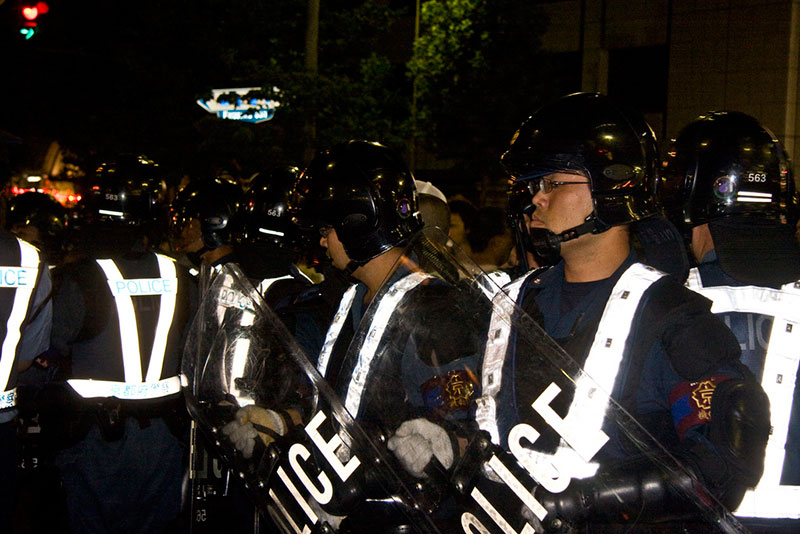 After the era turned from Shouwa (1926-1989) to Heisei (1989-), there have not been any riots in Japan… except for the ones in Nishinari. The history of riots performed by day-layborers, called Nishinari-Boudou or Kamagasaki-Boudou, is quite a long. The first Nishinari riot happened in 1961. The most recent riot happened in 2008 and was the 24th to occur in Nishinari. It lasted for 6 days.
You may still think, "Having said that, it's still Japan and it shouldn't be that dangerous." But a riot is still a riot and can be quite violent. For example, during the 22nd riot which lasted for 5 days in 1990, Minami-Kasumi-Chou station of Hankai Tramway was burnt down and over 100 policemen were moderately to severely injured.
Although the 1990's riot was triggered by a police officer receiving a bribe from a Yakuza member (Japanese mafia), the catalyst of such an event need not be anything of great consequence. For example, an argument in a restaurant over a bill is what initiated three of the riots, including the most recent. The riot in 2008 was actually caused by the way policemen treated a day-laborer in the police station after a disagreement over a bill in a restaurant, but still, it seems a bit extreme, especially since it only initially involved one customer.
It goes to show how much unrest there is in this area when something little like this is enough to start a riot (on three separate occasions, no less). Another surprising trigger was when a fruit shop worker accidentally caused a drunken day-laborer to fall down. One result of this riot was the burning of the fruit shop. Furthermore, there is a famous covert leftist organization that tends to encourage rioting among the laborers. So, you never know when and how it will happen.
The 25th Riot Rumor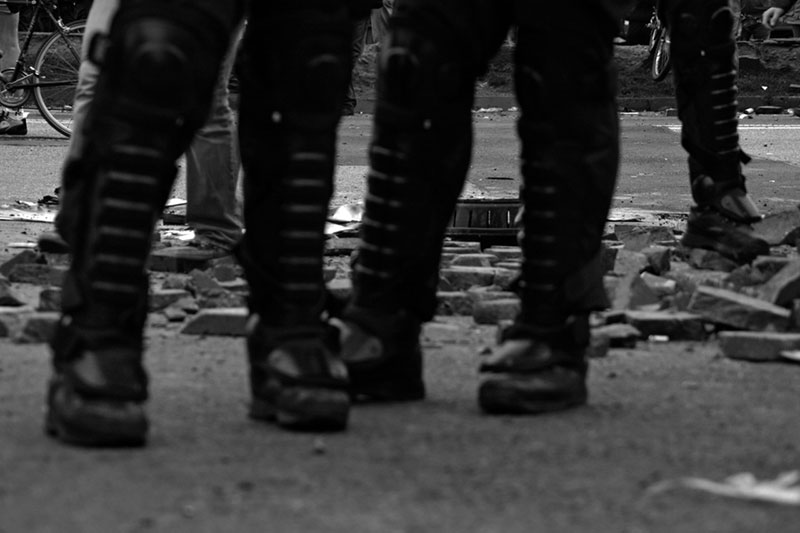 There is also a rumor that the 25th riot may happen soon because of Osaka's outspoken and controversial mayor: Tooru Hashimoto. As a part of his "Osaka Metropolis Plan", he has thrown around a few ideas to improve this area, such as the "Nishinari Special Ward Plan", which would provide a tax break for newcomers. Not surprisingly, his idea really got on the nerves of the long time residents of Nishinari.
Mayor Hashimoto also tried to make an elite school in this area, but the idea was quickly declined due to many intractable issues such as the very frequent unlawful dumping of garbage and the rampancy of drugs. Furthermore, the mayor is thinking of amalgamating the Nishinari-ward with the Tennouji-ward, where wealthy people live. It's expected to be quite problematic. So, the place is kind of a tinderbox at the moment and you probably wouldn't want to find yourself there when even the tiniest of sparks form. Who knows, maybe your visit will cause the next riot?
The Highest Anonymity In Japan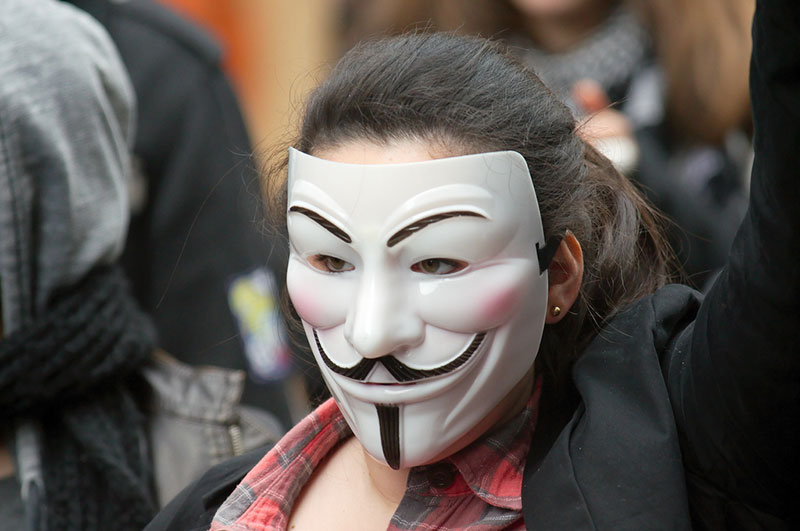 Earlier we talked about the super cheap Doya-inns. Unlike the other accommodations in Japan, you don't need to show your ID to stay there. It may be a good thing, if you are the type of person who is quick to lose or forget things because you won't need to worry about bringing your passport in. However, in other words, it also means that you don't know who your neighbors are and the person staying next to you could be a criminal.
It may sound a little discriminative, but in fact Tatsuya Ichihashi, who was sentenced to life in jail for the rape and murder of a British ESL teacher, was living in Nishinari before his arrest. Although he stayed outdoors during his first visit and apparently never used a doya-inn, he was able to obtain a job three times through some day-laborer-recruiters without revealing who he was. If a reward of 10 million yen wasn't offered for tips leading to his arrest, he may have continued on in that area.
In Japan, not every wanted person has a price on their head and Nishinari has long been a place where criminals can come if they want to stay under the radar while earning some cash. Due to the ease and frequency of this, police often make inquiries, but most people don't want to be an informant without receiving a reward. Another big name, Fusako Shigenobu, founder of the now-disbanded Japanese Red Army was also hiding in Nishinari. So, you should be aware that you could easily run into a wanted criminal here.
Tuberculosis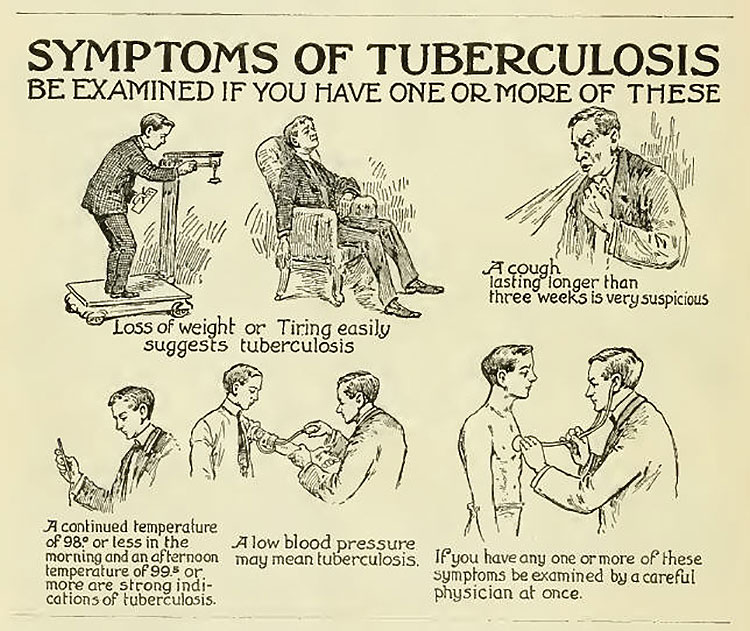 As I mentioned already, there are some homeless people who can't even afford to stay in the super-cheap Doya-inns. There is a shelter for them near a public park, but they never stay there as long as they are healthy. In other words, only sick people use the shelter. It's kind of an unwritten rule. Hence, going there is risky because one might catch an illness… such as tuberculosis.
According to Youmiuri newspaper on Feb 4 2012, Nishinari's tuberculosis incidence rate is the highest in Japan, at about 13 times that of the national average (0.0233% in 2004). About 20% of the newly registered tuberculosis patients in Osaka are homeless and 24% of all tuberculosis patients in Osaka are people from the Nishinari-ward.
The rate of tuberculosis in the shelter is said to be dramatically higher than all other places in Nishinari-ward, but living and sleeping outside can be very difficult and nearly impossible during the winter. Most of them live with dogs and bring them under their blankets when they sleep as a source of heat. This helps but is obviously not enough. Over 200 people are found dead on the streets every year.
Many Strong Yakuza
In this small Kamagasaki area, there used to be around 70 Yakuza offices. There were so many Yakuza here that a common quote arose: "Even a dog, if it walks, will bump into a Yakuza". There are not as many as there used to be, but over 20 Yakuza offices still exist. The biggest office is the head office of the Azuma-gumi at at 1-11-8 Sannou Nishinari-ward, Osaka.
The Azuma-gumi continues sailing on their own, unlike most of the other Yakuza groups who have melded into the Yamaguchi-gumi, Japan's biggest Yakuza organization. After passing the Anti-Organized Crime Law in 1991, all Yakuza offices stopped displaying their "name" out front, including the powerful Yamaguchi-gumi. But, almost all of the name plates still exist in Nishinari. By this fact alone, you can imagine how strong the Yakuza are in this area.
Another factor that confirms their power is the number of drug dealing spots they have. Actually, all of their spots are well known by the locals. The most famous spot is the Sannou intersection where there are mass gatherings throughout the night. Moreover, the most notable drug dealing spot is right in front of the police station. How's that for strength? Surprisingly, somebody even flagged the popular meth dealing spots on Google maps. Drug dealers get arrested from time to time, but it's more like a performance by the police than anything else. More often than not, dealing is simply ignored.
Speaking of which, the Nishinari police station is different from other stations. It's called "The Fort" because the building is surrounded by an iron fence. The front door, also made of iron, is guarded 24 hours a day.
What the Yakuza Do In Nishinari?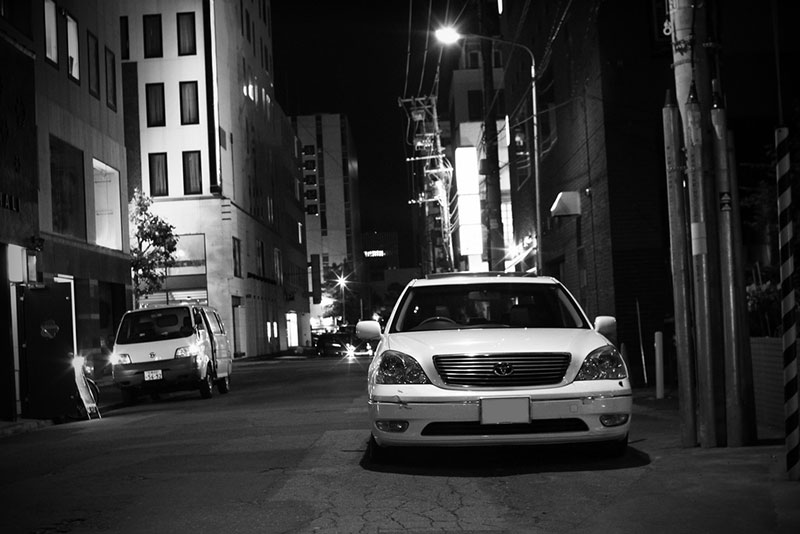 There are so many Yakuza jobs out there that we don't even know about. So, I'll introduce some of the main ones right now.
First of all, they work as day-laborer-recruiters, called Tehai-shi 手配師 – the same that Tatsuya Ichihashi used. They're given a new job every day and take a very handsome percentage of the rate provided for the laborers – all illegally, of course. Just for your information, the word for "to skim off too much commission" is pinhanesuru ピンハネする. At some point in the process, most Yakuza jobs wind up pinhanesuru-ing someone's money.
Normally, day-laborers go to The Nishinari Labor Center to get a job. In this center, the rule is "first come, first served". The recession is hitting this slum as well, so getting a job is pretty competitive. It's common to see people start lining up around 4 a.m.
If you are a registered resident who isn't able to get a job, you could still get an allowance. However, if you aren't registered, the only way to get a job is by talking to the recruiters in the station wagons waiting to deliver you directly to a job site.
There is another type of pinhane-job called kakoiya 囲い屋. In this job, the Yakuza gather homeless people and help them get welfare, then take a kickback from their allowance every month. Last year, one Yakuza member of the Yamaguchi-gumi was arrested for earning more than 200,000,000 yen (around $2 million).
Another Yakuza job is the operation of gambling circuits, which is also illegal in Japan. The most well known place of gaming is in Triangle park, which is located just 50 meters from the police station. This place primarily plays dice, but illegal poker and blackjack games are also easily found. They are held in secret doya or apartment rooms. You need an invitation or someone to take you to play there, though.
This area can be pretty nasty at night. There are around 60 groups of thieves called Shinogiya シノギ屋. They usually hit you from behind and steal all your belongings. If you were their target, you'd be extremely lucky to come out of it with only minor injuries. Sadly, many people are injured at the hands of these groups.
Slave Trading
In the above paragraph, I wrote "pretty nasty", but that's not nearly the extent of things. One of the traditional Yakuza jobs here is "slave trading". It's a very common tale to hear of Yakuza recruiters deceiving homeless people and selling them to isolated labor camps called takobeya タコ部屋 to make them work as slave laborers. So the story about a day-laborer who gets into a station wagon, disappears, and is never heard of again, is very cliche.
It seems that some people like this were also taken to Fukushima to clean up the nuclear mess.
It sounds awful enough already, yet the economic depression is seemingly making Yakuza "slave trading" even more frequent and undiscriminating. According to Tokyo Breaking News, who succeeded in interviewing a Yakuza working in Nishinari, their "target" for slave trading is shifting from day-layborers to teenage girls. Their intent is to sell them as sex slaves. This interview was done in August 2013 and this Yakuza group started kidnapping girls in Spring of that year. Let me present some of the interview.
"I work with two other guys as a team and we have kidnapped over 20 girls at this point. We rent a station wagon for it. A member who has a driver's license rents the car, then we throw on a fake license plate that we stole from a neighboring area such as Sakai city in Osaka. We target teenage girls solely because we can sell them for good money to Yakuza offices. The average is from 200,000 to 300,000 yen per girl. A good one could be up to 400,000 yen, so each of us can get over 100,000 yen, even after deducting expenses such as the cost of the rental car. Once we rent a car, we make our own quota. It's much easier than you'd think because we choose girls. We don't kidnap serious looking ones, but rather those that look like delinquents. For example, those who are looking for 援助交際 (compensated dating) on the application LINE or those sitting on the side of the road at midnight. Such girls are usually living a tough life already and things in their lives tend to be secretive, even if they plan on running away. Running away from a Yakuza office, on the other hand, is pretty difficult. They probably take photos and videos and threaten the girls in many ways in order to keep their income flowing in. However, there is a rumor that Osaka Prefectural Police have started investigating these cases. I've earned quite a lot money from this job already, so I'm thinking it soon might be time to quit."
This has been going on for quite a while. In fact, some people in Osaka have also been arrested for violating the Child Welfare Act. For example, in 2002, a 44-year-old guy and a 17-year-old guy were arrested for holding a 17-year-old runaway girl in confinement. They knew of her through a website, and forced her to work as a hooker for 8 months. Her quota was 6 people a day and her salary was 500 yen/day. One of her clients was an officer of the Osaka Prefectural Police. In another recent example, Shouhei Yoshizaki (22-year-old) and Kazuki Shimohama (21-year-old) were arrested in September 2013 for managing a prostitution agency that delivered 15-17-year-old teenage girls to hotels. In each case, the set price was 15,000yen. This type of business is called デリバリー・ヘルス / Delivery-Health or deriheru デリヘル.
Japan's Largest Prostitution District
Speaking of which, Japan's largest prostitution ring, called Tobita-shinchi (a.k.a Tobita-yuukaku), is on the East side of the main Kamagasaki area. Although prostitution is officially prohibited in Japan, this outfit remains untouched by police because they are afraid serious security problems may arise if they shut this area down.
If you watched the youtube videos about this area, you might feel a bit strange as you see the seemingly endless stream of little rooms. What you don't see in the video is that the there are rooms on the other side of the street, as well. Inside each room is woman on display, often dressed in cheerleader or anime costumes, sitting and smiling beneath bright lights and an elderly woman called Yaritebabaa やり手ばばあ (a.k.a. Hikikko 曳っ子) sits in each doorway and acts as the negotiator.
Just as a heads-up, if you were a woman interested in visiting this area, those Yarite-babaas are often very harsh towards women because men tend to avoid going into these rooms if women are around. When my boyfriend and I went to spa world, I took him here to show him a different side of Japan. Sure enough, with a chain of harsh name calling, threats and hand gestures, I was told that this is not a place for one such as me and that I should quickly remove myself.
There are still over 150 such places remaining. Since it is officially illegal, they are all registered as a ryoutei 料亭, a traditional Japanese style restaurant, and all of girls are listed as "waitresses" on the legal documents. Their official excuse is "something may happen between a waitress and a customer at their own will while the waitress is serving, but it's none of our business". To follow this excuse up, a little snack and a drink are provided. The average price is about 15,000 yen for 20 – 30 minutes depending on the woman. With "restaurants" literally taking up entire city blocks, this area is so singularly devoted to this type of business that even the street names are extensions of it – Seishun 青春 Street, literary meaning The-Spring-Time-of-Life Street and Youkai 妖怪 street, literary meaning Monster Street.
There is, in fact, one actual restaurant in this area called Taiyoshi-hyakuban 鯛よし百番. Long ago, when whore houses were given license, this place was legally providing what its neighbors are now illegally selling. When laws changed, so did its type of service and it is now registered as a cultural property. It's a very popular restaurant, however, so getting a reservation is not so easily done.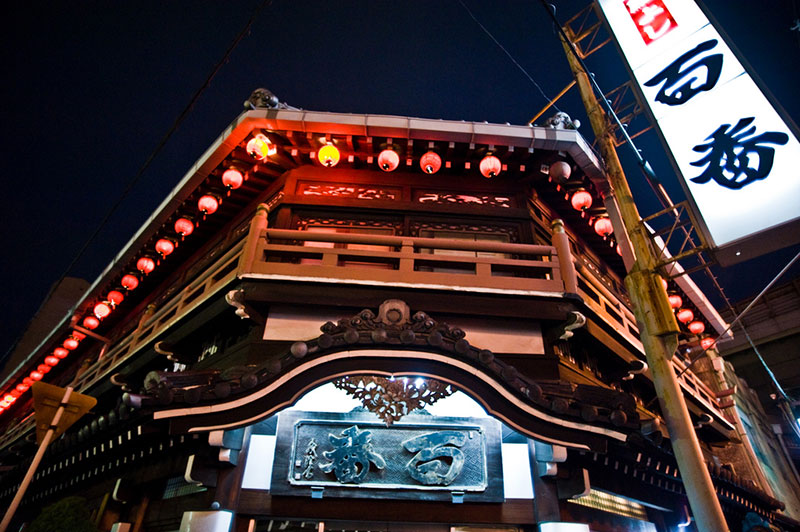 So, that just about does it for basic information about this Japanese slum area. There are probably more things going on that we don't know about than things that we do. I was interested in this area when I was younger and my university was only a few stations away, so I once asked one of my male friends who looked really strong to go there with me and have a walk around. While walking, I felt as though everyone was staring at me. Maybe it was just because seeing a woman in the Kamagasaki area is pretty rare. (You can find a lot of videos of this area, but people in the videos are almost all male.) I was quite scared because I believed they thought I was just someone trying to peak in on their way of life, as though it were some sort of exhibition. Nobody likes being treated like that, of course. I didn't want to upset anyone, so walked around quietly and quickly and, luckily, nothing happened.
As you can see, there are plenty of pros and cons about Nishinari, so I hope I didn't sound overly critical. I thought it was important for you to at least learn of what can and does transpire in this area before choosing it for its cheap accommodations. If you read this and you're completely fine with staying in the area, that's great because you can save a lot of money. If you are scared of this area, that's totally understandable, too. In either case, I wish you a safe and wonderful time in Japan.