I was visiting my family and friends in Japan last month and one of my friends asked me what I do for work. I proudly answered Tofugu, but didn't expect that he would know what Tofugu was because he was Japanese and Tofugu is intended for non-Japanese people who are interested in Japan.
Yet, I received an unexpected reaction – "What!? That Tofugu!? Really? I'm jealous!" Then he told me that he often comes across the name Tofugu online and showed me the most recent site he had read, as well. The site that he showed me was Mr. Saitou's personal blog named DoaBLOG. In this blog, Mr.Saitou gave Tofugu loads of praise and also introduced a site called MATCHA, which is the site he works for. I got interested in his article on MATCHA about a hammock cafe, then left a comment on his blog saying, "I want to swing on the hammock in the cafe". Well, I still haven't swung on the hammock in the cafe, but I did swing by for this interview and got the opportunity to ask him about this new Japanese travel web magazine called MATCHA.
Let's find out how this powdered green tea travel blog, MATCHA, tastes!
Interviewing: Shinnosuke Saito. Position: PR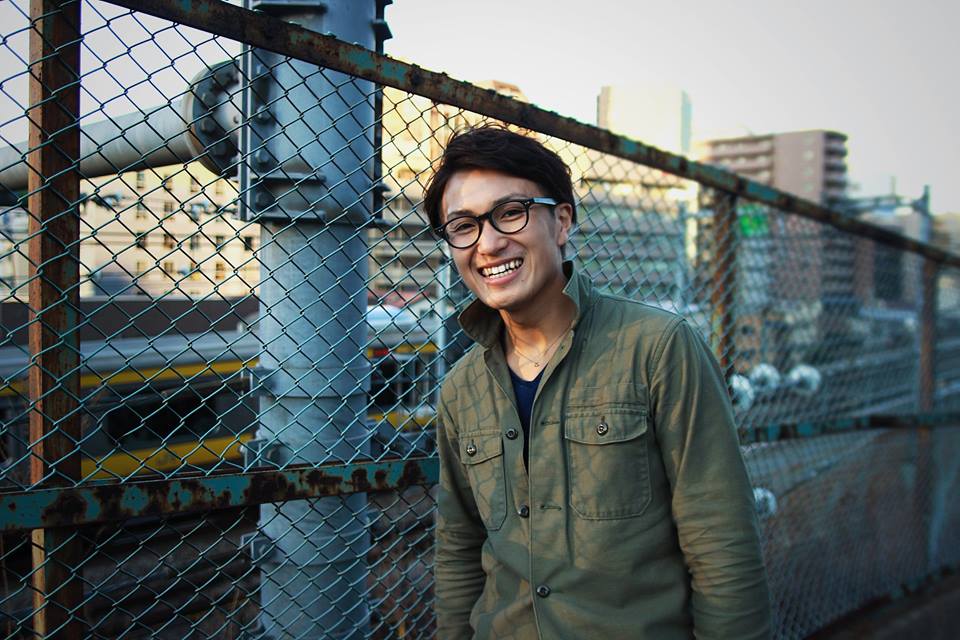 Q. What's your story?
I'm a third-year student at Meiji University's School of Commerce. I like English and international exchange, so I'm going to New York City in America to study this summer. I have various hobbies from travel to photography, to music, to café-hopping, to reading. I also host foreigners coming to Japan about once a week via Couchsurfing. While hosting non-Japanese people, I came to realize that they are often able to point out aspects and components of Japanese culture that I had never even thought about before. I found several times that I could only provide inadequate explanations.
For example, I was at a loss when I was asked about otoshi while in an Izakaya restaurant. Otoshi is the small appetizer that is brought to you while taking your seat even without ordering it. It is not on the house because it is provided as compensation for the seating charge. On the spot I was asked, "What is that?" but I had no idea how to answer.
That kind of new discovery is interesting to us, the Japanese people, as well. I simply like things that are unique to Japan and if I keep my eyes open, I can find an ample amount of such strictly-Japanese things. Then I began to want to tell everyone outside my home country of the true value of Japan, so I became a member of MATCHA. That's what I want to introduce to you all today. I work as a project planner and in PR, but I sometimes write articles as well. I'm passionate about informing as many people as possible about the good things of Japan, so I do a lot of running around talking about MATCHA and Japan to various people. Today I got the opportunity to make my voice heard on Tofugu and let you guys know how great Japan is, too!
Q. Okay, I suppose you should tell us about Matcha then.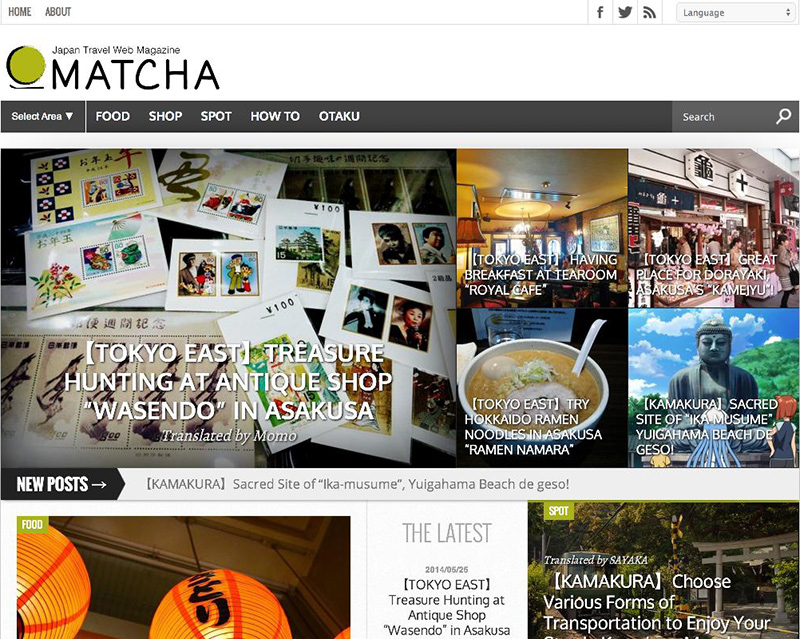 MATCHA is a web-based magazine for foreign tourists coming to Japan. Its writers, like myself, introduce the good and interesting things that are only found in Japan and place their articles under one of five categories (FOOD, SHOP, SPOT, HOW TO, and OTAKU). We now translate our articles in 7 languages. They are Japanese, English, Chinese (in both simplified Chinese characters and original Chinese characters), Korean, Indonesian, and "Easy-Japanese". The Easy-Japanese is aimed at the more than 10,000,000 Japanese learners that exist in the world today.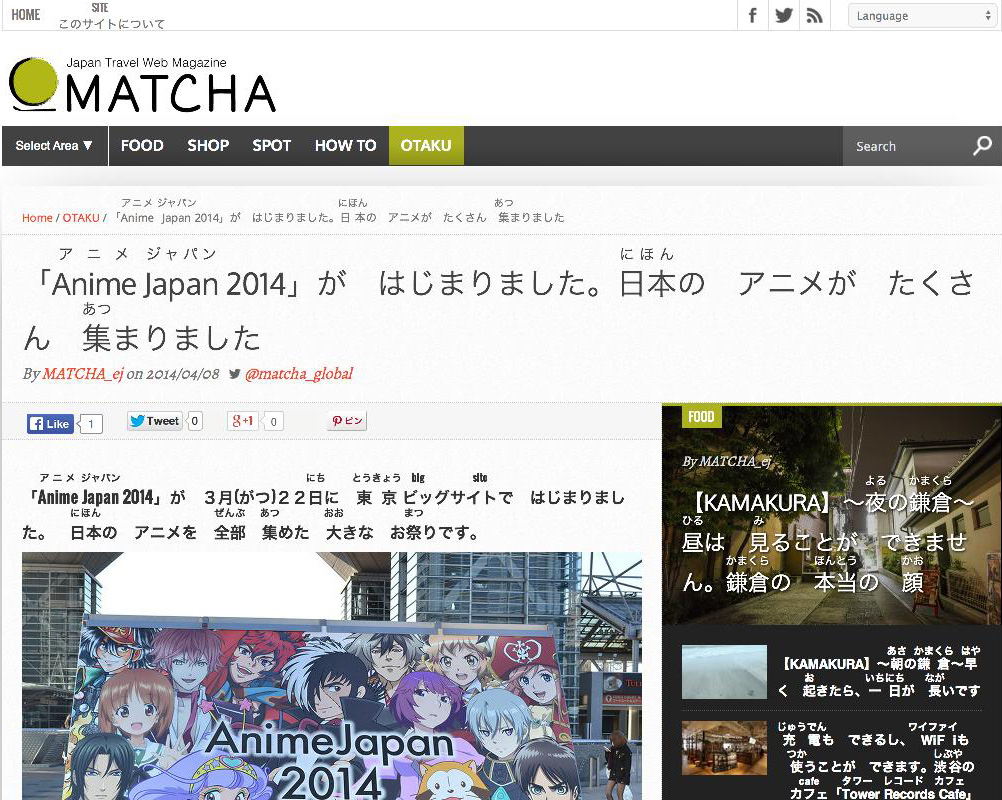 The "How To" section is intended to help Japan-beginners to travel around Japan without getting lost. So we teach people how to buy a Suica (transportation card), give instructions on taking a taxi, have information on how to connect to Wi-Fi, ATM maps, etc… As for the articles found under SHOP and SPOT, they would even be interesting to Japanese people. In fact, there is a great deal of website access from Japan. We've received comments such as "I didn't know that" or "I read MATCHA although I'm Japanese" from many people and I'm really happy about that. There are so many valuable things in Japan, but if nobody preserves them, they won't last into the future. Hence, MATCHA is a media source that will help preserve the memory of such things unique to Japanese culture.
Q. Why did you start working at Matcha?
Yu Aoki, whom I have respected for a long while, played a big role in my desire to join MATCHA. He was originally blogging about his around-the-world trip on his own blog called Hibilog. I was a fan of his and joined the morning activity that he had started and soon after was asked to join MATCHA. He is the first person to start generating the collection of information regarding valuable Japanese culture in order to preserve it.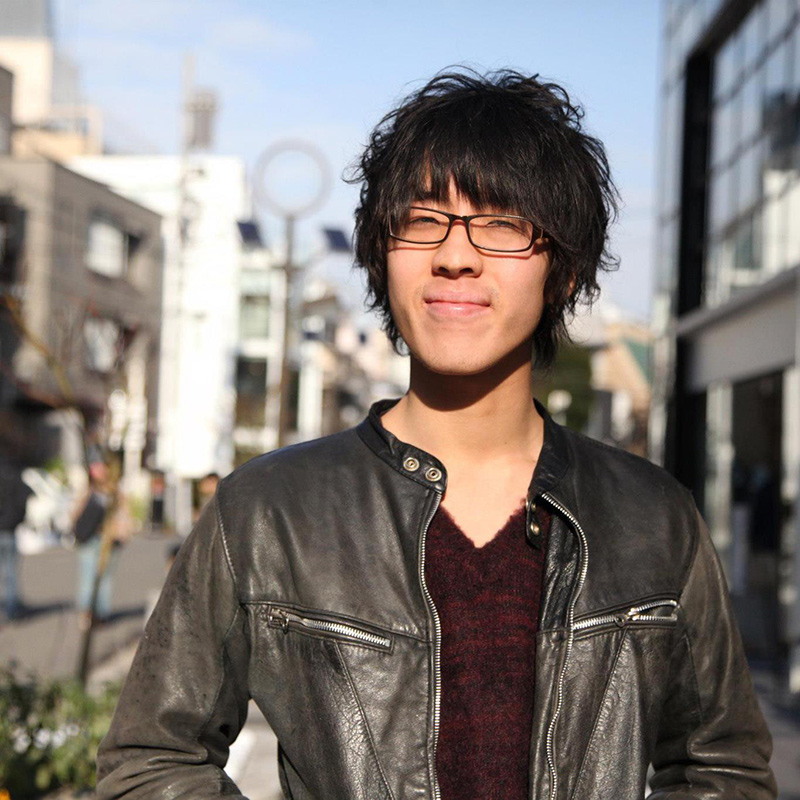 As I mentioned above, I do 'couchsurfing', or rather, I host 'couchsurfers'. I've become a sort of tour guide for them and they are always satisfied with the excursions that I lead them on. They trust the information I offer them and return to their respective countries confident that they've seen "real" Japan by visiting those places and I'm very happy to be able to provide them with that.
However, this also means that they accept the information without a second thought. If the information quality is not good, they may have a bad experience. I think it is a little sad if they only know the Japan that I know. There is so much more I would like to know, myself. Sometimes I am asked about cultural aspects and I find I am unable to answer because I had never even considered it before that question, and I think it's great that I can't answer because I get to learn something new about Japanese culture. MATCHA was the most suitable place for me to unveil such answers after finding out. Of course, I would never turn down Mr. Aoki's offer anyways because he is a person I really respect, when I was asked to join, I answered instantly, "I want to join you guys!"
Q. I think we're going to focus this interview mostly on traveling Japan travel, but we'll talk about your website a little bit too. You seem to focus on the smaller, lesser known places (we do that too in our travel section). Why do you do this?
MATCHA considers each writer's passion to be an important part of the reading experience. Each writer has their own image in mind of the Japanese topics they write about and are encouraged to explore the special feeling they get about certain topics when they write. Because of that, the places tend to be niche spots rather than famous sightseeing places. On top of that, MATCHA is a media source that intends to perpetuate the existence of cherished Japanese culture. Unfortunately, cultural life, cultural goods, cultural traditions, and experiences could disappear if no one collects it. For example, Japanese breweries are said to be decreasing more and more. We often focus on such cultural aspects, places and things that are less popular and less well known and it shows in our content.
Q. If someone were to visit Tokyo, what 5 things do they HAVE to go see?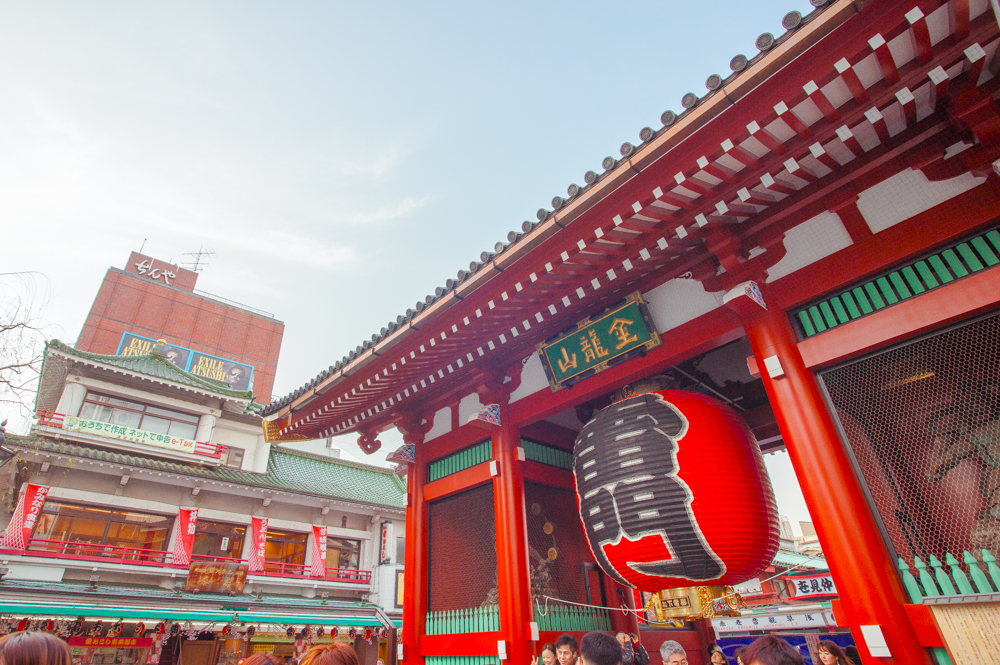 Asakusa – Asakusa temple and the traditional shopping, entertainment and residential districts that represent Tokyo. The Skytree is also nearby, so you can easily spend the whole day in and around this area.
Shibuya Scramble Intersection – It's an incredibly famous intersection that you're sure to have seen on TV before, where traffic lights allow pedestrians to cross in all directions simultaneously. It's one of more fascinating spots for many foreigners, especially those not too accustomed to big cities, because it's easy to be blown away by the sheer number of people. It is just intersection, but the chaos you experience here is well worth the visit.
Harajuku – It's the 'Mecca of Kawaii'. If you want to see this world popular Japanese culture with your own eyes, you had better visit here. It may even be worth visiting while doing cosplay too!
Tsukiji – Raw fish, the smell of busy stovetops, the lively chatter….everything is fresh. If you go there at 5 am, the first 120 people in line get to observe the tuna auction! You can eat some of the freshest Kaisen-Don (Raw fish on rice in a bowl), as well!
Akihabara – It's the Mecca of Japanese anime and otaku culture. The flash of lights and eruption of color that covers everything adds percussion to your wandering feet. There are so many kinds of music that you can listen to, as well. It's very much as if you were in a different world. Actually, I live in this area right now.
Q. If someone is visiting Japan, what 5 things do they HAVE to go see?
Kyoto - It has a completely different atmosphere than Tokyo. I especially recommend Gion which can sum up the atmosphere of Kyoto. Red lanterns line the street and the alleys show us a traditional face with a very Japanesey taste. You would do nothing but be very excited if you visited here.
Osaka – Osaka is also a very large city. Okonomiyaki and Takoyaki are famous to everyone, right? This is also a stereotypical spot to venture to, but I recommend you visit Dotonbori. Not only can you enjoy the famous Glico advertisements, takoyaki shops, and Okonomiyaki shops, but also peer into the deeper parts of Japanese culture. Oh, and the illumination of the street is also very beautiful.
Matsushima – This is in Miyagi prefecture, where I'm from, and I really recommend visiting. It was voted as one of Japan's top three most scenic places and you can enjoy fresh seafood, such as oysters and muscles. It is also close to the March 11th disaster area, so I would like people to visit there to see what happened.
Hiroshima – There are world heritage sites, such as Itsukushima shrine and the Atomic Bomb dome. Also, Saijo is known for having one of the three biggest Japanese sake breweries.
Gifu Shirakawago – This place allows all of us to realize that the really great spots in Japan are all in the rural countryside. I want everyone to feel the traditional tone and natural style of Japanese life – Japaneseness!
Q. What are the three weirdest spots you've written about on Matcha?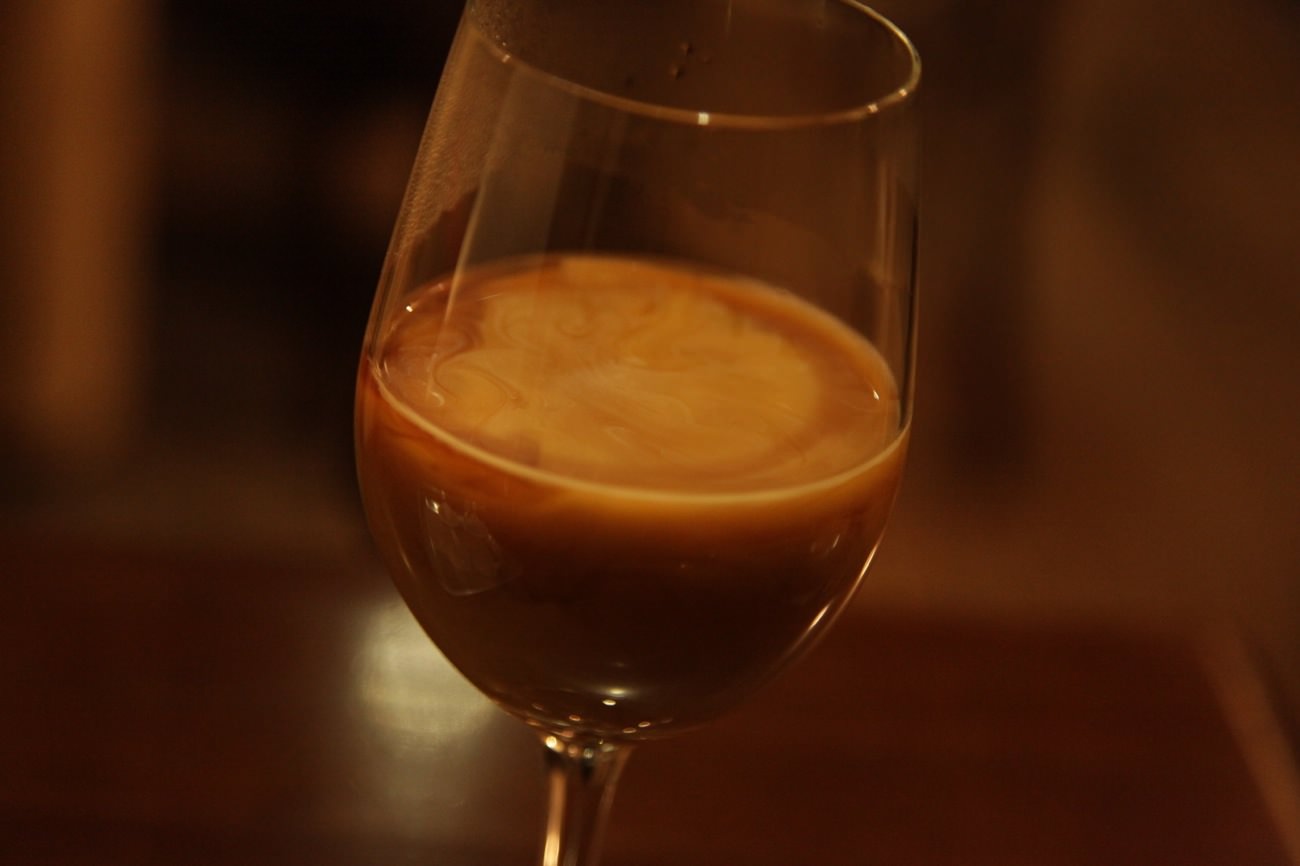 These beautiful restrooms.
This cafe where you can get coffee in a wine glass.
Q. What are the three most beautiful spots you've written about on Matcha?
The Meijijingu Shrine in Harajuku.
This secluded bamboo temple in Kamakura.
Q. What are the three tastiest spots you've written about on Matcha?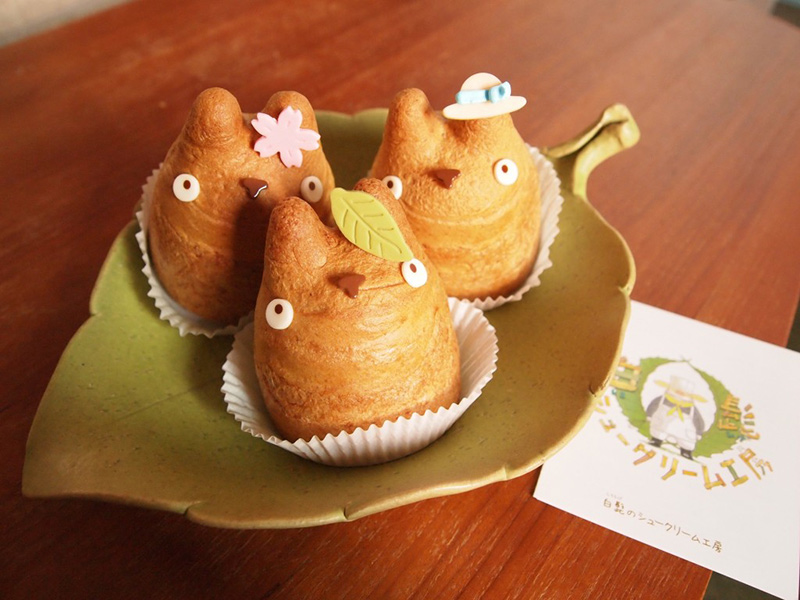 The extremely pastel colored KIKI LALA Cafe.
Totoro Cafe, where you can get Totoro themed cream puffs.
and Japan's most delicious Dorayaki at Kameju.
Q. What are the three most stereotypical otaku spots you've written about on Matcha?
Maison de Julietta, where you can become a Lolita.
Nakano Broadway, for your medal addiction.
These three anime shops in Akihabara.
Q. What kind of travel advice do you have for someone visiting and traveling within Japan?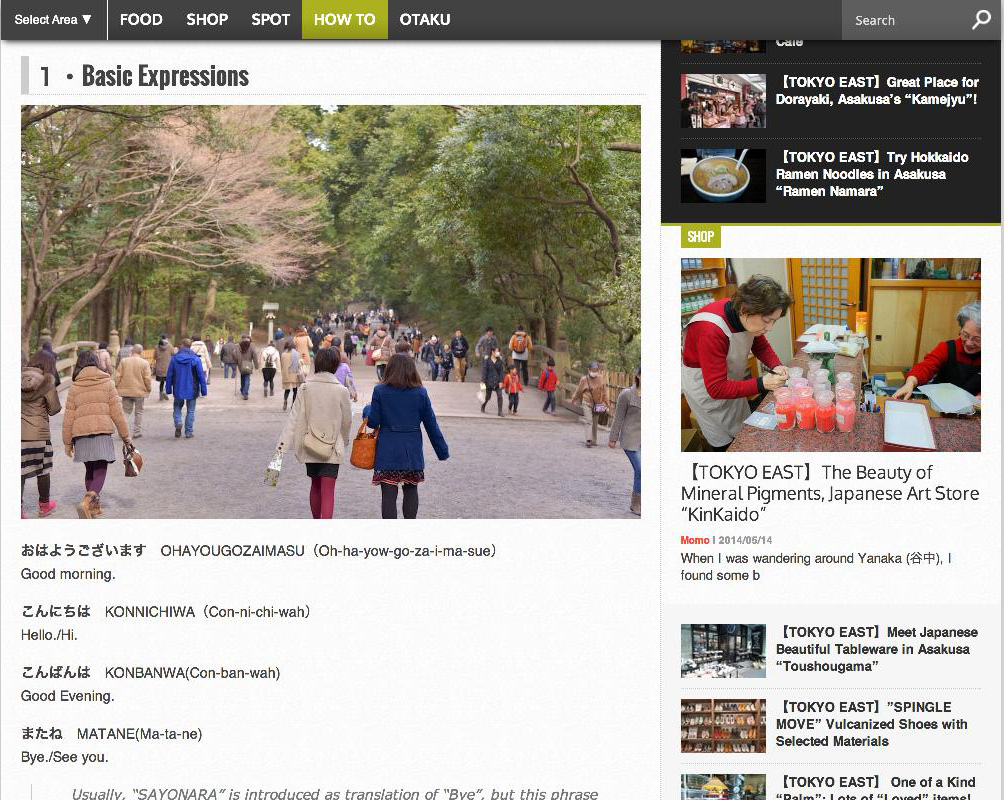 Memorizing easy Japanese greetings. We feel happy when a visitor even just says "Arigato! (Thank you)" and it is that kind of simple phrase that makes a really good impression. Oh, and you should practice using chopsticks too, though there are so many Japanese restaurants around the world nowadays so maybe it's already easy for you. Yet you will still receive praise if you can use them really well.
Q. What prefecture do you think is the most underrated in Japan (That people should go visit)?
Mmmm, my personal choice is Nagano. Nagano is a bit far from Tokyo and it will take a while to get there, but there are so many fascinating places, such as the Southern Alps of Japan, Jigokudani, which famous for the monkeys that live in a hot spring, traditional inn towns, and all the delicious soba noodles and Japanese sweets. I highly recommend going there at least once.
Q. In your opinion, which prefecture has the best food in Japan?
Miyagi prefecture, where I'm from, has the best food in Japan. Maybe I'm prejudiced, but to me the best food in particular is Gyu-tan (Beef Tongue) of Sendai in Miyagi prefecture.
Q. What's your favorite secret spot in Japan?
It's too difficult to answer. I'm sorry, but I have to pass on this question.
Q. If Tofugu Readers Want To Check Out More Matcha…?
If you want to see the other languages please visit one of the above URLs and choose your preferred language.
Q. What can we expect from Matcha in the future?
MATCHA will be one of the great Japan tour media sources to represent Japan. Soon we will cover all 47 prefectures and convey valuable information about each of them. We distribute new articles every day, so please check it out, especially when you come to Japan!