"Oh, they're a hamburger themed idol group."
That's what Otaben, my friend and subject from our Japanese Idol Otaku interview, said to me as I was leaving. Just minutes earlier he had suggested I go see an idol group's performance live, so I could experience first hand what he was telling me about in our interview. I agreed, and he gave me a time and place. That's about when he dropped the "hamburger themed idol group" bomb on me.
Little did he know, I love hamburgers.
---
I had never been one to be interested in idols. Yet here I was, on a particularly sunny Sunday, standing in front of one of the most well known landmarks in Osaka: The Tsutenkaku Tower.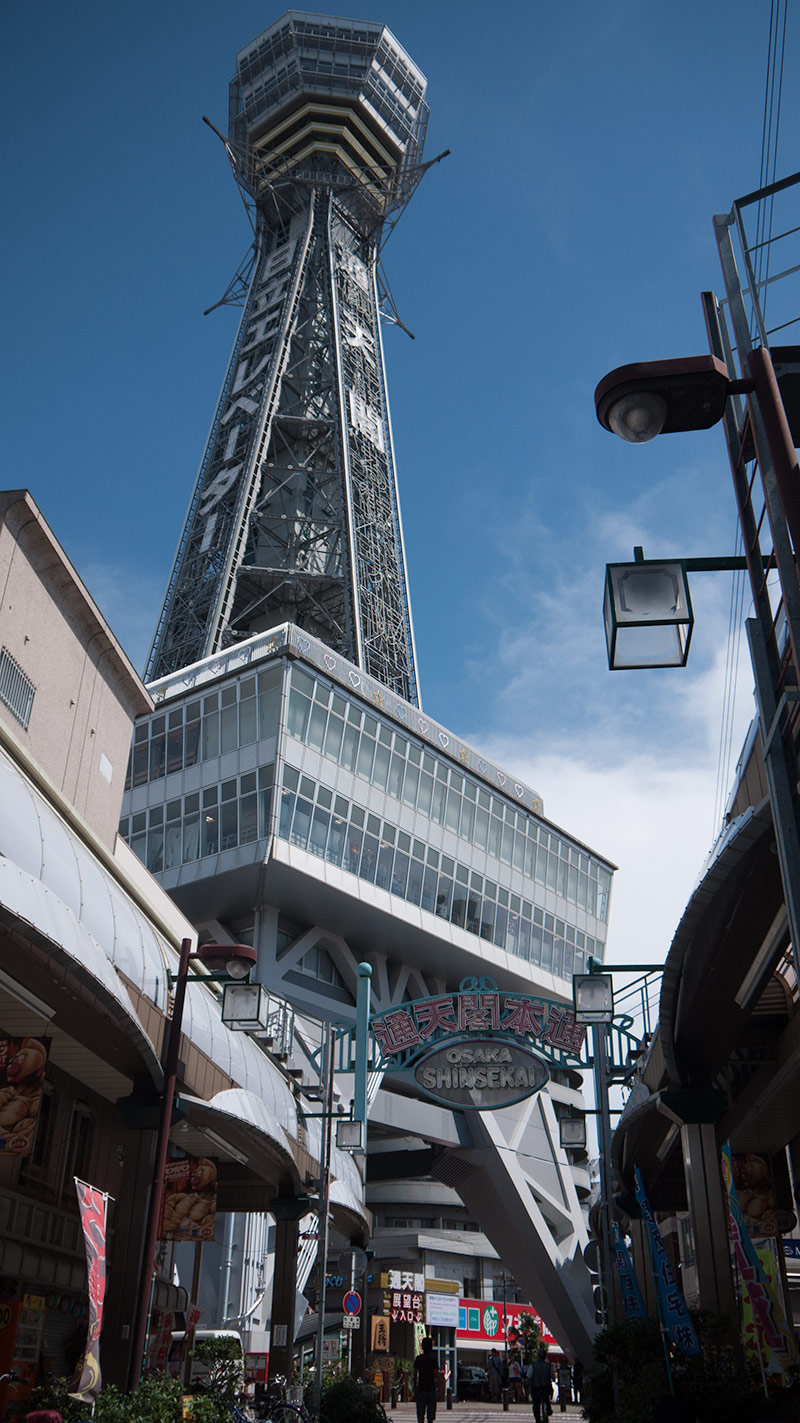 An entrance takes you to an underground lobby, where there are souvenir shops and a reception area.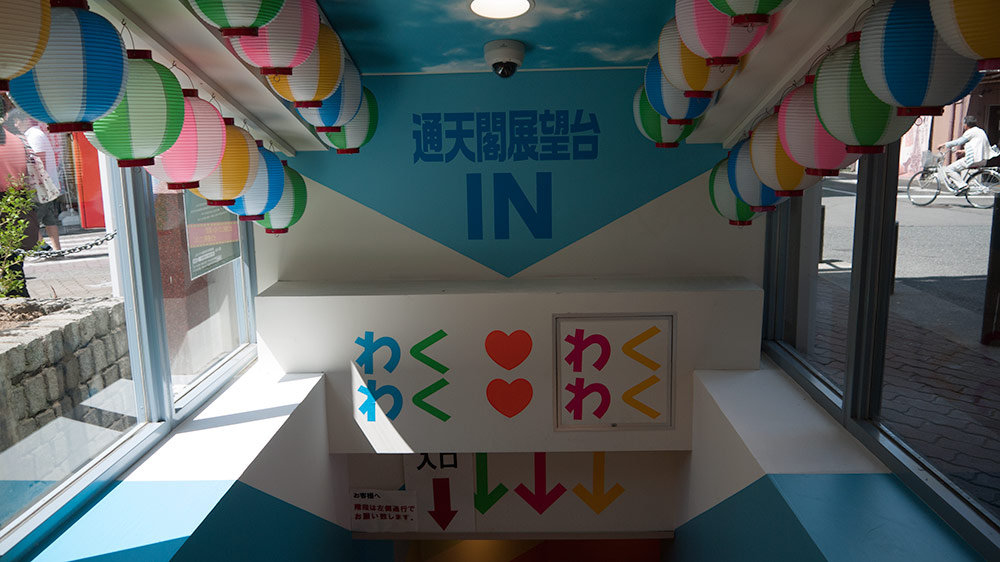 Presumably this is where you pay the admission fee to gain access to the tower's observation deck. Maybe another time. I had some hamburger idols to see.
As I descended the stairs, I began to hear an upbeat, catchy tune. Perhaps I smelled a hint of hamburgers cooking too, but that may have been my imagination. After turning a corner or two, I found them: A group of cute, smiling girls dancing and singing in hamburger costumes.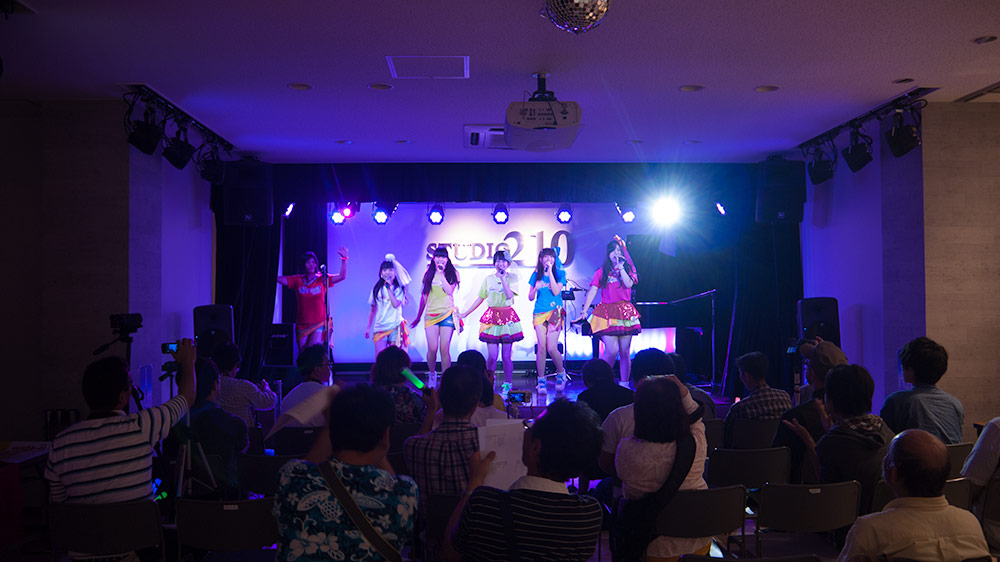 Damn! The concert had already started. I stealthily sat down in the back and watched. For the rest of the concert, I attempted to solve the "why are these girls dressed up like hamburgers?" riddle that danced so joyously in front of me.
Enter stage right: The West Japan Hamburgirl Z!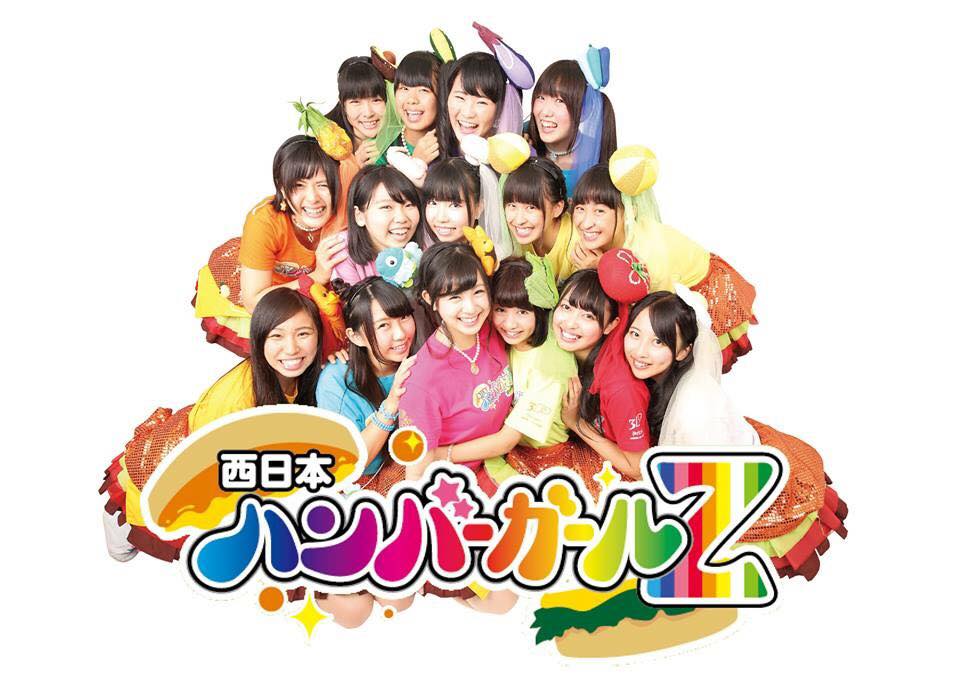 As of this moment, there is no East, South, or North Hamburgirl Z, so for the rest of this article I'm going to refer to them simply as "Hamburgirl Z." You, dear reader, can pronounce the "Z" part however you want, but true fans will know that this "Z" is pronounced "Zeta."
Watching their concert, I was able to understand a few things.
First, their purpose, it seems, is to sing and dance about hamburgers. It is almost as if they are promoting the idea of "hamburgers" itself.
Second, each girl was a single hamburger ingredient and wore that ingredient on their head. There was: beef, lettuce, egg, tomato, Awajishima fish, Awajishima chicken, Awajishima W Onion (right), Awajishima W Onion (left), pork/bacon, pickles, avocado, pineapple, mushroom, green pepper, and egg plant. Whoever came up with eggplant clearly has never eaten a hamburger before.
After the concert (this is also where I happened to meet the train-themed Japanese superhero, Rapi:tldier) I went home with more questions than answers. My idol otaku friend, who probably knows more about idols than nearly every other human being on this earth, sent me to see this idol group. Why?
I decided there must be more to it, so I called the Hamburgirl Z producer, Shintaro Yabu. As it turns out, he's also the chairman of the West Japan Hamburger Association. Now I was getting somewhere. We didn't talk much on the phone, but he did invite me to go to another Hamburgirl Z performance at the Okamoto Shopping Street in Kobe. I was also promised some time to talk to the girls.
"No Idol, No Burger!" As They Say…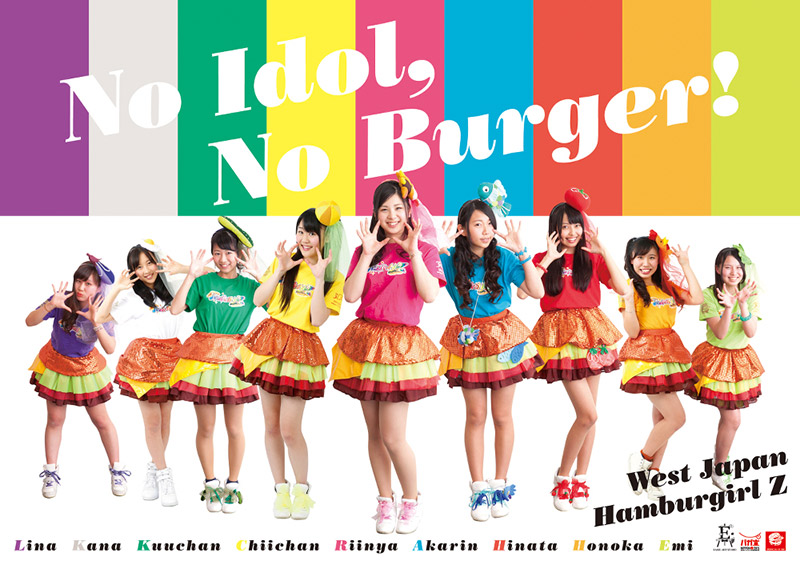 Hamburgirl Z Hambuger Idol Group poster Before jumping to the actual Hamburgirl Z event, I think it's important for you to get to know the (Hambur)girls. I'll reference them later in the story, and if you are familiar with some of their personalities then maybe it will be more like you're there with me, and not just reading along. Plus, I think their bios are kind of cute.
There are fifteen members and fourteen ingredients. Let's start with the most important part of the burger first: the beef.
☆—–★—–☆—–★—–☆—–★—–☆
Awaji Beef: Rinya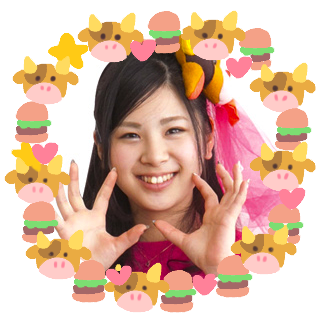 Name: Rina Maki
Nickname: Rinya.
Ingredient: Awaji Island Beef
Color: Pink
Favorite foods: Horse sashimi, sushi, and chicken nanban (which is fried chicken with vinegar and tartar sauce)
Likes: Nail decoration, making accessories, and watching TV
Special abilities: Classical ballet and badminton
Charming point: Big eyes
Dream: In the future, I'd like to be an actress and a TV personality.
Favorite phrase: " 信じれば 誰もがなれる シンデレラ." It means, "If you believe, anyone can be Cinderella."
☆—–★—–☆—–★—–☆—–★—–☆
Awajishima Lettuce: Ku-chan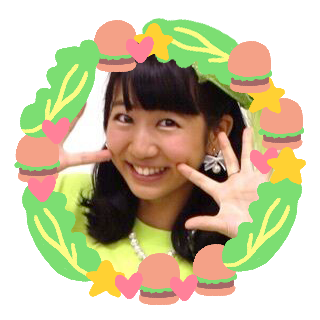 Name: Kurumi Ogawa
Nickname: Ku-chan
Ingredient: Awaji Island Lettuce
Color: Yellow Green
Favorite foods: Hamburger steak
Likes: Listening to music and chatting with people
Special abilities: Playing piano and practicing calligraphy
Charming point: A dimple on one cheek
Favorite phrase: "いつもありがとう♡" (Thank you always♡).
☆—–★—–☆—–★—–☆—–★—–☆
Awajishima Egg: Kana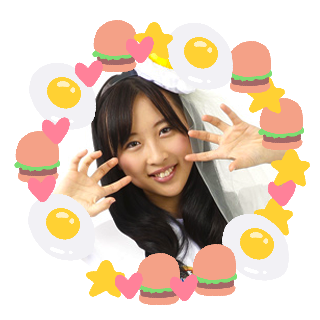 Name: Kana Morikawa
Nickname: Kanakana
Ingredient: Awaji Island Eggs
Color: White
Likes: Playing piano, shopping, and going out to eat
Special ability: Bending my joints in odd ways
Favorite food: Umeboshi
Favorite word: "Smile"
Dream: To be an actress.
☆—–★—–☆—–★—–☆—–★—–☆
Awajishima Tomato: Hinata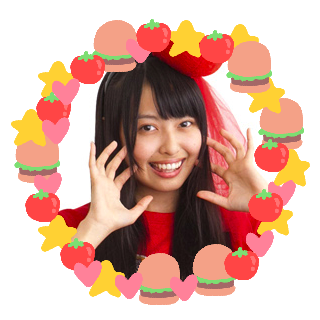 Name: Hinata Takasago
Nickname: Nappe
Ingredient: Awaji Island Tomatoes
Color: Red
Favorite food: Any kind of meat dish
Likes: Playing piano and playing with my pets
Special ability: Speaking "Babi-Go," which is a word game in which you have to add either ba, bi, bu, be, or bo after each letter in the word to match the sound of the letter before it. For example, my name ひなた becomes ひびなばたば!
Charming point: Long legs
Dream: I'd like to be a model or an actress in the future.
Favorite phrase: "Life is full of ups and downs. If at first you don't succeed, try, try again."
☆—–★—–☆—–★—–☆—–★—–☆
Awajishima Fish: Akarin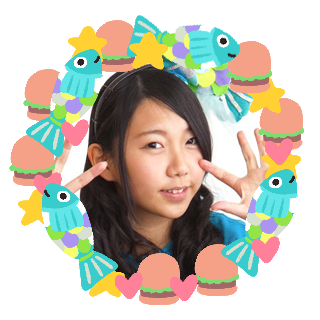 Name: Akari Sudo
Nickname: Akarin
Ingredient: Awaji Island Fish
Color: Blue
Favorite foods: Salted salmon roe, Ika-shiokara (cuttlefish pickled in salt), and macarons
Likes: Singing, sleeping, eating, and cheering for the Hanshin Tigers
Special abilities: Dancing, singing, and 目玉リレー, which means an "Eyeball Relay." If you don't know what that is, here is a youtube video of an eyeball relay done by Michiko Kichise.
Charming point: My cheeks
Dream: To be a dental hygienist who can sing and dance
Favorite saying: "Where there is a will, there is a way."
☆—–★—–☆—–★—–☆—–★—–☆
Awaji Chicken: Honoka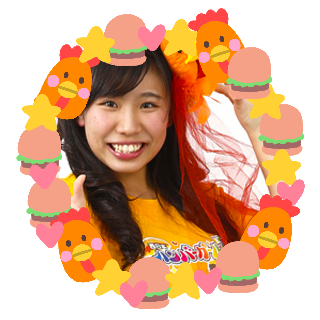 Name: Honoka Abe
Nickname: The same as my first name
Ingredient: Awaji Island Chicken
Color: Orange
Favorite food: Cheese
Likes: Dancing, acting, and sleeping
Special ability: Being able to memorize all of the lines from a drama and making hengao
Charming point: My thick lips
Dream: I want to be a cool and interesting actress
Favorite phrase: "It must be daijoubu 大丈夫 (fine)!"
☆—–★—–☆—–★—–☆—–★—–☆
Awajishima W Onion (Right): Miitan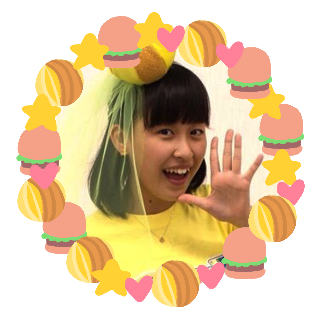 Name: Mitsuki Tanigawa
Nickname: Miitan
Ingredient: Awaji Island Onions
Color: Yellow
Favorite foods: Curry udon and melon bread
Likes: Watching dramas and learning to sing songs perfectly
Special abilities: Dancing and singing
Charming point: My smile
Dream: To be an actress
Favorite saying: "Always smile."
☆—–★—–☆—–★—–☆—–★—–☆
Awajishima W Onion (Left): Rionyan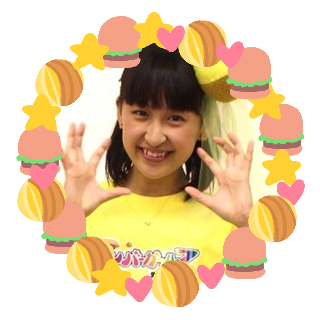 Name: Riona Tanigawa
Nickname: Rionyan
Ingredent: Awaji Island Onions
Color: Yellow
Favorite foods: Japanese plums and matcha
Likes: Watching dramas and sleeping
Special ability: Dancing and singing
Charming point: My left eye with its double eyelids
Dream: To be an actress
Favorite word: " 百花繚乱," which means, "An abundance of flowers."
☆—–★—–☆—–★—–☆—–★—–☆
Bacon: Tsuumin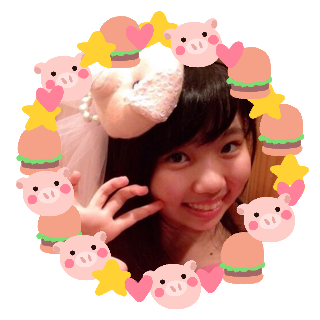 Name: Yuuka Tsutsumi
Nickname: Tsuumin
Ingredient: BACON
Color: Pink
Favorite foods: Cherries and omelette rice
Likes: Listening to music
Special ability: Playing the flute
Dream: I want to be an actress in the future
Charming point: My ears
Favorite word: "ありがとう" (Thank you).
☆—–★—–☆—–★—–☆—–★—–☆
Pickles: Rinary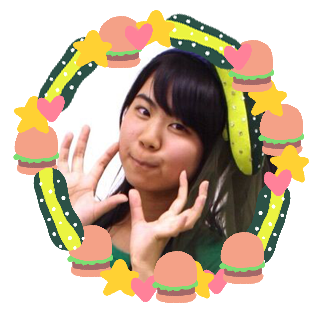 Name: Rina Kadonaka
Nickname: Rinary
Ingredient: Pickles
Color: Green
Favorite food: Fruit (especially grapes)
Likes: Listening to music
Special ability: Solving a Rubik's Cube
Dream: To be an actress
Charming point: My cheeks
Favorite term: "Silent Majority."
☆—–★—–☆—–★—–☆—–★—–☆
Avocado: Mary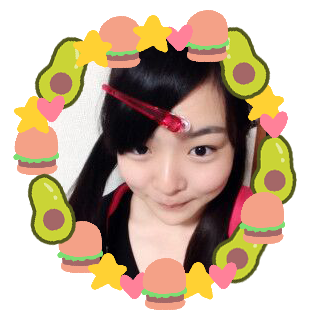 **Name: Arisa Kume
Nickname: Mary
Ingredient: Avocado
Color: Green
Favorite food: Any food as long as it's tasty
Likes: Studying and playing guitar
Special ability: reading Kobun(Classical Japanese) quickly
Charming points: My eyes and hair
Dream: To be an actress
Favorite word: "Thank you."
☆—–★—–☆—–★—–☆—–★—–☆
Pineapple: Chisapo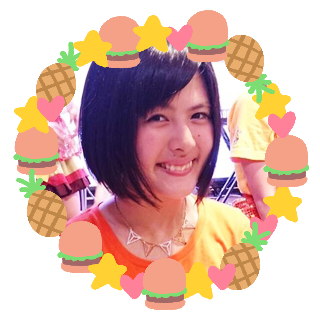 Name: Chisa Taguchi
Nickname: Chisapo
Ingredient: Pineapple
Color: Orange
Favorite foods: Japanese plums, lemons, and pickles
Like: Watching concerts and performing at concerts. I also like sports
Special abilities: Playing the drums and the piano, playing tennis, and also the javelin throw
Charming points: My dimples shaped like cat whiskers (called nyanchusen にゃんちゅう 線 in Japanese)
Favorite sayings: "There are no limits for effort" and " 千日の 稽古を 鍛とし、 万日の 稽古を 練とす" which means, "Train for a thousand days to acquire skills, then train for ten thousands days to develop them."
☆—–★—–☆—–★—–☆—–★—–☆
Mushroom: Maimai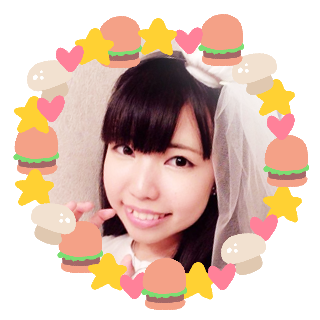 Name: Mai Masukawa
Nickname: Maimai
Ingredient: Mushrooms
Color: White
Favorite foods: Pancakes and shao-mai, which is steamed Chinese shrimp dumpling
Likes: Anime, games, and cosplay
Special ability: Drawing
Dream: To be an actress and a voice actress
Charming point: I have a voice fit for anime
Favorite phrase: "みんなで 叶える 物語," which means, "A story to fulfill everyone's hopes."
☆—–★—–☆—–★—–☆—–★—–☆
Green Pepper: Yuuri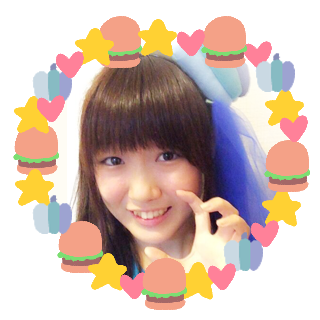 Name: Yuuri Misaki
Nickname: I'm just called Yuuri
Ingredient: Green peppers
Color: Blue
Favorite foods: Warabimochi (bracken-starch dumpling), yakisoba, and matcha. Actually, we haven't found a hamburger that uses green pepper yet, so we are trying to make one! Look for it soon.
Likes: Walking, watching TV, and collecting giraffe and stegosaurus merchandise
Special ability: Swimming
Charming point: A redundant tooth and my smile
Favorite saying: "Good fortune and happiness will come to the home of those who smile."
☆—–★—–☆—–★—–☆—–★—–☆
Eggplant: Minamin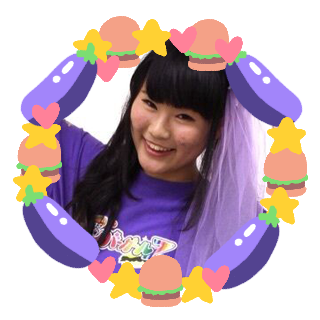 Name: Minami Kubo
Nickname: Minamin
Ingredient: Eggplants
Color: Purple
Favorite foods: Bean sprouts and dried wheat gluten snacks called fugashi ふ菓子
Likes: Keeping up with idol news and doing my hair
Special abilities: Singing, dancing, and volleyball
Dream: I want to become a TV personality who also sings
Charming point: My long, black hair
Favorite phrase: "All for one, one for all."
☆—–★—–☆—–★—–☆—–★—–☆
Note: Sadly, Tomato-girl (Akarin) and Avocado-girl (Mary) couldn't make it to the Okamoto street event. I'm sorry if you are a fan of theirs as they won't appear later the article.
The Okamoto Shopping Street Event
I had never been to Okamoto Shopping Street before. I originally assumed there would be a ceiling over the top, covering the street. But, it was completely open and the weather was not great. The stage and the chairs were set up in front of a local bank and there was no roof here either. I arrived extra early so as not to be late this time, which means I had a lot of waiting around to do in the rain. But, apparently I didn't arrive early enough. Already, the first three rows of seats were spoken for. Umbrellas were draped over chairs and stools, holding these spots for early fans.
Looking through the audience, I actually recognized some of the people there. They were fans who also went to the Tsutenkaku event in Osaka. I wondered if they recognized me, too. As a woman, I certainly felt like I stood out just a little bit. Either way, I admired their dedication and wondered how early they had arrived so that they could be right next to the stage and their idols.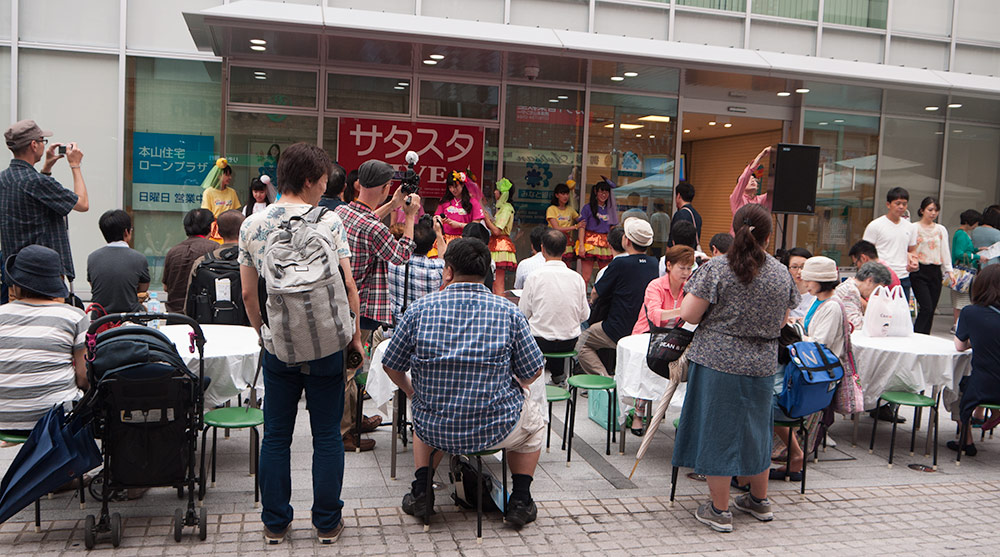 At around noon, the girls appeared on a corner just down the street from the stage. I went to greet them and the man himself: Mr. Yabu, the chairman of the West Japan Hamburger Association. It turns out they had arrived earlier than planned in order to hand out advertisement pocket tissues for a Softbank cellphone store. I thought this was awfully considerate of them. I imagined that the time before a concert would be hectic, but instead they were helping out local businesses… none of which sold hamburgers, by the way.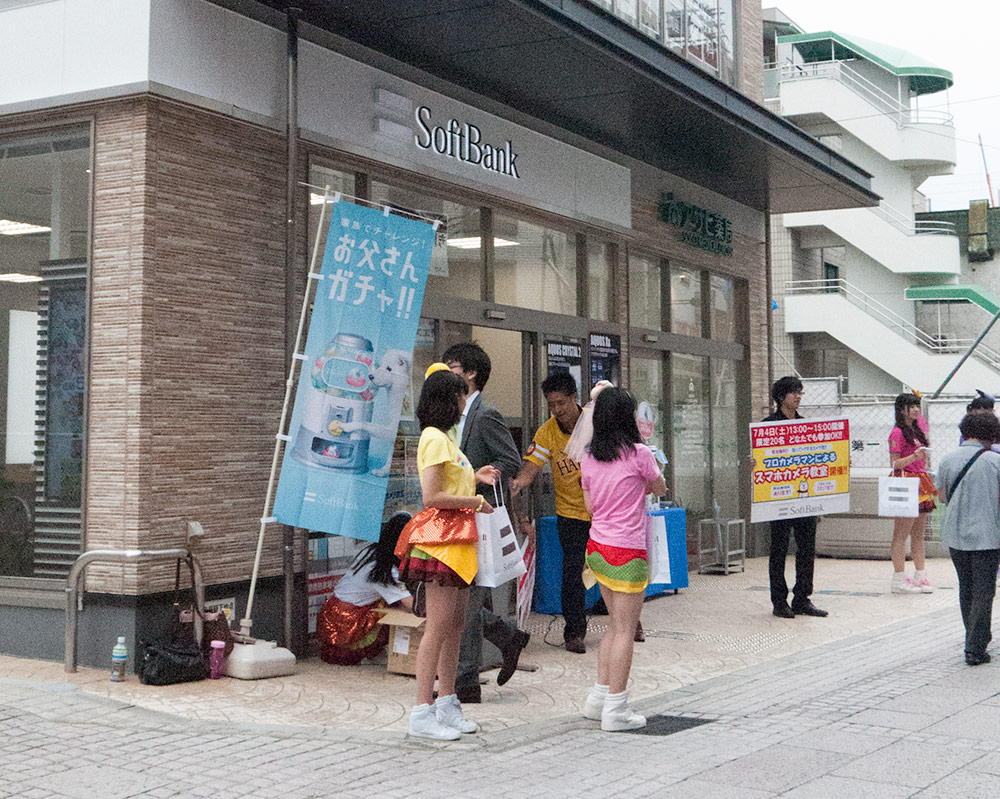 Mr. Yabu greeted me with a warm grin as I made my way to him. All around me were the girls I had come to see, and every one of them awarded me with a bright and genuinely friendly smile. Their eyes were lit up with anticipation, though not a nervous kind. They were so happy to be there, and I could feel myself getting infected by their energy as well.
Mr. Yabu told me that the girls were going to perform on the stage (raibu ライブ), sell their goods (buppan 物販), and then work as honorary employees at several of the local shops (ichinichi-tenchou 一日店長), such as clothing stores, goods shops, flower shops, and sweet shops.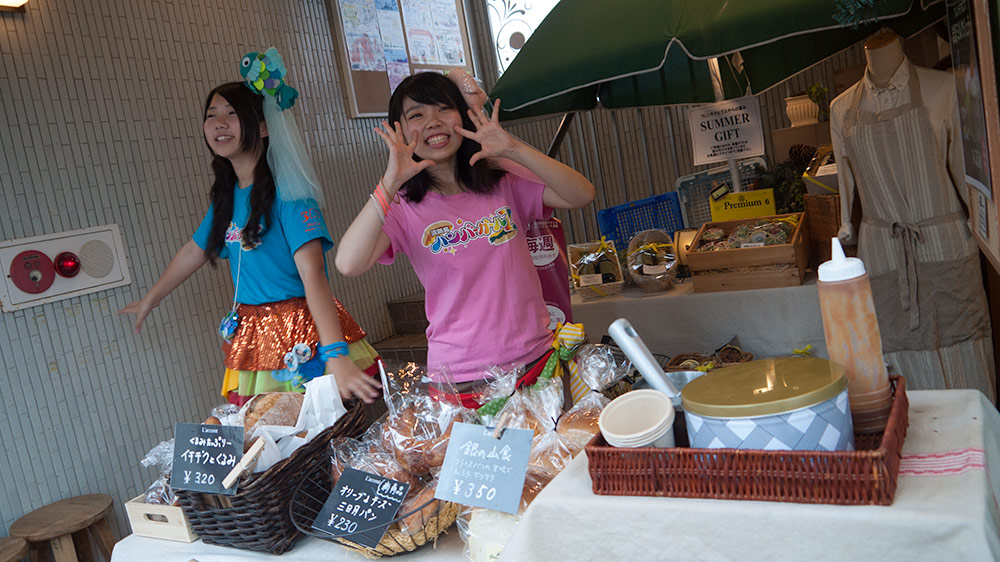 He exclaimed to nobody in particular: "We do it in order to help promote the Okamoto Shopping Street!" Maybe he wanted someone in particular to overhear, or maybe he thought I was hard of hearing. He then told me (in a much more normal voice) to enjoy the performance and snap as many pictures as I desired. After the performance, he and the members would be available to answer any of my questions while they were doing buppan (selling goods) and ichinichi-tenchou (1-day honorary employees).
The Hamburgirl Z Performance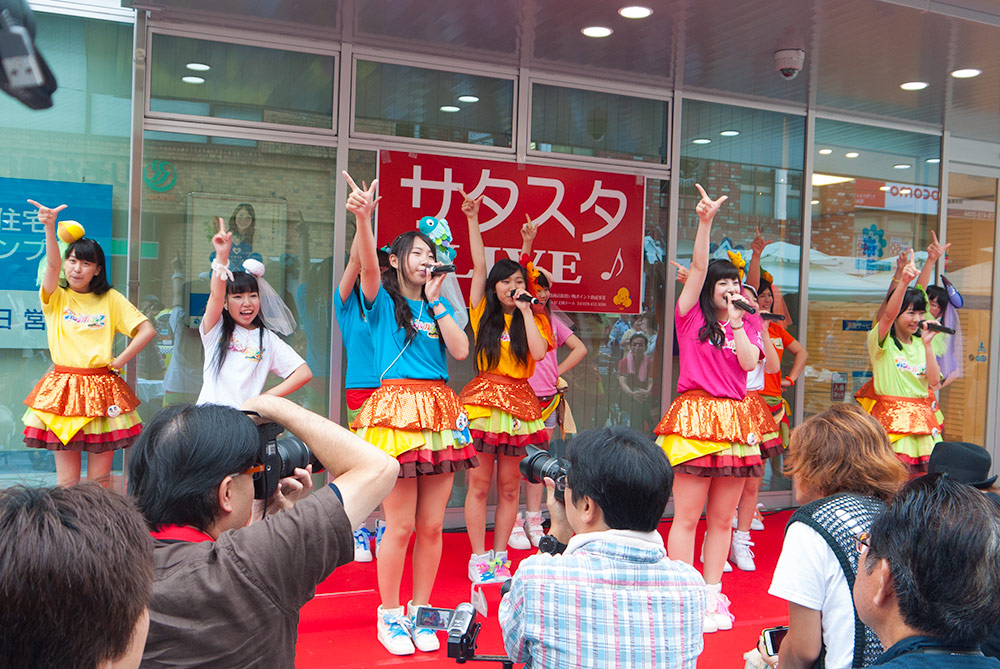 After a short rehearsal, their performance began right at 1:00pm. The weather gods must have been smiling upon us, because the rain turned to a light drizzle, just in time for them to take the stage and perform six of their songs. One of my favorites was "にっぽんバーガーダンス", which literally means, "Japanese Burger Dance."
Like at Tentsukaku Tower, I found myself getting caught up in their catchy rhythms and upbeat melodies. Somehow, it made me think of a truth my Canadian husband and I uncovered in the early stages of our relationship: Even though we didn't understand each other's language, we could understand each other's hearts through hamburgers. I know it sounds cheesy… but I think we can all agree that a cheeseburger is better than a plain hamburger.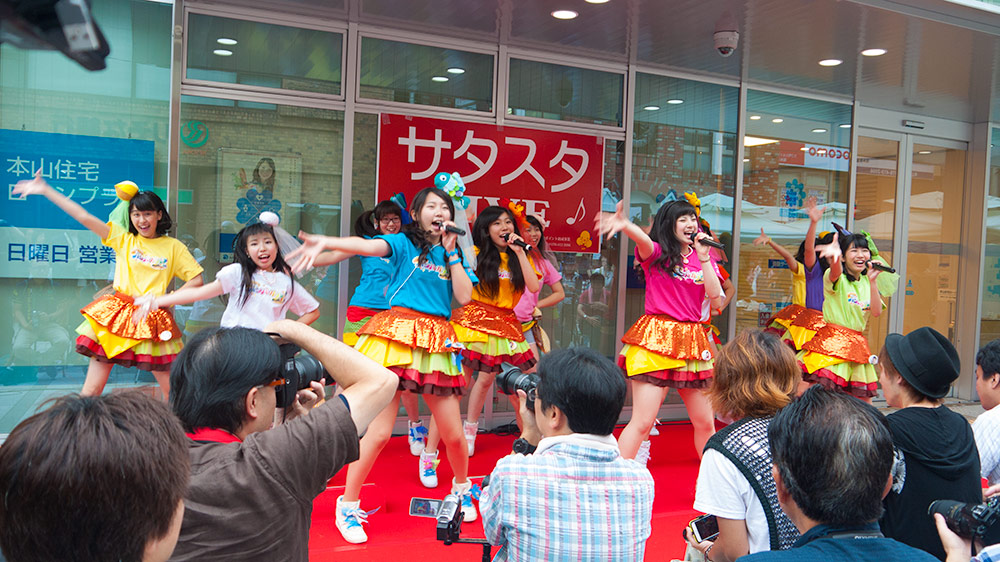 While the Hamburgirl Z idol group was kawaii, adorable, and put on a really fun show, their singing ability was mediocre at best. That being said, I feel the same way about some famous idol groups too. In my interview with the idol otaku, he expressed that idol fans aren't really looking for a spectacular performance, like the ones that Beyoncé or Ariana Grande can deliver.
The idol craze in Japan is a whole other animal. Fans become part of the event by shouting along to the music. And, they don't attend these events with the sole purpose of watching a group of commendable, charming, and kind-hearted girls sing and dance to catchy music. Instead, it's a chance for them to let go and put on a performance of their own by singing, dancing, and cheering on the idols that are just a few feet in front of them.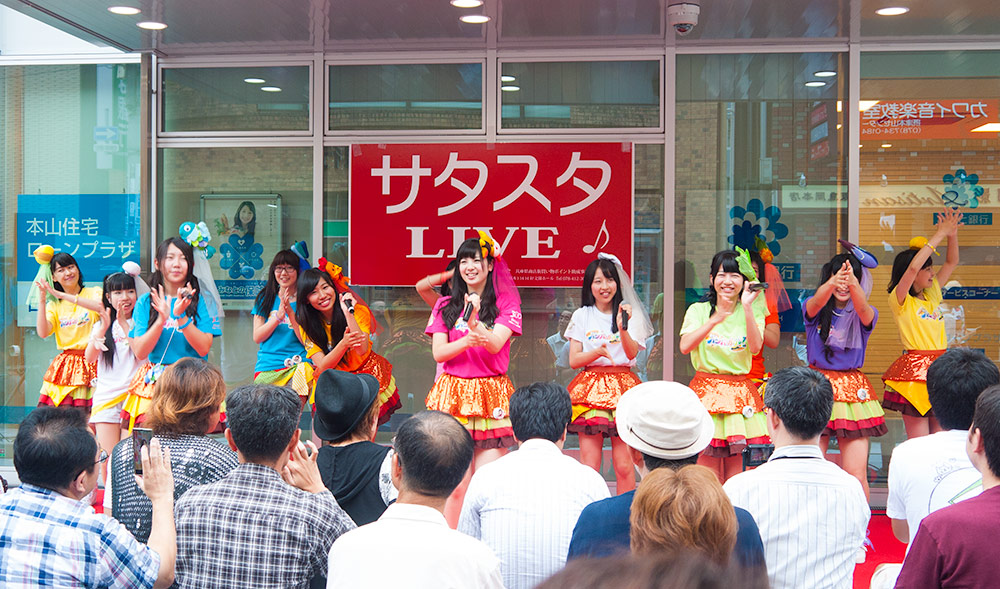 That is how to enjoy idol concerts. There is a special name for people who don't let the essence of the concert atmosphere infect them: "Jizo." I suppose this is because they are stoic and stone-cold, like the Jizo statues you see all over Japan. It's probably not because they plan to save some children from hell later that evening.
But, this was not like that. The first few rows consisted of a crazed stomping of feet, the thrashing of triumphant fists, and the calls of the Hamburgirl faithful. A pulse could be felt going through the crowd, and it got me shouting too. Those who just stand still and don't get involved with concerts, much as in life, will miss out on all the fun. It was at this point that I tossed the hamburger wrapper I had walked 25 minutes to get and started jumping and singing along with the other fans.
The most exciting was the one in the video above: "Ikuze! Awajishima Hamburgirl Z." This one is set up really well for fan participation. If you want to cheer along as well, I've translated a guide made by a Hamburgirl Z fan named Tsujicho-san. You can view and download it here.
And, in case you want to watch the whole thing, here's a playlist I found consisting of six videos, all shot by one of the Hamburgirl Z faithful.
Memorabilia Time!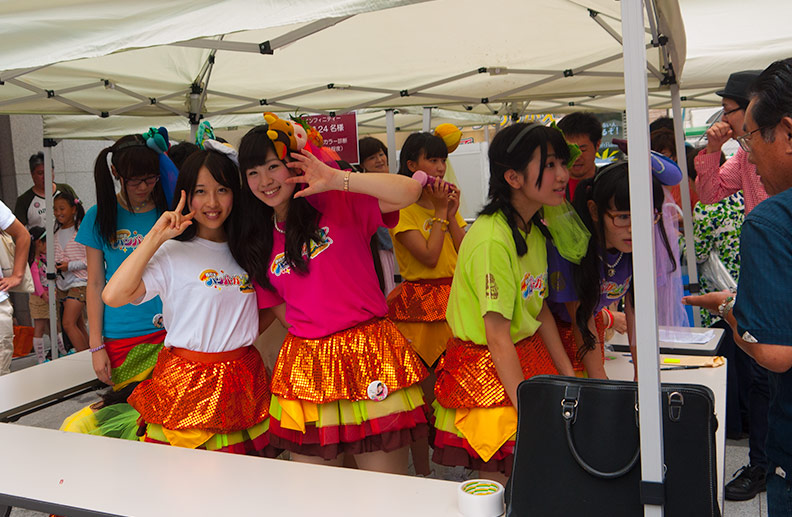 When the lights faded and the music stopped, their performance moved off stage. It was now time for them to mingle with the fans and sell their memorabilia. Cheki-ken, a ticket for a polaroid picture with a member of their choosing, was available for 500 yen (that's about $5 USD). Pins (also 500 yen each), and two kinds of posters (1,000 yen each) were also for sale.
If a fan wants closer contact with an idol, a special deal is offered to those who purchase a cheki-ken as well as a pin or poster. Unlike most other idol groups, Hamburgirl Z had never had a hand-shaking event before that day. Did I join? Of course I did! I wouldn't want to miss out on the first ever Hamburgirl Z hand-shaking event ever!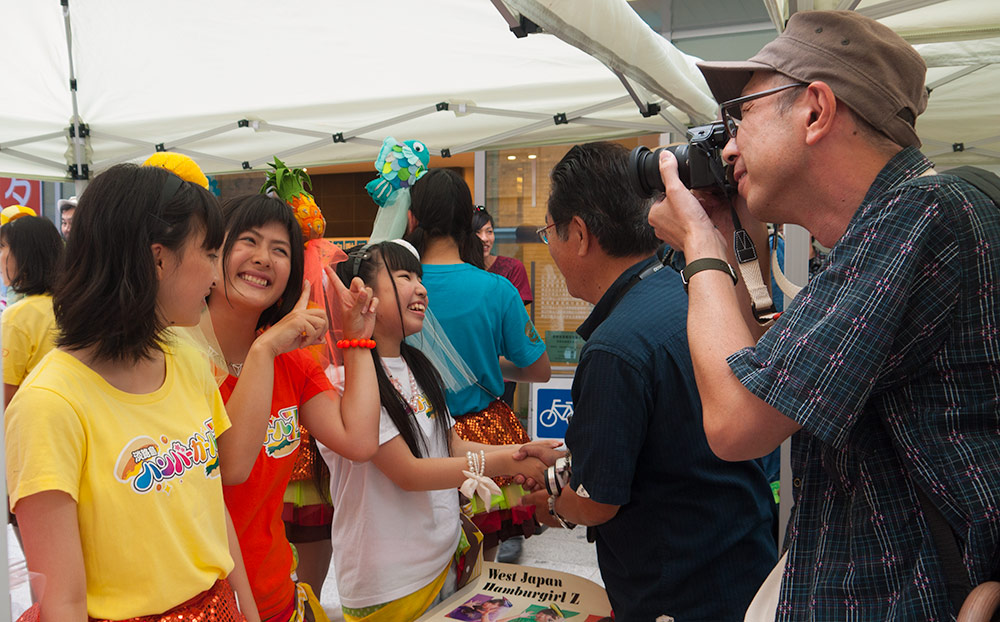 I purchased a cheki-ken (polaroid ticket) and a poster to become eligible. This came to 1,500 yen total, but I only had two 1,000 yen bills and they didn't have any change. Apparently this is a pretty common occurrence in small idol events like this, so if you do decide to attend, I recommend bringing some 500 yen coins, just in case. To bring my total up to 2,000 yen, I added a pin featuring Beef Rinya, the leader of Hamburgirl Z. I was happy to see that she actually signed it too. Arigatou, Rinya!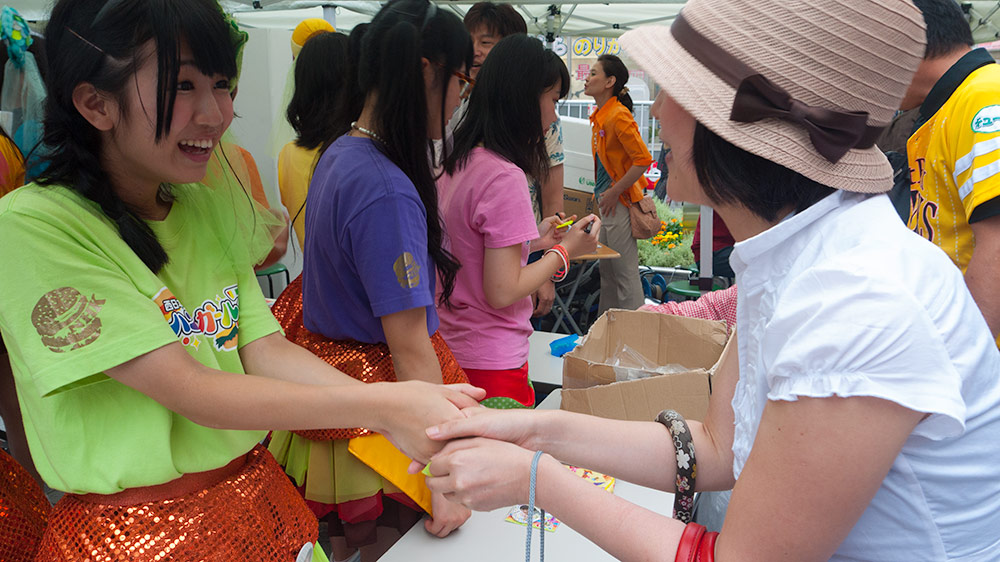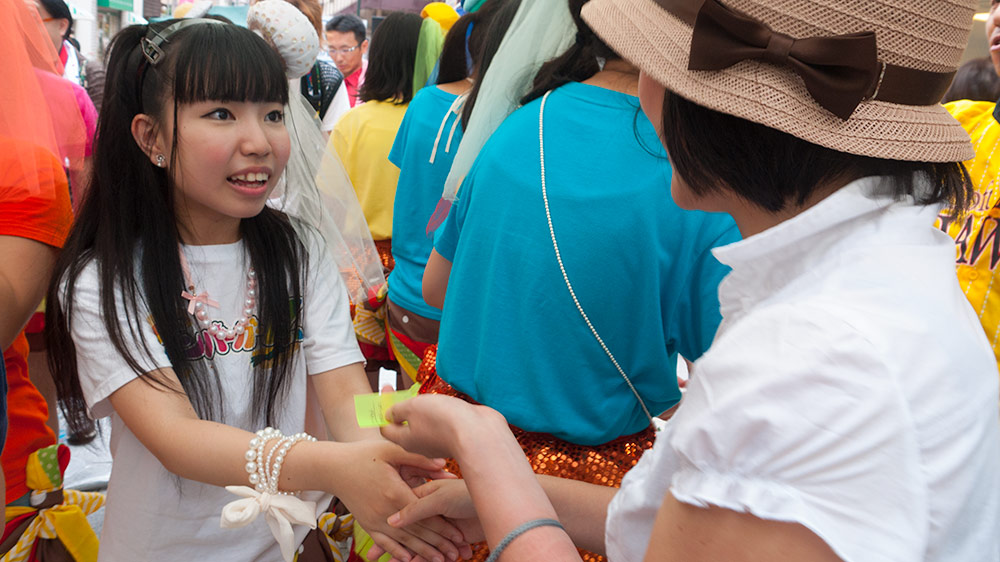 Next I slowly made my way down a long, colorful line of jubilant vegetable and meat products. I shook hands with each member and was able to do friendly chit chat with each of them. As I went down the line, I kept looking for the bacon Hamburgirl. I couldn't see her so I began to sweat. She had already become my favorite idol of the group, though that had nothing to do with her talents and everything to do with my favorite food.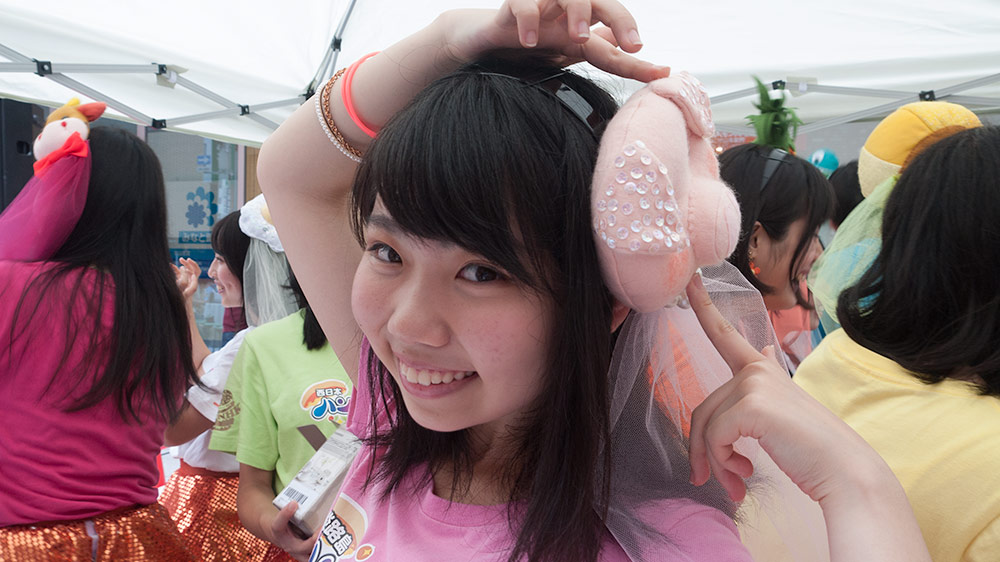 Suddenly she appeared out from behind the stage and walked to her place at the end of the line. Then, she moved down an idol. Then another. With each step, she disappeared and reappeared behind a different Hamburgirl–Lettuce, Bacon, Tomato, Bacon, Onion, Bacon, Mushroom, Bacon–and I came to realize that this was exactly how I make my own hamburgers. This was clearly a sign. When I finally got to Bacon Tsuumin, I used my chekkin-ken.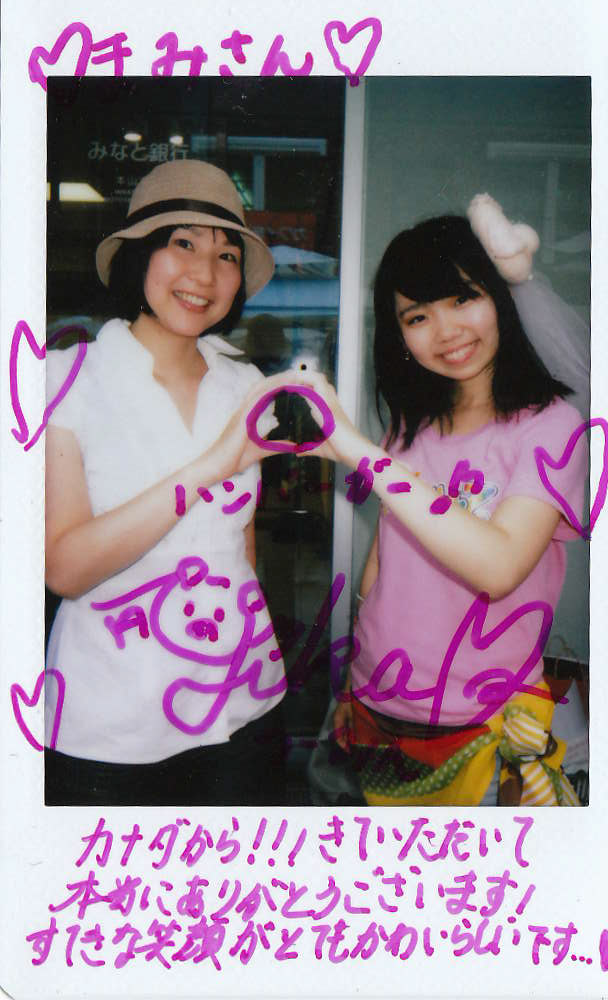 After I had collected my memorabilia, shook hands, and participated in some casual chit chat, I walked over to the side of Yabu-san again. If you remember, he promised to answer my questions after the concert. It was time for him to follow through on that promise.
How A Hambirgirl Z is Cooked Up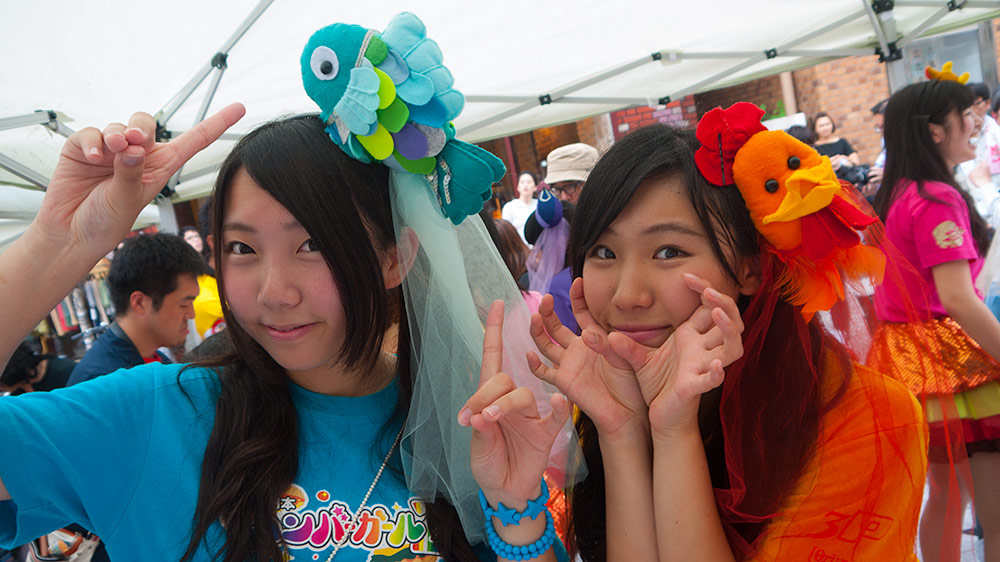 Of course, my first question to Mr. Yabu, their producer, was "how did Hamburgirl Z get created?" Before he could answer I added: "And please don't say it was something you just cooked up."
He chuckled politely and replied: "Actually, we kind of did just cook it up, in the sense that it instantly struck us as a great idea. I work not only as their producer, but also as the chairman of the Nishi-Nihon Hamburger Kyoukai." Translated, that's the "West Japan Hamburger Association."
He continued. "In March of 2013, the Association of Awajishima Hamburgers and NHK came together to create the world's first burger idol group called 'Awajishima Hamburgirl.' The group was to be the singing, dancing support for the hamburgers of Awajishima Island."
I had to take a second to admire their creativity. I've heard of creating mascots to promote a product–this is quite common practice in Japan–but a pop group? That's new to me.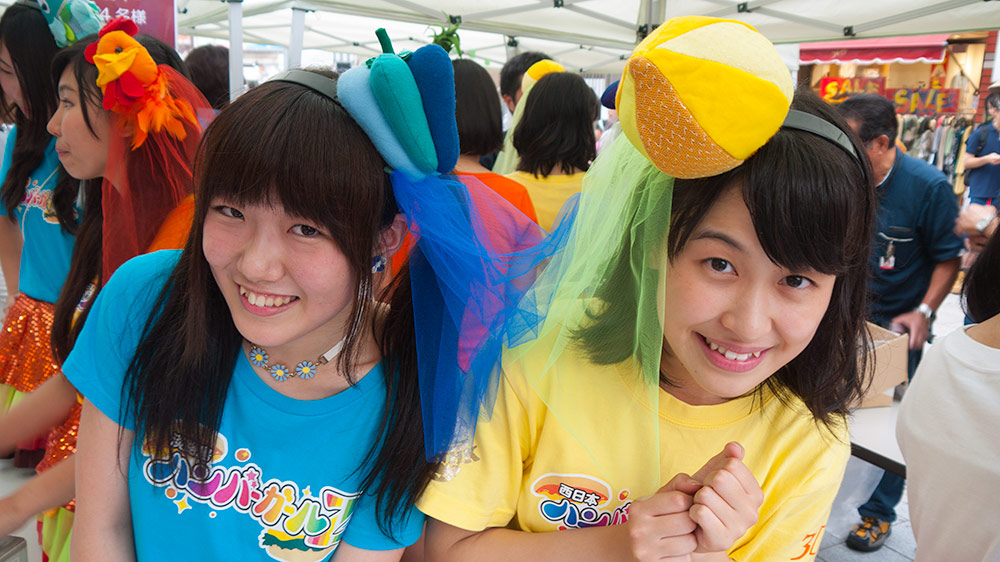 "Our group hired a young, talented mini-orchestra called Easel Geijutsu Koubou イーゼル 芸術工房 (Easel Art Studio) to record the music for our songs. They also became our group's sound production team. Now, and here's the kicker, Easel Art Studio is also the honorary director of the West Japan Hamburger Association. Talk about a vested interest in deliciousness!" He impishly grinned.
"I see, so that was the start, then? Yet, you just said 'Awajishima Hamburgirl,' but the group I saw today was 'Hamburgirl Z.'
"Good point," he said, pointing a finger right at me. He cracked his knuckles and went on: "It's a bit of a long story, but if you don't mind…"
"Of course I want to hear it!" I said, before he could weasel out of telling me what happened.
"Okay. At first the group's name was 'Awajishima Hamburgirl,' and at that time we only had three girls. But, those three girls moved on to other things in April of 2014, so we had five new girls take their place. Since the group members changed completely, we felt it fitting that the group name also change. 'Awajishima Hamburgirl' became 'Awajishima Hamburgirl Z.'"
"These five new girls were chosen following a public audition. However, the judges felt bad for the girls who didn't make it, so another idol group, called 'Princess Japan Burger' was formed. That group was short-lived and ended up merging with Awajishima Hamburgirl Z in November of the same year. Soon after, we grew beyond the island of Awajishima, and the group's name changed once again, this time to 'Nishi-Nihon Hamburgirl Z' (West Japan Hamburgirl Zeta). In April 2015 six more girls joined and we became the group you know and love today."
All within a few deep breaths he finished what I expected to be a longer story.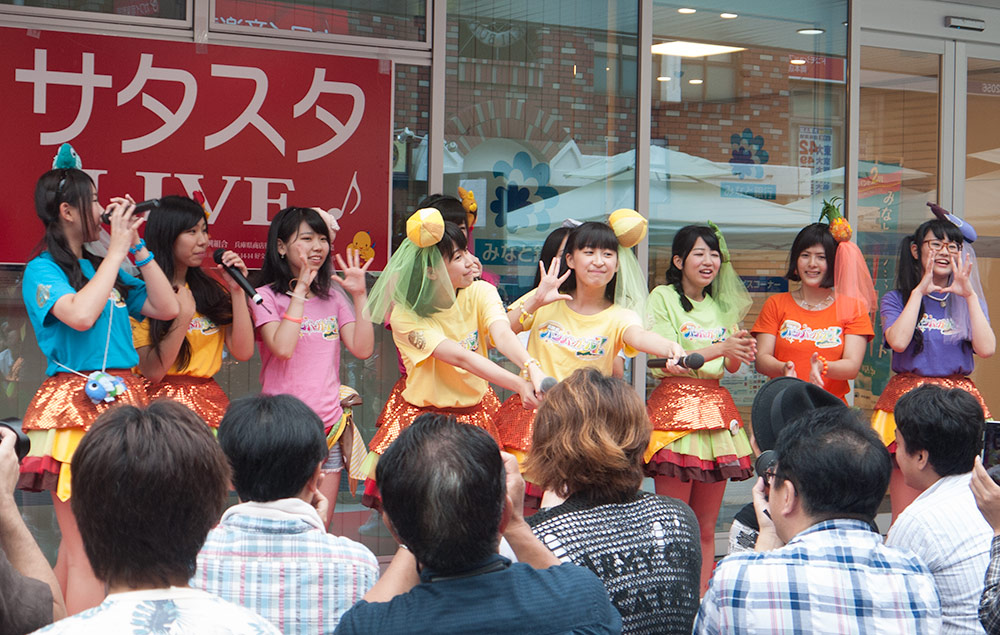 "So what will you do in the future, then?"
He had his answer ready. "Well, we are actually now thinking of expanding the group into the Tokyo area as well. Actually, we may form a 'Higashi-Nihon (East Japan) Hamburgirl Z.'"
Now that I knew their origin story, I wanted to know how the girls were chosen. What made a tomato a tomato? Or an eggplant an eggplant? Very plainly, Mr. Yabu said: "It's all based on my first impression. I decided which ingredient each member would take command of based on how I felt when I first saw them."
I could see he was quite serious about this topic, so I made sure to keep my internal chuckling internal. In my mind I imagined Mr. Yabu telling a girl "You look like a cucumber, so you'll take command of the cucumbers!" All that being said, if I was in this group, I'd clearly be bacon.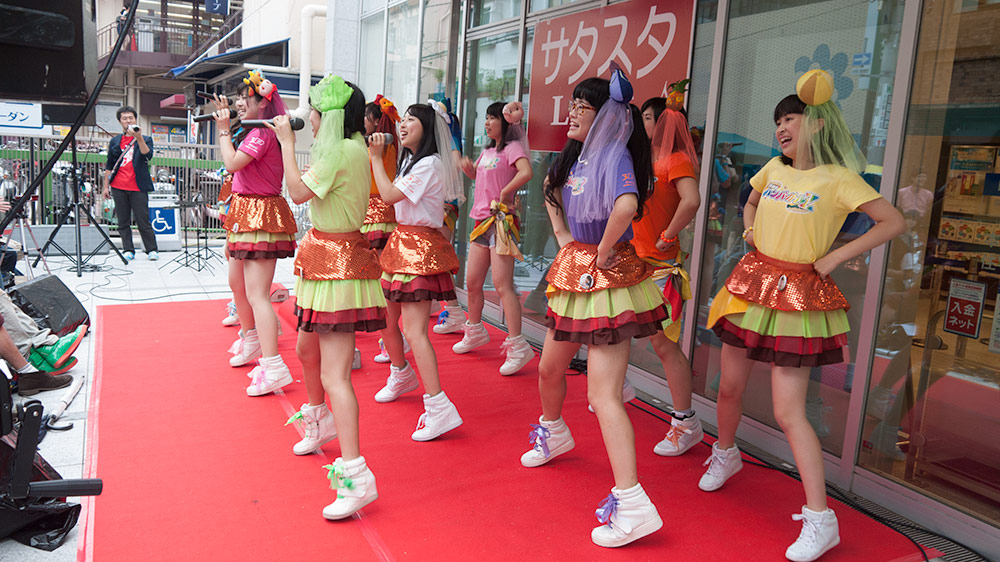 With such a long line, we had plenty more time to talk, so I asked Mr. Yabu about the Hamburgirl Z's daily expectations.
"As you'd guess, we attend Awajishima events. Not just hamburger related ones either. Our concerts are held regularly, every weekend, in fact, in Tsutenkaku, where you saw us the first time. We attend special events occasionally, as well, like this one," he said, waiving a hand around in front of him.
"We also stream a live podcast on SHOWROOM. In addition to that," he went on, "and a favorite of mine, we create special Hamburgirl Z hamburgers at select hamburger shops." He said this last bit in an excitement that forced him to rub his hands together. Later that night I found an example of one of these collaborations online. Hamburgirl Z teamed up with a hamburger shop called "Burgerlion" in Osaka this spring. Check out their beautiful creation – A hamburger with baby corn and miso sauce? Oishisou~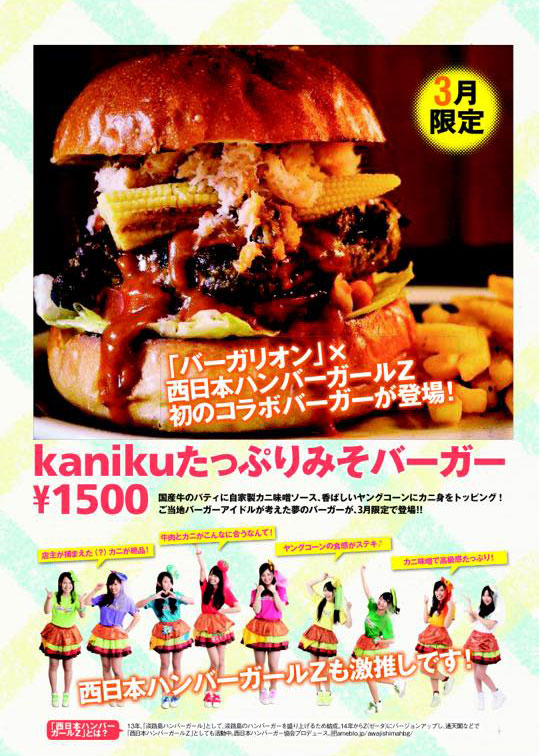 It certainly sounds different and I really wanted to try it, but it was only available in March of 2015. Anyone have a spare time machine lying around?
Another collaboration I found was this one: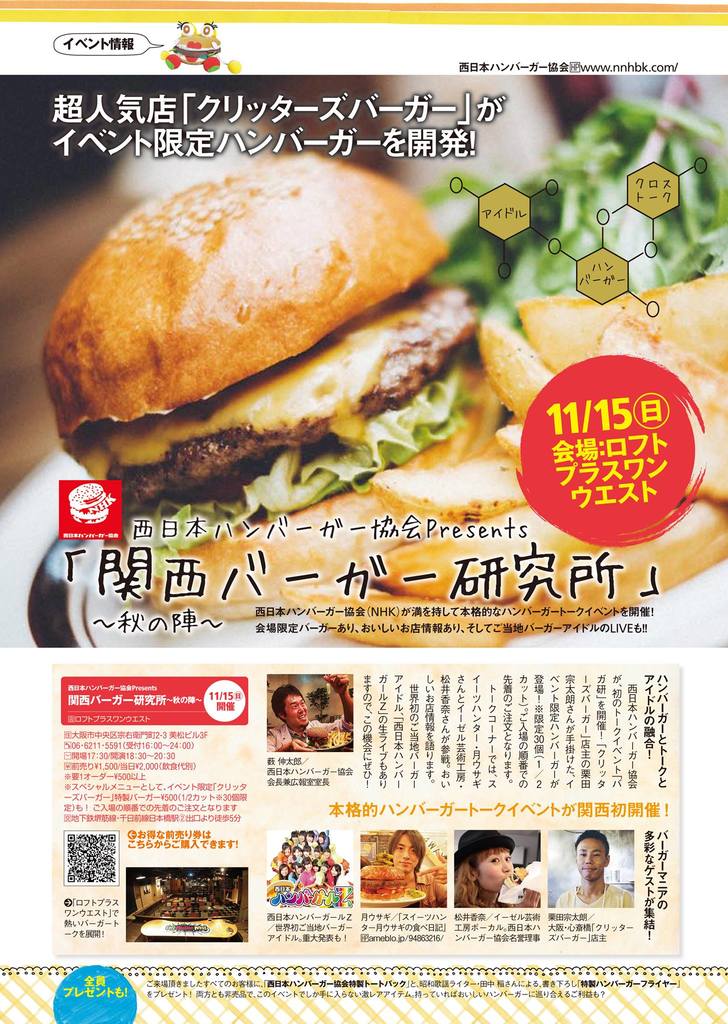 As of the publication of this article, they are scheduled to make an appearance on November 15 at the Loft PlusOne West in Osaka. The address is 大阪府大阪市中央区宗右衛門町2-3 美松ビル3F. Apparently they'll be making a big announcement, too. Perhaps it's that "East-Japan Hamburgirl Z" we keep smelling hints of? A true Hamburgirl Z fan will be there to find out in person.
The Hamburgirl Z Girls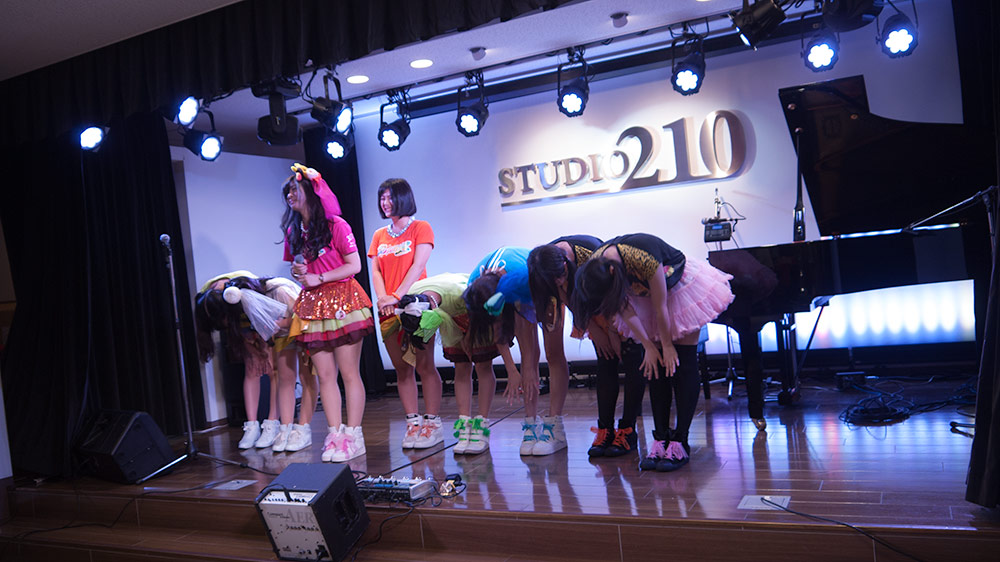 After spending so much time with Mr. Yabu, I decided it was time to get to the heart of the Hamburgirls. What were they all about, why were they here, and what were their hopes and dreams? The first question I asked, though, was "what kind of messages do you try to convey through your music?"
Rinya, the leader, looked puzzled for a moment. I wondered if I had asked too obvious of a question. Or, perhaps it was too difficult. I wasn't sure.
"All Hamburgirl Z songs are full of love for hamburgers." she replied, fidgeting with her hamburger skirt. "We want to have people of all generations interested in hamburgers. We truly love hamburgers, and we want everyone else to love them too. We want to hold hamburger events all over Japan and have a great time with as many people as possible."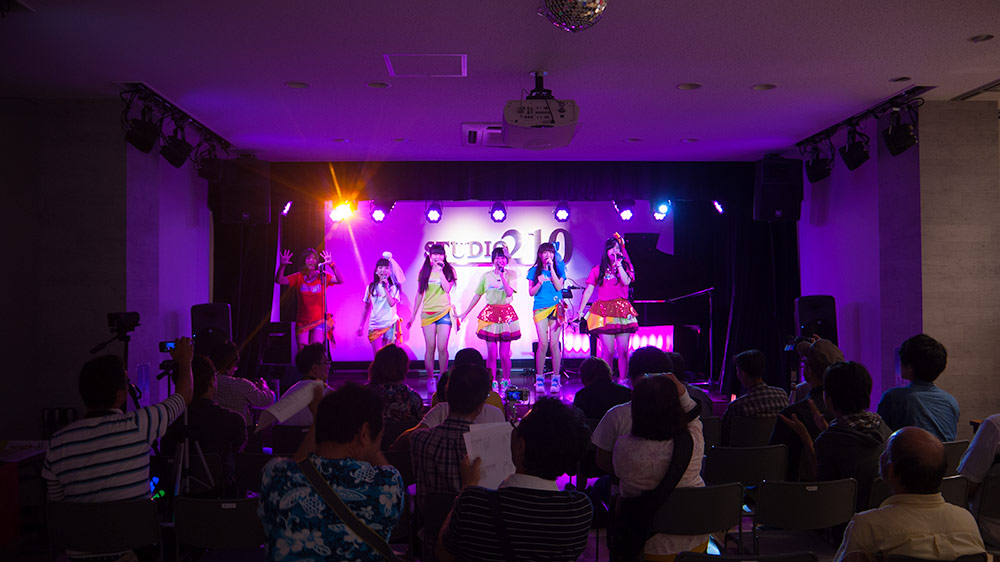 "First Japan and then the world, right?" I offered with a friendly smile and wink. "So, to make people love hamburgers," I confirmed. "what's the song that most helps you with that, you think?"
This time, nearly everyone answered at the same time, "It's 行くぜっ!淡路島ハンバーガールZ (Ikuze! Awajishima Hamburgirl Z)." One of them went on to add that they're currently working on the music video for that song, and that's why there are only videos from live shows… for now.
Behind The Scenes With Hamburgirl Z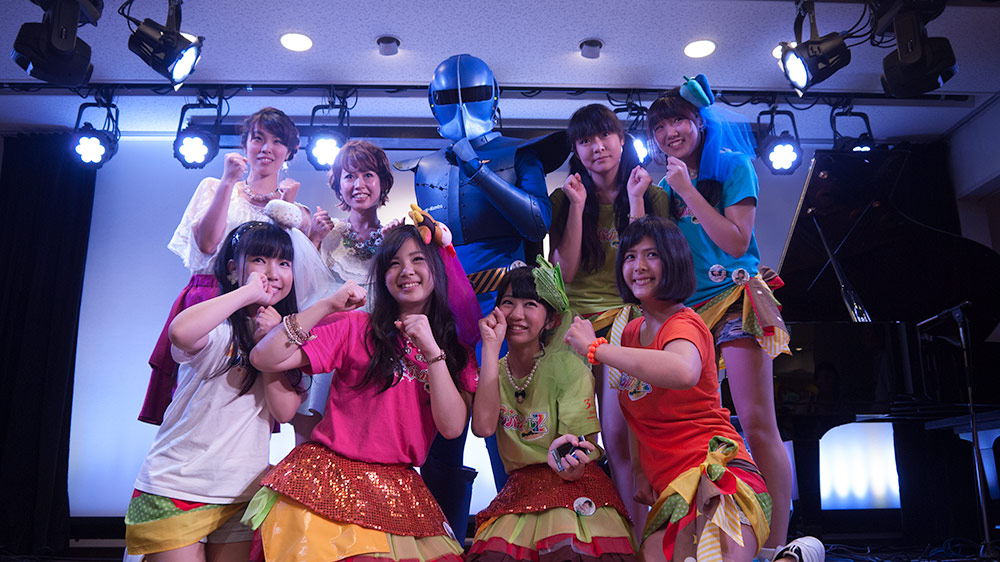 I directed my next question to the girl with big dimples. "How do you prepare for performances?" I asked.
Ku-chan (Awajishima lettuce) blushed faintly and said: "We have lessons every Wednesday at Tsutenkaku in Osaka, but each of us practice individually at home every day because we want our next performance to be an improvement on our last performance."
I took a moment to admire that sort of attitude. Certainly, it is an approach that will help one to reach a professional level of skill. Not something you typically see in youths nowadays.
When Ku-chan noticed the short lull in our conversation, she continued on. "We also try to attend as many events that showcase other idols as we can, so we can learn from them. Of course, we learn about hamburgers and Awajishima daily, as well. After all, we are a hamburger idol group based in Awajishima."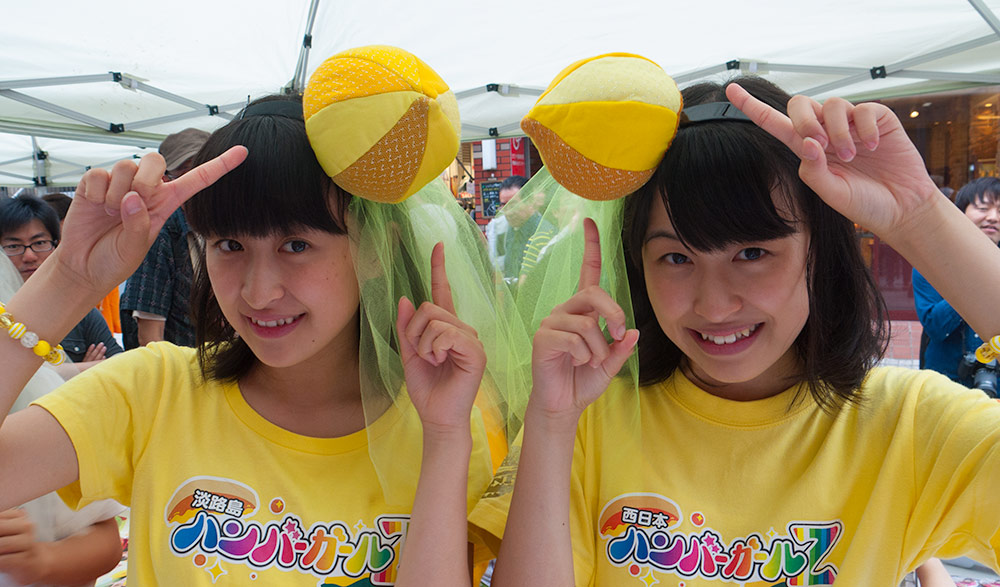 "What an impressive group of girls!" I thought to myself. I was comforted knowing that these are the types of girls that so many children across Japan admire. Like the Grinch, my heart grew a little larger that day… but perhaps that was from all the hamburger I had eaten earlier.
"So you watch other idol groups to learn from them… but don't you feel a sense of competition too? Do you have any idol rivals?"
My question was met only with silence as I watched the girls look at each other with faces probing for approval. Would acknowledging rivals publicly be considered rude in their world? Or, perhaps there was a Pizzagirl Z group that I didn't know about?
In the end, it was Mr. Yabu who spoke for the girls. "Our rival is an idol group called "My Dreams," who performs at Tsutenkaku in Osaka, where we also perform each weekend as well.
I validated his words with: "Yeah, I can see how a rivalry might develop there." Though, to be honest I was hoping for something a little juicier.
"What about heroes you try to emulate?" I'd get them to say something about other idol groups yet.
Mr. Yabu again: "Originally we tried to emulate キャンディーズ (Candies), but then we switched our focus to ももいろクローバー (Momoiro Clover). At the present time, we are trying to emulate AKB48, who has sister groups all over Japan."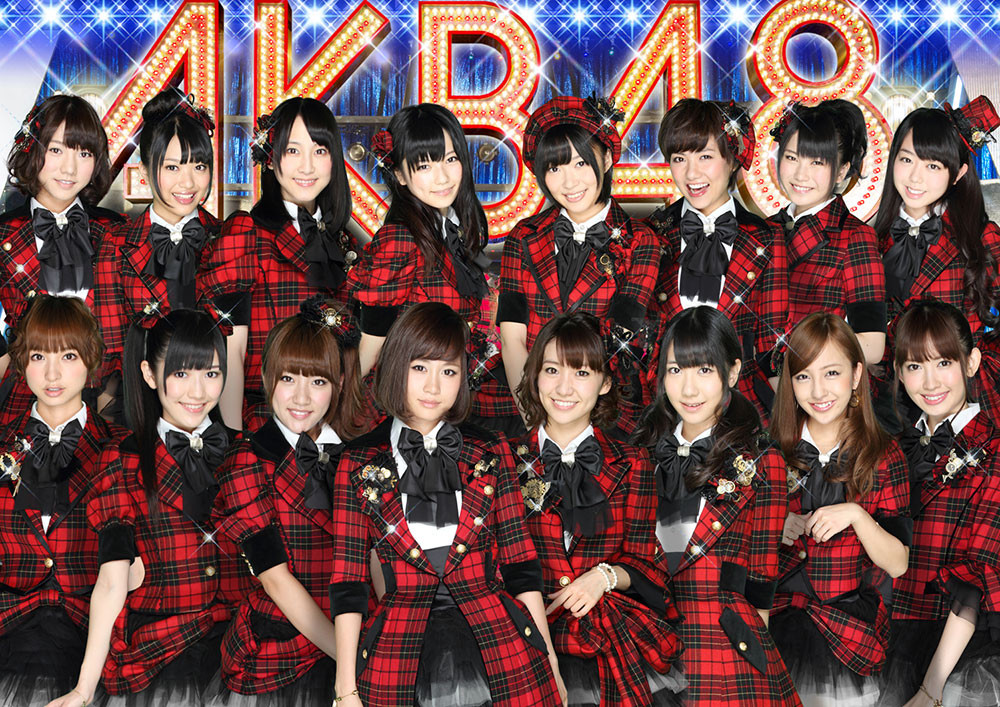 I asked him if that was also a goal of theirs. A momentary furl of confusion dipped across his eyebrows as he tilted his head slightly to the left. With an attempt to clarify, I said, "Do you hope to have sister groups throughout Japan one day, too?"
To this question his head bolted swiftly up and transitioned into an understanding nod. "Yes, it is a goal of ours," he firmly stated. "We want to expand into the Tokyo area and make a sister group, "Higashi Nihon (East Japan) Hamburgirl Z. We also want to create more local Hamburgirl groups in places like Nagoya or Kyushu to support each region's local hamburger shops. Having said that, our most recent goal is to sell our original hamburgers in the Olympic Village during the Tokyo Olympics."
And with that, he wrapped up his final thought on future endeavors by adding, "Hopefully we can perform concerts to promote hamburgers there, too."
I attempted to broadcast my encouragement to each of them by saying, "I hope your dreams come true."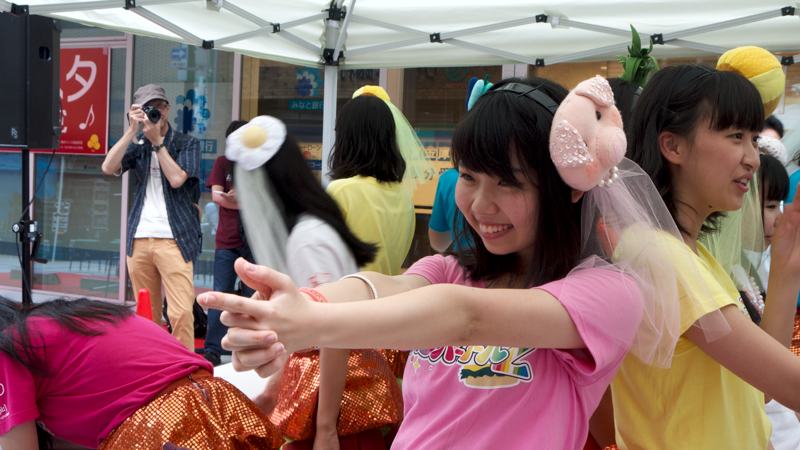 I thanked them all so much for their time and generosity for letting me interview them. In kind, they returned their thanks to me. However, I had to ask just one more question because I felt as though my love for hamburgers had grown over the course of this interview. "Where are your favorite places to eat hamburgers?" I asked.
They came up with a list for me:
That last one is kind of cheating, I think.
As I walked back to the train station, I realized that I had become a fan of these girls. I wanted them to win, and I genuinely hoped their dreams would come true. I was a little startled by this change in my personality. I went from someone who had no interest in idols at all to someone who thought one particular idol group was great. Perhaps this is why you see the same, excited fans going to idol events day in and day out.
I had one of the idol scene's biggest fans try to explain to me why idols and idol events are exciting and fun, and I still didn't understand. It took a couple events to convert me, and now I understand. But, I'm not sure if you really can understand unless you actually go, in person. And, you certainly can't judge anyone for going until you go yourself. Good luck, Hamburgirl Z! We'll cheer for you! (Or at least I will).
Be sure to follow Hamburgirl Z on Twitter. Also, they regularly update their Hamburgirl blog, so check that out as well.
And, oh no! I forgot to tell you about the ichinichi-tencho, didn't I? That's when they work at a shop for a little bit as an honorary employee. I think it's best to see it in action, anyway. Here is a fan video of their ichinichi-tencho work. Also, I appear at 6:20 and 7:30.
Should you want to experience this world of idolatry for yourself, you can visit the Hamburgirl Z group in Osaka. They perform every weekend at Tsutenkaku, though make sure you check the Hamburgirl Z blog for more information.
And lastly, as promised, here's their best and/or most famous song and its translation: "Bring it on! Awajishima Hamburgirl Z."
Note: This is the video of the event I visited, which took place in Okamoto, Kobe, Hyogo. Therefore, they introduce themselves at the beginning as Okamoto Hamburgirl Z instead of Awajishima Hamburgirl Z. Also, Tomato-girl and Avocado-girl couldn't make it, as I mentioned above.
If you would like the translation you can download it here.
And, if you want to learn how to cheer them on, you can get it right here.
They also made the English version of "Bring it on! Awajishima Hamburgirl Z" for you to enjoy. So, Enjoy!
To learn the lyrics to their other songs, you can find them on their blog:
That's all for me. I'm going to go eat a burger now.