A Step-By-Step Guide On How To Learn Hiragana
If you're thinking of learning Japanese, or if you're just starting to learn Japanese, learning hiragana is probably one of the first steps you're going to want to make. The problem, though, is that there are a ton of different ways to do it and not enough guidance along the way. So many resources makes learning hiragana overwhelming for beginners, and since it's one of the first things that they're supposed to do, it's a bad experience and people end up quitting.
On TextFugu, I recently rewrote and improved the "reading and writing hiragana" chapter (feel free to check it out, it's free), improving it a lot. The idea was to create a step by step process that anybody could use to learn hiragana so that they could move on to the "good stuff." There were a few goals with this:
Make learning hiragana simpler.
Create a step-by-step process that anybody could follow.
Take the "mystery" out of learning hiragana (especially hard for self-learners).
After coming up with everything and writing it down, I thought it would be useful for readers of Tofugu as well, so I'm posting up a slightly modified hiragana how-to guide for all of you to enjoy as well. If you're just starting to learn Japanese, or haven't started yet, this is one of the first things you want to do. There's no better time than now, right?
Before You Get Started
For this guide, I'll be combining several resources. The idea is to take from the best and ignore the rest, organizing for you a great set of resources that will help you to learn how to read and write hiragana (and ultimately allow you to learn Japanese). Before you get started, there are a few preliminary steps I think you should take. They're optional, technically, but they'll really help you learn hiragana a lot more effectively and quickly, in the long run.
1. Read about the various Japanese alphabets.
If you knew there was more than one Japanese "alphabet" (okay, fine, they aren't technically alphabets, but that doesn't matter much), then maybe you can skip this step. If you didn't know this, then you should do some reading so that you understand more about what it is you're about to learn. If you don't do this, it would be like learning the English alphabet without knowing the letters spell words. With so many Japanese "alphabets" this reading is pretty important.
There's two ways you can do this:
Read some really in depth articles about hiragana, katakana, kanji, and romaji on wikipedia (this is the more complicated option).
Read about the Japanese "alphabets" on TextFugu (simpler, quicker, but not as in depth).
I don't know which one you want to do, but to be honest either is probably fine. Personally, I'd go with the simpler one (#2), just because you only need to know some background info, not become a PhD in Japanese linguistics.
After you've gotten the background info on the various Japanese writing systems, you can move on to the next step.
2. Learn The Pronunciation
For me, I think learning pronunciation and understanding how the "patterns" of hiragana work are important to do before you learn to read and write. If you spend some time on this first, you can then associate this with the reading and writing that you learn a little later. Learning the pronunciation of hiragana before you learn hiragana will help you build a foundation of better Japanese pronunciation, help you to understand how the Japanese language works, and ultimately speed up your hiragana learning in the long run (I think it will, anyways).
Hiragana pronunciation can be looked at on TextFugu as well (another free chapter)
After you've gone through this, you'll be ready to start learning the reading and writing parts of hiragana.
The Hiragana How-To Guide
Before you start, I want you to think back to your days of when you learned how to read/write own native language. This will help you to readjust any unrealistic expectations. Most likely, it took you years to get comfortable with English (or whatever you grew up with). Despite this, you're going to be able to learn hiragana much faster. It's going to be hard, and you should expect to be perfect in one, two, or even three weeks. It's a process, and the more you practice the better you'll end up getting at it, just like anything (as long as you practice the right things, whoops).
1. Download A Hiragana Chart
I've actually made a hiragana chart that you can download right here. I think it's pretty simple, printable, and easy to use. Feel free to use it, give it away, or whatever else you want to do with it. It's a totally free hiragana chart.
You're going to be using this a lot, so print it out (if you have a printer) and make it handy.
2. Let's Take A Look At Some Words You Know Already
Despite what you might think, reading and writing Japanese (at least when it comes to kana) is actually really easy. In order to illustrate that, I thought we could look at some words you already know, starting with the word "sushi."
For the most part, all hiragana characters (or kana) consist of a consonant (a letter that's not a vowel) and a vowel. If you look at your hiragana chart, you'll see that there are things like "ka, chi, mu, ra, hu, ji" etc. Although there are some "weird" ones, like "shi, chi, tsu" etc., that are two consonants plus a vowel, you can probably see the basic pattern emerge. Other than this, the only exceptions are "n" (a single consonant) and "a, i, u, e, o" (which are just vowels on their own).
So, knowing that kana pretty much consists of a consonant sound and a vowel sound, let's figure out how to spell "sushi" in hiragana. It's quite easy.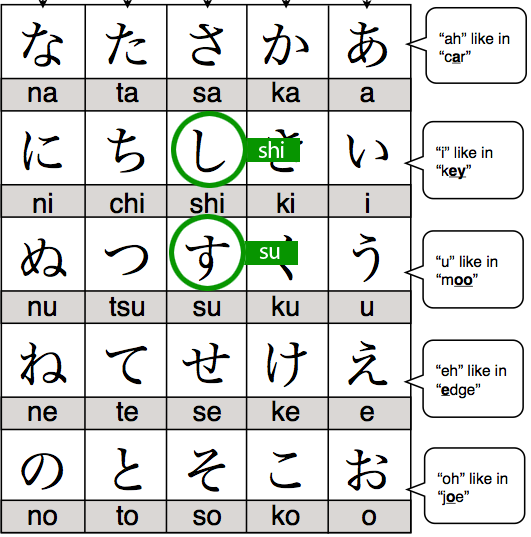 The word "sushi" consists of two separate kana: SU + SHI. Take a look at your hiragana chart and see if you can find the kana for both of these (su & shi). What are they? Just for the sake of letting things sink it, go ahead and copy the characters "su" and "shi" in order to write the word "sushi" out. All you have to do is copy them off the chart, we'll be really learning them in a bit.
This image is taken from the hiragana chart we're using, and I've circled the correct characters. Now, on the sheet they aren't in the correct order, but when you write out す (su) and し (shi) together, you get すし (sushi). Writing in hiragana really is that simple. It's amazing, right?
Now, unfortunately, there is a kanji for this word as well (寿司 = すし = sushi), but you don't need to worry about that at all right now. We're focusing on hiragana for the time being. Let's take a look at another word, karate.
This word is often mispronounced as "karadee," but if you use your knew found knowledge of hiragana pronunciation you'll realize how karate is actually pronounced. Let's write it out in kana.
Take the word "karate" and break it up into its individual kana parts (I'll give you a hint, there's three parts). Find those three kana on your hiragana chart and write the word out. Pronounce the three individual kana to find out the correct pronunciation of the word karate. Did you get it right?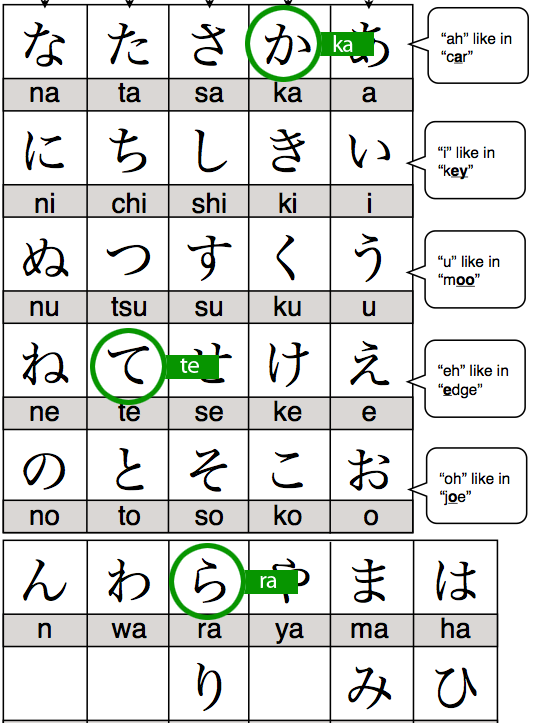 When you write "karate" out in hiragana, it comes out to からて. This is the hiragana for KA + RA + TE. Totally different from "karadee" that most people end up saying everywhere else.
After taking a look at these, are you starting to understand how hiragana is used to write things in Japanese? Do you also understand how kana in hiragana are pronounced (consonant + vowel, etc)? Good, let's move on to the actual process of learning to read and write hiragana.
3. Learning to Read & Write
Before you get started, you should make sure that you have a Smart.fm account. This is what we're going to use to drill the individual kana to help you learn them. We'll be using it quite a bit in this guide, so it's best you get an account now so you're ready.
First 10 Hiragana: あいうえ、おかきくけこ
1. Study your first ten hiragana using Smart.fm – あ、い、う、え、お、か、き、く、け、こ. You'll have an option of studying these either 5 at a time or 10 at at time. I'd recommend choosing 5 for now, until you get better. Here's a quick screencast going over how you should use Smart.fm to study your hiragana.
Essentially, you want to…
Write the kana down every time you get it right (or wrong)
Use the pronunciation audio that's available to you on Smart.fm
Only study 5 at a time
Let Smart.fm tell you when you've learned something (usually it's pretty good at that)
2. Go to Drag n' Drop Hiragana, and only drag the first ten hiragana (a-column and ka-column) into the right spaces. By only doing these ones, you'll have to find the right hiragana amongst all the other hirgana (helping you differentiate them) and secondly force you to remember what they look like. Try this twice (refresh to restart) and see if you can do it faster the second time!
3. After you feel good about the first 10 kana on Smart.fm, it's time to put some of that into practice. Complete this worksheet and try to cheat as little as possible.
Hiragana 11-20: さしすせそ、たちつてと
Of course, it's important that you review the kana you just studied while you're learning your new kana, so we'll make sure to do that here.
1. Start by writing out the ten kana that you know and try to do it from memory (starting with あ and ending with こ). If you had to peek it's not the end of the world. Write out the romaji next to / below / above them for reference.
2. Now write out the ten new kana (sa-column and ta-column) along with the romaji. These are the kana you're about to study.
3. Go ahead and open the Smart.fm Master Hiragana list again. Since you finished the first 10 kana on there, you should be able to do the next ten now. Do them in groups of five, just like before until you've completed up until と (to). Remember to follow the steps from before where you write out the kana each time you get it right or wrong.
4. Visit RealKana and check the four columns of hiragana that you know already. Click on the katakana tab and uncheck anything that's checked (you don't want to learn katakana yet). Now, hit the practice tab and go through the practice a few times, until you feel good about reading the kana.
5. After you feel fairly decent about the first twenty kana (especially the new stuff) complete this worksheet to really solidify that knowledge.
Hiragana 21-30: なにぬねの、はひふへほ
You're actually past the halfway point for the "main" hiragana now! Just keep going, you're making good progress!
1. Write down your ten new hiragana on your piece of paper with the other hiragana, so you can have them for reference.
2. Log on to Smart.fm, and complete the next ten hiragana (na-column and ha-column). As always, be sure to write down the individual kana every time you get it right or wrong, so you can practice writing. If you need help with stroke order, you can always use the stroke order guide on the hiragana chart page.
3. After feeling okay about the next ten, complete this work sheet, which helps you practice reading and writing the individual kana.
4. Visit RealKana and check the four columns of hiragana that you know already. Click on the katakana tab and uncheck anything that's checked (you don't want to learn katakana yet). Now, hit the practice tab and go through the practice a few times, until you feel good about reading this kana (you should be pretty good, actually!).
Hiragana 31-46: まみむめも、やゆよ、らりるれろ、わを、ん
You're almost there! In terms of the "main" hiragana, this is the last of it. After this, you're just learning things you already kind of know (like dakuten and combo hiragana), which means you're pretty much all the way there. Just a few loose ends to tie up after this.
1. Write down your new hiragana on your piece of paper, along with the romaji, for reference.
2. Log on to Smart.fm and finish out the hiragana until ん (n). There's more than this on Smart.fm, but that'll come soon enough. Make sure you're writing down the hiragana you get both right and wrong. Once you've finished it up until ん, move on to the next step.
3. Go to RealKana, and this time only check columns な, は, ま, や, ら, & ん. You're learning more this round, so I want you to focus it a little more on recent kana. Here's an image to show you what to check (make sure you uncheck the katakana columns in the katakana tab too, if you need to).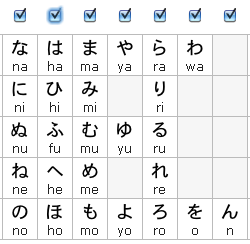 Go through these a couple of times until you feel comfortable with them.
4. Complete this worksheet, which focuses on ま through ん columns.
5. Head on back to Drag n' Drop Hiragana. In theory, you should be able to complete the puzzle now (rather than just little bits of it). How fast can you get it done? Record your times and see if you can get done in under three minutes.
Dakuten: がぎぐげご、ざじずぜぞ、だぢづでど、ばびぶべぼ、ぱぴぷぺぽ
In theory, these should be easier than what we've been doing so far. You already know the main characters (which dakuten use) and all you have to do is know what little symbol to put next to them (hint: usually it's a quotation mark). That being said, I'm going to give you more things than normal to study in this section. You should be better at studying hiragana by now, and you should also know the symbols above (minus the dakuten part). I won't say this section is easy, but it should be easier.
1. Start up Smart.fm and work through the dakuten hiragana. You should finish on ぽ (po). As always, keep writing these things out as you do them whether you get a card right or wrong.
2. Complete this worksheet. This worksheet's goal is to help you remember what a column will change to when dakuten are added to it. Focus more on remembering that "S" goes to "Z" or "T" goes to "D" rather than focusing on individual kana.
3. On RealKana, let's practice dakuten hiragana as well as the original kana from which the dakuten came. Check the か, さ, た, は, が, ざ, だ, ば, & ぱ columns. Here's an image to illustrate: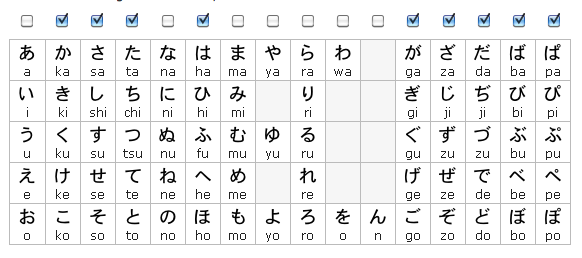 Make sure you uncheck any katakana columns that might be checked as well. Go through the drills like this until you feel pretty comfortable telling them apart. Can you write them out on your own now? If I said things like…
What do "K-sounds" turn into?
Answer: "G-Sounds"
What do "H-sounds" turn into (two answers here)
Answer: "B & P Sounds"
What do "D-sounds" turn back into?
Answer: "T-Sounds"
What do "Z-sounds" turn back into?
Answer: "S-Sounds"
Could you answer all these questions? If not, be sure to drill RealKana a little bit more so you can learn the differences. Really, just learning these differences is the secret to learning dakuten, so if you can do that, you can do dakuten :)
Combination Hiragana: きゃ、しゃ、ちゃ、にゃ、ひゃ、みゃ、りゃ、ぎゃ、じゃ、ぢゃ、びゃ、& ぴゃ Columns
Sometimes, certain kana can be written smaller. When placed next to another kana, it can modify the way it sounds. Don't worry, though, because the modifications actually make a lot of sense. For example:
き + small ゃ = きゃ (which sounds like kya). It's almost like saying KIYA, but you drop the "i" sound. KYA!
There are other "combo-hiragana," but these are the main ones, and the most important for you to know right now. Combo-kana will get a little crazier once we hit katakana, but for now it should be fairly straight forward, especially after you drill them for a bit.
1. Fire up your good buddy Smart.fm again. By now, you should be through the dakuten, and ready to study the combo-hiragana, starting with きゃ, きゅ, and きょ. Since you already know all the characters being used (you just have to remember that the y-column kana are "small") feel free to study ten at a time. The goal is to get to the end of this list, actually and finish out everything that Smart.fm has to offer. Like I said, though, these should be one of the easiest sets (even though its the longest) for you, and drilling through it should be more about reviewing kana you already know.
2. Let's practice writing them. Remember, the やゆよ for these are small ゃゅょ. If you don't write them small, they are just regular sized, and pronounced normally. It's the difference between:
きや (kiya) vs きゃ (kya)
Those are two different sounds and you can't switch them out with each other. The difference is important! Use this worksheet to practice:
At this point, you should feel fairly good about almost all the hiragana. You don't need to be perfect, nor do you need to be at 100%. That's definitely not expected at this point. It'll take a while before you read hiragana nice and fluidly, but luckily there's going to be plenty of opportunity to practice as you continue to study Japanese (now in hiragana!). Well done!
Where To Go From Here?
Well, there's plenty of things to do, but I'd round out your hiragana reading & writing career with some lessons on hiragana's long vowels and the small tsu. That right there will make sure you know just about everything you need to know about hiragana, then all that's left is more practice.
By learning hiragana, though, you've opened up a ton of new resources from which you can study Japanese. If you don't know hiragana, you're really limited in what you can do. If you do learn it (like you just did, in theory), there's so much more available to you now, whether it's various Japanese textbooks, blogs, websites, or whatever. Hiragana will open doors for you.
I hope you enjoyed this tutorial, and I hope you found it useful as well. If you're thinking of learning Japanese, this isn't a bad place to start, and I think this guide lays everything out pretty simply and easily. Feel free to contact me if you have any questions!
P.S. If you wish this tutorial was 140 characters or less, you should follow Tofugu on Twitter.
P.P.S. If you want to read a more in depth guide to learning hiragana, you'll want to check out the first six chapters of TextFugu (all are free).